As you aim to push your agency's creative boundary forward with an innovative approach, having the correct agency tools are beyond important help push your vision and assist your clients. Not only is managing your project portfolio effectively key to your business's success, but the tools and process you put in front of your client become part of your team's branded experience. In this way, the client's journey of working with your team, including the method and tools used for management, will be as memorable as the project's deliverables.
Here are some agency tools that will set your team apart from both internal management as well as effective client management perspectives.
Top 7 Agency Tools (2021)
1. Nifty
With Nifty you can manage the complete creative project cycle, including document collaboration, project deadlines, and team member workloads. Nifty keeps the entire processes centralized, and automates workflows and reporting to keep your team moving forward and bring transparency to a project's status. Project-based Discussions facilitate client collaboration while your team can leverage Nifty's team chat to work together.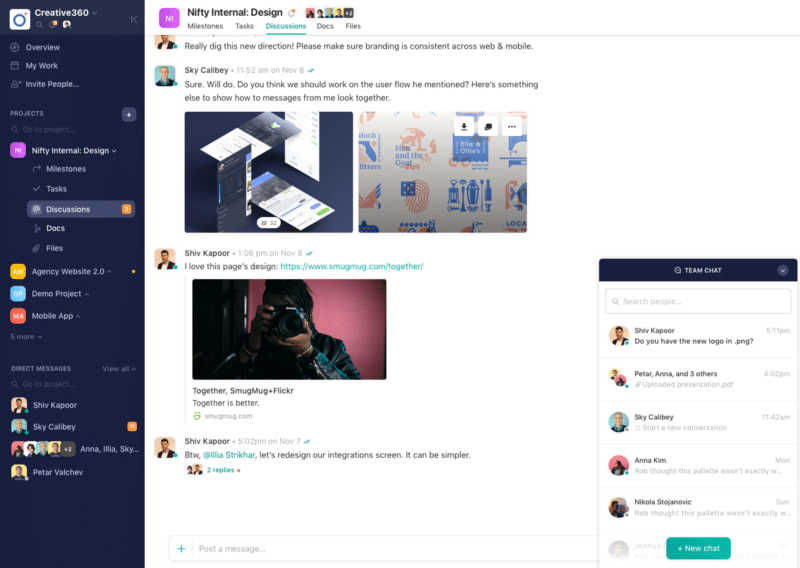 Top features
Team communication
Collaborative docs & files
Project milestone tracking
Project & Team overviews
Kanban & List task boards
Time tracking & reporting
Client management
Pricing: Starts from $49 / team / month. Free trial available.
Mostly recommended by: product teams, creative agencies, marketing professionals, development teams
Capterra Review Score: 4.8/5
2. Teamwork
Teamwork covers all the project management essentials that creative agencies need, including creating tasks and projects, uploading files, and adding comments. Creative agency project managers that use Teamwork also have access to advanced features for complex projects. This way, you won't have to worry about outgrowing the tool as you scale your creative agency. Teamwork also has the option to add unlimited clients to your projects, which can be a good way to keep communication channels open and help create happier clients.
Top Features
Gantt charts
Board view
Portfolio management
Time tracking
Reporting dashboards
Workload management
Pricing: Starts from $10/ User/ Month
Mostly recommended by: advertising agencies, creative agencies, digital agencies
Capterra review score: 4.5/5
3. Clarizen
Clarizen will help you to accelerate team performance and let you to automate repeatable processes. This fully-featured tool will help you to work the way you want to. One of the strongest points of this software is workflow management which will help you in reducing distractions and internal communication tracking which will unleash your creative potential.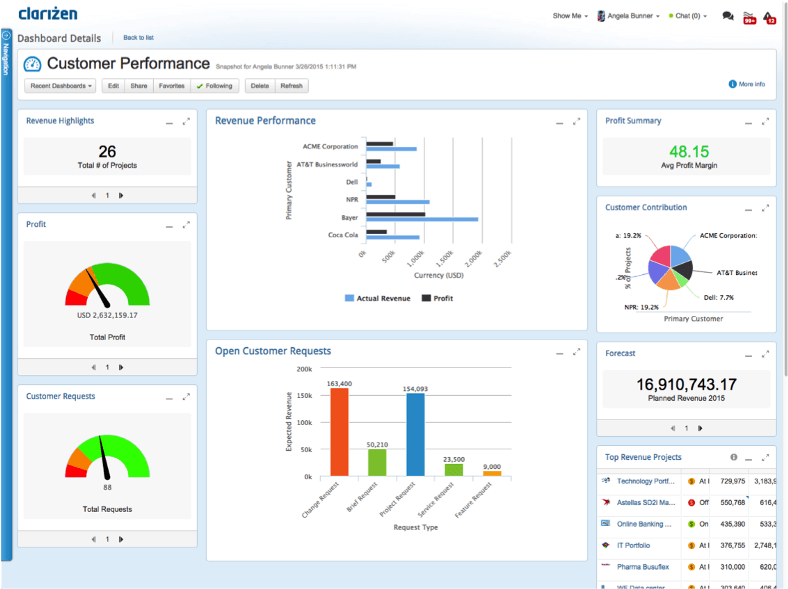 Top features
Cross-functional workflows
Budget tracking & expense management
Resource management
Project milestone tracking
Portfolio management
Pricing: Starts from $29.95 / user / month
Mostly recommended by: enterprise-level project managers, enterprise creative teams
Capterra Review Score: 4/5
4. Milanote
Widely used by designers, creative directors and marketers Milanote provides tool kit for streamlined creative project collaboration. No matter if it's not developed as common project management tool it will help you to visualize processes and workflows.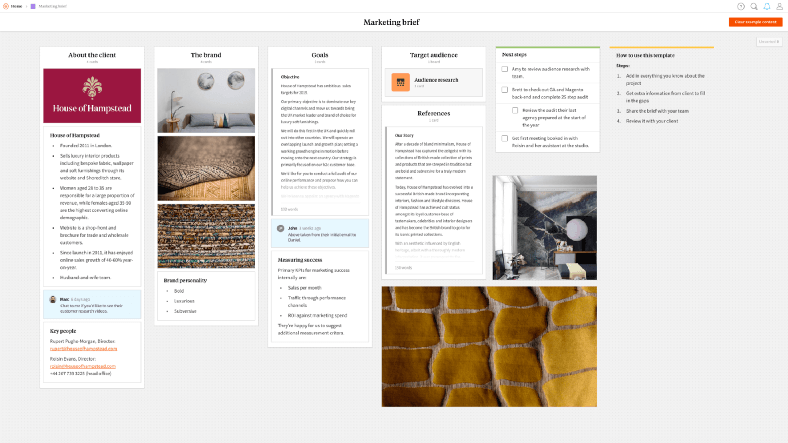 Top features
Creative asset management
Online whiteboard
Lean canvas
Pricing: Starts from $9/user/month
Mostly recommended by: designers, art directors, content writers
Capterra Review Score: 5/5
5. Monday
Visual and intuitive tool commonly used in managing creative workflows and team tasks. Monday offers a wide variety of views which helps you to visualize processes in a specific project. This tool offers 6 different views: Calendar, Chart, File, Kanban, Map and Timeline view.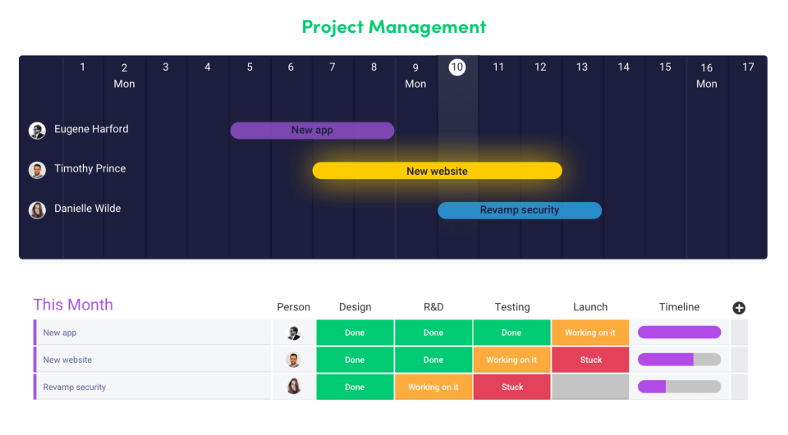 Top features
Great visual design
Fast workflow management
Customizable task boards
Project templates
Pricing: Starts from $9.5 / user / month
Mostly recommended by: product designers, digital marketers, sales teams
Capterra Review Score: 4.5/5
6. Paymo
With very clean and intuitive interface Paymo helps creative teams to better understand their workflows, daily task assignments and overall task progress. Software comes with integrated time tracker which makes easier job in understanding on which task each team member spending their time. Paymo offers 2 main views: Gantt Charts and Kanban Board.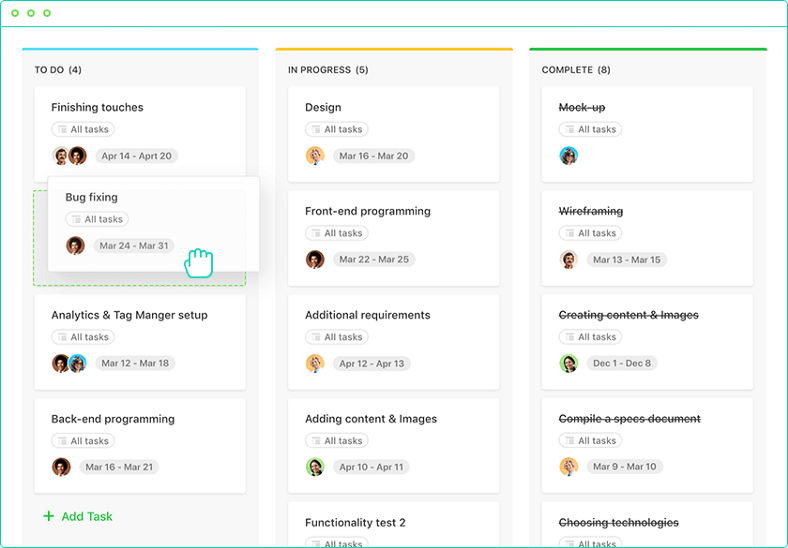 Top features
Gantt charts & Kanban boards
Project estimates & invoicing
Resource management
Portfolio management
Time tracking
Pricing: Starts from $9.56 / user / month
Mostly recommended by: web development and design agencies, creative marketing agencies, virtual assistants.
Capterra Review Score: 4.5/5
7. Admation
Software perfectly suitable for marketing teams and ad agencies. With this tool you can combine several project aspects and stay on the loop. Also, Admation will make easier briefing process for your creative team, in one centralized place client can review the brief, make necessary updates and approve final version. This tool may come in handy when you get stuck in managing wide range of processes for client digital campaigns.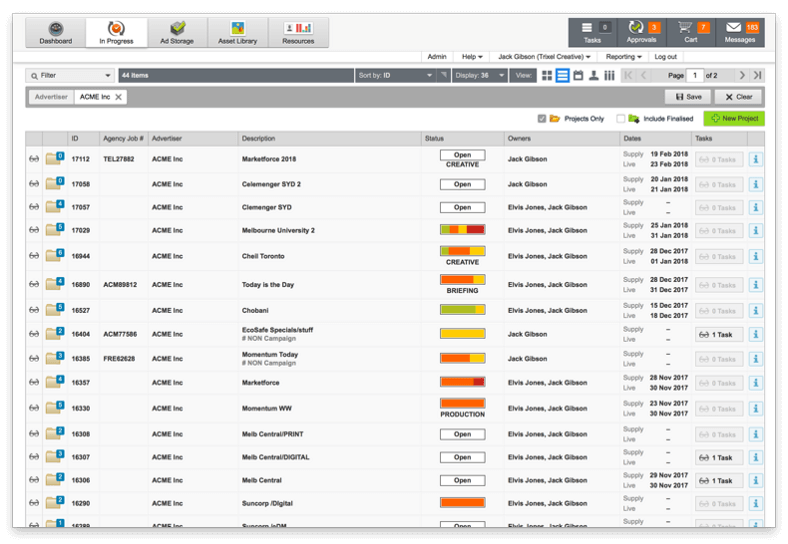 Top features
Project briefing
Approval workflows
Resource management
Ad creatives storage
Time tracking
Pricing: Starts from $30 / user/ month
Mostly recommended by: marketing teams, advertising agencies, creative writers and designers
Capterra Review Score: 3.5/5
Creative Agency Software Comparison Table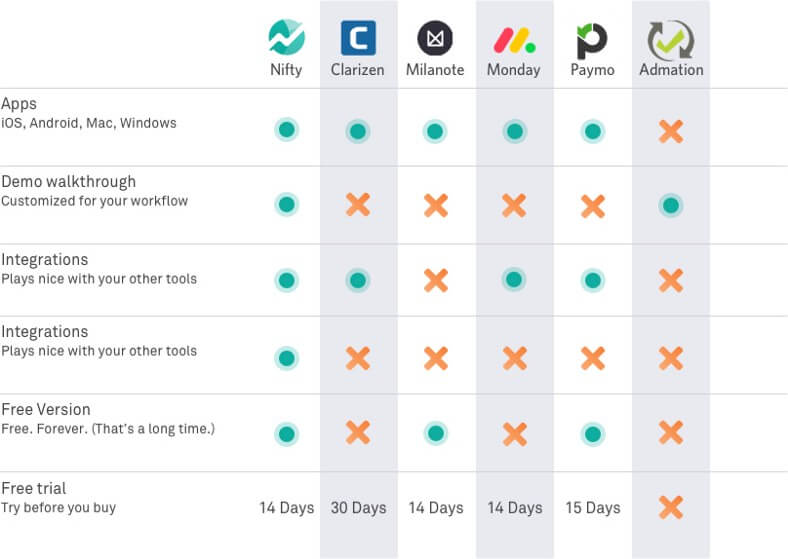 Let us know your favorite tools to manage your creative work in the comments below! 👍