Organized communication is the core of any successful project. Basecamp is one of the first software's to tackle this for the digital workplace, but there are many basecamp alternatives in the market that provide a more complete experience.
Team members need to know how and when to complete tasks while being able to quickly answer questions and share information with clients. Think about the last time you had a project that went off the rails — I'm willing to bet good money that it was because of disorganization or a lack of sufficient communication between team members.
When we think about project management software, Basecamp stands out as one of the most popular one in the field. But while it's a good foundational tool, it's lacking in some key features needed to significantly improve workflows. Right now, there are a number of Basecamp alternatives that take a more holistic and innovative approach to project and workflow management.
Here are some the benefits that Basecamp alternatives should provide for communication and project management:
Being able to see the big picture of team initiatives, which no longer keeps some team members in the dark.
Streamlining communication directly on tasks, saving project managers and team members valuable time.
Visual insight into project timelines to help teams adequately prepare for what's next.
Promoting asynchronous communication to help teams work cohesively, regardless of time zones.
We've compiled this list of top Basecamp alternatives that excel in project management and will help your team move away from Basecamp with more speed, agility, and accuracy.
1. Nifty (#1 Basecamp alternative)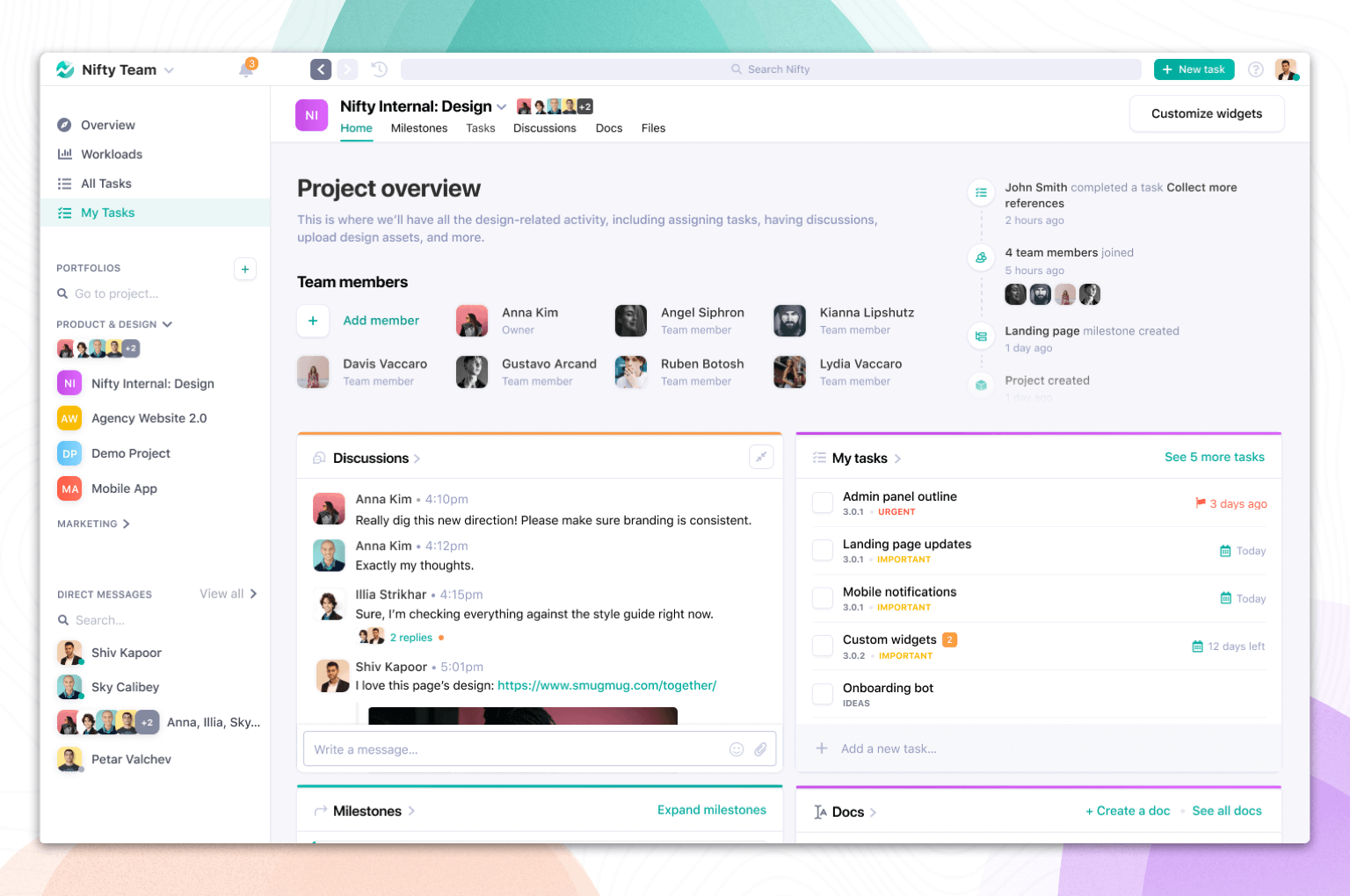 As our number one alternative to Basecamp 3, Nifty truly has it all: communication, project management, and workload customization. It's a cloud-based software that includes everything a project manager might need to stay on top of updates.
Nifty's intuitive UI makes it easy for even your least tech-savvy team members to adjust and start engaging with the tool. They have an easy file sharing mechanism for document access and navigation across teams. They also have a variety of integrations available, including the key players of Google Suite, Slack, and Zoom. Nifty makes it easy to seamlessly shift your projects from other project management software to their platform.
Add project milestones, portfolios, along with task and milestone dependencies to streamline and elevate your team's work. Pro and Business plans come with even more features, such as time-tracking, reporting, and budget tracking.
It's an all-in-one remote collaboration solution to manage communication, tasks, and projects to maximize team efficiency and productivity. The loading page of the app is also a rotating fun inspirational quote to get the creative juices running.
Pricing:
Nifty offers a generous free forever plan with unlimited users, tasks, and guests.
The next tier up is the starter plan at $5/user/month with custom fields + time tracking.
The Pro Plan begins at $10/user/month and includes everything in starter plus automations and cross-project overviews.
And a truly unlimited plan with Custom Roles + Permissions, Team Workloads, and Microsoft SSO and more for $16/user/month.
Compare all Nifty pricing plans in detail here 
👉 Ready to give Nifty a try? Start for free now — thank us later! 🚀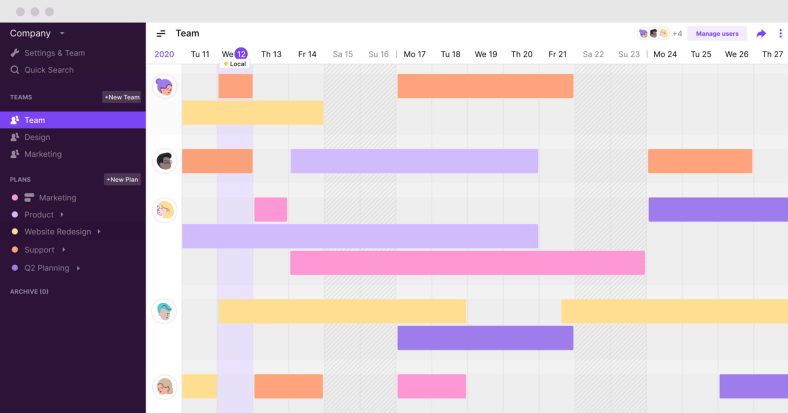 Toggl Plan is our second choice as a simple and easy to use planning and communication tool. Their streamlined design helps users create project roadmaps with a drag and drop design to quickly edit or extend project timelines. It has a customizable workflow to set deadlines, add subtasks, and more. All task-related information, including chats and documents, are stored on a task card to act as one source of truth.
Pricing: Toggl Plan is free for teams up to five users with unlimited projects and tasks. The premium plan costs $9 per user, per month, and comes with additional features such as an annual view for projects, custom colors to match company branding, and more.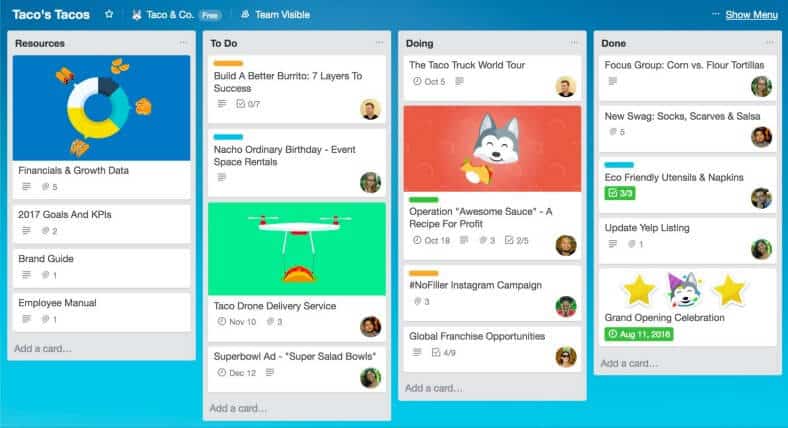 Another highly recognizable name in project management software, Trello has an intuitive interface that's consistently ranked as easy-to-use. However, they only use the kanban system, which might put off some users who are more accustomed to other methods of project tracking. Overall, it's a very flexible and light tool — it might not be the most robust platform in terms of reporting, but it provides a clean and simple workflow that's easy to adapt to.
Pricing: Trello offers a free version, but if you're ready to move to a paid plan, you have two options: Business Class, for $9.99/user per month, and Enterprise for $20.83/user per month. Both paid options offer power-ups which add even more opportunities for productivity. The free version does not include power-ups.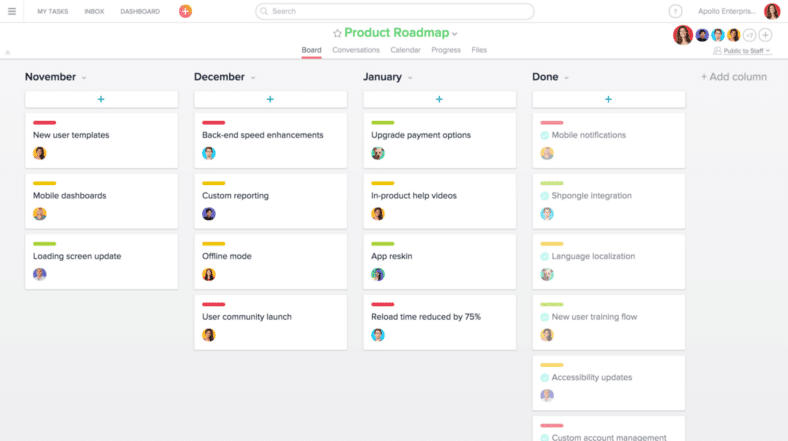 Asana has been recognized as a leader in the project management software sphere.
The main feature is their rendition of workload management, which uses graphs and notifications to alert managers when team members are assigned more work than they can reasonably handle. Asana allows you to set up recurring tasks to save time and run repeating processes more efficiently. They have integrations with software such as Microsoft Teams, Tableau, Slack, and Gmail.
Pricing: You can start with a free account that includes all of the project essentials. Asana's Premium package is $9.99/user per month and includes additional dashboards, admin consoles, and private projects. The Business tier costs $19.99/user per month with portfolios, goals, and custom rule builders.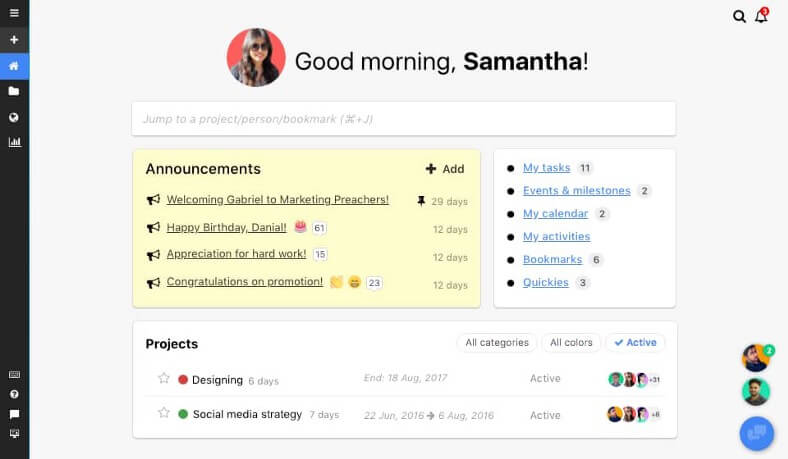 Proofhub offers all the basics of a project management tool with an easy learning curve, making it user-friendly for newbies and experts alike. Admins can take advantage of the homepage where they can see how all tasks were assigned and when to follow up, and users can easily color coordinate tasks to separate workflows. ProofHub's announcements feature and in-app chat function make it easy to stay up to date on the latest project updates.
Pricing: To get a free trial of ProofHub, you need to directly request the free version on their website. There are two paid plans: Essential and Ultimate Control, which both offer unlimited members and a 30-day trial. The Essential Plan is $50 per month or $540 per year and includes features such as more storage while managing up to 40 projects. The Ultimate Contro plan is $150 per month or $1,620 per year and includes all of the features of free and essential, as well as a project manager role, administrative controls, and added support. Be sure to also check out our Top 10 ProofHub Alternatives article!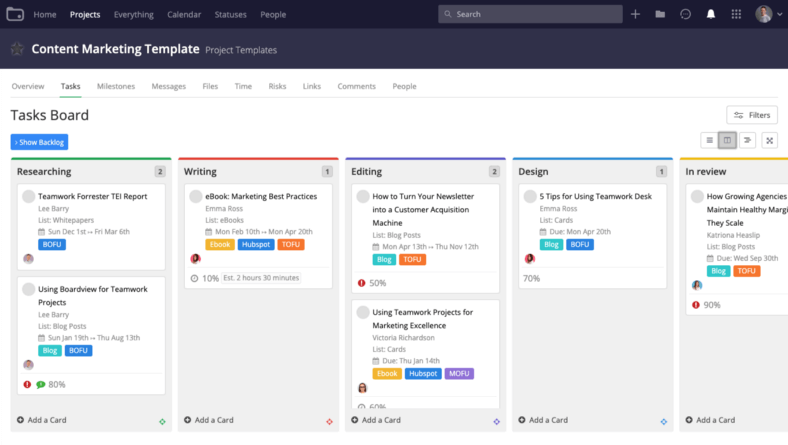 In Teamwork, it's easy to set up tasks and get started right away with assigning tasks and workflows. You can also include your company's branding for a more personalized experience. Teamwork allows you to customize features by the project to limit unnecessary noise. You can also customize project homepages, depending on if you want to see individual tasks or dashboards. It's an easy tool but not simple: you can add project dependencies, group people into teams, and add different priority levels.
Pricing: Like other PM software, Teamwork offers a free plan for up to two projects and 5 team members. If you find that you need more access, Teamwork's Pro Account is $10/user/ per month and includes 300 projects, time tracking and invoicing, custom branding, and Slack integrations.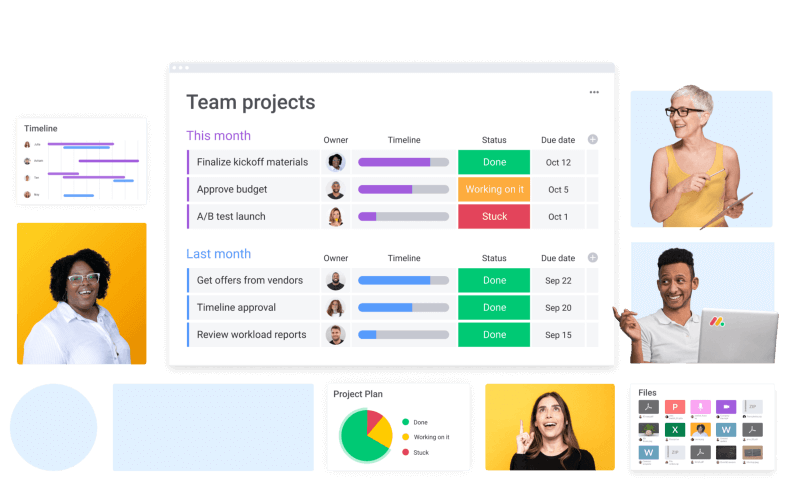 Monday.com is another project management software that is similar to Basecamp but offers work tracking and analytics features. Like some other software, you can create customizable workflows based on team needs or use one of the 200+ templates that are already available. Monday.com also allows teams to communicate and collaborate directly within an item so everything stays in context. They have many integrations available to streamline workflows with other apps.
Pricing: ‍Monday.com's Basic plan for smaller teams starts at $25/month for 3 users. Their Standard plan starts at $30/month and includes automation and integrations. Premium plans start at $59/month and Enterprise plans at $118/month, so there is a plan for every team size and structure.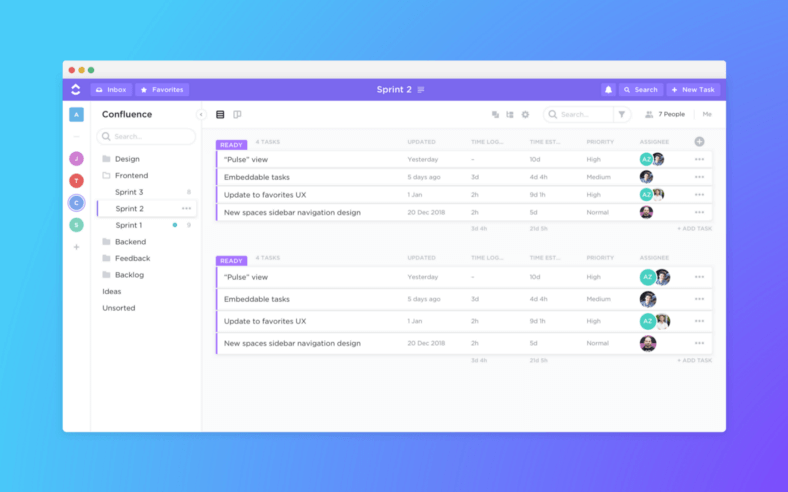 ClickUp is excellent if you prefer a variety of ways to view your projects, whether that's a list view, boxes, or calendar view. Each user has an individualized board to see their own tasks, and they can easily create documentation in the tool. Each PM can view a team member's profile to keep track of assignments and statuses. Speaking of statuses, you can customize your task statuses to match your communication norms. The app also has ClickUp time tracking integration for efficient time management.
Pricing: ClickUp has three plans available, depending on what you need. Their Free Forever plan has unlimited projects & members, and 100MB of cloud storage. Their Unlimited plan ($5/user per month) is just that: unlimited projects and members and an unlimited number of integrations plus advanced reporting. ClickUp's Business plan is $9/user per month with unlimited projects and members and two-factor authentication + Google SSO to make synchronization even easier.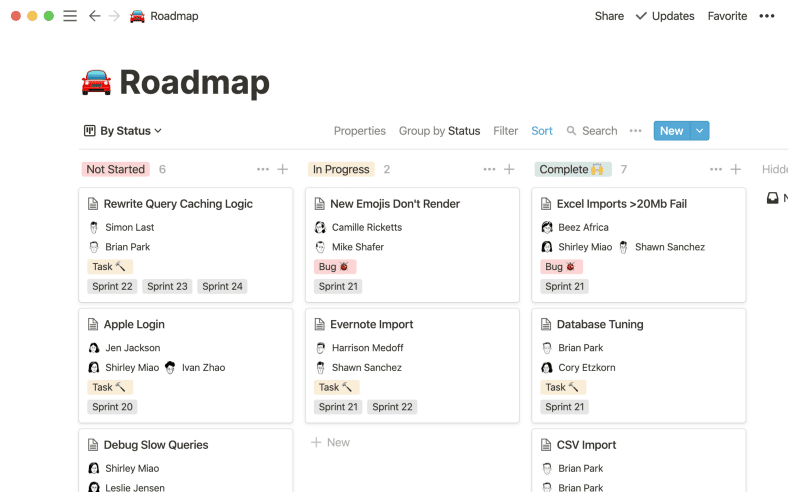 Notion offers shared project roadmaps and multiple database views so that you can drill down into what needs to get done. You can also add multiple subtasks to a project to ensure that every last detail is captured. Notion promotes asynchronous communication with highly customizable notifications that limit update noise to help you focus on your priorities.
Pricing: Notion is free for personal use, but if you want to expand access to your team, pricing starts at $8/user per month for advanced security and user permissions, wikis and databases, and priority support.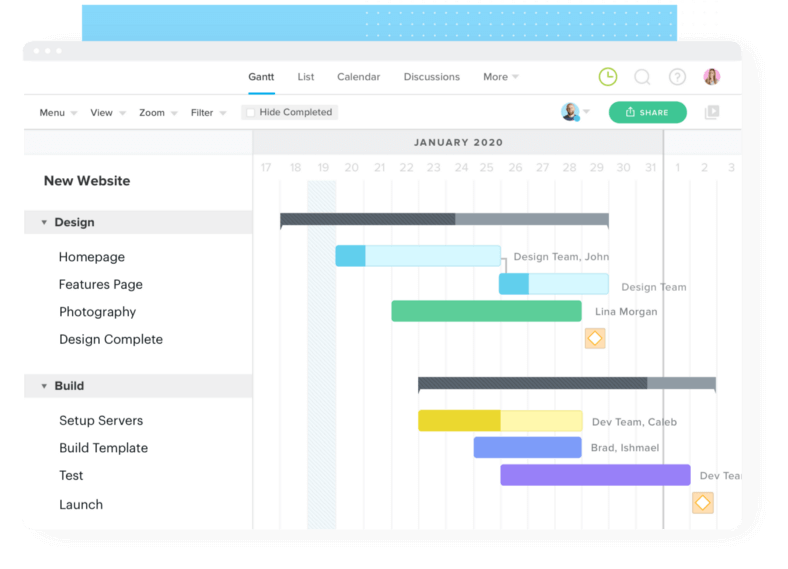 TeamGantt showcases a simple methodology for creating Gantt charts and all-around task management. Their shared calendars are clear and concise, making it easy for team members to stay up to date on shared initiatives.
Pricing: This is one of the pricier software that we looked at. TeamGantt does offer a free version but it is capped at three users. If you want to expand, pricing starts at $49.75 per month for 5 users and increases $10 for each additional user.
So as you can see — Basecamp 3 might be part of the old guard of project management software, but it's certainly not the only player in the game. If you're looking to expand your team's capabilities — any one of these Basecamp alternatives can help, but for the reasons outlined above, Nifty takes the cake.
✨ Sign up for a free trial of Nifty to upgrade your project management today! 🚀