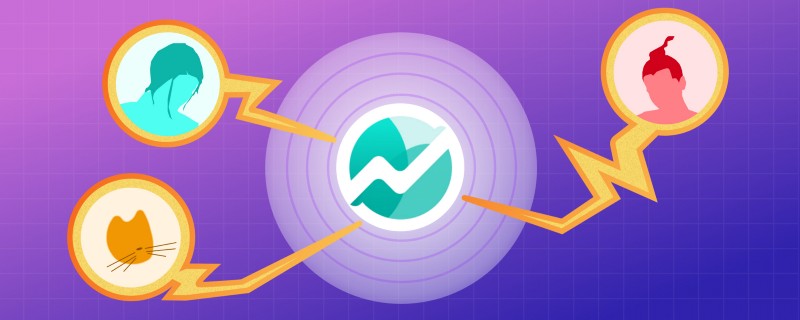 This article will cover 31 of the best task management software and tools.
Whether you're a freelancer, a startup, or a growing organization – we'll find a task management tool to help you do your best work. Before we head over to explore some of the best task management tools, let's find out why your team would need task management software in the first place.
Why do you need task management software?
Good task management software will allow you to organize, prioritize, and break down large ideas into manageable work that can be assigned and tracked with a high level of detail.
Let's segregate the use cases into two broader categories:
1. Task Management for Businesses
Businesses need task management software to improve collaboration and coordination between multiple departments and teams. Another reason businesses need a task manager is to enhance project planning and its execution because planning is an essential part of the project development lifecycle.
2. Task Management for Individuals
By Individuals, we mean both freelancers and individual contractors working independently. They need task management tools to help them keep track of multiple clients and their respective projects. A free task management software can help freelancers and contractors get their work done while saving them some extra dollars.
Now that you know why you need task management software, let's get into selecting the right tool for you!
31 Best Task Management Software & Tools: Hand Picked
You'll find a variety of task management tools ranging from simple cloud based tools to more robust all-in-one solutions. Here we round up the 31 best task management software to help you make the right choice.
1. Nifty
Nifty is a flexible and feature-rich task management software – available for web, desktop, mobile, and even as a Chrome extension. Nifty automates your task management and progress reporting with a built-in workflow builder.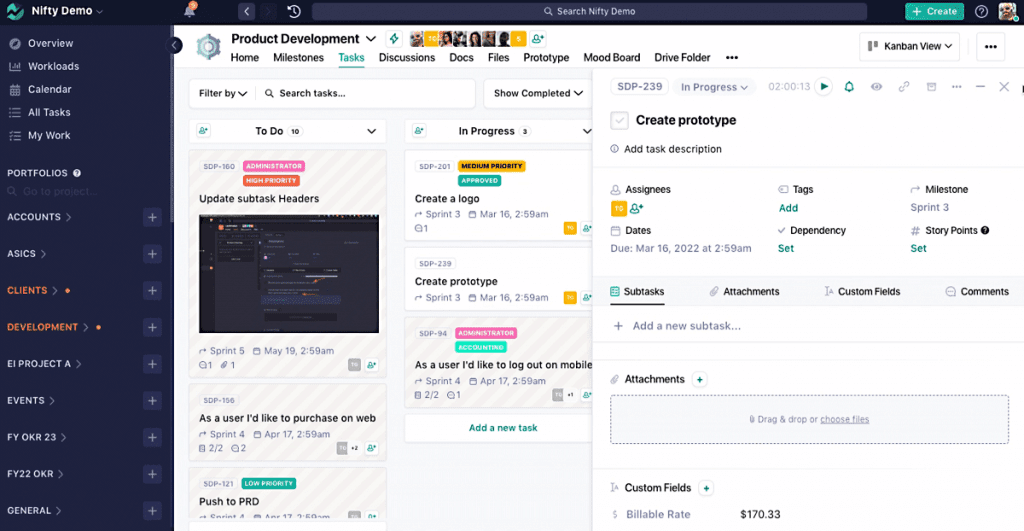 With the best workflow automation and task management, Nifty is the ideal Task management solution for teams of all types. With flexible board layouts, customizable views, and more, Nifty makes managing Tasks the easiest part of your workday.
The following are key ways Nifty stands out as a Task manager:
Lists and Status for organization: Bundle relevant Tasks together in Lists, and segment the progress of each List with Statuses to see where you are in the lifecycle of each Task. Assign members to Lists and Statuses so they can take ownership of entire phases or steps in a process.
Swimlane View for maximum insights: Nifty's Swimlane view intersects your Lists and Statuses on a Kanban board to visualize the progress of each Task across all of your project's initiatives. This immersive view is great for managing several segmented work streams at once.
Flexible Layouts for your exact preference: Choose whether you want to view your Tasks as Kanban, List, Swimlane, Timeline, or Calendar view. There's even a Report view for snapshot metrics reporting. Nifty remembers your preferred layout for each project.
Customizable, shareable Views: Customize your workflow further by setting the order of your columns, showing custom fields, adding colors, and more to your Task boards. You can save these views to refer back to them quickly and share them externally to align all stakeholders.
Automate the mundane: Let Nifty take care of the mundane parts of work, such as setting due dates, adding assignees, sending reminders, and more, with a built-in 'If/Then' conditional automation builder. Automations can be saved into project templates for future use.
Pricing
Nifty offers a free forever plan to get you started with paid plans starting at only $5/month per user with all core features included.
👉 Ready to try Nifty? Get started with Nifty for free.
2. Weekdone
Weekdone is a top-of-the-line task management software with a unique weekly reporting feature. Both managers and employees love the tool because it allows you to set structured goals to align activities throughout your organization.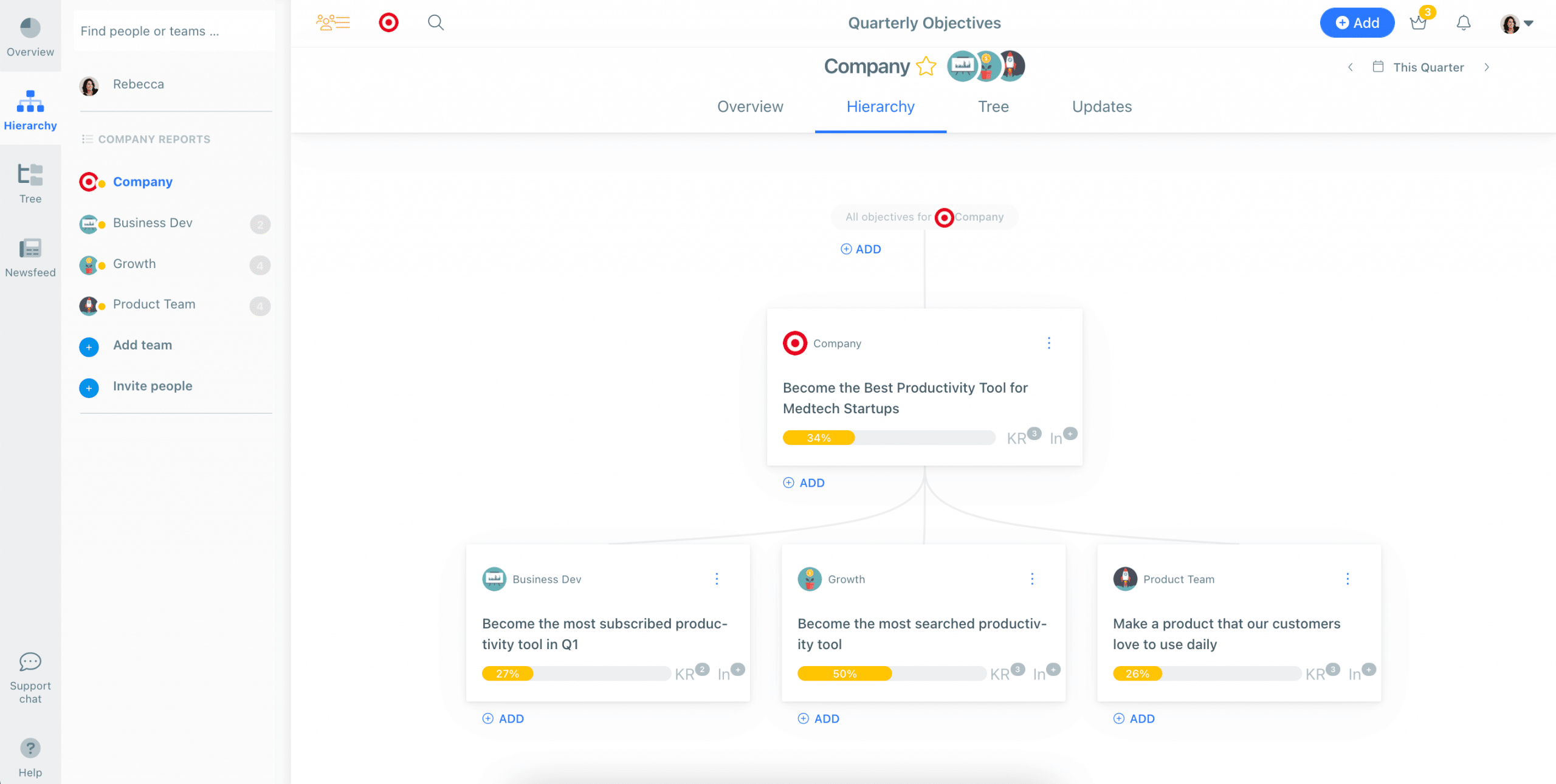 Using Weekdone, teams can set quarterly goals, plan their weeks, prioritize tasks, share progress with co-workers from multiple departments, provide feedback, and create perfect project management reports with ease.
Weekdone is a full-stack OKR Tool that also serves as a robust task manager, and that's why it has made itself to this list at position no 2!
Some key features include:
Goal tracking on the company and team levels with percent-complete, colorful progress bars.

Track team Plans, Progress, and Problems with transparency

Link tasks to Goals and Objectives – increasing accountability and productivity

Timely updates and open cross-team communication with the Newsfeed feature

Weekly reviews and 1:1 scheduling

Pulse surveys with custom templates for regular weekly feedback

Mentions, tags, and "likes" promote Conversation, Recognition, and Feedback!
Pros:
Weekly planning and goal setting

Clear dashboards

OKR linking

Project tracking
Cons:
Some users feel that the app can improve the overall performance and speed

It can take some time to integrate with other apps and to get used to the way such integrations work
Pricing
The free plan

lets you use the tool for free for three or fewer members.

The premium plan

starts at $99/month for larger teams with unlimited users and includes all features (comes with a free 2-week trial)
Our take: Enterprises that use OKR will find Weekdone very helpful. It is also reasonably priced. It's worth it for small and medium businesses.
3. ClickUp
ClickUp is a task management software that allows teams to collaborate, organize, and track projects from start to finish. The platform has been designed to help teams collaborate more efficiently, increase accountability, and streamline workflow.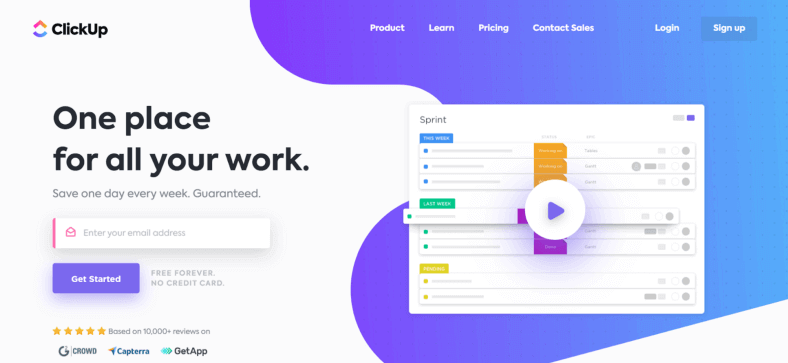 ClickUp's user-friendly interface, drag-and-drop functionality, and detailed reporting make it easy for anyone to use it. Their intuitive design keeps all team members engaged, involved, and on track to achieve organizational goals.
ClickUp's email integration allows you to forward emails to a specific email address. ClickUp's array of features is so wide that it's almost dizzying!
Some features that make ClickUp a good task manager:
List, Gantt, and Timeline task views to provide flexibility for everyone

An automation suite that can activate movements based on triggers

Guest collaboration in Lists

Mobile, web, and desktop apps
✨ Check also: ClickUp Alternative
Pros:
Drag-and-drop functionality

Detailed reporting features

Simple integrations, such as with email clients

Configurable notifications and alerts
Cons:
A large number of options, not all of which are needed

More of a learning curve than other apps
Pricing
Free plan

with basic functionalities

The ultimate

plan

starts at $5/user/month

The business plan

is for $12/user/month

The business plus plan

costs $19/per user/per month
Our take: ClickUp is a good choice for companies looking to integrate several systems into one place. It can consolidate activities. Users who are clear from the start about their needs will find value.
If you're looking to migrate from another project or task management tool, Nifty lets you import all your data instantly from some of the best online task-planning tools like Asana, ClickUp, Basecamp, Jira, Trello, Monday, and even CSV.
4. DragApp
DragApp is a task manager that turns your Gmail into a Team Workspace with shared inboxes and customizable boards to manage the entire workflow.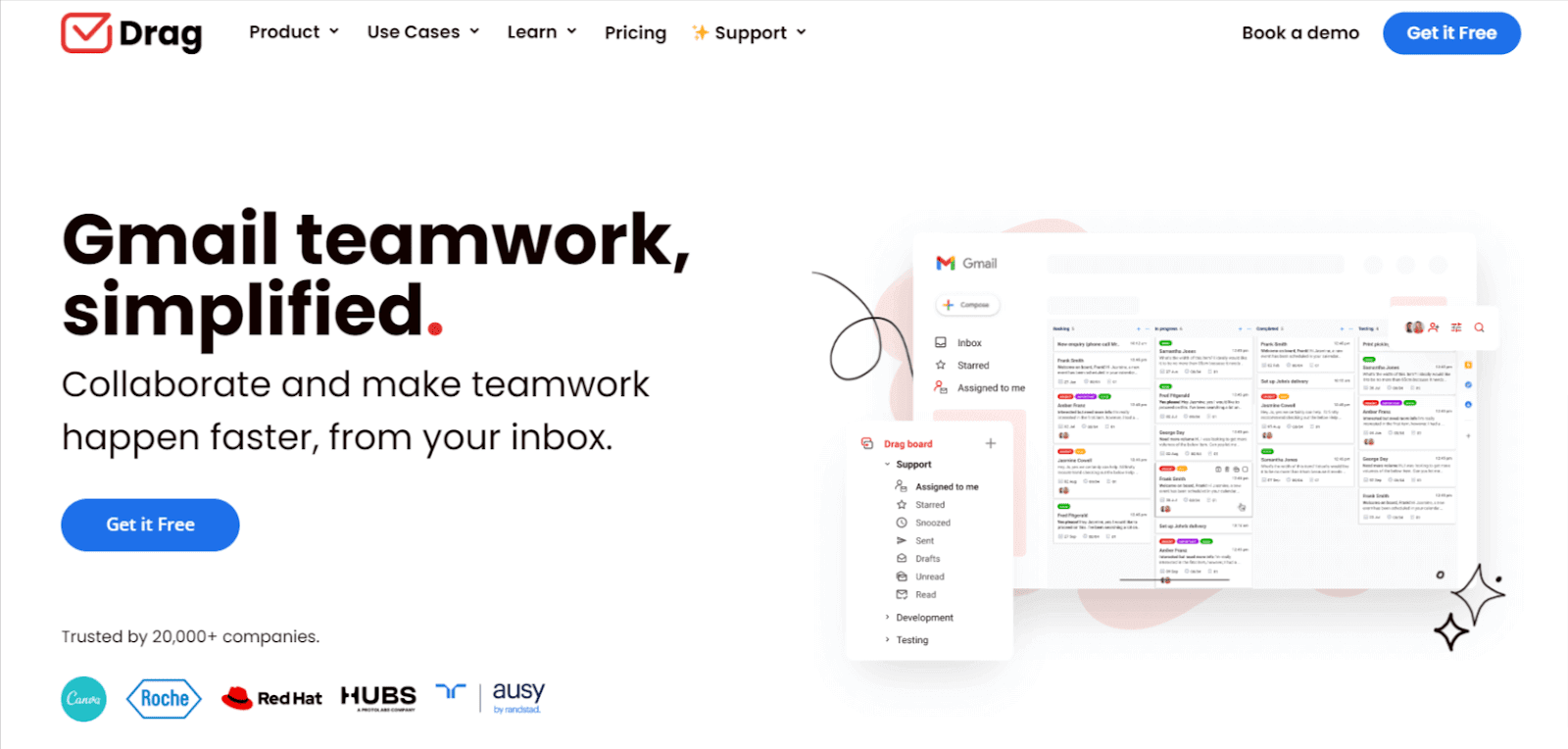 Although it's a shared inbox, it has plenty of other features like boards and a bunch of collaboration, productivity, and workflow tools, which makes it easier for creative project managers to take care of all the essential things from one place – Gmail.
In today's remote first workspace, most tasks start and end as emails in your inbox. A Gmail native task manager can give you a competitive edge, especially for small businesses.
What makes DragApp unique:
Native in Gmail

Emails (or standalone tasks) become cards

Custom Kanban boards for anything

Share boards for collaboration

Assign and manage tasks as per pre-filled instructions

Email tracking

Good customer support
Pros:
Collaboration, productivity, and workflow tools

Gmail is easily accessible to teams

Unlocks efficiency via email
Cons:
A lack of seamless integration

If the user has other Gmail extensions, these may not work in tandem
Pricing
Free forever plan

that comes with essential but limited features

The plus plan

starts at $8 per user/per month

The pro plan

costs $12 per user/month when billed yearly
Our take: DragApp works brilliantly for small teams and creative endeavors. It is entirely email-based, so it will not be suitable for enterprises with diverse tech requirements.
Try Nifty, an easy-to-use task management software.
Try for free
5. Trello: Most basic task management software
Trello is feature-packed and one of the most basic task management software for teams large and small. It's a popular tool worldwide known for its simple drag-and-drop interface.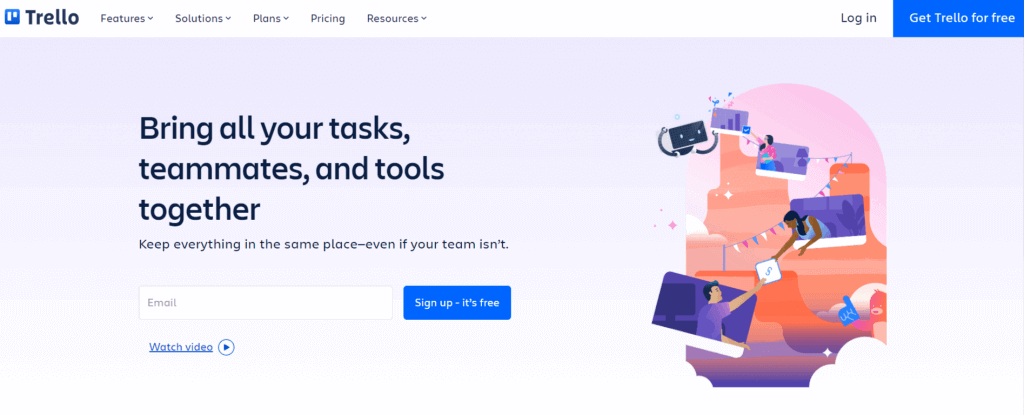 Trello offers many helpful integrations. For example, by integrating with ActiveCampaign, it lets you track the progress of your marketing campaigns. It also integrates with Zapier, allowing for custom automation between different apps.
With Trello, you can create a card for each email message and assign it to the appropriate team member. When that person receives the card, they can click on the email message and view the original email with one click. This makes it easier to prioritize and respond to emails promptly.
Trello, as a task management software, offers features like:
Create unlimited cards

Capability to add tasks with due dates and comments

Task activities with alerts and notifications

Organization of lists with priority and due dates

Upload images & files with tasks

Customization options for the dashboard

Integration with several third-party apps
✨ Read also: Asana vs. Trello
Pros:
Helpful visual overview of projects

Real-time operations

Integrations with other tools
Cons:
Trello has limited storage in basic tiers, creating an obstacle for data-heavy projects

Cannot share large roadmaps very easily
Pricing
Decent free plan

to begin with

Standard plan

costs $5/user/month

The premium plan

costs $10/user/month

An enterprise plan

is also available upon request
Our take: One of the best task management software, Trello, is simple, intuitive, and helpful. It needs constant data access and may not be suitable for large, geographically diverse projects.
✨ Read also: Trello Alternative
6. Infinity
Infinity is an incredibly flexible task management tool for startups and small businesses. The tool makes it a breeze to juggle various projects simultaneously, along with many tasks and subtasks.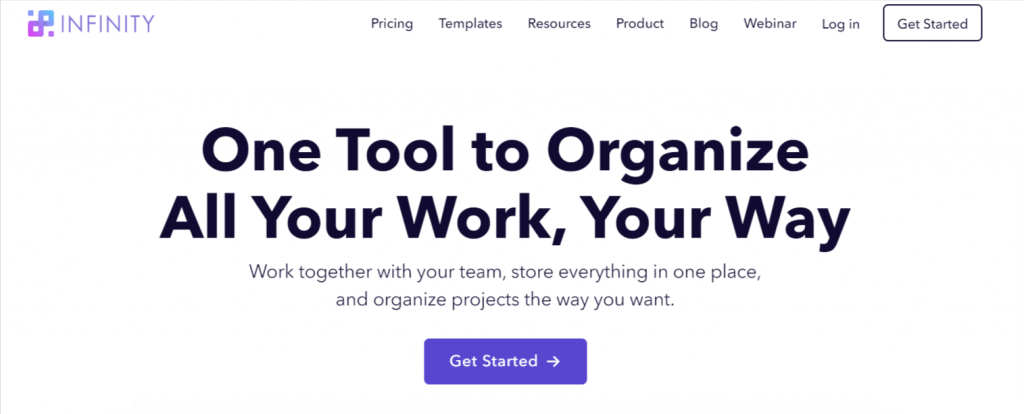 This task management tool lets you organize your projects and tasks in any way you want and track their completion while helping your teams collaborate more efficiently.
Oh, and it has some darn good visual appeal on top of it all!
Other key features:
Create, organize, manage, and assign tasks in a few clicks

Create custom task statuses, set priorities, and even color-code each label to make your workspace even more inspiring

Track the time each of your team members spent

Easily spot bottlenecks and act on them quickly to re-establish a smooth workflow

Get instantly notified whenever there's an update on tasks

Seamlessly integrate it with over 3,000 apps via Zapier
Pros:
Seamless view switching, from columns, tables, and calendars to Gantt charts and more

Folders and subfolders for neat organization

Reminders for automated tasks and processes
Cons:
Limitations in reports and integration

Room for improvement in the mobile app
Pricing
Infinity offers lifetime deals starting at $149
Our take: Infinity's strength is its flexibility in configuration. It works well for smaller enterprises still looking for scalability and large-scale integrations.
7. Smartsheet
Smartsheet is a powerful task management tool and a robust project management software best suited for companies with much project-based work looking for something beyond simple task management. The software allows you to create tasks and to-do lists and track each task's progress.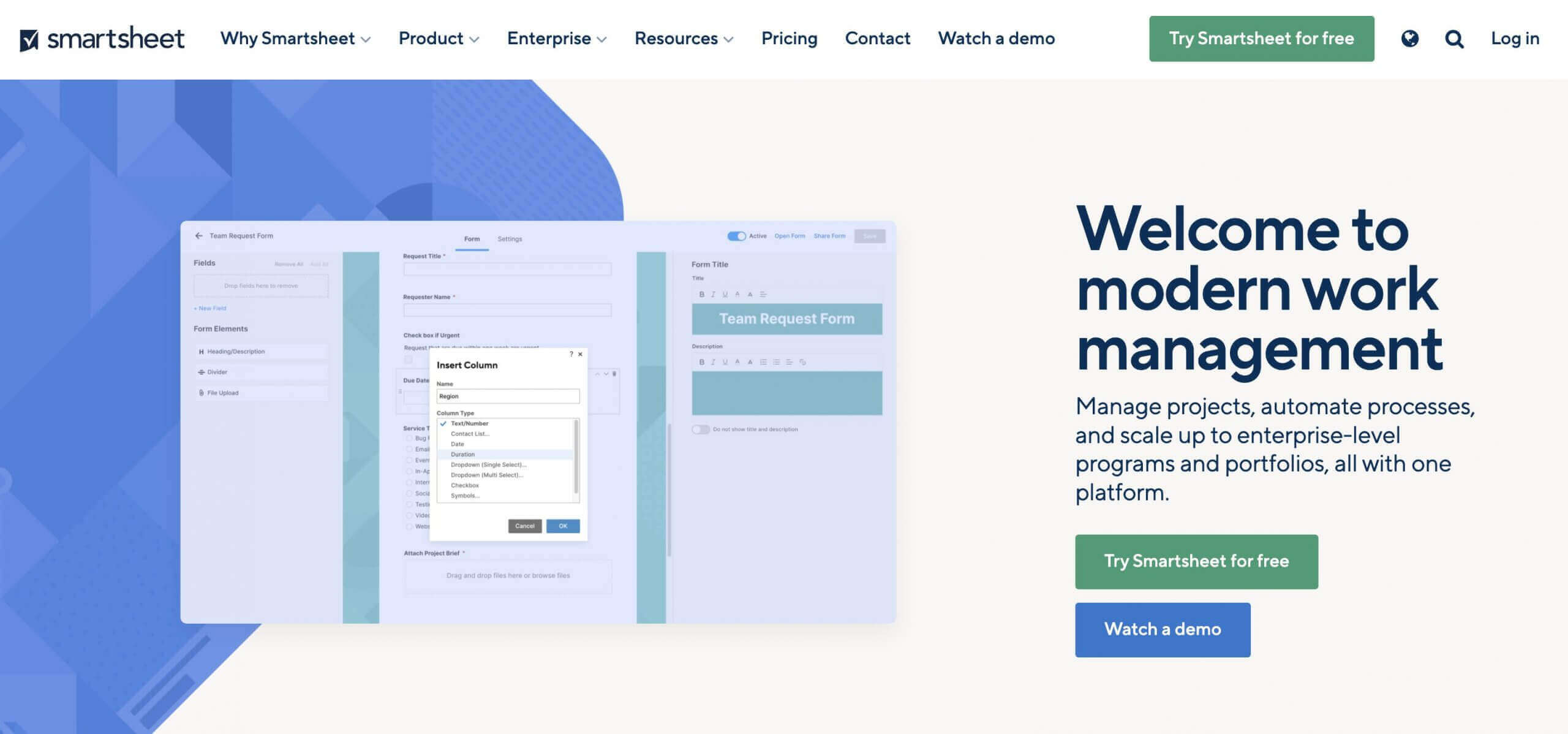 Smartsheet offers unmatched data visualization features. You can easily set up a task board or Kanban board with visual indicators to prioritize tasks. These boards keep your team on track with the most important goals.
Smartsheet has a clean and easy-to-use interface where you can add and assign tasks, set due dates, receive notifications, track progress, and view tasks on a calendar.
Features that make Smartsheet unique:
A robust mobile app for easy usage

Bulk upload feature

Collaborative AI

Cloud-native software, your team can manage projects and tasks from anywhere on any device.
Pros:
A bulk upload feature

Cloud-native, making it simple to work from any place

A useful collaborative AI feature makes it future-ready
Cons
Some tiers allow limited daily uploads

Not as customizable as some other options
Pricing
The pro plan

costs $7/user/month (max. ten users) when billed yearly

The business plan

costs $25/user/month, billed yearly

An enterprise plan

is available upon request
Our take: Smartsheet works well for process-heavy, workflow-oriented enterprises. It is less suitable for project managers looking for Agile and other flexible processes.
8. Teamwork
Teamwork is one of the best enterprise project management software that allows you to collaborate seamlessly and efficiently manage complex projects using its task management capabilities.
The tool shows everything in one place so you can effectively manage your team, projects, sub-tasks, clients, and freelancers.
Key features that make Teamwork a good task management tool:
Customizable templates to scale high-performance processes.

Visualize project tasks and automate your workflow with Kanban boards.

Get better insights with an in-built time tracker.

Collaborative experience with clients; comprehensive user permissions

Integrations with MS Teams, Hubspot, Slack, Xero, Dropbox, and SoftSync for Jira.
Pros:
Customizable templates across processes. to scale high-performance processes

Helpful, in-built time tracker

Good array of integrations
Cons:
The interface can become sluggish with higher loads

Reporting and documentation abilities are limited
Pricing
Free plan

with basic functionalities

Delivery plan

costs $9.99/user/month when billed yearly

Grow plan

is for $17.99/per user/month
Our take: Teamwork is a helpful tool for those dealing with clients regularly. It's best for small to medium teams dealing with regular stakeholder permissions and approvals.
Migrate your data from Teamwork or any other tool in under a minute. Try now!
9. ProProfs Project
ProProfs is another robust task management software that allows teams to set up tasks, track progress, and keep everything organized. ProProfs provides one-to-many communication, making it ideal for companies looking to improve team collaboration. It works best for remote workers and customers.

ProProfs offers a variety of communication options, such as email, instant messaging, and video conferencing, making it easy for team members to connect and communicate. It lets users set up and organize tasks, create due dates, track time, and easily organize everything.
ProProfs features that make it an effective task management software:
Create custom project workflows

Track time spent on each task and subtask

Access multiple project views such as Gantt charts and Kanban boards

Generate insightful reports for strategic decision making

Share files with stakeholders and team members seamlessly

Get real-time alerts and notifications

Track tasks on the go from a centralized dashboard
Pros:
Ability to create custom workflows and multiple project views

Insightful central dashboard

Seamless scheduling and monitoring
Cons:
Limited integration options

Mobile apps can work better
Pricing
Essential plan

costs $2/user/month billed yearly

Premium plan

costs $4/user/month billed yearly
Our take: ProProfs Project is an excellent tool for enterprises working on standalone projects. It needs to catch up on projects that need to integrate with other software tools.
10. Wrike
Wrike is one of the most popular task management software. It offers a variety of tools and integrations to manage projects, tasks, and schedules efficiently. With a clean and easy-to-use interface, Wrike works for teams of all sizes.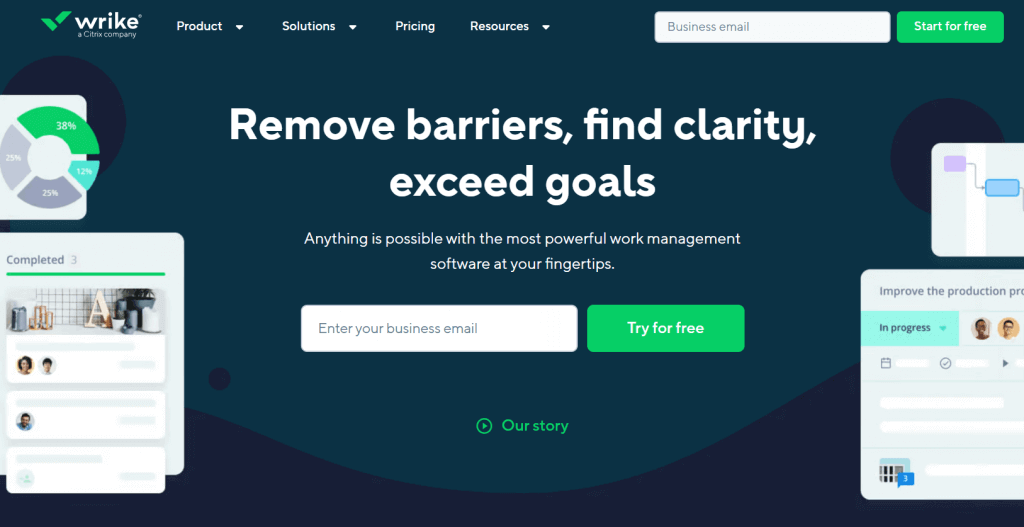 You can integrate Wrike with other productivity apps to automate your workflow and save time. For example, you can set a due date for a Todoist task to sync to Wrike. When the due date comes, Wrike sends you a notification to let you know the assignment is due.
Some key features of Wrike:
Interactive Gantt Charts to visualize progress. (Drag and drop interface!)

Kanban boards to plan tasks by the due dates.

Beautiful templates to speed up projects

Custom-request forms.

Built-in time tracking

Integrations with 400+ applications, e.g., Asana, Dropbox, Facebook, G Suite, Mailchimp, etc.
Pros:
Many ways to visualize progress, from Gantt charts to Kanban boards

Helpful templates to speed up projects

Built-in time tracking

Integrations with hundreds of applications such as Asana, Dropbox, Facebook, G Suite, and Mailchimp
Cons:
It has an extensive learning curve. The UI can take some getting used to

The more integrations, the slower the speed
Pricing
A free plan

is available for teams getting started

The professional plan

costs $9.80/per user/per month

The business plan

is $24.80/per user/per month

An enterprise plan

is also available upon request
Our take: Wrike is a robust task management tool and has proved its worth over the years. However, new users need to put in the time and effort to master it and justify the cost.
11. Hitask
One of the best task management tools, Hitask is a task management solution that takes the guesswork out of project management by leaving you in charge. It enables you and your project team to create new projects quickly and easily.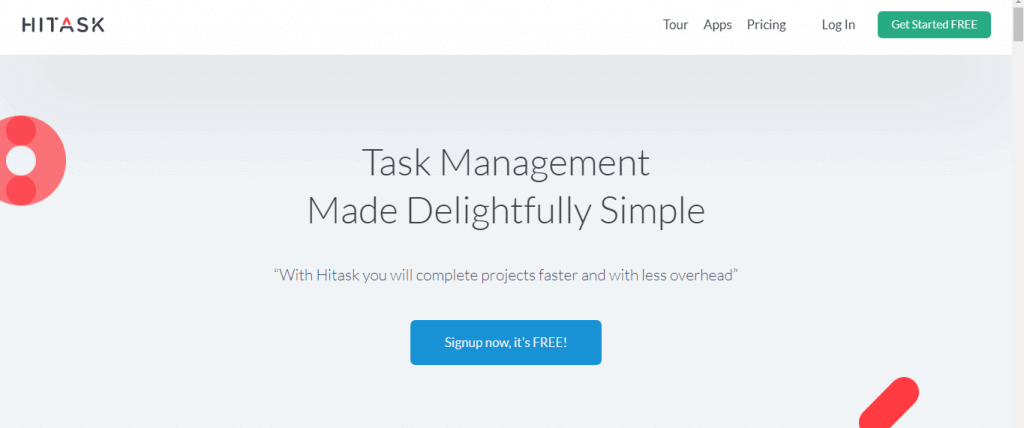 While it has no Gantt chart or Kanban board, you can assign share tasks to your team members. It also lets you collaborate on a centralized file library and calendar by synchronizing everything across all devices!
Why Hitask is a good task management software:
It allows you to organize your projects, events, and tasks

Analyze all of your team's events in one centralized calendar.

Track the time spent on projects

Progress reporting

Color tagging to categorize tasks

Apps for the iPhone, iPad, and Android devices

It supports Spanish, French, Portuguese, Russian, and Chinese languages.
Pros:
A centralized calendar that syncs events

Supports Spanish, French, Portuguese, Russian, and Chinese

Progress reporting and categorizing via color tagging
Cons:
Software slows down with too many tasks

Reporting/exporting data is only available in web application
Pricing
The free plan

comes with basic functionality

The team business plan

comes for $5/user/month

The enterprise plan

is for $20/user/month
Our take: Hitask is easy and intuitive to use. It is well suited to those who need a simple overview of tasks and those assigned to them.
12. Notion
Notion is one of the most popular project management software that's also used as a task manager, a collaboration tool, a documentation tool, and much more.
Thanks to its note-taking capabilities, teams primarily use it to take notes and manage tasks. The tool also offers team-wide wikis (a popular feature behind the tool's massive success) to store information like the company's legal policies, contact info, engineering best practices, etc., in one place that's accessible to everyone.
Features that make Notion standout:
Make a weekly checklist for yourself and take notes.

Create a task board using a drag-and-drop editor.

Like an unlimited knowledge base, nest pages inside each other.
Pros
Convenient drag-and-drop editor for task-board

Nesting pages provide a knowledge base

Integrated templates
Cons:
The offline mode requires pre-loaded pages

Some users have pointed out that there is a challenging learning curve
Pricing
The personal plan

is free

Personal Pro plan

is for $4/user/month

The team plan

costs $8/user/month when billed yearly
Our take: Notion is one of the best task management software for freelancers and smaller enterprises for the ability to take notes and organize schedules. There can be integration and scalability issues.
13. Scoro
Scoro is a comprehensive end-to-end task management solution for teams to streamline their progress in one centralized platform. No more shuffling between the tools! Keep track of your tasks, projects, and time holistically with collaborative software.
Key features of Scoro:
Real-time KPI Dashboard and Gantt chart to track progress

Eliminate time-consuming repetition with project templates

Get a full breakdown of all scheduled and completed events

Shared schedules, timesheets, and a built-in time tracker

Detailed project reporting

Integrated with 100+ tools like

Dropbox

, Xero, QuickBooks Online, Zapier, MailChimp, etc.
Pros:
Real-time dashboard to track progress

A full breakdown of all scheduled and completed events

Integrates with a variety of other project tools
Cons:
Limited customization is possible

There is less functionality in the mobile phone app
Pricing
The essential plan

costs $26/user/month

The standard plan

costs $37/user/month

The pro plan

comes at $63/user/month
Our take: Scoro, as a task management tool, scores across functions such as finance and marketing. Departments need to adapt to their design, as it has less flexibility.
14. ProofHub
ProofHub comes with a detailed task-tracking feature. You can create tasks within a project and assign them to different team members. Additionally, the task management software has a shared inbox where you can view, reply to, and post tasks. It also has a task progress tracking feature that helps you monitor your team's progress on the assigned tasks.
ProofHub lets you add details like due date, priority, and category to your tasks. It offers unique collaboration features like commenting, voting, and delegating for added functionality.
Teams can ensure on-time project completion and clear team accountability thanks to Proofhub's task management capabilities.
Key features of ProofHub:
Empower teams to visualize their workflow and progress with Kanban boards

Visualize your project timeline with Gantt Charts

View your data in Table View to keep note of what's important

Stay in control of who gets to see what

Customize workflow to meet team needs

project management & task prioritization
Pros:
Kanban boards and Gantt charts to check the progress

Table View to keep a tab of priorities

Customizable workflow to match needs
Cons:
The integrations are limited

The interface is not as polished for some front-end features
Pricing
The essential plan

costs $45 /month when billed annually

The ultimate control plan

costs $89 /month when billed annually
Our take: ProofHub's tools are adequate for small to mid-size teams. It may only suit those with one complex project going on simultaneously.
15. Todoist
Todoist is one of the most popular task management software. It's simple, intuitive, and packed with powerful features to help you efficiently manage your tasks and schedule. With Todoist, you can create detailed to-do lists and due dates, add comments and files to tasks, set task reminders, and collaborate with other users.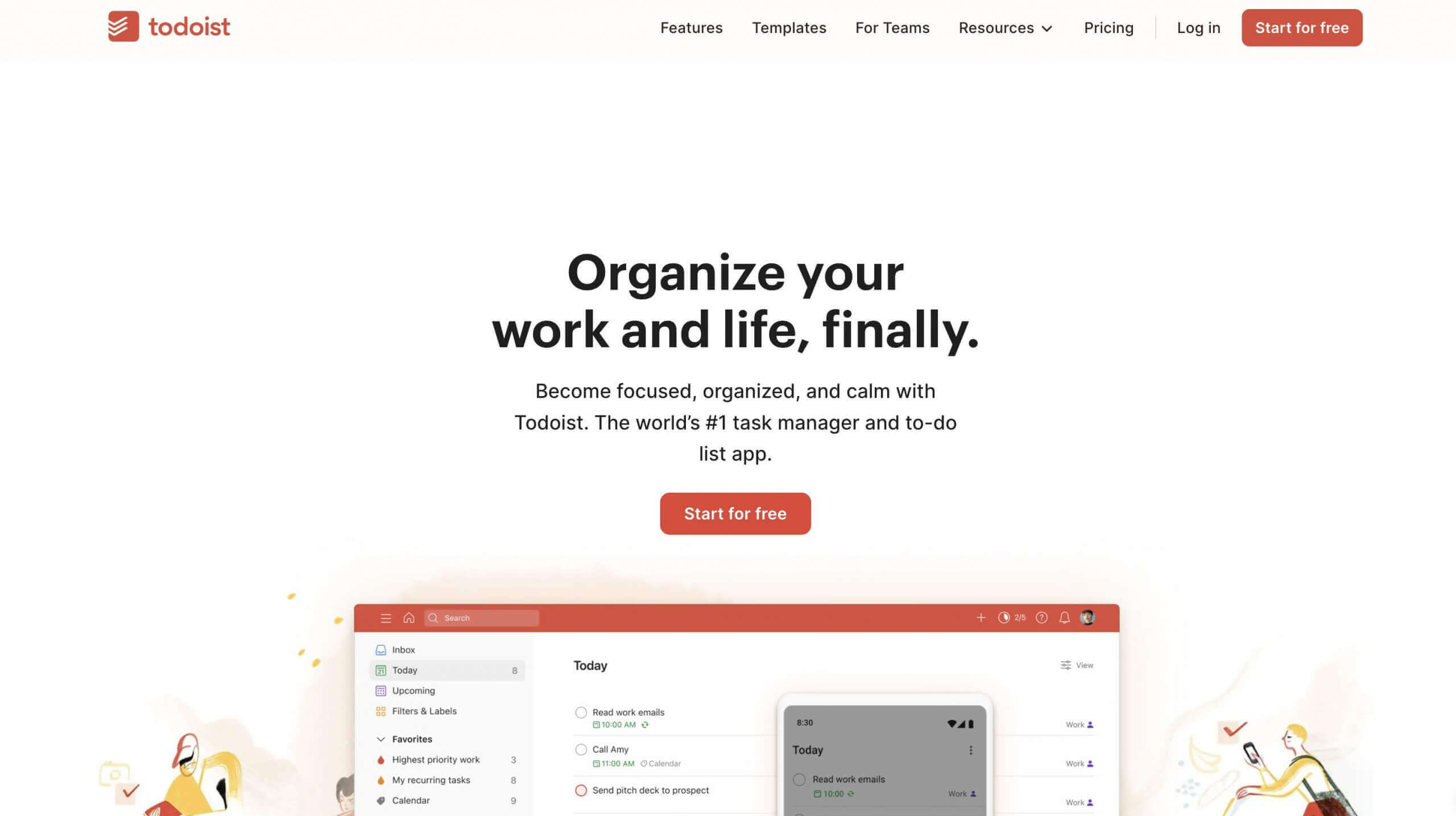 This app is available on all major mobile and desktop platforms and offers several excellent integrations with other productivity apps.
Todoist also offers a feature-rich premium plan if you need more power. It has a large, active user base and is an excellent option for business and personal use.
Features that make Todoist a good task management solution:
User-friendly mobile app

Gamification to improve user engagement

In-app collaboration feature
Pros:
Simple, intuitive, and detailed

Gamification tools for better engagement
Cons:
Some synchronization issues across platforms

Limited functionality for some enterprises with complex projects
Pricing
Free plan

For starters

Pro plan

for power users

Business plan

for teams
Our take: Todoist is a great task management software for individuals and smaller teams. It is less useful for larger and more complex projects.
16. Zoho
Zoho offers a wide array of products from email to support desk–and even an app builder. But the exciting part is that the project management software is highly customizable to be utilized as a task management tool.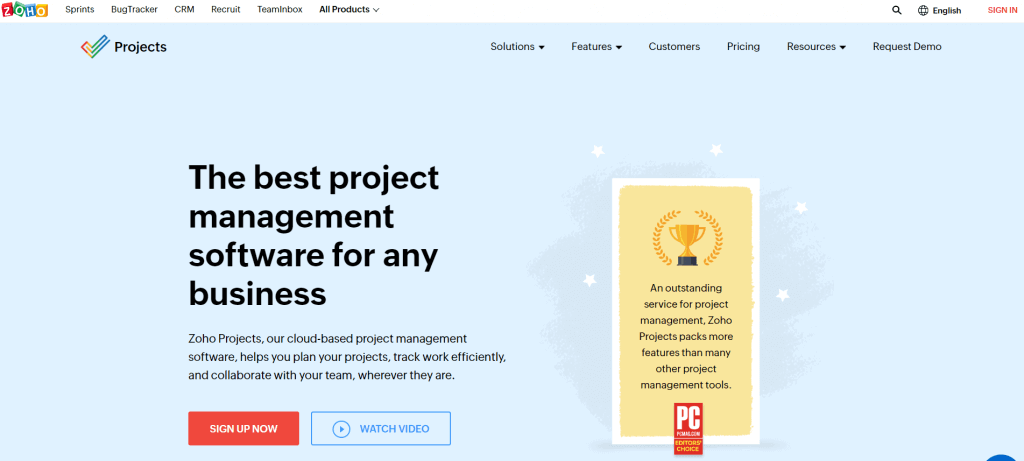 Since Zoho has a wide range of operations and uses cases, we will only go into a bit of detail about it. But, yeah, this task management tool is a single backbone for all your business needs.
Key Features that make Zoho stand out:
Highly customizable platform

Offers one-click access to the Gantt chart

Multiple use cases

Affordable solution for small teams
Here's a small explainer Zoho Project review video
Pros:
Easy data import and export

Conversational AI sales assistant

In-depth analytics
Cons:
An interface that could be more intuitive

Some modules are not fully integrated with the whole system
Pricing
The free forever plan is available

The premium plan starts at $3/user/month

Enterprise plan starts at $10/user/month
Our take: Zoho is suitable for startups and small ventures setting up and growing their CRM activities. Regarding scalability, teams must pay for the premium plan to take advantage of integrations and other key features.
17. Any.do: The flexible task management software
Any.do is a highly flexible task management software. Besides being extremely customizable, it has a wide variety of features that make it convenient. You can create multiple to-do lists, assign due dates, set up an email alert for essential tasks, and receive a warning when someone leaves comments for a person.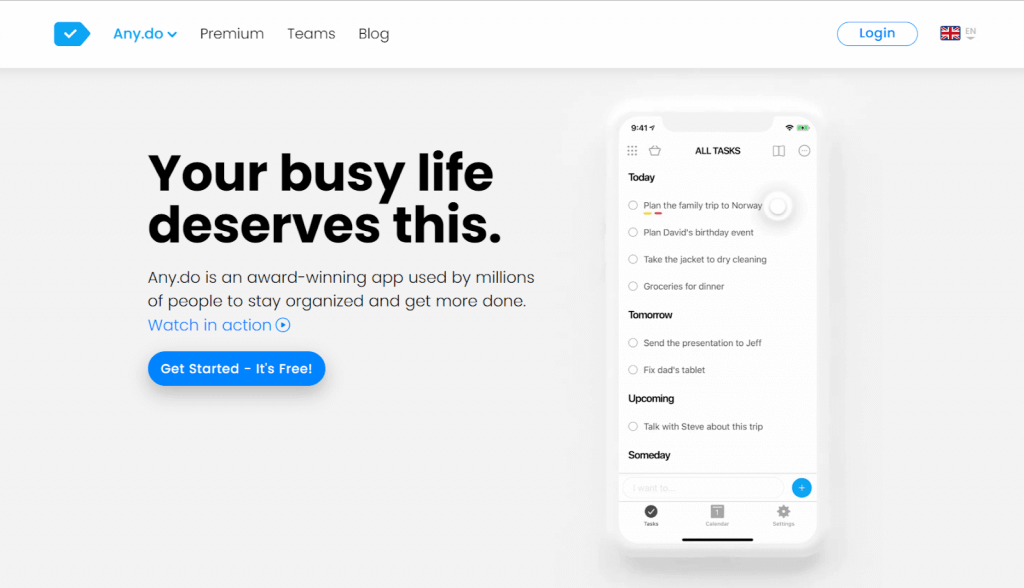 You can sync your tasks to your phone or tablet and get notifications for upcoming meetings or due dates. Any.do also offer a collaboration feature that allows you to work on everyday tasks with your colleagues.
You can create a private or public to-do list, invite your colleagues, and assign tasks to them. When you receive a comment on a specific assignment, you can enable a manual email reply to get a notification when someone replies.
Unique features that make
Any.do
a good option:
Calendar view to keep you informed about all projects and tasks

Time tracking as an add-on

To-do list reminders & notifications

Ability to send WhatsApp reminders

Unlimited attachments
Pros:
Can create both one-off and recurring tasks

Action shortcuts linked to tasks for calls, emails, or texts

Integration with third-party calendars
Cons:
No options for subtasks

Better features only available on premium plans
Pricing
A free plan

is available

The premium plan

costs $2.99/month when billed yearly
Our take: Any.do is an easy-to-use and practical application for increasing productivity. It works well for individuals and small teams.
18. Bordio
Welcome to Bordio, the project management platform that takes your productivity to new heights! With a range of powerful features and customizable options, Bordio is the ultimate tool for teams to plan and execute complex projects with ease.

It simplifies project management by providing you with an easy-to-use platform to keep track of your tasks, deadlines, and progress. From daily and weekly planning apps to project management software, Bordio provides a complete solution for businesses to manage projects effectively.
With Bordio, your team will handle projects more effectively and deliver them on time, every time.
Key features of Bordio that make it different:
The platform provides advanced project planning tools, calendar planners, and timelines
Bordio's Backlog helps you prioritize and track everything that needs to be done
Time-blocking technique allows you to schedule specific periods of time for different tasks and activities
With its color-coding feature, you can give your tasks and projects a pop of color
The workload estimation feature helps you avoid overcommitting yourself and ensures you can meet your deadlines without burning ou
Pros:
Bordio provides a comprehensive solution for managing projects with a wide range of advanced features
Simple interface makes it easy to use
Bordio's flexibility allows us to use it for different types of projects, whether small or large and for different industries.
Cons:
More useful for individuals and small teams
19. Basecamp
One of the oldest project management names in the game, Basecamp is also a robust task management software that's been a longtime favorite for service teams who expect to work alongside a client during the collaboration process.
Since it's legacy software and has yet to make for good task management software, it has its limitations. For instance, you can't customize the status of each task.
So you only sometimes know what was approved, what's in progress, and what needs attention!
✨ Check also: Basecamp Alternative
Features that make Basecamp an OG task management software:
Simple layout for users of all levels of software capability

Email-based collaboration for project members and Guests

Document and file management to consolidate phases of a project lifecycle

Flat, predictable pricing
Pros:
Ability to manage both client and team projects

Simplicity in design and function

Good collaboration tools
Cons:
Graphics can be simplistic

Limited reporting functions
Pricing
As of October 2022, they are offering a free plan

for three users for 12 months

They also have flat pricing for $99/month for a time of any size
Our take: Basecamp is popular, well-adopted, and professional. The tool's real value is found only in the higher-priced tiers. Enterprises need to budget for this beforehand.
20. Hubspot tasks
HubSpot tasks are the easiest way to track your company's activity. With this simple task management software, you can assign tasks to your team members, set due dates, and receive notifications when someone completes their task.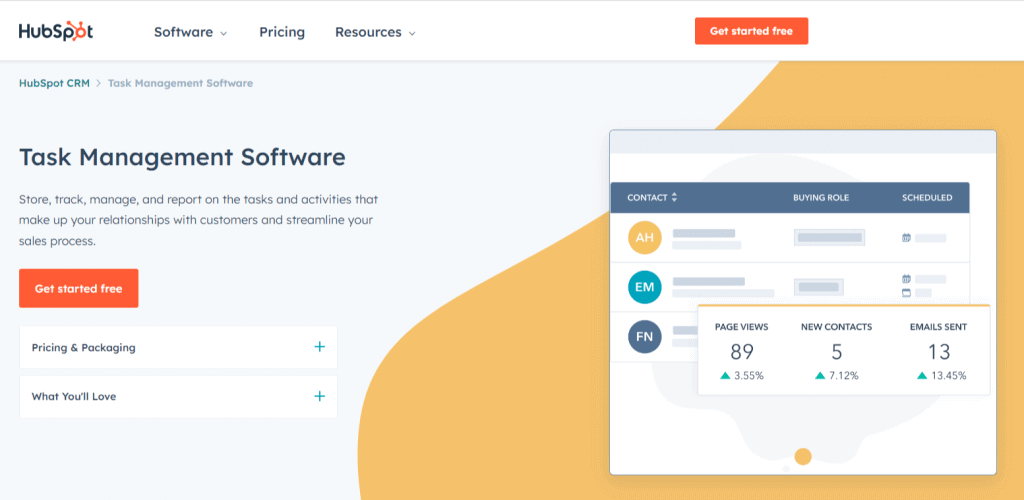 It offers email templates to send bulk messages to your team when tasks are scheduled to help everyone keep up to date with the work's progress.
You can also set up an internal team chat with Hubspot tasks to communicate with your team members in real time. Thanks to its CRM integration, you get notifications when someone starts working on a new lead.
Features that make HubSpot tasks a good task manager:
Robust integration with 100+ partner apps

It can be customized to integrate with your CRM

Progress tracking to keep you informed
Pros:
Works well with the organization's existing CRM

Integration with hundreds of other applications

Ease of use and scalability
Cons:
It would be best if you integrated HubSpot across all your tools to get maximum results

The pre-assigned templates can be inflexible

The reporting features are not as robust
Pricing
A free plan

is available

Premium CRM plans

cost $45/month
Our take: HubSpot is a professional and popular task management tool. It is excellent for medium to large enterprises who know the value it delivers and can upgrade to its professional-tier packages. Such enterprises must commit to HubSpot's work and refrain from using it sporadically.
21. Taskworld
Taskworld is a lightweight, cloud-based, and easy-to-use task management software. Taskworld helps you assign and track tasks and get feedback on each task's progress.
You can create tasks for any type of project—small or large, simple or complex—and assign them to team members regardless of their location. It's ideal for individuals and teams to stay organized, task-oriented, and accountable.
One thing that you can notice once you start working with this tool is that it has way too many similarities with Trello. If you are currently using Trello and planning to make a switch, Taskworld is the ideal solution for you.
Features that make Taskworld stand out:
Built-in Direct messaging capabilities

Activity log

Email notification for Task assignments
Pros:
Comprehensive feature set

Simple customization

Consolidated tracking and organization abilities
Cons:
We need to purchase licenses per user

It lacks multi-media support
Pricing
A free forever plan

is available to start!

The premium plan

starts at $10/user/month and goes to $22/user/month
Our take: This cloud-based app combines methodologies and live chat to make it intuitive and helpful for small to medium businesses. Those looking to scale up must consider the cost-efficiency of higher-priced tiers.
22. Plutio
Plutio is a highly intuitive tool that lets you create and track tasks and projects, set due dates, and collaborate with your team via email integration. It has a detailed onboarding process, so you don't need special skills. It's a great option if you're looking for a simple solution to manage projects efficiently.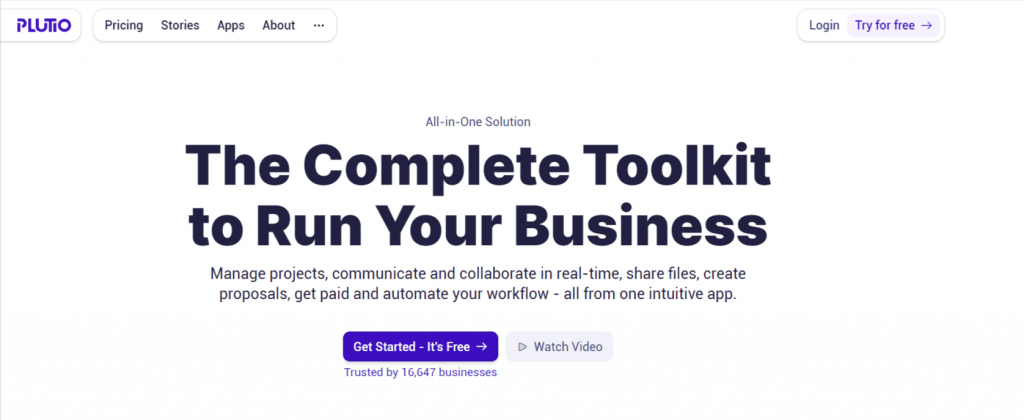 Plutio's main features are task prioritization, email integration, collaboration, and reporting. It comes with a clean and intuitive user interface, which makes it easy to use even for people with little task management experience. Plutio's email integration allows you to set up automated task reminders so you remember to follow up on important tasks.
Features that make Plutio a good task management software:
You get a robust dashboard to track all your projects, tasks, and deliverables.

Built-in time-tracking

Built-in documents
Pros:
Unified Portal to manage clients and payments

Automated notifications for task updates

Invoice-generating mechanism
Cons:
Dates can only prioritize tasks

No integrated email inbox
Pricing
After the trial period ends,

the solo plan

costs $19/per month.

The studio plan

costs $39/per month

The agency plan

costs $99/per month
Our take: Plutio is excellent business management software for multiple clients. Limited integrations and some functionality issues mean it's only for some.
23. Monday.com
Monday.com is an excellent option if you are looking for simple task management software. Monday has multiple features that help you create task assignments and work with them with ease.
Key features that Monday offers:
A robust conditional automation tool for immersive if/then triggers

Flexible, customizable dashboards for reporting

A collaborative doc experience that brings other elements of Monday into the document's workstream
✨ Check out: Monday Vs. ClickUp
Pros:
Flexible, customizable dashboards

Support for Agile

Budget tracking and reporting

Wide range of integrations
Cons:
Integrations and automation are absent in the basic plan

Users need time to familiarize themselves with the processes
Pricing
They have a

free plan

The paid plan

begins at $8/user
Our take: Monday.com works exceptionally well in a multi-user environment. However, businesses should remember that the more valuable features only exist in the premium-priced tiers.
✨ Read also: Monday Alternative
24. Podio
Podio is a flexible and customizable task management tool ideal for small teams. The user interface is clean, intuitive, and easy to navigate. With Podio, you can keep track of your work with email integration, organize tasks with task boards, and share files with your team members with file hosting features.
Podio integrates with hundreds of apps and software and offers advanced features.
Features that make Podio a good task management tool
Offers organization apps

Notes taking capabilities

Built-in templates
Pros:
Convenient activity dashboard

Custom folders

Ability to work across various business processes
Cons:
Learning curve when it comes to sharing projects

Limited reporting features make it less than ideal for larger projects
Pricing
Free

for up to five employees

The basic plan

costs $7.20/per month

Plus plan

is $11.20/per month

The premium plan

is $19.20/per month
Our take: Podio is a powerful and versatile tool with many options and high functionality. New users must be more confident about using it, as this can take time.
25. Paymo: task management software for finance pros
Paymo is another fantastic task management solution for teams who track time, resources, and profitability within their workspace.
Paymo offers built-in collaboration tools and workflows to keep your team on a standard page.
Key features that Paymo offers:
List and Kanban view to organize your task management

Time tracking and timesheets to log effort spent on your initiatives

Client invoicing for unified management
Pros:
A team scheduler to discover workloads and assignations

Real-time collaboration

Easy to implement and use across functions
Cons:
Speed improvements are necessary

Many filters, can get confusing
Pricing
They have a free plan

The paid tier begins at $9.95/user/month
Our take: Paymo is a value-for-money tool for seamless task management. It's best for SMBs and professionals, and large enterprises may find it limited in application.
26. Airtable: Free task management software
Airtable is a powerful, easy-to-use organizational tool. With Airtable, you can create detailed to-do lists and track your progress through completion. You can also set up email notifications for team members when new tasks are created to help keep things organized without manually monitoring everything.
Airtable is the perfect collaborative task management tool for teams and businesses of all sizes—from small businesses with a few employees to large companies with hundreds of team members.
With this software, you can improve your team's communication and process workflow efficiency. You can also set up automated reports for managers so they have a clear view of all the tasks.
Features that make Airtable a good task management software:
Grid interface allows grouping of projects based on different criteria

You can view and move tasks to different stages using cards

Gallery view makes it easy to find anything.
Pros:
Centralized platform to manage projects and client

Multiple templates to match various types of projects
Cons:
It can take time to set up and get off the ground

Some features can be less than intuitive
Pricing
A free plan

is available

Plus plan

costs $10/user/month

The pro plan

costs $20/user/month
Our take: Airtable is flexible and mobile-friendly, combining spreadsheet and database capabilities. However, this free task management software requires some effort to learn and apply various features.
27. Intervals
Intervals was the first collaborative task management software to include built-in timers to manage tasks. Today, Intervals continues to empower teams worldwide with its powerful combination of task management, time tracking, and beautiful reports.
This software is ideal for teams who need to know exactly where their time is going while delivering projects on time and under budget.
Features that Intervals offer:
Create custom task priorities and workflows

Time tracking on tasks with built-in timers

Email integration for creating and updating tasks

Document sharing — attach supporting documentation to each task

Detailed task histories capture notes and updates

Detailed reports, visual dashboards, and Gantt chart

Mobile app for managing tasks on the go
Pros:
In-depth reporting features

Hosted online service with no software to be installed
Cons:
Integrations can be a challenge

Invoicing options are limited
Pricing:
The basic plan starts at $49/mo and goes to $299 for an unlimited plan. The tool offers no limit on users & all plans come with a free 30-day trial.
Our take: While Intervals is simple, lightweight, and flexible, it does need a continuous online presence, which can make it less useful for teams who may be offline.
28. Akiflow: One of the best task management tools
The latest edition to this task management tools list is, Akiflow. Akiflow pulls tasks from all other productivity platforms to create a centralized time and task management inbox. The app helps users organize and plan their to-do lists using the time-blocking method.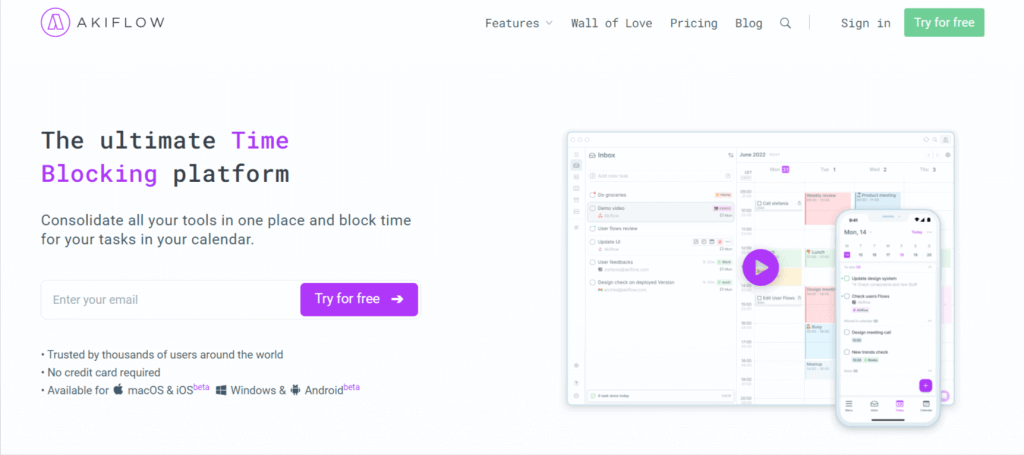 This tool focuses on individual productivity, offering an interface flexible enough to employ several different task management techniques. With its practical features and handy integrations, Akiflow users can tailor the platform to their needs.
What makes Akiflow the go-to task management platform:
Smart integrations with popular productivity platforms.

Turn anything into a task with the Command Bar and Capture features.

Organize, process, and manage tasks in the universal inbox.

Prioritize and categorize tasks with labels and tags.

Schedule when to complete tasks with the time-blocking feature.

Share calendar availability with teammates.

Exceptional user community and customer support.
Pros:
It unifies all your tasks and events in one place.

It uses the time-blocking method to organize your schedule.

Focus on individual productivity.

It optimizes your workflow with keyboard shortcuts.
Cons:
It doesn't have a free version.

The mobile is still app still in beta.

It does not have team collaboration functionality.

It's on the pricier side compared to other apps.
Pricing
7-day

free trial

, all features included.

Monthly plan:

$15

Yearly plan:

$12.5
Our take: Akiflow is a good tool for folks who struggle with managing their time. It's a simple app that helps people focus on their to-do lists.
29. Orangescrum
Orangescrum is an all-in-one task management software for managing projects, tasks, and collaborative work for teams of any size. Organize your projects and groups, and manage tasks in one place with Orangescrum's powerful features like the Gantt chart, time log, Kanban view, daily catch-up, recurring work, project and task templates, invoicing, and more.
Orangescrum is available in Cloud, Cloud Self-Hosted, and Open Source editions with multiple features.
Top features of Orangescrum task management software:
Easy Project Planning and Assigning. Assign, schedule, collaborate and track tasks

End-to-End Task Management and Automated time tracking for your team

Get instant email notifications and reply on the go

Get daily team updates right in your inbox with Daily Catch-Up
Pros:
Quick project setup with agile project management

Get clear visibility of your project progress

Track billable hours and approve timesheets

Collaborate projects with clients
Cons:
Limited feature in Open source free edition
Pricing
The free plan

comes with a 15-day trial period.

Paid plan

starts at $9/user/month

Professional business

plans start at $44/per user/per month
Our take: Orangescrum is explicitly designed for larger organizations. It allows you to plan, execute and deliver projects in one place and provides real-time collaboration features.
30. Make: Airtable integrations for task management
Make.com is a cloud-based task management software with a focus on team collaboration and project management. It offers a suite of features that help teams plan, organize, and execute their tasks seamlessly.

One of the standout features of Make is its integration with Airtable, a popular no-code database platform. With Make's Airtable integration, you can turn your Airtable base into a powerful task management tool that allows you to assign and track tasks, set deadlines, and collaborate with your team.
Here are some key features of Make's Airtable integration:
Create and assign tasks directly from your Airtable base

Sync tasks and deadlines with your Airtable calendar

Add comments and attachments to tasks in Make and have them automatically synced to your Airtable base

Use Make's reporting features to analyze task data in real-time and gain insights into your team's productivity
Make also offers integrations with other tools like Google Drive, Slack, and Zapier, giving you even more ways to streamline your workflow and keep your team organized.
Pros:
Make's integration with Airtable allows users to easily create, assign, and manage tasks directly from their Airtable bases.

With features such as syncing tasks and deadlines to the Airtable calendar, automatic syncing of comments and attachments, and real-time reporting on task data, Make's Airtable integration helps teams stay organized and gain valuable insights into their productivity. These features enable teams to optimize their workflow and make data-driven decisions.

Enable teams to optimize their workflow and make data-driven decisions.
Cons:
Potential Learning Curve For users who are unfamiliar with Airtable or Make.

While Make offers a free forever plan with basic features, users who want to access the full suite of features, including the Airtable integration, will need to opt for one of the paid plans.
Pricing:
The free forever plan with basic features

The core plan for creatives and solopreneurs just getting started is $9 per month

The pro plan for SMBs, startups, and automation pros who want to scale quickly is $16 per month

The Teams plan for teams and agencies to collaborate and manage workflows is $29 per month.
Our take: It's a good cloud-based task management software but has a steep learning curve.
31. Toggl
One of the industry's hottest task-tracking software, Toggl is a fantastic HQ for planning project budgets and tracking employee time to ensure organizational profitability.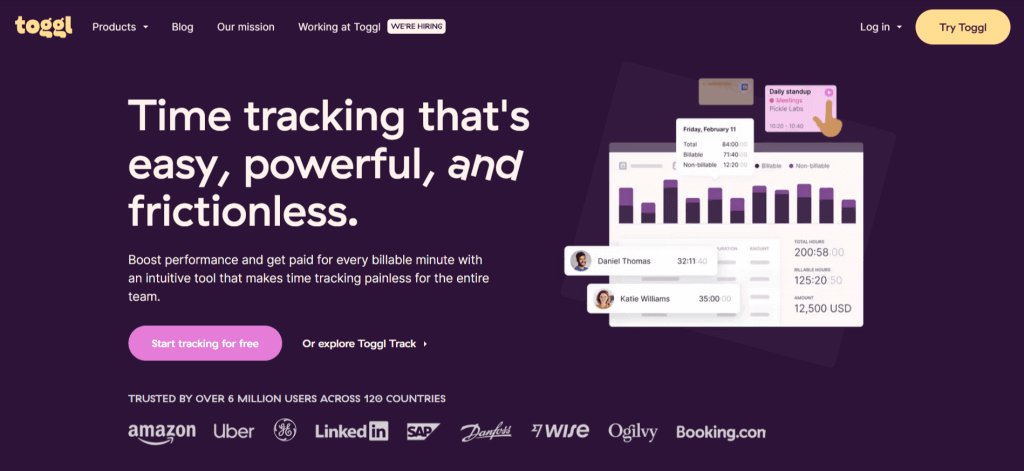 If we go into details, Toggl is preliminary time-tracking software. However, it can be used very effectively as a task management tool that can help boost your team's performance and productivity.
Key Features of Toggl include:
Easy to use task timers to track time spent on objectives

Schedule tasks and integrate them with calendars to facilitate daily workflows

Understand the time and costs of projects to gauge profitability and better predict future efforts
Pros:
Color-coded timelines of availability, projects, and deadlines

Easy drag-and-drop functionality
Cons:
A significant learning curve is necessary

Limited options for customization
Pricing
A

free plan

is available

Starter plan

costs $9/user/month

The premium plan

is available for $18/user/month
Our take: Toggl Plan is a helpful project and task tracker. It has limited enterprise-grade functionality.
What is task management software?
Task management software allows you to plan, prioritize, and track the workflow for your team — everything from addressing project requirements to delegating tasks, tracking time, and meeting deadlines.
How does task management software help?
Here are a few ways having a task management software helps:
1. Task prioritization
Task prioritization and team collaboration are vital benefits of task management software. Let's say you're working on an important deadline one day, and your persistent colleagues keep assigning you more and more (unimportant) tasks.
Trying to complete your tasks in a limited time will probably drive you crazy, eventually leading to burnout. Prioritizing your tasks leads to better management, missed deadlines, and wasted time.
2. Effective team collaboration
They bridge the communication gap between team members working on different tasks. It also helps make the delegation of tasks so much easier! You can assign tasks, track progress, and know when tasks are marked done—saving so much meeting time!
So, if you've just started your own business, a visual task management tool is the perfect solution.
How to choose the best task management software
Task management is a critical process for businesses of all sizes. It can help streamline operations, increase collaboration, and keep your team organized and on track. With so many options available, choosing the software for your business can be difficult.
That's why we created a list of factors you should evaluate to make an informed choice about picking the task management software that will best fit your organization's needs.
Flexibility:

Does it allow you to organize anything you want in a way that best suits you in terms of flexibility?

Task Prioritization:

The key to effective task management is practical prioritization. Will the task management software enable you to maintain your team's focus despite distractions?

Task Tracking:

Best task management software enables you to monitor team commitment, accountability, and task completion status.

Task Customization:

Does it allow you to modify tasks according to your needs?

Time Tracking:

Does the tool have time-tracking capabilities?

Easy UI:

Does it use visual aids well to provide a great user experience?

Collaboration:

Does it provide features that enable the team to collaborate more effectively?

Customer Support:

Does customer support take the time to hear users' problems and immediately resolve them? Can you quickly get to them? Are there any tutorials or resources available?
While these features may be necessary or not for your specific business need, checking off these essential feature boxes will help you choose the best task management software.
Conclusion on the task management software list
With rapidly changing business needs, businesses of all shapes and sizes need to keep track of their workflows with solid task management software. Spend time analyzing your business requirements, and evaluate these platforms accordingly!
This list gives you a quick overview of the most popular tools in the industry. So, which task management software platform will you choose?
Nifty? It's free!
FAQs about task management software
What is task management software used for?

Task managers are programs designed for managing tasks. This is more than a list. Task management tools provide teams with an easier method of collaboration in digital environments.
What is CRM task management?

The CRM task allows a customer to create a reminder in their account synchronized to their calendar. You can set a task for yourself or a member of the team. You could also create regular tasks, such as highlighting the expiry date.
What are the 5 stages of task management?

Here are the five key stages of task management:

Initiation.
Planning.
Execution.
Monitoring and control.
Closure.
What is task management software best for?

Businesses and Individuals use task management software to streamline their work, manage tasks, define priorities, and deliver tasks on time. Businesses and Individuals also use task management software for their milestones and goal setting feature.