Sticking to the agile philosophy can be tough as a business scales. Glassdoor's Diversity Hiring Survey reinforces the importance of having a diverse workforce. According to this survey, around 76% of employees claim that having a diverse workforce is important when evaluating companies (and job offers).
To empower a more global workforce to work efficiently, project managers need to be able to manage the interdependencies between geographically-dispersed teams. This is where Agile PI planning comes into the big picture. It enables teams to prevent losing sight of the project focus.
In this article, we will decode everything you need to know about PI planning agile, starting with:
What is Program Increment (PI) planning?
Do you find yourself Googling "PI planning meaning" every now and then? Keep reading. The first thing to note is that PI Planning refers to Program Increment Planning.
Here are a few characteristics of PI planning:
Agile PI planning

refers to sessions or events that are regularly conducted all-year round where multiple teams meet to:

Plan the roadmap

Align to a common vision

Brainstorm on and define the required features

Figure out the cross-team dependencies

Identify the possible risks and chart out a resolution

Comprises of 2 full-day events that occur every 8-12 weeks or more

Product managers are expected to prioritize the features required in advance

Development teams take the responsibility of planning the user story and driving estimation

Engineers and UX teams are accountable for validating the plan

The end goal is to ensure everyone attends it in-person

If the teams are distributed, technological tools are leveraged accordingly
What are the benefits of PI planning?
Here are the top 4 benefits of PI planning:
1. Improves team trust
PI planning is essential in the case of diverse interdisciplinary teams who work in the ART model. The Agile Release Train model is one where the resources are tasked with virtually deploying and releasing a specific hardware/software. PI planning enables project managers to establish trust and transparency, ultimately tying the teams together.
How? By mandating frequent face-to-face meetings and interactions.
2. Improves the UX approach
Consistent PI planning events enable teams to embrace a more iterative approach to product development. This includes developing an intuitive and accurate User Experience (UX) as well as architecture.
3. Accelerates task complete rate
PI planning also empowers ART teams (typically comprising 50-150 people with cross-functional benefits) to:
Work towards a shared vision and mission, whether it is structured as a face-to-face or a virtual event

Drive seamless collaboration

Deliver continuous value to the end-user

Work with the right capabilities and across disciplines to deliver tasks quickly

Leverage key capabilities that are in-built within the team–from the hardware and software to the firmware

Design, implement, iterate, and release tasks (and products) quickly
4. Drives quick decision-making
Agile PI planning can help ART teams to iterate with greater speed and drive quicker decisions, particularly in a cross-functional setting. Most ART team typically embrace SAFe principles, which includes providing continuous value for the end-users. Additionally, these teams laser-focus on applying systems thinking in all the tasks. Both of these can be achieved with agile PI planning.
What should be included in the PI planning agenda?
The first thing to note is that every PI planning looks different for different agile teams. Here's what to include in a PI planning agenda:
Goals and vision: Start with clearly-defined Agile project goals and milestones. Also, demonstrate key learnings from the PI planning events.
Business context

: Make sure that a member from the senior management talks about how the organization is optimized for a specific target market. They should also elaborate on how well the business is performing and meeting the customer requirements. This will boost the speed of Agile, improve teamwork, and help align the business vision with the actual end-user's needs.

RTE process

: The Release Train Engineer (RTE) must laser-focus on defining the complete PI planning exercise by:

Explaining how it works

Stating the goals and objectives as clearly and concisely as possible

Outlining the PI process using practical and easy-to-understand templates

Addressing the team's questions promptly
Group breakouts

: Conducting group hangouts is important for a PI planning event as the teams can:

Share inputs of the speed of delivery for iterations

Review the backlog and analyze how to achieve the predetermined features

Identify potential risks and dependencies 

Improve decision-making, together

Program risks

: It is critical for the team to:

Showcase a draft plan that talks about how to get feedback from product owners and other stakeholders

Identify red flags and resolve potential issues prior to the final review by management

Evaluate risks and dependencies and create an in-depth roadmap to iron out the issues

Confidence vote + feedback session:

The final step is to gather real-time feedback and empower teams by providing a vote of confidence to confirm whether everyone is on the right track or not.
Important tips to remember:
Reflect on past PI planning events to understand what worked well (and what didn't)

Drive virtual ice-breaking sessions to make the team members feel more comfortable and make sure to add enough time for introductions

During the vote of confidence session, if any action item gets less than a three-finger vote, make sure to address it instantly

Ensure that the feedback sessions are retrospective in nature and collect feedback from

everyone

involved

To make the sessions more interesting, call motivational speakers and talk about PI successes
Here's a sample of what a PI planning agenda should look like:
Day 1:
| | |
| --- | --- |
| | |
| 8:00am – 9:00am | Goals and vision |
| 9:00am – 10:30am | Business context |
| 10:30am – 11:30am | RTE process |
| 11:30am – 1:00pm | Lunch |
| 1:00pm – 4:00pm  | Team breakouts |
| 4:00pm – 5:00pm | Program risks |
| 5:00pm – 6:00pm | Management review  |
Day 2:
| | |
| --- | --- |
| 8:00am – 9:00am | Planning adjustment |
| 9:00am – 11:00am | Team breakouts |
| 11:00am – 1:00pm | Final plan review and lunch |
| 1:00pm – 2:00pm | Confidence vote |
| 2:00pm – 2:15pm | Plan rework (as needed) |
| 2:15pm – 5:00 pm | Planning retrospective + moving ahead |
You can always make changes to this plan, particularly if you have distributed teams in the mix. Keep experimenting with the time duration and gather inputs from your team. Also, it is advisable to experiment with different formats.
PI planning example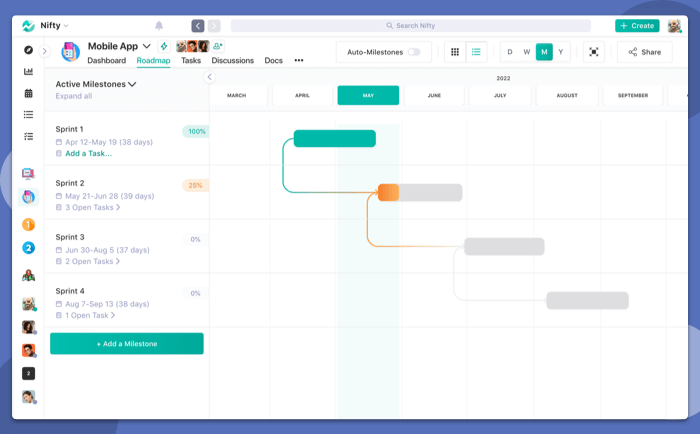 3 Steps for Effective PI Planning
To realize the full power of Agile PI planning, embrace these best practices:
1. Organizational readiness
An effective program increment planning session is one where all the key stakeholders are present. So, schedule the PI planning meetings accordingly and send reminders to ensure complete attendance.

Ideally, plan a meeting before the quarter begins to prep your teams for the upcoming quarter.
2. Content preparedness
It is critical to establish the "why" behind every plan, along with elaborating on the vision and mission.
3. Logistics preparation + accessibility
To make the most of your PI planning session, whether it is offline or virtual, ensure that the room is large enough to accommodate all the attendees

Leverage the 'Zoom breakout rooms' feature to divide the teams into small groups and engage them better
Apart from the tips outlined above, make sure to answer the following questions:
Has the scope of the planning process been defined?

Which teams will be needed to drive the planning forward?

Is there a shared understanding of the priorities among all teams and stakeholders?

Do the agile teams have dedicated team members? (think: a Scrum Master and Product Owner for each team, for example)

Has a briefing been prepared to provide the current business context for all the attendees?

Will the product manager brief the team about the top 10 features in the program backlog?

What kind of technology will you need to support the distributed remote attendees? 

What kind of video, audio, and presentation channels will you use to drive the maximum impact?
Take inspiration from this checklist and set your PI planning up for success.
When is PI planning held?
Generally speaking, the ideal period for PI planning is 8 to 12 weeks. This is why most organizations conduct the meeting on a quarterly basis (which is December (PI: Q1), March (PI: Q2), June (PI: Q3), and September ((PI: Q4)).
Note that this time is not set in stone. You can change the timing depending on how long each phase lasts. The end goal is to ensure that the PI activities occur regularly and are based on a set timetable. This will enable teams to attend the meeting and plan their work well in advance.
What does SAFe have to do with PI planning?
As per the Agile Manifesto, "The most efficient and effective method of conveying information to and within a development team is a face-to-face conversation."  PI planning can empower project managers embracing the SAFe framework to take their project planning and efficiency to the next level.
What is SAFe?
The Scaled Agile Framework (SAFe) is the leading framework globally, which allows organizations to execute agile principles at scale as per the State of Agile Report. It is centered around three bodies of knowledge: agile software development, systems thinking, and lean product development. These 'bodies of knowledge' offer project managers with:
Structured guidance on roles and responsibilities

A set of best practices to boost project quality, improve productivity, and promote employee engagement

A way to effectively plan and manage the workload 

Help on how to work on the same product, outcomes, and objectives

An understanding of how to keep track of the values to deliver to the end-user

Ideas on how to drive greater alignment, collaboration, and project delivery across cross-functional and inter-disciplinary agile teams
So, what's the role of PI planning in SAFe?
PI planning plays an instrumental role in driving the core SAFe principles for scaled agile teams. Here's how PI planning works within SAFe:
Brings teams together to:

Work with greater collaboration

Brainstorm on the top features together and prioritize needs effectively

Identify dependencies

Create a blueprint for the next PI

Boosts visibility across teams

Allows changes to be made more frequently

Speeds up processes and helps team members to work more efficiently

Helps companies to stay viable and competitive

Acts as a powerful enabler for organizational agility
The learning: The two concepts are so intertwined that if you are not engaging in PI planning, you are, by extension, not following the SAFe principles as per Scaled Agile, Inc.
10 common PI planning mistakes + challenges
1. Not prioritizing PI planning:
Most project managers make the mistake of skipping, undervaluing, or not prioritizing PI planning. Project managers must make it a point to not delay, scale back, or push the PI planning. This can have a negative impact on product development.
2. Not planning in advance:
The biggest problem with PI planning is not engaging in any kind of pre-planning. When planning the event, make sure to plan the date well in advance so that everyone can attend it.
3. Conducting lengthy/boring/monotonous sessions:
To make the most of the PI planning session, ensure that it is short and to the point. This will drive team engagement and keep everyone interested and invested in the session. You can also include ten-minute breaks or drive virtual icebreaker sessions to keep things interesting.
4. Inability to tackle challenges related to remote working:
To tackle the issue of conducting a virtual PI, project managers need a little bit of planning and access to the right tools for driving on-point communication.
To ensure that your remote team is engaged and improve team focus, make sure that all the team members have their cameras turned on and are participating actively.
5. Not driving a post-PI retrospective session:
If you want to improve your PI planning, you need to schedule a post-PI planning session where team members can discuss:
What went well

What went wrong

What can be improved
Gaining insights into these can improve your PI planning and optimize it.
6. Experiencing tech issues:
Any event, be it offline or virtual, can succumb to tech mishaps. And if the PI event comprises a distributed team, audio and/or visual issues can significantly disrupt the entire flow of the event. This is why it is important to test all the equipment, tools, and connections ahead of time. A little preparedness goes a long way!
7. Issues with confidence vote: 
Another problem area for PI Planning organizers (and participants) is the confidence vote concept. Some participants may bow down to the pressure and vote for a task/plan to proceed instead of airing their concerns.
8. Time constraints:
Driving draft plans to present and review can become extremely challenging if you have a large ART (say, 12 teams or more). This is why the ART is recommended to not exceed 8 teams. Or else, in the end, the feedback time will suffer.
9. Low committing to the process:
If the participants do not understand the importance of the PI planning process, they will not be fully invested in it. It is critical for the project manager to ensure that the framework is followed and implemented to the T. 
10. Inability to make changes:
The most important element of PI planning is driving change. If something does not seem to be working, it is critical to fix it. Or else all the effort will be in vain. For instance, if the traditional SAFe Program Boards are not working for your organization, do not stick to them. The teams need to work on the problems and derive the right solutions with agility for PI planning to work.
How to use Nifty as PI planning software?
Nifty can double up as your PI Planning software by improving team alignment, boosting productivity, and empowering project managers to make smarter decisions.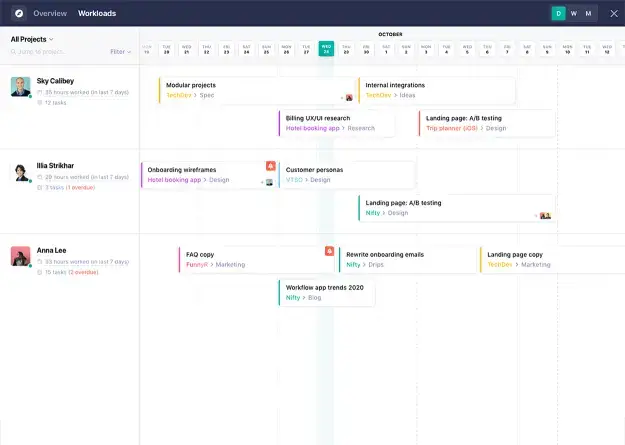 Here are a few of its unique features:
Easy import and native integrations: Nifty empowers project managers to import data from common apps such as Asana, ClickUp, Jira, Trello, etc., or import from .CSV and Excel sheets. Plus, users can integrate all their favorite tools and easily sync data without disrupting the workflow. With the data in a centralized place, teams work more efficiently.
Automated workflows

: Nifty offers workflow automation where team members can automatically be assigned to task lists. Plus, users can leverage Nifty's task board to fit their workflow with multiple views, such as Kanban, List, and Swimlane.

Agile development flows + agile sprint management

: The tool enables development teams to:

Break product features into individual tasks and subtasks while laying out detailed user stories

Tie the tasks to milestones and automate the sprint progress tracking

Define goal-oriented sprints as milestones and organize the project objectives with start and end dates

Get actionable and trackable context, driving work efficiency
Book a demo or speak to a Nifty specialist to understand how the tool works. Trust Nifty to improve your Agile PI planning process, boost work productivity through the roof, and level up your agile planning. Sign up now (free forever).