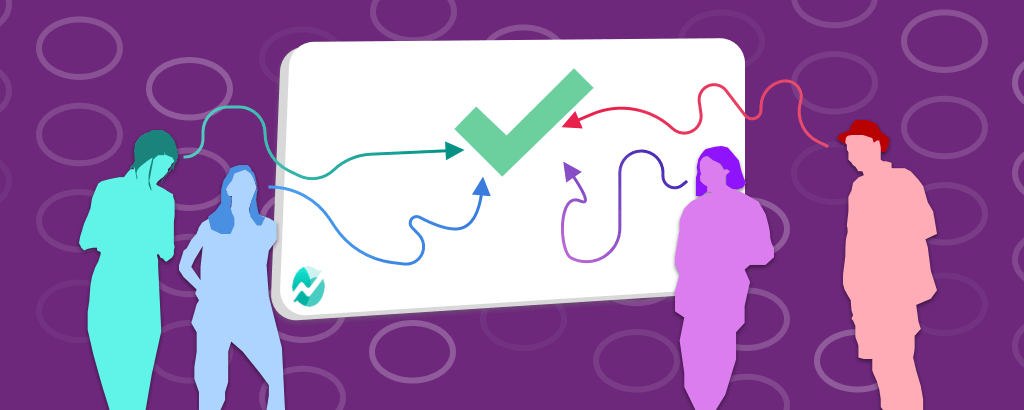 Ever wondered what is a project kickoff meeting? They are the meetings that set the foundation for every successful project. These meetings ensure that everyone is on the same page before they begin their agile project management sprint or typical project management. 
Let's understand it with the help of an example;
Have you ever tried to plan a trip with your friends all by yourself? The process may appear pretty straightforward on paper – you stake out the destination, find the best flights, make hotel reservations, and get packing. 
Of course, this is an idyllic situation, and the reality is far too different. You would be stuck finding an optimum schedule based on availability, crunching numbers to fit varying budgets, accommodating different requests, and balancing everyone's expectations – the list goes on. Juggling such variables pushes the trip to the precipice of failure!
However, the task would be far easier if you were to sit down with your friends and have an upfront discussion before you start working on the plan. You talk about the basic specifics of the trip, jot down anything noteworthy, carry out negotiations, and set expectations. Wouldn't the task be far easier? And you improve your chances of having an enjoyable trip!
Well, what we've described here is nothing but a project kick-off meeting. Stick around as we dive deeper into the topic with some practical project kickoff templates.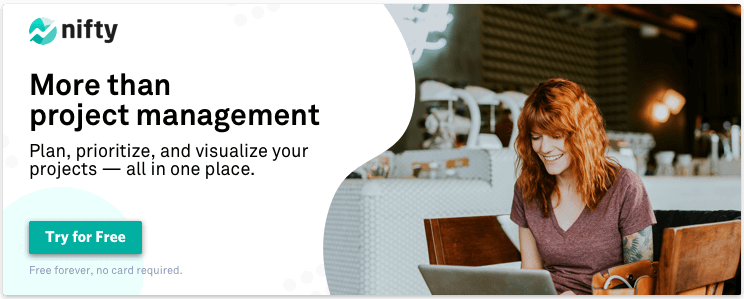 First, what is a project kick-off meeting?
True to its name, a project kick-off meeting is a meeting to kick off the project. In other words, it is the first meeting between the internal and/or external stakeholders to get a project off the ground.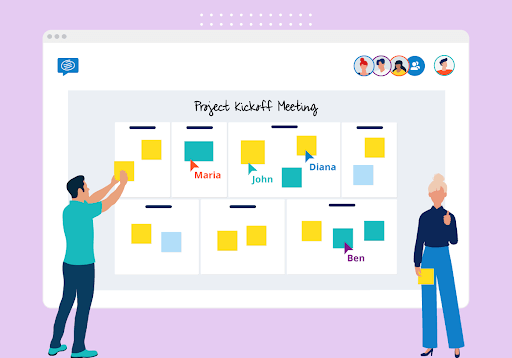 The project manager hosts the project kick-off meeting with the primary objective of actively involving every participant to establish a shared understanding of the project. By doing so, you leverage their experience, expertise, and expectations while getting everyone on the same page. Given this role, it is typically scheduled at the project planning and initiation stage — right after the project charter approval.
Why should you have a project kick-off call?
Now that you have a solid understanding of a project kick-off meeting, let's explore why you should care about it in the first place.
The following are some compelling reasons in favor of having a project kick-off call:
A

project kick-off meeting

sets the tone right at the beginning of the project, which lays the groundwork for imminent success.

It offers a well-rounded view of the project and takes into consideration even minute details that might otherwise go amiss.

Project managers can use

kick-off meetings

to introduce project teams amongst themselves or patch them with external stakeholders.

It acts as a platform for stakeholders to interact live and ask meaningful questions to gain a better comprehension of the project.

Since the interaction takes place live, there is a slimmer possibility for miscommunication to infiltrate such exchanges.

Participants can seek further clarification through follow-up questions or negotiate terms during discussions.

The

project kick-off meeting agenda establishes the boundaries of a project and protects it from scope creep, budget creep, delayed timelines, etc.
It helps create a practically realizable project roadmap through collaborative effort while effectively managing expectations and rooting them in reality.

It fosters a sense of team spirit and acts as a display of every member's strengths, expertise, and capabilities.

The insights generated through

project kick-off meetings

enable the Project Manager to prioritize expectations, resources, and more to maximize the probability of success.
In simpler words, a project kick-off meeting is the foundation of a project's success.
Types of project kick-off meetings
The project kick-off meeting is a dish with different recipes and ingredients. Some could be as simple as getting all possible stakeholders in a single room and opening the floor for a discussion. Others may have the Project Manager hosting a separate project kick-off meeting with the internal members and another with the external ones. Some could be an informal event, while some may prefer a formal atmosphere.
Regardless, project kick-off meetings can be classified into the following categories:
1. Internal project kick-off meetings
As the name indicates, this is an internal project kick-off meeting where you can apprise the project team about the project. The team members will get the opportunity to know each other, ask questions about the project, share insights, and more.
Common applications of internal project kick-off meetings include product marketing launches, usability testing plans, and web production.
2. Executive sponsor project kick-off meetings
This type of project kick-off meeting is conducted at the higher level when you have an executive sponsor involved. The leaders and executives involved in the meeting would be made to focus on the goals and outcomes of the project at a broader level.
You will see such types of kick-off meetings while preparing a product roadmap, building a marketing campaign internally, and deploying software and systems.
3. Client-facing project kick-off meetings
Client-facing project kick-off meetings come into the picture when your clients count as external stakeholders. It helps align customer expectations and project goals with project team capabilities and deliverables. Think of it as a trailer of the customer experience.
You will find marketing agencies and event planning companies using this type of project kick-off meeting to loop in their customers.
4. Agile project kick-off meetings
Agile projects are often divided into sprints that last 2-4 weeks per cycle. While you may not need a project kick-off meeting after every sprint, you can schedule it at least once a year or around significant project milestones to stay on top of your goals.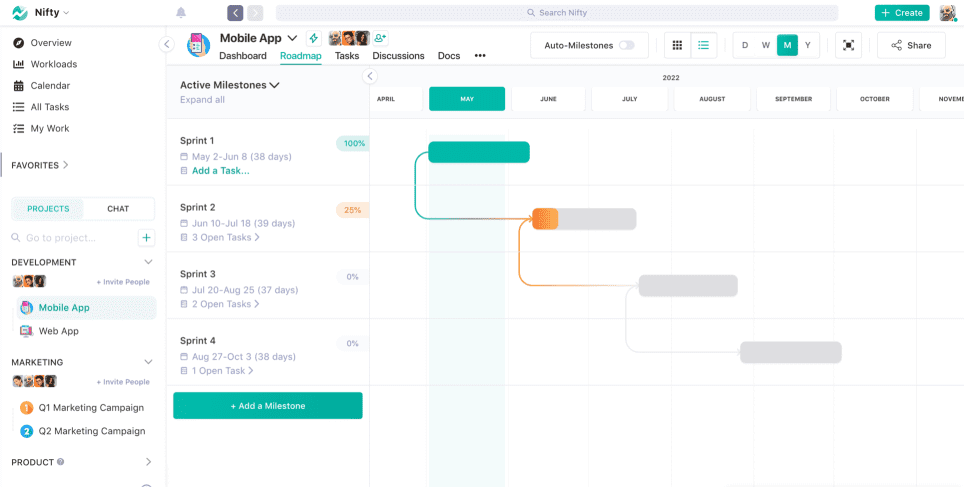 Project kickoff meeting agenda: Real-world example with a project kickoff meeting template
A project kick-off meeting agenda is near-about the same in most cases. Since client-facing project kick-off meetings require the highest form of refinement, we would be considering a project kickoff meeting agenda template that covers the same. Here is an example of what a project kickoff meeting template would contain if you are an agency contracted to create an online clothing retail store:
Introduction (05 minutes)
Give a brief introduction of yourself and your project team. You can talk a bit about your organization, business model, experience, past customers, and success stories. Also, use this time to give an overview of everything that will be discussed in the project kick-off meeting.
"Hi, I am Mark from ABC Inc. My team and I will be helping you with the digitization of your apparel store. Joining us today, we have Sheila, the IT development lead, Carl, the SEO specialist, and Julia, the branding manager. They have brought their respective teams for this briefing session. We will be walking you through the process of how we will go about creating your online store."
Project Background (15 minutes)
Talk about the history of how the project came to be, starting with why there was a need to initiate such a project. Once you have set the context, dig deeper into how the project can solve a tangible problem and yield favorable results.
"As we understand that until recently, XYZ was a brick-and-mortar store – and quite a successful one at that. However, the past few years have presented a 'pivot or perish' situation for businesses where you
have
to digitize to survive. Plus, with the global fashion eCommerce value touching
$775 USD
, it presents a plump opportunity for businesses like yours to acquire new customers and maximize growth."
Project scope (10 minutes)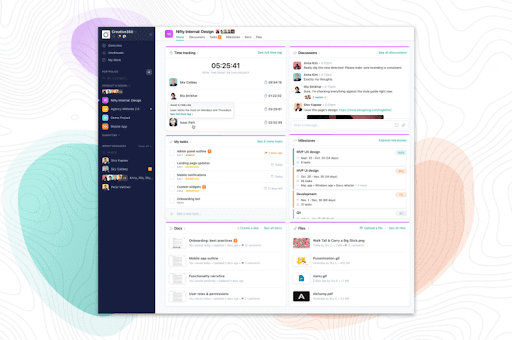 While the project scope is an extensive document containing all the project-related tasks, deliverables, and outcomes, you would be touching upon this briefly and offering a high-level overview. At the same time, you must also highlight what is outside the scope of this project.
"The primary objective of our project would be to develop a website for XYZ. We will be performing the full-stack development, that is, the front-end and back-end development of your store. Under front-end development, we will be designing the homepage, product pages, checkout cart, and landing pages like FAQs, Return Policy, etc. At the back end, we will be configuring the admin panel so that you can monitor your entire store through a centralized dashboard. We will also be developing brand collateral to be used across the store, performing usability testing, and enhancing the buyer's journey. However, you will be responsible for hosting the website."
Project timeline (10 minutes)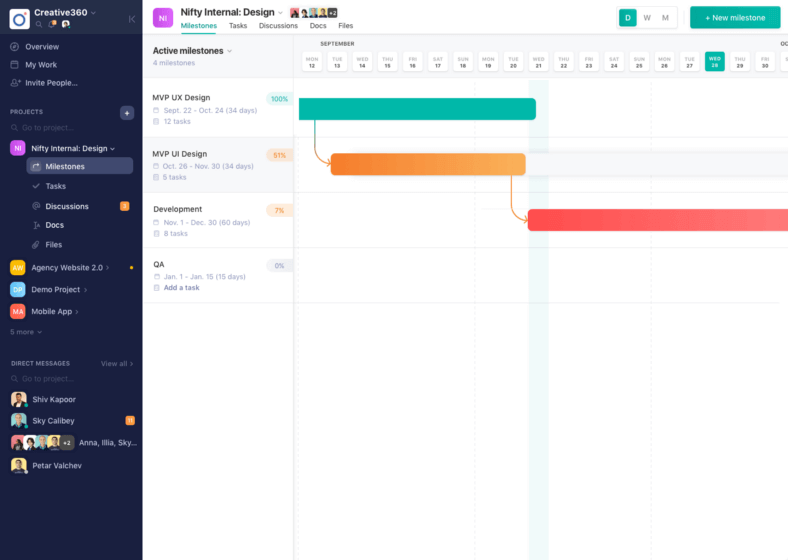 Your customers want results, and they want them immediately. However, over-committing to an unreasonable timeline can put your resources under stress. As such, you need to find an optimum time-to-market that captivates your customer's interests while being mindful of your team. And while you're at it, you can give a chronological breakdown of the project duration while also mentioning any special circumstances or dependencies that have been accounted for during planning.
"We are scheduled to go live in the next 4 months. The first two months would be dedicated to building the website; personalizing it would take up the next month, and in the final month, we will be performing testing. Other activities like content development would be taking place in tandem."
Roles and Responsibilities (20 minutes)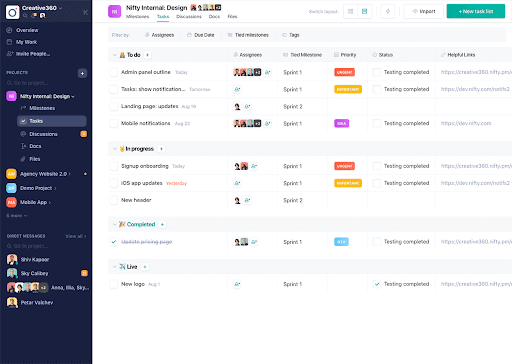 This is a critical moment for your project kick-off meeting. Here, you will be assigning roles and responsibilities to your team members. It instills a sense of accountability and ensures that the project team members understand their role in the project.
"Sheila will work with her web development team to carry out front-end and back-end development parallelly. Carl will help in preparing an optimized schema for the store at this point. In the meantime, Julia will be creating brand assets like the logo, typography, color scheme, theme, etc., of the store. Carl will be working with XYZ's content development team to generate SEO-friendly content. Once the website is good to go, Sheila's team will then perform a series of tests for usability, security, and functioning of the store."
Risk management (10 minutes)
Here, you will give an overview of the possible risks and follow it up with risk management and mitigation techniques. You can prioritize these risks based on the impact they will have on the project.
"One of our concerns is that the project timeline could potentially get delayed with some of our team members taking time off around Christmas. We plan on supplementing talent in such a situation to ensure we are on track."
Project management methods and tools (15 minutes)
Different project managers use different project management techniques and tools to realize their goals. Giving a peek into your project management style informs customers and team members of what they can expect as you prepare to kick off the project. The project management method should be supported by the appropriate tool.
"I am a proponent of iterative agile project management as I have seen that it offers immense success in such projects. We will be using Nifty PM for project management, Slack for real-time communication, and Google Drive for collaboration and file sharing."
Next steps (15 minutes)
Finally, you can conclude by outlining the next set of actions that you or your team will take up on the following day or week. It would be a great way to build on the momentum and gain steam as your project prepares for lift-off.
"Sheila will be getting in touch with you to understand your basic technical requirements from the store. Julia will contact the marketing team to work out how we can start by branding your store."
Q&A (20 minutes)
This is the most critical part of the project kickoff meeting agenda. Here's when you will open the floor for the stakeholders to communicate openly with each other and understand the broader objective of the project. Who knows when you will all be together like this again? Carve out a generous portion of your project kickoff meeting agenda for interactions.
Do note that the above project kickoff meeting template is highly flexible. You can tweak it depending on who is at the receiving end of the briefing and the complexity of the project.
Tips and Tricks to ace the project kickoff meeting
A well-planned project kickoff meeting supports teams in staying organized as they gear up to take on tasks and meet deadlines. Whether you are preparing for an internal project kickoff meeting or an external one, here are some tips and tricks that can ensure its success:
Prepare a detailed invite list that covers all project stakeholders that need to be involved at the

project kickoff meeting

.

Share the

project kickoff meeting agenda

ahead of time so that the stakeholders can review and prepare for the meeting.

Record the meeting or assign a note taker to prepare minutes of the meeting, which can be circulated amongst those who were unable to attend it.

Don't stress about the granular details of the project, as the kickoff meeting is mainly aimed at getting the stakeholders well acquainted with the project.

Front-load value as the focus and enthusiasm of the participants might waver as the meeting drones on.

Try to make the

project kickoff meeting

as interactive as possible. If it had to be a broadcast or a handout, you could have simply sent emails or circulated documents.

Weave in icebreaker questions or team-building activities so that the stakeholders can get comfortable around each other.
Start off your project on the right foot with Nifty PM
A successful project kickoff meeting is the stepping stone for successful project completion. However, getting everyone on the same page is just half the battle won. The other half relates to keeping them on the same page. In this aspect, using a reliable project management tool, like Nifty PM, from the very beginning helps maintain alignment and ensure clarity regarding the project – even beyond kickoff. So, why not get started immediately? Get started with Nifty for free!