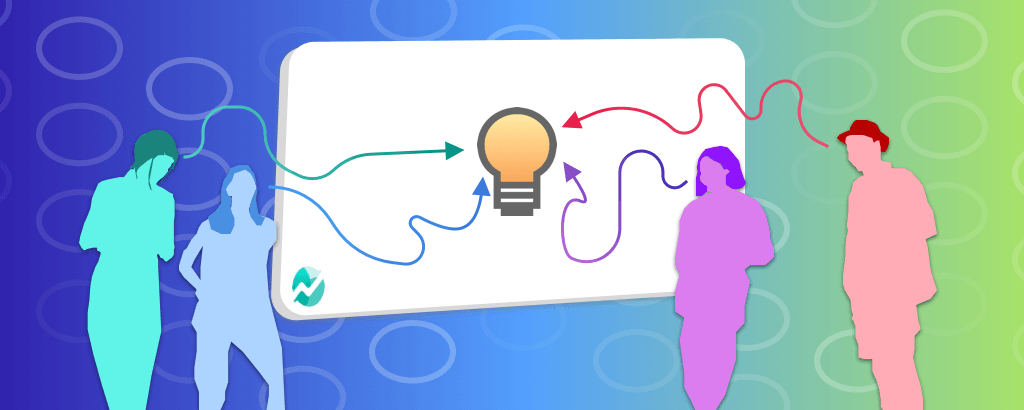 Enterprise project planning requires enterprise project management software that offers a high-level view of the organization while enabling the project managers to track projects across different departments.
Communication between cross-functional teams is one of the key reasons why enterprises or large businesses need enterprise project management solutions.
When looking for enterprise project management software to help increase productivity and bring transparency and success to your team, there are a few specifics to consider.
Read along with this article as we cover the 32 best enterprise project management tools along with their key features that matter for any enterprise organization.
What Are The 32 Best Enterprise Project Management Software?
Choosing an enterprise project management software comes down to your budget, priorities, and features. Let's take a look at these 32 best enterprise project management software to help you choose a solution that fits your needs:
1. Nifty (Best enterprise project management software)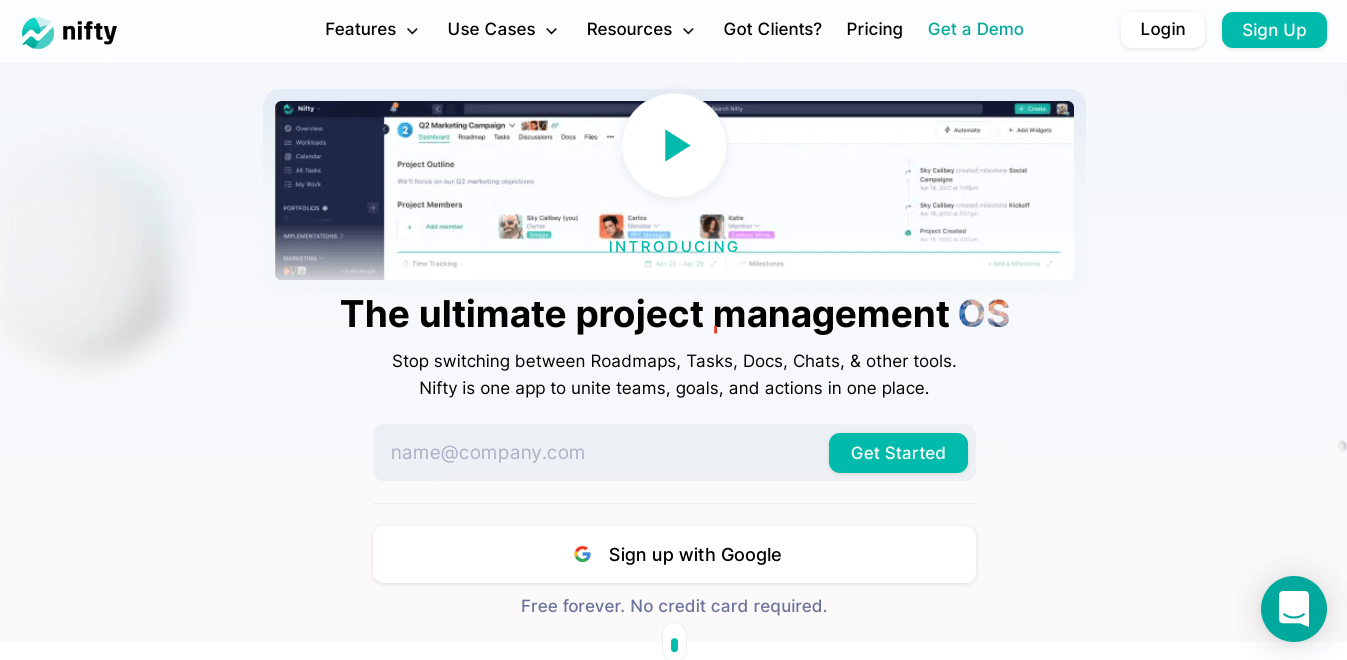 Nifty is an all-in-one enterprise project management software that combines the three most important areas of project management: task tracking, communication, and collaboration.
With a strong emphasis on visual project planning, Nifty allows teams to:
Map out project timelines
Allocate resources in a more balanced capacity
Track project progress on the go
Nifty's interactive Gantt charts and intuitive interface make it a great choice for teams that demand a more holistic approach to project management.
✨ Get started with Nifty for free.
Here is a list of features that make Nifty the ideal enterprise project management software for your business:
1. Visual roadmap
Nifty offers you a visual roadmap—a goals-driven timeline—that automates milestone progress based on how you complete tasks: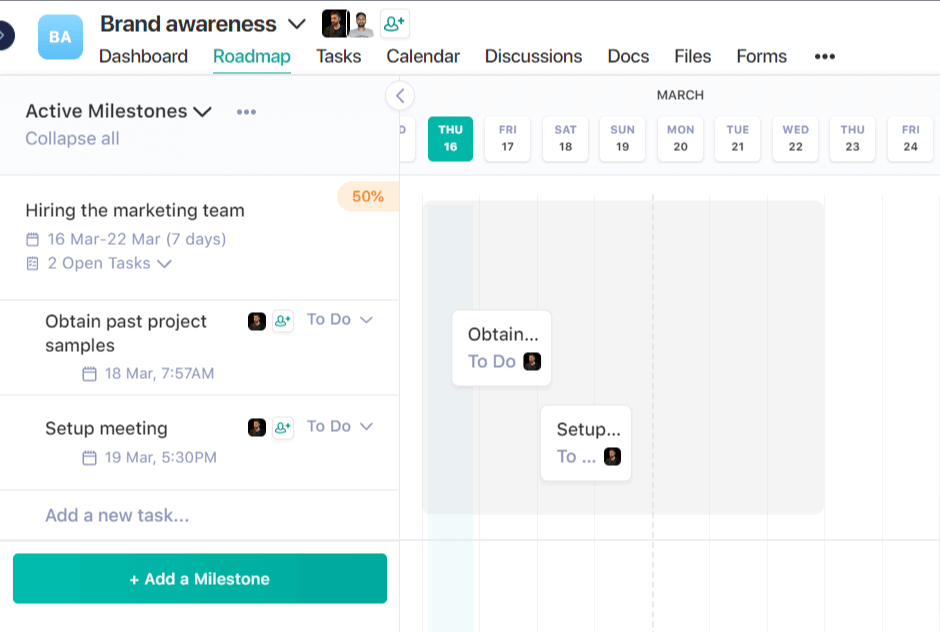 2. Views
You can view projects and manage tasks in your preferred format—be it Kanban, List, Calendar, Swimlane, Timeline, or Report: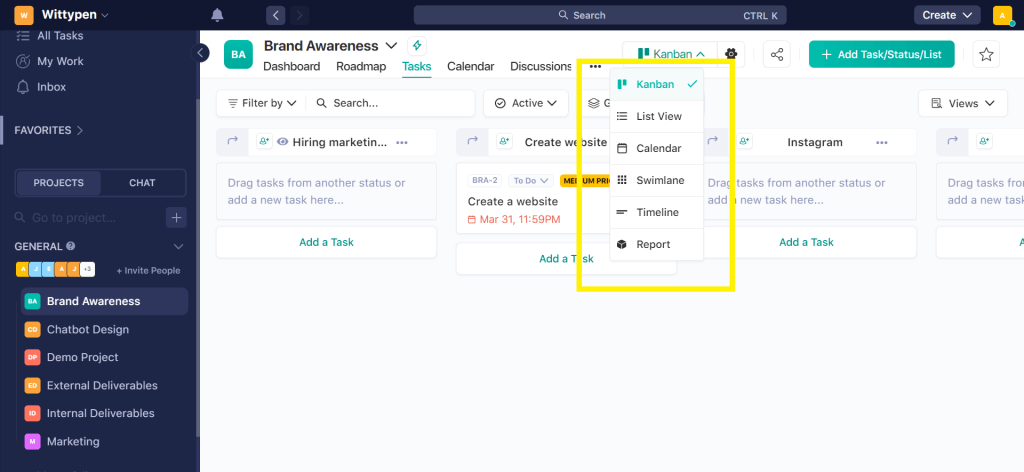 3. Calendar integrations
Whether you want to integrate your Calendly account or your Google Calendar, Nifty offers a 2-way Calendar sync with your preferred app so that you can be more productive and work intuitively:

Ease your enterprise project management with Nifty.
Signup for free
4. Notes
Nifty also empowers you to create beautiful docs, notes, and wikis for your projects and share them with team members in an instant. What's more, Nifty even integrates natively with Google Docs:
5. Automation
You can automate key aspects of your workflow, such as reporting and task assignments, using Nifty automation. For instance, you sync tasks to your Milestones and automate their progress, and visually see how well the tasks are being completed: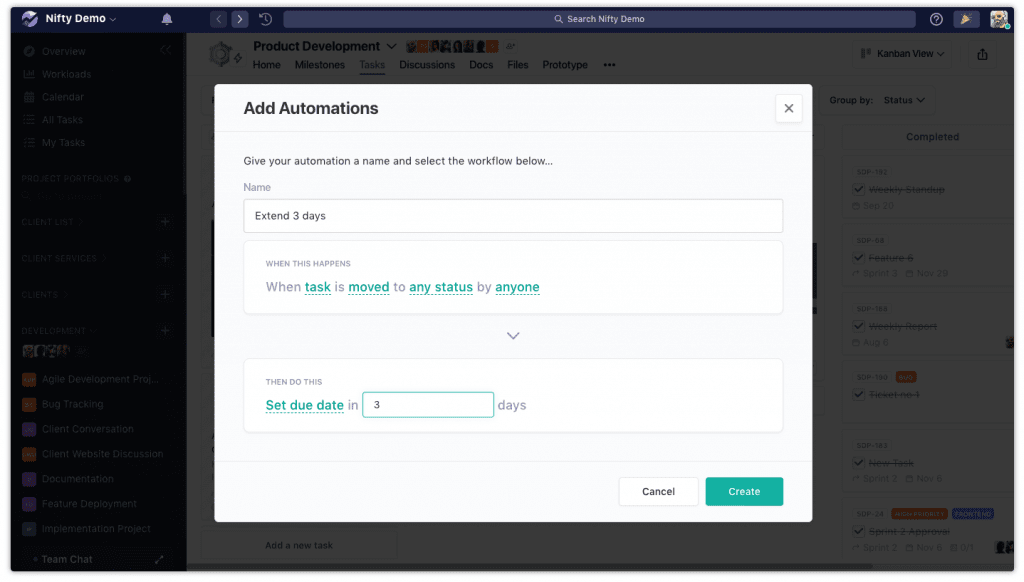 6. Integration
If you wish to import data from other project management tools such as Asana, ClickUp, Basecamp, Wrike, and more, Nifty allows seamless integration.
G2 Score: 4.7 out of 5 stars
Pricing:
Free forever plan: $0 (with unlimited users and tasks)
Starter plan starts at $39 per month, billed monthly
Pro plan begins at $79 per month, billed monthly
Business plan comes at $124 per month, billed monthly
Unlimited plan starts at $399 per month, billed monthly
👉 Ready for a free trial? Try Nifty now 🎉

Ntask stands out as a versatile project management tool with a strong focus on task prioritization and delegation. You can create and assign tasks with ease and facilitate clear ownership as well as accountability.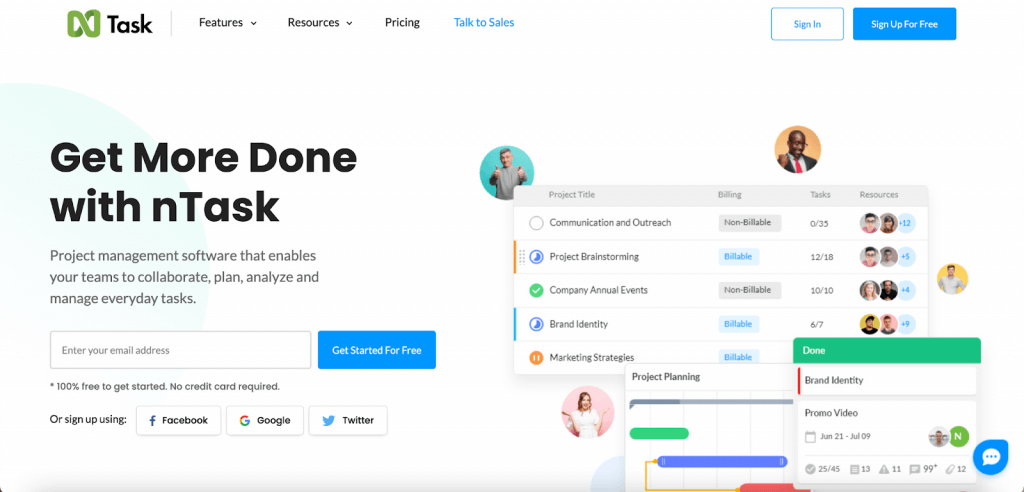 It keeps all the project documents and conversations at once to make your team more productive. Moreover, it can be used to manage the workflows and see progress on Gantt charts and Kanban boards.
Ntask is a go-to choice for teams who wish to optimize task management and boost productivity.
Key Features:
Ability to build an agenda, scribble down discussion points, sync recurring meetings, and slot important follow-up tasks and actions
Connect with the team anytime, anywhere with the Chat feature and share updates, and more
Plan tasks, create unlimited subtasks, and create To-dos to keep tabs on project progress
Set task dependencies, track budgets, and set timelines with Gantt charts
G2 Score: 4.4 out of 5 stars
Pricing:
Premium: $3 per month, billed annually
Business: $8 per month, billed annually
Enterprise: Custom pricing
Hive is known for high-profile clients such as Uber, Google, Starbucks, and many more. With a dedication to improving company-wide efficiency, keep your team on task and ready to take on any projects you have for them.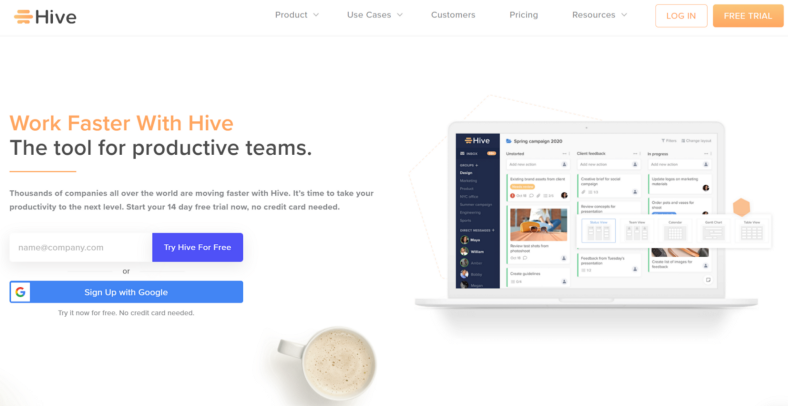 This flexible enterprise project management tool allows Kanban, Gantt, portfolio, calendar, table, and summary view for you to visualize your data in the best way and serve as an all-inclusive enterprise project management software for your team.
Hive Forms allows for repeatable tasks and projects that can easily be duplicated. The ability to assign approvals, share proofs, and provide feedback makes for easy and creative collaboration. Automation makes it seamless to progress through tasks.
Key Features:
New features are developed constantly based on user feedback on the Hive Forum
Action cards allow users to:

Upload files
Offer feedback and approvals
Tag team members
Provide comments with @mentions
1,000+ native integrations with top tools such as Zoom, Slack, Gmail, and more
Agile management allows you to streamline sprints and agile scoring, weigh–and prioritize tasks as well as project importance, etc.
HiveMind is an AI-powered tool that is integrated into Action Cards, Hive Mail, Notes, and more so that you can work on projects with the help of AI
G2 Score: 4.6 out of 5 stars
Pricing:
Free: $0
Teams: $12 per user per month
Enterprise: Custom pricing
MeisterTask is all about automation. Using this enterprise project management tool, you can create task workflows that are 'intelligently' aligned with your core organization goals. If you want a streamlined approach to executing projects, go for this software – no second-guessing there.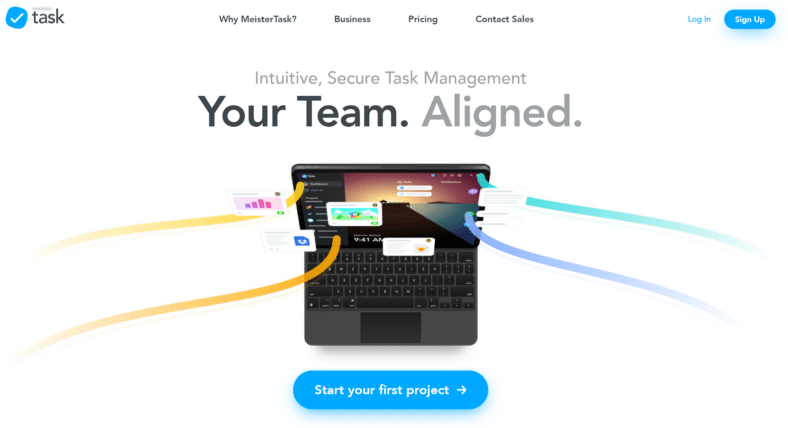 Through time tracking and recurring tasks, enterprises can avoid burnout and spend more time on the projects that matter. Reports provide a clear overview of project status to easily monitor team members and progress.
Key Features:
Pre-made workflows and custom workflows
Timeline view showcases project tasks in the calendar view
Multiple filters for projects, such as assignee, watcher, tag, due date, schedule, status, and more
Ability to create unlimited project sections to align with your workflow
Kanban boards keep the team aligned, and help visualize the project progress better
G2 Score: 4.6 out of 5 stars
Pricing:
Basic: $0
Pro: $6.5 per user per month, billed annually
Business: $12 per user per month, billed annually
Enterprise: Custom pricing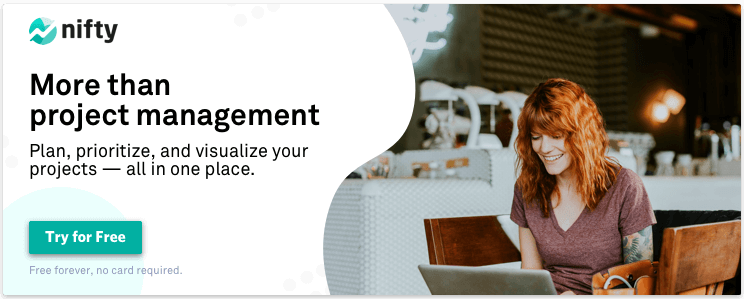 Trello is another solid agile project management tool. Manage and assign projects within the software to visualize what is a top priority on a given day. Customize each project tab to exactly what needs to be done and assign subtasks within the tabs. Workflows are easy to follow and can be moved around as necessary to match whatever is the focus of that day.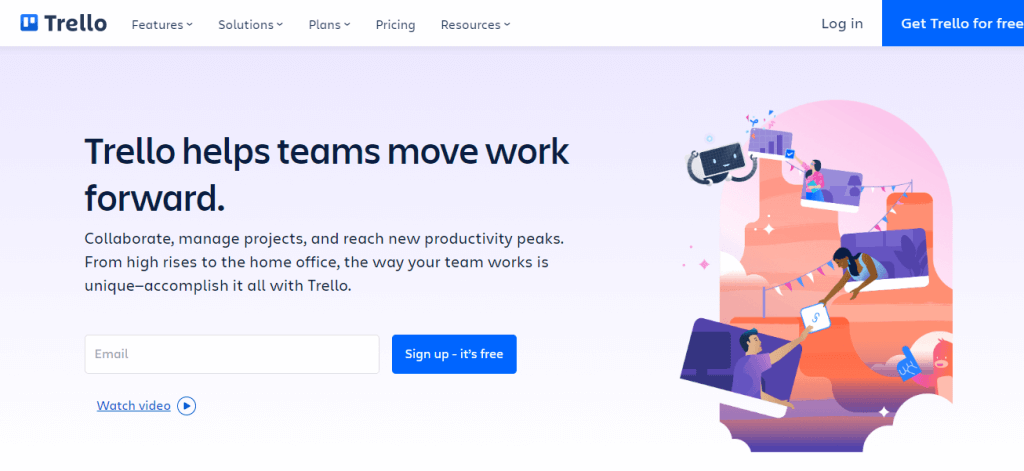 Trello even offers built-in automation, Butler, to help reduce tedious tasks and clicks on the project board. App integration of Slack, Google Drive, Dropbox, and Evernote will make it easy for your team to share information.
Key Features:
'Cards'–or more specifically tasks–serve as the building block of the tool that can be organized into various phases on the board
Color-coding of Cards, along with the ability to attach images/files to cards
An interactive collaborative experience as you can invite team members to work together on a board in real-time
G2 Score: 4.4 out of 5 stars
Pricing:
Free: $0
Standard: $5 per user per month, billed annually
Premium: $10 per user per month, billed annually
Enterprise: $17.5 per user per month, billed annually
Think of Teamwork as an end-to-end project management suite that masters task management and time-tracking functionalities.
You can use Teamwork to manage everything from delivering client projects to executing marketing campaigns to sprint planning and product launches. Create tasks and projects, upload files, and add comments all in one central location in this EPM software.
Teamwork gives you the ability to monitor multiple complex projects all at once. Keep everyone accountable by assigning tasks and time tracking to avoid burnout. Even receive deep insights on your team to see who is at capacity and who has the bandwidth for more work.
Key Features:
Critical PMO-friendly features such as time tracking, task and resource management, and reporting
The templates feature can be applied at the project level
Messaging and chat functionalities for increased collaboration
Gantt view helps teams to track project progress with ease and greater understanding
G2 Score: 4.4 out of 5 stars
Pricing:
Free Forever: $0
Starter: $5.99
Deliver: $9.99
Grow: $19.99
Scale: Available on request
SmartTask is the simplest enterprise project management software popular for its painless user experience and for enabling teams to be more productive.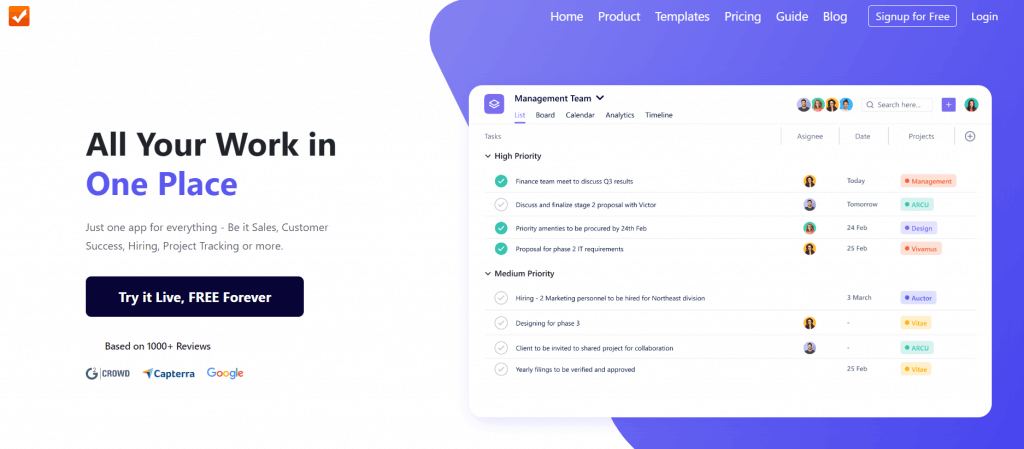 SmartTask takes a data-driven approach to project management. It allows you to deep-dive into the critical project metrics and analytics so that you can make smarter decisions.
As a bonus, note that if you practice iterative development, this tool offers a host of agile-oriented features.
Key Features:
Customizable views such as Kanban boards, List, Calendar, and Timeline views so that the team can work with a preferred view (and better clarity)
Chat and video conferencing functionalities to keep everyone on the same page
Recurring tasks help repeat tasks daily, monthly, weekly, annually, or via custom options
G2 Score: 4.5 out of 5 stars
Pricing:
Free forever: $0
Premium: $7.99 per user per month, billed annually
Business: $10.99 per user per month, billed annually
Enterprise: Custom quote
Asana makes task tracking easy. They have big-name clients such as Amazon, Japan Airlines, Sky, and Under Armour. These enterprise companies rely on Asana to manage everything from company objectives to digital transformation to product launches and marketing campaigns.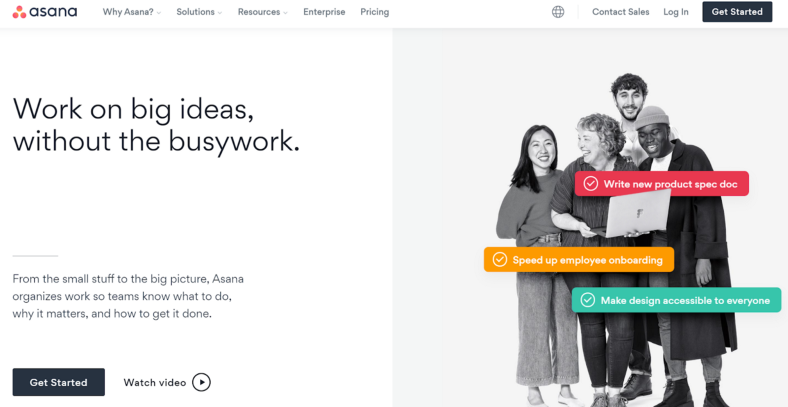 Its Work Graph data model gives teams everything they need to stay in sync, meet deadlines and reach goals. Map out each step and organize all the details of your work in one central location with this enterprise project management software.
Migrating data from Asana to Nifty takes just a minute.
Switch to Nifty
Key Features:
It allows you to organize work into shared projects as Kanban boards or lists
Tasks and subtasks help understand who is working on what deliverable and gain granular clarity of how tasks are being completed
Custom fields allow you to create text fields in portfolios and projects so that the information is captured accurately and in real-time
Project messages help everyone understand the project's progress and keep the momentum going
G2 Score: 4.3 out of 5 stars
Pricing:
Basic: $0
Premium: $10.99
Business: $24.99
Enterprise: Available on request
Float is a resource management platform for agile teams from 5 up to teams of 5,000. Your capacity can be managed on autopilot with direct calendar integrations, custom work hours, and public holidays. Planning projects is easy and precise when adding phases and budgets.

Scheduling tools, budget and resource reporting, and task tracking make it easy to manage multiple projects at once. App integrations such as Asana, Jira, Teamwork, Trello, Slack, and more make it easy to switch between multiple applications. The mobile app makes it easy to monitor work on the go.
Key Features:
Live view allows access to the team's schedule and work
Set custom hours and locations to get insights into billable rates, when people are working, etc.
Ability to request time off, track remaining balance, and schedule workload
One or two-way sync to important calendar events to stay on top of your schedule
G2 Score: 4.2 out of 5 stars
Pricing:
Starter: $6 per user per month, billed annually
Pro: $10 per user per month, billed annually
Enterprise: Custom pricing
Basecamp touts it as being the All-in-one toolkit for working remotely. Select to work from your message board, to-do list, group chat, schedule, check-ins, or documents and files. Everything organized in one place gives you a clear view of your progress to keep you on top of things.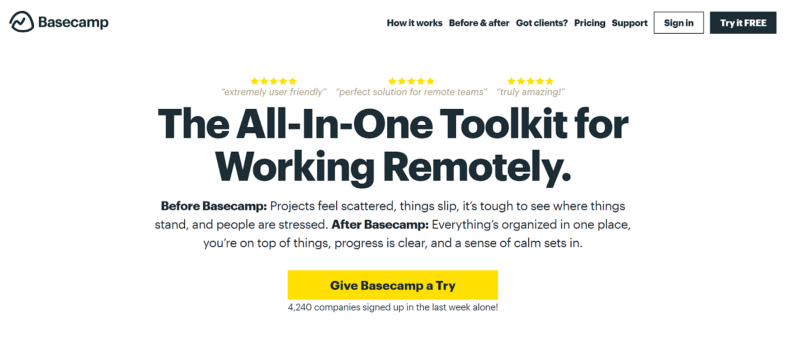 Teams that make the switch to Basecamp find themselves to be more productive and better organized. Check-ins even allow for recurring questions to be asked of your team members so you don't have to constantly berate them while you have your own work to focus on.
Key Features:
Centralized dashboard for projects, assignments, and more
Messages replace archaic project emails so that you can discuss ongoing projects topics
To-dos help track deadlines, progress, responsibilities, and so on
An organized space to share files, images, docs, and more
Campfire, a built-in real-time group chat, empowers the team to work in sync at all times
G2 Score: 4.1 out of 5 stars
Pricing:
Free Trial: Offers a 30-day free trial
Basecamp Business: Costs $99 per month
Basecamp Personal: Costs $29 per month
Collaboration Tools for Enterprises
Troop Messenger is an easy office messaging tool with seamless UI and UX. It offers features such as direct messaging, group conversations, file previews, voice-video calls, screen sharing, and more. It can help teams stay connected across platforms such as Windows, Linus, Mac OS, Android, and iOS.

Personalize your workspace with wallpapers to suit your mood or occasion. Even send audio messages to easily communicate difficult concepts with team members wherever they are.
G2 Score: 4.8 stars
Pricing: $2.50/user a month and $5/user a month depending on feature requirements
Whereby is an easy application to host video meetings. There's no app or software download required; just access the software through your internet browser on mobile or on desktop.

Work with your teams on Google Docs, Trello, and Miro Whiteboard, or watch Youtube videos all during your video conference. Stay in control of your video meetings with the ability to lock your meeting room, all while it remains GDPR compliant.
G2 Score: 4.7 stars
Pricing: Free option available and a $14.99 a month plan for your team
Chanty is a cloud-based collaboration platform that intertwines communication, project management, and automation for teams to work together more effectively. Chanty will help your team improve productivity and business communication.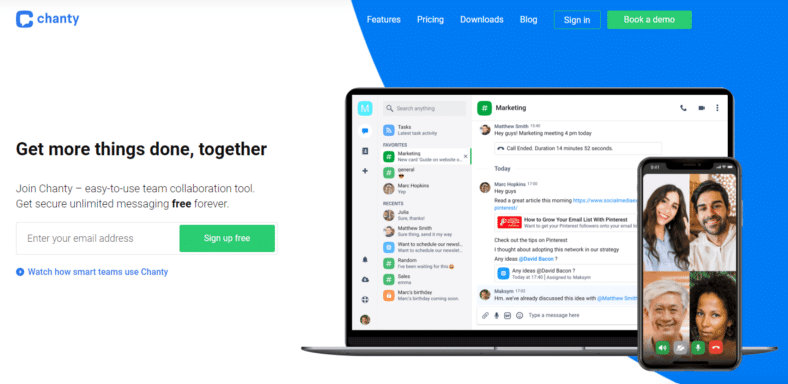 Chanty Teambook is a hub for all your tasks, conversations, pinned messages, and all content that your team shares. Save innovative ideas through pins and even share clean lines of code for instant reactions from your team in the chat.
G2 Score: 4.6 stars
Pricing: Free tier and $3/user a month
Signup for Nifty for free and see why we are better.
Evaluate us
Slack is a well-known collaboration app that makes it easy to ping team members whenever you need it. Slack gives you real-time messaging through calls and chat, a searchable record of your files and conversations, and integrations with a variety of applications.

Slack even allows for collaboration with teams at other companies through Slack Connect. Channels allow more central spaces for conversations, files, tools, and people. As a collaboration application, Slack fulfills many needs of any collaborative workspace, especially those that now run remotely.
G2 Score: 4.5 stars
Pricing: Slack has a free option and a $6.67/user a month and $12.50/user a month depending on feature requirements
One of the biggest names to rise out of the pandemic was likely Zoom. It quickly became a household name as workspaces shifted to working remotely. Zoom allows for meetings and chat, phone and video webinars, rooms and conference room connectors, and an app marketplace.

Video meetings are made easy, and Zoom even allows for video chat and the ability to "raise your hand" to avoid interrupting speakers.
G2 Score: 4.5 stars
Pricing: Limited free tier and a $14.99, $19.99, and $30/user a month plan depending on the necessary feature requirements
ProofHub is a web-based enterprise project management software made for you to manage, discuss and communicate work with your team members and clients in one central place. Whether you need to plan, collaborate, organize, or deliver, ProofHub will be there for you along the way.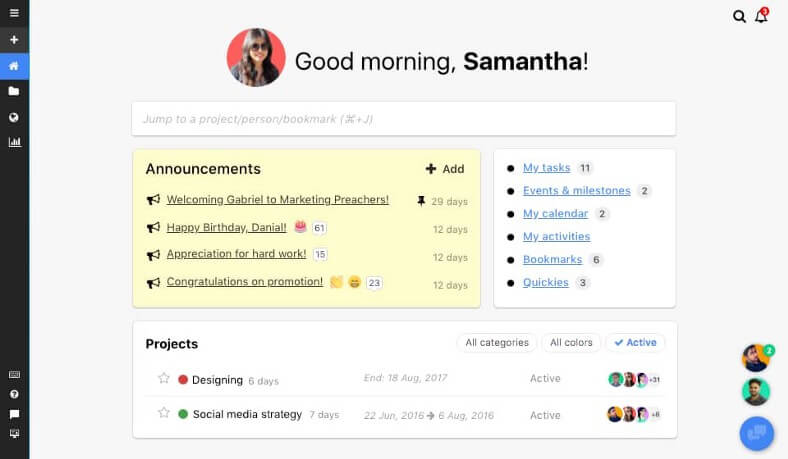 They even offer white-labeling so you can choose your own logo, theme color, and custom domain. All these features are complemented by IP restrictions to keep your data secure with access to selected IP addresses. There's almost no learning curve, and they even provide a free walk-through.
G2 Score: 4.5 stars
Pricing: The essential plan is $45/month for 40 projects and 15 GB of storage, for more the Ultimate plan is $89/month
Google Hangouts provide the ability for you and your team to stay securely connected with enterprise-grade video conferencing. It is included with Google Workspace, Workspace Essentials, and Google Workspace for Education.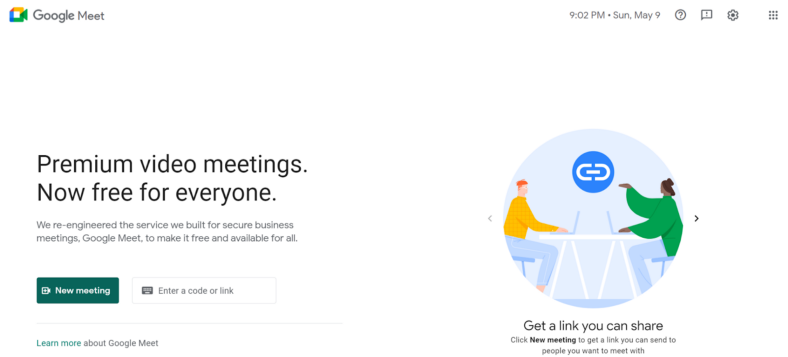 Video meetings are encrypted in transit, and an array of default-on anti-abuse measures to keep meetings safe. Meetings can even be shared via links.
G2 Score: 4.4 stars
Pricing: Free to generate meeting links and included for any g suite accounts
Microsoft Teams has made it to this project management tool list because it allows easy conversations and keeps content accessible to others. Between chat, calls, and video, it's easy for anyone, especially enterprises, to engage whenever they may need.

The team's workspace can be customized to include all the apps you could need so everything stays in one place.
G2 Score: 4.3 stars
Pricing: Very limited free tier. And the pricing begins at $5, $12.50, and $20 a user a month, depending on feature requirements
BlueJeans is the first cloud service to connect desktops, mobile devices, and room systems in one video meeting. It provides a one-touch meeting join by your scheduling and collaboration tools.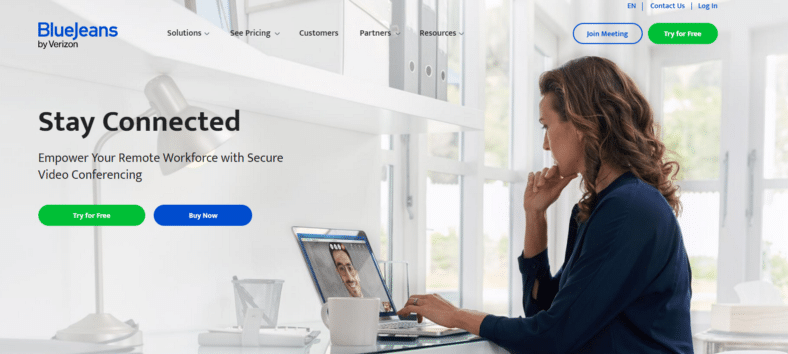 It has enterprise-grade security, performance, and manageability. It has a variety of in-meeting security features, administrative safeguards, and data protection protocols for all your video conferencing needs.
G2 Score: 4.3 stars
Pricing: $9.99/user a month and $13.99/user a month depending on feature requirements
Easily engage and communicate with your team from this all-in-one mobile app. It features a time clock with GPS location stamps, employee scheduling, and other top communication features to enhance employee engagement.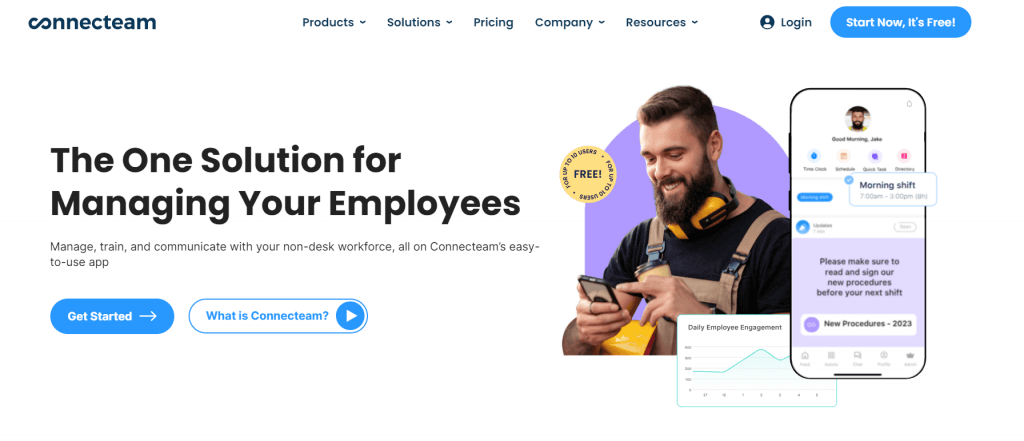 Their multiple communications tools will help to enhance the day-to-day routine of your business. This will help take your business paperless and automate daily procedures, so your team can focus on what matters most.
Connecteam is just what you need to improve time management while complying with labor laws and even make the payroll processes faster and more efficient.
G2 Score: 3.8 stars
Pricing: The basic plan for up to 200 users is $29/month, the advanced plan is $59/month, and the expert plan is $119/month
Appointy is an online scheduling software that efficiently schedules your meetings by eliminating the hassle of back-and-forth email. With a booking page set according to the rules that you specify, your employees and colleagues can view your availability in real-time and self-schedule meetings with you.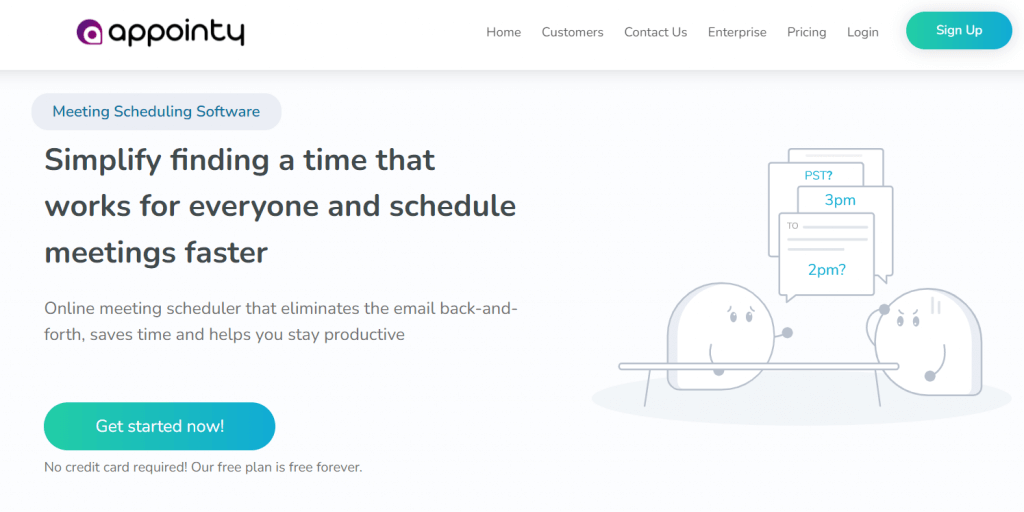 The software caters to the unique needs of all types of teams and enterprises, offering scheduling for one-on-one, group, as well as round-robin meetings. By automating your scheduling and saving your precious time, Appointy helps you focus on winning and serving more leads faster.
To further boost your productivity, it also integrates with several apps that you might already be using, like Zoom, iCal, Stripe, and more.
G2 Score: 4.7 stars

Pricing: Appointy offers a 14-day free trial with an option to continue with the free plan or upgrade to paid plans starting at $19.99/month. It also offers tailor-made scheduling solutions to enterprises with large teams and complex workflows.
Ad Hoc Enterprise Project Management Software Tools
22.
Automate.io

(Discontinued)

Automate.io platform is made to connect your cloud applications. The goal of Automate.io is to increase automation processes throughout small businesses and enterprises alike to enable collaboration across multiple departments and workflow solutions. It allows for simple integrations with apps such as Salesforce, Hubspot, Mailchimp, Facebook Lead Ads, Google Apps and many more.

G2 Score: 4.8 stars
Pricing: They have a free option, then pricing begins at $9.99/user a month for their basic plan, $19.99/user a month for the professional plan, $39/mo for the startup plan, $79/mo for the growth plan and $159/mo for the business plan
Timely offers an automating of timesheet administration. This frees teams from important work matters, tracks productivity, and helps prevent burnout. It offers strict user-level privacy, making it a tool that employees will be able to trust.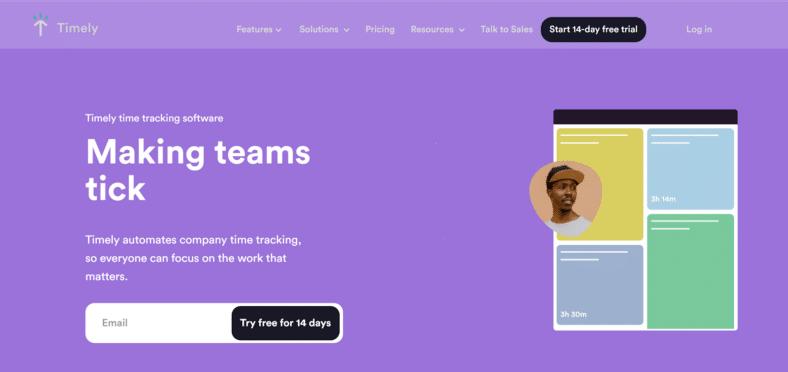 Timely is best used by companies that require time tracking of employees on individual projects and tasks.
G2 Score: 4.8 stars
Pricing: Starts at $8/user/month for the Starter plan, $14/user/month for the Premium plan and $20/user/month for the unlimited option
Toggl Track is a time-tracking tool for freelancers, consultants, and other small companies. It allows users to track time spent on projects to avoid burnout and also analyze productivity. Users tend to really enjoy the integrations that the Toggl track provides, as well as the ability to share the time tracked with clients and coworkers.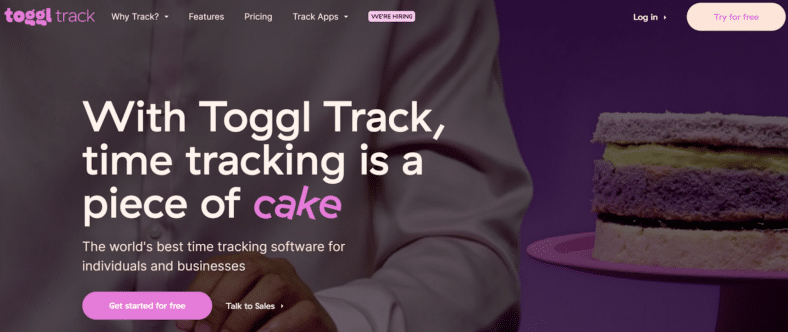 G2 Score: 4.6 stars
Pricing: They're free options for teams of up to 5 users pricing begins at $10/user a month and tops out at $20/user a month if you would like all of their premium features
Zapier allows for the integration of apps and automation of work without writing any code. Zapier is an easy, powerful, and cost-effective automation solution for all your collaboration needs.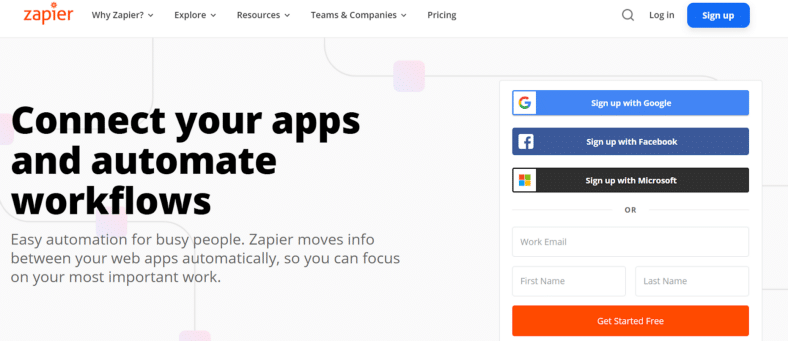 Businesses use and benefit from Zapier by linking their project management tools, spreadsheets, and CRMs to create cross-functional workflows that do not require native integrations.
G2 Score: 4.5 stars
Pricing: They have a free option, a starter plan at $19.99/user a month, and a more feature-rich plan starting at $49/user a month. For companies, pricing begins at $299/mo and tops out at $599/mo, depending on how many zaps and tasks one's team creates.
Notion is one of the enterprise project management tools that offer a combination of notes, docs, project management, and wikis. Use it for team collaboration, to stay informed, and to increase productivity. Notions users tend to be content marketers and teams that enjoy idea generation via a wiki format.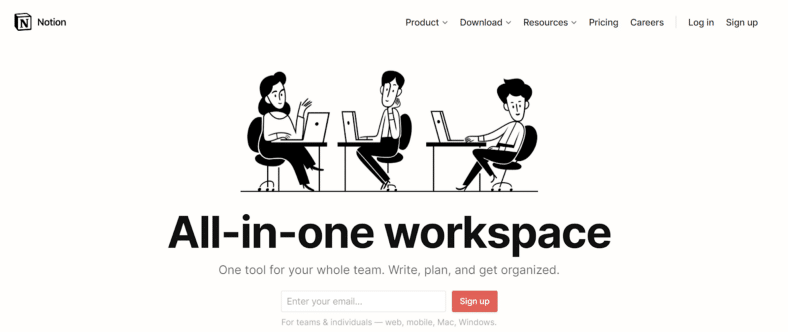 Unfortunately, Notion lacks many of the core features that are required for being premier project management or task management solution.
G2 Score: 4.5 stars
Pricing: They have a free plan, then $5/user a month on the Personal Pro package and $10/user/month on the Team tier.
Clockify is a 100% free time tracker and timesheet for teams. It will help your team track productivity while also making it easier to track billable work hours across projects.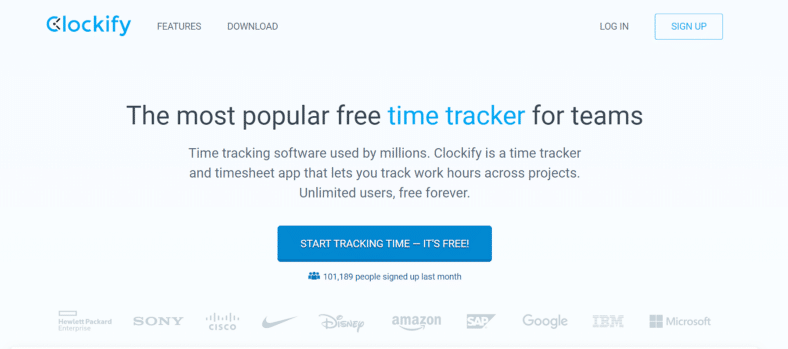 The beauty of Clockify is that its customers can have detailed productivity metrics via the time they spent working on tasks in addition to standard invoicing features that other time-tracking solutions provide.
G2 Score: 4.4 stars
Pricing: Free!
Harvest makes time tracking easy and gives you the ability to start a timer from your desktop, phone, or browser to track time for different clients and projects. It has integrations with Asana, Basecamp, and Trello.
Customers benefit the most from Harvest because of the product's maturity and the number of partners that they have integrations with.
G2 Score: 4.3 stars
Pricing: They have a free tier and than pricing begins at $12/user a month
Expensify gives you the ability to easily manage expenses, pay bills, send invoices, and book travel all within the software. Even scan unlimited receipts for details to be remembered forever. They even allow for credit card import for business or personal card transactions for automatic receipt merging and coding.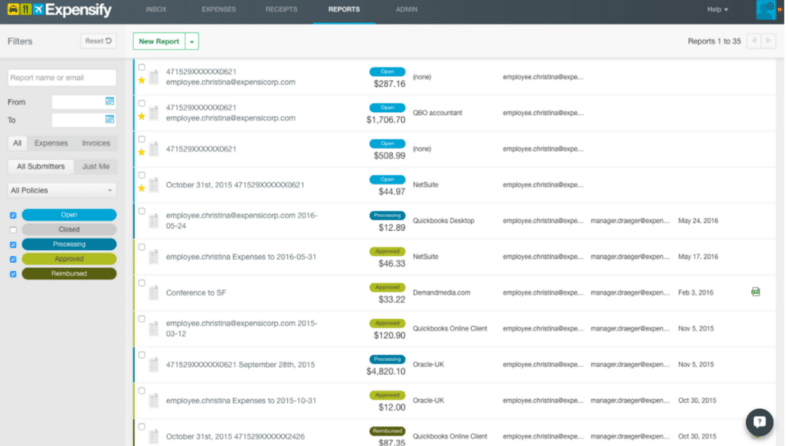 They have multi-level approval workflows, so you can create workflows according to your company's structure and customize expense policy to flag expenses that a manager may need to review. Confirm statement amounts, review unsubmitted expenses, and manage corporate spending all in one place.
G2 Score: 4.3 stars
Pricing: Starts at $4.99/mo for individuals and $9/mo for groups
Mattermost is an open-source messaging platform made for DevOps to drive innovation. Customers use Mattermost to automate workflows, streamline coordination and increase organizational agility.

Mattermost is the best solution for a very technical organization looking for a very custom solution solving a unique workflow.
G2 Score: 4.2 stars
Pricing: They have a free option than pricing beings at $3.35/user a month and can top out at $8.25/user a month
Box is an enterprise content management platform for companies of a variety of sizes. It makes it easy for people to securely share ideas, collaborate and get work done faster.

Box is predominantly used for file management and caters its product to more of an enterprise clientele, enabling large organizations to manage all of their initiatives seamlessly.
G2 Score: 4.2 stars
Pricing: They have a free plan, then $5/user a month for a business starter or $15/user a month for a feature-rich business plan.
ProProfs Project is a feature-rich project management solution for enterprises. It helps streamline project processes and simplifies cross-functional team collaboration. You can organize your project tasks and activities by creating tasks, assigning resources, and defining due dates effortlessly.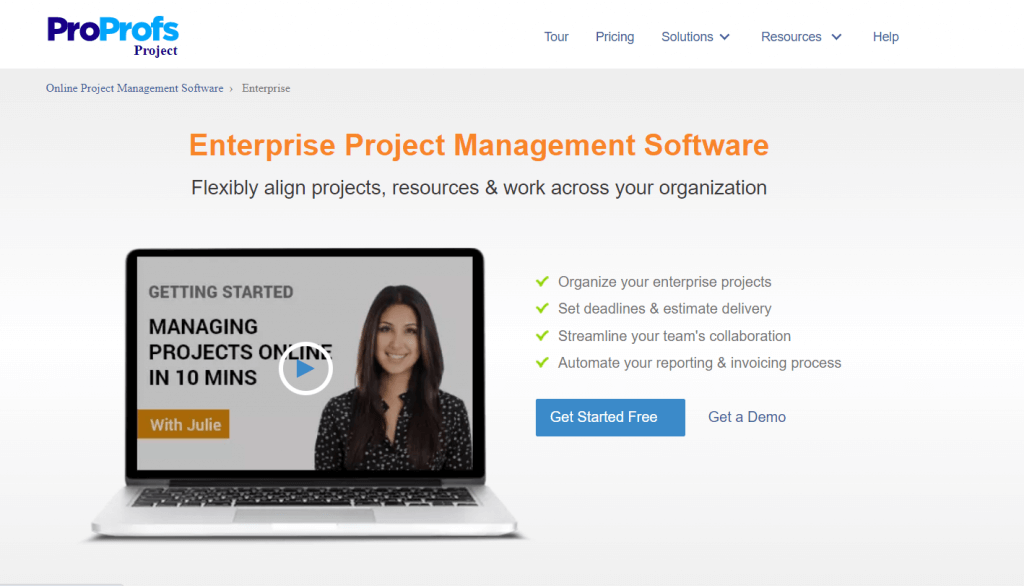 You can even set up project milestones and track them in real-time so that deadlines are met and projects are accomplished successfully. The tool lets you visualize how your projects are progressing via interactive Gantt charts, Kanban boards, Calendars, and List views. Besides, its reporting capabilities offer actionable insights into key project metrics for informed decision-making on the go.
G2 Scrore: 4.4 stars
Pricing: The Essential plan costs $2/user a month and the Premium plan costs $4/user a month.
How to Choose the Best Enterprise Project Management Tools?
Let's look at a few must-have features a robust enterprise project management software should possess:
Criteria for Choosing the Best Project Management Tool
What's In It for You?
1. Scalability: Opt for tools that can seamlessly accommodate your organization's growth trajectory.
The tool will remain relevant even as projects become more complex and the team expands
2. Customization: Prioritize tools that allow you to tailor workflows, task structures, and notifications.
Maximized team productivity
3. Collaboration: Look for platforms that drive real-time communication among teams and provide clear visibility into each team member's workload.
1. Establishing a culture of cooperation

2. Reduced bottlenecks due to communication gaps

3. Accelerated project timelines
4. Integration: Choose tools that can integrate with your existing software without creating chaos or downtime.
1. Zero to no need for manual data transfers

2. Absence of data silos Reduced data errors
5. Reporting and Analytics: Opt for tools that offer in-depth insights into project progress, including how to allocate resources and complete tasks.
1. Enabled data-driven decision-making Insights into areas for improvement

2. Optimized project strategies
6. Ease of Use: Prioritize tools with intuitive interfaces and user-friendly features.
1. Accelerated onboarding process

2. Reduced learning curve

3. Higher engagement among teams
Enterprise Project Management Tools Are Here to Stay
Enterprise project management tools are the bedrock of ROI-driven enterprises today.
Want to augment your project efforts? Check
Wish to nurture collaboration among teams? Check
Want invaluable insights to drive informed decision-making? Check
As you question the "ifs and buts" of selecting the perfect tool for your enterprise, do not forget about your organization's goals and your on-ground team's requirements.
Among the array of options available, one software shines bright: Nifty. Thanks to its intuitive user interface, customizable workflows, and collaborative features, Nifty simplifies even the most layered projects.
What's more, this tool isn't confined to mere task management; you can manage entire projects at a time. Plus, you can literally get your team on the same screen and work on the fly.
So, when selecting a tool, ask yourself: Is your organization ready to go back to the drawing board and approach project management with a changed mindset and, of course, a dynamic tool?