As a startup founder, managing projects effectively is crucial to your success. Whether you're launching a new product, expanding your team, or working on multiple projects simultaneously, having the right project management tools for startups can make all the difference.
In this post, we've compiled a list of the 11 best project management tools for startups in 2023. From task tracking to team collaboration, these project manager tools offer a range of features designed to streamline your workflow and help you achieve your goals.
Selection criteria for the best startup project management software
Below is the criteria that we used to evaluate and compare project management tools for startups:
Features:

Key project management functions like task management, scheduling, team collaboration, file sharing, and reporting should be provided by the tools. The more advanced project management features like resource management, budget tracking, and integrations with other tools are also beneficial.

User-friendliness:

The tools should have a clear, user-friendly interface and be simple to use. The startup project management software should be straightforward to set up and use because startups might not have the time or funds to devote to intensive training.

Pricing:

As startups may have tight finances, the tools should be reasonably priced or provide a free plan with basic capabilities. Also, there shouldn't be any ambiguous or secret fees in the pricing structure.

Integrations:

As startups use a variety of tools for various tasks, the project management solution should be able to work with the ones they already have. A tool's usability and value increase with the number of integrations it has.

Customer support:

Strong customer service is essential, particularly for startups that might have little background in using project management systems. The product should provide a substantial knowledge base and trustworthy customer assistance alternatives like live chat, email, or phone help.
Overview of the best project management tools for startups
Here are the 11 best project management software for startups, along with their key features & prices: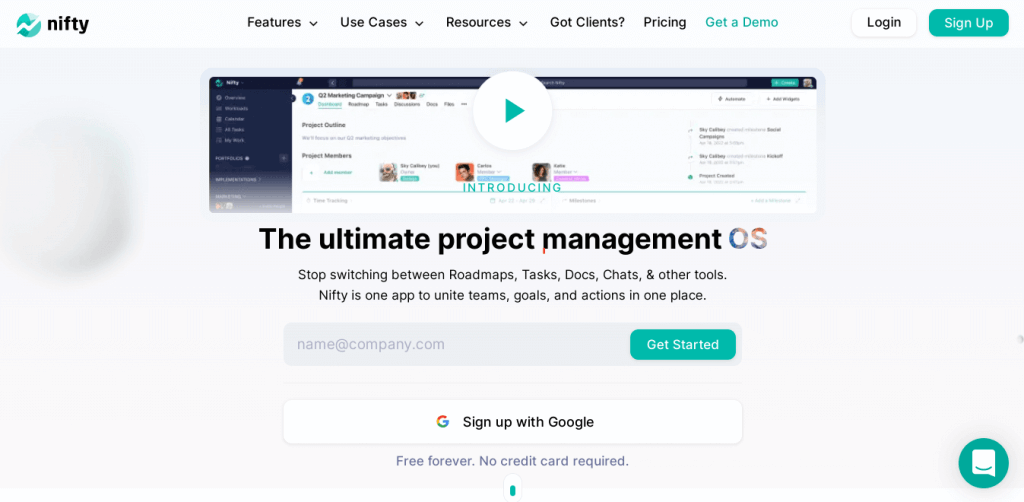 Nifty is an award-winning project management tool for startups. It consolidates chat, tasks, roadmaps, docs, and files into one workspace.
Nifty helps reduce sprint cycles and improves team productivity by combining all of the important features of project management into one software.
The end result is milestone-driven progress automation that keeps everyone on your team aligned.
Here are some of the best features that make Nifty the ideal project management software for your startup:
Task Management
Interactive Roadmaps
Automated progress reporting based on task completion
Flexible public sharing feature to keep stakeholders informed
Milestone dependencies to organize workflows
Docs & Wiki
Create beautiful docs, wiki's, and SOPs
Native Google docs, sheets, and presentations
Public sharing with customizable permissions
Team Discussions
Convert discussions into tasks
Share task IDs in chats to align everyone
Automated Reporting
Nifty Pricing:
Nifty offers a generous free forever plan with unlimited users and tasks.
The next tier is the Starter plan at $5/user/month with custom fields, guests, and time tracking.
The Pro plan at $10/user/month includes everything in starter + automation & cross-project overviews.
The Business plan is $16/user/month with custom roles + permissions, team workloads, and Microsoft SSO, and more.
Compare all features and plans in detail here.
Ready to kickstart your startup project management?
2. TeamWork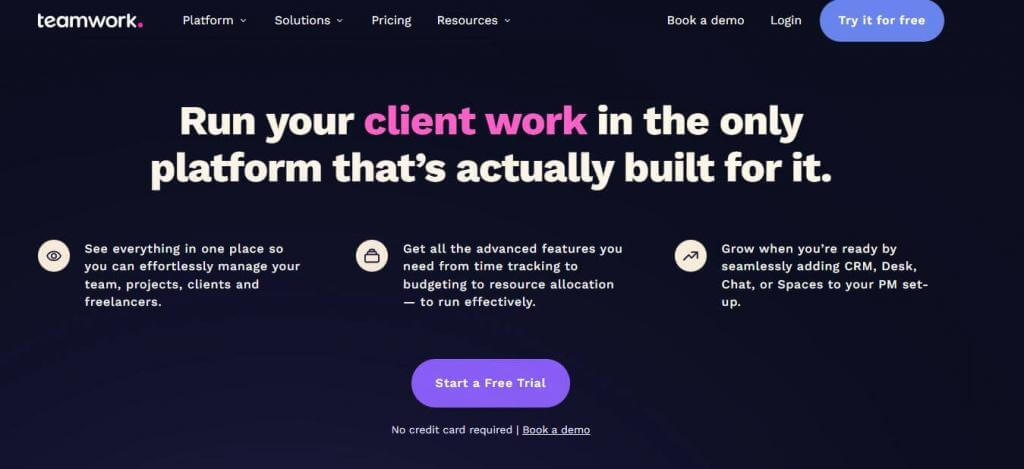 Teamwork is a powerful and easy-to-use project management platform that allows creative teams around you to manage multiple complex tasks and projects in one centralized location. It is flexible and affordable, with many pricing plans available.
Teamwork users enjoy:
A variety of different viewing options to manage ongoing projects at a panoramic level
Time Tracking to effectively manage and track time spent on individual projects
Workload tracking of teams and team members to ensure effective and efficient task management and distribution
Teamwork is a powerful project management software that offers a range of features to help startups work together, oversee projects, and monitor development.
For startups searching for a complete project management system, its user-friendly interface, task management features, time-tracking functionality, and collaboration options make it a great alternative.
Pricing: Teamwork offers a range of pricing options, from a free trial to various paid levels. Their cheapest premium option is $10 per user ($12.50 billed monthly).
3. ClickUp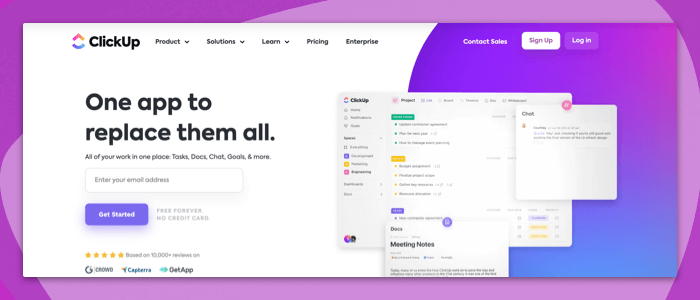 ClickUp is a powerful all-in-one work management solution that allows teams of any size to effectively manage tasks, bugs, releases, wikis, and more.
Teams across industries use ClickUp because of its customization capabilities, advanced features, and affordable pricing plans—making it the only tool you'll need to scale your business.
ClickUp users enjoy:
Organize work into tasks and subtasks with ClickUp's Hierarchy
Choose from 15+ views, including Board, Gantt, Box, and Mind Maps
Add Watchers to tasks to get automatic task update notifications
Communicate with your team using the in-app Chat view and have discussions within tasks with threaded comments that you can edit and assign to team members
With its user-friendly interface and customizable workflows, ClickUp is a versatile tool that can be tailored to suit the needs of startups.
Check out: ClickUp Alternative 😎
Pricing: Add unlimited members and tasks and get 100 MB of storage with the Free Forever Plan. Paid plans
start at $5/ user/ month; get unlimited storage and access to more advanced features.
4. ProofHub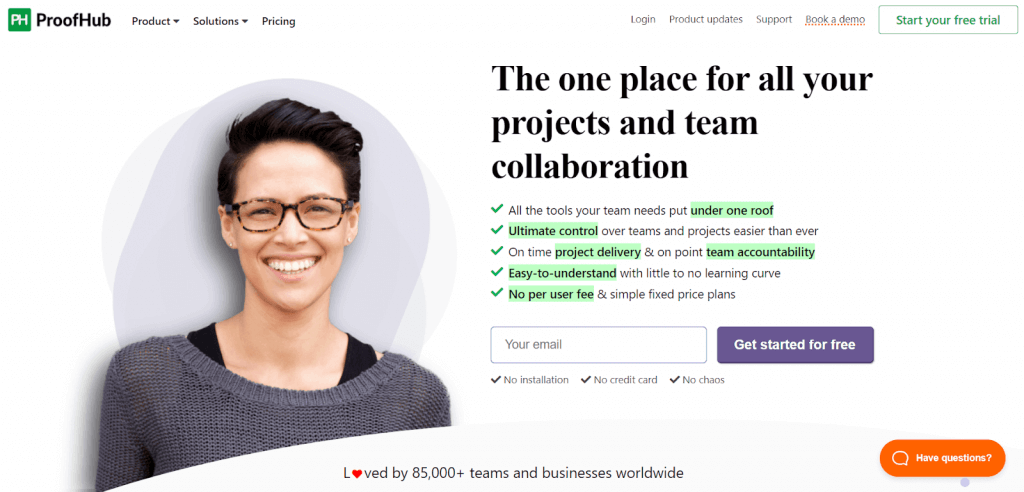 ProofHub is an all-in-one project management and team collaboration software that is designed for teams of all sizes across various industries.
By using a range of advanced features in a centralized location, project managers and team members can manage various stages of tasks and projects in a single location.
Easy to understand and simple to use, ProofHub is an ideal choice if you want to use a single tool for efficient project management and team collaboration.
ProofHub users enjoy:
Simple, fixed pricing plans
A Bird's eye view of Tasks and Projects
Custom fields and table view
Group chat and online discussion
Pricing: ProofHub offers two plans. The Essential plan is priced at $45/month/billed annually. The fully loaded Ultimate Control plan is priced at $89/month/billed annually.
5. ProProfs Project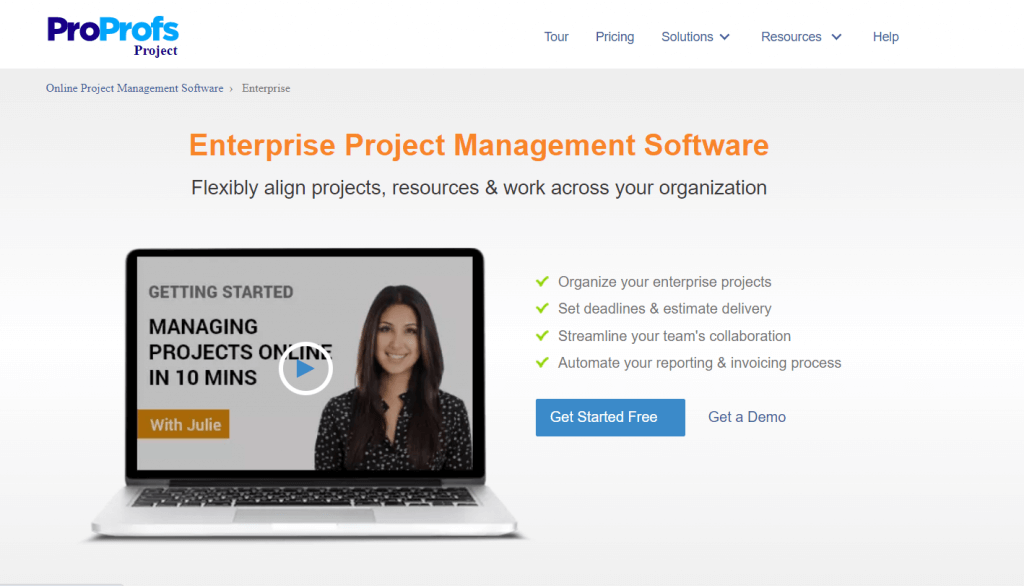 ProProfs Project is an easy-to-use online project management tool that allows you to plan work efficiently and deliver on time. From a centralized location, team members can easily collaborate and get work done delightfully.
Visually interactive and affordable, it is the perfect tool for freelancers, small businesses, and big enterprises.
ProProfs Project users enjoy:
Planning project tasks and subtasks using a shared calendar.
Tracking project progress via an intuitive dashboard.
Generating insightful reports with powerful analytics.
Pricing: ProProfs Project's Essentials plan starts at $3/user/month, and the Premium plan at $6/user/month (billed monthly) with unlimited storage.
6. Xtensio

Xtensio is a project management software for startups that offers a range of features designed to help improve communication and collaboration on projects.
Startups can easily manage projects and monitor progress using Xtensio's user-friendly interface and intuitive design.
It is a good cloud-based collaboration platform for creating, sharing, and managing beautifully designed online business documents.
Xtensio users enjoy:
Drag-and-drop features

Customizable templates to stay on brand

Quick sharing of documents as links
Overall, Xtensio is an excellent project management software for startups, offering a range of features that can help streamline project management and collaboration.
Its user-friendly interface, collaborative workspace, and customizable project templates make it an ideal choice for startups looking for a powerful and flexible project management tool.
Pricing: Starts free for basic individual plans and scales in pricing based on plan usage and features.
7. Wrike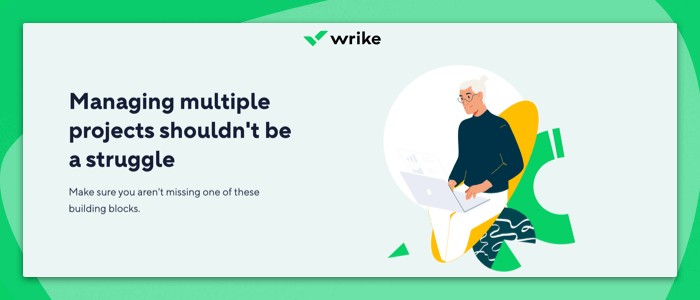 Wrike is a robust and versatile project management tool that helps small teams collaborate and communicate with transparency. Wrike would be best for a team of over 20 users.
Wrike users enjoy:
Gantt Charts
Custom Dashboards
Price: At a price tag just shy of $10/user/mo, Wrike is an affordable solution for budding software development teams everywhere.
8. Trello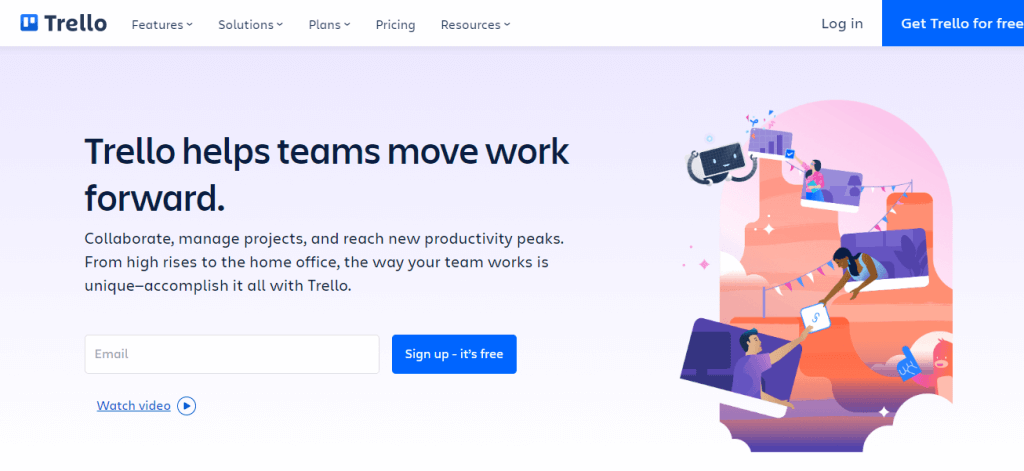 Don't overthink it! Trello's Kanban boards are a lightweight way to manage tasks amongst a team if you don't yet require all of the other nuts and bolts of project and team management.
Trello is considered one of the best project management tools because Tello users enjoy:
A free platform
Easy-to-use task boards with task customizability
Quick onboarding allows you to jump right into the action
Price: Free to start with a $9.99/mo/user Business plan and up to $20.83/mo/user Enterprise plan
9. Airtable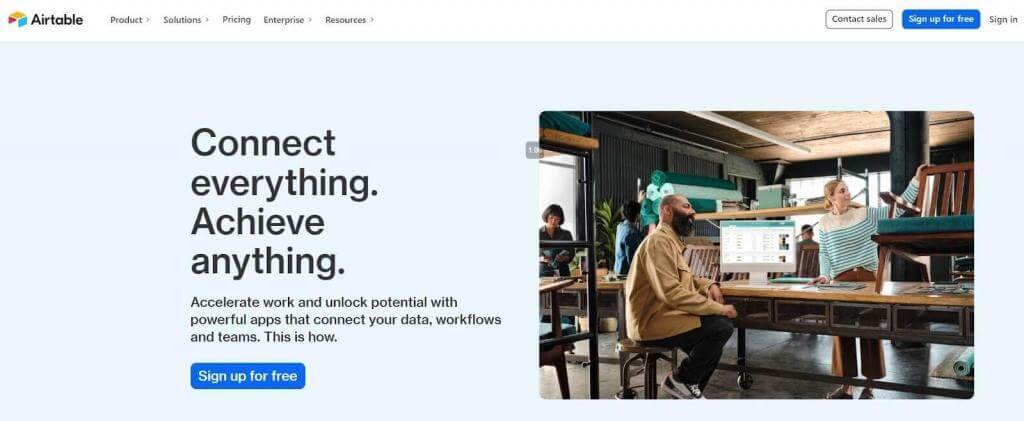 Flexible, organized, and affordable, Airtable is a spread-sheet style project management system that provides a plethora of views.
Airtable users enjoy:
Premade templates for quick onboarding
Customizable views to cater to your workflow
Widespread integrations with other tools
Price: Airtable is free to start and scales in pricing based on factors such as storage size and data history
10. Timely
Timely is an automated time-tracking tool that also lets you track projects, monitor budgets, and view team performance all in one software.
With Timely, you can examine past costs, tasks, and turnarounds to set competitive rates and improve future project profitability and efficiency.
And with automatic time-tracking and timesheet drafts, your team can focus less on daily admin tasks — and more on the work itself.
Timely Users Enjoy:
Intuitive controls and a privacy-first approach make it a tool that people actually want to use.
World-class customer support is only a chat message away
Real-time dashboards, live reports, and powerful planning
Cost: The starter plan is $8 per user per month, scaling up to the unlimited plan at $20 per user per month.
11. Fyle

An expense management software like Fyle can help automate mundane, repetitive expense management tasks to boost both the finance team and employees' productivity.
The tool comes with a receipt scanning feature that employees can use to scan, capture, and extract information from paper and digital receipts.
It automatically attaches crucial documents like the receipt and fills the digital expense report without any manual effort.
Fyle's Users Enjoy:
They simply need to review and upload their expense reports, and approvers and finance teams can go ahead and verify the expenses and close the reimbursement cycle on time.

Fyle's robust policy check engine also auto-checks the expense reports for any errors or out-of-policy expenses in real time.

Finance teams can also take care of tedious, manual credit card reconciliation processes as the tool automatically reconciles credit card transactions, expenses, and receipts with just a click of a button.
Price: Their standard plan starts at $4.99 per month, Business at $8.99 per month, and custom pricing for Enterprise.
Benefits of using project management tools for startups
As a startup, it is imperative to have a streamlined approach to managing projects. This is where the best project management tools for startups come in handy. These tools can help you manage your projects efficiently and effectively. Here are some benefits of using project management tools for startups:
1. Improved Collaboration: Project management tools allow team members to collaborate effectively. With real-time updates, everyone can work on the same project simultaneously, which improves communication and reduces errors.
2. Better Time Management: These tools come with features like task lists, deadlines, and calendars, which help you manage your time better. You can prioritize tasks, set reminders and track progress, ensuring that you meet your deadlines.
3. Increased Productivity: With the best project management tools, you can automate repetitive tasks, track progress, and manage resources better. This frees up time for your team members to focus on more important tasks, which increases productivity.
4. Improved Project Tracking: These tools provide a clear picture of the project status, including the progress, timelines, and milestones. This helps you stay on track and identify any issues early on.
5. Better Resource Management: With project management tools, you can allocate resources efficiently, ensuring that everyone is working on the right tasks. This improves resource utilization and reduces wastage.
6. Enhanced Reporting: These tools come with reporting features that allow you to generate reports on project status, performance, and resource utilization. This helps you identify areas of improvement and make data-driven decisions.
Closing thoughts
In conclusion, using the best project management tools for startups can help you manage your projects efficiently, improve collaboration, increase productivity, and make data-driven decisions. These benefits can help you stay ahead of the competition and achieve success in your business.
There you have it. With the changing times, the needs of startups are changing as well. Spend a good amount of time to figure out if you need a project tracking tool, robust planning software, or a holistic view of projects and processes in one place. Know what your team needs.
We hope that the above list provides you with a list of top project management tools to be used in 2023.
Take the next step! ✨ Switch to Nifty for free. ✨