Known for having an impressive array of features at an affordable price, ProofHub is a popular project management solution all around the world, especially amongst client-facing teams. Let's start by understanding what ProofHub does well, and where it falls short, so we can identify what we're looking for in the ideal ProofHub alternatives.
ProofHub Pros:
ProofHub is certainly feature rich. Complete with client collaboration, time tracking, reporting, invoicing, and project communication, you'll find that essentially every phase of a project's life cycle can be managed here.
As the name implies, ProofHub's proofing feature is among its most popular traits as it allows for file iterations and approvals to be streamlined and organized.
Despite its introductory plan cutting out some important features such as Custom Workflow and Project Manager, both Essential ($45/mo/annually) and Ultimate Control ($89/mo/annually) are quite affordable
ProofHub Cons:
Fundamentally built around proofing, its other features often fail to provide the depth and customization required to have more complex workflows — a case of sacrificing product depth for feature width.
ProofHub is not a tool that can be quickly implemented. There are many unavoidable product tour tooltips, and ongoing usage requires a lot of customization and upkeep, which makes adopting and utilizing ProofHub a continuous management project in its own right.
The design is simple if not simplistic; a challenging UX paired with a basic UI makes using ProofHub seem slightly more simple than it actually is.
What we're looking for in a ProofHub alternative
The project management space offers a lot of solutions that focus on the different areas of management. In this case, let's focus on solutions that offer some of the core reasons most organizations pick up ProofHub in the first place, which are:
Affordability
Feature Rich
Usability & Client Collaboration
The following recommendations are compiled based on the above points, though not all of these tools will hit every mark. We will explain the benefits and drawbacks of the recommendations based on these points.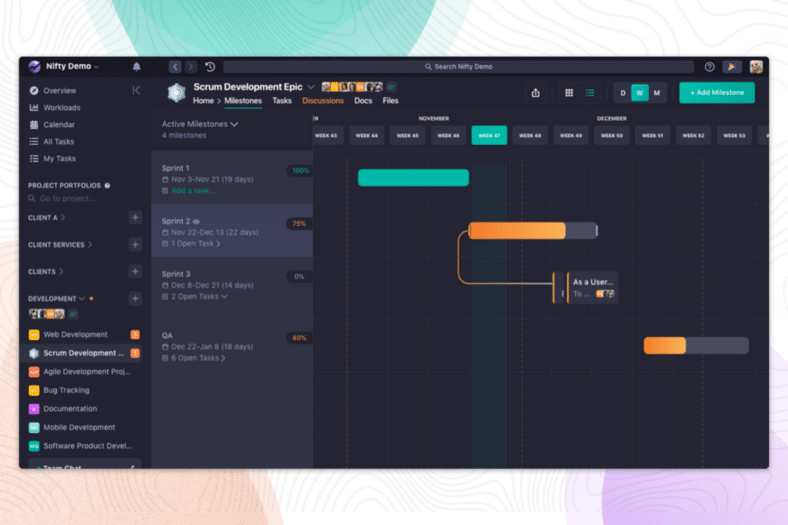 Nifty is an award-winning rising star in the project management space. Despite being a newer entrant, Nifty wins the hearts of businesses looking for an intuitive, scalable, and attractive ProofHub alternative solution to use internally as well as to present to your clients.
Pros:
Nifty is notoriously intuitive, and even won the user-rated G2 award for easiest to use project management solution on the market.
Nifty's user based pricing plans start with a Free Forever tier than a $5/user/month starter plan that allows you to add and remove team members without feeling nickel-and-dimed. Guests are completely free on all Nifty tiers 🚀.
Nifty's mobile apps are perhaps the most fleshed out in the space
Automated progress reporting helps align the entire team on project goals and current status
Cons:
Nifty offers some native integrations with Google Suite, Google Docs, Zoom, Slack and more, but does not yet offer the full breadth of native integrations that many of its peers offer, relying instead on Zapier to bridge that gap with 2000+ apps.
With an emphasis on collaboration, workflow management, and reporting, Nifty does not offer back office solutions such as invoicing and payments.
Sign up to Try Nifty For Free 🎉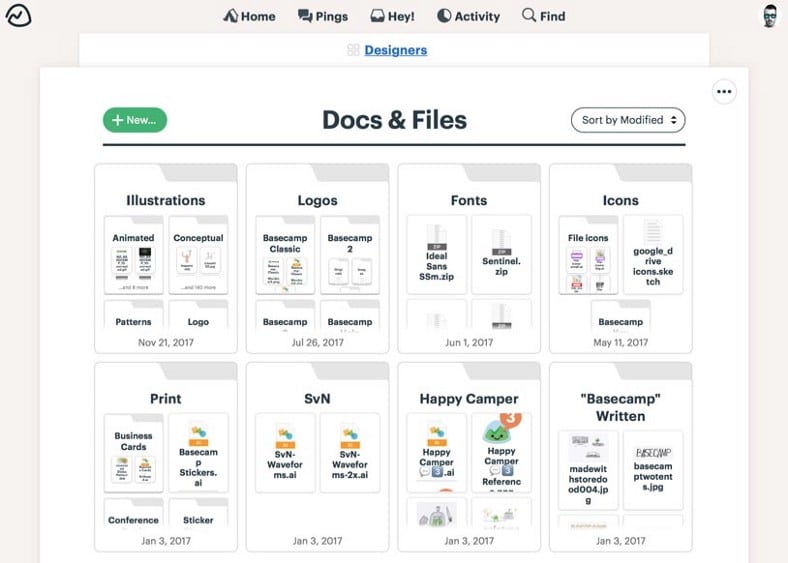 An undeniable member of the old guard of project management, Basecamp offers a simple-yet-effective layout that allows internal and external collaborators to work together on projects from start to finish.
Pros:
While Basecamp offers a free personal version, for professional engagements you'd look to their Business plan which is $99/mo. Same as ProofHub, Basecamp offers unlimited projects and users at this price.
Known for its easy learning curve, Basecamp offers the groundwork for collaborative efforts in a single place.
Cons:
Depending on your needs, Basecamp is perhaps overly simple. While it can consolidate communications, files, and tasks, none of its features offer enough depth to be able to manage a project of any real complexity.
Its UI is dated, and if you're a believer that the tools you put in front of your client becomes part of your branded experience, Basecamp certainly won't portray your company as cutting edge.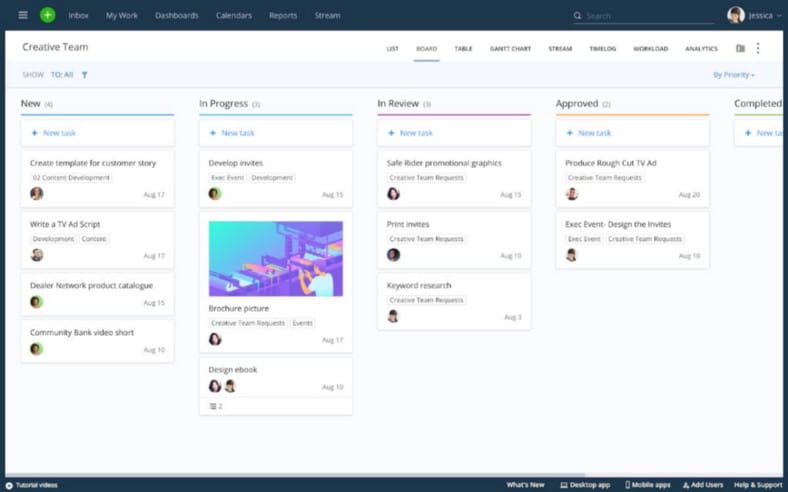 One of the major players in the project management space, Wrike is a formidable project solution for teams of all sizes, and particularly the Enterprise.
Pros:
Wrike has a similar tool overlap to ProofHub, especially with their proofing feature that harkens to ProofHub's namesake feature.
Automated reports facilitate updates between you and your clients.
Cons:
Challenging UX can lead to extra time spent trying to execute what should feel like basic actions within the platform.
Some of the tail end of the back office features from ProofHub, such as Invoice Generation, won't be found here.
Smaller teams (up to 15 members) may get away with Wrike's $9.80/user/mo plan, but larger teams will look at this price (and feature array) spike to $24.80/user/mo.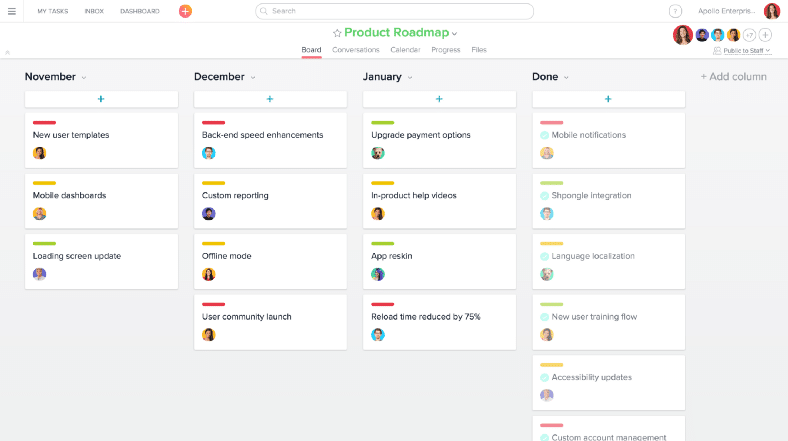 Another big name in the project management space, Asana was loosely spun out of Facebook's need for improvement project management as the now-monumental social site was scaling. Asana is a reliable task and OKR management tool that is neither cutting edge nor behind its time.
Know why Nifty is an ideal Asana alternative
Pros:
Asana is approachable and easy to understand compared to many of the daunting PM tools on the market.
Goals, Forms, and Workloads rounds out a suite of tools that emphasize winning projects and managing them to success by both internal and client standards.
Asana offers a healthy array of integrations to unify your technical suite
Cons:
As mentioned before, Asana sits right in the pocket of what you should expect from a project management solution, but it may not be long until your expectations of collaboration and usability exceed Asana's offering.
At between $10.99/mo/user and $24.99/mo/user on an annual basis, Asana's pricing may bring similar pain to that of Wrike's with fewer features to boot.
Teamwork's impressively wide array of products across spaces PM, CRM, Help Desk (and more) make it a scalable solution that can morph into a consolidated experience to fit your organization's size and needs.
Pros:
Teamwork extends into the complete set of features back office features that you've grown accustomed to in ProofHub such as invoicing. The value of a complete business management tool can expand if you wish to purchase their products from other verticals, such as their CRM.
Client collaborators are unlimited, meaning you only need to focus on your team members when estimating pricing for your organization.
Cons:
In order to access some of features that you may deem necessary in client projects, such as time tracking and invoicing, prepare to pay $18/mo/user (minimum 5 users). Certainly not the highest number we've seen on this list, but it could quickly surpass ProofHub's flat price that comes in at under $100/mo.
At 250GB of storage on their Premium plan, the space offering feels somewhat limited compared to the price and feature offerings. Teams who handle large files should take note.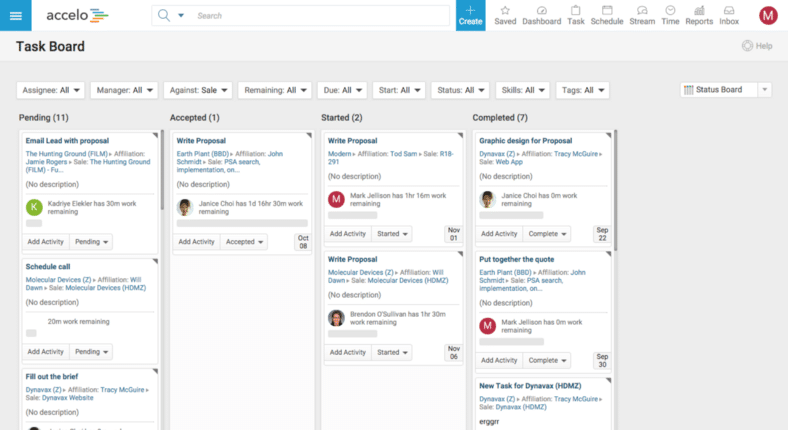 Accelo is a business and workflow management tool that is dedicated to setting up your agency for trackable profitability.
Pros:
Accelo is driven by automations to facilitate many of the financial aspects of new and ongoing client relationships.
Specific tools for Projects, Service, Retainers, and Sales creates an integrated business management experience that can serve as your bedrock for your service organization.
Cons:
Speaking strictly from a project management perspective, Accelo's features are slightly anemic. Again, this tool is built heavily around the financial management of client projects rather than the nitty-gritty of project management.
Accelo's financial benefit to your service company comes at a cost. Each of its four products (Projects, Service, Sales, and Retainers) comes with their own $39/mo price tag (with a minimum of 3 users). Worth noting, however, is that they do offer a bundling of these features at $79/mo/user (minimum 3) with their ServOps plan.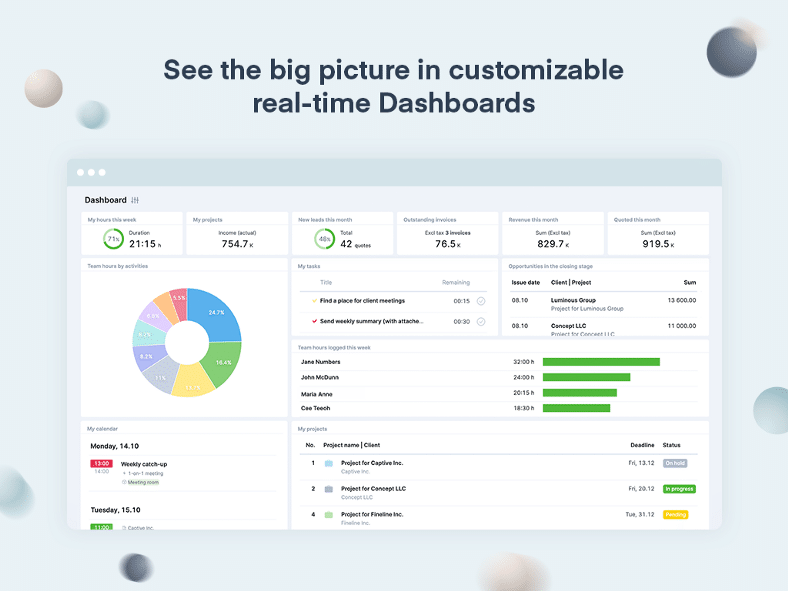 Scoro is another all-in-one business management tool that serves to unify sales, project management, and backoffice experiences, especially for service teams.
Pros:
Scoro integrates natively with many back office tools, such as Dynamics, Quickbooks, Xero, Expensify, and Standardbooks, to streamline your tech stack.
Scoro offers flexibility in their plans depending on if you're looking for more of the workflow management or sales / back office aspects of their solution. They offer a max bundle as well.
Cons:
As is the case with most products that cover many aspects of a business' operations, the actual workflow end of the product lacks some of the tools you'd expect in a PM tool, such as a Gantt chart.
As mentioned above, the Scoro pricing structure is built to help you decide on the right package for your needs. That said, with 4 packages, two of which containing two options within them, you may spend a good amount of time trying to decide which is right for you. Ranging from $26 to $37/mo/user (minimum 5 users), the over the table plans may be a wide departure from the flat pricing you're accustomed to. Their all-in-one plan encourages you to contact sales, so you can expect a number north of $40/user/mo.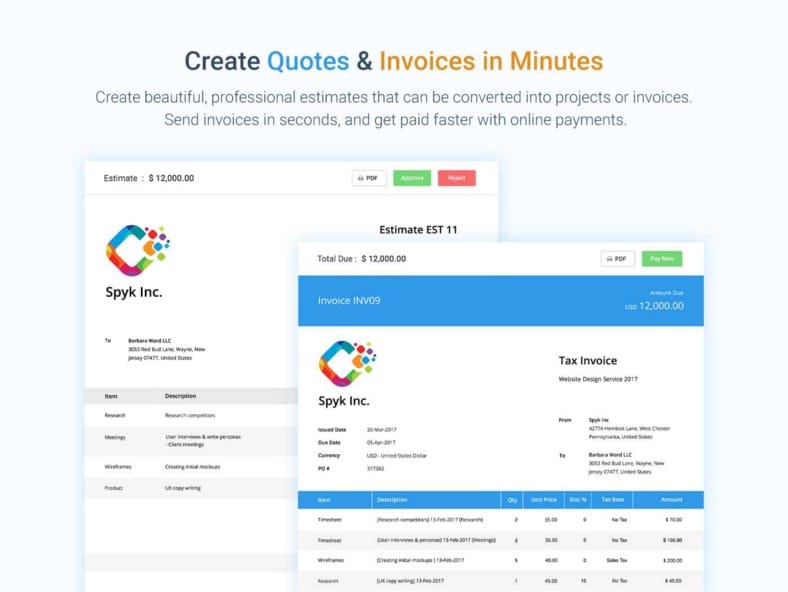 Avaza is a complete business management tool whose build-a-plan payment model is meant to grow based on your team's needs and feature access.
Pros:
You'll find everything from client interfacing to back office management in Azava, with a particular emphasis on scheduling as well.
Its payment structure allows you to maximize your dollar to ensure you're only paying for features that specific teammates will use.
Cons:
You won't find some of the features in Avaza that you would in ProofHub, such as a proofing feature, real-time communication, and documents or notes. Avaza stands as more of a place to reflect updated work rather than a place where work is being done.
Functional, but not the most forward-leaning interface you'll come across in your tool search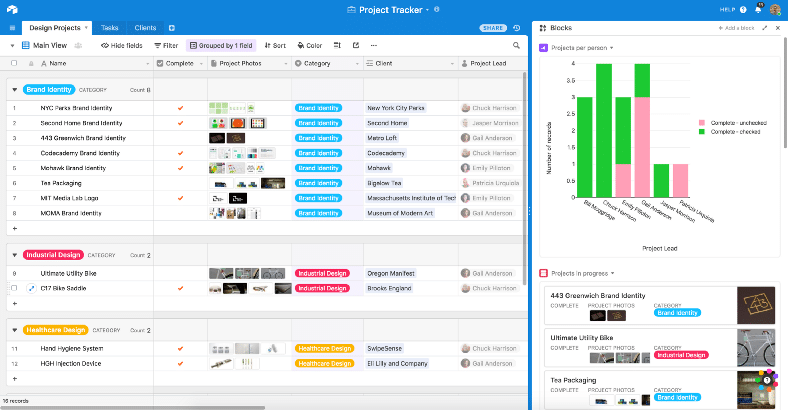 A departure from our Business Management tools, Airtable is a flexible, powerful spreadsheet that can bring project management, CRM capabilities, and calculations together through a different approach.
Pros:
Preloaded with OKR templates, Airtable helps you take the first step in building out the solution that fits your business' needs.
Airtable's flexibility fits a wide array of functions to open up a bevy of possibilities for how it can be used.
Cons:
Even with its templates, you'll be spending a fair amount of time creating and tweaking a layout that's to your liking. Insights across the many bases do not scale naturally.
To be used at a true business level, you'll be paying $20/user/mo (billed annually), which will add up quickly compared to a flat-rate plan.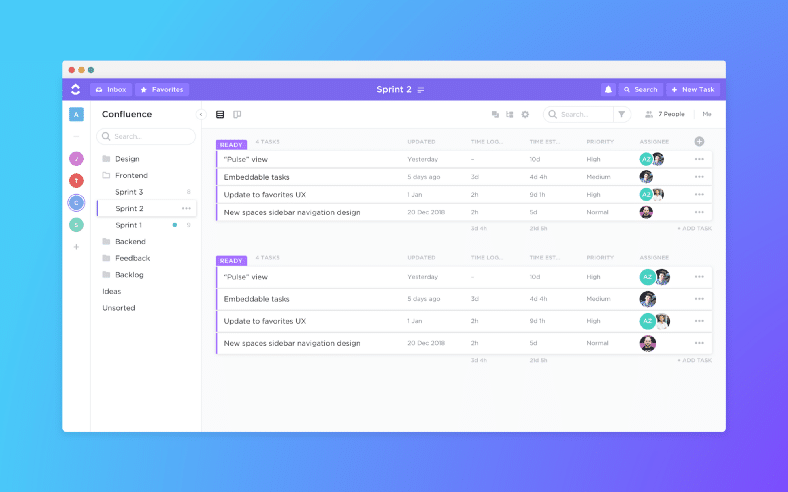 Clickup's flexibility and ever-expanding feature set has made it a rapidly expanding tool in the project management space.
Pros:
Clickup has a lot of features, with new ones coming every week. Good chance that however you'll want to work, Clickup will allow you to do it.
Despite having a per-user price, Clickup is affordable at its $5/user/mo annually ($9 for the Business plan).
Cons:
Clickup's strength is also its liability; features. With a constant release of features, its UX becomes noisy and, at times, somewhat daunting.
Clickup's emphasis has been on project management, which means you'll want to pair it with a dedicated back office tool.
Why Nifty Is Still The Best ProofHub Alternative?
It's quite difficult to find a tool that does everything you need for running your business, especially when accessed against affordability and usability. Nifty is the only tool on this list that gives you the best of all these alternatives without any of the drawbacks so you can get back to managing projects, not tools.
The intuitiveness of Basecamp
The ease of use of Asana
The flexibility and feature-richness of ProofHub and ClickUp
The Enterprise-level functionality of Wrike and Scoro
All in one, collaborative, affordable solution!
While you may find it wise to pair your Nifty workflow solution with another back office tool to maximize both affordability and flexibility, Nifty is the only solution that brings teams together in a meaningful way to make collaboration easy, fun, and efficient.
Give Nifty a try now and thank us later ❤️