5 Confluence Alternatives For Your Collaborative Team
Confluence is a powerful tool content collaboration tool that although reliable is quite difficult to use which is why we put together a list of the very best Confluence alternatives for your needs. Confluence is often used in conjunction with other products — Jira the most notable of the bunch. While Confluence serves as a hub to centralize project documentation, its lackluster feature growth compared to its relatively steep price tag (starting at $10/mo/user) has left teams desiring more out of their collaborative process, and on the hunt for Confluence alternatives.
And so, below are 5 great workflow management tools and Confluence alternatives centralized around team and content collaboration to ensure your teams success.
Nifty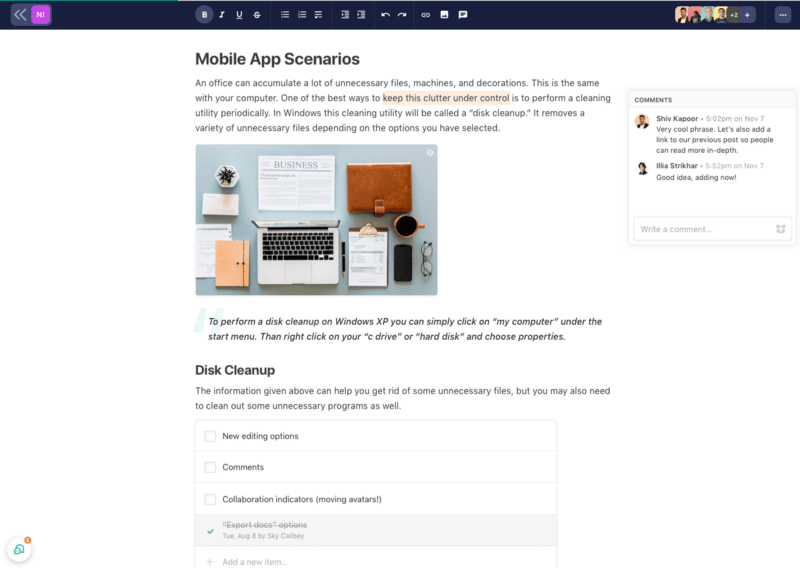 Nifty is an all-in-one workflow collaboration platform that brings project documentation, collaboration, and communication into its full-suite project management fold. Nifty offers its own collaborative document, multi folder organizational system and notes creation feature along with an in-app integration to Google Docs, Sheets, and Presentations to keep your meeting notes, specifications, and creative copy inside your project. This solution provides the power of the Google suite with the benefits of workflow collaboration cohesion that a standalone document tool falls short on.
Pricing (Every Plan Includes Docs 🚀)
Nifty offers a generous free forever plan with unlimited users, tasks, and guests.
The next tier up is the starter plan at $5/user/month with custom fields + time tracking.
The Pro Plan begins at $10/user/month and includes everything in starter plus automations and cross-project overviews.
And a truly unlimited plan with Custom Roles + Permissions, Team Workloads, and Microsoft SSO and more for $16/user/month.
Compare all Nifty pricing plans in detail here 
Dropbox Paper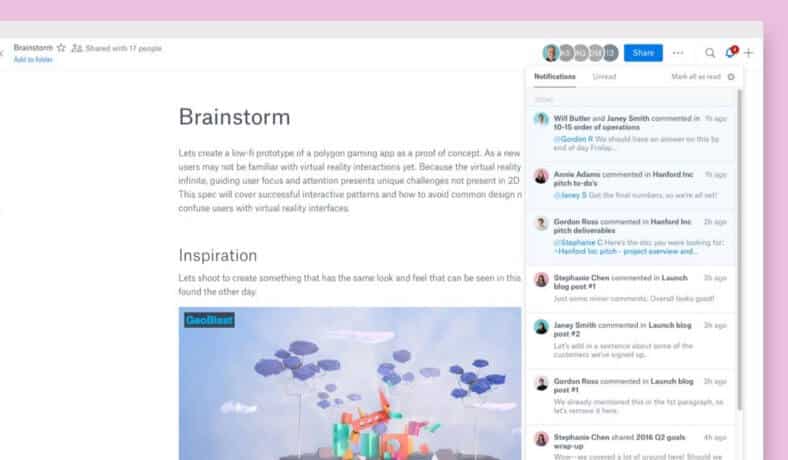 Dropbox's goal is to bring file and document harmony to your organization. With its lightweight Dropbox docs tool, you team be able to collaborate on project materials while having access to Dropbox's seemingly limitless levels of file storage. Dropbox seeks to jump into your workflow by offering integrations with some of the most popular apps out there such as Slack and Zoom.
Dropbox's key value, apart from its sprite collaborative doc tools, is the seemingly endless amount of storage you can access through them.
Pricing
You can access and collaborate on Dropbox docs with its free plan that offers 2GB of space. This solution, however, doesn't bring your entire team into the same Dropbox.
Its team-centric paid plans start at $12.50/mo/user/ and move up to $20/mo/user based on space and security requirements. For larger organizations, Dropbox offers an Enterprise solution.
Notion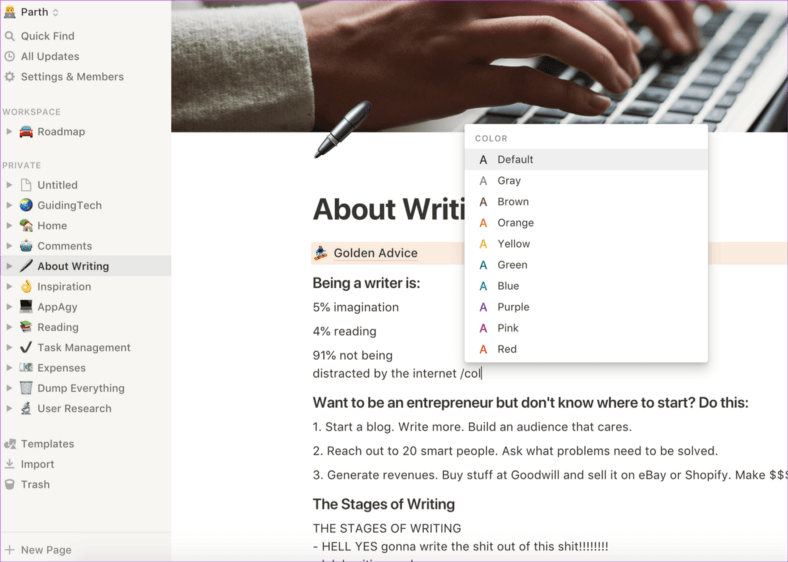 Notion is a knowledge hub tool that offers collaboration in many forms, including notes, documents, databases and spreadsheets. With nested folders, a calendar, and even a lightweight task management system, Notion provides a flexible environment to adapt to your team's workflow needs, with fun mechanisms built in such as drag-and-drop and cross platform syncing.
Pricing
Notion offers a free version that enables collaboration, but limits features by removing elements such as version history or admin tools which tend to bring value to organizations. From there, a collaborative team is looking at $8–10/mo/user for its team plan and $20–25/mo/user for its annual plan.
Teamwork Spaces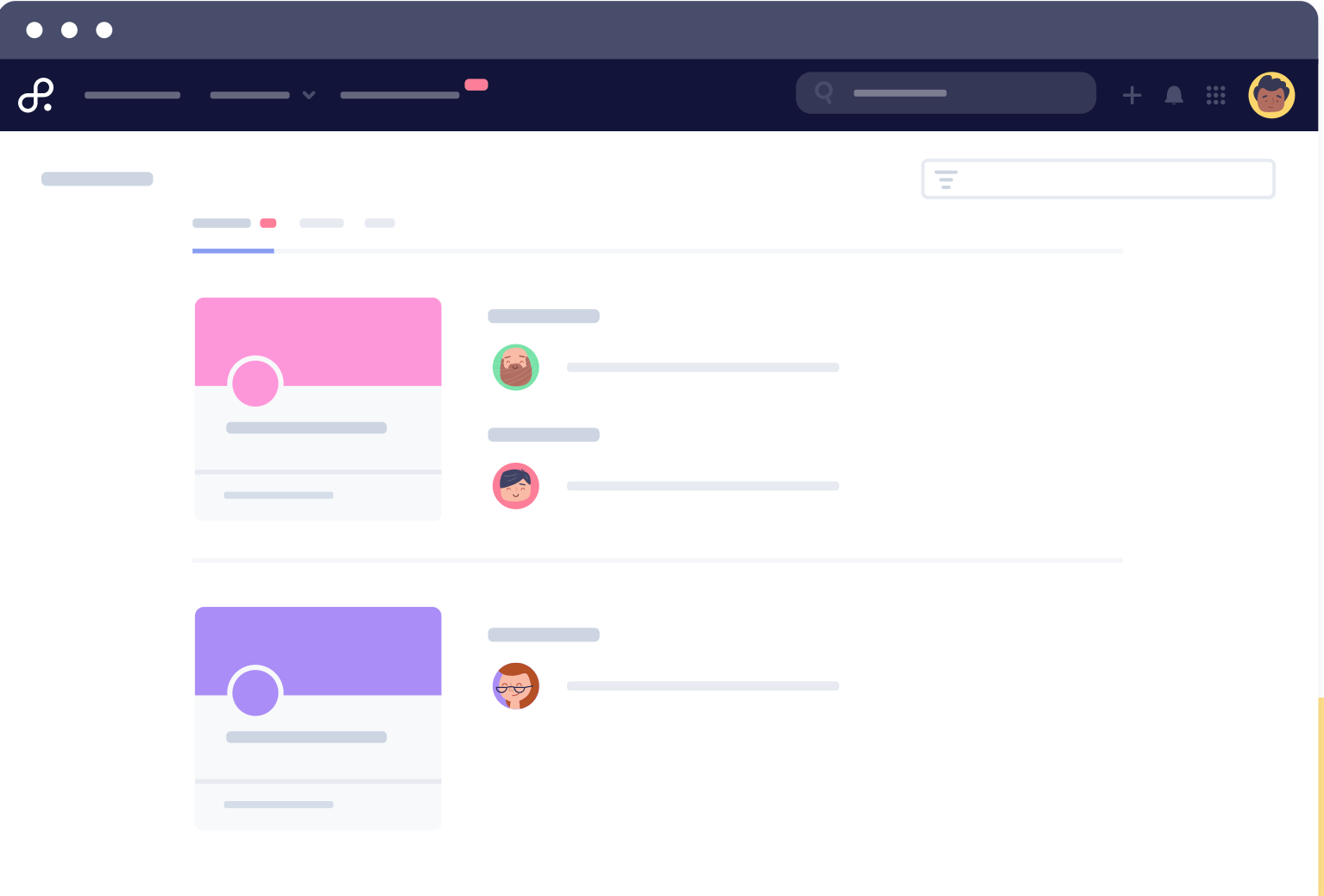 Teamwork spaces, similar to confluence is one of many products offered by Teamwork that serves as your business solution in collaboration, organization, sales, and support. Teamwork Spaces, its document solution, weaves collaborative document management in conjunction with many of its other products to work side by side.
Pricing
Teamwork is free up to 5 members, but this doesn't include the collaborative docs feature, Spaces. Spaces starts at $8/user/month, and the price goes down per user as your team's size clears specific benchmarks. Teamwork also offers an Enterprise solution of its Spaces feature.
Google Docs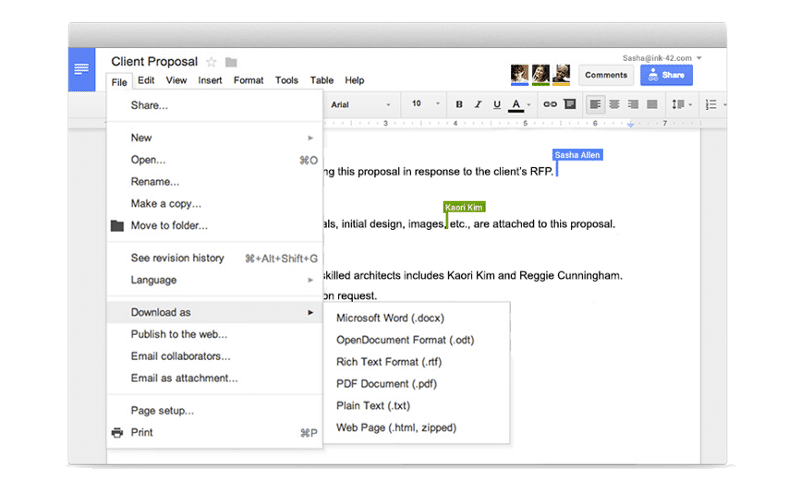 Tried and tested, Google Docs is a power document tool that empowers collaboration through smart editing, styling tools, templates, and much more. Google Docs tells a document's entire story with an unlimited version history, makes collaboration targeted with flexible sharing controls, and broadens your document editing abilities by allowing you to import Microsoft Docs and PDFs and export your work as .docx, .pdf, .odt, .rtf, .txt or .html formats.
Pricing
Need Google for your Enterprise? Probably not if you're reading this, but if you do, contact them.
Are there other types of tools you'd like recommendations for? Let us know in the comments below! ✌️