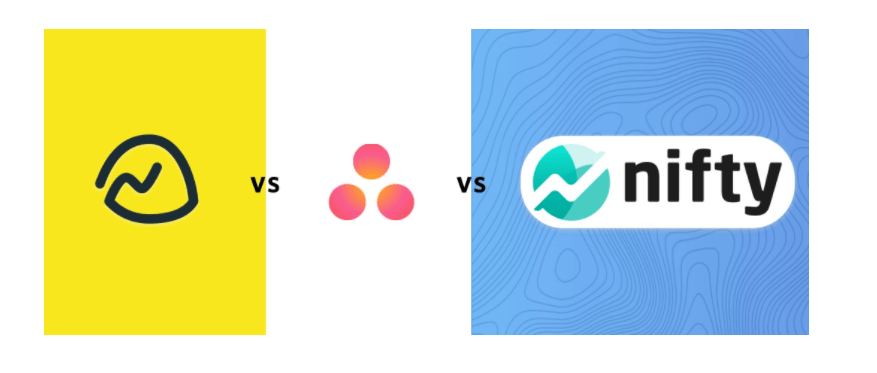 In this post we will sum up a direct comparison between Basecamp vs Asana and how both Basecamp and Asana stack up against Nifty in 2022. If you are looking for the best and most intuitive project management platform for your business, there is no doubt that you've heard of both Basecamp and Asana given that the two of them were few of the first project management softwares in the space and have been around for more than 10 years.
Basecamp and Asana are two cloud-based project management tools that help businesses achieve sustainable workflows by organizing workloads through a team collaboration pipeline, task management and milestone creation.
A new-wave modern day project management solution to the market is Nifty,  an all-in-one award winning project management app that maximizes the best of both tools with enhanced collaboration and automation features.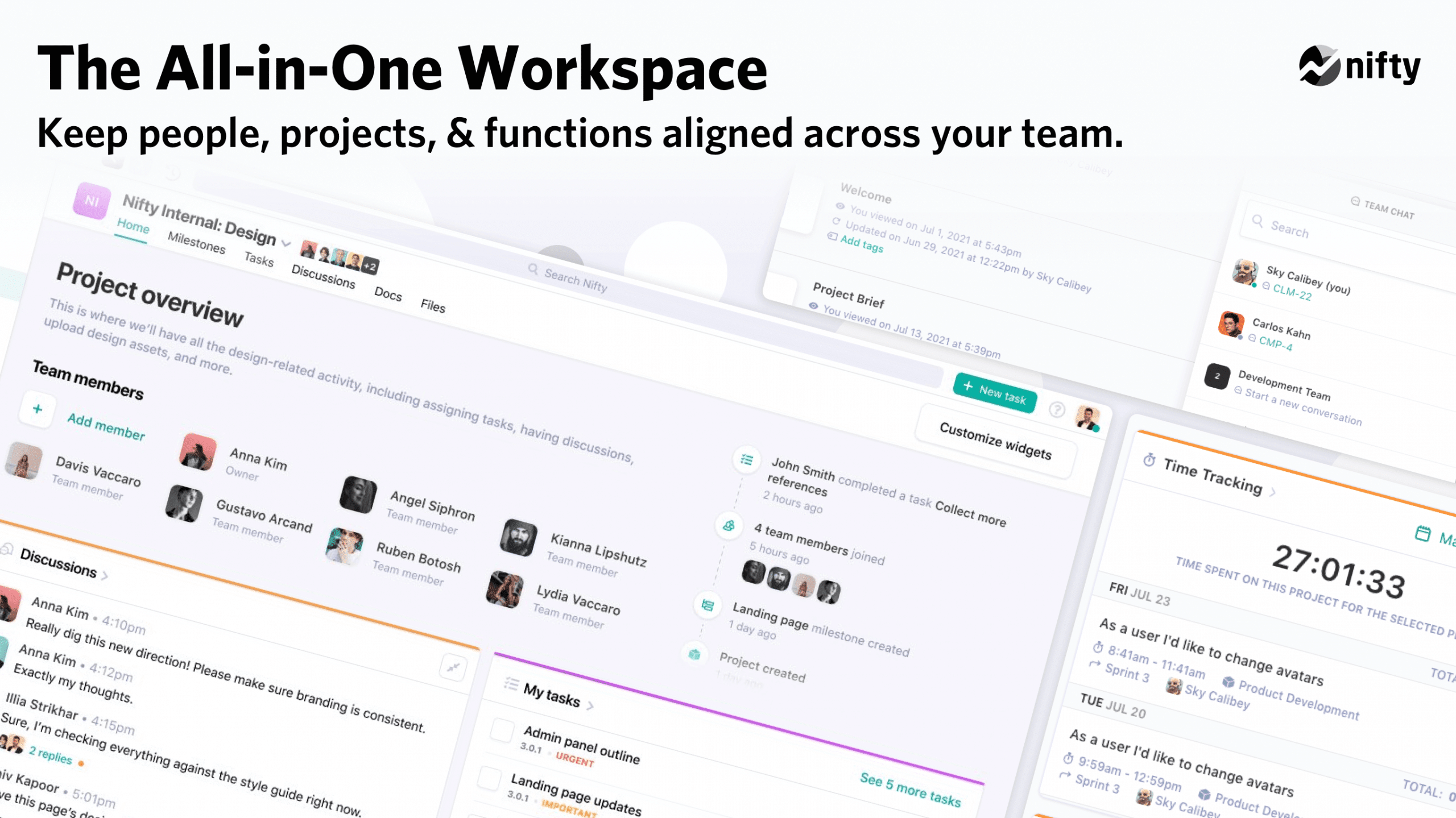 Want to switch to a more collaborative and modern platform?

Try the future of work. Try Nifty for free! 
At first glance, Basecamp and Asana are appealing to similar markets -but their features and functions are vastly different. To break these similarities, we're going to dive deeply into the functionality of tools and core task management features, and see where Nifty improves on the two.
The 10-second Basecamp vs Asana Comparison Overview
Basecamp Review
Pros: An intuitive interface for team collaboration and project management with powerful integrations and a simple pricing model.
Cons: Some users find the workflow confusing, and Basecamp native app doesn't offer necessary features without third-party integrations.
Overall impression: A simplified project management platform that helps users organize and collaborate with everything they need for projects, clients, and communication.
Recommended for:
Flat rate pricing
Basic Collaboration
Useful for small and midsize business
Client management
Simple to use
Asana Review
Pros: Intuitive interface for managing team workflows, and offers a free plan for up to 15 users with all essential features.
Cons: Due to the number of tasks and workflows it has to process, it can take a while for the project to load, and is expensive (per user pricing).
Overall impression: Robust project and task management solution for every stage of a project.
Recommended for:
Fast onboarding
Complex workflows
Monthly pricing
Knowledge base
And the Nifty Review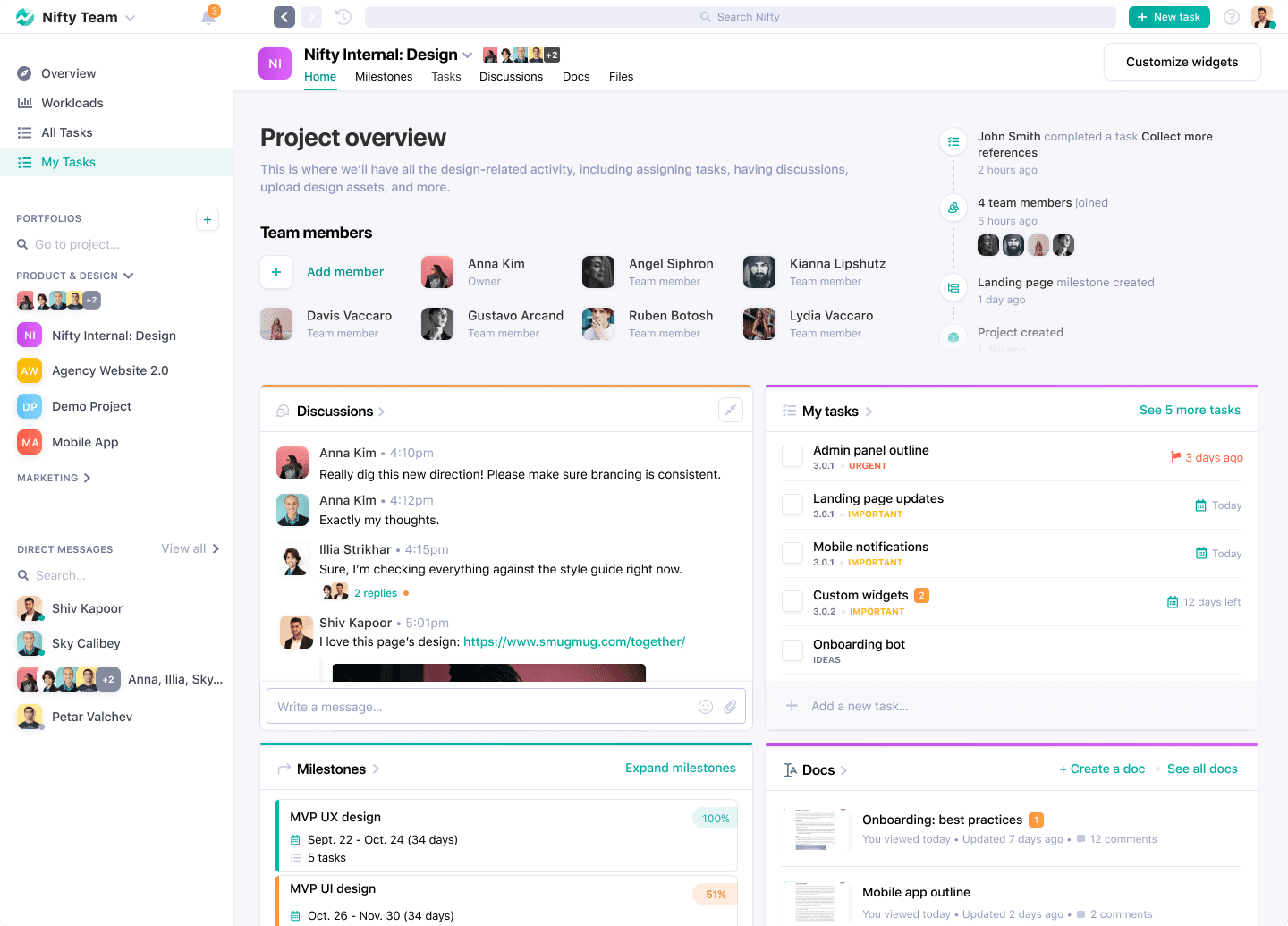 Pros: An intuitive interface for managing team goals, priorities, deadlines, client projects, communication, along with built-in time tracking and reporting.
Overall impression: An easy to use yet powerful project management tool that allows both team and client workflows to go smoothly while automating progress reporting for better team alignment.
Recommended for:
Teams looking to scale
Team time and sprint tracking
Built in team chat and document collaboration
Google Suite Integration
Native Zoom integration
Give Nifty a try. It's free to try. Sign up here 🚀
Basecamp vs Asana vs Nifty Feature Comparison
Basecamp Features
Basecamp is a simple collaboration platform that includes everything you need to organize and execute project activities, including task lists, file and document sharing, comment sections, project boards, automated project check-ins and schedules. This tool is focused on providing the simplest way to achieve productive project tracking and completion.
In order to obtain the simplicity of a platform, Basecamp lacks some features. Their tasks are lightweight and lack a lot of the functionality that more advanced workflows require, such as the ability to recur. There is no available native budget tracking, resource management, or reporting functionalities. Basecamp is made for a mere collaboration and not much else.
That Basecamp can bring your workflow to the cloud is an inherent benefit, and that it offers a flat rate makes it a constant, but its lack of innovation as the team pivots to their new email replacement tool gives a feeling that Basecamp's experience has reached the end of its road.
Asana Features
Asana offers users a diversity of features for task scheduling, tracking and completion.
The problem occurs when you need in-depth reporting or any budgeting features, but it does offer multiple task tracking, including a Gantt-chart timeline view and shared team-calendar. It is an excellent addition for those who favor visual task management overview. Asana focused on creating genuinely unique features, like a Workload management tool, that helps you to track the workload of each team member. It is a great productivity tool — because it can prevent burnout.
You can set a limit on how many tasks any individual can withstand at one time. This feature set apart Asana as a productivity-focused tool rather than just another project management platform.
With a lack of budgeting and billing tools, mid-project and post-project assignments can be challenging for Asana.
Nifty Features
Nifty offers the approachable Basecamp experience with the enhanced collaboration of Asana in one place. By consolidating project communications, timelines, tasks, and assets, Nifty provides a single hub for every phase of a project, regardless of its complexity.
Team members accomplish tasks which propel project milestones progress to automate reporting for all project stakeholders. This automatic project tracking not only benefits those in the project, but the entire team as all project statuses can be viewed as part of the Overview experience.
While Nifty employs the technical tools required for project management, such as time and budget tracking, its easy-to-use interface inspires collaboration through Project Discussions that facilitate conversations and even integrated Zoom calls.
Basecamp vs Asana vs Nifty Pricing Comparison
Basecamp Pricing Review
Basecamp charges a flat rate regardless of how many users or projects you have. There is no charge per user basics, which means you can involve as many team members as you need.
Users can also check out Basecamp free trial — for 30 days absolutely free.
Here are its pricing details:
Flat Fee — $99/month
To-do list
Messages
Realtime chat
Schedules
Files storage
Document
Automatic check-ins
Asana Pricing Review
Asana offers a free version of its software. The user limit is lower than Basecamp's and only provides a section of the functionalities the paid versions have.
Basic — Free: includes basic task lists, calendars app integrations, and up to 15 users.
Premium — $9.99/user/month with an annual contract: consists of all previous features plus timelines, advanced searches, custom field creation, premium Asana Academy content, and admin privileges.
Business — $19.99/user/month with an annual contract: includes all previous features plus portfolios, Workload, forms, automatic proofing, and Adobe Creative Cloud integration.
Enterprise — Pricing negotiated with the client: includes all previous features plus user provisioning, data exporting, custom branding, and priority support.
Nifty Pricing Review
Free –  free for forever with unlimited teammates and two active projects with all of Nifty's core features!
Starter — $5/user/mo (annually) with custom fields, milestones, task management, and time tracking.
Pro — $10/user/mo (annually) includes everything on starter plus automations and cross project overviews.
Business — $16/user/mo (annually) includes everything on pro as well as custom roles + permissions, team workloads and Microsoft SSO.
For full feature comparison, visit Nifty pricing page.
Basecamp vs Asana
Asana and Basecamp are both legacy project management software that haven't adapted to the times. Though they're both easy to use, they're missing some key features that advanced teams have come to rely on in real-time.
Basecamp Shortcomings
The downside of a Basecamp is that there is not a Gantt-charts feature and a Time tracking tool. Sometimes the layout of the platform and workflow could be confusing for average users.
There are not a lot of weaknesses about the Basecamp platform — the reason why is that Basecamp has simple features, and they work perfectly.
The main obstacle is the lack of advanced tools.
Asana Shortcoming
There is the same problem with Asana — lack of not just advanced features, but the simple tools such are Gantt-charts and Time tracking within the platform. Passive communication may be a pitfall for a project workflow — notifications are delivered by email, which can be exhausting if you need to manage multiple projects.
As Basecamp lacks an advanced set of tools — Asana has the same problem.
Bottom line
Neither platform provides built-in Time tracking tools or Gantt-chart features. Integration with applications that offer those features can solve a problem for now. Also, specific features of both solutions can be confusing — especially if you are new to the platform.
Nifty as the powerful Basecamp & Asana Alternative
The flexibility of the project management platform is the strongest point for advanced and remote teams. Basecamp and Asana are robust when it comes to managing multiple teams with unique workflows.
Nifty is an excellent alternative — because of its flexible workflow and all-in-one project management platform that allows teams to plan, organize, track, and deliver projects effortlessly. Also, it enables importing your data from Asana, Basecamp, and Trello so you can quickly establish your workflow and collaboration without much manual work.
Nifty is about helping teams collaborate effectively, streamline projects without adding unnecessary meetings and calls. It connects clients to the project through clear communication channels. Discussions create quick responses so all parts of the project can stay updated and share ideas. Nifty is right up there with the best of the project management platforms and offers a unique alternative to the already established tools.
Ready to give Nifty a try? Sign up for a free trial today! 🚀