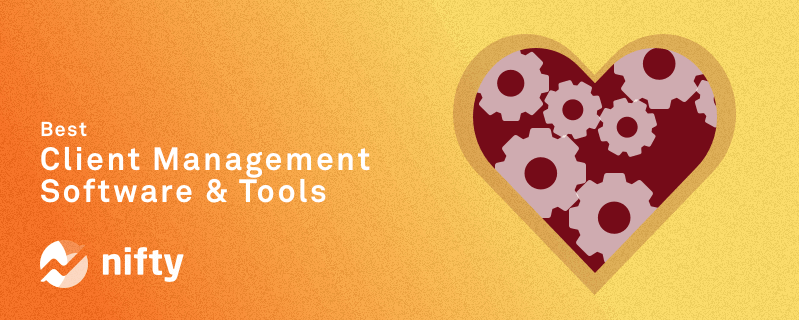 Looking for the best client management software? 🤔
While software solutions have been around for many years, technological advancements in the last few years have made client management software much more accessible.
From the moment a lead is generated to when a sale closes, having the right client management tool can help automate and streamline your client management process.
In this post, we'll rank and review the top client management software tools, helping you find the right solution.
What Is The Best Client Management Software?
Here are the best client management software to consider:
1. Nifty
Best Overall For Client Management.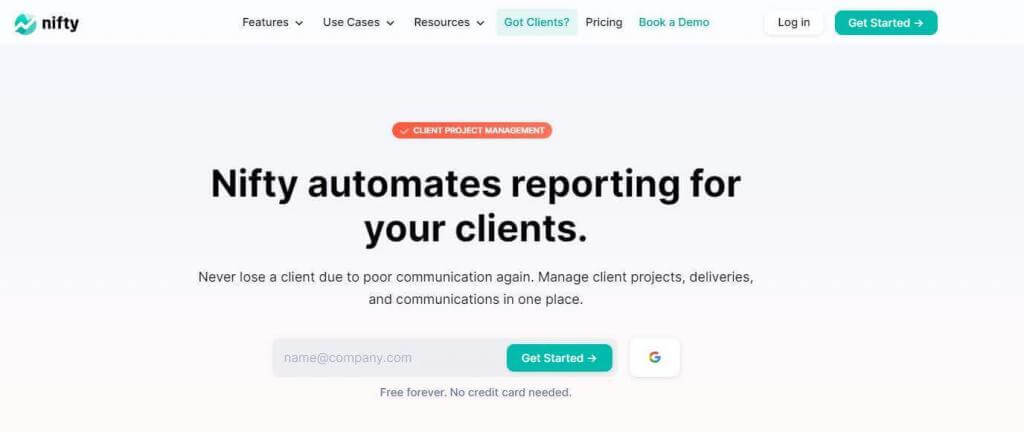 We might be biased, but we believe Nifty is one of the best client management software. It provides beautiful visuals within timelines that allow you to keep track of milestones. Plus, with the click of a button, you can assign tasks with notifications and conduct real-time discussions on our mobile app.
Nifty is designed to help manage client projects by providing users with various features that make it easier to stay organized and on top of all their work.
You can assign tasks and set up notifications for yourself or any team member who needs to be updated on the progress of specific projects. This makes it easy to keep everyone informed in real-time without spending extra time manually sending emails or text messages.
Nifty also offers a mobile app that allows for real-time conversations between team members and clients so everyone can stay up-to-date on the progress of projects. A chat feature will enable users to quickly exchange ideas without waiting until they're at their desktops or laptops.
Key Features:
Discussions help you keep clients and team members in the loop on progress
Milestones provide a visual timeline of project milestones
Tasks allow you to assign tasks and set up notifications for team members or clients
Forms help capture information from clients quickly and easily
Docs & Files make it easy to share documents and files with clients or team members
Time Tracking enables you to track time spent on each task
Reporting helps you stay on top of project performance and budget
Project Portfolios allow you to manage multiple projects from one place easily.
Pricing: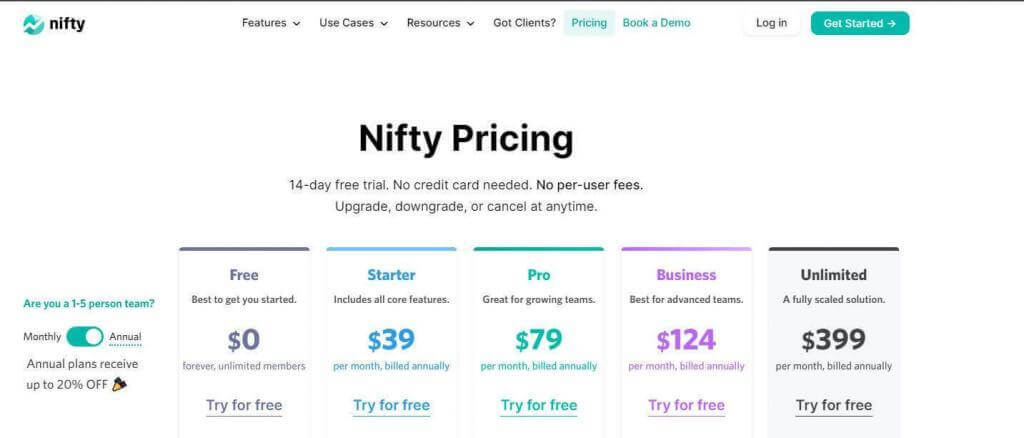 Nifty offers four different pricing plans:
Free: $0
Starter: $5/month
Pro: $10/month
Business: $16/month
👉 Get started with Nifty for free today!
2. Customerly
Best For SaaS Businesses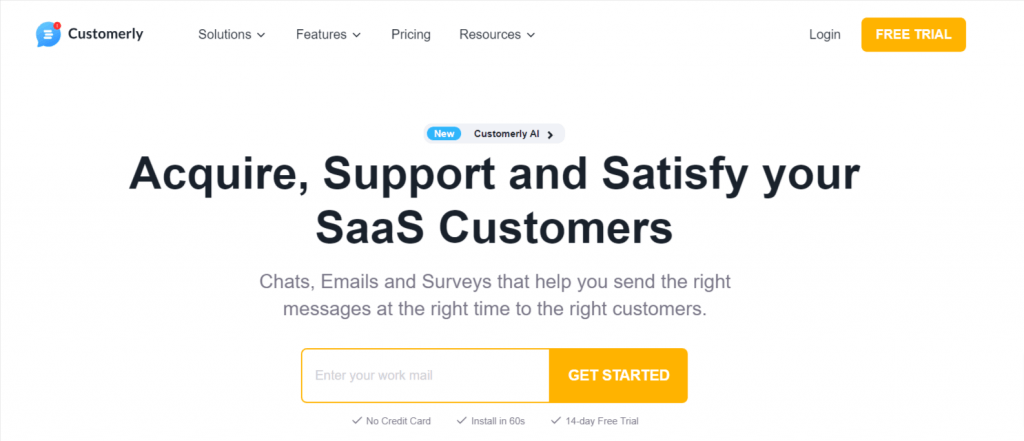 Customerly is a free customer lifestyle solution for client-facing SaaS businesses that wish to manage their customer relationships. With this tool, companies can offer support, gather feedback, and automate various processes like request routing and email marketing.
As an all-in-one tool, Customerly provides plenty of features across its three solutions: customer service, marketing automation, and customer satisfaction. These include modules for customer intelligence, CRM, surveys, live chat, and more. Their modules help streamline customer management workflows for small and enterprise-level businesses.
If you're interested in managing the entire customer life cycle, Customerly will set you up with tools that allow you to analyze customer behavior, gather feedback, and more. Its live chat feature lets you install a chat widget on your website, allowing you to manage tickets and acquire new leads. You can also start a video chat and share your screen during customer calls.
Targeted marketing campaigns and funnels are also possible with Customerly. Customers can be segmented based on custom conditions, such as expiring licenses and specific completed actions. This makes your email and newsletter campaigns, powered by the tool's templates, more appealing to your customers.
Key Features:
Customizable and automated sales marketing funnel that's integrated with your customer journey.
AI-powered chatbots and live video chat capabilities are presented in HD.
A multilingual help center that allows you to resolve issues faster.
Free customer-centric email templates you can use on this tool's email marketing software.
Complete Net Promoter Score (NPS) survey builder that you can send directly through live chat.
CRM software that utilizes your data to trigger emails or other actions.
A variety of free resources, including blogs and a responsive contact center.
Pricing:
Customerly offers multiple pricing plans for all budgets:
Basic: $0/month
Essential: Starts at $9/month
Startup: Starts at $49/month
Pro: Starts at $99/month
Enterprise: Starts at $299/month.
Customerly prices their plans based on your number of active users, how many monthly emails you send, and how many teammates are included. All plans come with a 14-day free trial.
3. Salesforce
Best For Building Customer Relations.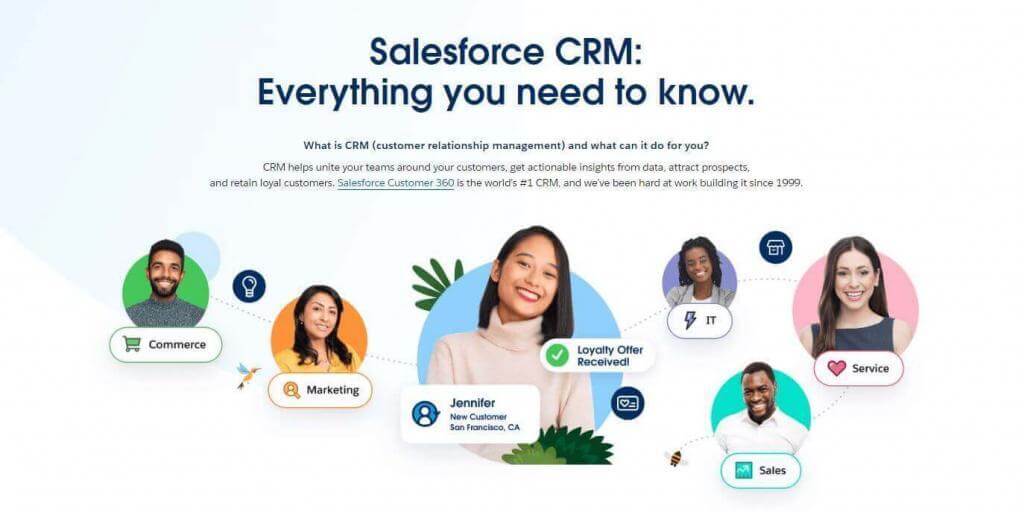 Salesforce CRM combines AI, data integration, workflow automation capabilities, a built-in engagement layer, and an intuitive user experience to create client management software that covers all the bases.
Its Customer 360 module makes scalability easy, while Hyperforce infrastructure architecture ensures compliance throughout your installation journey.
Salesforce CRM allows businesses to create relationships with customers by tracking customer information such as contact information, purchase history, and preferences for products or services. This data can then be used to serve those customers better and increase sales through targeted marketing campaigns or personalized offers.
Salesforce is a great, full-stack tool for all your CRM needs, but is very expensive.
Nifty is affordable
Salesforce CRM provides many benefits for businesses looking to maximize customer relations and ensure success. For example, it offers AI-powered analytics, allowing companies to understand better what their customers want and how best to serve them. Additionally, its workflow automation capabilities make it easier for businesses to streamline processes.
Finally, its various partner apps and services allow companies to integrate existing applications into the platform to get even more out of it. Overall, Salesforce is the perfect client relationship management software for small businesses.
Key Features:
Opportunity management allows you to track sales opportunities and ensure they are on the path to success.
Quote management facilitates creating quotes for customers quickly, and its "extract to cash" feature helps you manage and automate the entire process from repeating to invoicing and payment.
Lead management is a feature that enables users to track leads and follow up with them easily.
Pricing: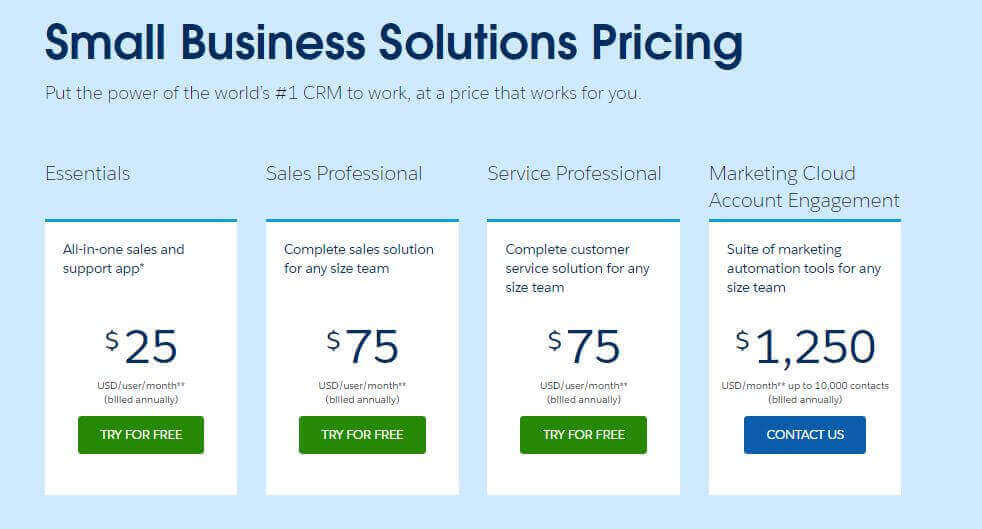 Salesforce offers different pricing plans to suit various business needs:
Essentials: $25
Sales Professional: $75
Service Professional: $75
Marketing Cloud Account Engagement: $1,250
4. vcita
Best for Small Business Management.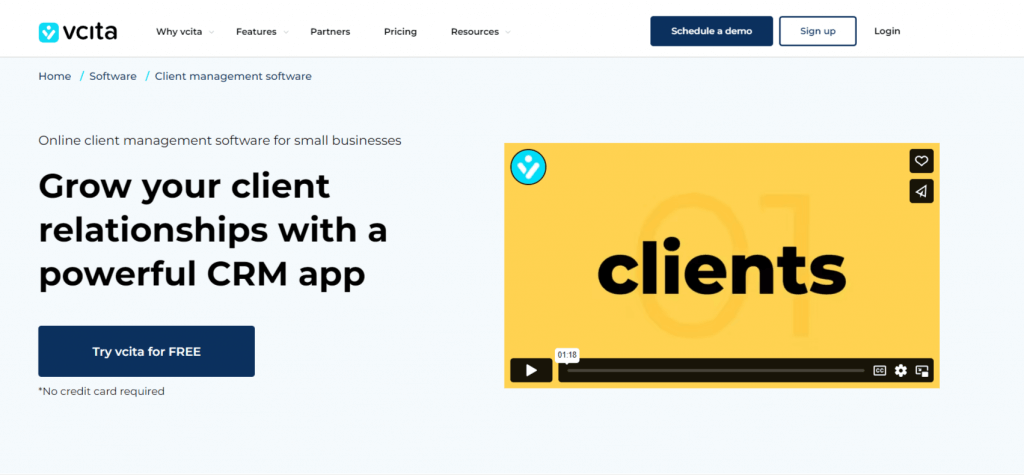 vcita is a great tool for small businesses looking for an all-in-one solution that enables them to manage their time, money, clients, and marketing. It offers a wide range of features, including appointment scheduling, invoicing & payment collection, email and SMS marketing tools, and customer relationship management (CRM). The best part is that all the tools sync with each other on one platform for a seamless experience.
vcita's online CRM makes it simple to manage and grow your client base. It also provides integrated payment processing, allowing you to automate and accept payments from clients easily and securely. Using vcita, you can manage multiple staff members, quickly schedule appointments and classes, create invoices, send beautiful marketing emails, and track client interactions.
Furthermore, the user interface is intuitive and easy to use both on desktop and mobile. It also provides helpful customer support through live chat and email, as well as a comprehensive knowledge base.
Manage client communication, tasks, resources, and more in one app.
Nifty
Finally, vcita is constantly evolving with new features and updates. It is a great choice for small businesses that want to stay ahead of the curve when it comes to customer relationship management and digital marketing tools.
Key Features:
Appointments & Scheduling: Automate bookings and send automated reminders to customers.
Payment Processing: Easily process payments through secure and reliable channels.
Customer Relationship Management (CRM): Keep track of lead and customer contacts, interactions, and transactions.
Automated & Trigger-Based Campaigns: Communicate your brand's message with beautifully designed email & SMS campaigns.
Comprehensive Reporting & Analytics: Track and analyze customer behaviour across multiple channels.
Automated Invoicing & Billing: Streamline invoicing and billing processes with automated systems.
Customizable Website Widgets: Add custom widgets to your website or blog for easy customer engagement.
Pricing: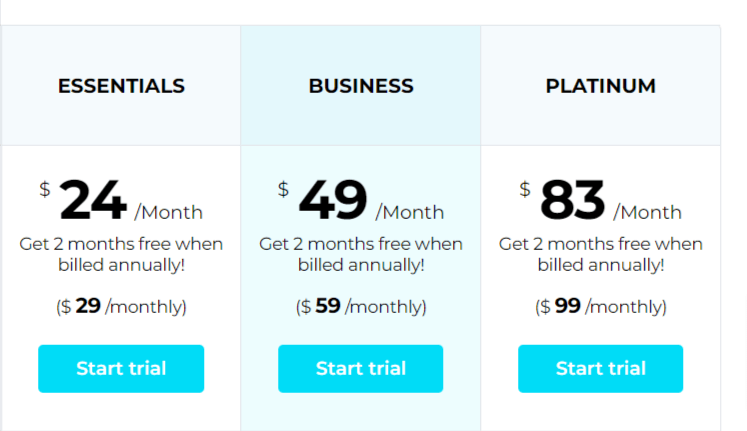 vcita offers three pricing plans:
Essentials: $24/month
Business: $49/month
Platinum: $83/month
5. Insightly: Client relationship management software
Best For Getting Customer Insights.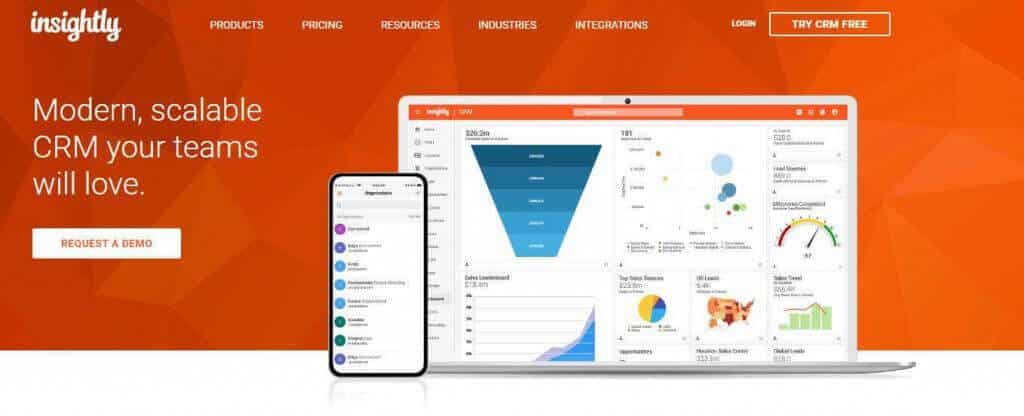 Insightly is revolutionizing the way businesses manage customer relationships and sales pipelines. With powerful marketing capabilities, no-code integrations, and service solutions, Insightly makes client management simple, intuitive, and enjoyable.
Insightly along with client relationship management software, also functions as a powerful marketing tool that allows you to quickly attract visitors and convert leads into customers. These tools enable businesses to target potential customers with personalized messages for increased engagement and conversions.
The tool works with email campaigns and social media channels to create engaging journeys across the entire cycle. Additionally, Insightly provides insights into which platforms generate the most response so that companies can focus their efforts in those areas for maximum impact.
Insightly also provides AppConnect for no-code integrations tailored to your unique needs. This feature allows teams to quickly integrate existing applications such as Salesforce or QuickBooks with Insightly's platform to unlock powerful insights into customer data like never before.
This client management tool also enables teams to build custom workflows within the forum to streamline processes across departments and increase efficiency while reducing operational costs.
Finally, Insightly offers service solutions that ensure customers are always satisfied while leveraging their data to close more deals at scale. This feature uses predictive analytics based on past customer interactions to proactively identify issues before they become problems and take corrective action if needed.
Additionally, it allows companies to track customer satisfaction over time so that any changes or improvements can be easily measured for tremendous success.
Key Features:
Knowledge management helps businesses to store, organize and retrieve critical customer data.
Ticketing enables your team to respond quickly and efficiently.
SLA management makes it easy to keep commitments made with customers.
The convenient customer support portal helps to streamline the customer experience.
The intuitive interface makes it easy for teams of all sizes to use.
Flexible email templates enable companies to create beautiful and engaging messages quickly.
Pricing: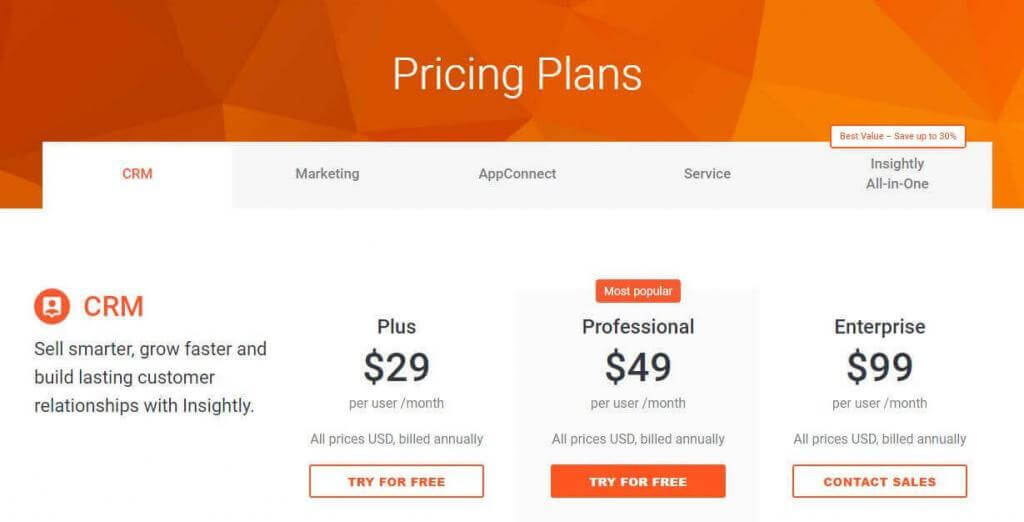 Insightly offers these pricing plans:
Plus: $29 per month
Professional: $49 per month
Enterprise: $99 per month
6. HubSpot
Best For Integration.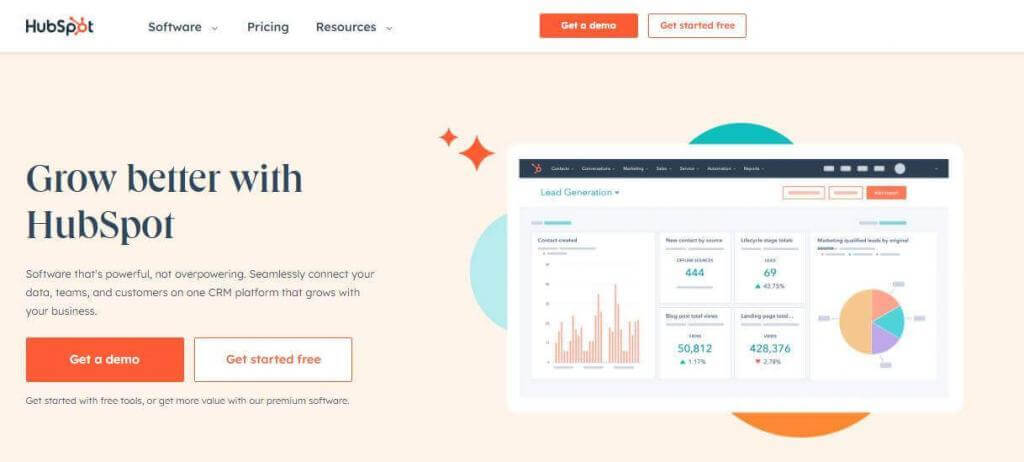 HubSpot is a free client management software solution offering small businesses more effective campaigns. As a result, this leads to increased registrations and improved customer relationships.
By joining HubSpot's program, businesses gain access to the company's powerful capabilities. These include marketing automation tools, customer relationship management (CRM) features, and sales enablement services.
In addition, the program provides access to HubSpot's experts with years of experience in marketing, customer support, and sales operations. These features combine to form a comprehensive suite of services that helps businesses increase value and satisfaction for their clients.
Furthermore, program members get exclusive access to training materials developed by the experts at HubSpot. They offer valuable insights into how businesses can use their software solutions most effectively and efficiently.
Try Now Yes, we know,
Hubspot's super expensive. Try Nifty, it's free!
This allows companies to quickly learn how to use the advanced capabilities provided by HubSpot to maximize their potential for success. It also enables them to stay ahead of their competition by utilizing the latest advancements in client management technology.
Additionally, members can access free resources such as webinars and online courses to stay up-to-date with industry trends and developments. The program also provides consulting services that help companies identify areas to improve or expand their offerings to serve their customers better and drive more conversions.
Key Features:
Marketing analytics and dashboard software help businesses monitor and analyze their online marketing efforts.
The right calls to action can help businesses increase conversions and sales.
Their free squeeze page builder helps you create professional-looking pages in minutes.
With free email marketing tools, businesses can easily send customized emails to their customers.
Electronic forms (E-Forms) enable customers to quickly submit information without taking the time to fill out lengthy paper forms.
SEO marketing software can help businesses optimize their website to rank higher in search engine results pages (SERPs).
Newsletter builder helps you create attractive emails tailored to your customer's interests.
Pricing: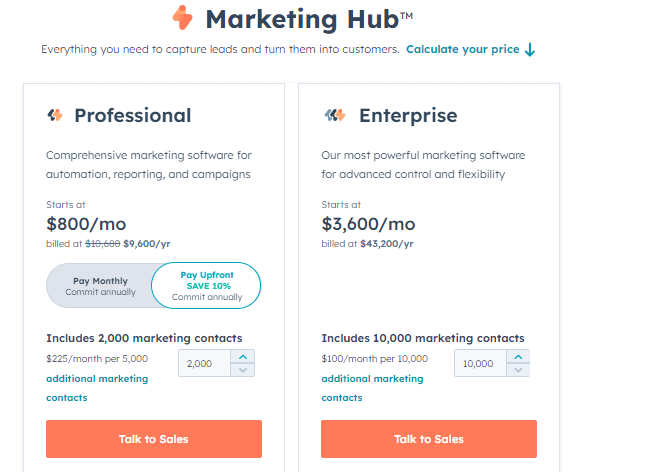 Hubspot offers two pricing plans:
Professional: $800/month
Enterprise: $3,600/month.
7. Pipedrive
Best For Building Customer Journeys.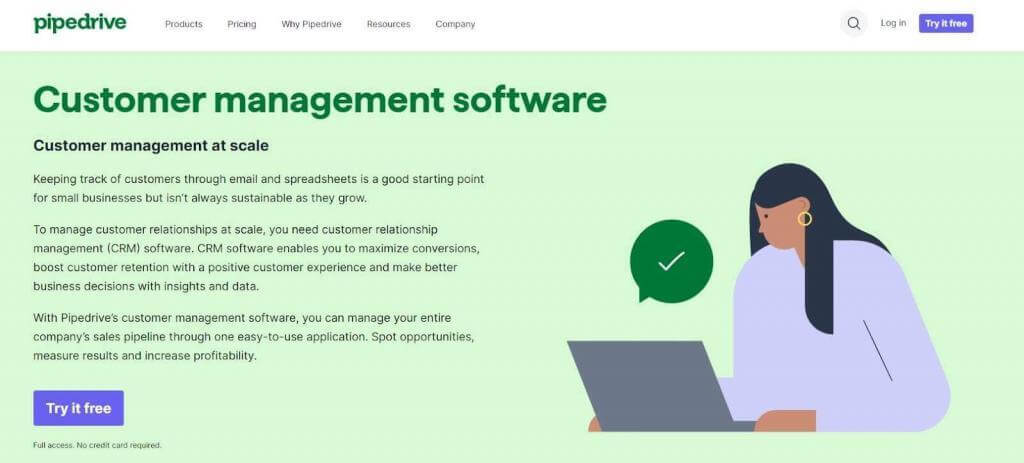 Pipedrive takes care of tedious admin and communication tasks, so sales teams can focus on the essential things – building customer relationships and closing deals. With AI-backed technology, users can design specific stages in their funnel process and monitor performance analytics.
Automation helps reduce manual work, while tools like trackable quotes/proposals & contracts plus targeted email campaigns make it easy to attract potential leads efficiently.
With Pipedrive, creating funnels is easier than ever before. You can design each stage of your funnel in a few simple steps, giving you an overview of the entire process. This allows sales teams to quickly identify changes that need to be made to reach maximum efficiency.
Additionally, you can set up automated reminders and notifications that keep everyone on the same page regarding essential deadlines or updates. This ensures that nothing slips through the cracks.
Key Features:
Available on the go, you can access Pipedrive on your smartphone, laptop, or tablet.
Unify all your tools with Pipedrive. From email to calendar, you can manage all your tasks in one place.
Reduce tedious admin work with automation and notifications so salespeople can focus on finding new leads and closing deals.
Pipedrive is easy to set up and use. With drag-and-drop functionality and an intuitive interface, you can set up funnels and monitor performance in minutes.
Build your workflow with Pipedrive's fully customizable features matching processes to your needs.
Pricing:
Pipedrive offers four different pricing plans that fit a variety of budgets:
Essential:$14.90/month
Advanced:$24.90/month
Professional:$49.90/month
Enterprise:$99.00/month
8. Freshworks CRM: The ultimate client management system
Best For Upselling Clients.

Freshworks CRM has all the features to take your client relationships to the next level. With its Customer 360 feature, you can have real-time insights into customer interactions with your company and make informed decisions to drive better sales outcomes.
You can also keep track of tasks, phone calls, emails, and notes in an organized way with advanced filtering and sorting capabilities.
With Freshworks CRM, keeping track of tasks, phone calls, emails & notes is easier than ever. You can easily manage projects with its advanced filtering & sorting capabilities so that the right prospects are contacted quickly every time.
Plus, you won't miss any deals while away from a PC thanks to its intuitive mobile app – making it easy to stay up-to-date on tasks no matter where you are.
Freshworks CRM offers great cross-sell/upsell opportunities as well. This will not only help increase customer satisfaction but could also lead to increased sales. It allows you to identify which products or services customers may be interested in based on their past purchases and interactions with your company – making it easier for them (and you) to find what they need quickly without missing out on any great deals or offers available through your business.
Key Features:
Improve sales productivity and win deals faster, allowing users to create contact and exchange records, prioritize prospects, and assign tasks to their sales team.
Prioritize prospects to ensure sales teams work on the most lucrative deals first.
Convert emails to contacts, ensuring no leads slip through the cracks.
Provide unified experiences with a 360 view of customers and their interactions with your business.
Setting up internal alerts so users can stay on top of tasks even when away from their desks.
Run successful campaigns by leveraging data-driven insights to craft more effective strategies.
Pricing: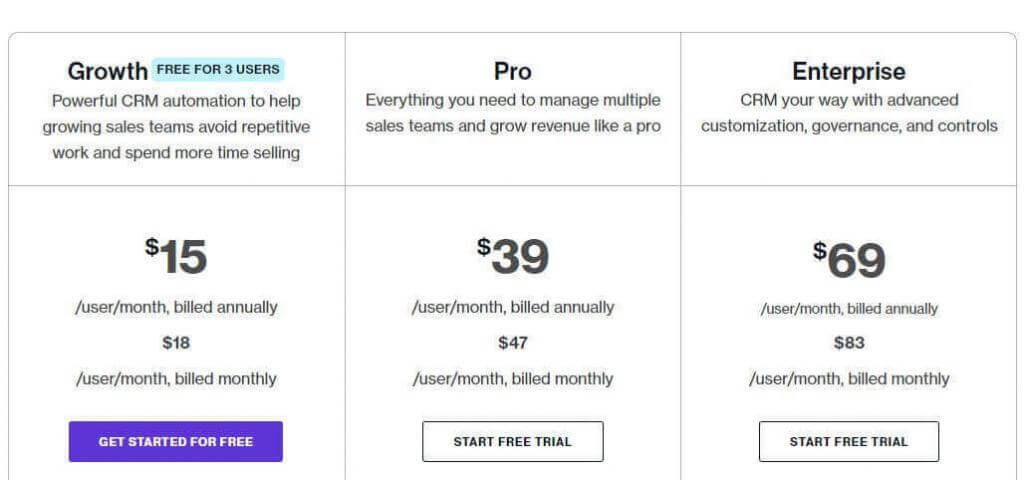 Freshworks CRM offers these pricing plans:
Growth: $15 per user/month
Pro: $39 per user/month
Enterprise: $69 per user/month.
9. Monday.com
Best For Customization.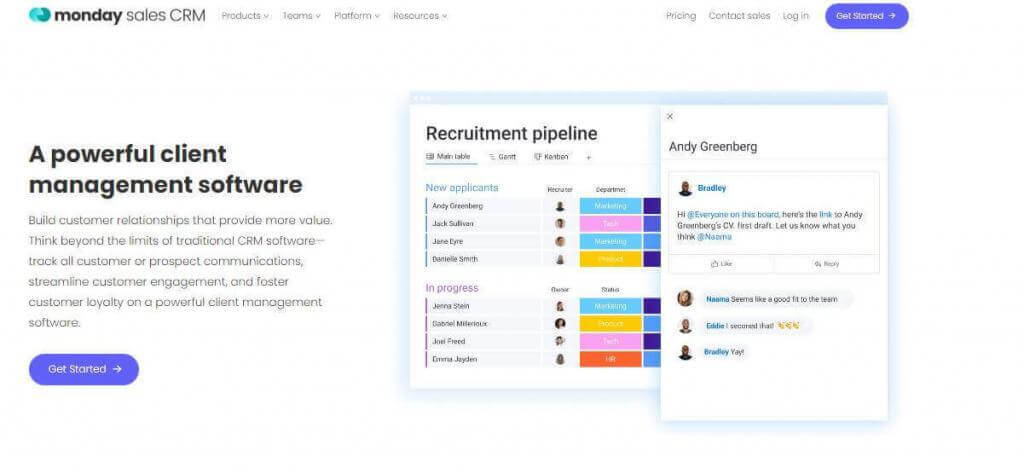 Monday.com has customizable columns, deal stages, automated reminders, pipelines, and other helpful features.
One of the most valuable features of Monday.com is its customizable columns and deal stages. By using these features, users can easily manage their customer relationships in one place by tracking each client's progress through the sales process from beginning to end.
This feature also allows users to track customer data like contact information, product purchases, and payment history in real time without manually entering it into a separate database or spreadsheet.
Another great thing about Monday.com as a client management system is its automated reminders feature. It enables users to set up customized notifications that alert them when specific tasks need to be completed or when an existing customer needs a follow-up call or email concerning their service or service product purchase.
This feature saves valuable time and helps keep customers informed throughout the entire sales process. From initial contact through delivery of goods/services purchased, this results in improved customer satisfaction and increased loyalty.
Key Features:
Robust automation ensures tasks are completed on time and efficiently.
The intuitive user interface makes it easy to use and enables managers to stay organized when managing customer relationships.
Companies can integrate the platform with other software programs, making organizing their customer data in one place even more accessible.
Dashboards provide an overview of all customers within a company, while custom views let users create tailored journeys using specific customer data.
Integrations with external applications make it possible to import customer information from other sources and keep track of customer updates in real-time.
Pricing: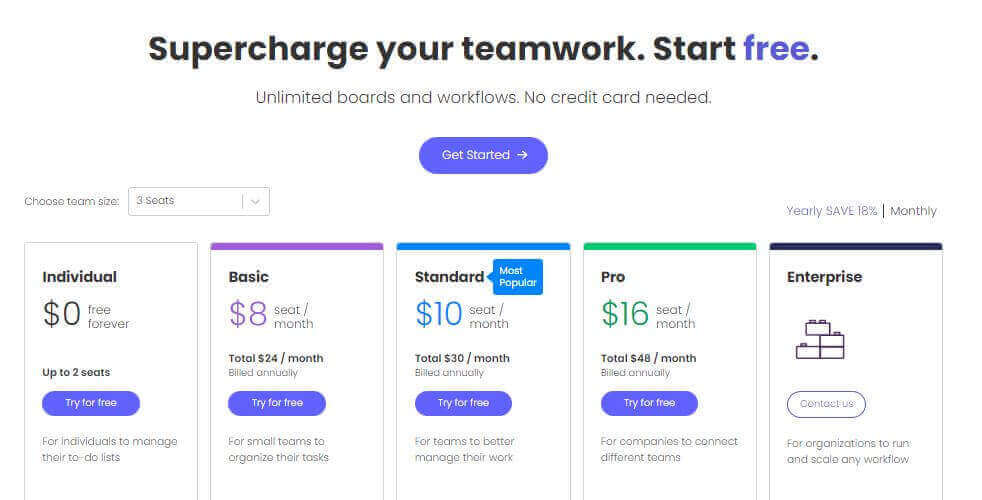 Monday.com offers these pricing plans:
Individual: $0
Basic: $8 per user/month
Standard: $10 per user/month
Pro: $16 per user/month
Enterprise: Contact them for more details.
10. BIGContacts
Best for Contact Management & Marketing Automation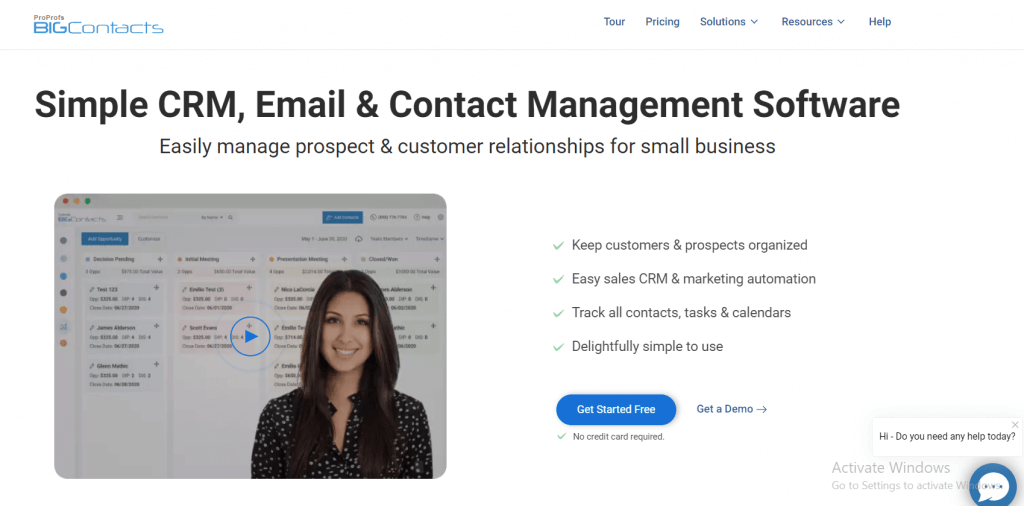 BIGContacts is a comprehensive CRM software specifically engineered to streamline all facets of client management. Designed with small businesses, startups, and teams at its core, this client management software extends beyond basic contact management and incorporates features such as sales tracking, marketing automation, and task management. 
It prioritizes simplicity and ease of use, making it a preferred choice for businesses seeking a robust yet intuitive CRM solution. BIGContacts does an excellent job of keeping your customer and prospect data organized in one place, so you can spend less time managing data and more time closing deals.
BIGContacts is not just a contact management software – it offers a 360-degree view of all activity, facilitating a thorough understanding of customer behaviors and patterns. 
Optimized to improve lead capturing, and conversion rates, users can leverage this client management tool to automate follow-up tasks, run targeted email marketing campaigns, and manage their sales pipeline with absolute convenience. Its unique customization capabilities allow you to tailor fields, processes, and workflow to fit your business needs.
Key Features:
Effective contact management to organize and manage all your contacts in one place.
Offers automated tasks and reminders for businesses to effectively track and maintain customer relationships.
Provides a clear visualization of the sales process and helps in tracking prospects effectively.
Enables automated drip email campaigns to maintain steady communication with customers.
Visual sales pipeline management to track every stage of your sales process conveniently.
Powerful analytics and reporting to generate and analyze sales reports for performance tracking.
Customizable fields to tailor the CRM to fit your business needs.
User-friendly team management to easily create user roles and permissions for team members.
Consistent customer support available 24×7 via phone, email, or chat.
Pricing:

BIGContacts offers three main pricing plans:
BIG: $5/user/month
BIGGER: $15/user/month
BIGGEST: $25/user/month
ENTERPRISE: Custom Pricing
What Is Client Management Software?
Client management software is a computerized system designed to help businesses manage their client relationships. It enables users to organize, track, and analyze customer data in one centralized location, making monitoring customer interactions and staying up-to-date on all critical aspects of their business more accessible.
Additionally, client management software helps small businesses manage project management with features such as lead tracking, customer segmentation, automated sales workflow, and analytics capabilities. This all allows companies to collect sales conversations and improve the efficiency of their sales and marketing operations.
By automating mundane tasks that take up valuable time, this software can help reduce costs while freeing employees to focus on more strategic activities.
With client management software, businesses can also benefit from improved customer service by quickly accessing important client information. As a result, this helps the sales rep track client information and build stronger customer relationships over time.
Top Features of Client Management Software
Here are some of the top features offered by client management software.
1. Automated Sales Process
Automation is a crucial feature of client management software, as it simplifies and speeds up the sales process. This includes lead tracking, automated communication campaigns, and follow-up tasks that can be triggered based on customer responses or interactions.
Let's say you're running a sales campaign. Client management software can help you set up automated emails or notifications to customers when they meet specific criteria, such as being inactive for an extended period.
2. Lead Tracking And Management
Lead tracking and customer management are other important feature of client management software, as it enables businesses to keep track of their leads and monitor the performance of each piece of information. This includes lead scoring, segmentation, and analytics that help companies better understand customer behavior.
By segmenting leads and monitoring the performance of each one, businesses can identify which leads are most likely to convert into customers.
3. Campaign Management
Campaign management allows businesses to optimize their campaigns by utilizing data-driven insights. This includes A/B testing, remarketing campaigns, and custom audience targeting.
For example, if you have a client dealing in digital marketing, you might use campaign management to create targeted campaigns for different niches in a client management app. This helps you deliver the right message to the right audience at the right time and get better results from your campaigns.
While ensuring you follow project management best practices, client management software can help you run more effective campaigns by providing data-driven insights to craft better strategies.
4. Contact/Account Segmentation
Contact/account segmentation enables businesses to understand customers' behavior better and needs by grouping them into different segments. This includes features such as categorizing clients based on industry, location, age, activity level, and other essential criteria for the business.
For example, an outpatient physical therapy provider might segment people based on their various injuries, allowing them to target their marketing campaigns more effectively. As a result, the business can offer its customers more tailored services and products.
5. Performance Analytics
Performance analytics allow businesses to monitor their clients' performance over time. This includes sales funnel analysis, customer lifetime value, and revenue churn rate.
For example, a SaaS company might use performance analytics to track customer engagement over time and identify usage patterns of certain features to improve the user experience.
By better understanding their customer communications and customers' needs, businesses can create better customer experiences and improve their bottom line.
6. Data Synchronization And Integration
Data synchronization and integration allow businesses to keep their customer data up-to-date across different systems. This includes features such as syncing data with CRMs, ERP systems, accounting software, free project management software, marketing automation tools, and free client management software.
For example, a retail store might sync its customer data with an eCommerce platform to better manage its sales, inventory, and customer relationships. By having one central source of information, the store can easily update its data across multiple platforms and ensure that they provide customers with a consistent experience.
Finding tools where you can choose AI software tools to integrate with is a big trend in client management software, as it allows businesses to create content, automate customer service tasks, and generate insights from customer data. This helps companies to save time and money while providing a better customer experience.
7. Quotation And Contract Management
Quotation and contract management enable businesses to create and manage quotes, contracts, and invoices more efficiently. This includes creating custom templates, tracking client payments, and sending automated notifications when contracts are due.
For example, an IT service provider might use quotation and contract management to automate creating quotes for potential clients. Say the business offers support services on a pay-as-you-go basis. By using quotation and contract management software, the company can quickly provide an accurate quote and track payments more effectively.
This helps the business save time and focus on more critical tasks while ensuring they provide accurate customer quotes.
Conclusion
Client management software is a powerful tool for businesses to mine client data and manages customer relationships more efficiently.
The right client management software can help businesses optimize their processes, improve customer engagement, gain insights from data, and create better customer experiences. By leveraging the features of client management software, companies can maximize their resources and increase their ROI.
Now that you have made the decision. Give Nifty a risk-free try.
FAQs about client management software tools:
What is a client management software?
Client management software is a computerized system designed to help businesses manage their client relationships.
What is the best way to keep track of clients?
Using client relationship management software is the best way to keep track of clients and their information in one place. Some of the best client management tools are Hubspot, Salesforce, Nifty, Asana, etc.
What's the difference between CRM and CMS?
CRM stands for Customer Relationship Management, a tool used to foster commercial partnerships. On the other hand, a content management system (CMS) is a platform that simplifies the content management procedure on your website.