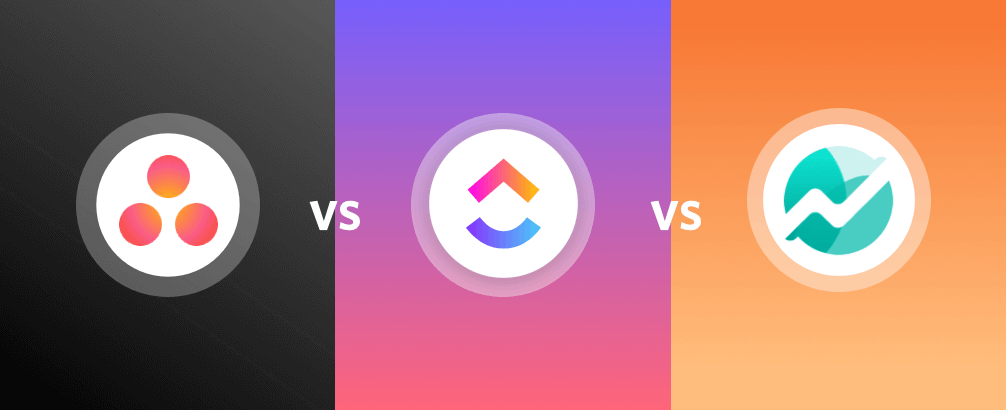 Most of you reading this have probably used ClickUp, Asana and Nifty but are unsure how each stacks up against the other in the project management space which is why I decided to put together a post comparing ClickUp vs Asana vs Nifty. 
Finding the right workflow solution for your team can feel a lot like Goldilocks searching for the just right bed or porridge. In a busy space of workflow tools each with their own array of features and compromises, the decision on which tool to orient your team around can be dizzying. The comparison between the project management veteran Asana and recent upstart ClickUp epitomizes the workflow solution spectrum in many ways.
As one of the older and more established solutions in the space, Asana has built its experience and userbase as a refined Basecamp alternative that offered improved UX for teams. While Asana set out to optimize the holes that Basecamp left open, Asana's current identity is oriented more around prestige and reliability than innovation. The product updates are intentionally measured as they instead opt to win teams based on simplicity and usability.
In a stark contrast, ClickUp's entrance into the workflow space is predicated on being as malleable as possible. With a vast array of features and flexible implementation, ClickUp's solution to Asana's stagnation is to offer seemingly every feature that they can conceptualize. The result is a solution that is as daunting as it is powerful as its steep learning curve and lack of standardization leaves ClickUp to break up their tool's education into Beginner, Intermediate, and Advanced tiers. This comes off as a near-admission of a lack of intuitive design, instead pushing the burden of adoption onto its users.
Nifty finds itself as a comfortable middle ground to these two solutions as it offers improved features, usability, and scalability than Asana without diving too deep into the bottomless pit of features-as-a-solution that ClickUp resides. Predicated on usability and actionability, Nifty is the out-of-the-box PM solution that allows your team to pick up and go quickly with its award winning ease of use and thoughtful swath of features.
A deeper comparison between these tools might better illustrate the value of the just right solution.
ClickUp vs Asana
Comparing the initial two solutions is a great way to see the divide between them.
ClickUp Key Features
An immense amount of customization on every level, ClickUp's feature list is exhaustive. All of the project management tools you'd expect and more, such as docs, a Google Maps integration, a huge suite of automations. 

Quite frankly, it's difficult to identify key features within ClickUp, as they aim to offer whatever is needed to whoever is using it.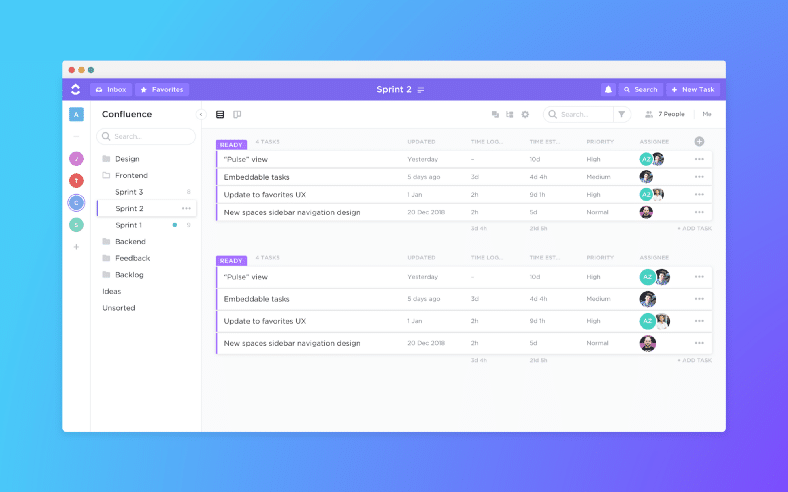 Clickup Feature Gaps
ClickUp's gaps aren't so much what's

missing

, rather the friction of what's already there. For example, they offer communication, but not a viable one-on-one chat solution.

A lack of standardization across projects makes scalability challenging.
Asana Key Features
Asana offers a lot of flexibility around tasks, such as the ability to dive into subtasks, subsubtask, subsubsubtasks (and so on) which allows you to find the exact granularity you'd like.

Workloads offers a Gantt view of the amount of tasks assigned to each member of your team. Combine this with the ability to restrict the amount of tasks assigned to each member, Asana becomes a clever solution to prevent employee burnout.

Tasks can be attributed to multiple boards to make cross-functional initiatives easier to manage and track without having to duplicate data.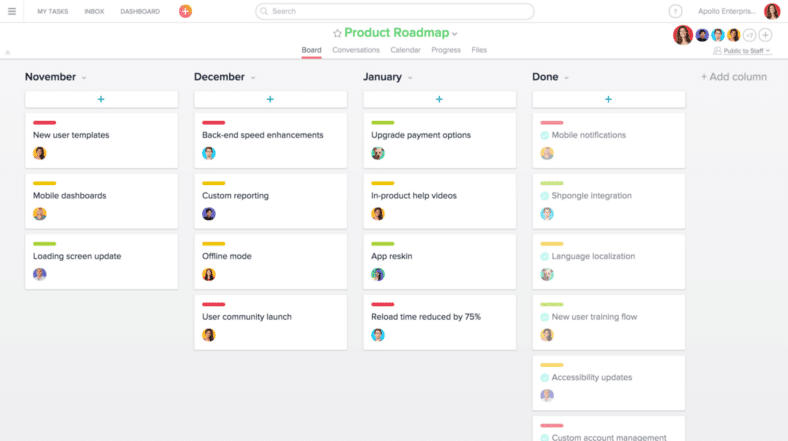 Asana Feature Gaps
Asana is a strong task management tool, but struggles to meaningfully roll up projects on a per-project or cross-project level. The result is it serving as more of a task aggregator.

Some of the more critical features of project management are only found on their up-market pricing tiers (more on this later)

Innovation has stagnated as Asana doesn't offer many of the non-task features that many other tools are wading into, such as docs and communication. This solidifies Asana as a piece of your tech stack rather than a multi-faceted subscription killer modern tools aim to be.
ClickUp vs Asana vs Nifty
How Nifty Compares
Nifty offers a strong suite of standard features on a project level that can be pared back as teams see fit. These features include timeline and task management, as well as discussions, docs, and files.

A built-in team chat allows for one-on-one or group chats to exist within the workspace, which consolidates communication and action into a single experience.

Nifty offers scaling tools to manage all project timelines and tasks without needing to visit any of the projects directly.
Pricing
Always an important consideration for teams, the pricing between these different solutions varies quite dramatically. Asana and ClicUup both offer Free Unlimited plans, though the devil is in the details here.
Asana Pricing
Asana's free plan offers unlimited Tasks and projects for up to 15 users. That said, a lot of what's required to balance the details (tasks and subtasks and subsubtasks) as well as project timelines in Asana is found in their Premium plan, which starts as low as $10.99/user/month (billed annually). A team of 15 can leap from Free to nearly $165/mo instantly, and still lack many of the critical features required to keep your team sane (such as Workloads). For these tools, you can look forward to paying as low as $24.99/user/mo (billed annually) which brings our team of 15 to nearly $375/mo. 
At this point, it's fair to question why you get so little at such a steep number. That said, if you want Enterprise, you can expect that per-user pricing to start north of here.
ClickUp Pricing
ClickUp also offers a Free plan for getting started, though their strategy for getting your team to pay hinges on you running out of boards and data. From there, you're looking at a divide of $5/user/month (billed annually) and the near-double price of $9/user/mo (billed monthly) if you're not willing to join on an annual plan. This pricing structure is designed to have your team commit annually to grab what feels like the real bargain, as our team of 15 would be paying $135/mo on a monthly subscription of ClickUp's Unlimited plan. Their next plan, Business offers more limits of many of the current features at the current (as well as some new features) with another wide price split of $9/user/mo (annually) and the more-than-double $19/user/mo (monthly). This team of 15 is paying anywhere from $135 to $285 a month, perhaps determined in part by the business' cash flow.
From here, you have the enigmatic Enterprise pricing to work out with their Sales team.
How Nifty Compares (ClickUp vs Asana vs Nifty)
Nifty's pricing structure deviates from Asana's and ClickUp's in two key ways:
Nifty offers a free forever plan that enables users to get a complete experience when using Nifty. Compared to Asana or ClickUp who have incredibly restrictive free plans requiring upgrades very quickly.  

Nifty does not price per user, rather offers buckets of seats and features together
Nifty has a free forever plan that enables users to utilize Nifty that includes access to unlimited users, guests, and tasks, all of the products core features and 100MB of storage.  Free users can also invite guests / clients to collaborate and work with making Nifty the premier ClickUp and Asana alternative for businesses looking to manage clients.
Nifty's Starter plan ranges from $39/mo (annually) to $49/mo (monthly) for a team up to 10. This includes all of the critical features required to manage up to 40 projects in their entirety. Two of Nifty's project and task scaling tools, Overviews and Workloads, are not included on this plan, though can be added at a monthly cost of $16/$20 a month respectively. In other words, a team of 10 can have Nifty in its feature entirety for as low as $71/month.
Next is the Pro plan which includes Overviews by default, as well as unlimited projects and 20 users for an annual / monthly price split of $79 / $99. Our team of 15 that we've been discussing so far would fall into this category, and could add Workloads on for as low as $16/mo, bringing their monthly price as low as $95/mo(billed annually). Business brings both Workloads and Overview into the plan with up to 50 members at a monthly/annual price split of $124 and $149 respectively.
For teams above 50, you needn't negotiate a price with a Sales team, as Nifty's Enterprise plan offers unlimited users at $349/mo (annually) and $499 (monthly).
Summary of ClickUp vs Asana vs Nifty
Your team size might grow, requirements might change, or usage might increase as adoption of a workflow solution picks up within or across teams. When deciding on a tool for today, keeping tomorrow in mind is crucial before you find yourself on the wrong end of brutal price hikes for dubious value, or having to train members of your team through multiple tiers of difficulty in your workflow solution.
A happy, predictable medium made for a happy Goldilocks, and will have the same result for your organization as well.