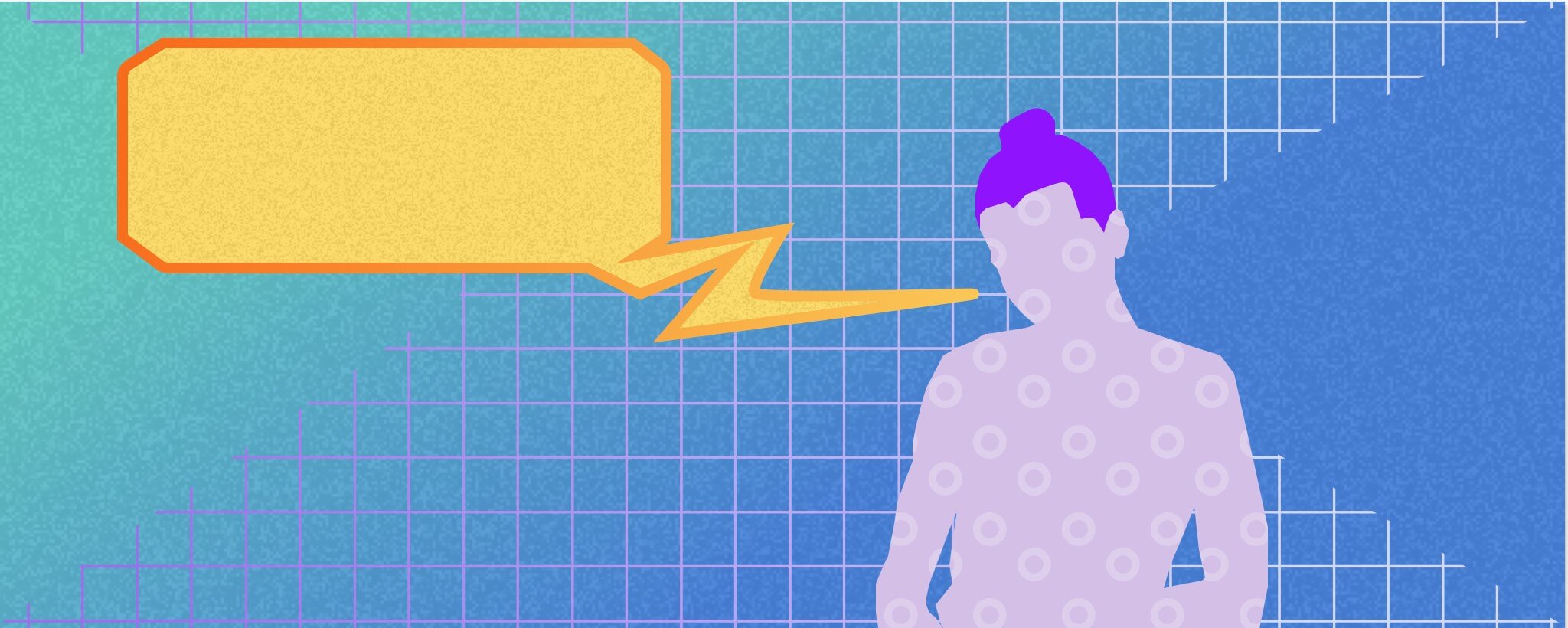 Let's talk about the importance of the customer experience. It's one of the top reasons why customers continue to do business with any given company. A great customer experience encourages people to buy more, use more, and engage more with any product or service. So what's the key to getting this right?
Customer feedback is the driving force behind any good customer experience. It gives you valuable insights to develop and improve your product or service while helping you understand what makes your customers tick.
Strong customer feedback tools make this an easier endeavor by collecting relevant data. This process is essential: by focusing on data, you rely less on anecdotal evidence or simply trying to read minds. These tools also help you analyze the user journey and diagnose problems along the way while helping you develop a stronger relationship with your customer.
The world of customer feedback software is broad — so we've narrowed it down to the top ten that we think can be your key partner on the journey to a stellar customer experience.
Mopinion
GetFeedback
UserReport
HotJar
CustomerSure
Podium
UserBrain
InMoment
Reevoo
AskNicely
Zonka Feedback
===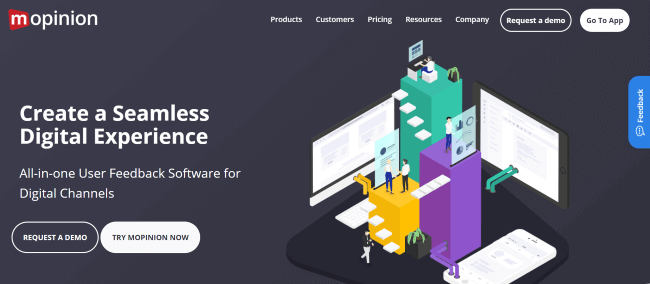 If you're serious about optimizing the customer experience, you need to check out Mopinion.
It's an all in one user feedback platform that helps companies derive insights across all digital touchpoints, including web, email, and apps.
Mopinion helps drive strategy, and it is an excellent sales engagement tool with its customizable surveys and sophisticated targeting to bring you more contextual insights into how users engage with your product.
This customer feedback software also offers numerous integrations to provide a seamless customer experience on the backend. Companies such as Allianz, Paypal, and Volkswagen all use Mopinion to drive their successful customer feedback strategies.
Pricing: Mopinion offers a free trial, with priced plans starting at $35/month.
Top Feature: Customizable visual dashboards that show sentiment analysis and allow you to play with your data to derive deeper insights.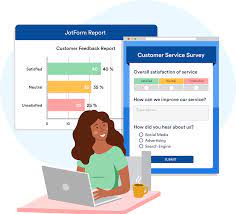 Jotform is a free online survey maker that helps you create custom surveys with conditional logic. You can collect customer feedback and keep track of your submissions using their Form Analytics feature. You don't have to build your surveys from scratch.
Use tons of free templates to make your surveys stand out and increase engagement. Integrate with multiple apps at once to get the most out of your surveys. Collecting feedback can be time-consuming, but once you've created your survey, share it with just a link to immediately start collecting submissions.
Pricing: Jotform has a free plan with all of its features and 3 different pricing options that give you more form limits and cloud storage.
Top Feature: They have 10000+ free templates so you won't have to change your surveys too much if you find the right template.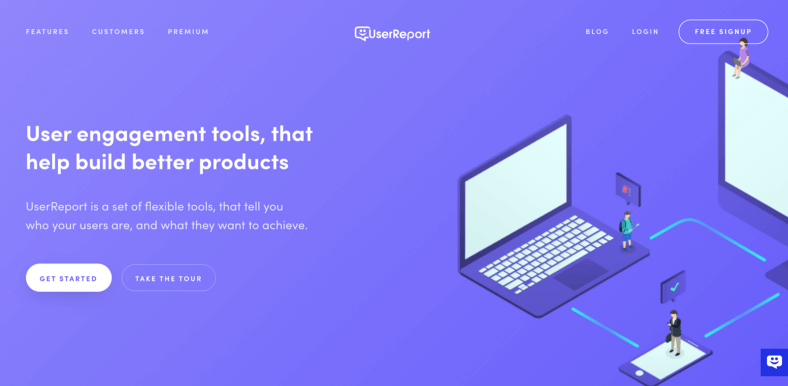 UserRepot has two main features: a survey widget and a feedback widget. The survey widget allows you to ask top of mind questions to better understand your customers' demographics, while the feedback widget collects real-time feedback to organize and prioritize updates. Users can vote on proposed ideas in the feedback widget and add additional comments to other customers' suggestions.
This customer feedback tool integrates with Google Analytics to better show you how consumers are using your website. Companies such as TripAdvisor, Bauer, and Toyota have all used these simple and easy to use features to collect feedback.
Pricing: UserReport lets you start with a free account, but you need to contact their Sales team for Premium pricing options.
Top Feature: Voting on proposed ideas to identify strategic improvements.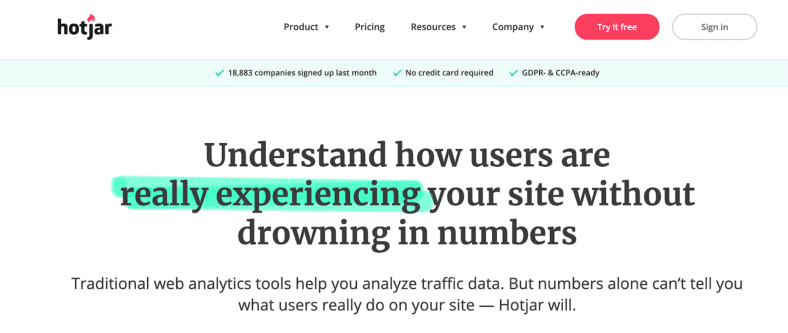 HotJar helps you visualize key behavioral information to better understand what your users care about. It's primarily designed for marketers, UX designers, and product managers to present them with insights for updating the customer experience on their websites.
HotJar utilizes heat-maps and surveys to get the context behind users' actions. Their implementation is also pretty easy — simply copy and paste a piece of code into your site to start looking at real-time feedback. Some customers that use HotJar for their customer experience needs are Adobe, Decathlon, Survey Monkey
Pricing: HotJar offers different pricing per page-view options that allow you to customize a pricing plan based on your estimated web traffic.
Top Feature: HotJar offers recordings of your users' journey so that you can identify common pain points.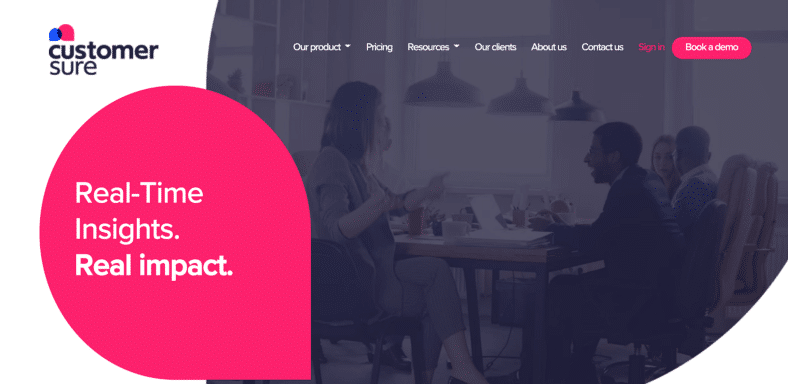 CustomerSure offers real-time insights to make a real-time impact. They help companies measure and improve their NPS, CSAT, and Customer Effort Score with easy to use surveys that are then collected into central dashboards.
CustomerSure also helps companies track customer satisfaction over time with the use of their feedback widget. They also have a support team to walk you through the setup and assist you with any questions along the way. Companies that use CustomerSure include Bristol Water, TasteCard, SwiftPage.
Pricing: Plans start at £199 (± $260)/month and increase based on client needs. They also offer free remote implementation support and have more in-depth implementation packages available.
Top Feature: CustomerSure allows you to send feedback directly to your HelpDesk or CRM, which helps you prioritize updates and improvements.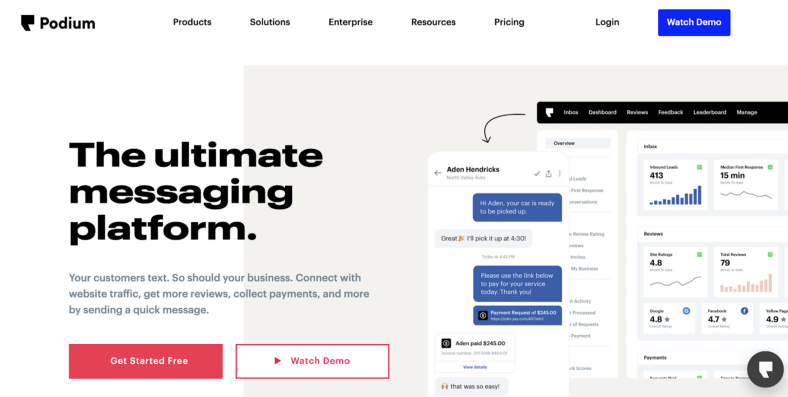 Podium is a cloud-based software that helps companies generate more online reviews. They proactively solicit reviews by sending email and text prompts to customers, which helps companies rank higher in local search results.
Podium also aggregates all of these reviews into one dashboard so that you have a thorough view of your online profile to focus on what's working well and fix problem areas. Their clients include Ken Garff, LaZboy, and Merry Maids.
Pricing: Request a custom quote via their website.
Top Feature: Their consolidated feedback dashboard collects feedback from Google, Facebook, and industry-specific review sites, so you can stay on top of all customer feedback at the click of a button.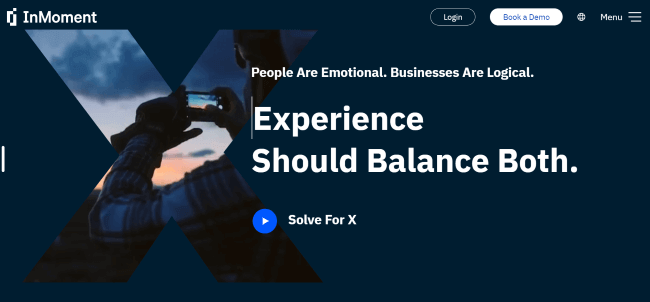 InMoment focuses on giving you granular data to understand the big picture of your customer experience. They analyze direct, indirect, and inferred feedback to identify the moments that leave an impact on customers.
InMoment places itself at the intersection of customer, employee, and business needs with multifaceted analysis and support. This software is designed for enterprise customers, which include Thomson Reuters, Volvo, and Arby's — among others.
Pricing: Contact InMoment for a custom quote based on your company's needs.
Top Feature: Their Experience Improvement reporting allows you to synthesize different data sources and identify rising trends.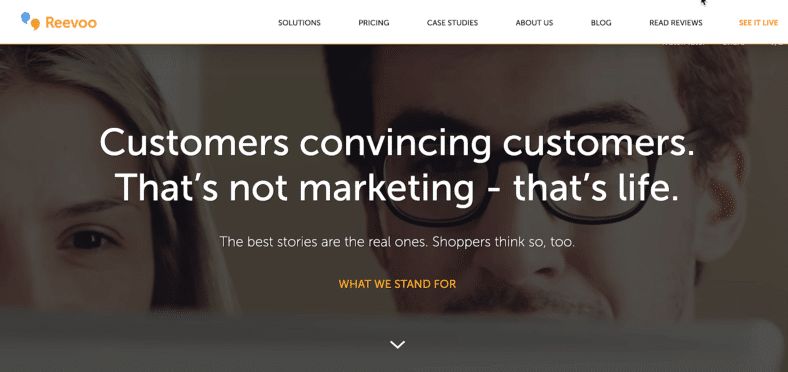 In a world of fake reviews, Revoo collects written reviews for your website based on verified purchases or experiences. You're notified when you get a negative review so that you can immediately rectify the situation. They also present customer interactions at key parts of the user journey to drive conversion.
Revoo's motto is "Customers convince customers. That's not marketing — that's life." They work on proactively generating feedback so that future customers feel more secure about interacting with your product or software. Some of the companies that they work with include Black&Decker, Lenovo, and Hyundai.
Pricing: Contact Reevoo for a custom quote.
Top Feature: Their customer conversations feature: Reevoo has a pool of two million verified purchasers that are ready to weigh in and provide helpful feedback to prospective customers.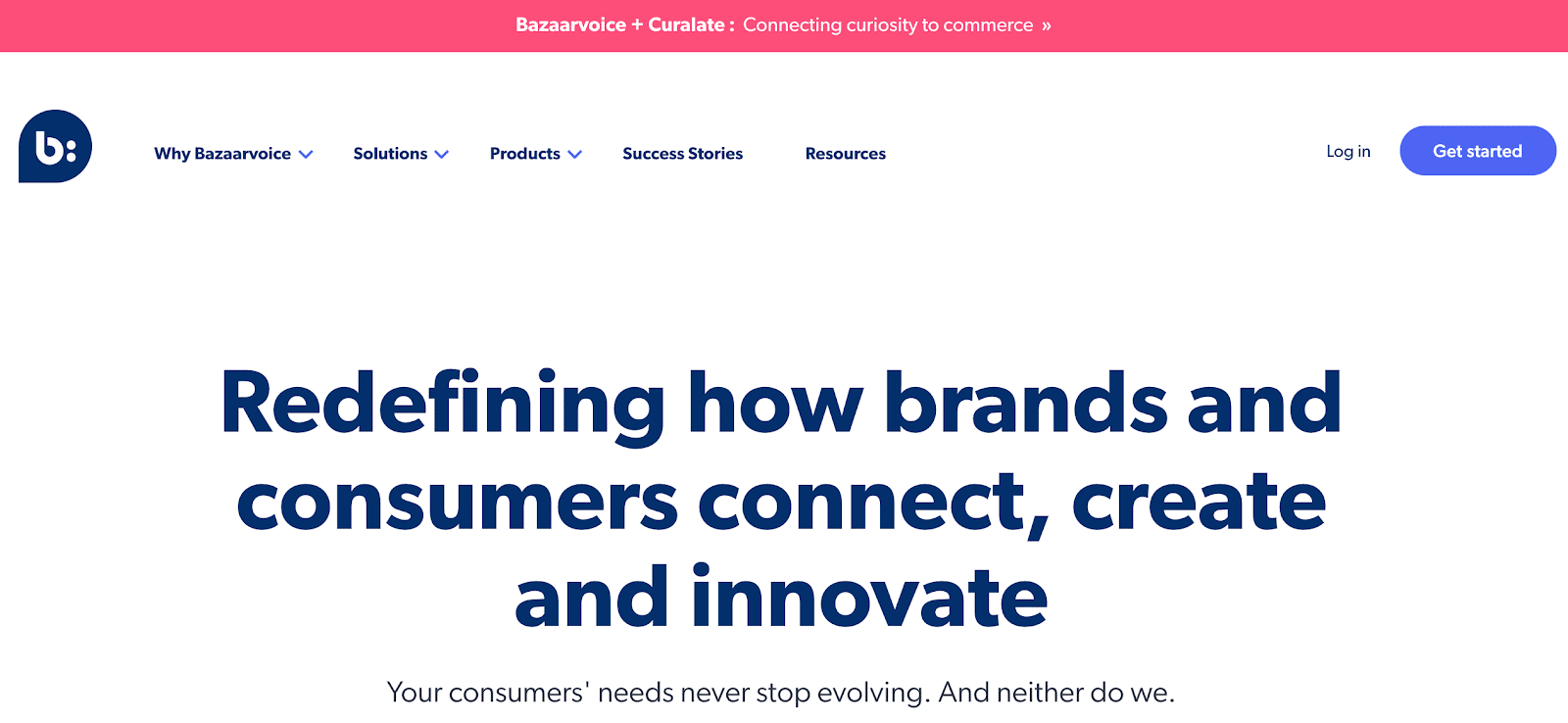 Bazaarvoice provides you with flexible customer feedback by collecting user-generated ratings and reviews. They boast the world's largest shopper network, which feeds into their sampling services and community where customers can ask questions and receive relevant answers.
Bazaar also connects you with a Client Success Director to help you leverage their tools to the full advantage. Their Connections program allows companies to respond directly to 25 customer inquiries a month, while their premium Connections program allows unlimited interactions. Their client base includes UnderArmor, Sephora, and LG
Pricing: Contact Bazaarvoice for a custom quote.
Top Feature: Bazaarvoice's sampling program matches your product with interested customers to generate ratings, or allows you to choose brand advocates to try out product prototypes.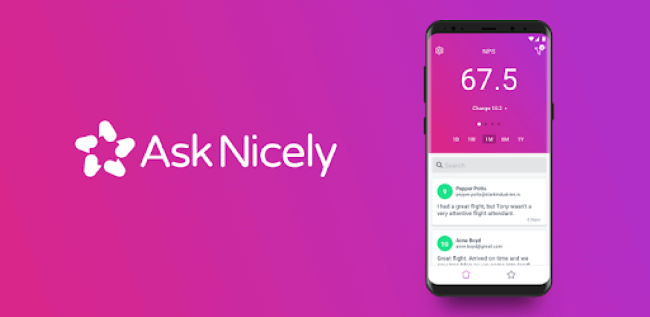 AskNicely's platform measures NPS, CSAT, or CES scores by asking targeted questions along the customer journey. They offer email, web, and SMS messaging options to reach your customer base wherever they are.
AskNicely also offers a coaching tool to help your employees make the most out of customer interactions. Integrations for this customer feedback software include Hubspot, Salesforce, Microsoft Dynamics, and more.
Pricing: Contact AskNicely directly for a price quote.
Top Feature: AskNicely has a user-friendly analytics dashboard that presents data in real-time.
Zonka Feedback is a feedback solution that provides real-time insights. With Zonka Feedback, you can create customized feedback surveys that provide real-time insights. Measuring NPS, CSAT, and CES scores have never been more accessible. The tool also allows you to create custom surveys and distribute them via email, SMS, kiosk, or offline with integrations such as Slack, Mailchimp, Salesforce, and more.
Pricing: Zonka Feedback offers a free trial, with paid plans starting at $24.
Top Feature: 500+ free templates
===
Consumer feedback is a key part of any company's market strategy. The more information you have about decision making, the better experiences you can provide for prospective customers while solidifying your relationship with previous customers.
The information that you derive from customer feedback software will help your company develop new products and improve user journeys. It will also help you to identify problems but double down on what's going well.
The business landscape is competitive — but a commitment to positive customer experience helps you stand out in a crowded playing field while running your business more effectively.
High-quality help desk software can also go a long way towards improving your customers' experiences. If you're dealing with their problems and questions swiftly, they'll be more satisfied and think more highly of your business.
If you're looking to collaborate with your team and turn the feedback into action items in your product development, check out Nifty — the all-in-one hub to manage projects, tasks, and communications. Try Nifty for free today!