Task management software plays an important aspect in automating and managing ones personal and team related  tasks. Tracking and managing tasks are the main ways for a business manager to see the progress and work being produced by both himself and his team. It is crucial for managers in any business to create a formal automated workflow process so daily tasks can become easier than counting to 1 – 2 – 3!
Meet Nifty…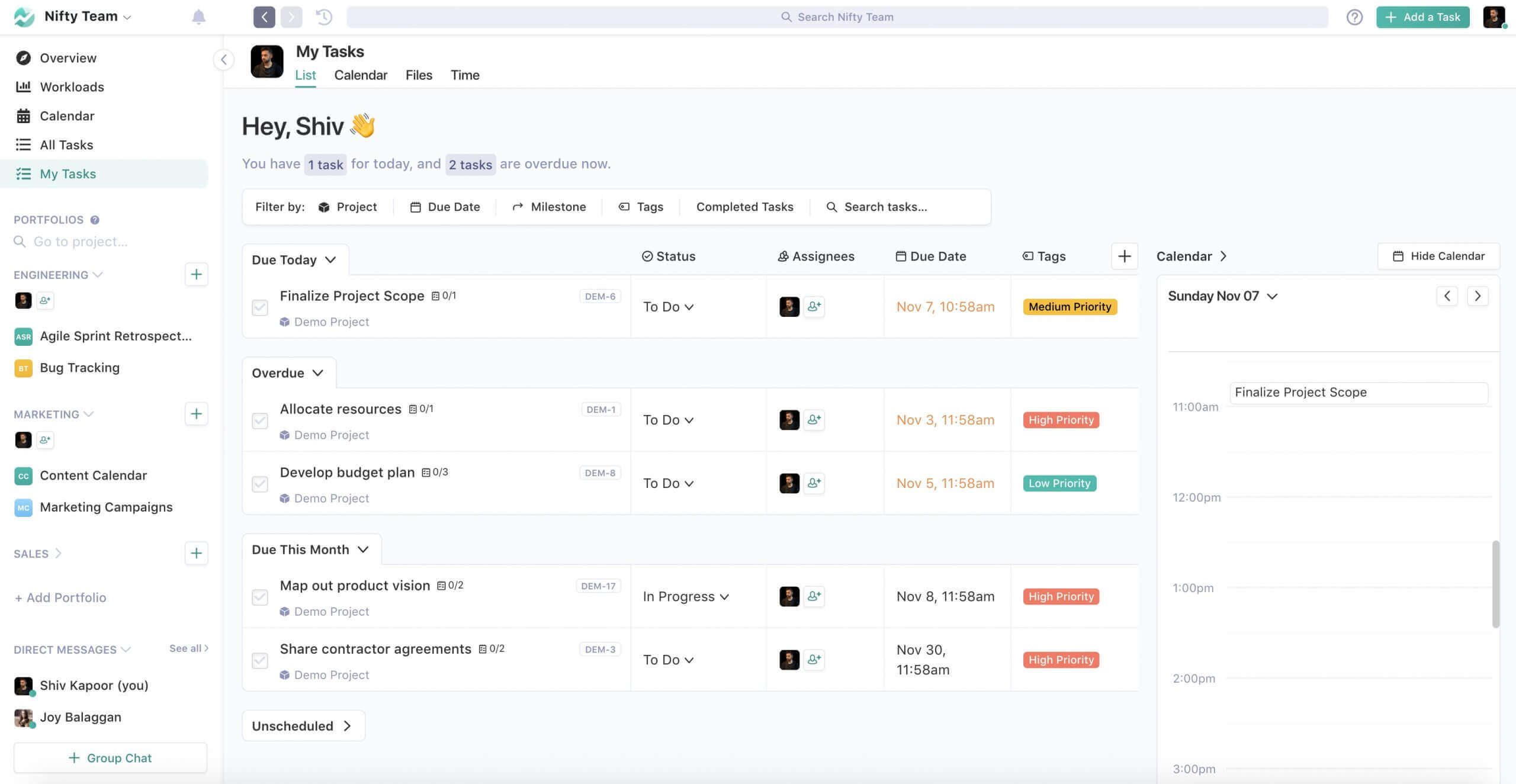 In Nifty, one can manage tasks using list, board, timeline, and calendar views as well as track time, automate workflows. Nifty even offers interactive roadmaps with milestones that work in tandem with tasks that can be linked with Miro boards and docs for an all-in-one productive workspace.
We decided to compile a  list of task management + workflow + productivity professionals to see how they manage to automate and prioritize tasks on both an individual and team level.
Without further ado…
Name – Dennis Yu
Company – https://dennis-yu.com.com
Linkedin – https://www.linkedin.com/in/dennisyu/
"Most of our work is being done by low-skilled virtual assistants who don't speak English as their first language. So we must break down tasks into the most bite-sized pieces and have training associated with each task.
We have over 1,000 tasks stored in the Task Library, which is basically a giant Google Sheet inside of Nifty  that lists each task, how to do it, the predecessor task, the follow-on task, value of the task, estimated time to complete the task, and so forth.
For example, editing a one minute video should take 15 minutes of effort when using our templates and provided that the client provides an acceptable video for input.
We have various bits of software to automate parts of the work, but recognize that most of our work can't be 100% automated. There are still things that a human needs to review.
The key with smooth execution isn't the particular project management system or training software you're using, but the process that brings your workflow of tasks and people together.
We troubleshoot performance failure by looking at 3 components– people, process, and platform. Usually it's process that's broken, followed by people. So rarely does switching the platform (tool) solve the underlying problem".
Name – Chris Makara
Company – https://bulk.ly
Linkedin – https://www.linkedin.com/in/chrismakara/
"I love looking at different ways to automate my workflow. Some of the most common ways are using a tool like Nifty,  Zapier, Pabbly, Integromat, Integrately or Hexomatic to build out processes to automate manual tasks.
For example, a few automations I have setup do things like:
– Automatically add published Bulkly blog posts to a Google Sheet (with URL, page title, focus keyword) so that my link partners can easily find content on my site to link to.
– Build reporting dashboards for blog post traffic 1 day, 7 days, 14 days, 1 month, 2 months, etc. to see which blog posts are trending in the right (or wrong) direction.
– Monitor the website for changes and get notified of changes (missing scripts, having a noindex tag, etc.)
Then there's the fact that I built Bulkly to easily manage automations of workflows when it comes to social media scheduling and posting of updates. Here's the biggest automation that save me time every day:
– Automatically create status updates (not just the blog post title) from RSS feeds to not only post status updates, but also automatically recycle these updates
There's no doubt that using tasks and apps to automate my workflows save me many hours each and every week. Because of this, I am much more efficient with my time so that I can focus my efforts on things that can't (or shouldn't) be automated."
Name – Vlad Orlov
Company – https://www.respona.com
Linkedin – https://www.linkedin.com/in/vladorlov/
"We use Nifty to assign and mark tasks as completed. So our entire team can be in sync and coordination everywhere!" 
Name – Valeria Santalla
Company – https://placeit.net/
"When diagraming a workflow, using specific tasks to complete each stage of the workflow makes it easier to keep you feet on the grown while still having in mind the big picture."
Name – Leila Mirzoieva
Company – https://jooble.org/
Linkedin – https://www.linkedin.com/in/leila-mirzoieva-aa717b187/
"So how do I use tasks to automate my workflow?
When choosing a process for automation, you should always remember the golden rule: if the process is repeated very rarely, is it worth spending resources on automating it? I always follow these principles:
I try to minimize costs and contingencies.
Increase your productivity. I try not to be distracted. When you are distracted by just a couple of minutes from the main task, you need time to restore the original pace of work
And I reduce the number of routine and tedious operations in my daily work by using Nifty as my teams central hub."
Name – Anton Liaskovskyi
Company – https://adplayer.pro
Linkedin – https://www.linkedin.com/company/adplayer-pro
"I strongly believe that the development of video ad tech solutions is indispensable from the careful software project management, which in turn is centered around the carefully planned product roadmap, built upon tasks (from epics to smaller ones, and even minor bug fixes).
The AdPlayer.Pro team has been utilizing task management software, like Nifty, for instance, from the very start, mainly for the project planning purposes and as a practical way to automate our team workflow, specifically in the modern hybrid workplace environment."
Name – Ale Aguilera
Company – https://www.envato.com
Linkedin – https://www.linkedin.com/in/alejandra-estefania-aguilera-avila/
"I'm part of the SEO team at Envato, and we organize our work in sprints. We discuss and plan what we need to finish in the next two weeks, so it's easy to know what you need to focus on and how much time you'll spend on each task. Sometimes you don't finish a task, or the time you estimated wasn't enough. You can then decide whether it requires more time or is not worth the effort.
In short, I think that making work visible is a significant factor for success. Especially after the pandemic when many teams went remote, having clarity helps you know if you're doing an efficient job."
Name – Harmonie Poirier
Company – https://www.agilitycms.com
Instagram – https://www.instagram.com/agilitycms/
"With a hybrid content management system like Agility CMS, you can easily assign tasks and hierarchies- this enables content marketers to schedule and organize content for seamless omnichannel customer experiences. The CMS notifies you when you have been assigned a task and allows you to see who has made recent changes to a piece of content."
Name – Anastasiya Klopova
Company – https://www.visme.co/
Linkedin – https://www.linkedin.com/in/anastasiya-klopova-69672b205/
"As a huge company that develops tools for designing, storing and sharing visual content, it is crucial for us to automate all the inside processes. So, yes, our experts use tasks to automate the workflow and run the project smoothly.
We can actually write a whole case-study to explain how we use tasks and how our business benefits from it, demonstrating the manual tasks and automation tasks processes. Shortly, to achieve the success we use the following solutions which proved to be helpful: Slack + Nifty, reporting on tasks (Google docs and spreadsheets), visual content (Visme tools and presentations), tracking and task management systems. They assist with meeting those deadlines and managing every action step. Also automated tasks help us to boost productivity and stay organized, it makes it a lot easier to delegate work.
When we assign tasks to colleagues (the easiest case), we use manual tasks and provide the description, requirements, examples, inspirational sources, deadline and priority, keeping structure in place. Sure, every action step affects our plans, execution and profit. But the most important point to focus on is that using tasks to automate workflow can help to produce positive habits."
P.S. Hope these tips will help you guys! 😉
Name – Ryan Amen
Company – https://www.niftymarketing.com
Linkedin – https://www.linkedin.com/in/ryan-amen-63479512
"The best way I've found to automate some of my workflows is by building templates in Nifty. This is super helpful for outlining all the things that need to be done in a particular scenario These can be used for anything from getting a new hire integrated into the company/systems to a technical SEO audit checklist. When the need arises for these tasks to be executed, you no longer have to try to remember every single thing that needs to be done, and you can check them off as you go so you don't miss anything.
Name – Jeremy Galante
Company – https://clickup.com
Linkedin – https://www.linkedin.com/in/jagalante/
"Our team has a content database that includes a task for each article and landing page. We use wind range of automation to save time during the content development process and after a page goes live. For example, contributors are auto-assigned during the creation process at specific stages. This helps our SEO team and writers optimize their time spent on each task. After content is published, we automate a performance review task to monitor results. This prevents content audits from slipping through the cracks. Our content database has over 15 active automations!"
Final Thoughts
Task management is crucial for scaling a business and having a formal process to do so is an integral part as well.  As you can see from experts across the board from SEO managers, design managers, to productivity junkies adopting a task management solution and creating a scalable system is an integral part of growing any business!
Get started with Nifty today on our FREE FOREVER plan and begin automating your business today 🚀🙌