Looking to export data from Asana? Well, in that case, you've come to the right place.
One of the biggest names in the workflow management space, Asana was created as a solution for cross-team project management at Facebook before being branched out as a stand-alone product. Asana offered itself as a modern and sleek approach to old-school project and task management.
Time for a change
As Asana has moved past their public IPO, it's been pressured to focus its product offering and pricing model toward catering to teams of larger enterprises. Increasingly, smaller businesses that have relied on Asana for managing their workflows find themselves paywalled from their newer product innovations.
And so, many have begun their search for a workflow solution that:
Provides more value with affordable premium features

Offers a more collaborative approach to managing modern-day work
That said, starting a new solution doesn't usually indicate a desire to start from scratch, so what's the best way to move on from Asana while allowing your team to pick up where they left off?
Meet Nifty.
Nifty is the highest ranked workflow management solution by G2 for its ease of use and visual progress reporting. With Nifty's affordable and collaborative feature suite, your team will be able to experience a workflow solution that fills the gaps currently left open with your Asana experience, such as:
Project level Discussions & Team Chats to bring communication directly into your workspace, allowing you to collaborate better with your team while adding actionability into your conversations.
Automated reporting in the form of Milestones that display the progress of each phase of your project based on the completion of tasks.
Built in Nifty docs (and integrated Google docs) to bring documentation workflows right into your project management space.
Support for custom third-party app embeds right in your tasks, docs, and as project views
Does Nifty offer a free plan? Yes! Nifty has a free, forever plan.
👉 Get Started now – thank us later! 🎉
CSV Export from Asana
Asana allows you to export your content as a .CSV (spreadsheet file). The benefits of a .CSV export is that most other tools allow for you to import a .CSV when signing up for their software. Additionally, .CSVs give you access to your data outside the context of a workflow solution.
The drawbacks to a .CSV are that you have to manage the actual file, so the process is slightly clunkier than importing your data from Asana directly into another solution. This is especially true for those on Asana's Free plan, as seen below.
How to export an Asana Project as a .CSV
Free users on Asana will be asked to download a .CSV for each of their projects one-by-one. Here's how to do it:
First, navigate to the dropdown header of the project next to the project

Next, within the dropdown menu, select the Export/Print option

Select the .CSV file type to download this project as a .CSV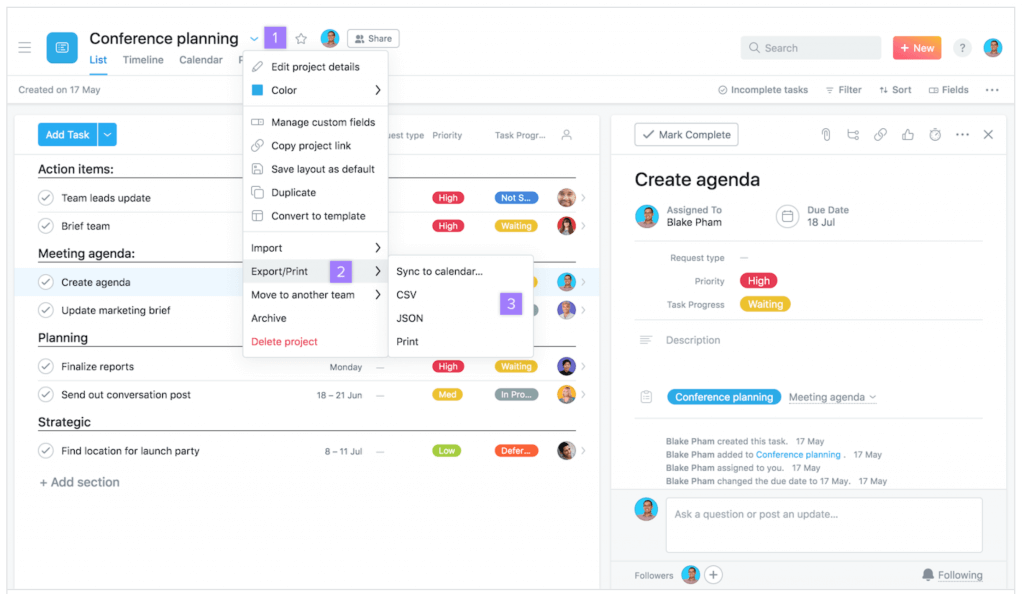 Exporting Teams from Asana as a .CSV
Those on a paid plan and are Super Admins will have the option to export the projects across their Teams in bulk. Here's how:
Access the Teams section of your Asana Admin Console

Select the Export .CSV button in the top right of the screen to initiate the export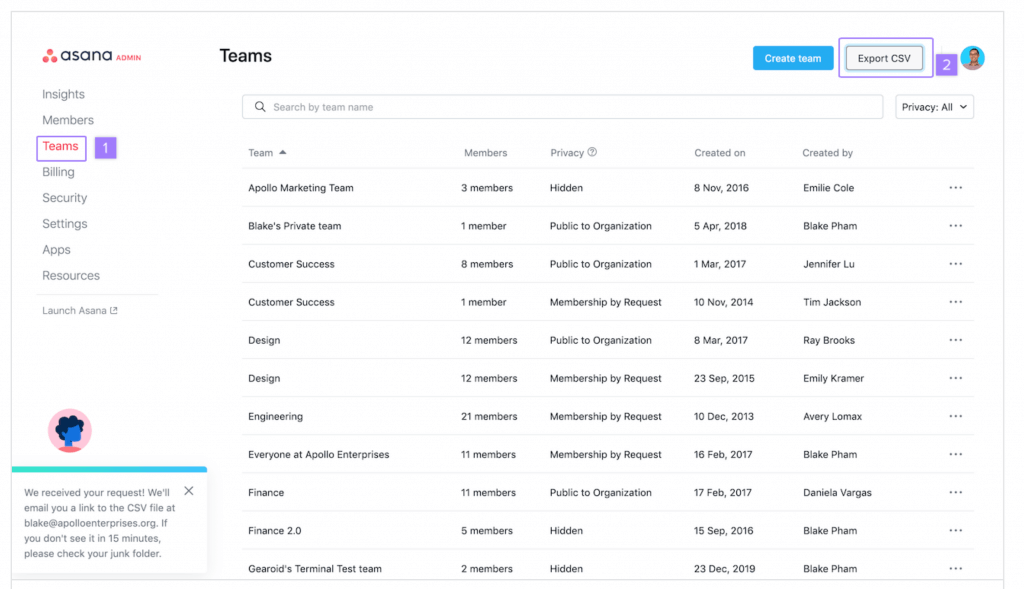 Whether your project data was exported in bulk one at a time, you now have these .CSVs in hand and can bring them into your new solution!
The Easiest way to export data from Asana
The easiest way to move your team off of Asana is by directly importing your data into a new solution that fills the gaps that Asana's features and pricing currently create. 
According to a side-by-side comparison on G2, all-in-one project management software Nifty outranks Asana in virtually every category of comparison. With Nifty's most premium plan (unlimited) topping out at $399/mo/annually, it offers a complete experience for less than what a company of 40 would pay Asana annually for their starting paid plan.
The good news here is that you can import data from Asana to Nifty on any Nifty plan – meaning you'll get to experience Nifty in the context of your workflow on either a Free Trial or a Free forever plan.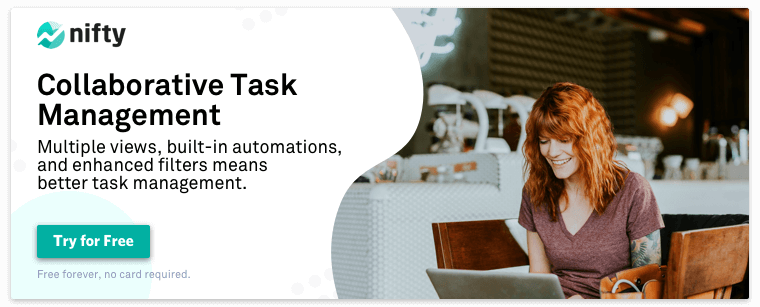 How to export data directly from Asana into Nifty
There are two great ways to bring your data into Nifty: during signup, or after signup.
Importing

during

signup will stage your workspace with your data as soon as you log in

Importing

after

signup will allow you to experience Nifty's interface before deciding the best way to import your data
We'll cover both options so you can make the best decision for you and your organization from the start.
Importing data during signup
After signing up for the plan that fits your workflow, you'll be prompted to create a user account, a Workspace, and choose between one of Nifty's three interface options (Classic, Light, Dark). Note that you can also select another interface language during sign up to ensure that Nifty makes your team and workflow feel right at home.
This next step is where you'll be able to select the Asana import.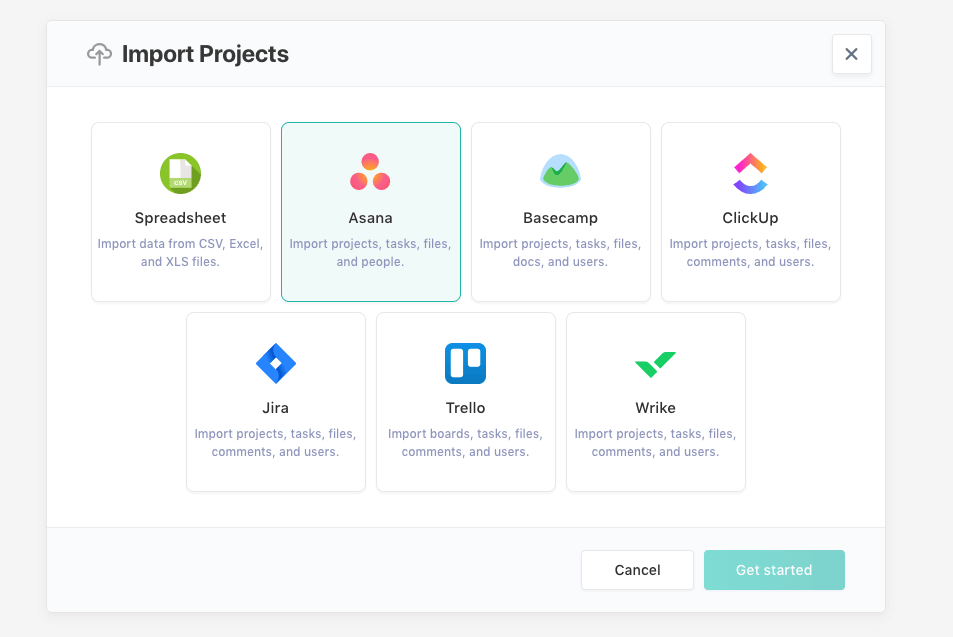 Doing so will prompt you to log into your Asana account, after which you will go through the three-step import process.
1. First, select the projects that you're looking to import from Asana.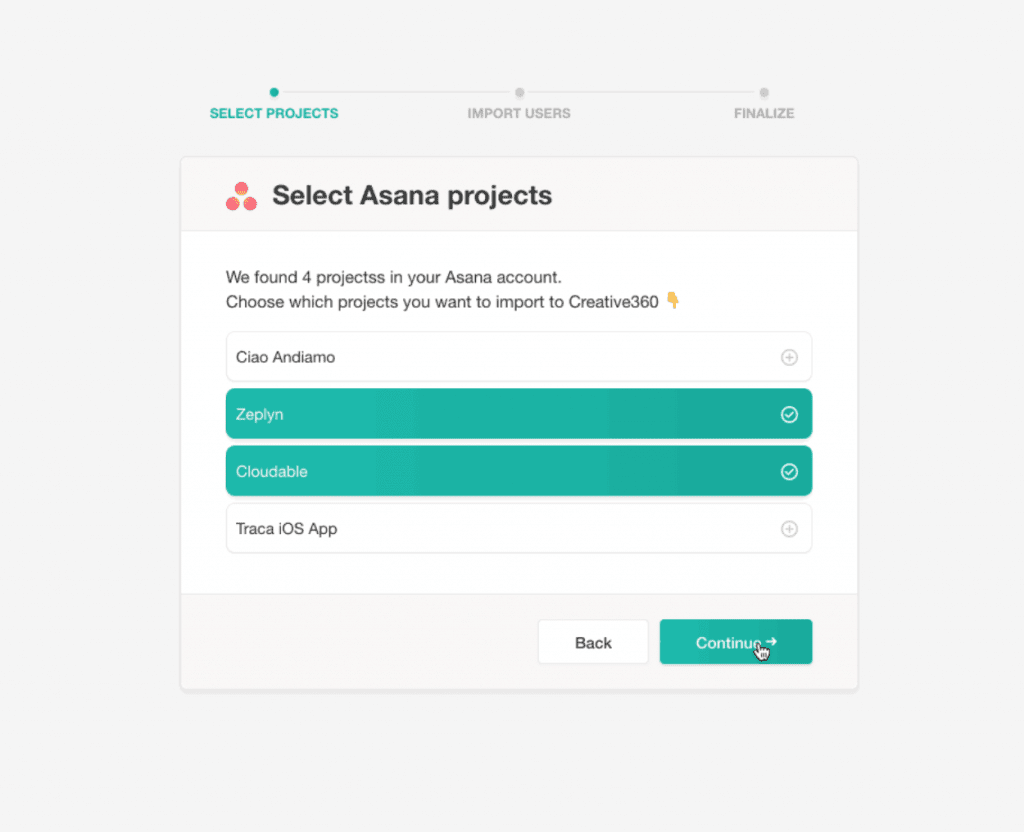 2. Next, you'll be able to connect users from Asana to those in your Nifty Workspace.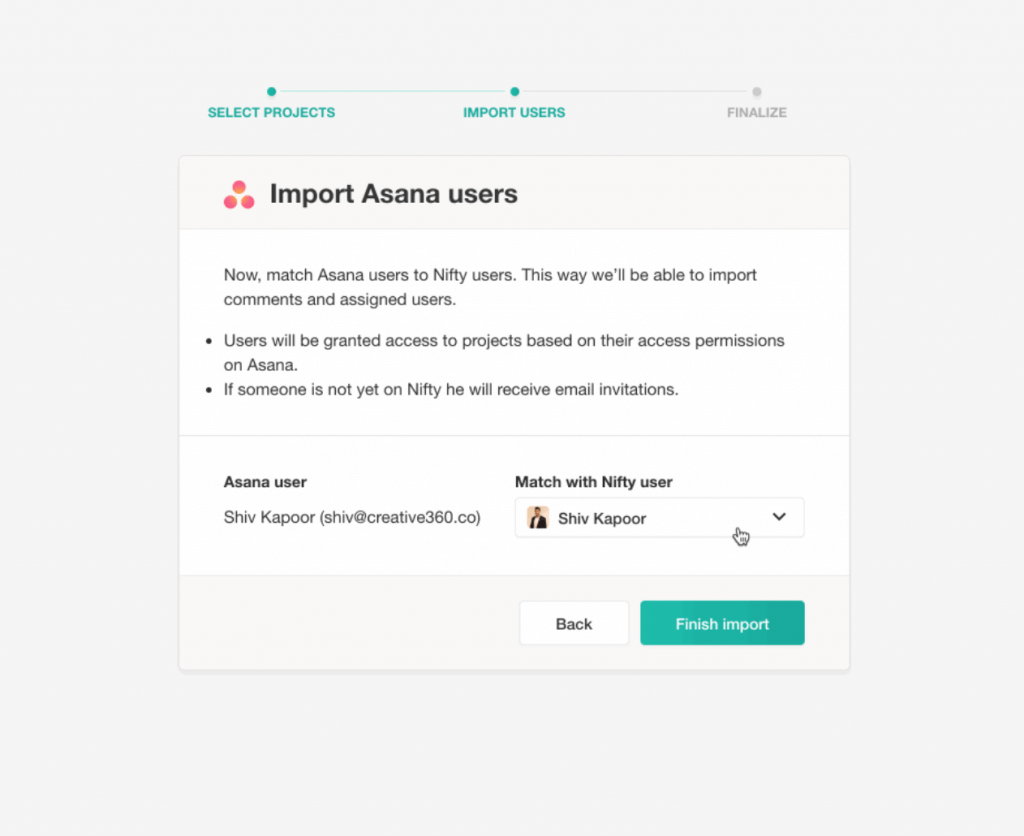 3. Lastly, you'll choose if you wish to import closed tasks and files into Nifty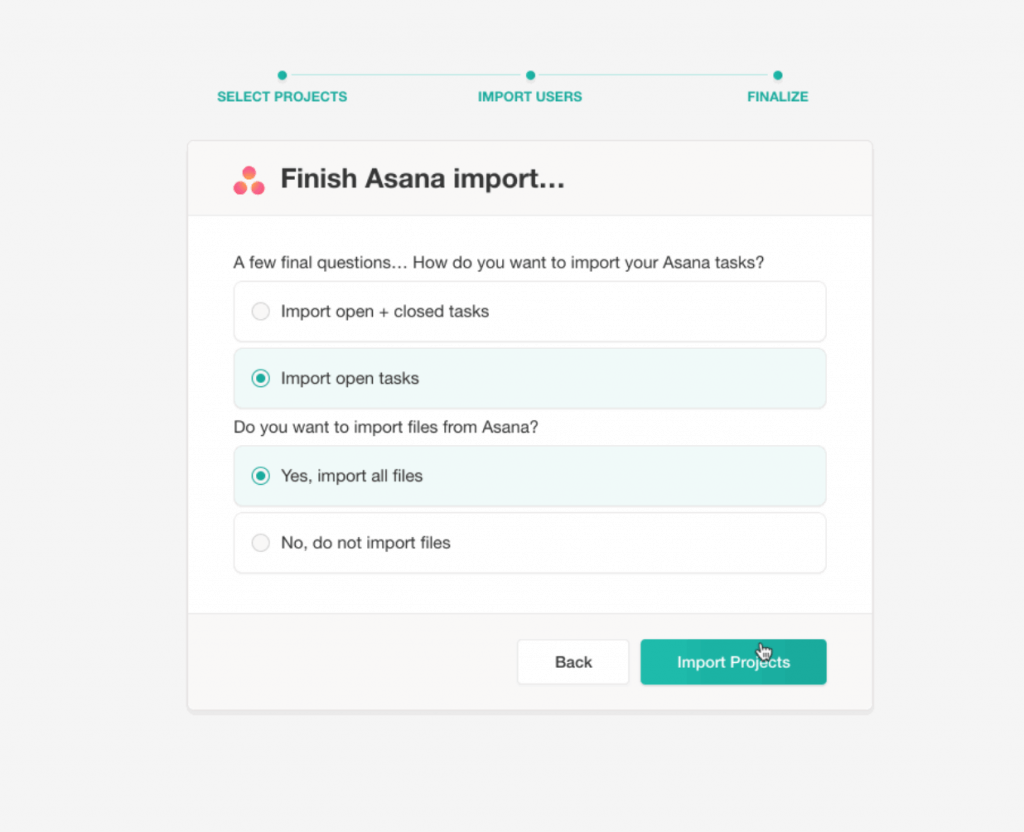 Once the import is complete, your Asana data will be migrated seamlessly to Nifty.
Importing after Signup
Importing after signup allows for more flexibility in your import as you can selectively import on the Portfolio level of Nifty (similar concept to Team in Asana) as well as on the Workspace level.
You can initiate the same Import flow from on a Workspace level from the dropdown menu.
Click on the dropdown menu next to the Workspace name

Click on the cloud icon and select Asana import


Alternatively, you can import directly into a Portfolio in Nifty which is similar to the Team concept in Asana.
Click on the portfolio name

Click on the cloud icon and select Asana import
How to Import Asana Projects into Nifty using .CSVs
While any of the methods that we've seen so far will allow you to utilize Nifty's .CSV importer, you can also create projects from .CSVs directly. 
Start by creating a new project in Nifty either within the Portfolio screen or next to a Portfolio's name in the sidebar.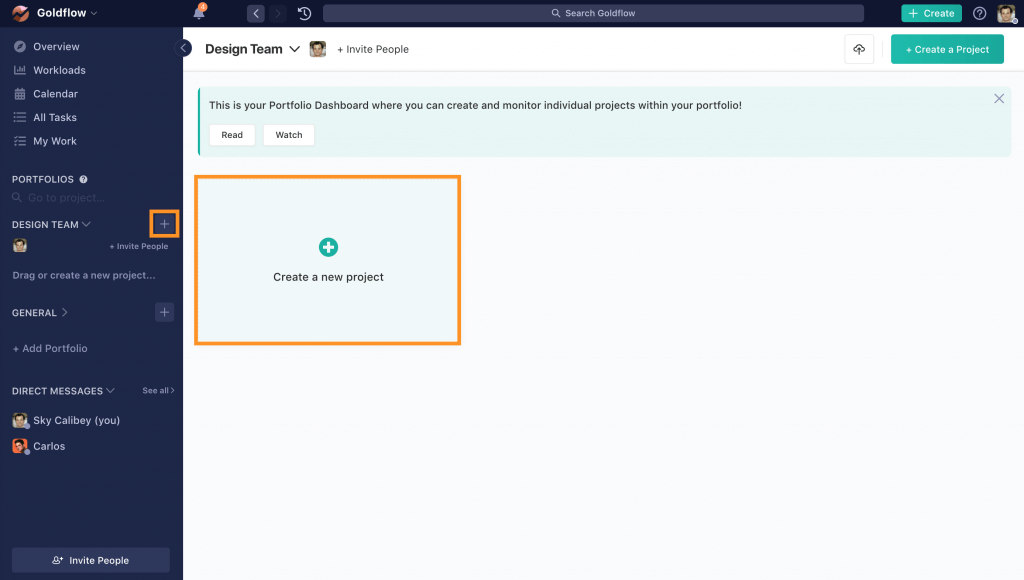 Once in the project creation screen:
Give the project a name

Select the "Import from .CSV option

Select the Create Project button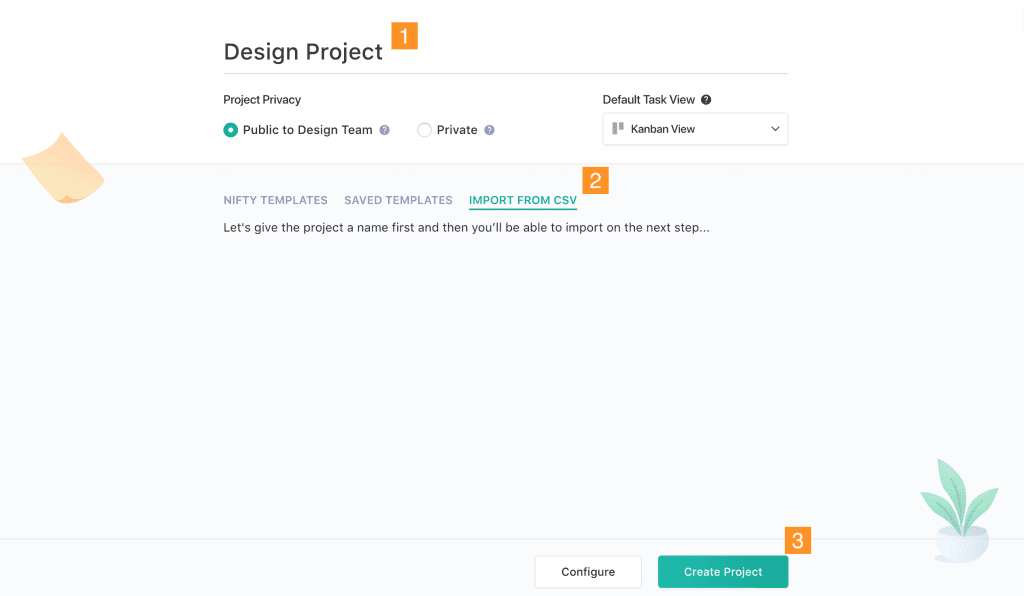 At this point you'll upload a .CSV of one of your Asana projects to continue to the next screen.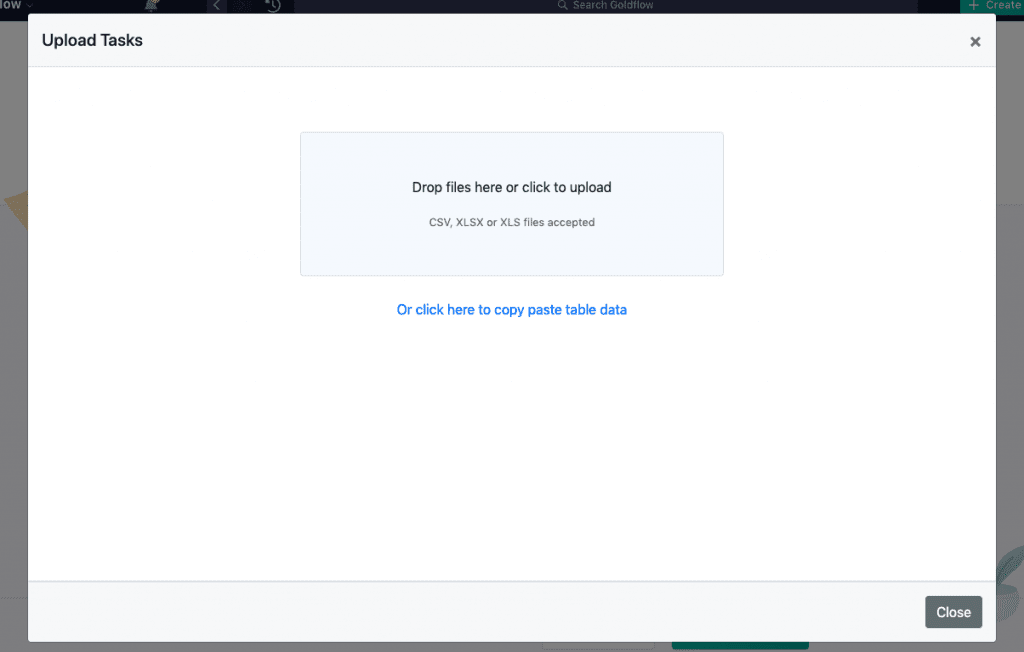 Once uploaded, you'll be asked to confirm that the rows and columns are aligned properly.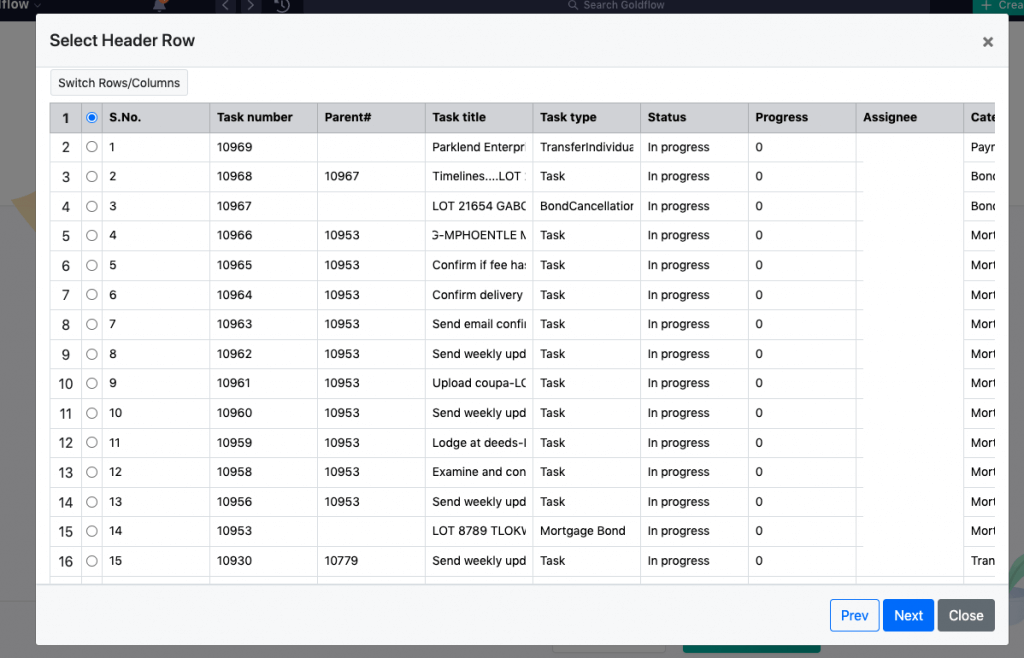 In the next step, you'll want to match up the .CSV columns with the project elements in Nifty before creating the project.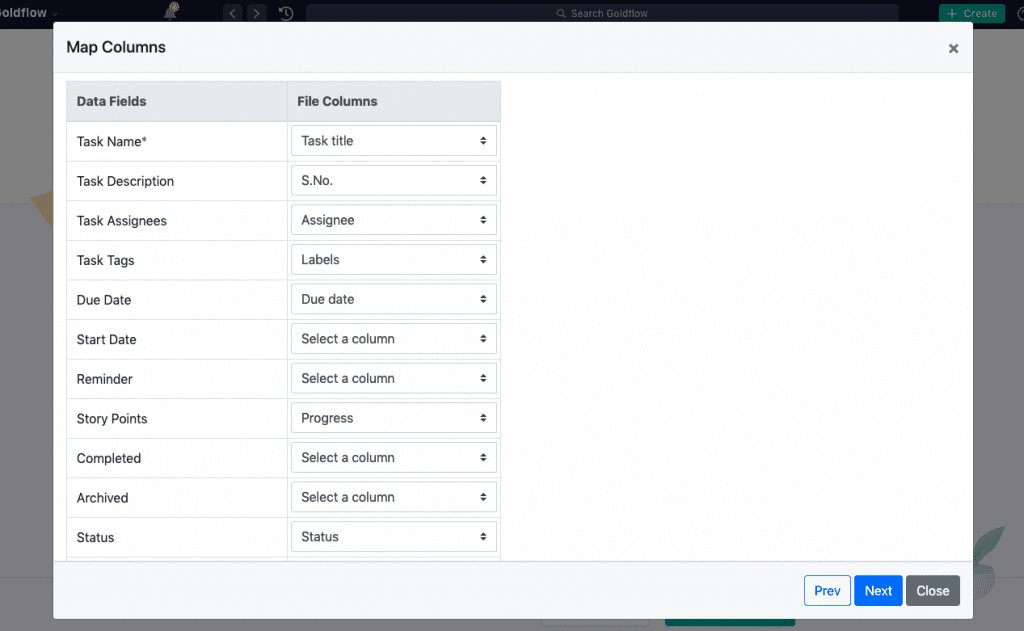 After this step, your project will be created from the .CSV data.
Moving from Asana to Nifty
Nifty's more collaborative, feature rich, and ease of use make migrating from Asana a natural, impactful transition for your entire organization and workflow. Some tips and tricks to get started quickly:
Nifty Portfolios are similar to Asana Teams, so that might be a good way to structure your new Workspace.

Some teams find that long, subtask-rich Tasks in Asana are better suited to be Milestones in Nifty, thus moving the informational layer up a level (Asana subtasks become Nifty tasks, Asana sub-subtasks become Nifty subtasks).

Shoot some messages in Team Chat to connect instantly with members within your Workspace without needing to leave the solution to use a dedicated chat solution!
👉 Ready to switch from Asana? Nifty offers a free, forever plan. Get started 🎉