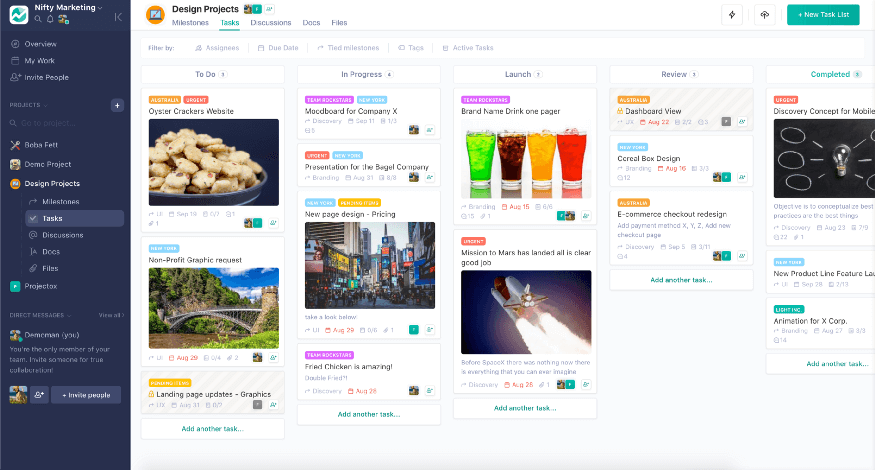 A point of view can make an incredible difference between sustainable and not sustainable projects.
Well, this may sound too easy, so let's set some things straight first. Project management is a dynamic and highly complex process based on scientific research and real-time data analytics.
And to effectively utilize any project management software, you need to start with the basics.
"The most fatal illusion is the settled point of view. Since life is growth and motion, a fixed point of view kills anybody who has one."
Brooks Atkinson
To make the most of a project management software, you need to get familiar with all of its features, processes, and aspects that a specific software offers; starting with different task views.
When we choose just one point of view, it redirects our project workflow in a specific direction, excluding different potential aspects even when they can provide us with unique information.
For example, an average user will create a Kanban board view and stick to it, thinking that it will do the trick. It will make an incredible improvement, but just until one point.
What if you need to monitor the specific real-time progress of each team member? It's almost impossible to do that with a board view.
Having a multiple task view can significantly improve the final output of your projects — giving you space to manipulate your workflow more quickly and oversee potential issues before they become a problem.
Popular Task View Types found in a Project Management Software
The most common task views in project management tools are:
List view
Board view
Gantt Charts view
Calendar view
Table view
File View
When you make plans, what is the first thing you do?
You make a to-do list.
List view helps you to initiate, monitor, execute and overview the entire project with ease. That is why this is the most intuitive task view for an average user to organize workflow. With no confusing pieces of information or additional guidelines, the list view is an excellent way of initiating a project with a clear and intuitive flow.
When to use: List view is a great and simple way to organize your workflow, especially when the project has a chronological timeline or an importance hierarchy. And it helps you to maintain a high level of focus and productivity
Unique information: Broad overview, easy task monitoring, and quick execution
Board view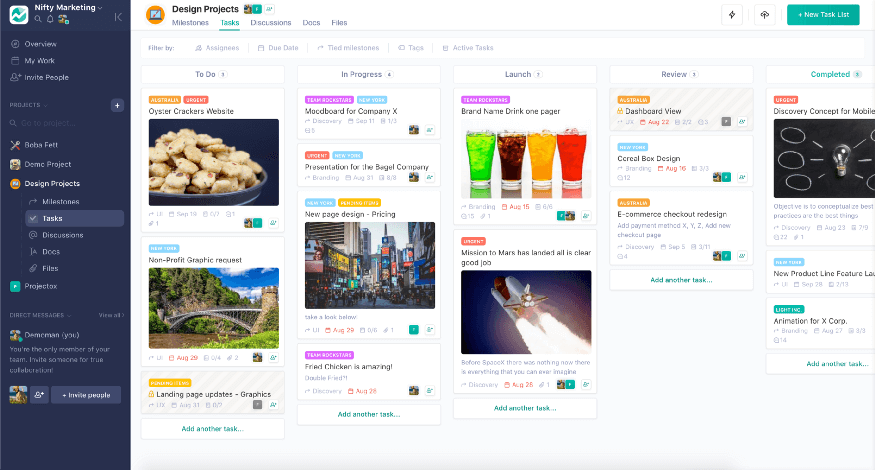 It is knowingly the most popular project management task view, as well as one of the most agile because it allows you to rearrange the entire project task map within minutes. Also known as a Kanban-style view, and it belongs to agile project management methodology with its unique framework.
It is based on the card system similar to a sticky-note, which allows you to create steps from start to finish on a task or product. When one task is finished, you move it to another column until it is at the final stage.
The most common project structure with Kanban board in use, looks something like this:
To-do
In progress
In review
Completed or Rejected
Also, the Kanban board view can be used for more complex workflows where you have multiple work stages. Team members included in a specific task stage and various tags/labels applied.
In Nifty, we use Kanban board created as a pipeline for outreach and link building campaigns. A process designed in this project helps us understand who is responsible for which task depending on the specific task stage. On the other hand, it keeps us aligned with the complete process and reduces the possibility of overlook something significant.
Example of how a Link building campaign created as a Kanban board view structure looks like:
To outreach
Outreached
Follow-up sent
Negotiation
Article preparation
Article ordered
Acquired
Discarded
Rejected
When to use: Kanban-style board view is perfect for software development teams; because of its flexible structure, you can add a variety of columns adding new features, and bug fix tests
Unique information: Flexible structure, easy progress tracking, and tasks overview
Gantt Charts view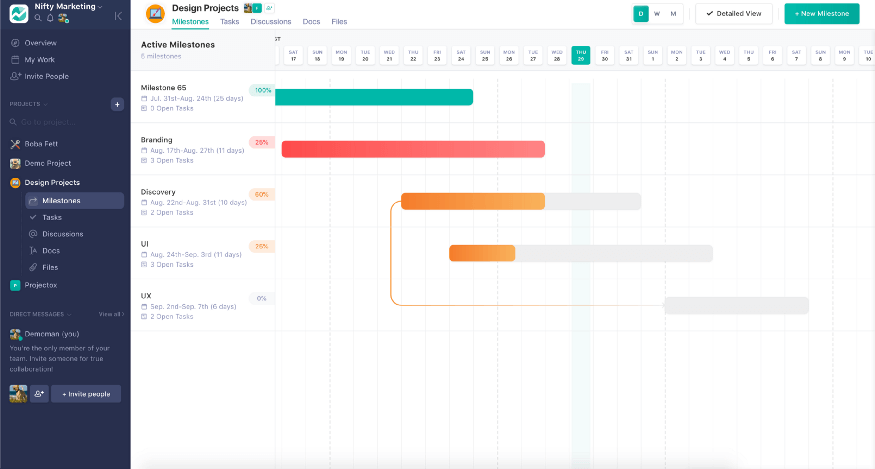 We can say that a Gantt Chart view is the most popular project management task view. Invented in the early 20th century, the Gantt Chart evolved from a mere progress tracking tool to a powerful project management progress checking task view. It is popular for the most apparent reason — it is visually understandable and straightforward for all users.
The Gantt Chart view is especially valuable for a stakeholder to check project progress and an overall timeline workflow.
Here at Nifty, we went even further and upgraded a standard Gantt Chart view to an innovative Milestone overview.
A Milestone is a tool that can show you a specific goal within a timeline. It gives you a unique point of view on one or more smaller timeframes, and it is an incredibly efficient scheduling tool for an individual as a team in general.
When to use: When you need to have an overview of the whole project timeline, especially when there are specific deadlines included. Also, it allows you to see all your team members independently and understand an inner relationship between them.
Unique information: Project overview, timeline overview and an individual timeframe within a project
Calendar view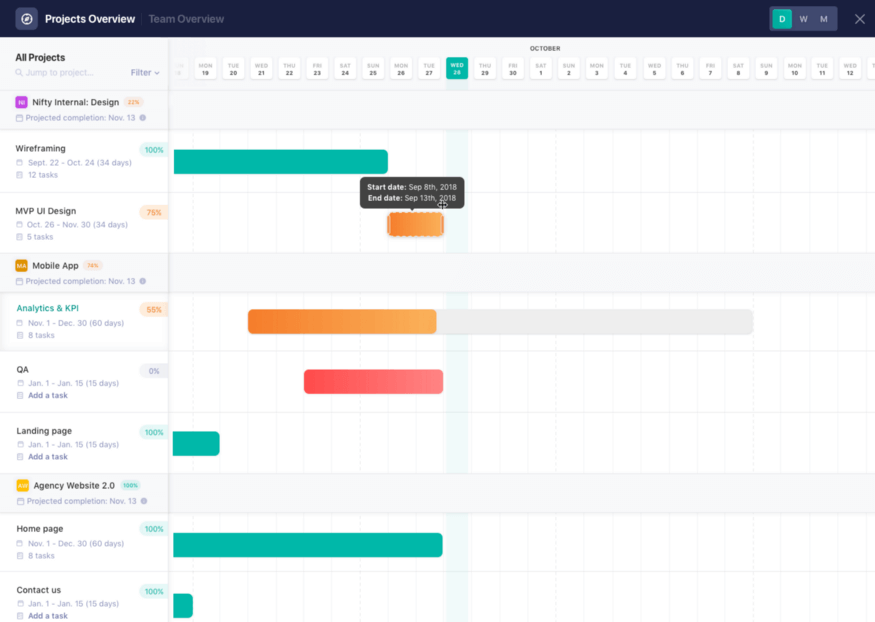 The Calendar view is great when you need to scale down a workflow from a month to a week or day, giving you better control for managing task deadlines. It is the best view to keep track of the project timeline of each team member.
Switching to the Calendar view gives you a specific due date for a chosen period, creating a leading start point for your future workflow.
It creates a sense of urgency and helps you to organize your tasks better, and increase productivity and efficiency.
To even have a better point of view, you can use the Milestone view, which is a smart combination of a Gantt Chart and a Calendar view.
Milestones are highly customizable, providing you with a specific timeframe for an individual or a whole team on project progress in real-time.
When to use: Calendar view is essential when you need to have an overall view on the entire projects, including tasks timeline, deadlines, and dependencies
Unique information: Due date overview, task timeline overview, and project deadline overview
Table view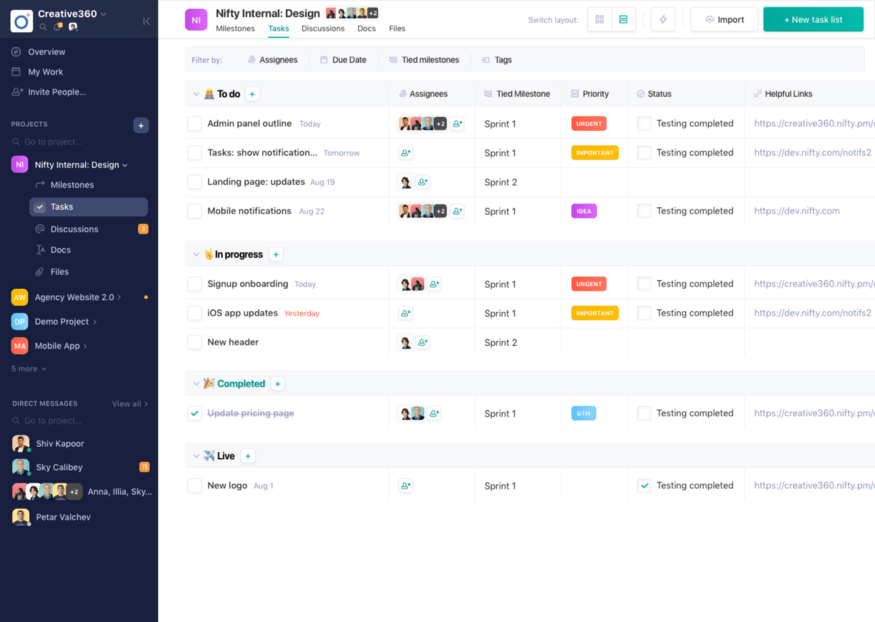 Before project management software, people usually created a typical project table-view spreadsheet.
Picture an Excel table as the most common table view used, and remember how complicated it can get, planning all your work in spreadsheet. Project management software simplified table view toward new users that get used to a classic table view, giving then great organizational benefits. A spreadsheet that is easily customizable and updated in real-time, providing a broad overview of the entire project.
When to use: When you need to update a lot of information and to have all project overview on sight, and quickly input additional details attached to the specific project. Also, it is great for updating comments, resources, labels, and statuses for a whole team, and at the same time, having a clear overview
Unique information: Quick view of all data, easy customization, broad overview of the entire project
File view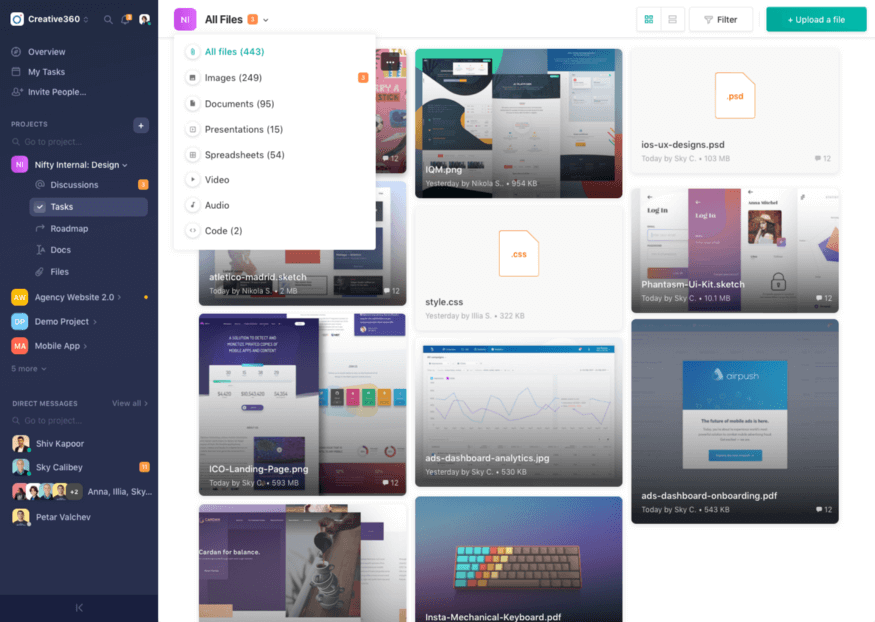 All files and document management requires to be stored with the projects to make organization and collaboration seamless for the entire team and stakeholders. The File view is unique because it shows the final results of task execution.
Having this view in your project management software gives you a strategic advantage because, you can easily access, edit, and share all files related to the project. It saves time on the endless search for data in the email inbox or some unorganized cloud drive.
When to use: When there is a lot of files, documents and need to be quickly edited and shared between team members and consolidate all data within a larger project. It is excellent for a Creative agency project management where there are a lot of files shared and distributed, including all content assets.
Unique information: Quick overview of the files and documentation, easy edit share and monitor of all digital content assets.
Conclusion and next steps
To conclude this list of task views, we can rely on the Occam's razor theory as the problem-solving principle, that says:
"Entities should not be multiplied without necessity."
This statement needs to be a leading concept over developing a project. Instead of creating a further complicated outline to obtain more data — try a different point of view instead. It can give you whole new access to easily oversee potential issues.
A good organization creates a stable foundation for project management and development. To have all aspects in mind that can directly influence the project — it is strongly considering using all of the available task views.
The reason is quite simple. The more information you have from a different perspective — it will give you unique data that will help you to make a precise estimation of the overall project execution.
The next steps are to try all project views available and create a unique process ideally suited for your business, industry, and niche.
All projects are different and need to be treated as a living organism, which requires constant maintenance toward achieving the ultimate goal.
Try Nifty for free today and manage projects, work, and communications all in one place using unique task views to create your perfect workflow! 🚀