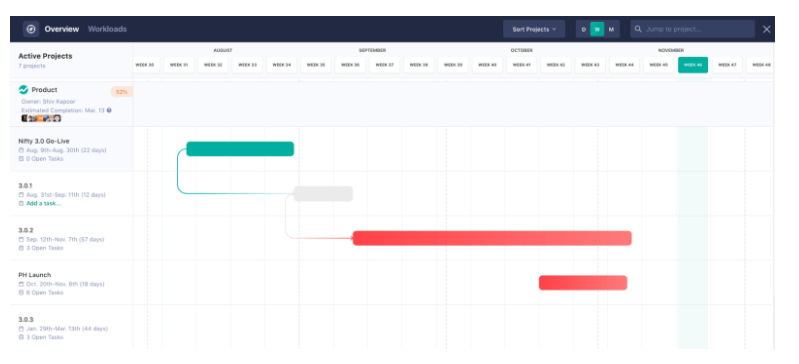 Milestones are a fundamental pillar for successful project management in any team. Project milestones that are laid out coherently with context and enforced through deadlines achieve results, and more importantly provide a framework to navigate the unexpected.
Milestones drive a project's trajectory while providing smaller, achievable markers that structure process, responsibilities, and decisions. Below are some thoughts on how project milestones create meaningful, contextualized groupings of tasks and propel successful projects.
Table of context
What are project milestones and why are they important
How project milestones provide structure and responsibilities
How milestones communicate progress and align stakeholders
Benefits of using project milestones
Defining project milestone goals and objectives
Examples of project milestones
How to automate a project's progress using milestones
What is a milestone in a project?
Project milestones are markers that signify a stage in a project's development. It is a powerful component for project realization and allows for informed progress tracking, clarity, and productivity.
Think about milestones as a map that shows how far have you go on your way to project completion. They act as checkpoints throughout the course of your project, ensuring you stay on track and keep heading in the right direction.
Of course, milestones can do more than just show progress — they enable you to communicate what's happening with the project.
The difference between a task and a project milestone
While project plans should always strive to remain as simple and coherent as possible, making a distinction between tasks and milestones on larger and more complex projects might become a difficulty.
If you aren't certain if something should be a task or a milestone in your project plan, ask yourself the following questions:
· Is this a project component or a solidified deliverable?
· Will it impact the final deadline? If so, how?
· Will passing this stage indicate forward progress?
· Is this a "page-turning" moment in a project?
Essentially, the most important events that will lead to successful project completion should be your milestones as they offer the contextual significance of your tasks.
How project milestones provide structure and organization
Project milestones within a project lay forth the process and stages required to succeed by clustering tasks into meaningful groupings. A savvy project management tool such as Nifty will allow you to automate your milestone progress through organizable and accountable task completion while communicating project status to the project's participants.
At this stage, you can also determine how you will want to measure your project's health. Selecting key KPIs, tracking task durations, or strictly enforcing deadlines help project members understand how this project will be executed and measured.
How to use assignments and dependencies to drive an efficient workflow
Now that your project's frame is in place, you can plan the individual efforts to accomplish the project's milestones. While it's not uncommon for near-term milestones to be more fleshed out than future milestones, projects certainly benefit from robust project planning, even if that plan is subject to change.
Individual tasks can now be assigned to appropriate team members so that progress can be held accountable. Additionally, dependencies can be implemented between project milestones to ensure tasks are handled in systematic blocks. Accountability and process work hand-in-hand to bring projects across the finish line successfully.
These visual project maps will help you recognize potential workload bottlenecks in advance.
Importance of Project Milestones in Project Management
Milestones offer value beyond organization as they proactively report and communicate deadlines to all project members and stakeholders. While members within a project will have access to these automated milestones, some stakeholders may not join you within the tool experience, yet still wish to remain apprised of project progress and updates. For instances such as these, Nifty offers the ability to share milestone read-only access via public link to anyone, even if they don't have a Nifty account. Permitting those outside of your workspace to remain in the loop of real time project updates improves proactive communication and cuts down on the need for unnecessary check-ins.
Who benefits from project milestones?
Everyone, really. Team members get a better sense of short-term goals which has been shown to help prevent employee burnout and monotony. Clients, managers, and other project stakeholders have a strong understanding of what's been done, what needs doing, and who's responsible for execution. Organizations benefit by assessing previous projects to see where they can improve.
The benefits of Milestones are amplified when you're running multiple projects in tandem. In this case, Milestones provide contextual motivation on a per-project basis while making cross-project overviews digestible and manageable.
Projects with clear, incremental goals keep your tasks in context, your team engaged, the stakeholders informed, and the organization in a position to better its process. Climbing a ten-story staircase would far more daunting if it wasn't divided into smaller flights of stairs; similarly, large projects are overwhelming and disengaging without little victories along the way.
Defining project milestones and objectives
Think of Milestones like stairs. Too many small stairs becomes redundant and almost a hassle, while too large of stairs makes every step difficult and exhausting to achieve.
Expert project managers with years of experience would agree that small, achievable milestones give much better results, so long as these checkpoints still provide value in the context the project.
When you set several small milestones instead of one huge one, your team will respond with energy knowing that the deadline is close but the deliverables are achievable. Conquering each stage will also provide the motivation to continue and will stave off burnout between phases.
Defining the milestones in this way, with meaningful objectives, reasonable deadlines and clear instructions for each team member gives your project the fuel it needs to propel itself to success.
An easy-to-use Milestone tool, such as Nifty, makes managing project milestones and their respective tasks simple and straightforward for all project members!
How to use Nifty to Create Project Milestones and Tasks
Creating a Milestone is a project is a simple yet effective way of charting a course for the project. It sets an expectation for a phase within that project, and allows the team to huddle around a success marker that is above that of individual tasks.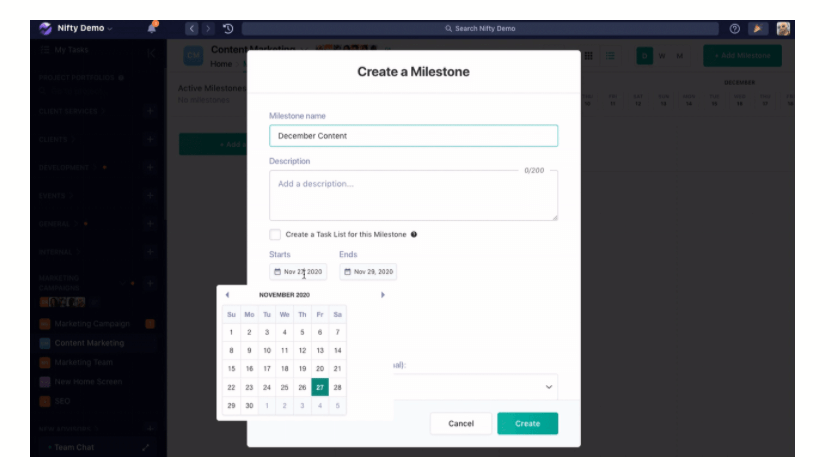 Next, you can add tasks into the milestone from either the Milestone or Tasks module. Task lists are a great way to indicate the status of each of the tasks within the Milestone.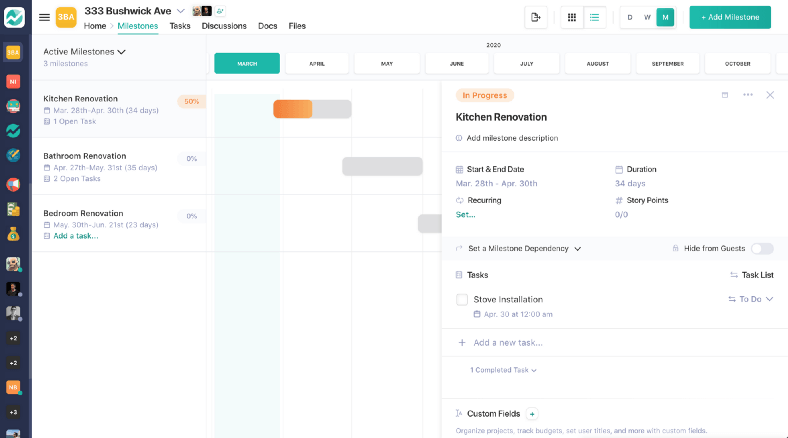 Completing tasks that are tied to a milestone will automate the milestone's progress towards your time-sensitive goal.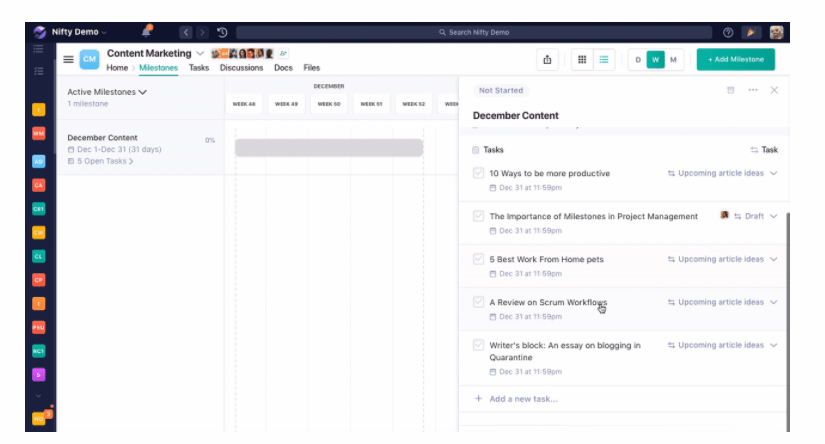 Project Milestone Examples
You will find project managers in almost every industry — from engineering, construction, technology, financial services, healthcare, and law to the larger projects for national and local government.
While most of these industries have nothing in common and each has its own unique set of challenges, when it comes to project management, they have something that bonds them together –very similar project goals and milestones.
It is precisely why you are likely to find the following project milestones and goals across a range of projects and across various fields:
Step 1: Design approval
Step 2: Funding
Step 3: Building a project team
Step 4: Vendor contracts
Step 5: Communication updates
Step 6: Reaching KPIs
Step 7: Project completion or approval
Step 8: Design approval
Your client has to be informed of expectations for the project, the estimated number of revisions and the hours it will take for its completion prior to the design process.
Explaining what has to be done, when and why will give your clients a greater sense of confidence as each step of the project is completed.
Keeping the client involved from the beginning will make easier for the project manager to get feedback throughout the process and to lead the project in the right direction from the start. It will also enable your team to meet and pass the design approval goal much more quickly.
Funding
With the first step out of the way, the next common milestone is to talk figures and discuss the funding of the project.
The degree of funding a project requires is usually determined by the baseline cost which is then split across the multiple phases of the project.
The project manager has to be aware of the level of funding and how best to allocate those resources for success. In some cases, funding goals can be set as part of a project's milestones which will be a good reminder to the team on how well the project is progressing.
Building a project team
This is an important milestone that signals that the project is now in full swing. Since certain things have to be discussed and planned prior, it will be a rare case to have everyone in place at the very beginning of the project.
Identifying exactly what type of positions you need to fill is crucial, as well as selecting the right people for the job.
For example, if you advertise the job opening for the position of a content writer when you actually need content manager will set your project off the rails at the very start. You can hire the best writer in the world, but it won't mean anything because it will be lacking the managing experience and the knowledge to use the necessary tools and apps.
When you determine precise positions and find employees to fill it, your project will avoid future hiccups.
Vendor contracts
Essentially all industries make use of external vendors. While it can be a time-consuming and detailed process, finding vendors who are the best fit for your project is one of the most important duties of project managers.
The vendor selection process is made easier when you can view potential candidates based on how well they overlap with your milestone budgets and timelines.
Communication updates
A good communication plan will keep everybody up to date throughout the process. You should set a formal checkpoints for when clients will be notified of project timings, budget updates, and any upcoming needs. Setting clear communication channels in place allows for feedback to flow between the project manager and project stakeholders effectively.
Reaching KPIs
Key Performance Indicators (KPIs) are measurable goals. It allows both the project manager and its team to monitor and measure the overall performance of a project. Budget use, delivery timelines, and of course, profit, tend to be popular and relevant KPIs.
Project completion or approval
This is the final project milestone and the ultimate goal for any project. All the others above are stepping stones leading to the final destination — overall completion of the project to the client's satisfaction.
With the final project report completed, the project is now complete and the team can move on to new challenges and exciting projects.
Project Milestone Examples
By calling out major events, dates, decisions, and deliverables milestones make it easier to keep projects on track. You can even create smaller milestones inside of bigger ones, to make sure you have everything on track.
Here are a few samples of smaller project milestones you can consider including in your plan:
· Making deadlines for project phases
· Key deliveries
· Client or stakeholder approvals
· Important presentations, meetings, and video conference calls
· Key dates or outages that may impact the timeline
Take Project Milestone a step ahead with Nifty
Once you determine your project milestones, Nifty can help you keep track of them. You can ensure team alignment and build client expectations around your project initiatives, phases, and sprints by visualizing milestones on a timeline.
Since flexibility in data visualization is important, Nifty also offers a Swimlane View which intersects milestones with task lists to clarify project objectives for agile teams.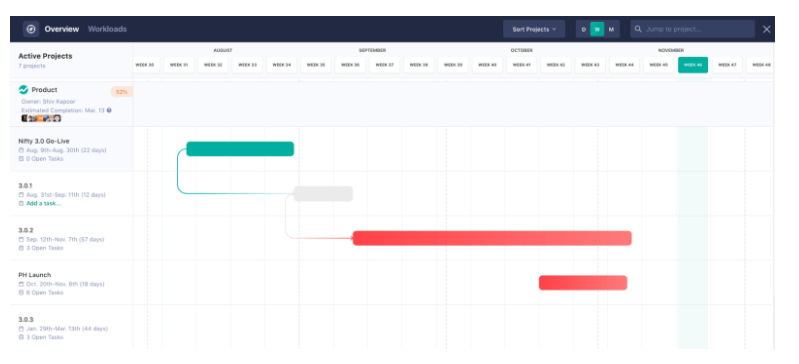 There is also a complete birds-eye view across all your projects in your entire organization, also known as project portfolios or project portfolio management through the Overview screen. This consolidates all Milestone timelines onto one screen while giving detailed insights into responsibility and statuses of current initiatives.
Nifty facilitates planning your project through milestones and helps execute the individual initiatives to reach your benchmarks on schedule and on budget while exceeding shareholder expectations.
Liked this article? Check out our Asana Milestones review to compare Asana verses Nifty milestones.
👉 Ready to create your project milestones? Try Nifty Project Management for free today! 🎉