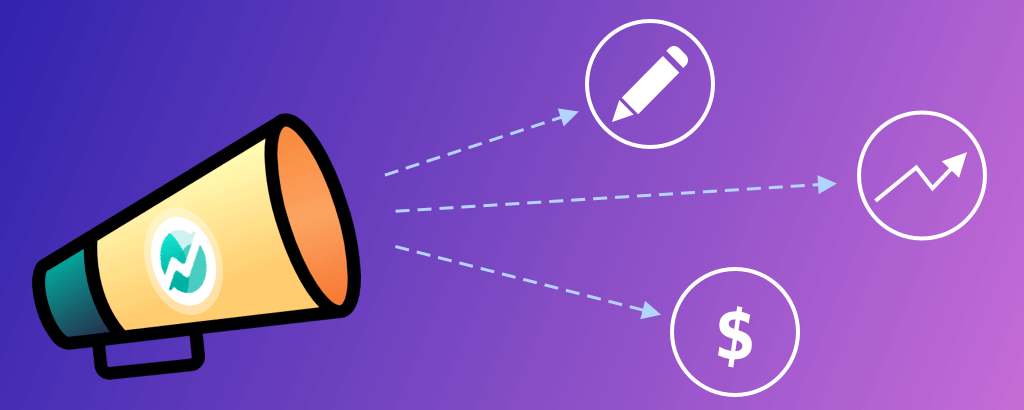 A project implementation plan helps with everything from development sprints and product launches to digital marketing campaigns.
The project implementation plan is a critical component of project management that focuses on documenting how you'll go about a project.
Project implementation plan should include everything from project goals to deliverables and act as a blueprint for the project team to execute their plans. 
Every project is different and requires a unique planning and implementation plan.
And since 11.4% of business investment is wasted because of poor project planning, companies need to ensure that their project planning and management are strategic and efficient. 
Here's an in-depth guide to creating a successful project implementation plan with Nifty to help complete projects on time and within budget. 
👉 Try Nifty for free and create an effective project plan in minutes.
What is a project implementation plan?
A project implementation plan is a document that covers a combination of strategy, tactics, assignees, dependencies, and actionable steps required for completing a project.
In other words, a project implementation plan will outline what is necessary to achieve a project goal. It should contain elements such as:
Project objectives and scope

Project deliverables and deadlines

Team responsibilities

Risk and resource management
Project implementation is the final stage of a project lifecycle (after initiation and planning), where you put everything you've planned and built into action. You have plans, ideas, and strategies in place, and now you're simply executing them.
Next, you create deliverables, present them to relevant stakeholders, and track and monitor the status of each element in the project. 
As a project manager, your role shifts from being actively involved in the process to taking the backseat and letting your team implement these plans. If you attend any PMP prep course, you will know that the primary responsibilities of a project manager involve tracking project progress in real-time, delivering tasks on time, staying on budget, and avoiding scope creep.
In this way, a project implementation plan becomes a roadmap and guide to the successful completion of a project. It breaks down the process into strategic steps. It outlines how the company will best execute what is necessary to finish the project on time and in keeping with quality standards.

Importance of a project implementation plan
As a project manager, your responsibility is to ensure that the project progress aligns with the vision. However, there needs to be more connection between project objectives and reality in many cases. For example, the project costs are higher than the decided budget. Or your team may need to catch up with the agreed deliverables. 
These challenges, also known as execution gaps, are common in project implementation. According to a survey by Project Management Institute, executive leaders say that only 60% of their strategic goals are met.
There could be a myriad of causes for project implementation gaps, such as:
Lack of buy-in from key stakeholders

Too ambitious timelines 

Unrealistic deliverables

Lack of clarity about vision and mission

Inefficient assessment, allotment, and utilization of organizational resources
While execution gaps are a part of the game regarding project management, you can drastically reduce their occurrence and impact with the help of a project implementation plan.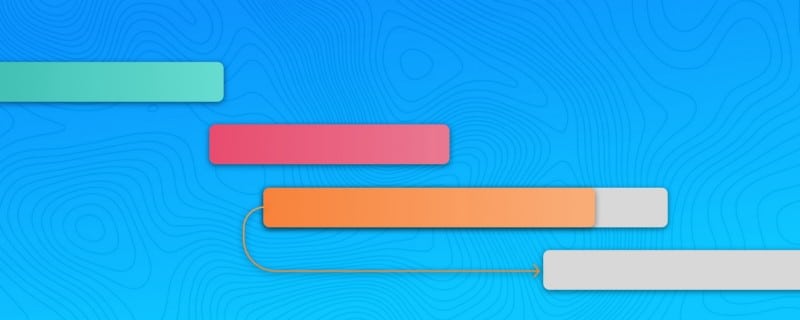 A project implementation plan lays out project objectives, timelines, costs, resources, and all the aspects of the project. Consider it a battle plan your team will follow to perform the tasks, achieve the goals, and overcome the obstacles. 
A typical implementation plan that the Nifty team utilizes comprises the following key components:
Deliverables

: In an agile model, a project is delivered in smaller installments (sprints). These small increments are called deliverables. A project plan should include the deliverables' size, frequency, and

timeline

.

Key Performance Indicators (KPIs)

 are metrics that indicate the project's progress and 

your team's performance

. The execution plan should list all KPIs you'll measure throughout the project lifecycle.

Speed Bumps

: Also known as bottlenecks, speed bumps are unplanned circumstances that may affect the project's progress. For example, what if a team member gets sick or there's a sudden power outage? The 

execution plan

 should highlight and address all such speed bumps. 
Practical tips for creating and executing a successful project implementation plan
Developing a project plan doesn't have to be complicated. In a nutshell, you need to put your ideas and goals down on paper. However, there are several best practices we use here at Nifty that you can follow to make your project planning process more efficient. 
Here are 12 tips for creating and executing a successful project implementation plan.
1. Understand and determine your projects requirements
You've already identified the key project stakeholders. Now, ensure you have their correct contact information – you can validate emails for free if necessary. The first step in project planning is to gather requirements from the stakeholders.
Based on this information, you can determine what you need to deliver to your stakeholders, which requires strong communication skills so that all stakeholders are on the same page and communicate their requirements loudly and clearly. 
2. Define the scope and value of your project implementation plan
A key part of project planning is defining the project scope. This means deciding on project goals, deliverables, tasks, costs, and deadlines. These are the terms of reference that have to be prepared after the first step above.
The project's value is determined by its scope. Every organization will have its own way of determining value. It is generally the sum of all the resources needed, the cost to the company, as well as intangible benefits such as goodwill, sustainability, and brand image.
Let's take the example of a content marketing campaign that involves publishing blog posts, infographics, podcasts, etc.
With Nifty, you can list down the elements, organize work, and manage feedback. 
The Kanban and other views enable you and your team to survey the project at a glance and track progress. It also helps you manage the project status update on autopilot because once you mark any tasks as done, Nifty automatically updates its status with a dynamic percentage rating which helps you define your project status on the go: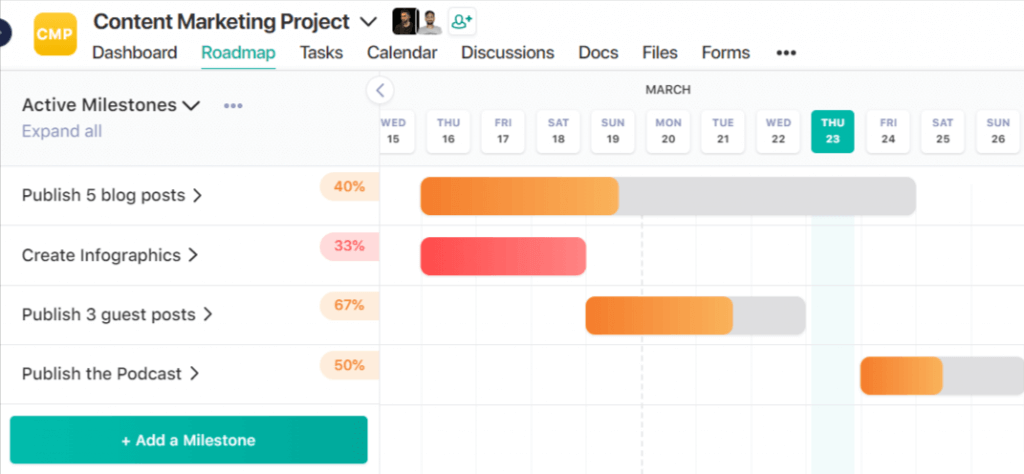 3. Break down your project's scope
Once you have a realistic project scope, you can break it into more manageable derivatives. These smaller tasks are also referred to as "work packages." This way, you'll be able to segment your project into different parts and assign resources to each one.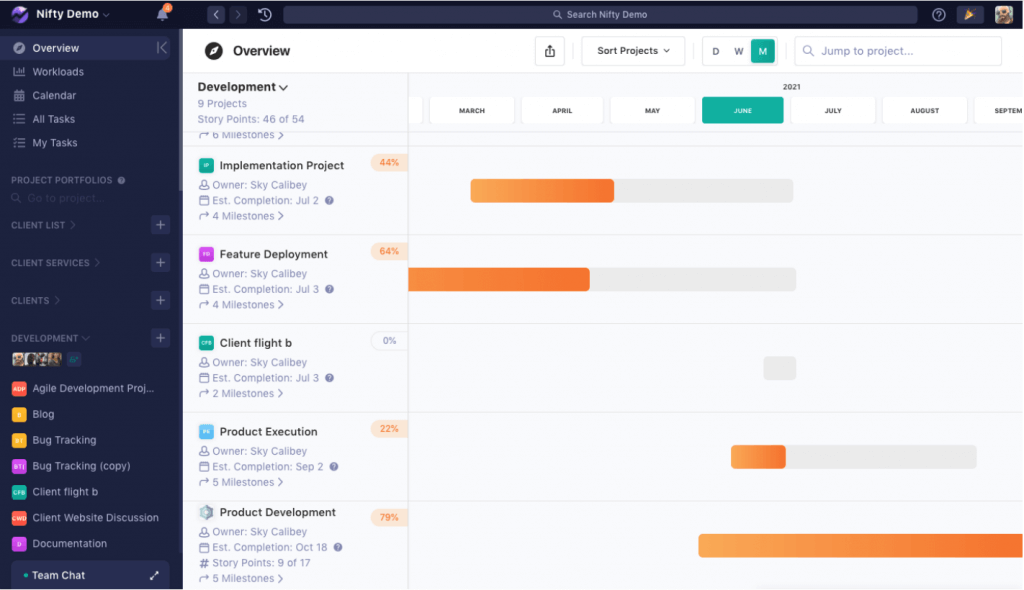 This step simplifies project planning and management, facilitating coordination and improving efficiency. 
4. Conduct in-depth, extensive research
It's crucial to eliminate any guessing game before kickstarting the project planning facts. Be sure to know all the facts, and if you don't., conduct research. Delve into all the resources related to the project. These can include recordings of sales calls with clients, relevant documentation, etc.
Before committing to the project, ensure that you understand the details. As a project manager, here are a few things you should know before starting to create a project plan:
Project goals

Requirements and expectations of the client

Client's team makeup and 

decision-making

 process, including who's the project sponsor, project manager, and stakeholder
5
. 
Ask tough questions about your project
It's wise to schedule a meeting with the primary client and ask some tough questions about the process, organizational structure, general risks, etc. You can also include key stakeholders and other decision-makers in the process. 
Some questions that must be answered are:
How will you collect feedback?

Who owns the project?

What's the deadline?

How will the communication take place?

Are there any specific considerations that we need to keep in mind?
When you ask tough questions, two things happen. First, you leave no stone unturned, so there's absolute clarity between you and the client. Second, you present yourself as a competitive team that knows what it's doing. 
6. Define and sequence project activities
Once you have all the necessary information, you can start breaking your work packages into actionable tasks. See it like an action plan where you list all the functions and activities you need to complete the project. 
It's equally important to sequence the activities in the right order. Basically, in this step, you will create a work plan containing the activities needed to complete the project.
The activities also need to be sequenced. In some projects, you can start from point A and go on to B, C, D, and so on. In other projects, some tasks can start simultaneously. And in certain projects, one task cannot start unless another is finished first.
However, you can do things in parallel if you have the resources. In this hyper-competitive landscape, reducing the time to market and quickly getting your product out there is crucial. So, plan how to perform tasks in parallel to minimize cycle time and get more things done in less time.
In all these cases, a tool like Nifty can help to increase efficiency and task management. The various views, collaborative tools, and options let you organize, prioritize, and manage tasks with a high level of detail.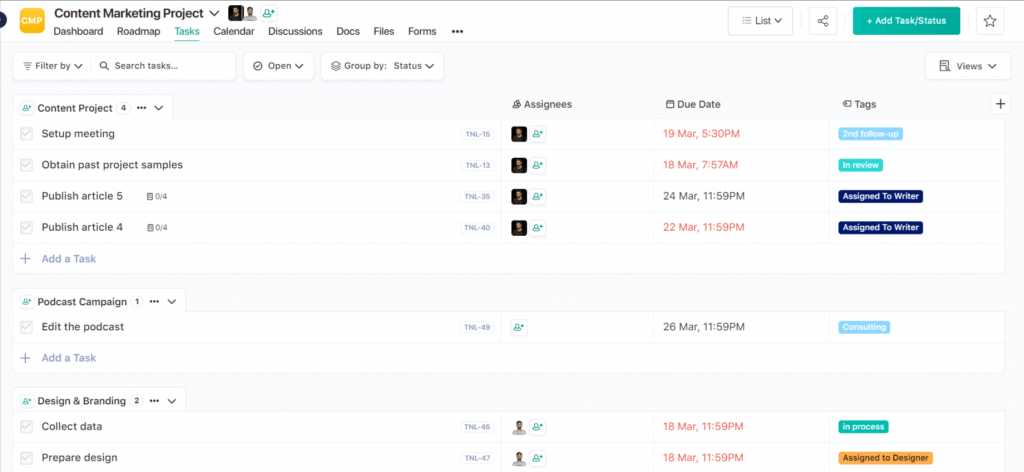 You can also use a dynamic QR code to track the project's progress. Create a QR code using a QR code generator and link it to your project's status. Anyone involved in the project can scan the code from a mobile device and check the project's progress in real-time. 
7. Estimate duration, resources, and costs for your project implementation plan
You'll need resources to work on any project. Some of those resources will be readily available, and some you'll need to acquire. For example, suppose you don't have an in-house business analyst but need one for the project. In that case, you'll need to hire a business analyst.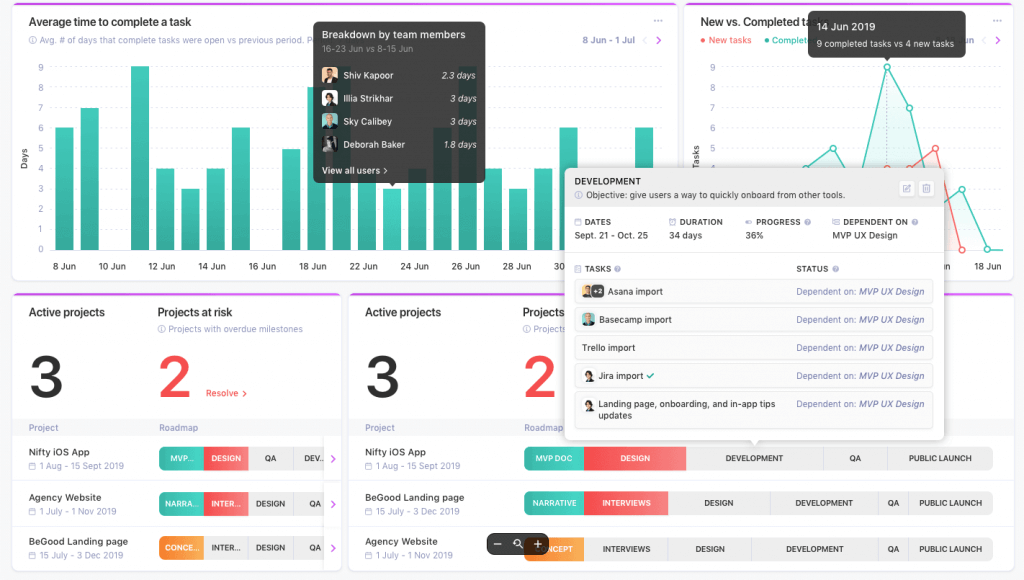 Costs are another crucial aspect of project planning. It's essential to estimate project costs accurately. This way, you can determine if the project is viable and keep expenses under control. 
Lastly, estimate the duration of the project. This will tell you for how long your resources will be occupied. Based on that, you'll have to assign your resources. You want to avoid tying up your significant resources to a project for a long time, as it can affect other aspects of your organization. 
8. Build a high-performance team
Building a high-performance team is the key to project success. Ideally, a project team consists of the following roles:
Project Manager: 

Responsible for planning, executing, and overseeing the project until its completion.

Project Team Members: 

Developers, QA engineers, and other professionals who actively work on the project

Project Sponsor(s): 

Senior management members with a stake in the project's outcome

Executive Sponsor: 

The primary stakeholder and ultimate decision-maker of the project

Business Analyst: 

Responsible for determining product-market fit and ensuring that the project adds value to the organization
When writing your project implementation plan, assign these roles to the right people with the skills and experience to fulfill the project requirements. 
9. Build contingencies and backup for your project plans
Planning is critical, but things can go south regardless of how much you plan. The risk is higher for companies with a low Project Management Technology Quotient (PMTQ). Research from PMI shows that around 60% of organizations with a high PMTQ can complete a project on time and within budget. This number drops to about 40% for organizations with a low PMTQ. 
Hence, it's crucial to identify potential risks and build backup plans. Also, keep the organizational culture into consideration when formulating contingencies. 
10. Create baselines for project implementation performance measurement
Baselines define how you want the project to move forward ideally. They serve as control tools and will help you track and measure your project's performance. If the project's progress isn't aligned with the baselines, you might have to take corrective action. This way, you can quickly identify issues and overcome them before it's too late. 
11. Finalize the project implementation plan
Once everything is in order, it's time to finalize the plan and document everything with a knowledge management system. You can share this final version with all the team members, stakeholders, and involved parties to ensure everyone is on the same page. 
12. Keep planning
As discussed, some projects may go differently than planned. In such cases, you'll need to react quickly and change the plans. Planning is an ongoing process, and as the project manager, you need to be agile and willing to adapt to changes. 
Conclusion: Kickstart your project today with Nifty
Projects rarely go as planned. But when you have a project implementation plan, you can prepare for uncertainties and overcome them without impacting the project outcome. Creating a project implementation plan is crucial as it provides you with a clear path to follow. This ensures you stay focused on your goals and fulfill your client's requirements.
Having the right project management software like Nifty can aid in creating one!
It can help you organize, track progress, and stay flexible. It lets you collaborate, communicate and make changes with ease. Complex information can be visualized, deadlines can be managed, and dependencies can be checked.
👉 Ready to create a successful project plan? Get Started with Nifty for Free! 🚀