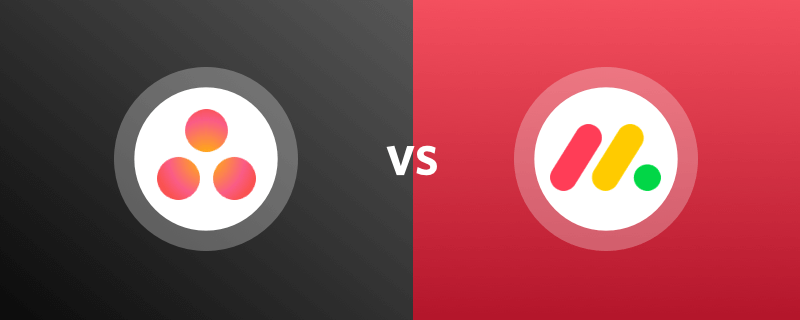 No, this is just not another Asana vs Monday article! It's a highly research-backed article with tried, tested, and user-evaluated reviews. 
Project management is challenging, even during the best of times. You have to plan and schedule tasks, manage resources and budgets, and keep tabs on deadlines. At all times, collaboration and communication are key priorities.
That is why the right project management software is important. With such a tool, you can see the big picture, measure progress, and improve productivity. Workflows become optimized, and communication can be seamless. Among the two popular types of project management software that are commonly used are Asana and Monday.
The question is: which one is right for your needs? In this piece, we'll take a deep dive into the Asana vs Monday debate. We'll discuss their core functionalities, key features, and what users say about them. When it comes to an Asana vs Monday choice, you can now make an informed decision.
An introduction to Asana

Asana was launched in 2008 and is today used by many companies in their tech stacks. It is flexible and adaptable across categories. Asana's web and mobile apps offer users the ability to keep projects organized and easily meet deadlines.
Among the advantages of Asana is that you can track individual and team tasks, check progress at a glance and integrate it with other tools. Here are the main features.
Plan and structure work using boards with customized visualization.

To-do lists to capture all tasks and sub-tasks relating to a project from beginning to end.

A helpful calendar to plot timelines and parallel tasks and gauge the effectiveness of schedules.

Timelines to measure progress and keep things on track.

Comments, conversations, and status updates to facilitate communication.

The ability to work with other tools such as Dropbox and Slack.
An introduction to Monday

Monday was launched in 2012. Today, it has many large and small users worldwide. It offers workflows that can be customized. That means you can centralize your work, connect teams and measure progress according to your needs.
Some of Monday's claimed benefits are simple automation and real-time notifications. Here are its main features:
Visual boards that can be tailored across departments.

Multiple views, from Kanban boards to Gantt charts.

Centralized dashboards for insights from one place.

Easy integrations with other productivity tools.

Converting work documents into action points to execute ideas.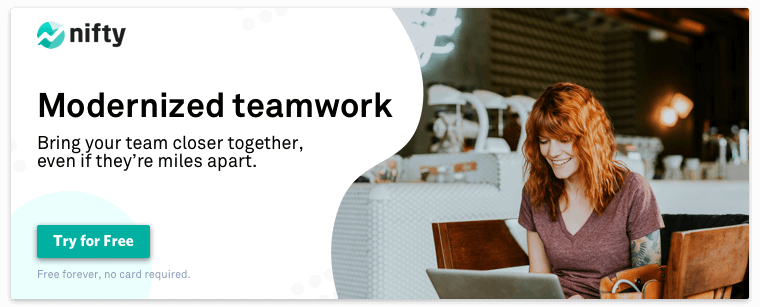 Asana vs Monday: A head-to-head comparison of functionality
Now that we've laid out a basic introduction to the two tools, let's deepen the Asana vs Monday comparison by examining their core functionalities. How do they stack up against each other when it comes to ease of use, task management, workflow management, and methodology?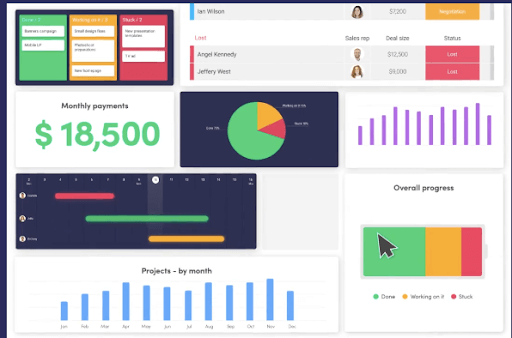 1. Ease-of-Use
When it comes to ease of use, with regards to the Monday vs Asana comparison, both are cloud-based, intuitive, and simple to pick up. However, there are differences.
Getting started with Monday is easy. No special add-ons or plug-ins are needed. Tasks and functions are easy to locate. This means you get both simplicity and functionality for all project management tasks.
With Asana, you do need to spend a little time at the start to understand how the functions work. However, this is not a long process for most people. For example, the Asana interface is one that is traditional, with a left-hand menu that displays functions such as tasks, messages, and dashboard. Because Asana stresses functionality, it is a great collaboration tool.
Our verdict: There's no denying that both Monday and Asana are easy to use. However, the features of Monday are more readily available at your fingertips, with collaboration, task management, financial management, and reporting functions rolled into one.
2. Task management
In Asana, you can create and assign tasks, set deadlines, and link them to other tasks. Collaboration activities linked to tasks are accessible at a click. A 'My Tasks' tab shows that tasks you are responsible for any tasks due soon are prominently displayed.
On Monday, tasks are referred to as "pulses". Each pulse is separately displayed, with activity, comments, attachments, and more. Users can arrange these pulses in the most convenient manner. The task manager can create, assign and track them.
Our verdict: For simpler projects without too many dependencies, Asana's task management functions are preferable. It is quick and fuss-free. However, where Monday excels is the amount of detail linked to tasks. Color-coded status updates, customizable arrangements, and dependencies make the job simpler.
3. Workflow Management
When it comes to assessing Asana vs Monday in terms of workflow management, both tools offer you a powerful set of functionalities.
In Asana, you have a choice of measuring progress with visual aids. There are lists, Kanban boards, Gantt charts, and calendars. This suits differing needs. There is drag-and-drop functionality to make workflows more interactive. Task dependencies are clearly indicated and linked.
Monday also gives you visualization options such as maps and pie charts. It has the added feature of letting you see these visualizations along with a progress bar without switching pages. Tables and timelines are easily accessible and customizable.
Our verdict: With workflow management, Monday offers you more choices, views, and functions. You can switch between them or customizes single views to give you all the information that you need at a glance.
4. Project Management Methodology
As you know, project management methodology comprises principles and practices to help you to successfully organize your projects. It is a framework for effective management.
Among the popular methodologies used by project managers, there is Waterfall, Agile, and Scrum. Other specialized methodologies include Lean, for manufacturing units, and eXtreme programming (XP), for software development.
When it comes to Asana vs Monday, Asana allows you to visualize projects in different ways, making it a good fit for Waterfall. With Agile and Scrum, Asana takes the basic concepts but translates them differently. For example, you create a Scrum "epic" in Asana by creating what they call a project portfolio.
In Monday too, there are handy visual templates for you to implement projects with Waterfall. It also offers Scrum boards and is customizable for other methodologies.
Our verdict: If you have a fixed idea of which methodology is right for your project, Monday is the better choice. It allows you to implement the project in the way that you are used to. However, if you are open to flexibility, and if it is a more complex project then Asana offers you ways to make it work.
Asana vs Monday: Comparing Good-to-have Features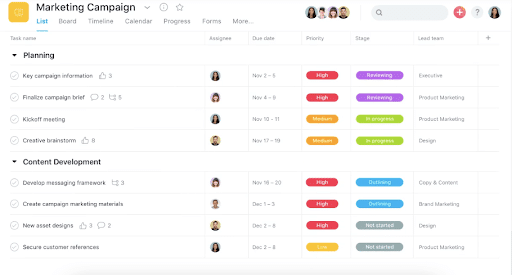 Now, let's take the Monday vs Asana comparison to another stage. Here, we explore their good-to-have features. That is – the features over and above core project management needs that will make your task easier.
1. Reporting
In project management, reporting refers to a broad overview that provides managers and stakeholders with data in a simple format. This is an instant look at the project's current state and what further needs to be done.
Asana is mainly designed to be a collaborative tool that seamlessly ties together project tasks and timelines in an actionable manner. As such, reporting is not one of its key functions. However, Asana's premium tier gives you a way to translate project data into a visual format. For example, charts in dashboard views can be aligned for a quick overview.
Monday is more geared toward detailed and analytic reporting. There are various formulas and filters that offer you both basic and advanced reporting. These provide you with data-driven insights to measure performance as well as make informed decisions about future actions.
Our verdict: Monday would be a better choice if you are working on a long-term project in which reporting is essential. It has multiple ways and means of compressing and visualizing data. For simpler, one-off projects, Asana offers the degree of reporting you to require.
2. Integration
Project managers use several specialized tools for their project needs. When choosing project management software, it is important to check whether it offers integrations. This is important so that everything works seamlessly together. Otherwise, the project manager will have to check one silo after another. Therefore, it is a key factor in the Monday vs Asana comparison.
Monday offers an array of hassle-free integrations. The other programs it integrates with are Dropbox, Slack, Jira, Zendesk, Google Office, Basecamp, Chimp, and many others.
Asana, too, is geared towards hassle-free integrations. Among the programs, it can work with are Adobe Creative Cloud, Dropbox, Microsoft Outlook, Slack, Google Calendar, and Mailchimp.
Our verdict: Both Monday and Asana have a variety of integrations. You could say that they are evenly matched in this department, even though the number of integrations in Asana is greater. When choosing between them, you should list the other software that you and your team use and then check to see if the relevant one is offered by your chosen project management tool.
2. Compliance
Compliance in project management refers to adhering to the necessary safety and security protocols. We don't need to point out how important digital safety is in today's age. Every project manager needs to consider it very seriously.
Asana complies with SOC 2  and ISO/IEC 27001:2013 standards. Up-to-date firewalls protect data from security breaches.
Monday also achieves high compliance standards by using Google Cloud's security practices and working with Amazon Web Services. It complies with ISO 27001 and ISO 27018. 
Our verdict: Both Monday and Asana comply with security standards and offer further layers, such as two-factor authentication. Monday can be said to be slightly ahead for small to medium-sized organizations because of its Amazon and Google standards which offer an out-of-the-box safe environment. 
Asana vs Monday: Comparing the Price
Both Asana and Monday operate on a tiered pricing system. There is a free plan for both and then a scale of prices depending on the number of users and functionality. When it comes to Asana vs Monday pricing, a lot depends on the business size and specific user requirements.
Asana's free tier lets you collaborate with up to 15 people. You get three options visual displays, basic workflows, and reporting. members. Advanced features such as higher security and priority support are not included. This is a good option for smaller enterprises and entrepreneurs.

Asana's Premium tier costs USD 10.99 per month. This gives you access to custom fields, unlimited dashboards, and unlimited reporting. Next is the Business tier, which costs USD 24.99 per month per user. For this price, you get all the earlier-mentioned features, advanced reporting options, and four views.
You get unlimited boards, over 200 templates, and 20 column types in Monday's free version. Up to two team members are supported. This means it is a good choice for smaller needs.

Monday's basic tier costs USD 8 per person per month, and the standard tier costs USD 10 per person per month. After that, there is the Enterprise tier, at USD 16 per person per month, and the Enterprise tier, with customized pricing depending on needs.
Asana vs Monday: What Customers Think
A recent Gartner report conducted a side-by-side review comparison of Monday vs Asana. They looked at reviews from real users in the Product Roadmapping Tools for the Software Engineering market. Their findings: Asana has a rating of 4.4 stars with 996 reviews. And Monday has a rating of 4.5 stars with 157 reviews. 
One favorable review of Asana said: "My whole experience has been wonderful only due to its abilities that make our work easier, and it has been implemented throughout the organization to automate our repetitive operations." Another user said that they like it "keeps the entire team connected and monitored, allowing everyone to see how productive they have been or what tasks have pending."
Among other reviews, some commented that you needed to upgrade to properly paid tiers to get full functionality and customer support.
A favorable Monday review said it was "a smart option for our company that helps us in planning, monitoring, and managing our big and complex projects." Another said that it helps to make work "easier, flexible and efficient."
However, other reviews mentioned that the basic plan misses out on important features. The other tiers are comparatively more expensive.
Asana vs Monday vs Nifty
By now, you should have a good idea of the pros and cons of both of these popular product management tools. If you're still weighing up their advantages and disadvantages, there's another project management tool you should know about. Nifty is a hub for collaboration of all kinds, where work can be planned and tracked with ease.
Let's examine the specific ways in which Nifty does this.
Ease of use:

Nifty is intuitive and powerful. It is easy to understand and use. Project managers, teams, and even stakeholders have praised its ingenious design and performance. All this means that with Nifty, you don't have to spend unnecessary time training and figuring out the best way to get your projects off the ground. You can import data and set up your first project within minutes.

Task Management:

Nifty's 'My Work' section lets users stay on top of tasks, which are sorted by deadlines. These can also be filtered by assignees and milestones. Users can be assigned to entire task lists without fuss. There are helpful provisions for recurring tasks as well as sub-tasks. A time tracker lets you know how much time you have spent on specific pieces of work.

Workflow Management:

Nifty gives you a choice of different views to visualize project milestones. For example, you can use Kanban views or Gantt charts to keep tabs on progress and lay out plans for the future. A Swimlane view provides clarity and accountability, and timelines and calendars let you plan daily, weekly, and monthly tasks.

PM Methodology

: Nifty lets you take a flexible approach to types of methodology. For example, in Agile, goal-oriented sprints can be classified as milestones. These let you set deadlines for objectives. With Nifty, you can efficiently use Scrum to collaborate across team members and structure and manage their workload.

Reporting:

Nifty promotes efficiency and smart decision-making with helpful and unified time logs. Detailed project and task insights will let you allocate resources and team member time using real data. In this way, workloads can be balanced, functions streamlined, and progress secured.

Integration:

You can powerfully streamline collaboration because Nifty lets you and your team connect with other apps and tools used every day. Slack, Zoom, MS Suite, and Github are just some of them. In fact, Nifty offers over 2,000 integrations, so importing data, getting started, and keeping track of it all become remarkably easy.

Compliance:

Nifty lays stress on end-to-end security. Data is kept secure without compromising an environment of performance. Nifty complies with the General Data Protection Regulation (GDPR) and makes use of the privacy features of Amazon Web Services (AWS). Communications are encrypted over SSL, and there is ongoing Level 1 PCI compliance. Backups and security checks are conducted every day.

Price:

Nifty has a 14-day free trial period with no credit card required. There is a Starter level, with all core features for ten members, at USD 39 per month. There are also Pro, Business, and Unlimited tiers, and the free trial period is applicable across all of them. We also offer free forever version with almost all elements of the paid version
The best way to find out more about how Nifty can match your project management needs is by Signing up. It's completely free for forever (free plan), so give us a try and see what we can bring to the table.