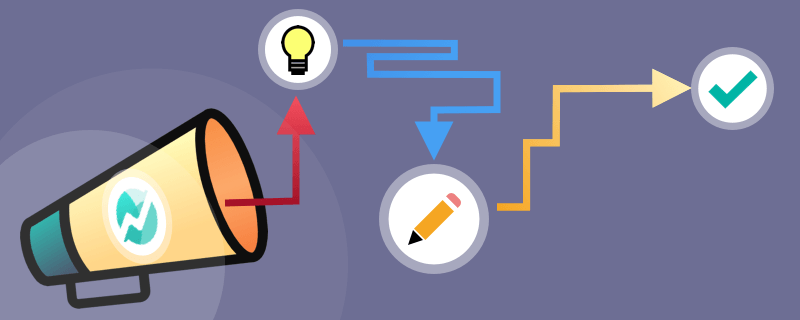 Looking for the best marketing project management software? Welcome to the club. With diverse viewpoints and overwhelming (as well as contradictory) information available online, identifying the best project management software for marketing teams can be challenging.
To make things easier for you, we have rounded up the 7 best marketing project management software you can consider in your pros and cons list, and make an informed choice. Let's get going.
The Raging Need for Marketing Project Management Software
Project management is a domain that requires a conceptual application of the human mind. It demands project managers leverage their intuition, skills, and expertise to pave the way for winning projects. So, why, then, would project managers need marketing project management software? The research available paints a compelling picture:
Lower costs and other benefits: According to research, implementing flexible project management technologies and tools for marketing activities can reduce project costs by 35% on average. It also improves the company's ability to:

Respond to changing customer requirements
Create additional value for the customer
Increase the effectiveness of communication between various functional departments and teams
Ensure compliance with the requirements of advertisers and accelerate campaign execution
Boost performance effectiveness and measure key performance indicators
Manage tasks as well as streamline the workflow processes and systems
Plan, collaborate, track, and execute the seamless delivery of marketing projects, tasks, and campaigns

Skyrocketing growth: As per another estimate, the digital marketing software market is expected to reach USD 264.15 billion by 2030. Constant advancements in technology and changing customer needs are fueling this growth.
The takeaway: Clearly, companies that don't leverage the right technology will be at a decided disadvantage.
7 Best Marketing Project Management Software to Look Out For in 2022 (and Beyond)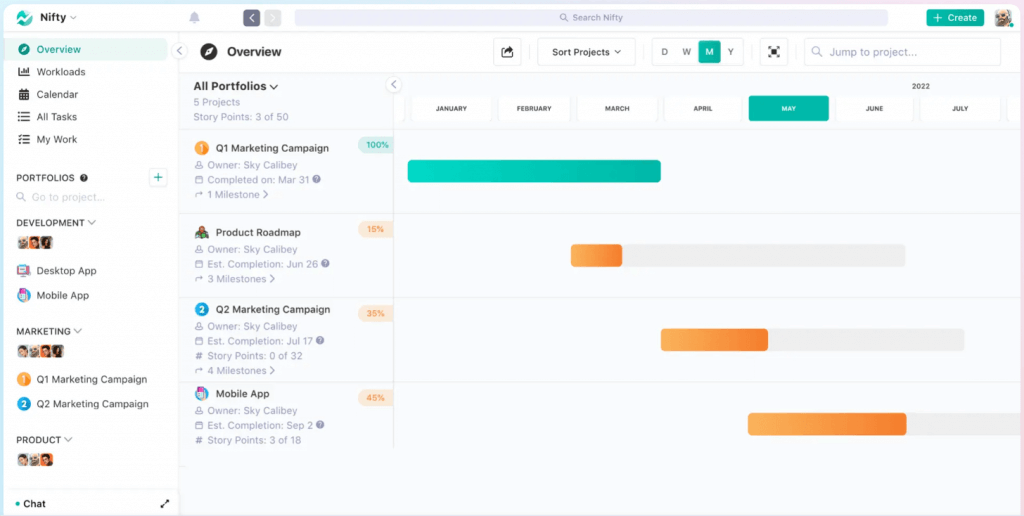 Think of Nifty as an all-in-one workspace that enables marketing managers to:
Align people, projects, and functions across organizational functions
Access useful features such as chat, goals, tasks, docs, etc. from a centralized place
Reduce project development cycles and boost team productivity
Manage tasks using the Kanban, List, and Timeline views
Collaborate easily as every project comes with an individual discussion thread and a dedicated knowledge-base
Pros:
Versatile project management tool
Neurodiverse, allowing users to choose between Kanban, swimlane, list, calendar views
Allows you to break down projects and tasks with multiple variables
Consistently adding new features / improving software
Milestones configuration is supreme
Great customer support
A proactive team that's eager to accept suggestions and update the software accordingly
Cons:
Fewer options to integrate with more social networks
Limited storage capacity
There's a learning curve with Nifty
Pricing:
Free: $0 (This plan is the best to get you started)
Starter: $39 per month for up to 10 team members
Pro: $79 per month for up to 20 team members
Business: $124 per month for up to 50 team members
Enterprise: $399 per month for unlimited team members
Why Nifty is a good project management software for marketing needs:
"Great work manager, improving workflow and efficiency." – G2 review
"An easy and complete project management SaaS that doesn't try to be everything! Nifty is helping us stay organized, keep at the top knowing what, when, who, how everything happens." – Capterra review
"It's like Trello, Basecamp, and Glip were all merged into one!" – TrustRadius user review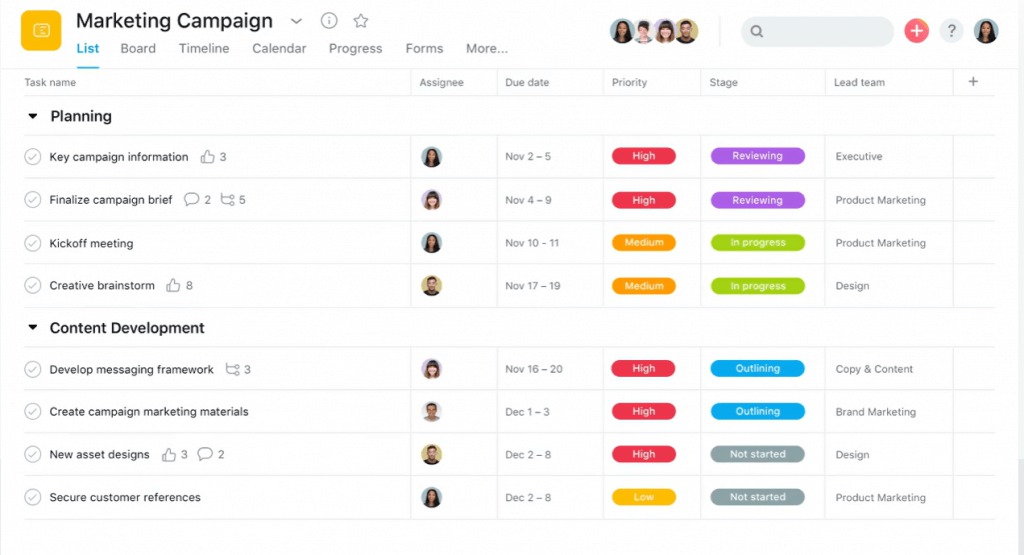 Asana is a marketing project management software that helps plan, organize, and execute marketing activities from start to finish. Whether you want to guide your marketing and creative teams or streamline the key marketing processes, Asana can help create a robust marketing strategy.
Pros:
Simple, user-friendly, and most interactive task management tool
Offers shared calendar sync feature
Makes planning, task assignment, tracking, and registering easier
Useful tool for recurring project task management system
Helps drive portfolio management easily
Cons:
Does not allow you to engage in native time tracking
You can access Gantt chart only via an add-on
Does not offer mind maps
Comes with a learning curve and has user minimums
Check out: Asana alternative
Pricing:
Basic: Free
Premium: $10.99 per user per month
Business: $24.99 per user per month
Why the Asana tool made it to the list:
"Asana is an incredibly user-friendly, easy on the eyes, and much-needed organizational tool. Brilliant. Loved it from day one and will continue to use it. Have used almost all of the major cloud-based 'Project Planning/Organizational Platforms' out there, and this is definitely the one for me." – Capterra review
"Asana is the very best UI in the game – allowing you all the different sorts of ways to track work – Kanban Style, task list, calendar view, even does some resource management and goal trees if you're a leader of teams." – G2 review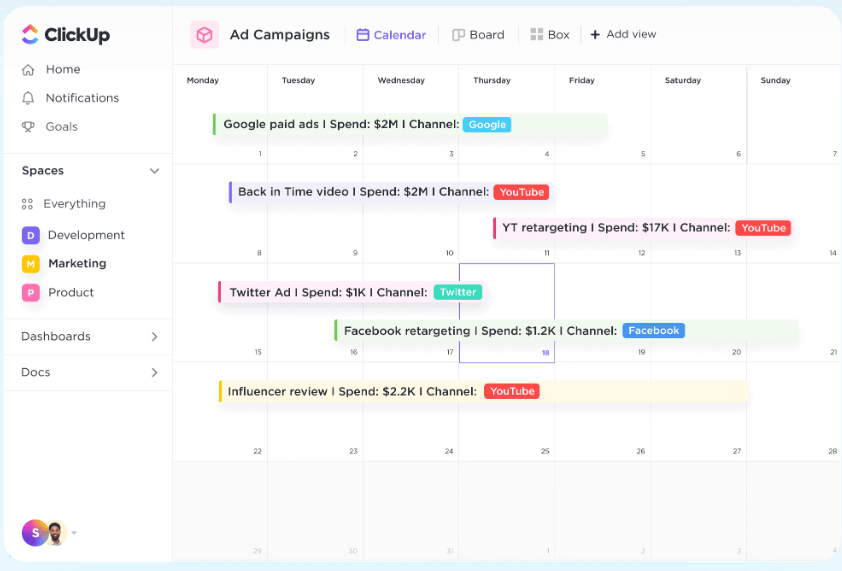 Think of ClickUp as an all-in-one productivity platform that allows you to manage tasks, campaigns, docs, and clients seamlessly. You can use Docs, Whiteboards, Chat, Goals, and more to get your team organized and working together.
Pros:
Offers a beautiful and visual dashboard
Customizable
Highly customizable Kanban & Gantt Views
Cons:
Offers only 100MB of storage on Free Plan
You can't export dashboards
Pricing:
Offers a free plan
Unlimited: $5 per member per month
Business: $12 per member per month
Business Plus: $19 per member per month
Why we have featured the ClickUp tool:
"ClickUp is a great tool for internal project management. It is very easy to use and quite resourceful. You can easily assign tasks to team members. The checklist function allows for the tasks to be broken down into important details. In comparison to other competitor products, ClickUp is an absolute pleasure to work with. All the functionalities are straightforward and require very little training to use." – G2 review.
"Overall, ClickUp is the one-stop shop for all things related to task, time, and project management. Our company doesn't have to go out and get a tool for time management in addition to project management. Nope, everything is all bundled into one large system, and it makes it so much easier to become familiar with." – Capterra review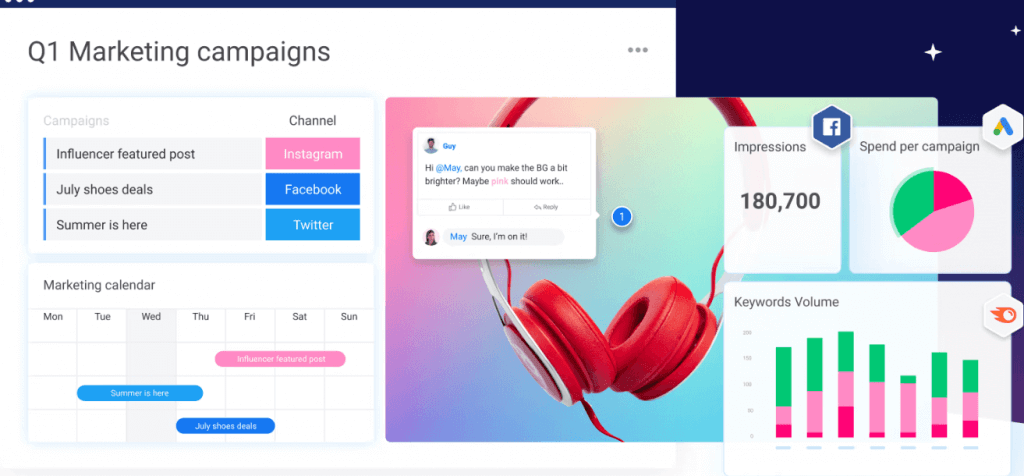 Monday is the best tool for collaborating and managing campaigns. The Monday Marketing solution allows you to leverage a shared workspace where all the work is centralized. You can use customizable tables to track campaigns, social media calendars, etc. You can also customize the workflows and manage high volumes of work. It also allows you to easily integrate with other work tools like Gmail, messaging apps, etc.
Pros:
Helps you visualize data easily
Allows you to identify bottlenecks in real-time
Helps optimize the campaign spend
Boosts visibility across teams
Helps drive agile and scalable processes
Cons:
There are no calendar or recurring tasks
This tool is expensive
You don't have subtasks or slash commands
Pricing:
Free trial available
Standard: $10 per seat per month
Pro: $16 per seat per month
Enterprise: Quote available on request
Why Monday.com is worth a shot:
"Monday.com is like excel spreadsheets on steroids. Anything you wish you could do with spreadsheets is possible on Monday.com and intuitive as well. Organize, systematize, automate, and save tons of time with Monday.com." – G2 review.
"Easy to use as pie: I am an entrepreneur, and I use monday.com to manage my online product launches and social media campaigns. monday.com makes complicated projects and timelines easy to prioritize and see through, and I just love ticking off tasks like in the old days from my paper to-do list." – Trust Radius review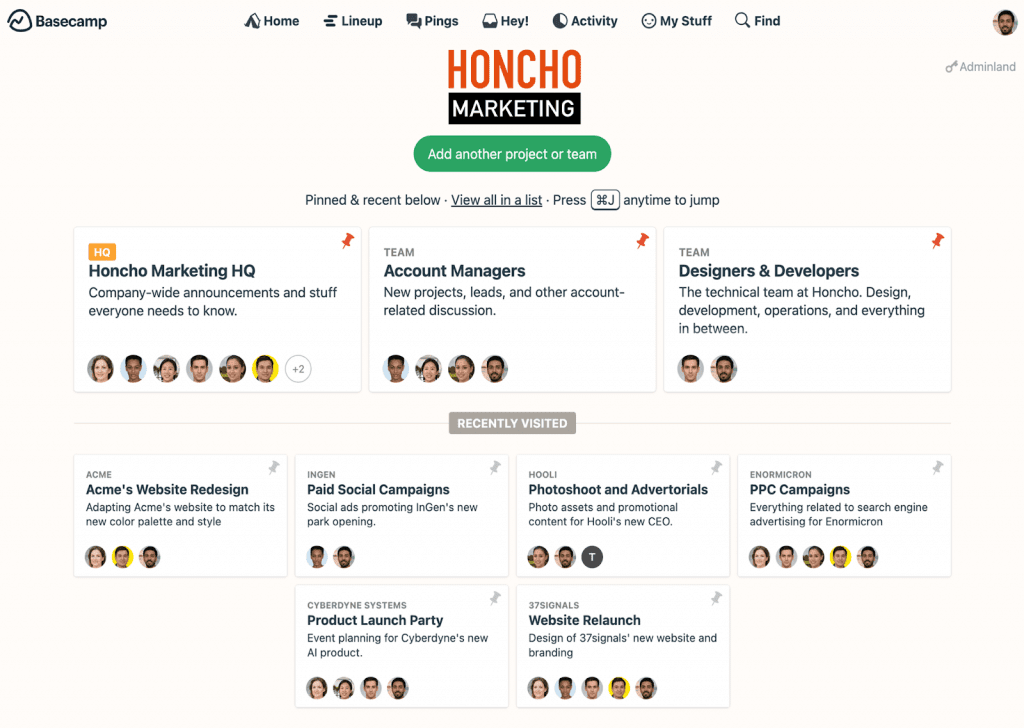 Basecamp is one of the best collaboration tools that allow your team to work and communicate together. This tool empowers you to track tasks, deadlines, announcements, files, and discussions at the click of a button.
Pros:
Basecamp comes with the same pricing, irrespective of the number of users
Offers unlimited users and tasks
Cons:
Offers limited features
Does not offer time tracking or analytics features
The project dashboard is not great to look at
Pricing:
Why the Basecamp tool is great for project managers:
"With Basecamp, managing web design projects and everything related to them becomes so much easier. The Basecamp platform is so intuitive and easy to use that even someone without any training can jump right into managing projects. The best thing about Basecamp is that it has web and mobile integrations, meaning you can use this tool no matter the device." – G2 review.
"With Basecamp, we have been able to finish significant projects while facilitating straightforward communication with staff and volunteers. It's excellent to work together on original concepts and offer feedback when assignments are turned in." – Capterra review.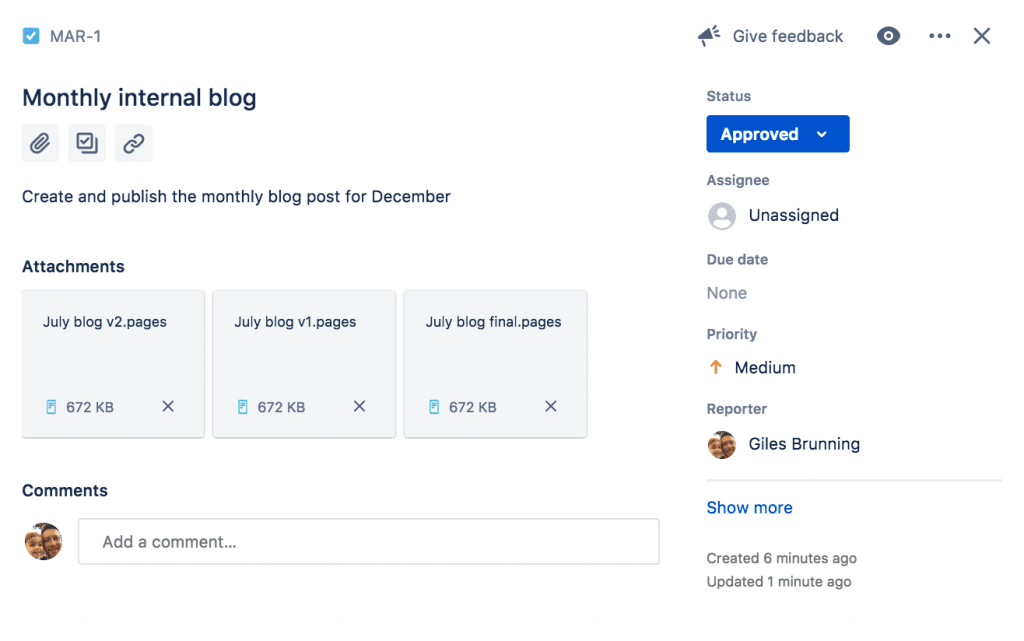 JIRA is one of the best tools for organizing issues, assigning work, and following team activities. Its new mobile interface lets your team do the job on the fly.
Pros:
Highly-customizable platform
Issues real-time alerts as needed
Offers plenty of integrations such as Dropbox
Provides text and email notifications
Cons:
It is extremely complicated and difficult to set up
Pricing:
Development: Starts at $20 per month for 10 users
Service Desk: $20 a month for 10 users
Projects: Starts at $10 a month for 10 users
Why Jira is a great tool for project management:
"I mostly liked the idea of tracking EPICS and user stories of a project. It has the best features like tracking the progress, assigning to respective team members, and defining various metrics. It has a good feature of the dashboard where overall team items can be displayed and a feature to apply filters on a number of intake tickets present in the development team." – G2 review
"I've been using Atlassian products, JIRA in particular, for over 12 years. It's come a long way in this span in terms of advanced functionality and additional configurable content, and it's consistently proven itself as a market leader in project and task management services. JIRA reporting, dashboard, task tracking, and project development activities are comprehensively impressively designed, easy to use, and highly collaborative for internal teams." – Capterra review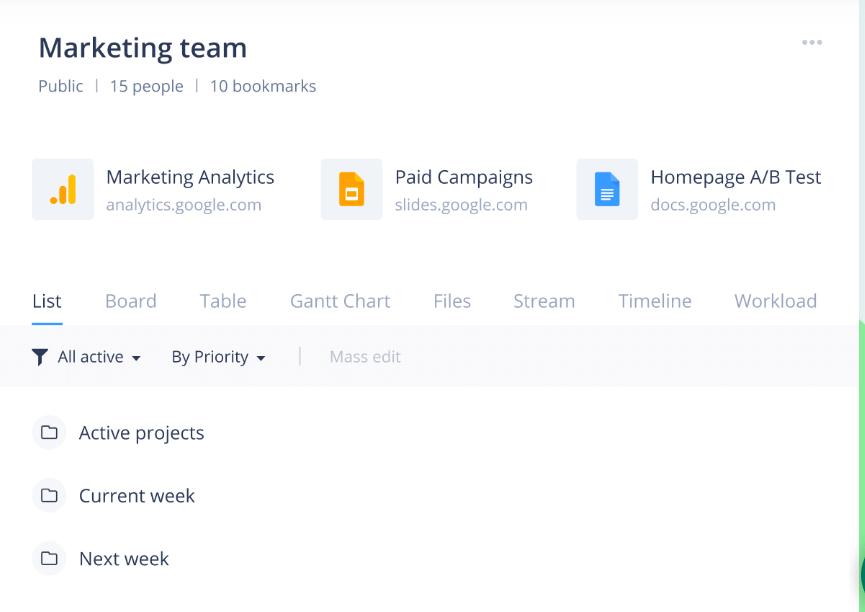 If you want a tool that provides 360-degree visibility across your campaigns, Wrike is the perfect marketing project management tool for you.
Pros:
Offers end-to-end visibility and helps engage in monitoring social channels, track results, and communicate effectively
Allows real-time commenting and notifications alerts, live editing, dynamic reports, and more
Offers quick performance insights
Promotes inter-departmental collaboration across teams
Cons:
It is a complex tool to use with a learning curve involved
It has a poor interface
Customer service can be better
Pricing:
Free plan available
Professional: $9.80 per user per month
Business: $24.80 per user per month
Enterprise: Quote available on request
What is Wrike's USPs?
"It makes a good checklist of things I need to do if you add the chrome plug-in as a companion. I see what gets assigned. I LOVE when you reference another Wrike, you can see the status of it in the description of another. Very handy! Conveniently, Wrike contains a few forms of automation that lift some repetition from your workload." – G2 review.
"Wrike makes project management effortless once it is integrated as per the organization or your team's objectives. It manages a large number of users and complex workflows easily. Notifications and dashboard management is highly customizable to suit your daily workflow and gives a fair sense of ease in day-to-day operability." – Capterra review.
Wrapping Up
In essence, here's a quick run-through of what comprises to be the best marketing project management software, in our humble opinion. A robust tool should empower project managers to:
Manage tasks, projects, and campaigns easily and on the go.
Run the marketing department as smoothly and collaboratively as possible.
Offer a crystal-clear project overview and boost the visibility of the project status.
Offer state-of-the-art features such as sharing drafts and alerts easily, providing customized workflows, offering actionable and insightful marketing reports, and driving a simplified review and approval process.
When selecting the best free project management software for marketing, factor in the suggestions outlined above, do your homework, try a demo of the product, think about your industry and business use case, and make a winning (and informed) choice.