In today's business world, more and more companies and startups are starting to rely on Gantt Chart apps for their project management. There are many reasons for this. When you have a well-crafted Gantt chart, things become crystal clear.
You can follow a project's development cycle from its start date to finish. You can separate and focus on different tasks, and have a clear image of all the people working on these tasks, as well as how well they are doing as time goes by. With a good Gantt chart, you can even group tasks together as milestones and automate progress tracking for your projects.
This is why creating a Gantt chart is beneficial for both startups and larger businesses. They offer you a clear insight into the workings of a project and better control over it. By using it smartly, you can speed up certain tasks if you see the need for it, as well as optimize your workload and deadlines.
There are many ways of creating your own Gantt charts, but luckily, you don't need to put too much effort into it! As a matter of fact, the advent of technology has offered tons of software that can do this for you! Even better — to help you with the search — we tested them out and created a list of the best Gantt chart project management apps outlining their defining features.
What Are The 5 Best & Free Gantt Chart Apps?
1. Nifty (Best Gantt chart app for project management)
Nifty is unique in a way that it gives you a bird ' s-eye overview of all the projects you have running. It is great for collaborating with teammates and client management — and helps keep communications in one place! What's more, it can help you create amazing Gantt charts with automated progress tracking based on your task completions that will make tracking your projects easy and stress-free!
Finally, with Nifty, you can update your projects automatically, and help you track project milestones across projects using their overview feature. And this is where Nifty really shines! Its Milestones tool allows you to visually set apart different tasks and what you expect out of them, as well as track wide-ranging deadlines and automate the due date changes based on milestone start and end date changes! They will also give you easy-to-distinguish visual cues by color-coordinating them based on the tasks's completion status.
Top features:
Gantt Charts
Kanban Board
Helps with idea, budget, and resource management
Milestone tracking
File sharing and real-time chat capabilities
Third-party integrations to help manage your projects better
Pricing and plans
Nifty offers a generous free forever plan with unlimited users, tasks, and guests.
The next tier up is the starter plan at $5/user/month with custom fields + time tracking.
The Pro Plan begins at $10/user/month and includes everything in the starter plus automations and cross-project overviews.
And a truly unlimited plan with Custom Roles + Permissions, Team Workloads, and Microsoft SSO, and more for $16/user/month.
Compare all Nifty pricing plans in detail here 
Multi-platform
Nifty offers an app for Mac, Windows, and Cloud-based Web as well as iOS and Android.
What users love the most
Nifty has a 4.8 rating on Capterra. Users love the ability to see their projects clearly, as well as the efficiency that Nifty's automated progress reporting offers.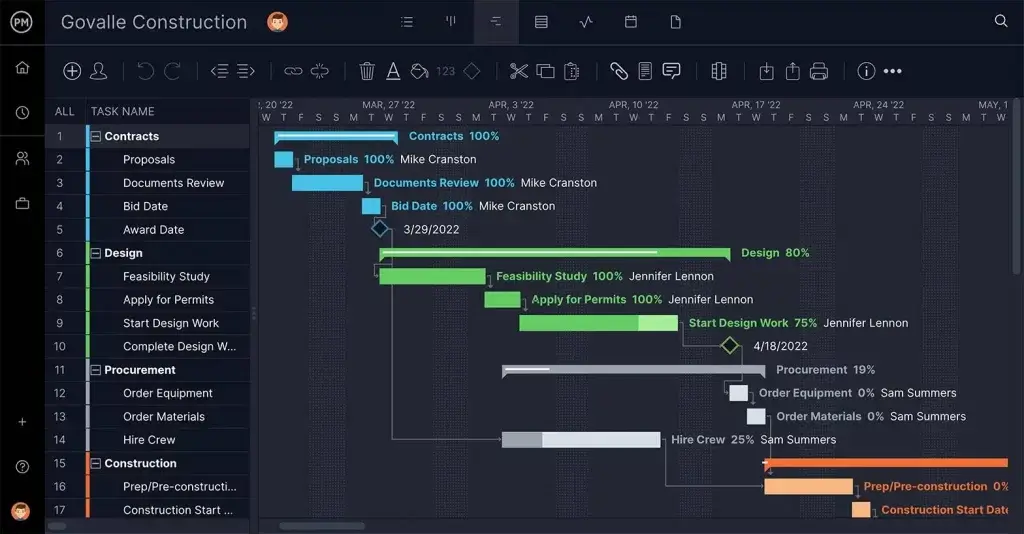 ProjectManager helps users plan projects, build workflows, and manage resources with powerful features the whole team can use. The software has multiple project views, from Kanban boards to task lists, calendars, and sheet views, but the Gantt chart stands out.
It has features that few competitors can match. As with most Gantt charts, it can plan, schedule, and assign tasks, import, export, and share projects all on a collaborative platform. 
What sets ProjectManager apart is that its Gantt chart can link all four types of task dependencies to avoid costly delays in your project. It can also filter for the critical path without having to go through complex calculations, making it easy to separate essential tasks from non-essential ones.
Top Features:
Gantt charts

Kanban boards

Workload charts and other resource management tools

Risk management features

Automated workflow and task approval settings

Real-time dashboards and customizable reports

Portfolio management and roadmaps
Pricing and plans
Team: $13 per user/month, unlimited tasks, subtasks and comments; all five project views, dashboard, essential reports and more.

Business: $24 per user/month, including everything on the Team plan plus five free quest licenses, resource management, portfolio dashboard, roadmap and more.

Enterprise: contact sales
Multi-platform
ProjectManager is cloud-based software that works with all operating systems, with a mobile app available for iOS and Android.
What users love the most
Users love our flexible software, its time track and project estimation tools, and how it works in real-time to save them money across industries as varied as construction, manufacturing, professional services, financial services, IT, and more.
One of the best-rated grant chart apps by Capterra – Instagantt, is a web software that is used for creating Gantt charts. With it, you can easily visualize your timeline and edit it as needed. You can arrange schedules, tasks, and timelines, and have better access and control to the workload your team is facing.
One of its main, unique features is that it makes editing both your Gantt charts and the entire Project Plan intuitive and easy with drag & drop options. What's more, it also allows for two-way communication with Asana. Thanks to it, changes made in one software will reflect in the other. This way, you gain efficiency by cutting down the redundant work.
Top features:
Drag & Drop options
Alerts and Notifications
Color Coding capabilities
Progress and Dependency Tracking
Capacity Monitoring
Pricing and plans
The pricing for Instagantt starts at $5.00 per month, per user, but you do have an option of a free trial beforehand.
Multi-platform
Sadly, Instagantt doesn't offer a multiplatform experience, focusing instead only on the Cloud, SaaS, and Web.
What users love the most
The users gave Instagantt a 4.8 score. They praised how easy it is to synchronize the software with Asana Live Chat, and loved how intuitive and easy it is to use thanks to its drag-and-drop feature. They find it great for simple and quick projects because you don't need to be an experienced project manager to use it successfully.
Project planning has never been as beautiful and intuitive as it is with TeamGantt! This is the software made for team projects because it makes collaboration effortless. By keeping everything in one place, it helps you plan and take your project from its beginning to success.
There are many amazing features that TeamGantt offers. As the name suggests, you will get wonderful Gantt charts, as well as easy file sharing and resource control — all on an easy to figure out interface. Finally, TeamGantt allows you to share your Gantt charts with employees and teammates along with controlling whether they can view or edit them.
Top Features
Time and expense tracking capabilities
Customizable templates
Project and task scheduling options
Drag & Drop
Gantt Charts
Pricing and plans
The pricing for TeamGantt starts at $7.90 per month, per user. However, you can test if it works for you for 14 days, as the software offers a free trial.
Multi-platform
Just like Instagantt, TeamGantt focuses on Web, Cloud and SaaS. However, it does offer a mobile version, too, both for iOS and Android users.
What users love the most
With a 4.6 score, TeamGantt offers you the ability to group up tasks and responsibilities in your team. The users praised how easy it is to use, as well as its one-to-one chat options for a fast and easy communication. Finally, the ability to share the project with people without their need to log in is beneficial to TeamGantt, as well as its clean and easy-to-use UI.
Previously known as Teamweek, Toggl Plan is a great software for small and medium teams. Apart from helping you create and manage amazing Gantt charts, it is also a perfect software for good workflow management. However, one of its drawbacks is that its main focus is on IT, design, marketing and finance — so you might feel a bit left out or struggling if your business doesn't match the target market.
If it does, though, then what you have is an easy-to-use software with help you manage projects visually. You can create timelines with ease, as well as color code the tasks to gain a better understanding and overview of what your team needs to do. Finally, the intuitive interface allows for flexibility in editing the workflow, which is a great ability to have in modern business.
Top Features
Gantt charts
Collaboration tools that help with the communication
Marketing calendar with goal setting and goal tracking abilities
Data visualization
Drag & drop options
Pricing and plans
You can get Toggl Plan for $8.00 per month, per user. There is a free trial options, and the software is also free for teams of up to five people.
Multiplatform
Just like to TeamGantt, Toggl Plan's main focus is on Web, Cloud, and SaaS, as well as mobile access for both iOS and Android users.
What users love the most
Toggl Plan's rating is 4.6 on Capterra. The clarity with which you can use the Toggl Plan, as well as the ease of use, are some of the main perks of the software. The users also praised the visual element, as it helps more creative businesses that are not usually well-supported by other project management tools.
GanttPRO's main focus is being a project management tool that has a basis in Gantt charts. It is interactive and allows you to work on multiple projects at the same time. With the option to split them into groups of tasks, subtasks as well as milestones, GanttPRO will allow you a better overview of your project and the timelines.
Controlling the schedule and setting up due dates, durations and dependencies is easy with this software. You can use GanttPRO to get accurate estimates of the time and boost your efficiency in this way. Finally, you can get access to an easy way to manage your resources in a smart way.
Top Features
Gantt charts
Kanban board
Time and expense tracking made easy
Bug tracking tools for any IT project management
Budgeting and road mapping for marketing
Pricing and plans
Just like all other software, you can try GanttPRO for free on a trial basis. However, there is not a free version for teams of any size. Instead, the pricing starts at $5.90 per month, per user.
Multi-platform
GanttPRO is online-based software, and because of that, it offers only Cloud, SaaS and Web options.
What users love the most
GanttPRO has a 4.7 score. The users found it very comfortable and intuitive to use as its main perks. What's more, there was high praise for the technical support staff of the software, who offer quick and reliable help. What's more, GanttPRO makes rescheduling easy by automatizing the process — all you need to do is change the date and let the software do the rest.
Which Gantt chart project management apps should you use in 2023?
To conclude, there are a lot of project management apps that offer great Gantt chart support. All of them have their own unique tools and approaches to project management, and what you use really depends on your needs as well as the size of the team you have, and the number of projects you are dealing with.
So, what you need to consider is just how detailed you need to go with making your Gantt charts, how connected you need your app to be to other software, and on which platforms you can use it. What's more, you should feel free to test the apps that offer a free trial and see firsthand just what works best for you.
Is there any tool that stands out for you? Do you think we forgot to mention some other game-changers? Tell us all about it in the comments below!