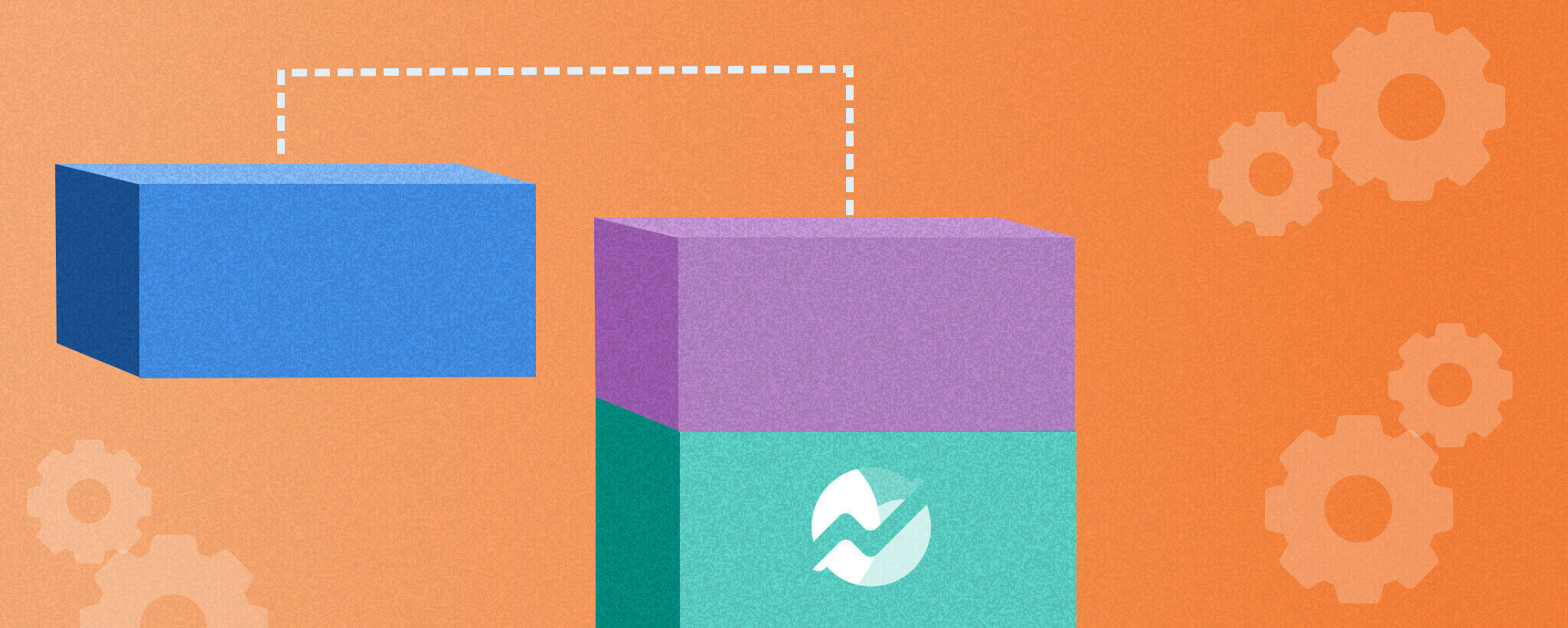 Years ago, programmers were a necessity to run and manage a tech-forward company. But these days, advancements in technology has given everyone an equal chance at the computer table. 
It doesn't matter whether you're an entrepreneur, a virtual assistant, or a marketing manager, you can automate and simplify workflows without even writing a single line of code.
It's not hard to understand why no-code software are rapidly gaining traction among small businesses. But with the software space growing rapidly, how can you pick the best ones for your small business?
That's where this list come in. 
11 Best No-Code Software For Small Business
We've compiled a list of ten of the best no-code software for small businesses, so you can improve your processes, save time, and serve a better product or service to your customers—without needing to fork out a lot of money.
1. Jotform Apps
Jotform Apps is an all around no-code solution that allows businesses of all sizes to automate their workflows. You can effortlessly create custom apps that can be used to boost your productivity in countless different ways with Jotform.

It allows you to build team collaboration and task management apps as well as create automated approval flows to save time on manual labor. You can also create different kinds of apps for your customers, such as online stores and booking apps, by adding different elements. Jotform's drag-and-drop design interface is really user-friendly, but you can also choose from many templates to make building your app even easier. 
The product also offers auto-generated reports, dashboards, and graphs, as well as a handy analytics tool to stay on top of your data.
Pros:
Strong data reporting and management tools

Powerful automations

Wide array of integrations

Can collect e-signatures and payments

Easy to use
Cons:
Pricing:
Jotform offers a free starter plan that includes all features, excluding HIPAA-friendly forms. Discounts are available for nonprofits and educational institutions.
Free starter plan

Bronze – $34/mo

Silver – $39/mo

Gold – $99/mo

Enterprise – Contact sales for custom pricing.
2. Zapier
Zapier is a web automation tool that connects your apps and services to help automate tedious tasks. It offers over 5,000 integrations with popular applications such as Gmail, Slack, Evernote, and Dropbox. You can use Zapier to automate tasks such as sending emails, creating tasks in Asana from Slack messages, or backing up new contacts from a Google Sheet.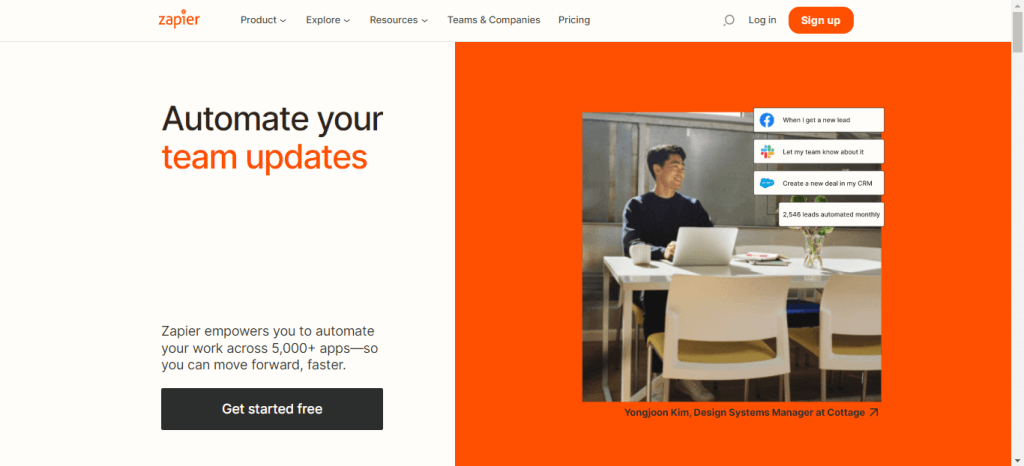 Zapier is a great tool for small businesses that require automation to improve efficiency and save time on menial tasks without needing to hire extra manpower. An example of Zapier's capabilities would be automated order updates between different software platforms that a business uses—eliminating the need for manual data entry.
Pros:
Offers a wide range of integrations

Helps automate and simplify complex workflows

Built-in guidelines to help assist app integration

User-friendly interface
Cons:
Limited free trial functionalities

Steep learning curve for non-techies
Pricing
Pricing for Zapier starts at $0/month for the Starter plan to $599/month for the Company plan.
Free: $0/mo (The basics)

Starter: $19.99/mo (750 tasks a month)

Professional: $49/mo (2000 tasks a month)

Team: $299/mo (50000 tasks a month)

Company: $599/mo (100000 tasks a month)
The free plan allows you to make 5 Zaps and run 100 tasks/month (which is quite limited compared to alternatives). The paid plans offer an increasing number of app integrations and tasks per month—up to 100,000 tasks—as you scale up.
3.
Make
(formerly Integromat)
Make is a no-code web-based tool that allows users to automate online tasks. Using a mind-map-like visual builder, users can connect various apps and services to create workflows within minutes on the Make platform. With Make, business workflows can be triggered by events or run on a designated schedule.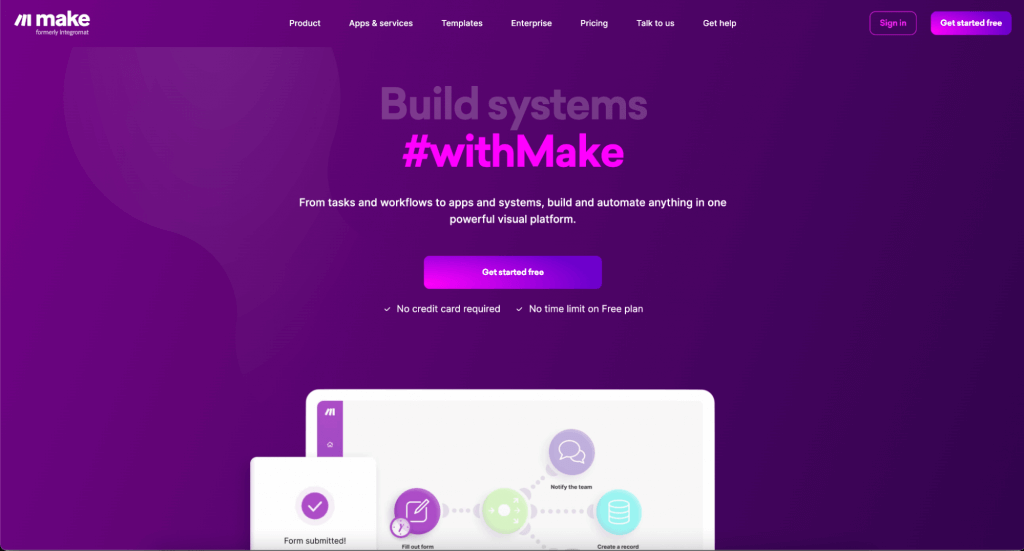 While Zapier has three times more integrations than Make, it supports most business integrationjs. Some of the top integrations Make uses include:
Google Drive

Slack

Gmail

Stripe

Shopify

Zapier

Dropbox.
Moreover, Make's visual design means that imagination is the limit when it comes to workflow creativity. Make also edges out against Zapier in that it supports multiple-step workflows in its free plan. 
It's also much better at allowing users to troubleshoot errors thanks to a built-in testing report feature that shows where exactly a problem occurred.
Pros:
Helps visualize tasks

Supports multi-step workflows

Easy error report
Cons:
Fewer integrations

Not as straightforward as Zapier
Pricing:
Make's pricing is as follows:
Free: $0/mo

Core: $9/mo

Pro: $16/mo

Teams: $29/mo

Enterprise: Custom price
4.
IFTTT
IFTTT is a powerful no-code tool that works with smart home devices and digital assistants. For instance, you can use IFTTT to turn on your front porch lights when Maps tells you you're a minute away. Another example is automating a follow-up message on a schedule or when someone unsubscribes from an email list.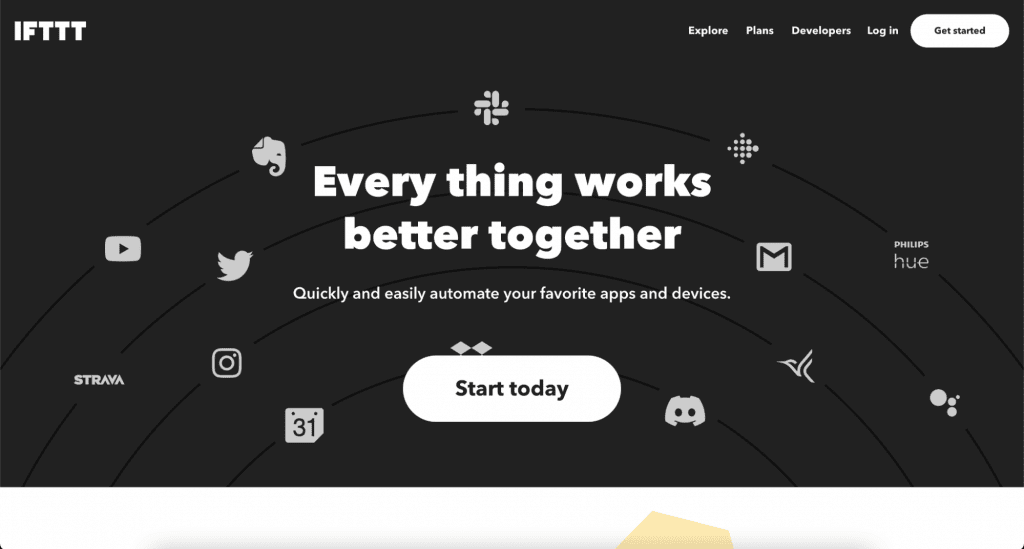 What makes IFTTT so alluring is that it's useful for both personal and business use, all at a cheaper price than most no-code software. 
While Zapier and Make edge out in terms of enterprise functionality, IFTTT is more than capable of running and automating simple tasks for small businesses. Built-in reporting and analytics are also found within the app ready to help business users make better decisions.
If you're proficient in coding, IFTTT also allows individuals to build custom integrations with their chosen apps all thanks to their open API. But of course, this feature isn't necessary for the non-coders. If you don't need many business processes but want a more convenient home life, IFTTT may be a good fit.
Pros:
Automate tasks for small businesses and personal use

Reasonable pricing

Support real-time integration

Very beginner-friendly
Cons:
Not as

comprehensive as Zapier

Lacks support for complex actions

Not ideal for chain commands
Pricing
IFTTT has three main pricing plans. The Pro plans have 7-day free trials available.
Free: $0/mo

Pro: $2/mo

Pro+: $4/mo
The free plan allows users to access a free mobile app. It also comes with 5 Applets (simple integrations) per account. The Pro plan gives users access to 20 Applets and multi-action Applets as well as premium support. The Pro+ plan builds on the Pro plan by adding developer tools and the ability to connect to multiple accounts.
5.
Paperform
Paperform is a Swiss Army Knife for SMBs to automate their business operations without any need for coding. The platform comes with a wide range of customizable templates that can be used to create beautiful, responsive online forms in minutes.
Paperform also offers a great level of control when it comes to making form design. From built-in Unsplash and GIPHY libraries to a slew of colors, fonts, and themes, there's almost no limit to what you can do with your forms. On top of that, users can also integrate with external apps to generate reports from submissions.
Built-in analytical tools also turn feedback into valuable insights, helping you make better business decisions. When it comes to forms, Paperform is one of the most comprehensive tools in the market.
Pros:
Beautiful, responsive form

Flexible design options

Business insights

Easy integrations
Cons:
Best features locked behind premium plans
Pricing:
Paperform offers a 14-day free trial for each of its pricing plans.
Essentials: $24/mo (max of 1,000 submissions/month)

Pro: $49/mo (10/000 submissions/month)

Agency: $150/mo (unlimited)
All plans allow users to create an unlimited number of forms, but only the Pro and Agency plans allow unlimited views.
Moreover, the Agency plan allows up to five user seats while the Essentials and Pro plan only support one. Custom CSS & HTML and domain support are also only available in the Agency plan.
6.
Squarespace
Squarespace is a popular, all-in-one website builder that helps businesses of all sizes create beautiful websites within minutes.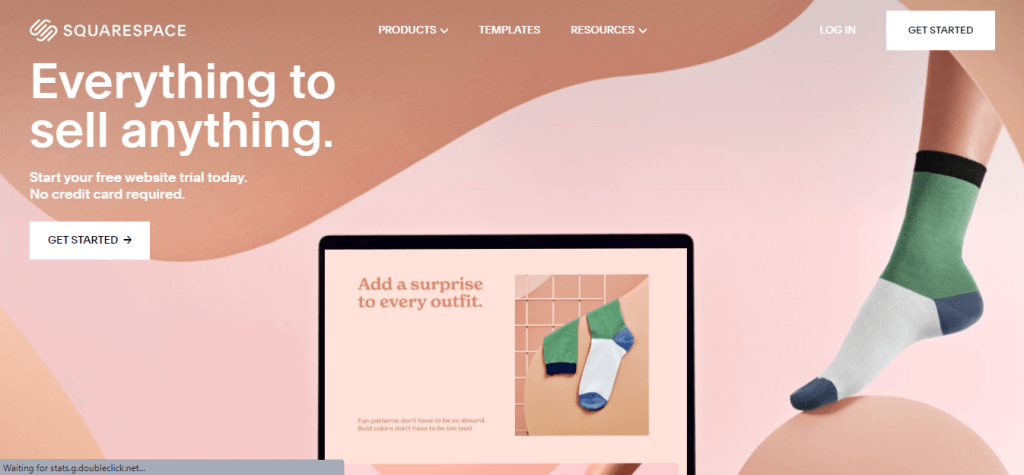 You don't need any coding knowledge to use SquareSpace, the platform comes with everything you need to create a professional website.
From custom domain names and eCommerce features to 24/7 customer support, Squarespace has everything you need to design working websites within its toolkit. 
It's not solely made for eCommerce businesses either. With the abundance of templates and features, you can build virtually any type of digital presence with Squarespace, whether it's a client portal, portfolio, resume, blog, local service, or a full-fledged revenue-generating online store.
Pros:
Beautiful templates

No coding needed

Marketing and analytics

Hundreds of custom layouts
Cons:
A relatively high price point

No support for third-party apps

Limited to live chat support
Pricing
Squarespace's annual payment plan is 25% cheaper than its monthly payment plan.
Personal: $14/mo

Business: $23/mo

Basic Commerce: $27/mo

Advanced Commerce: $49/mo
The Personal Plan is limited to 2 contributors, but it comes with many features like unlimited bandwidth, templates, and a secured custom domain.
The other three plans allow unlimited contributors with professional Google emails. Advanced website analytics and promotional pop-ups are also made available under these pricing plans.
The higher the pricing, the more eCommerce features you'll enjoy. The highest plan allows you to sell subscriptions, apply advanced discounts, and make your own custom Commerce APIs.
7.
Wix
With 200 million users worldwide, Wix is one of the most popular site-building and hosting platforms on the market. The Israeli company offers a comprehensive solution for businesses of all sizes, from small businesses to enterprise-level organizations.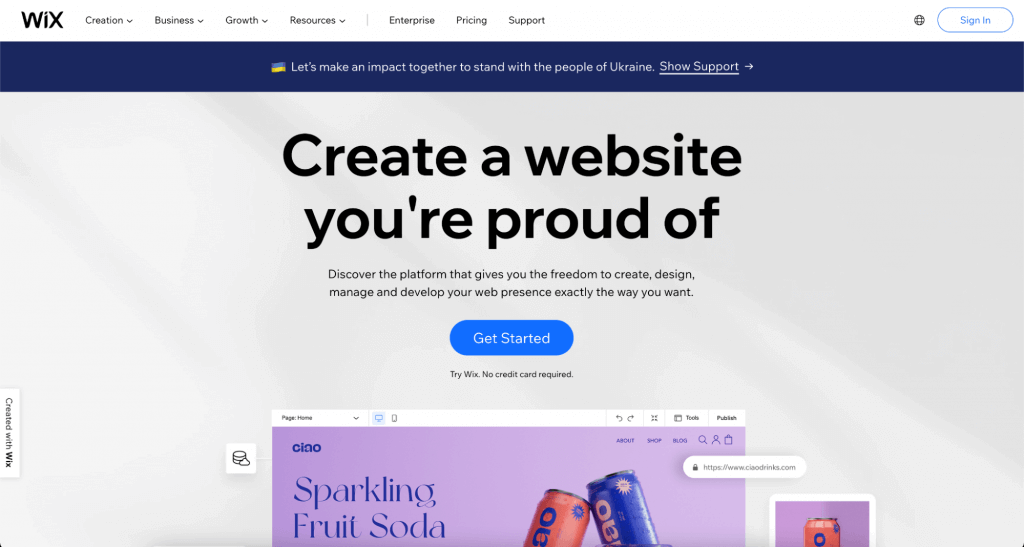 Wix's drag-and-drop editor is extremely user-friendly and offers a wide range of features and applications, making it one of the best no-code platforms for small businesses. You can use Wix to create a website, an online store, or a blog.
Wix is free to use, but if you want to remove Wix branding from your site or get access to advanced features, you'll need to upgrade to a paid plan.
Pros:
Cons:
Editor can be limiting

Apps aren't all that great

Built-in SEO is outdated
Pricing
Wix offers premium plans, all of which come with a 14-day free trial.
For personal websites, prices are based on storage capacity, key features, and add-ons like a professional logo or more video hours.
VIP: $24.50/mo

Unlimited:$12.50/mo

Combo: $8.50/mo

Connect Domain: $4.50/mo
For business and eCommerce plans, these are the pricing options available.
Business VIP: $35/mo

Business Unlimited: $25/mo

Business Basic: $17/mo
Higher business plans get access to more features, such as an integrated loyalty program, more product reviews, dropshipping capabilities, and increased storage spaces of up to 50 GB.
8.
Webflow
Webflow is an internet platform that enables users to create responsive websites without having to write code. With Webflow, you can design, build, and launch websites with ease.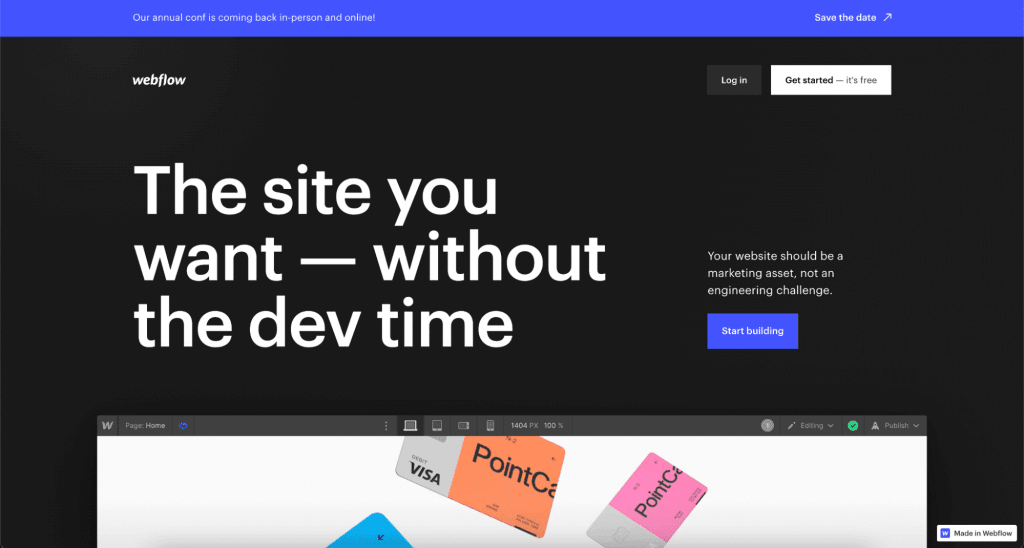 Webflow is perfect for small businesses that want to create a professional website without having to hire a web developer. The platform's visual editor makes it easy to create custom designs suitable for any business model, including eCommerce stores, subscription models, and blogs.
Unlike Squarespace, Webflow can be used by web designers to carry out complex processes. This software, therefore, is ideal for you if you fall somewhere between a novice and an experienced web designer.
Webflow development has picked up quite some pace recently. And we know for why; it's robust pros!
Pros:
Deep level of customization

A diverse range of templates

Monetizable website models
Cons:
More difficult than Wix and Squarespace

More expensive plans than competitors
Pricing
Webflow annual plans allow you to save up to 20% more than monthly plans.
Yearly plans are as follows:
Starter Plan: $0

Basic: $12/mo – Essentials for a simple site

CMS: $16/mo – Ideal for content sites or blogs

Business: $36/mo – Make a marketing site for high-traffic visitors

Enterprise: Contact Sales
9.
Shopify
If you've ever wanted to create an online store, Shopify is a leading eCommerce platform that enables businesses of all sizes to do just that. Shopify allows entrepreneurs to sell products online and forge a digital presence.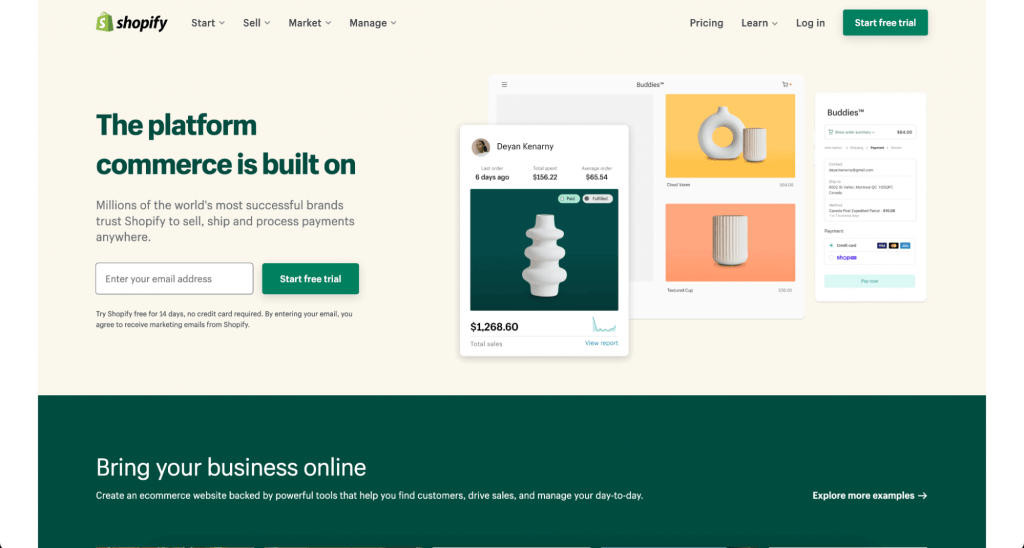 Whether you run a home business, a brick-and-mortar store, or a large retailer, Shopify has all the features to take your product online.
Shopify makes it easy to manage your inventory, process payments, and track shipments. The platform also offers a wide range of features, such as sales reports, abandoned cart recovery, analytics, as well as a variety of tools like the Shopify app subscription and a comprehensive website builder.
Pros:
Scalable platform

Easy to use

Many apps aimed to convert
Cons:
Transaction fees on lower-tier plans

High-conversion themes behind a paywall
Pricing
Shopify's pricing plans include the basic $29 per month plan, its medium plan at $49 per month, and its advanced plan starting at $299 per month.
For more successful businesses, Shopify also offers Shopify Plus, an enterprise-level solution to accelerate the growth of established brands.
You can check out more affordable alternatives if the pricing, transaction costs, and cost of high-conversion themes prove to be too expensive for you.
10.
Airtable
Airtable is a cloud-based platform that enables businesses to organize and manage their data. With Airtable, you can create custom databases, track campaigns, and collaborate with team members.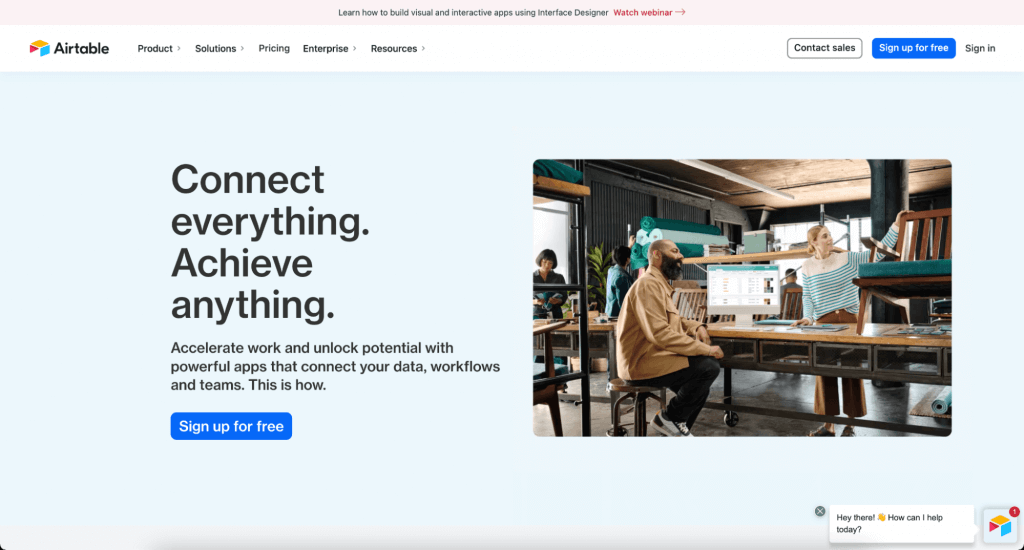 Airtable is perfect for small businesses that work with large datasets. The platform's user-friendly interface and database storage capabilities make it more than just a Microsoft Excel knockoff. Formulas, pre-made templates, and third-party plugins are just some of the offerings that make Airtable a powerful tool for managing data.
Pros:
Flexible database management

Airtable Automation accelerates tasks

Collaborative workspace
Cons:
Steep learning curve

No communication features
Pricing
Airtable has four pricing plans. These are:
Free: $0 (For individuals just starting)

Plus: $10/mo per seat (For teams to manage moderately-complex workflows)

Pro: $20/mo (For firms needing to operate critical procedures across departments)

Enterprise: Contact Sales (Customized solutions and support)
11.
Softr
Softr is an all-round no-code platform that allows you to build a professional web app on Airtable. Created to help you design anything from client portals, member-only websites to online communities, and marketplaces – it's as simple as lego building. The beauty of Softr is it also includes the tools to create a custom Sales CRM portal or an event planning platform.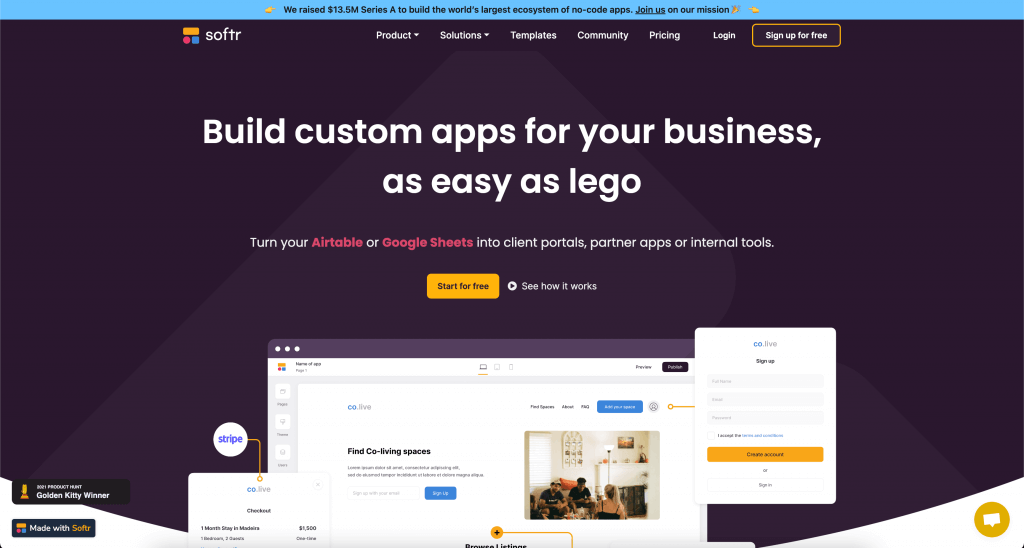 Softr swaps out coding for building blocks. Each building block represents a logical piece of the application, and there are over 100 of them. This includes front-end blocks like hero sections, CTA's and login and signup sections to backend capabilities like authentication. If you're unsure where to start, Softr offers ready-made templates and over 100 pre-built blocks. 
Pros: 
Great customer support

Ability to rapidly build, test and iterate website pages

Accepts payments

and has a native Stripe integration

Custom SEO tags

30+ dynamic list layouts
Cons: 
Steep learning curve for beginners

Limited by the pre-build blocks they've created
Pricing
Softr offers a free account, but higher premium tiers get access to more features such as custom HTML and CSS capabilities, transfer applications and no Softr branding. 
Free

Starter – $24/mo

Professional – $65/mo

Business – $165/mo
12.
Bubble.io
Have you ever wanted to create a website or app without having to write any code? Bubble.io is a platform that enables users to do just that.

Bubble is a low-code platform that enables anyone, regardless of coding experience, to create web and mobile applications. With Bubble, you can build something as complex as a ride-sharing or home rental app without writing a single line of code.
If deploying and hosting your app is something you'd rather avoid, don't worry. Bubble takes care of all the technical aspects of running your app. There are also no limits to the storage, volume traffic, and the number of users you can have on your app.
Pros:
No need to learn how to code HTML or CSS

Build any type of mobile application

Also allows API integration
Cons:
Slow PageSpeed Insights scores

Reliance on Bubble's premade styles

Better plugins locked behind higher paid plans
Pricing
Bubble has four pricing plans.
Free: $0/mo (All you need to learn core platform features)

Personal: $25/mo (Everything in the free plan + custom domain, API, and support)

Professional: $115/mo (3 units of server capacity, 2 app-editors, and everything in Personal)

Production: $475/mo (10 units of server capacity, 15 app-editors, and everything in Professional)
13. Appy Pie App Builder
Appy Pie is on a clear mission to democratize technology and has an entire portfolio of no-code business solutions which are accessible and affordable to everyone. The entire platform is characterized by its affordability and ease of use. Using Appy Pie's no-code app builder, anyone with an internet-connected device can create an app in minutes.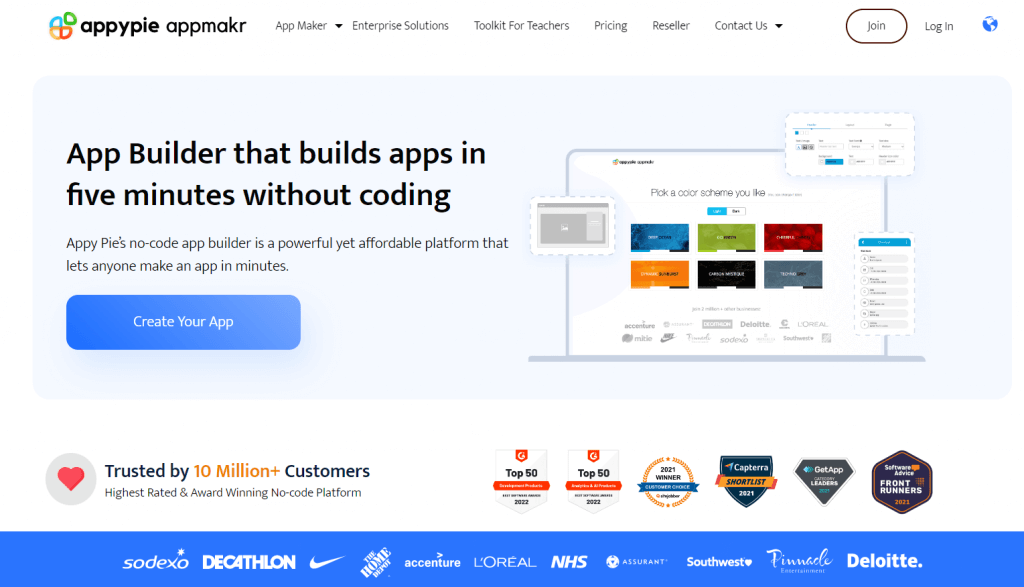 The platform is particularly great for small businesses, startups, and entrepreneurs that lack skilled resources and the ability to hire them, money, and time to code a mobile app from scratch. Using the platform, you can create an app for a real estate business, a restaurant, a church, and several other businesses and organizations. Apart from the basic functionalities, you have the option to monetize your app while building a community around your business.
Appy Pie's app builder is the perfect platform for small businesses and startups to expand their reach and establish an online presence. The platform gained popularity because of how easy it has made it for anyone to create an app. The drag-and-drop interface allows you to pick up blocks of features and build an app best suited for your unique business needs.
The platform has more than 10 million happy customers, and the number is growing further because the platform is robust, enduring, affordable, and easy to use.
Pros:
Drag-and-drop interface lets you select and add the features directly to your mobile app.
The platform offers round-the-clock support for all users through email, chat, and telephone.
It lets the users integrate multiple other valuable services like Slack, Twitter, MailChimp, etc.
The platform employs a Lego-like block architecture that allows the users to reuse the feature blocks to develop more solutions efficiently.
The apps built on Appy Pie's no-code app builder are inherently scalable.
Cons:
No advanced settings for pro users.
Heavy dependence on external services
A closed development code limits access to the code
Pricing:
You can make your own app for free on Appy Pie's no-code app builder. However, there are premium plans available for subscription with more evolved features, greater functionality, and so many other features.
Appy Pie's no-code app builder has 4 main paid subscription plans:
Basic: $16/month
Gold: $36/month
Platinum: $60/month
Enterprise: Custom price
Appy Pie's app builder is the clear choice for business users who do not have the resources to employ skilled resources or a development agency.
Conclusion
No-code platforms have made it possible for anyone to create a website or app without having to write any code. These platforms are perfect for small businesses that want to create a digital presence without having to invest in a developer.
If you're looking for a no-code platform to build your next project, we hope the 11 options we've listed here will give you a good starting point.

You would still need a robust project management tools for managing your next website build more effectively! Give Nifty a try here. (No cards required)