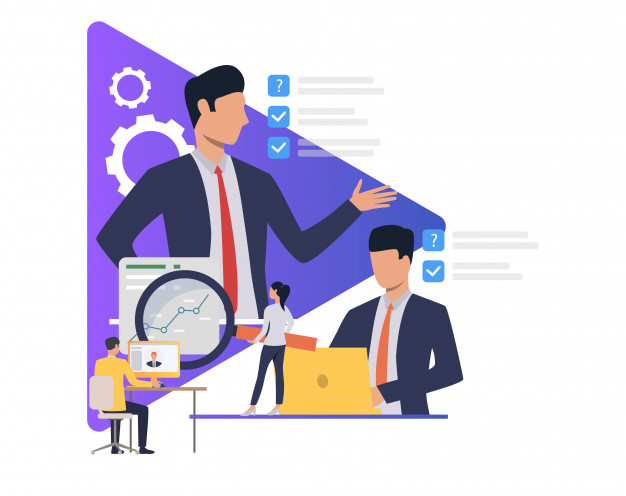 In this day and age, project managers and business owners can easily navigate growing teams with an effective project management software for Android.
Luckily, there's no need to bring your laptop everywhere you go — your smartphone is more than enough to keep track of every task and project progress. Using your project management software for android apps, you can organize project-related work, communicate with your team smoothly, schedule tasks quickly, and stay on top of your daily work.
There are helpful smartphone apps explicitly designed to help business owners and project managers assign and schedule resources. They also support planning and tracking project activities and allow you to keep an eye on every segment of your project at all times.
Having said that, many such apps are on the market, and selecting the right one can be confusing. By exploring and comparing these apps, you can access the most suitable one for reaching your crucial project milestones.
Best Project Management Software Android Apps
We went a little further and tested each app individually on our smartphone device. Summarizing first impressions, App store reviews, and user recommendations, our recommended list of the best project management software Android apps looks like this:
1. Nifty
2. Trello
3. Asana
4. Clickup
5. Monday
6. Notion
7. Airtable
8. Wunderlist
1. Nifty Android App – One of the Best Project Management Software Android Apps (Freemium Category)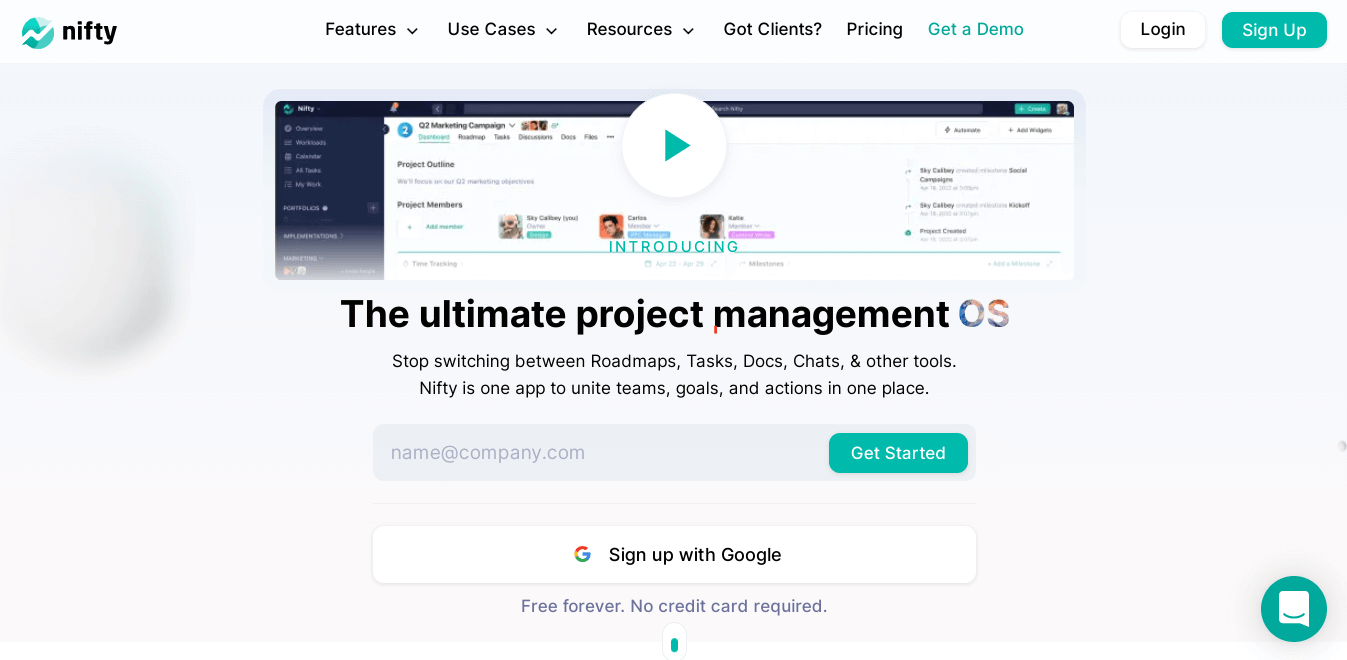 With Nifty Android App you can stay up to date with all processes even if you are not in front of your laptop or desktop. With a very intuitive mobile interface, this app allows consolidation of all phases of the project's lifecycle, making your job much easier.
Nifty project management App allows you can navigate very easy through projects and tasks, send direct messages via chat, participate in project discussions, track project Milestone progress, working on Docs & Files, and manage the complete task process, from assigning users, putting comments and add deadlines. It is organized as an enhanced project management software to-do list which won't allow for any task to be overlooked.
As a collaborative workspace to plan your projects, communicate with your team and stakeholders, it provides a much faster exchange of ideas, suggestions, and feedback using both desktop or smartphone app.
Key Features:
Kanban-style Tasks view
Document collaboration — create, edit and collaborate on documents
Team Chat — While working in any pocket of Nifty, you can communicate with your team via direct messages while you are on the move
Discussions — Project-based discussion channels allow for robust internal or client-facing collaboration. Easily organize your discussions into teams, topics or anything else
Roadmap — With a visual overview of project milestones and deadlines everyone will always be up to speed
Smart notifications — You will get notification wherever any task, milestone or project breach its deadline, someone comments on a task, assign you to the project, etc.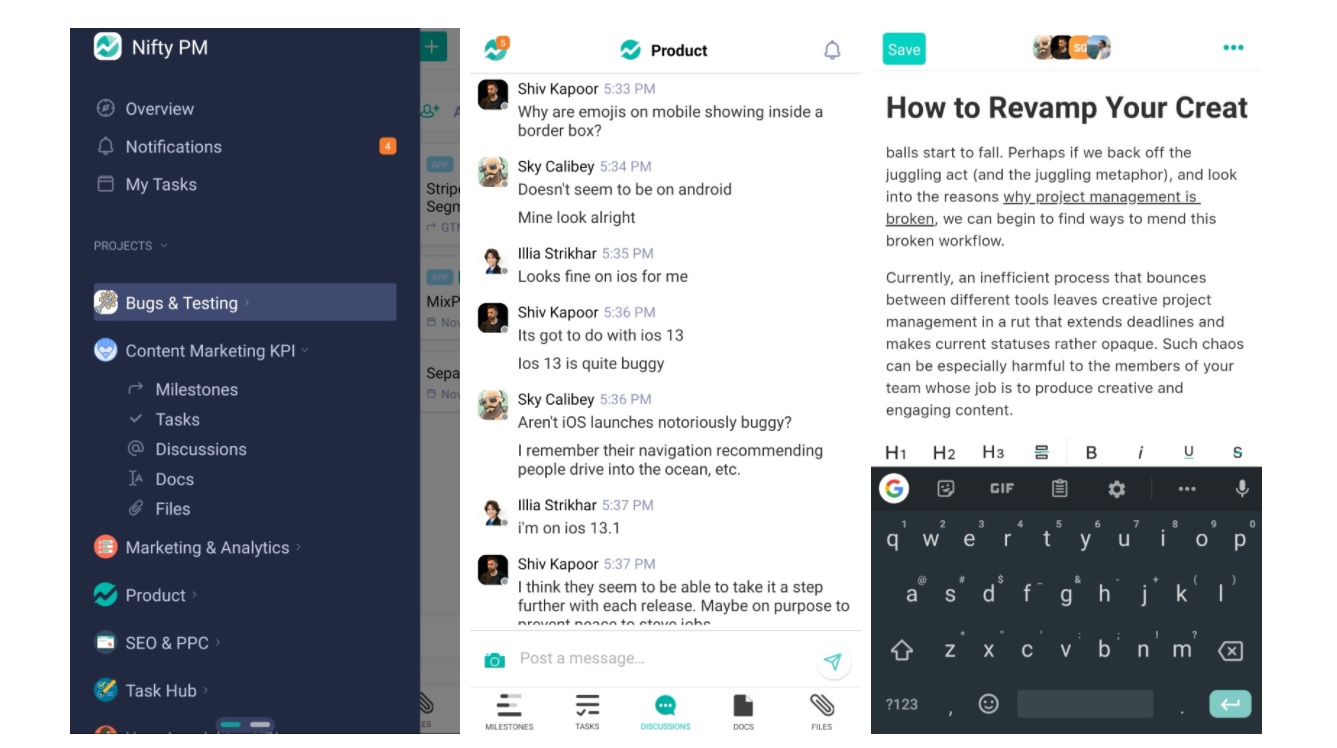 Users recommendation — The users are mostly complementing the design and overall main features of the app, describing it as very easy to navigate.
App store reviews score — 4.3 stars
Pricing:
Nifty offers a generous free forever plan with unlimited users, tasks, and guests.
The next tier up is the starter plan at $5/user/month with custom fields + time tracking.
The Pro Plan begins at $10/user/month and includes everything in starter plus automations and cross-project overviews.
And a truly unlimited plan with Custom Roles + Permissions, Team Workloads, and Microsoft SSO and more for $16/user/month.
Compare all Nifty pricing plans in detail here.
2. Trello Android App
One of the best project management software android apps – Trello is well known as an ultimate to-do list project management software for Android smartphones. A lot of people using Trello App for organizing both work and life. It is very simple to use and very flexible, and that's maybe the main reason why it has over 35 million registered users.
Trough Trello Android app you can quickly check your to-do's, take a look at the most important things using the Home section, swipe between the boards and tasks, create new boards and tasks, communicate with the team in the comment section.
App loads very fast on Android smartphone, the user interface is clean and neat.
Key features:
Kanban-style Tasks view
Customizable — Boards, lists, and cards are easily created in a few seconds. Dragging them across the board allows you to follow your project's progress. There are options for adding checklists, labels, and due dates in every card even on a smartphone.
Integration with other apps (such as Jira, Slack, Google Drive, InVision, etc.)
Suitable for any team, and any project
Useful for planning personal tasks (vacation plans, birthday organization, shopping lists…)
Notifications — The app alerts you when cards are assigned, updated, and completed. So you can instantly see a notification on your smartphone. You can always turn off this option for the card-tasks where your engagement is no longer necessary.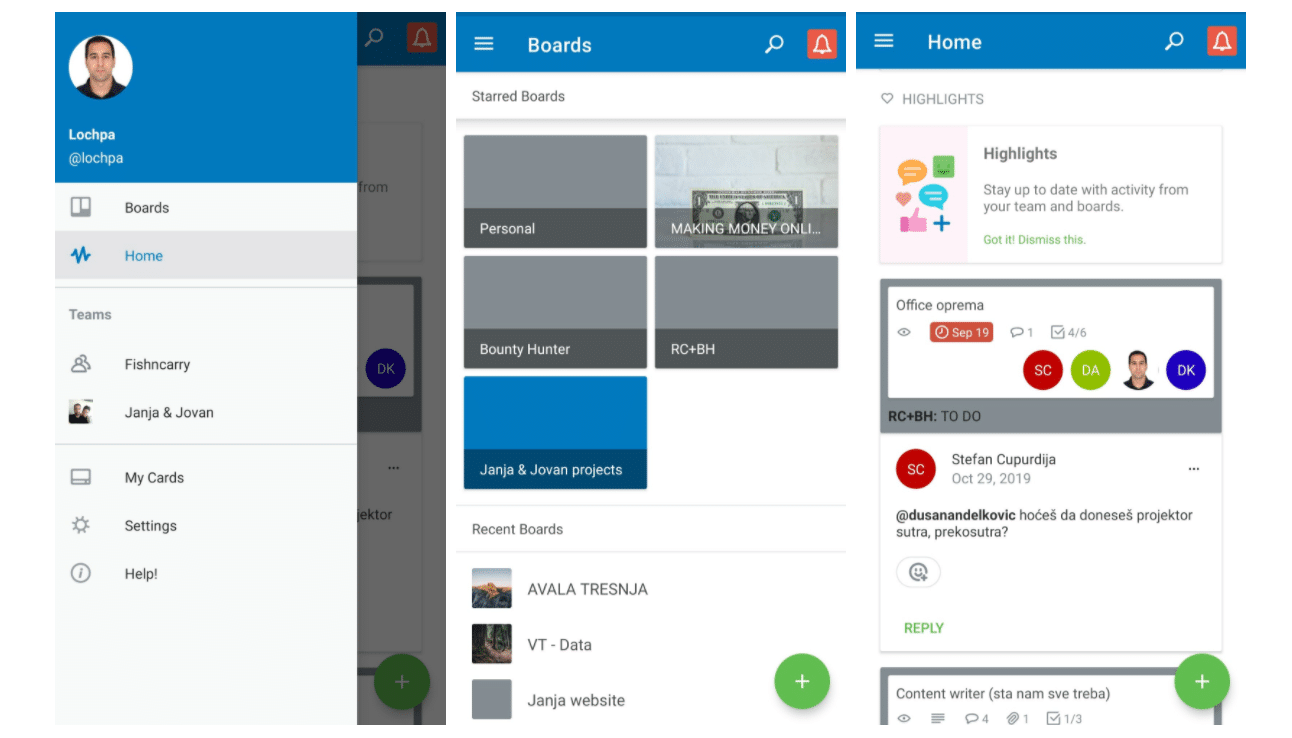 Users recommendation: According to the customer's opinions, the biggest advantage of Trello is its simplicity and easy access. On the other hand, this app asks for permission to access the camera, microphone, contacts and photo library, which present the issue for many users.
App store reviews score: 4.6 stars
Price: Another reason for the popularity of this project management app might lay in the fact that its basic version is free of charge. However, Business Class costs $9.99 per user on a monthly basis while the Enterprise package is $20.83 per user/month.
3. Asana Android App
Selected as Editor's choice on Play Store, Asana is taking the third place on the list of top-rated project management Android apps. It is a very useful app for workflows, task management, team collaboration, Excel project management, team and project calendar.
No matters are you at your workplace or in line for a latte — this tool will keep you up to date with all your projects even on your smartphone.
Key Features:
Real-time monitoring of all project activities
Customizable to-do lists.
Add tasks reminders, ideas, and requests for to-dos
Add due dates, assignees, followers, details, and files to your tasks
Ability to take actions when you're offline and updates will sync in Asana when you're back online
Use conversations to stay in touch with your team on all times
Get notifications in Inbox about the projects, tasks, and conversations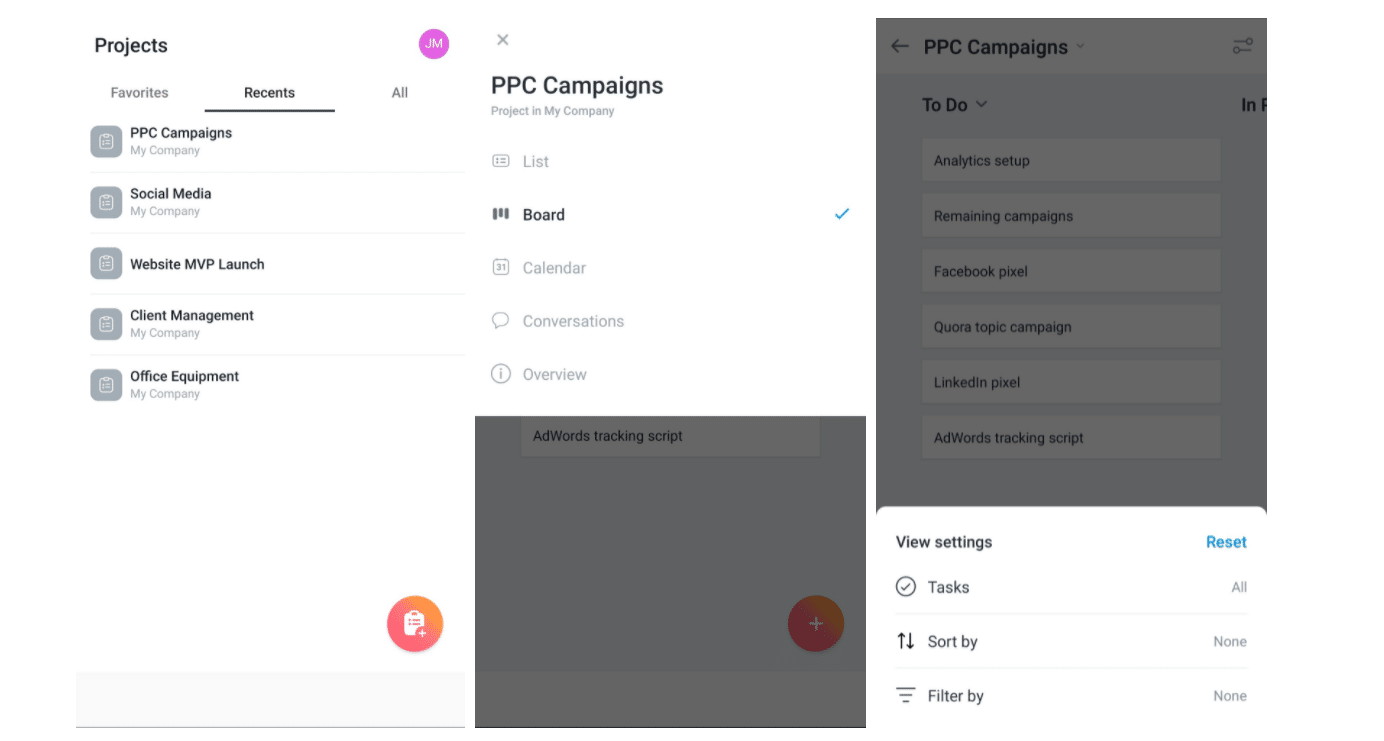 Users recommendation: While users are noticing that this app is not as customizable as some competitors, most of them are praising the clear layout and easy-to-use interface.
App store reviews score: 4.7
Price: Organizing project flow for up to 15 members comes with no cost whatsoever. Premium plan comes with a rate of $9.99 per user/month, the Business plan will set you back for $19.99 per user/month, while the Enterprise solution comes at custom prizes.
4. Clickup Android App
There are some great UX hacks Clickup implemented which are not usual for other smartphone apps, such as swiping right mark tasks as done, ability to use a widget that can show more than only one project, and to check done from such widget. Better icon + text resize would be very welcomed.
Key Features:
All view types available on Desktop
Task Filters
Task Dependencies
Pre Built Templates
Custom Fields
Smartphone Notifications
Project Goals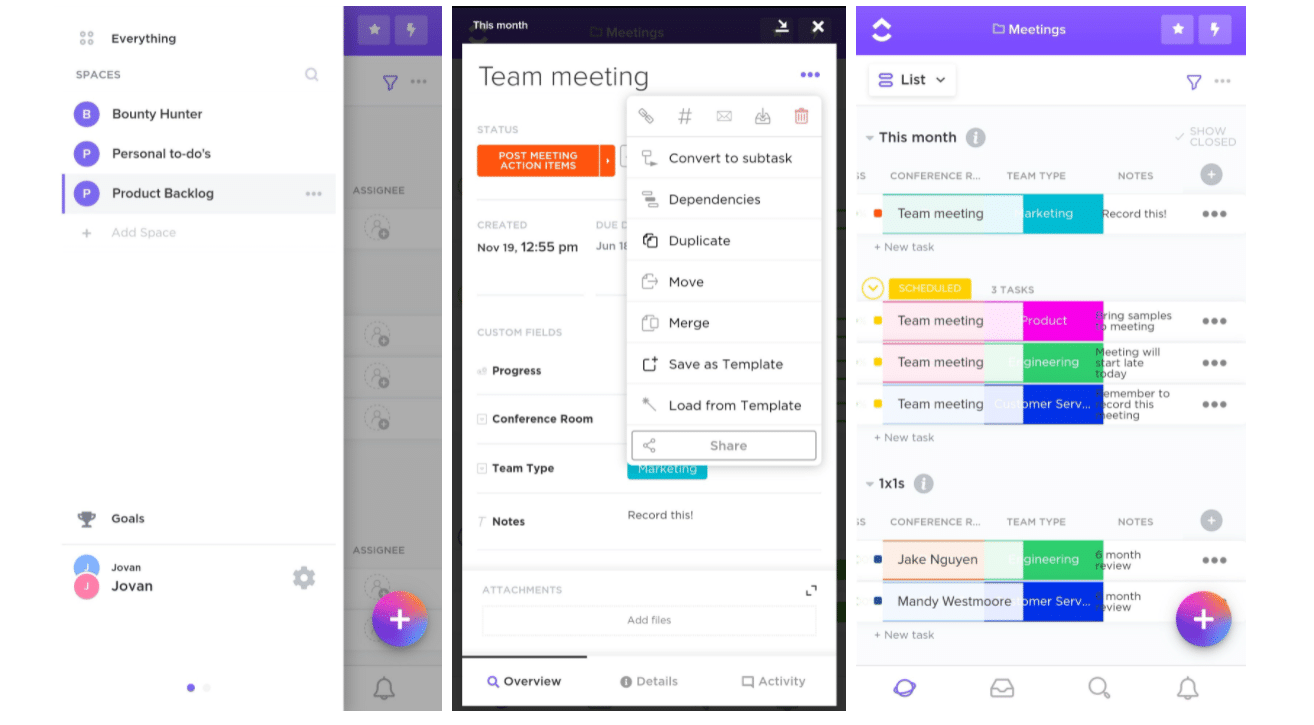 Users recommendation: The desktop version of this project management tool takes all the spotlight since the users are reporting glitches and lack of certain features in its Android app. However, it still has a very high ranking, mostly because it's completely "free forever ".
App store reviews score: 4.0 stars
Price: While this app is free for unlimited tasks and users + 100MB storage, you will need to upgrade to an Unlimited package of $5 per month to access other features.
5. Monday Android App
It is a sleek and stylish tool that maximizes visuals to inform and improve delegation and completion of goals. New improvements such as improved zoom in/out experience and advanced features of the column menu make navigation even easier. Load time is a little bit slower than on other apps and UI is clumsy and cumbersome.
Key Features:
Creating user stories and assigning to team members
All types of boards available on desktop (Main, Sharable, Personal)
Smartphone notifications
Real-time updates
Multiple views enable visual data analysis
Prioritize tasks with custom notifications
Different templates and color charts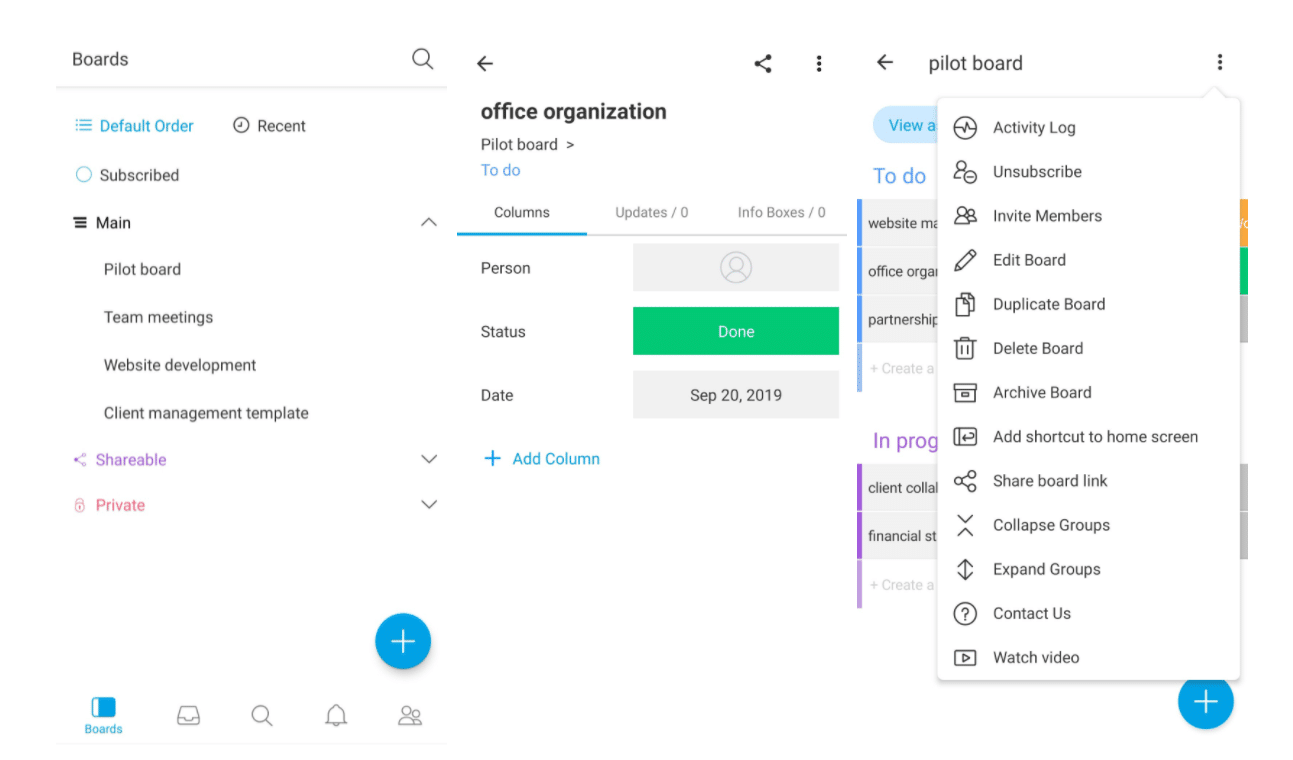 Users recommendation: While reviewers are agreeing that this is an exceptional project management tool, the biggest remark goes to the high fees. Also, many users are reporting serious glitches on the Android app regarding loading time.
App store reviews score: 4.6 starts
Price: While Monday provides a free trial, it has higher prices than most competitive apps. Its pricing is based on the number of team members per month. Packages for 2 members have the lowest and the teams of 200 members the higher fees. Custom prices apply to teams that consist of more than 200 members.
6. Notion Android App
Personally 5 star Android App for personal to-do's, creative idea sharing, wiki's and so on. You can create a personal wiki, a taskboard with time notifications or calendar to glance at your upcoming events. The most loved part is the possibility to change appearance from Lite to Dark mode.
Dark mode comes in handy for "night owls" when you are in your bad and want to execute something from your mobile smartphone.
Key Features:
Unlimited To-do's
Task and Project Link Sharing
Smartphone Notifications
Reach media — images, bookmarks
Dark and Lite Modes
Great User Interface
Offline use — sync on mobile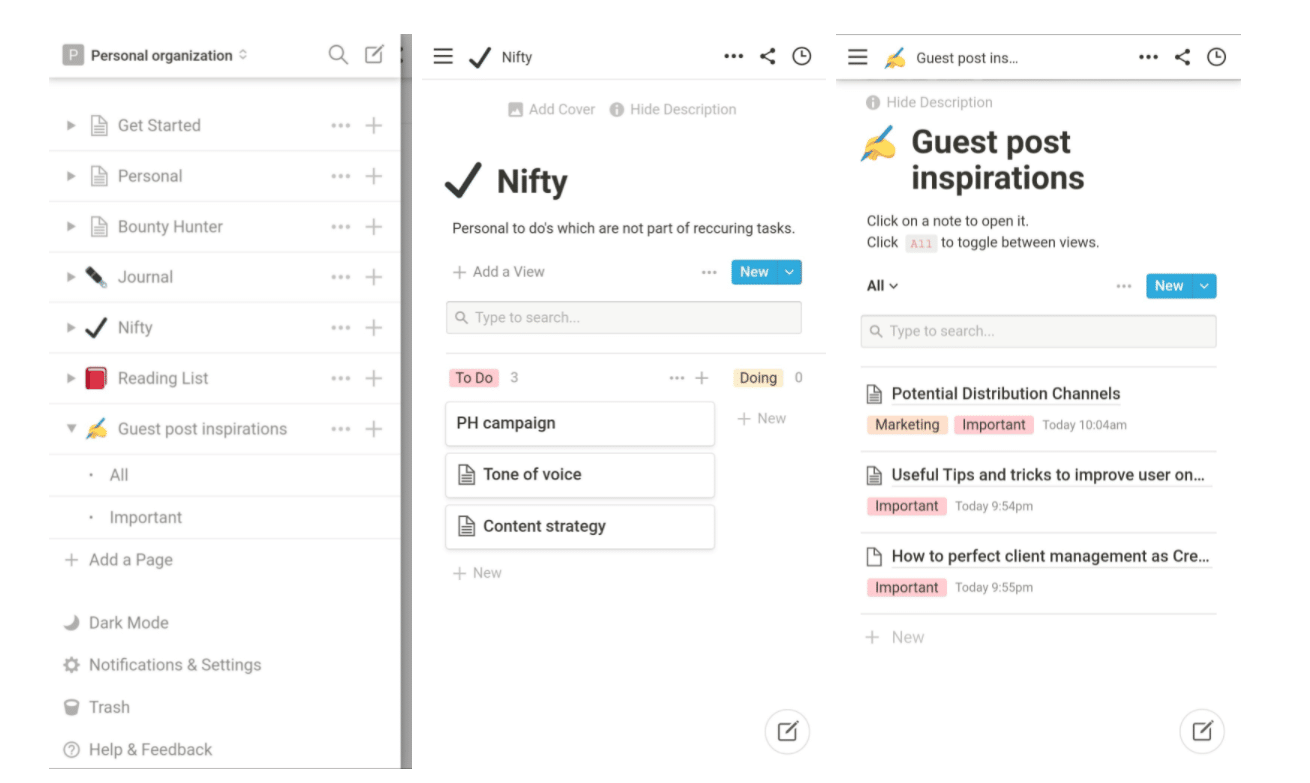 Users recommendation: By looking at reviews a lot of people complaining about load time and overall low performance. A lot of users are satisfied with the user interface and app structure.
App store reviews score: 3.6 stars
Price: Notion is free for unlimited members but with 1000 block storage and 5MB file upload limit. For unlimited block storage and no file upload limit Notion offers 3 price ranges. Personal costs $4 per month for one user only. Team costs $8 per user/month, Enterprise $20 per user/month.
7. Airtable Android App
When it comes to creating a list about best project management software Android apps, Airtable deserves a notable mention. You can utilize Airtable mobile app for organizing both your workload and personal choirs. It's widely used as a planner app for everyday life and work since you can choose from many pre-built templates such as project management, vacation planning, event organizing, to-do lists, team coordination, and many others.
With a lot of real database capabilities, including a mini query builder, customizable templates, and foreign keys make, this app very helpful ally for organizing any type of personal plans or demanding projects even when you are not on your desktop.
Key Features:
The fast and flexible way to create tables in the form of tap-friendly cards
Instant collaboration with all participants
Great app onboarding with video tutorials
Customizable templates — you can start with an empty table or one of the pre-built templates
Robust Data Model
Pre Built Templates
Unlimited workspaces
Tracking progress, comments, and updates in real-time
Users recommendation: By comparing reviews, it is clear that many customers have similar issues with this app. Most of them are thrilled with the desktop version and frustrated that Android one doesn't have some of its basic features and options.
App store reviews score: 3.6 stars
Price: Essential features are free, while Plus plan costs $10 per user/month. Pro package for more comprehensive collaboration has a monthly fee of $20 per user, and the prices for Enterprise solutions are custom made.
8. Wunderlist
Wunderlist Android App can be suitable for personal aspects of your life, not just for work. Whether you're sharing a grocery list with a loved one, working on a project, or planning a vacation, this excellent to-do list and project management software makes it easy to share your lists and collaborate with everyone.
Its simple interface makes navigation a breeze. With remainder option on, you will never miss a project deadline or forgot your anniversary. Since the app syncs to your Google calendar, you will be notified of any upcoming important dates you should pay attention to.
As an ultimate project management software to-do list, this app provides instant collaboration since participants can comment and make a suggestion on the tasks. While its simplicity looks plain, don't judge it on first glance. It is actually the biggest strength of the Wunderlist Android App and one of its most praised features by the users.
Its clear and tidy overview of all pending tasks and choirs combined with database features is making Wunderlist app a great organizational tool for both work and play.
Key Features:
Instant sync between your phone, tablet, and computer
Easy list sharing and collaboration with participants
Comments and conversation about to-dos
Supports attachment of photos, PDFs, presentations and more
Enable sharing work and delegate to-dos
Reminders are there to notify about important deadlines and life events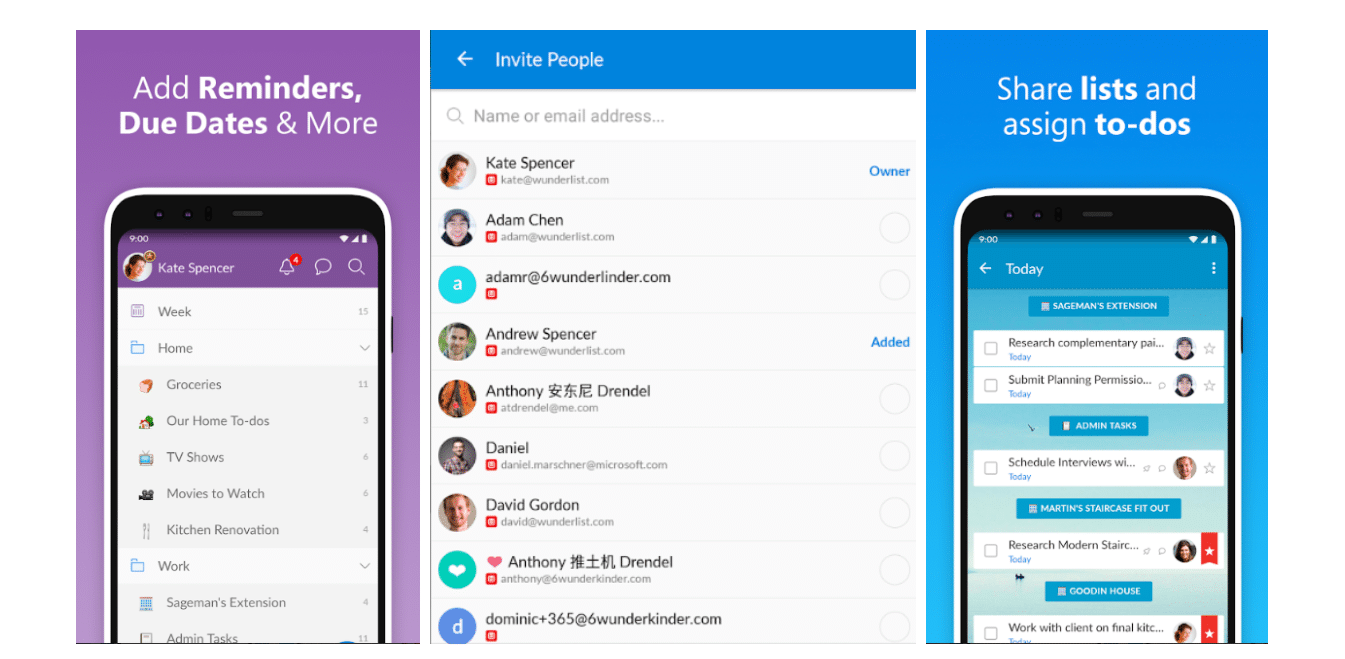 Users recommendation: Users generally agree that this is an amazing app for everyday activities as well for managing work assignments.
App store reviews score: 4.7 stars
Price: Basic options are available free of charge, while the Wunderlist Pro costs $4.99 a month. If you like to use this project management Android app in all its glory, Wunderlist for Business has a monthly fee of $4.99 per user.
How to choose the perfect one out of so many great project management software Android apps?
As you can see, there are a lot of options to choose from. All of these useful Android apps will make your life balanced, work more organized, and easier to track. They differ significantly in the form of presentation and function, but they all have the same goal — to help you navigate, monitor and delegate tasks, and help deliver your projects on time.
However, when you're choosing the most suitable app for managing your work, projects, and your team, you have to consider the following:
Available features and functionalities for smartphone
Display responsiveness
Smartphone notification accuracy
App load time
Overall app structure — UX and UI
The size of the team that app can support
Pricing plan
Users reviews and overall App rating
Conclusion
Make a wise choice according to the needs of your team, project requirements and also budget if you have to opt-out for paying package. Luckily, most of the basic versions of these project management Android apps are free, so you can explore them before choosing the most suitable one.
Of course, there's no rule to dictate using only one — you can combine several apps for navigating different projects or personal tasks.
Are there any other types of tools you'd like recommendations for? Let us know in the comments below! ✌️
OR
Ready to move your projects forward?
Then give Nifty a try? Sign up for free here 🎉