A project management tool for your small business can break down your larger tasks into smaller, more manageable work. Thus helping you become more efficient. And isn't that what we all want from our businesses? 
In this post, we will list down the best project management software for small businesses that can help oversee your team's tasks, keep track of the finances, improve service for your clients, and so much more. All this without costing you a lot of money.
By the end of this post, you'll be able to pick out the right tools to streamline your processes so you can focus on scaling your business.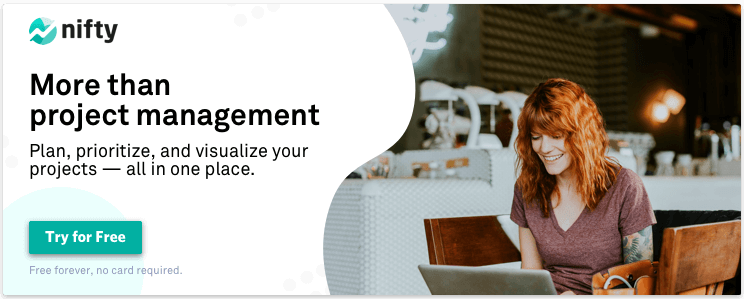 How Can Free Project Management Tools Benefit Small Businesses? 
Are you a small business owner who is managing everything on their own? Well, it's time to step up your game up by getting introduced and familiarized with the best project management tools.
A project management software is your virtual project manager. Organizing your teams and assigning them to the right people will ensure that all your day-to-day and long-term business goals are well taken care of—and your efforts: minimized. Once you get the hang of this tech aid, you will see how beneficial it can be for your small business expansion.
Here are 5 of the most important benefits you can get from leveraging free project management tools:
1. Handling Finances
A project management tool will be your assistant in helping you keep your business's budget in check. Furthermore, if your business relies on online invoices as the primary payment method, it's essential to know how to make an invoice that's professional and easy to pay. 
2. Project Estimation
Accurate project estimation is an essential element in any small business. It will consider the budgeting, cash flows, clientele expectations, and all other factors that will affect the resources needed for project completion, which in turn assists in the overall business plan.
3. Project Administration
Without clear leadership and direction, a project's completion and success may become questionable. A good project management tool can help you track every detail and ensure that precious time is not only allocated for administrative tasks, but also for leadership and decision-making ops.
4. Efficacious Correspondence
While working in teams, ambiguities can become the root cause of lost time. Right project management tools designed for small teams are designed to bring the ambiguities together in a more manageable way. These collaborations jack up the work transparency for every team member.  
5. Resource Allocation
One of the most valuable features of any project management software is keeping all the data organized in one place. Streamlined data storage can help the efficiency of ongoing and future projects. 
Best Project Management Software For Small Businesses 
The following 10 free project management tools for small businesses top our charts. In this write-up, we have included the ones that offer the most functionality. The detailed comparison will help you make the selection according to your business needs.
| | | | |
| --- | --- | --- | --- |
| # | Tool | Rating | Best For |
| 1 | Nifty | 9.3/10 | Ease of use, feature-rich, and overall performance |
| 2 | Basecamp | 8.7/10 | Simplicity to use and top-notch reliability |
| 3 | Trello | 8.3/10 | Simplest dashboard for business owners who are not tech-savvy |
| 4 | TeamGantt | 8.0/10 | Best alternative for Excel and Microsoft teams |
| 5 | Chisel | 7.8/10 | Feature Prioritization, Road mapping and two-way-sync with Jira Integration |
| 6 | Paymo | 7.3/10 | Automatic time tracking for ongoing projects |
| 7 | Asana | 7.0/10 | Running unlimited projects |
| 8 | Zoho Projects | 6.8/10 | Setting of milestones for projects |
| 9 | Monday.com | 6.5/10 | Easy to use dashboard |
| 10 | Wrike | 6.1/10 | Seamless collaboration features with no glitches |
1. Nifty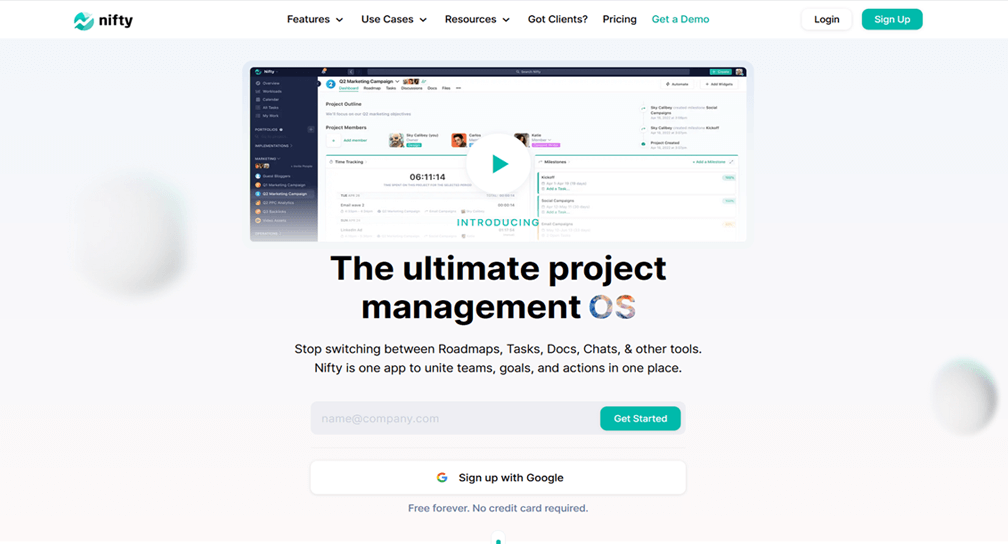 Rating: 9.3/10
Nifty is an all-in-one-place software for project management. It ranks on the top of our list of free project management tools for small businesses. With its robust features, Nifty is a digital office with tasks, roadmaps, docs, chat, and built-in automations.
What We Like
Nifty offers unlimited users on the free plan which other competitors lack.

Nifty's automated progress reporting for clients is noteworthy.

The UX is very intuitive with little-to-no learning curve.

You can sync data from other tools with just a click.

Comes with a calendar, timeline, Kanban, and list view for tasks. 

Automated progress reporting and charts for your business.
What Can Be Improved 
File proofing is only available on the paid plan.

Even though the invoicing module includes all the essentials for a small business, Nifty still has room for advanced invoicing.
✨ Ready to scale your business? Try Nifty for free!
2. Basecamp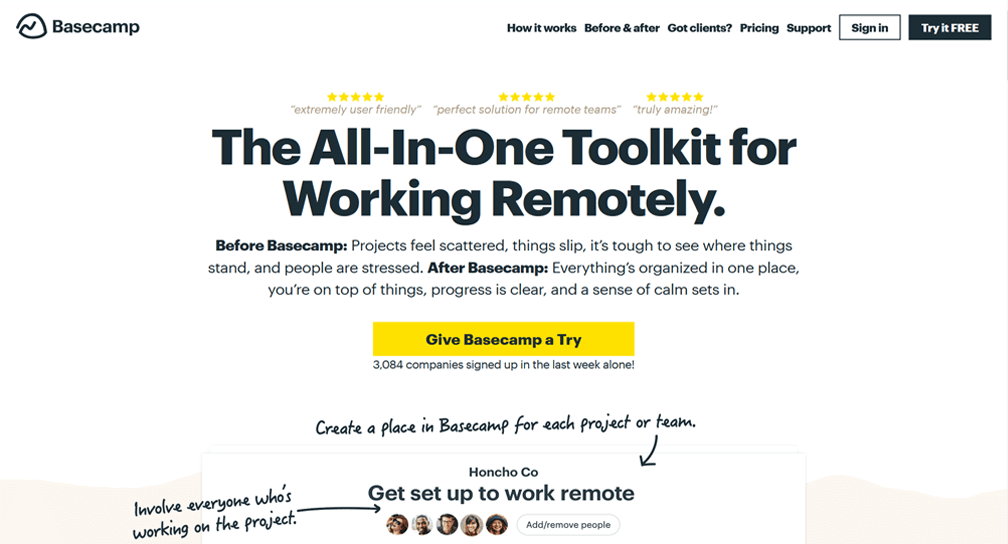 Rating: 8.7/10
Basecamp is a free project management and team communication software that aims to provide a one-size-fits-all solution to small businesses. The toolkit is specifically designed to make communications and management easy for remote teams, freelancers, and companies working in a hybrid setup. 
Team collaboration tools such as group chats, project schedules, and message boards make it a compelling all-in-one solution for companies.
At its core, Basecamp is a comprehensive project management solution and may not be a dedicated project management solution for all working environments. Still, the software can accomplish many of the same tasks as project management tools such as viewing project progress, and assessing and setting task list priorities.
What We Liked 
Basecamp has a plethora of communication features. Its group chat feature makes other avenues like

Slack

and Skype redundant.

Basecamp allows clients a window into project progress. They can edit and provide feedback in real-time.

Customizable team check-ins are available. Managers can create custom questions for the team and schedule them daily, weekly, or monthly.
What Can Be Improved 
Priority levels cannot be changed on tasks. This makes it difficult for teams to visualize which tasks require quicker delivery times.

Project tracking is employee-specific. This means that the employee submits the project completion data, which can be flawed at times.
3. Trello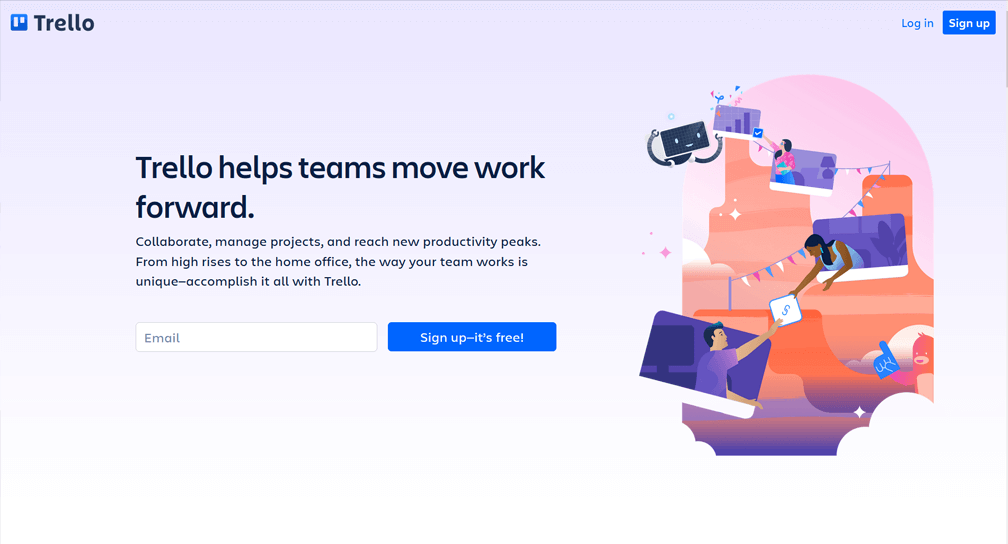 Rating: 8.3/10
Trello is the simplest and lightest free small business project management software available today. It's a compact and easy-to-use alternative for many professionals. 
Users can sign up and begin immediately. Tasks can be managed and curated in a linear format by managers. This makes Trello a compelling alternative to some of the more densely-packed options on the market, and its familiar Kanban-inspired drag-and-drop feature makes it one of the few solutions that work well cross-device and platform.
What We Liked
The most intuitive and lightweight option available.

Trello's automation bot enables easy setups of desired actions and configures most of the project specifics for you.

Comments, document sharing, mentions, and notifications, all make it a great collaborative tool. 
What Can Be Improved 
Does not have analytics and reports in the free version. Reporting tools need to be manually added.

Trello's simplicity works against it when advanced reporting and management are required. Not ideal in Agile work environments, if this is what you need here are the top

agile tools

to choose from.
4. TeamGantt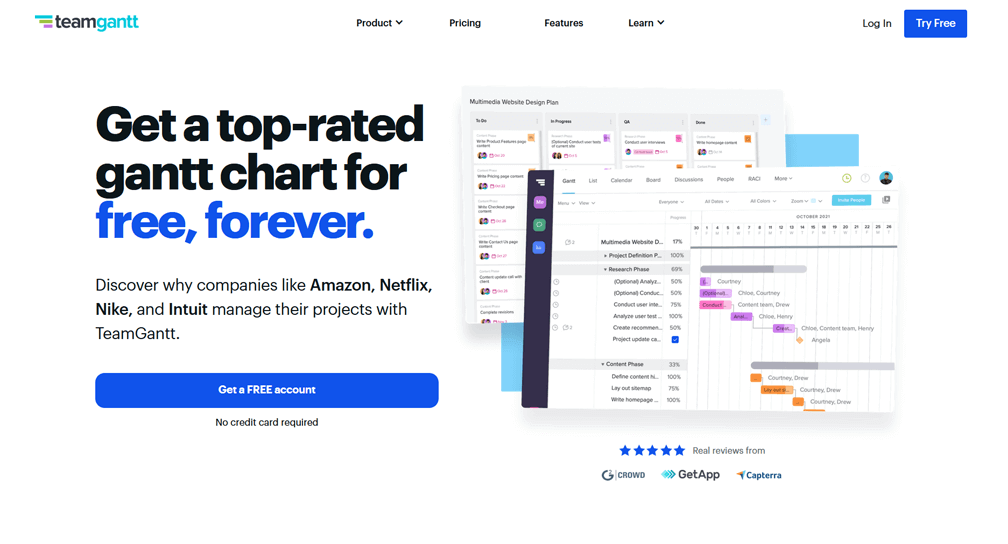 Rating: 8.0/10
A Gantt chart is one of the most commonly used in project management. It shows activities displayed against time. While helpful, Gantt charts are limited on their own. This is where TeamGantt helps. 
Whether you are managing a successful eCommerce project like an online wood flower shop or running an online marketplace, this free software helps small businesses make their Gantt charts online and allows for project collaboration on them as well. TeamGantt also allows for easy switching to Kanban boards and spreadsheets, depending on the familiarity and use of the team deploying this solution.
What We Liked
Its familiar layout makes it easy for project managers to get going right out of the box.

Many resources are available from the company and otherwise for project managers to get going.

A power-up (plugin) for Trello exists and extends the capability of managers already using Trello.
What Can Be Improved 
Invoicing or project expenditure calculations cannot be tracked using the software.

Rudimentary reporting holds the software back, where customizable reports cannot be generated.

Collaboration is a weak point, which could be improved, as active chats or comments are not supported.
5. Chisel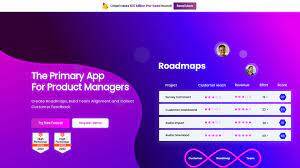 Rating: 7.8
Chisel is your all-in-one stop for your small business needs. It adopts an agile framework to facilitate flexibility and solid structure for your business. Chisel helps you prioritize your work items using a Kanban board and employs the RICE prioritization matrix to determine the importance and urgency of each task.
Here are some key features of Chisel:
Chisel's treeview feature enables you to break down your tasks into features and components. You can ship your deliverables by tagging them as objectives, releases, and so on.

Since agile teams require quick iterations, you can figure out what you should work on right now, what you'll be taking up next, and what you will undertake in the near future.

To get a holistic view of your project or business, you can use the timeline feature to understand it easily.

The latest idea box feature of Chisel offers to capture your ideas, store them, and organize them if necessary.

The team alignment feature of Chisel allows all your product and project managers to be on the same page as you in terms of determining priority.
Limitations:
The time-tracking feature is not available on Chisel. Hence, you cannot figure out how much time your team members have spent using the tool on completing their work items.

Chisel favors high team collaboration and transparency may not be an answer when working on ambiguous tasks.
6. Paymo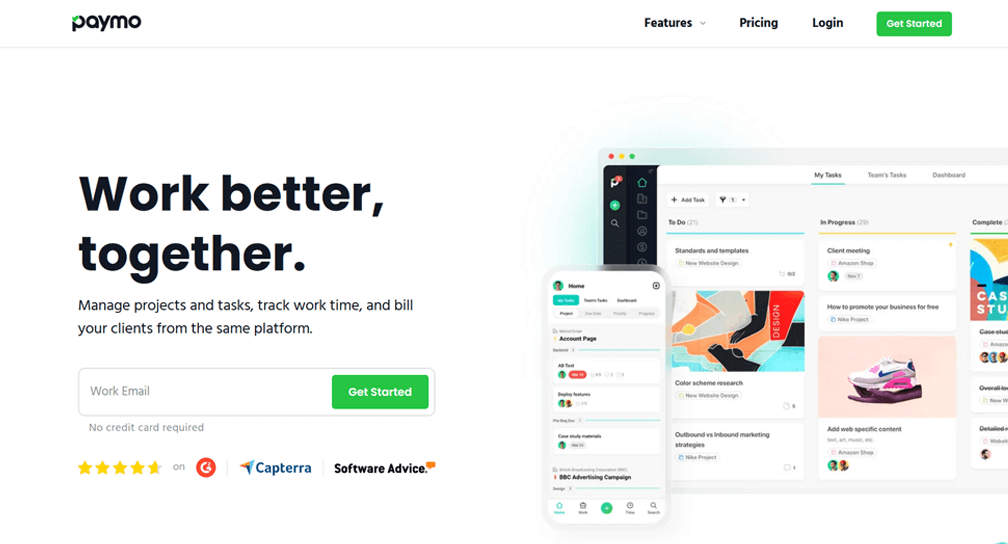 Rating: 7.3/10
Some of the biggest businesses today like Adidas, and Fujifilm use Paymo as their project management tool. Paymo is a SaaS-based web tool that is used for keeping teams organized and productive at work.
Paymo's powerful features like invoicing, task time tracking, and task management make it come to a decent spot on our list. What is even more worth mentioning is that it is one of the best software for small business management. However, it has its limitations in the free plan.
The automatic timesheet feature saves you your energy and time for allocated tasks. This can also be done while you are offline.
The customer care routine is very prompt at Paymo and they make sure that they resolve the customer's issues.
What We Liked  
Powerful invoicing tool at Paymo is one of the top-rated when reviewed.

Paymo houses an easy user interface and dashboard (which includes a quick view).

You have the option of working offline on the mobile app installed on your devices. The data uploads automatically, once you get online.
What Can Be Improved
The invoice feature is limited in the free plan.

The filter option on the dashboard might get confusing at times.
7. Asana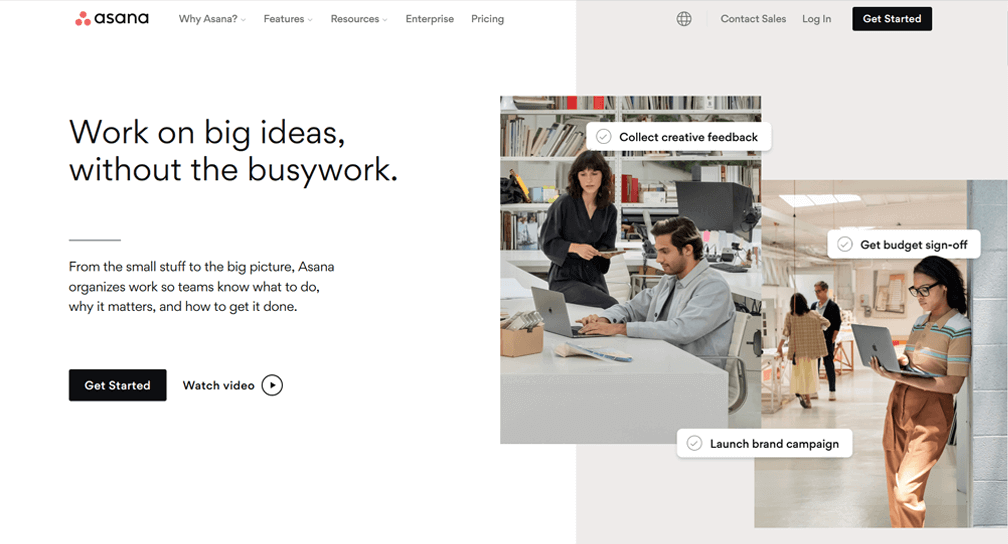 Rating: 7.0/10
Asana is an interactive work management software that helps a small business stay focused on its goals. The main purpose of this free project management tool is to facilitate small companies to collaborate and multi-task while keeping up with due dates. Asana automates routine work by sending push notifications to team members making teamwork much easier. Working on Asana helps you save time that is mostly wasted in organizing meetings, emailing, and much more.
It renders a user-friendly interface that saves a lot of training time and a state of chaos.
Asana shows more than 8000 customer reviews which are very positive and encouraging. All in all, asana is a promising project management tool for small businesses and bigger organizations.
What We Liked
Asana offers remarkable remote collaboration.

Asana has more than 200 integrated tools

Asana's easy-to-use interface makes it favorable amongst organizations.

Great for software development teams whether to create internal solutions or marketing tools like

podcast software

.
What Can Be Improved 
Asana limits the number of users to be added to the free plan.

The two-factor authentication is lacking in Asana.

Asana's project management features are more favorable for bigger organizations.
8. Zoho Projects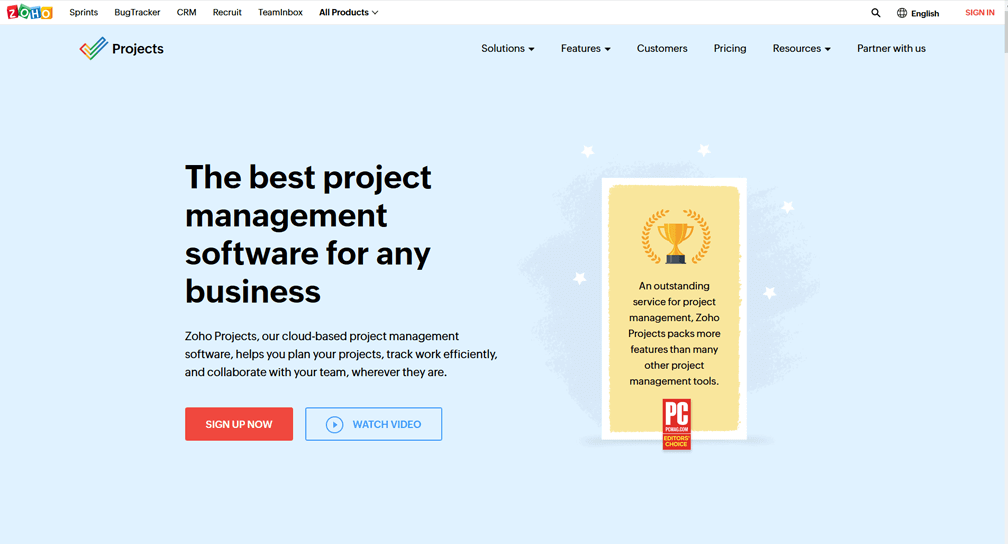 Rating: 6.8/10
Zoho projects tool is particularly designed to favor small businesses and new organizations. It's a free, one of its kind project management software that helps small businesses cut down on numerous tools. From creating tasks to budgeting, it offers everything in between.
This is a cloud-based software that is best suitable for remote development teams working remotely to build tools from marketing tools like call recording software to new technology software like crypto trading, to help people to use their electronic money and save them on their usdt wallet. It facilitates the user to have a single group chat room and or participate in multiple chats simultaneously. The customer care at Zoho projects could use a little more advancement and promptness.
What We Liked
The invoicing and auto workflow features are tops at Zoho projects.

The best thing about Zoho projects is its dynamic improvising mode which helps this tool refine.
What Can Be Improved 
Zoho projects could use a little improvement in their dashboard to make its features easily visible to users.

The setup of Zoho projects might not be as easy as ABC.
9. Monday.com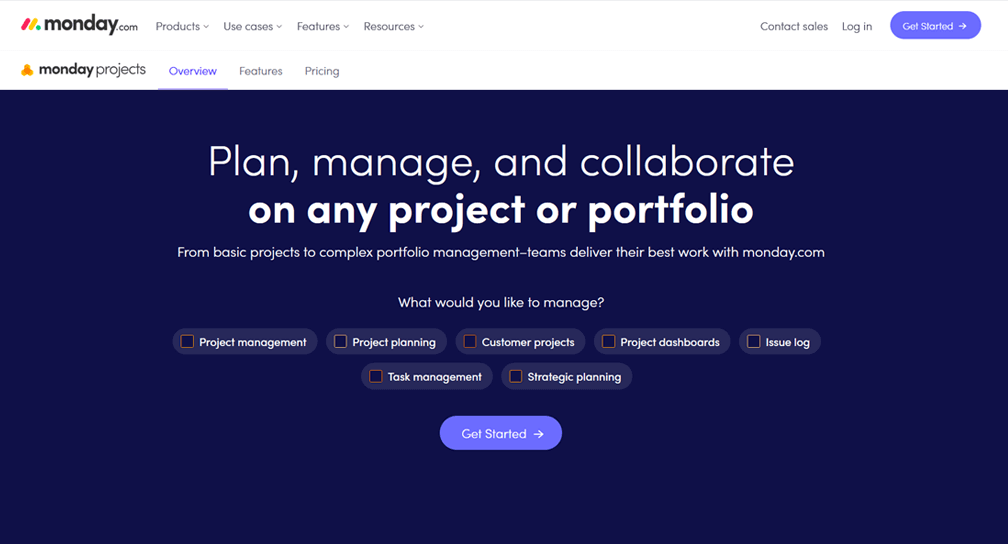 Rating: 6.5/10
Another cloud-based online workspace for your small business, Monday.com lives up to its expectation of being in the top ten free project management tools for small businesses and the marketing industry particularly.
Monday.com helps in the collaboration of team members and departments for managing projects and their subtasks. 
Board creation for a specific task, and setting timelines and milestones while keeping every move transparent for all stakeholders is one of the key features of this tool. Although the UX and UI could use some improvement (nothing major). 
Monday.com has a high review rate and is considered best for small businesses because it allows 1-50 group members for a single company.
What We Liked
Monday.com offers major web tools integration which makes it much easier to collaborate and use resources.

Supports 11 languages for the ease of its clients.
What Can Be Improved 
Lacks email integration capabilities.

The tool interface needs to be more simple to the eye.
10. Wrike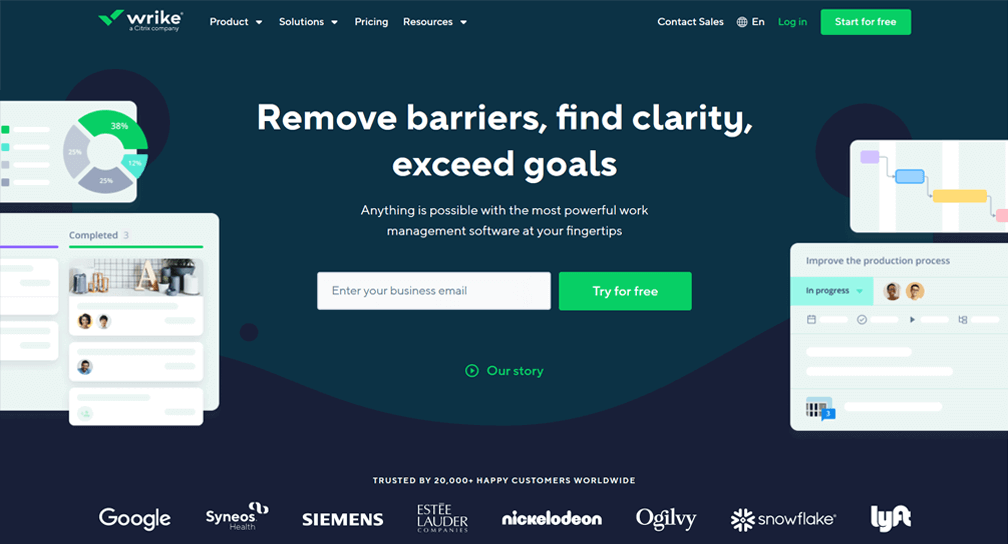 Rating: 6.1/10
Wrike is one of the pioneers of project management software. Yes, Wrike has been in the market for that long. The most mentionable fact about Wrike is that "you will find the app however you want it to be".
Its software model is based on Microsoft Projects. It integrates other relevant apps like Gantt charts and Kanban boards that make communication, project planning, and allocation much easier.
If you are new, expect a good dashboard from Wrike which will show all the important stuff easily. 
What We Liked
The team at Wrike offers good customer care service. They try to answer your queries as soon as possible.

Wrike has integration with a wide number of collaboration and task management tools that are also suitable for

social media management

needs, however, a free plan might lack some of them.

Wrike offers a robust search engine.
What Can Be Improved 
The free version only allows 5 group members to be added. However, the paid version allows more according to the plan.

The dashboard lacks the filtering option which makes it slightly chaotic.
Factors to Consider When Selecting a Project Management Tool?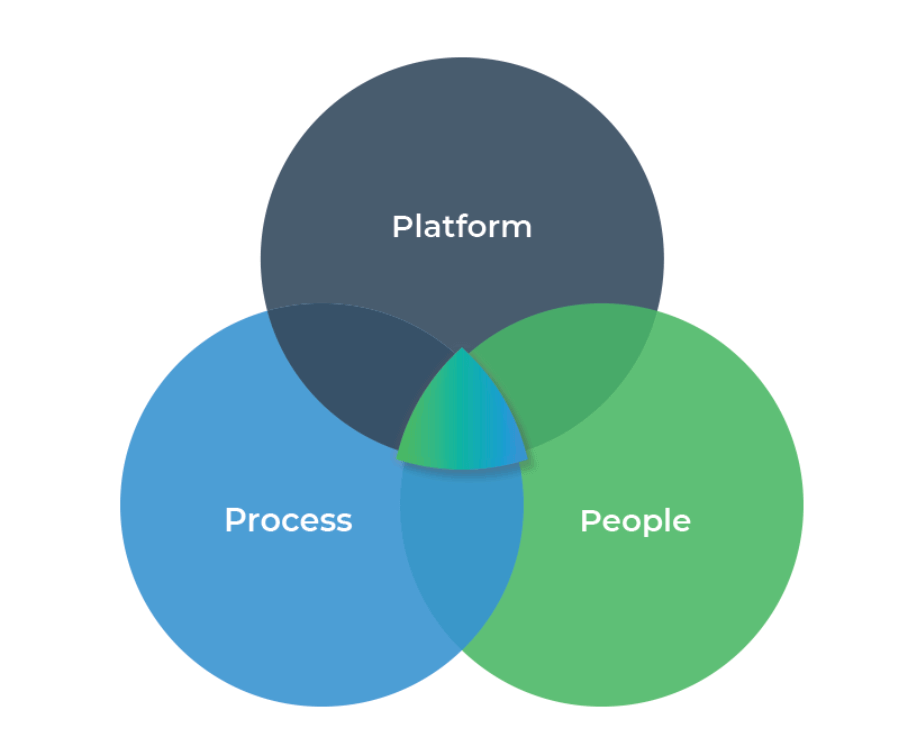 Here are some aspects to consider while selecting a free project management tool for your small business. Use this list as a guide to narrow down your options. 
1. Features 
Check the tool for the features it offers. Are these features designed for your use? 
Remember that a free project management tool might have feature limitations compared to the advanced features of a paid plan. However, these essential features are already enough to carry out the necessary tasks for a small business.
The more features a software offers, the more likely it will fit your business needs. 
A project management tool should mostly have discussion platforms, project portfolios, a good search option, security checks, and data caching. Your selection criteria depend on using the said features in your business needs.
Don't waste your energy on using a tool that offers features you can't utilize for your business needs. 
2. Customer Support and Training
Suppose a company treats its customers like a king and keeps them on a pedestal; know that you've hit the jackpot. A 24/7 responsive (automated or real-time) team is what good customer support looks like. Compromising on anything less may not work as per expectations.
There are training support groups that these tools offer to their buyers. If the training session provided is to the point, you will be a pro at using this in an instant with no time and efficiency lost.
Tip: Check how prompt the company is in replying to the emails. That will say so much about that company's customer support.
3. Ease of Use
We understand that most micro-business owners are leveraging tech for purposes. And why not? It is the need of the hour. Even the ones who don't claim to be tech-savvy are integrating tech into their businesses. The use of these tools is to provide ease in working and simplifying tasks.
When choosing software, know that the ones that are easy to use will increase your efficiency. 
4. Tool Interface
A simple dashboard is the first thing your eye catches and lets your mind settle. These tool interfaces either help escalate your work efficiency or do the opposite. The tool where you feel the most comfortable is the one that will help you make better business decisions.
5. Customer Reviews
Customer reviews promote transparency. Keep customer feedback in mind while choosing a free project management tool for your small business. They will tell you the truth about the software. Is it in deep waters? Or is it a robust one?
Reading these reviews will clear out all your confusion, help you know the actual product specifications and answer the many questions that were fogging your brain to make a final decision.
Are you looking for project management software for individuals? Check this guide on selecting personal project management software.
Conclusion
The purpose of using free small project management tools for small businesses is to simplify tasks without putting a dent in your budget. The right project management tool frees up your valuable time. Hence, you focus on other critical roles like strategizing, brand development, and hiring the right resources for your team– the basis for selecting software. It should be efficient, easy to use, and economical. 
Remove complexity from work by welcoming a free project management tool like Nifty into your team.