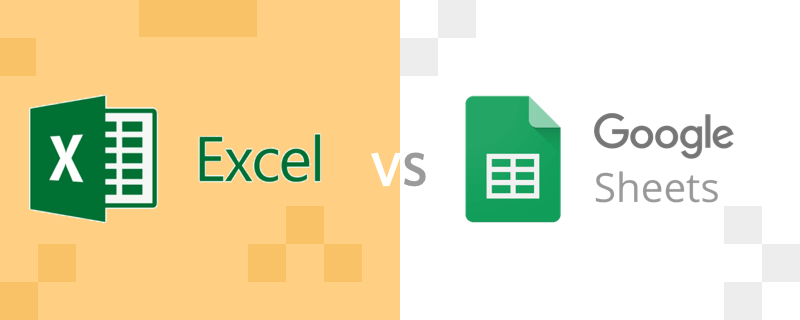 When it comes to spreadsheet applications, you'll generally find two proponents: Google Sheets users and Microsoft Excel users. In fact, Google Sheets vs Excel is an age-old conundrum among managers.
The battlefield is ripe with all kinds of varying (and often contradictory) reviews and comments on both these tools. In this guide, we will deep-dive to understand both these options in great detail–from analyzing the key features to hearing what real-world users have to say; we'll throw light on nearly every useful component. Let's get going.
Google Sheets vs. Excel: A comparative study
In this section, we will look at the top 8 differences between Google Sheets vs Microsoft Excel, starting with:
1. Functionality
1. Google Sheets
Google Sheets comes freely available with the web-based Google Docs Editors suite. This tool is famous for its user-friendliness, power of collaboration, ease of sharing, and so on. Some of its key features and functionalities are:
You can access it online and offline, from anywhere and on any device, without worrying about any glitches or bugs
It is a wonderful Cloud-based tool that can be used with your Google account. You can easily sync and save your Google Sheets documents in Google Drive.
You can leverage the machine learning-enabled feature, "Explore" to create pivot tables, format the sheet color-wise, visualize important data, create charts, ask relevant questions and get instant answers, and more.
You can easily integrate it with other Google apps such as Google Forms, Finance, Drawings, etc.
2. Microsoft Excel:
Microsoft Excel is the best tool for advanced data analysis and documentation. It allows you to perform advanced calculations, leverage graphing tools, create pivot tables, and make the most optimal use of a macro programming language called Visual Basic for Applications (VBA). Its key features and functionalities are:
It offers amazing, friction-free offline and online access.
You can customize the Excel Quick Access toolbar based on your needs. For instance, you can pin buttons you like, such as Form, Format, etc.
It offers a vast variety of advanced, Microsoft-supported feature add-ins such as Power Query, Power Pivot, and Power BI.
Who's the winner?
Clearly, when it comes to excel vs google sheets, both of these tools offer varying functionalities.
The ideal tool for you will depend on your unique needs and use cases. If you want a free tool, which allows you to easily collaborate with others in real-time, Google Sheets is for you.
On the other hand, if you want a tool that can easily be accessed offline (with all the features intact), and offers greater customization and advanced data analysis as well as visualization functionalities, Microsoft Excel is right up your alley.
2. Collaboration
Google Sheets: It allows for seamless collaboration (minus the annoying glitches or lags), allowing team members to work on the same sheet (across devices!) and drive changes in real time.
Microsoft Excel: Though Excel does provide real-time collaboration features, it doesn't hold a candle to Google Sheets' capabilities. In order to collaborate with someone, you will first need to save the file on OneDrive or SharePoint.
Who's the winner?
Google Sheets offers unparalleled collaboration features and emerges as the clear winner. For teams looking for a high-performing collaborative tool, Google Sheets is a clear choice.
3. Data analysis & visualization
Google Sheets: Google Sheets offers a few basic data analysis features such as charts and graphs (think: scattered, bar, pie, column, etc.). Plus, you may need to manually create charts, and you won't be able to create a pivot chart.
Microsoft Excel: Microsoft Excel's biggest superpower is the Formulas feature, which empowers users to leverage feature-rich functionalities such as statistical analysis, powerful data processing, advanced calculations, and more. This feature empowers you to create Kanban boards, Gantt charts, flowcharts, pivot charts, and so on. You can use the inbuilt formulas as well as bar charts to easily engage in advanced and powerful data analysis and visualization in Excel.
Who's the winner?
When it comes to powerful data analysis and visualization, Excel is the clear-cut winner. Google Sheets' data analysis functionalities are subpar at best in comparison to Excel Sheets.
4. Formulas
Google Sheets: Unknown to many, Google Sheets offers a really long list of formulas–from dates and financials to filters and math, which you can access on the Docs Editors help page.
Microsoft Excel: Excel, in comparison, offers a wide array of advanced formulas such as conditional formatting, macro, IF function, and beyond. Since Excel has been around far longer than Google Sheets, it has had quite a bit of a head start in this regard. That said, note that Excel online differs in features from the desktop version.
Who's the winner?
Excel should be your go-to tool if you are looking to do complex calculations (or even basic ones, for that matter).
5. Flowcharts and charting
Google Sheets: It offers more chart types than Excel (think: options such as Gauge Chart, Timeline Chart, etc.).
Microsoft Excel: Excel's flowcharts are extremely easy to make, use, and customize; however, you have limited options available.
Who's the winner?
When it comes to flowcharts and charting, we have a tie between both tools as both have similar in-built chart types.
6. Automation
Google Sheets: Google Sheets uses Google Apps Script, a user-friendly automation language that can be understood by people who have a basic understanding of JavaScript.
Microsoft Excel: Excel makes use of VBA (Visual Basic for Applications (a backend programming and automation language) for automation. It is easier to learn and can be used for a variety of Microsoft applications such as Excel, Word, and PowerPoint. You can automate repetitive and time-consuming tasks, generate reports, or even create custom add-ins.
Who's the winner?
When it comes to automation, Excel is the clear winner here, thanks to the VBA feature.
7. Updates
Google Sheets: It offers free, immediate updates to users.
Microsoft Excel: If you are using Excel 2016 or prior versions, the only way to get updates is to upgrade to the next version, which can become expensive. However, with MS 365, you will be able to access real-time updates.
Who's the winner?
Google Sheets is the winner as it offers free and instant updates to its users.
8. Pricing
Google Sheets: It is available free of cost if you wish to use it as an individual user. For businesses, Google offers a business subscription under Google Workspace with three pricing models:

Business Starter Plan: $6/user per month
Business Standard Plan: $12/user per month
Business Plus Plan: $18/user per month

Microsoft Excel: It is available with MS 365. Non-business users can use it for free. Additionally, you have the following plans available:
| | | | | |
| --- | --- | --- | --- | --- |
| Plan Type | Option 1 | Option 2 | Option 3 | Option 4 |
| Paid plan for personal use | Microsoft 365 Personal: $6.99/month for one person | Microsoft 365 Family: $9.99/month for up to 6 people | NA | NA |
| Paid plan for business use | Microsoft 365 Business Basic: $5/user per month | Microsoft 365 Business Standard:  $12.50/user per month | Microsoft 365 Business Premium: $20/user per month | Microsoft 365 Apps: $8.25/user per month |
Who's the winner?
There's no doubt that when it comes to pricing, Google Sheets wins hands-down, as it offers a completely free option for users.
What users think about Google Sheets:
Now that we have a good understanding of the two tools, let's look at what real-world users have to say about using Google Sheets:
"In my opinion Google Sheets is incredible, and it has the best features from Excel but now is completely collaborative and shared with your team, which is perfect for team working. Google Sheets has almost all the features from Microsoft Excel, which includes a lot of things, data management, plots, graphs…everything also it's a collaborative document, so you can work together with other people in the same file without having to save it and share it." – Capterra Review
Similarly, one user says
"I love that it's free, easy to use, comparable to Excel, and accessible on multiple devices. I use it mainly for my budget, which has not only helped me save a lot of money but also plan for the future." – GetApp Review
What users say about Excel:
On the other hand, let's look at what users have to say about Microsoft Excel:
"Some of the features I enjoy most when using Microsoft Excel are:

The ability to create graphs from the data you have entered.
The ability to create pivot tables from your data makes it easier to analyze your data differently.
The option of formatting cells, rows or columns in different colors and fonts so that you can easily differentiate between them.
The option of inserting charts into your spreadsheet makes it easier to see trends in the data over time.

Also, you can connect to multiple data sources and import the data in Excel. This feature is a boon!" – G2 Review 
Here's one more
"I adore Excel's user interface, computation features, and data visualization possibilities. I track the progress of the projects using this spreadsheet application, find any gaps, and take the necessary action. Along with computing the dues, I also need to keep track of the overall amount of work completed and payments thus far. Moreover, this software is incredibly simple to use and has amazing power. There are numerous tutorials available to me if I get stuck somewhere." – Capterra Review
Google Sheets vs. Excel: Which is better?
Truth be told, in the ongoing battle of Google Sheets vs. Excel, one might be a shade better than the other (but that's just about it), depending on your core needs and requirements. Google Sheets is good for you if you want better collaboration and have a tight or no budget. Excel is the way to go if you want a more advanced tool for churning out formulas, excel sparklines, and flowcharts.
Remember that both these tools differ only slightly in their core functionality. This is why we are suggesting a better alternative–one that offers the best of both worlds.
Try Nifty, the project management tool, which doubles up as a better alternative as it empowers you to bring notes, specs, copy, spreadsheet, and presentation creation into your projects through the useful multi-purpose feature called Project Docs.
Additionally, it offers native integration with Google Docs, Sheets, and Presentations. All you need to do is simply connect your Google account to Nifty and launch these collaborative Google tools with the added convenience of storing them within your Nifty project.
That's not all. If you sign in to Nifty using your Google SSO, your Google account will be synced automatically. You can also launch your documents from a discussion channel and automatically invite everyone to collaborate on the document at the click of a button.
Sign up now to see it in action!
Excel vs. Google Sheets: FAQs
Is Google Sheets the same as Excel?
For the most part, these two tools are the same. However, if you want more complex functions and to work with extensive datasets, Excel is the better tool.
Can you use both Google Sheets and Excel together?
Yes, you can use both these tools together and import files from one to the other easily.
When it comes to Google Sheets vs. Excel, which one is better?
Both tools have different end goals. If you want to use a tool that is relatively easier to use and offers better collaboration, Google Sheets is for you. You can engage in real-time chatting and commenting. However, if you want a more advanced program for complex functions, data analysis, and visualization and deal with large datasets on a routine basis, Excel is the way to go.
What are the main differences between Google Sheets vs. Excel?
There are many notable differences between: - Google Sheets vs. Excel such as:
Google Sheets offers a free version, whereas Excel does not
You can Google Sheets on a web app (cloud access) and/or mobile device, whereas Excel is available as a web app, desktop app, and mobile app.
Google Sheets offers real-time collaboration, whereas Excel offers limited offline collaboration.
Sheets are simpler to use in comparison to Excel.
Excel is a better app in terms of performance. Plus, it can do more calculations, has more functions, and can tackle massive amounts of data