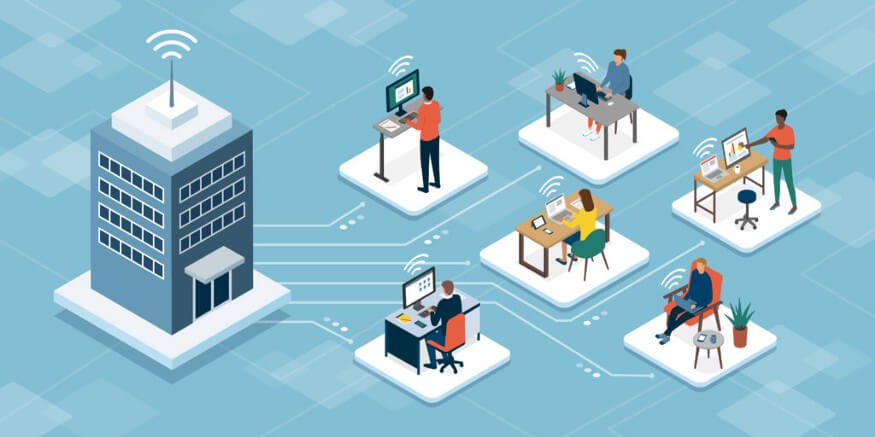 To say that we've experienced a massive shift in how we work this year would be an understatement.
Prior to the pandemic, many of us had an in-person work model — coming into the office Monday to Friday, from 9 to 6. Once COVID-19 hit, we rapidly pivoted to a remote work model with little to no planning, and managers and their teams were forced to figure things out as they went along.
Surprisingly, this unexpected shift hasn't led to a decrease in productivity. A study by Boston Consulting Group of over 12,000 employees reveals that many employees feel their productivity has stayed the same or even increased since they've been able to work from home.
But while productivity may be up, remote work brings other challenges. Employees report difficulty in maintaining work-life balance, less collaboration on projects, and a sense of feeling less connected to their colleagues. Completing your personal tasks might be easier, but it's difficult to engage with colleagues, interact with clients, and brainstorm in collaborative meetings.
As restrictions are loosening, some companies are reopening offices and introducing a hybrid work model — a system that allows both in-person and remote work. Studies show that this hybrid work model is increasingly being thought of as the new future of work. It supports flexibility and collaboration by mixing in-person and remote settings for work, based on both business and individual needs.
This might seem like the perfect solution for the COVID era and beyond — employees who want to stay home can continue working remotely, and those who miss the camaraderie of the office can commute in with safety measures in place. But like most things, that's easier said than done.
Employees might still miss out on crucial conversations in the office, while others might miss out on the productivity of their home office. Managers might feel like they are herding cats with distributed teams. So how can we maximize productivity while promoting a hybrid work model?
As with any change, it requires planning and communication. Within an organization, solutions can be different across locations or departments — so planning for a hybrid office requires the input of department leaders, HR, facilities, and technology.
In order to maintain productivity in a hybrid office, we need to consider the following aspects:
1. Clear Communication and Expectations:
Clear communication is the first step to making sure that a hybrid work model is successful. Teams need clear expectations around roles, responsibilities, and schedules. While some tasks are better suited for home (writing reports, conducting research), others are better suited for the office (brainstorming). Managers should help their team members determine their schedule based on which tasks need to be completed when. Think about which teams or employees would benefit the most from in-person, collaborative work.
Another thing to consider is setting team communication norms. This is an opportunity to be more intentional with how teammates communicate with each other — for example, skipping the informal post-meeting debrief in favor of collecting your thoughts in writing, and then sharing them with the team when you know everyone will be online. Team members who are meeting in person should document everything to share their notes with others who might not have been able to attend.
Transparent goal setting through milestones can also help improve communication in a hybrid workspace. If employees have more insight into team and individual goals, this opens up new channels of clarity and collaboration. Team members can address their questions and feedback to the correct channels, streamlining the process and minimizing back and forth email exchanges that clog up their inboxes.
Documentation & asynchronous knowledge sharing will become the new communication norms of a hybrid workspace to level the playing field and provide all team members with a baseline for information.
2. Supporting Mental Health & Inclusion
Every person's remote work experience is unique, with different positive and negative aspects. Some employees might have their own home offices, while others might be dealing with a spouse working remotely, children attending school remotely, or other challenging situations. Supporting the mental well-being of your team is a critical endeavor during trying times— managers should make it clear to their teams that they are available to provide space and support.
Social connectivity and interaction are some of the key ingredients that have been missing from our lives while working remotely and are undoubtedly two of the main drivers of employees looking to come back to the workplace. While some employees might be ready for team social activities, it's important to include people who are not present and create socially engaging activities for all members of the team. This might include hosting team coffee breaks throughout the day or using company culture software to match people up for one-on-one social meetings. Make time for fun for remote and in-person teams, so that they feel included.
Remote and hybrid workplaces present new challenges for equity and inclusion, which are two important factors in employee satisfaction and engagement. Managers can stay on top of this by fostering more frequent check-ins with employees, including one on one meetings to address any blockers and see how they can be of help.
3. Level the Playing Field With Technology
Technology has become more important than ever as we've shifted into the remote workspace. It's helped us to maintain a sense of normalcy as we've shifted into this new world, connecting with colleagues and friends from all over the world.
The shift into a hybrid office has the potential to create two siloed workforces — remote team vs. office teams. Leveraging hybrid workflow tools would help maximize efficiency and increase remote work transparency and productivity. For example, video conferencing needs to shift from two groups of people watching themselves on the screen to more interactive endeavors that allow genuine collaboration. Normalizing video calls in all in-person meetings can help your remote employees feel more comfortable participating.
Be wary of distance bias, it makes people in hybrid meetings have a tendency to assign greater importance to people that are closer to them. Closing that gap and making all the attendees feel included in the meeting is one of the top priorities.
When brainstorming, consider having asynchronous digital collaboration settings where people can share their ideas, take some time to think about feedback, and then share that feedback in an inclusive digital meeting. Consider providing training to employees who need assistance with the workforce tools to ensure that they don't fall behind or sit out of crucial discussions because of technology concerns.
Don't Be Afraid to Make Adjustments
At the end of the day, every workplace culture has its own nuances and challenges to respond to. When reviewing what you'll need to make your hybrid office a success, encourage a growth mindset among employees and managers to consistently analyze what is working and what can be improved.
Remember that this is a time where you can still build and improve upon your culture, and incorporate it into this hybrid workspace. Whether a hybrid office is just your current reality or a long term commitment, proper planning and communication will go a long way towards ensuring a successful and productive working environment.
👉 If you're shifting into a hybrid workforce, Nifty is the perfect tool for you — it's a transparent and collaborative platform that helps your team maximize productivity regardless of if they're at home or in the office. Try Nifty for free today!