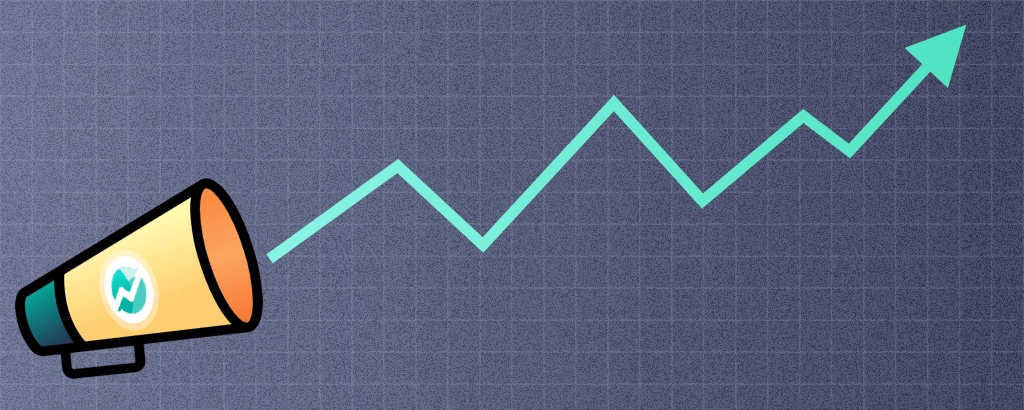 You must have sent customized emails, made appealing UI/UX, or offered prizes and discounts to draw users' attention. The user experience might have been made more engaging by gamification or offered an infinite number of options for users to use. And there are many other things you do that you believe will help you make more sales and bring in more money. Right?
But what ultimately evolves? Despite your best efforts, you are still unable to achieve the appropriate level of client engagement and acquisition. Do you not believe that these days, even after accomplishing everything, it is getting harder to prompt your customers?
And as a result, every marketer is plagued by the same dilemma: what could be done differently to make a difference?
Indeed, this is the situation where trend reports are most helpful. As a marketer, you must want to be aware of where you should focus your efforts going forward to market the business. You may need to know which type of technological advancements are on the top, or what the most recent marketing tech trend is that your audience is embracing. And the easiest way to stay informed about them is to regularly read the trends reports.
While some of the marketing tech trends will be continuations of those that started about a year ago, others will only start to have an impact this year. 
According to a report by Research and Markets, the market for marketing automation worldwide is anticipated to expand at a CAGR of 9.8 percent from 2020 to 2027, reaching a value of USD 8.42 billion. 
Digital audiences are now present everywhere. Through various channels and gadgets, they consume and interact with information.
Marketers need to find a way to keep up with them in order to give value and be consistent with their messaging. With their online activities, customers reveal all the information you require about how to impress them. This implies thorough data collection, analysis, and storage, marketers can find ways to impress their target audience. 
The collected data can also be used to form a disaster recover as well as a business continuity plan. Clearly, with the correct technology, marketers can use that data to engage with customers and make the required adjustments to their strategies.
Five steps to developing a Martech plan
Step 1: Form your team
Bring together a team of decision-makers and end-users from various divisions inside your business to establish your marketing technology plan. Prior to the first meeting, allow time for team members to learn about and comprehend the marketing technology landscape.
Ask them to know about the user personas since it is crucial when developing a go-to-market plan and should be a cornerstone of all marketing initiatives. Your target market will be divided into a number of carefully honed and nuanced categories, and each of them will respond differently based on their individual needs, purchasing power, backgrounds, and other aspects.
Step 2: Determine the necessary skills
Think about the skills needed to support projects in digital marketing. The tools you require and the integration strategy should be decided. Determine the data that will be needed and the collection, management, and security methods.
By examining the pain areas outlined for each user persona, you will see that some may already have clear resolutions built into your product. In contrast, others may be more difficult to describe.
Step 3. Establish a schedule for implementation
Using your selected project management approach, create a schedule for implementation. Based on business priorities and the dependency of the tools, order your marketing technology rollout.
There are a lot of excellent case studies that can help you to examine and re-draft your strategy for all-around more engaging content, even after releasing your first product or one with no similar products being offered by your organization.
Step 4: Visualize and communicate
It is essential to visualize your plan, make sure it's simple to comprehend and give it to stakeholders, whether you choose to create a comprehensive roadmap or a straightforward infographic. Transmit any alterations to roles, duties, or the plan itself, as well as updates on the plan's development.
Step 5: Evaluate performance
Evaluate your marketing technology capabilities every six months based on the changing needs of the users. In order to assist your marketing plan, gather input on the martech tools you are using, and as necessary, make adjustments.
A marketing tech plan can benefit from, among other things, the following:
Having a plan that is well-defined and provides guidance for all parties involved

Less time needed to advertise new items

Decreased possibility of unplanned expenses after launch

Gaining knowledge that will make it simpler to respond to changes in client expectations

Ability to anticipate and overcome difficulties

A well-defined route leading to achievement milestones

Complete adherence to the applicable law
A marketing tech plan is crucial for new campaigns for existing products, product launches, and similar projects because of these benefits and many more. They usually serve as useful benchmarks for more manageable, shorter-term marketing plans because they are focused on longer-term projects and adhere to rigid success criteria.
More technical innovations emerge each year, which every business owner should be aware of. The marketing success of business owners who remain on top of trends may potentially reach new heights. As of 2022, the following 7 trends should be utilized by businesses: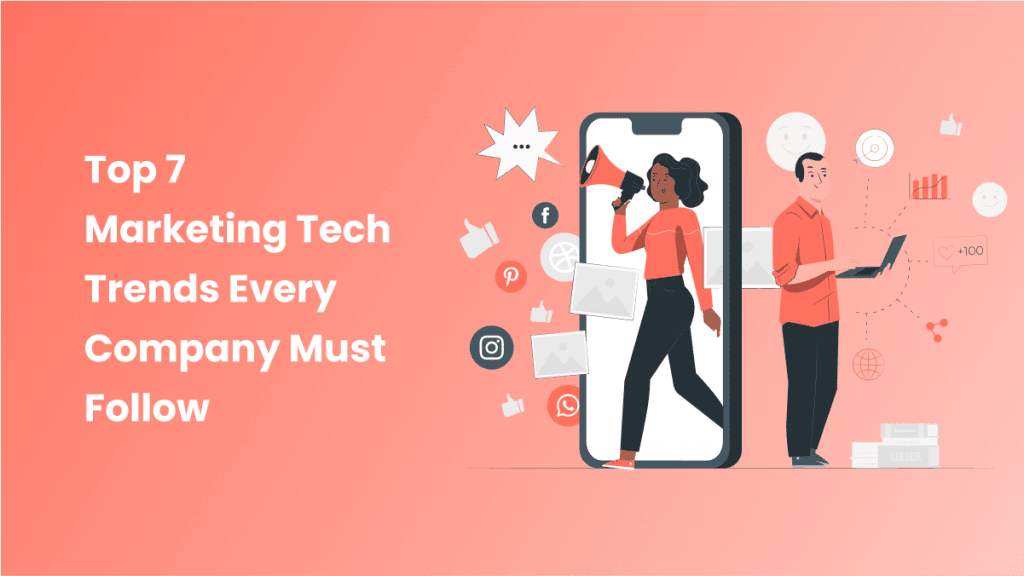 1. Extended Reality
Automation that enables a person to enter a virtual environment is known as extended reality. Mobile devices including phones, tablets, laptops, and PCs can be used to interact with extended reality (XR).
In the corporate sector, there are three forms of XR:
Virtual Reality (VR)

Augmented Reality (AR)

Mixed Reality (MR)
In the media industry, all three of these versions are incredibly powerful at enticing clients. Additionally, they can alter how products are perceived by customers.
Following the coronavirus pandemic in 2022, the following areas saw a significant increase in the use of technological advancement:
education

medicine

entertainment
According to experts, the market for XR technology will grow to more than $18 billion by 2023.
Top 3 use cases for XR in marketing:
Developing 360-degree video-based advertising campaigns

Opening virtual exhibition halls and stores

Planning virtual events
Technologies like extended reality increase the likelihood of users remembering your marketing communications. Users can know more about your organization, your products, and your services by adding things such as augmented reality videos to your branding.
Remember that the user experience is influenced by how people view your brand. Associating the business with top-notch AR content that delivers valuable information will result in developing good connections. 
Happy clients will spread the word about their wonderful interactions with you to their friends and family, spreading the fondness beyond your current clientele.
Contrary to a billboard or television advertisement, augmented reality is an interactive medium. It helps you and users to make a good connection. It is a wise decision for all sorts of businesses to engage with their clients rather than only showing them images.
2. Machine learning and artificial intelligence
Traditional marketing strategies have a limited means to provide insight into consumer behavior and purchasing trends. However, AI-based marketing can easily keep a tab on the data of consumers' behavior as well as their shopping patterns. 
The modern marketing teams are able to use the potential of AI in their companies because of these intricate ML models.
These models employ various algorithms to provide marketers more leverage and enable them to enhance user experience, increase outreach to the targeted segment, elicit a response, and increase audience relevance.
A paradigm change is being furthered in emerging markets by cloud-based platforms and apps, which are working in tandem with a wide variety of potent tools driven by ML.
Understanding the value and benefits of AI and ML-based marketing is crucial. The following list includes a few of the most crucial ones:
improving value by utilizing big data

seeking additional competitive advantages

enhanced interactions with customers

exact market predictions and sales projections

campaigns that are data-driven and optimized

improved quality leads for marketing 

more sales-qualified leads 

Improved insights to position

increased scaled relevance

lower customer turnover rate

decrease in inventories

enhanced point-of-sale systems 

using additional commercial opportunities

an opportunity to deliver efficiency and top-notch performance  

the use of smart analytics and more effective decision-making  
At a Compound Annual Growth Rate (CAGR) of 44.1 percent, the global machine learning market is predicted to increase from 1.41 billion USD in 2017 to 8.81 billion USD by 2022.
The marketing sector is expected to change as a result of ML-based marketing models because of:
pay-per-click (PPC) advertisements 

risk prediction

specifically aimed at email campaigns

email marketing material produced by a chatbot.
The use of AI-based marketing will make extensive use of data on consumers' buying behaviors. It is essential to anticipate customer needs to boost revenue. In the modern corporate world, AI is mostly used to customize content for each customer and gain insights from deep analytics.
Visitors are accustomed to this type of contextual comfort because the best media companies, such as Instagram, YouTube, and Netflix, employ algorithms to release content that is most likely to catch their interest.
It is essential to consider client personalization while developing a startup website and to apply this strategy to marketing, email, chat, and other interactions.
3. Business intelligence
A system of marketing tools and mobile applications called "business intelligence" enables data collection for process analysis.
In order to plan their objectives and goals, over 46% of small enterprises use business intelligence solutions.
These days, social media offers marketers a ton of information that aids in client segmentation, interaction, and targeting. The usage of social media for business has multiplied with the growth of data. However, it is crucial to collect this data so that it may be further analyzed and visualized in order to reach a quantitative, trustworthy, and reasonable conclusion. 
When it comes to this, the BI reporting tool is our savior. It aids in the analysis of enormous amounts of data and offers crucial information about patterns that reveal user behavior. Business intelligence is very common among marketers, which can be attributed to its simplicity of usage. The task can be completed without any programming knowledge.
Business intelligence in marketing enables marketers to learn in-depth details about the preferences and mindset of a client. The business can then use this information to create stronger marketing efforts, target the appropriate demographic, and provide the greatest outcomes.
Software for business intelligence is built using highly developed data science and artificial intelligence.
It takes some time to develop information models using the drag-and-drop capability. It is possible to connect to structured SQL databases using straightforward Excel sheets. In this scenario, the best BI marketing offers firms flexibility and the ability to leverage their data.
This type of application will inform you immediately of the search results. With the platforms, marketers and company executives may make decisions more quickly and successfully, solving a number of issues.
In 2022, BI software will likely have certain crucial functions like:
built-in intelligence

natural language processing 

predictive analytics

fast performance engine
4. Using Big Data 
Big data refers to a sizable and complex data set that can't be processed by conventional data processing technologies. It entails
data storage

quick search

best analysis
Big data analysis is the management and extrapolation of information from the vast amounts of structured and unstructured data that organizations gather every day. Business decisions about how to use data are more important than the data itself.
Three characteristics define big data: volume, variety, and velocity.
Volume: the size of the incoming and processed data sets
Variety: the various data kinds that an organization works with on a daily basis
Velocity: the rate of data accumulation
Big data, as opposed to conventional databases, focuses on data collection and analysis with little to no delay at all. Data is gathered from a variety of sources, including social media, mobile devices, the Internet of Things (IoT), websites, and more, as the number of platforms and devices grows every day.
Businesses have the advantage of using big data to gain insightful knowledge that can speed up decision-making and forecast the results of future processes. The use of big data analytics and big data security has spread to almost every sector, from manufacturing, healthcare, and financial services to education, retail, IT, and transportation.
By integrating big data into their processes, 69 percent of businesses are breaking through to new heights in consumer analysis and acquisition. These businesses have been able to cut their costs by 49% as a result of implementing a data-driven culture, which has also created new opportunities for growth and disruption.
Big data identifies the problems where businesses should increase their spending. Additionally, it helps you save money.
Big data benefits businesses by:
enhancing industry tactics

a better understanding of the market and each user

improving  productivity

better decision-making

managing online reputation
There are various big data marketing solutions available for the integration of marketing effectiveness calculation and data preparation for cloud analytics
5. Data Analytics
Analyzing data to extract information from systems and software is the process of data analytics. Using data analytics techniques, it is possible to take unstructured data and identify patterns to draw out insightful conclusions. Data analytics is a tool used by analysts, data scientists, and businesses to perform research and make decisions.
Data analytics for businesses has a wide range of advantages, including:
Better decision-making: Businesses can use the data that they gather through data analytics to help them make better decisions and get better results. Thanks to data analytics, it is possible to decide on the right information, the best marketing strategy, which product to develop, and many other decisions without having to make a lot of assumptions. A 360-degree perspective of your customer is provided through all-encompassing data analytics, greatly reducing the need for human input.

Improved customer service: The ability to adjust your services to your clients' requirements is made possible by data analytics, which also improves customer experience. You can give customers more individualized services and goods and improve your client relationships in the process.

Smooth operation: One of the top options for streamlining a company's business process is data analytics. Time and money are saved, and your company's financial results improve. An increase in conversions, ad income, or subscriptions results from your company's better understanding of its audience.
Many sectors employ this kind of analysis. It is possible to make better business decisions with more information at hand.
Software for data analytics strategy can offer the following with built-in cloud tools:
dashboard and reporting features 

locating data that is pertinent to a specific task
Scheduling business decisions got simple with the help of data analysis.  
Data-driven marketing is essential in the current environment, according to 64% of marketing professionals who "strongly agree."
6. Voice Search
The use of spoken instructions to access any information from browsers is known as voice search marketing.
With over 27% of online users utilizing voice search on their smartphones, voice search optimization (VSO) is sweeping the digital marketing industry.
To ensure that their customers come first, businesses are utilizing voice search as an important component of their digital marketing. Additionally, it is altering the way search marketing experts optimize their websites for relevant keywords and other search terms.
In addition, according to PwC, over 65% of adults between the ages of 25 and 49 talk to their voice-enabled gadgets at least once every day. Conversely, at the end of 2019, only 4% of companies were "voice search ready."
So, businesses must use marketing technologies if they want to sell voice search-related ads and make money. While doing this, many organizations will use "position zero" search snippets, which will have a significant impact on the way they structure the content they produce.
Ideas for structuring your content for voice search SERPs SEO:
Develop content to address particular inquiries

Use a question-and-answer approach for your

content marketing

Make sure you come up with top-notch content
7. Customer Database
Database marketing is the technique of utilizing consumer data to provide clients with more individualized, pertinent, and successful marketing communications. The term "database marketing" can be used to describe marketing campaigns that are meant to attract new clients, but it is far more valuable in the context of client marketing due to the vast amount of customer data that is readily available.
You can use customer databases to:
Recognize several types of customers, ranging from your most valuable, devoted clients to newcomers and infrequent buyers.

Create specific client categories based on characteristics, activities, or even interests.

Create highly customized messaging for both present and potential customers.

Identify the most effective time and channel for engaging customers.
Companies now frequently gather and have access to enormous amounts of client data.
With the use of cutting-edge new technology, businesses can now mine and analyze their customer information in order to understand their customers' requirements, divide them into small, homogeneous micro-segments, and even forecast individual customers' future behavior.
How to choose which revolutionary marketing technologies to use?
Your business's needs and your client's preferences will determine whatever technology you choose to use in your operation. In particular, if you don't comprehend and can't effectively use the technology but are simply utilizing it because other companies are, you might be better off not implementing a new marketing trend.
According to Ryan Gould, VP of strategy and marketing services at Elevation Marketing, "small and midsize enterprises need to prioritize the technology trends that they can use for higher business growth" as the world becomes increasingly tech-dominated. What makes them do that? The reason to do so is to keep their  company's growth at a noteworthy level. They should also inquire about the following four things while opting for the tech trends:
Who is my target audience?

What and where are the gaps in my business's aim?

Will this technology assist me to fill the gaps in my business's aim?

Do I have the funds necessary to keep using this technology over the long term?
By using Gould's questions as a guide, you can prevent yourself from excessively adopting a marketing strategy that isn't ideal for your company. Take notice of the marketing trends for 2022, but consider your company's situation carefully before taking any action.  If you cannot do it yourself, consider Indian developers for hire as they can do this work perfectly.