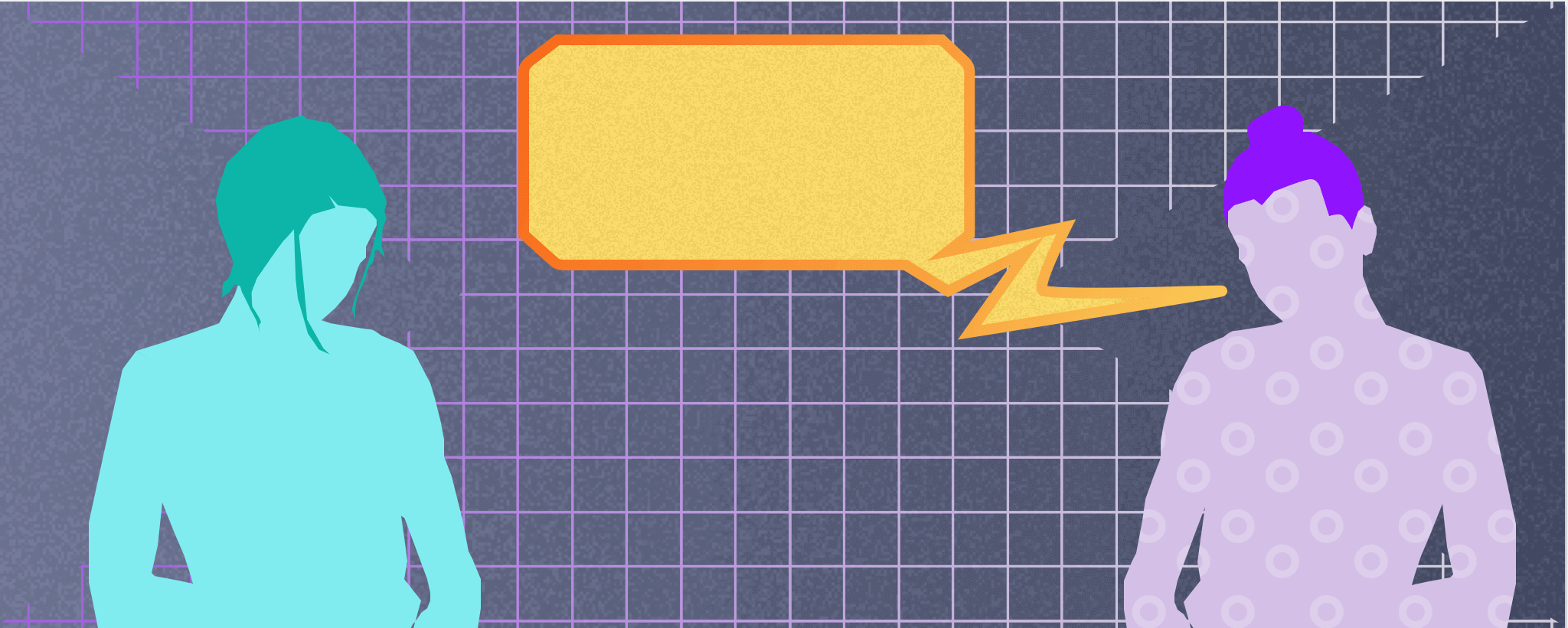 In the era of remote work, effective team communication is a struggle for most distributed teams. Having formal communication strategies in place is vital to create solid team alignment.
Although some organizations have shifted to hybrid work models, only 3% of employees and entrepreneurs are ready to work full-time at a physical office. That implies – around 97% of the employed people plan to continue working in segregation using chat, emails, and video meeting tools as their only connection with their colleagues.
Under such circumstances, managers should do their best to establish apt communication strategies and keep employees engaged with their work. In this article, we are going to discuss 10 effective communication strategies to better connect with your team. 

The importance of communication strategies
A friendly and easy-going environment is one of the top non-monetary driving forces for employees choosing a workplace. Around half of the younger generation say they aim for mentoring relationships with managers, and 80% of them prefer instant feedback to formal performance appraisals. Consequently, good soft skills become a big advantage during the hiring process and can tip the balance in the candidate's favor.
A flawless communication strategy results in:
Achievable goals: When employees know about the manager's expectations and when the manager comprehends every employee's strengths and qualifications, the workflow becomes more foreseen for both sides.
Higher confidence: Teams with defined inner roles and well-established processes can avoid ambiguity and plan future projects better than disorganized teams.
Reduced employee turnover: When employees become more acquainted with one another, they feel more relaxed to ask questions, discussing problems, and propose solutions. Consequently, the number of destructive conflicts in the team decrease, and fewer people may want to leave.
Higher job satisfaction: Teams that celebrate achievements last longer. Who would want to pass up an opportunity to be publicly recognized and praised?
Miscommunication in the workplace can lead to sad consequences for businesses. It lessens motivation and makes employees dream of a cushy job. That results in worsening productivity and systematic failures to meet project deadlines.
The following occasional phrases from employees may indicate there's something word with the communication strategy within the company:
"I don't feel my work does bring an impact".

"I do not grow professionally".

"Dialogues with my manager frustrate me".

"Our team constantly underachieves KPIs".
If a company doesn't react to warning signs of poor communication, it will lose experienced employees and, ultimately, clients.
What is a communication strategy?
Different objectives require specific forms of communication tactics. For example, a brainstorming session requires a group of people, while a problem-solving meeting can be tackled with a dedicated team of 4 or 5 participants. Smaller teams can agree on changes to Backlog verbally, while cross-functional teams may need to have a formal meeting with an agenda and summary. To create a communication strategy, a manager should understand employees' personalities, distinguish communication goals, set up clear goals, and use appropriate motivators.
Understand team roles for successful communication strategies
When you distribute functional roles among teammates, consider their individuality. There are 3 groups of team roles within a team, each contributing to the joint performance in its way.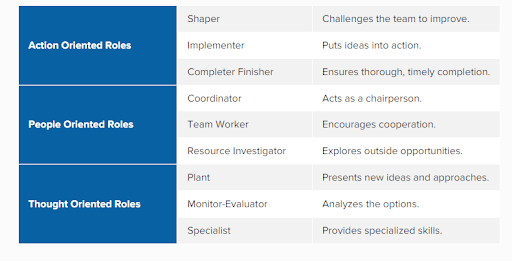 1. Action-oriented roles: people who are not afraid of responsibility; they are driven by results and are able to respond to ad hoc challenges.
2. People-oriented roles: natural managers who are excellent in aligning efforts and executing goals.
3. Thought-oriented roles: employees who can think out of the box and are confident enough to present ideas
Make employees aware of business goals
People should know what they work for. Show them the global development route and how their performance contributes to the "big picture". Don't pull dull KPIs – explain the company's long-term mission and objectives. Show how performance indicators derive from general aims so that employees will be more motivated to achieve them.
Encourage inputs from the team on the company's communication strategies 
A skilled employee is a precious asset and a competitive advantage. With this in mind, companies like Facebook and Google launch business accelerators and invest in in-house startup initiatives. They create diverse organizational cultures, encourage positive leadership styles, and motivate employees to express their ideas. So, if you plan to approach the success of market leaders, allow people to impact the environment they work in.
Set clear KPIs to track a s
uccessful

communication strategy

When assigning tasks in a remote work environment, be specific and consistent about expected outcomes and deadlines. Include reasoning and avoid ambiguous phrases.

For example:
"You should do better with phone calls with clients"
"According to the monthly CRM report, the average duration of your client calls was 5 minutes. Please, make sure the next month you'll make it no less than 10 minutes. Otherwise, you may not achieve a half-year KPI on the number of closed deals."
Motivate and appreciate results
There are many ways to express gratitude for the work done – from rewarding systems to extra day-offs. Recognition establishes trust between managers and employees and strengthens the reputation of a company as an employer.
10 strategies to improve communication within the team
1. Use a collaboration software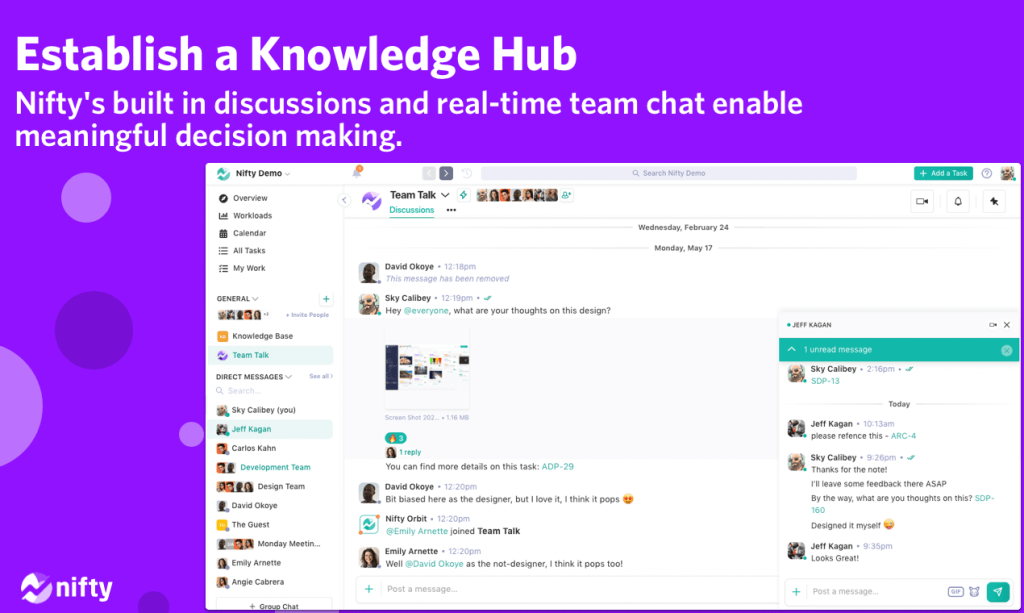 People rely on apps in their daily life, so why wouldn't they use them at work? Around ⅔ of employees say technologies improve collaboration and increase their productivity. Not surprisingly, the team collaboration software market grows at 13.2% every year.
The following groups of digital tools may do your team a good turn:
i.) Project management software
These tools are useful to plan, assign, and track tasks, as well as to allocate and control resources. Work apps like Nifty assist with turning communication into actions. Because they have tasks, docs, goals and issue tracking in the app, everyone who's working on a project can see recent changes and sync their performance with the rest of the team.
ii.) Chats, video conferencing software, and Voice over Internet Protocol (VoIP)
Emails are good but not enough for systematic communication. There are many affordable and convenient applications, like Zoom or Cisco Jabber, that teams can use for chatting and sharing information as if it were during an offline meeting.
Moreover, if the organization is concerned about security, it can use cloud-hosted communication technologies like VoIP phone service or develop custom communication apps using SDKs, like Amazon Chime.
iii.) Cloud-based file-sharing services
We've all used to store files on computer hard drives. But for team collaboration purposes, cloud storage serves much better. It enables employees to work with documents from any device or place and control access rights. File-sharing software typically includes file-syncing services, as well. Thus, all teammates can use the latest versions of their joint works.
iv.) Multi-purpose digital whiteboards
A digital whiteboard is a substitution for a physical workspace. This is an online canvas where users can keep and edit whatever information they need – from notes to Scrumban or project-related documentation. Aside from storage, whiteboards include facilitative options for teams, like templates or built-in messengers and video-conferencing tools.
2. Speak with a purpose
Although informal pep talks during coffee breaks and elevator pitches may work well, on the whole, it's better to "warm-up" listeners before the dialogue or presentation. Provide colleagues with relevant details so they can understand the context better. Don't use ambiguous terminology or uncommon acronyms. People like honest and authentic speakers, so be mindful of:
The purpose of communication.

The audience's characteristics and expectations.

Possible sensitive issues.
When you speak, always make it a "two-way" dialogue. You can ask questions – to make sure listeners have grasped the message and interpreted it correctly. Keep concentration on the essence and don't react to mental distractions, like interruptions or disagreements. If someone expresses a conflicting opinion, do not respond to it instantly. Instead, pause and think carefully about the answer or propose getting back to it at the end of your speech.
3. Avoid unnecessary calls and meetings
If your team can do without a meeting, don't organize it. A legend about King Arthur's famed round table with disputing brave knights has little to do with the modern busy business environment. Now, time is an asset, and wasting it on profitless conversations is an unaffordable vanity. A face-to-face discussion, a message in Slack, or a quick call may contribute to problem-solving more than a several-hour meeting with a dozen attendees.
Meetings could be justified when:
You want to introduce new employees to the team.

You want to discuss an opportunity or a threat.

The work has stalled due to inconsistency of "courses", and the team has to reach an agreement.
If the meeting is unavoidable, make the best of it:
Book the time in participants calendars in advance.

Specify the duration and the agenda.

Attach relevant papers to the invitation, e.g. a presentation or a report, so that participants will get acquainted and prepare questions.

Write meeting minutes.

Leave enough time for questions.

Agree on further steps with the team.
4. Know what communication channel to use
You can't share sensitive data on WhatsApp, and you neither need to write a formal email copy to a colleague. To identify a consistent way of communication, ask yourself what kind of information you're going to share, with whom, and with what level of detail. In particular:
Is the message formal or informal?

Is the information confidential?

Do you need to refer to something or somebody in the message?

Do you expect to get a response?
For most cases, written communication, like business emails or text messages, is preferable. It prevents important subjects, such as agreements or documents, from being lost in the operational routine. Moreover, mailing and messaging software has backup options. So, even if something important is deleted, it can be restored.
While written communication is essential for important subjects, businesses can also leverage text message marketing as a powerful tool to reach their customers quickly and effectively. However, it's important to ensure that the messages are clear, concise, and not overly frequent to avoid coming across as spammy.
Voice and video communications are more informal. They are purposeful for quick talks or when an instant reaction is important.
5. Establish one-to-one meetings
94% of managers have one-to-ones, and nearly half of them conduct them every week. These meetings are purposeful to understand employee expectations regarding career and professional growth, discuss performance results and personal development opportunities, identify and address concerns.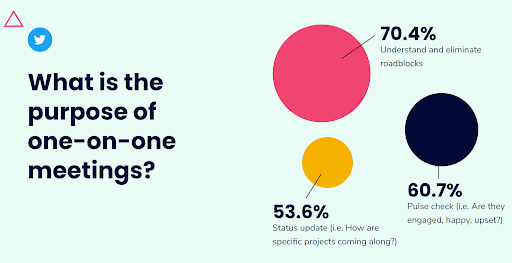 "The majority o managers say they conduct one-to-ones to sync with employees and eliminate possible mix-ups"
A one-to-one meeting doesn't imply pouring honey into employees' ears – it's about speaking honestly about good and bad. Here are a few recommendations on how to get prepared for a one-to-one meeting:
Agree the day, time, and duration; you can dedicate approximately 30 minutes for weekly meetings and around an hour – for less frequent 1:1s.

List points to be discussed.

Think on updates on the objectives.

Prepare coaching notes so that an employee can reflect on them after a meeting.
Remember, a one-to-one isn't a solo performance of the manager. You should go out for the employee's thoughts, as well.
6. Assign responsibilities to construct effective communication strategies
Micromanagement drains power from the team. Nothing complicates communication and worsens group spirit more than the need to approve every single task. So, to build a strong and dedicated team, don't be afraid to delegate responsibilities.
Delegation isn't a command, however. It implies that managers explain what outcomes they expect to see and provide employees with the necessary authority – to achieve these outcomes. Smart delegation requires inputs, deadlines, and supervision.
7. Don't keep clear of difficult conversations – remain communicative 
No one wants to start or end the working day pointing out problems or drops in performance. However, concealed problems are a one-way road to latent resentments among teammates. Like it or not, tough conversations are unavoidable in the operational workflow.
A difficult dialogue is not an interpersonal conflict. It is a constructive dialogue among people willing to resolve the issue – not just to trade accusations. If you participate in a tough conversation, make sure to:
Give a vis-à-vis "space" and time to express thoughts.

Listen to another side of the story.

Don't judge new ideas or proposed solutions; if you believe they won't work well, suggest working them out further or provide an alternative.

Be polite yet precise and consistent while telling arguments.

Don't try to discuss all matters during one single conversation.
8. Provide feedback on your communication strategies 
Feedback is a benefit for both sides. For one who gives feedback, it is a just-right moment to explain what was good and bad in the performance. For one who receives the feedback, it is an actionable guide on how to grow professionally even faster. 
Positive feedback is a great motivator. It gives people a sense of belonging to the joint result and helps them understand the company standards. Praise people not only for their efforts but also if they show empathy and help others to perform better.
Things get a little tricky if you need to provide negative feedback. In this case, still, start with something positive. For example, recognize the time spent on the task and that you know how challenging it was. You can also ask a listener about how he or she would assess the performance and accomplishments.
9. Conduct team-building communication strategies 
The informal setting takes the edge off and facilitates communication. Pizza parties or camping in the mountains allow people to show their personalities and, consequently, lead to increased trust among teammates.
Team-buildings are invaluable in situations when you have to build the team from scratch or when there are many remote employees who can't have informal talks with colleagues in the office.
10. Set up communication strategy workshops
Communication is a skill that can be trained. And a beauty of a formal workshop is that it is handled by a third-party moderator. Coaches don't know about concealed conflicts of roles in the team, so they are free of prejudice and trait participants equally.
Another workshops' advantage is an interactive approach. Participants receive briefs and deal with different cases, usually – in groups. As a result, they learn how to deal with conflicts and handle negative situations.
Wrapping up
These 10 recommendations will help you to improve communication among teammates or – build it from scratch. Employees' successful socializing is an essential prerequisite for team productivity. Close-knit teams generate more workable solutions to challenges and are more motivated to achieve KPIs.