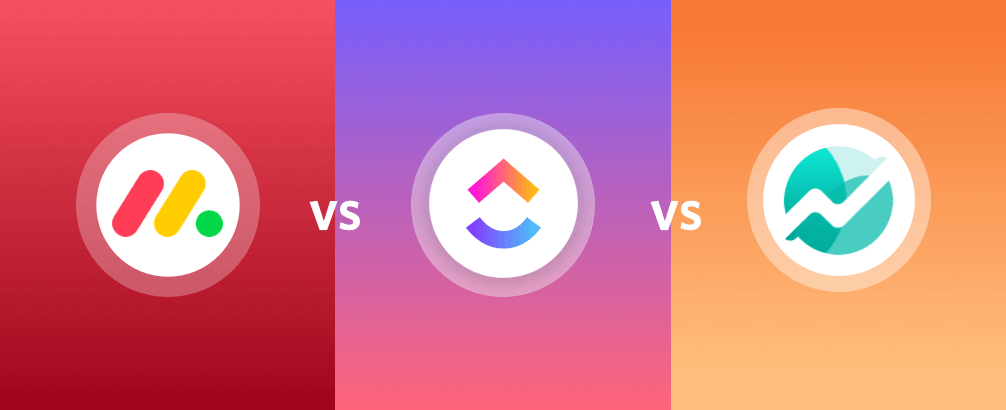 Both Monday and ClickUp are two popular project management softwares in the workflow space. To say that there are a lot of project management solutions out there would be a drastic understatement, and for all the bluster that each product's marketing arm generates around their offerings, they're all essentially the same, right?
Not quite.
While it's true that Monday and ClickUp contain similar elements such as Kanban, List, and Timeline views, their approaches to project management vary considerably. The distinction between features and benefits can be thought of more simply as experience. Features need to fit into the context of what that solution is trying to solve for their users. While some companies may see the breadth of features offered as the core selling point, most products appeal to certain types of users predominantly on experience.
In this article, let's look at the experiences of these two popular workflow solutions, Monday vs ClickUp, and a third highly rated software called, Nifty. (shocker!)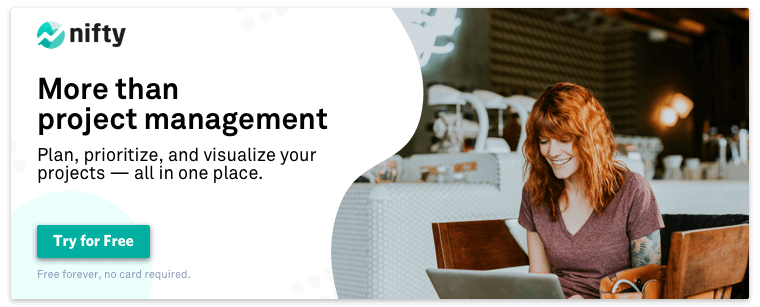 Monday
Formerly known as daPulse, Monday's rise into the project management space came with their rebrand to their current moniker in 2017 predominantly as a status management tool with an appealing suite of if/then conditional automations.
The Monday Experience
Monday's appeal is twofold; first, they propose a fairly straightforward "stoplight" status tool as a way to manage individual tasks. Secondly, their automation ecosystem allows teams to focus on their actual work and not the nitty gritty of their workflow. All told, Monday offers itself as a relatively simple plug-and-play solution for teams of all types.
This is where some of the frustration around Monday starts to present itself. First of all, a solution being "simple" is not a bad thing at all, but a solution being simplistic, or too simple to satisfy the needs of the user, is certainly a problem. Monday's methodology is certainly simple enough, but it's not a robust enough experience to manage larger or complex projects that involve milestones and intricate dependencies.
The perplexity around the Monday experience worsens when one realizes that, for a relatively simple solution from a functionality standpoint, it's not even all that usable. There are certainly more challenging tools to navigate, but for a relatively straightforward solution, Monday struggles to be as "out-of-the-box" as many expect it to be. This is reflected well in Software Advice's (a Gartner Market's subsidiary) 2021 Guide to Top Workflow Management Software where Monday is ranked curiously low in both Usability and Customer Satisfaction.
While its design and functionalities have come a long way since the daPulse days, Monday.com offers a slightly lean feature set which is still bogged down by its design flaws leaves it in a somewhat uninspired middle ground: not quite strong enough and not quite simple enough.
ClickUp
Founded in 2017 and rising quickly, ClickUp's goal is to unlock user productivity by offering them every experience imaginable in a single platform. Their bold claim – that ClickUp saves you an entire day of work a week – is doubled down by them dangling a ten dollar bill in front of you as you onboard onto the platform.
The ClickUp Experience
ClickUp's proposed solution to productivity is feature-richness: the more that's available in a single platform, the less you'll lean on multiple tools, integrations, or segmented operations to unite you and your team's workflows in totality. In theory, this sounds spot-on; an all-in-one solution that can solve nearly every need under a simple, affordable solution is the golden ticket to productivity. ClickUp's hurdle towards this promised land of productivity comes in execution.
With a great breadth of features comes a great deal of interface and technical debt. ClickUp's rapid release of features has come at the price of user experience from both a design and technical perspective. Notoriously buggy and difficult to navigate, ClickUp relies on a savvy user willing to learn its system rather than offering guidance via design intuition. Because of this, ClickUp rates surprisingly low in usability charts for a modern tool, one such example being G2's user-reviewed Top 20 Easiest To Use Project Management Softwares where ClickUp finds itself in a dismal 17th place.
ClickUp is aware of this hurdle, and offers its features in different levels of expertise, as well as a lot of hands-on coaching options and even a ClickUp University to help you better understand the platform. These resources are definitely helpful, though it undoubtedly begs the question: should one really need a coach or to attend a litany of courses to learn a software when there are others in the space that offer a far more intuitive experience?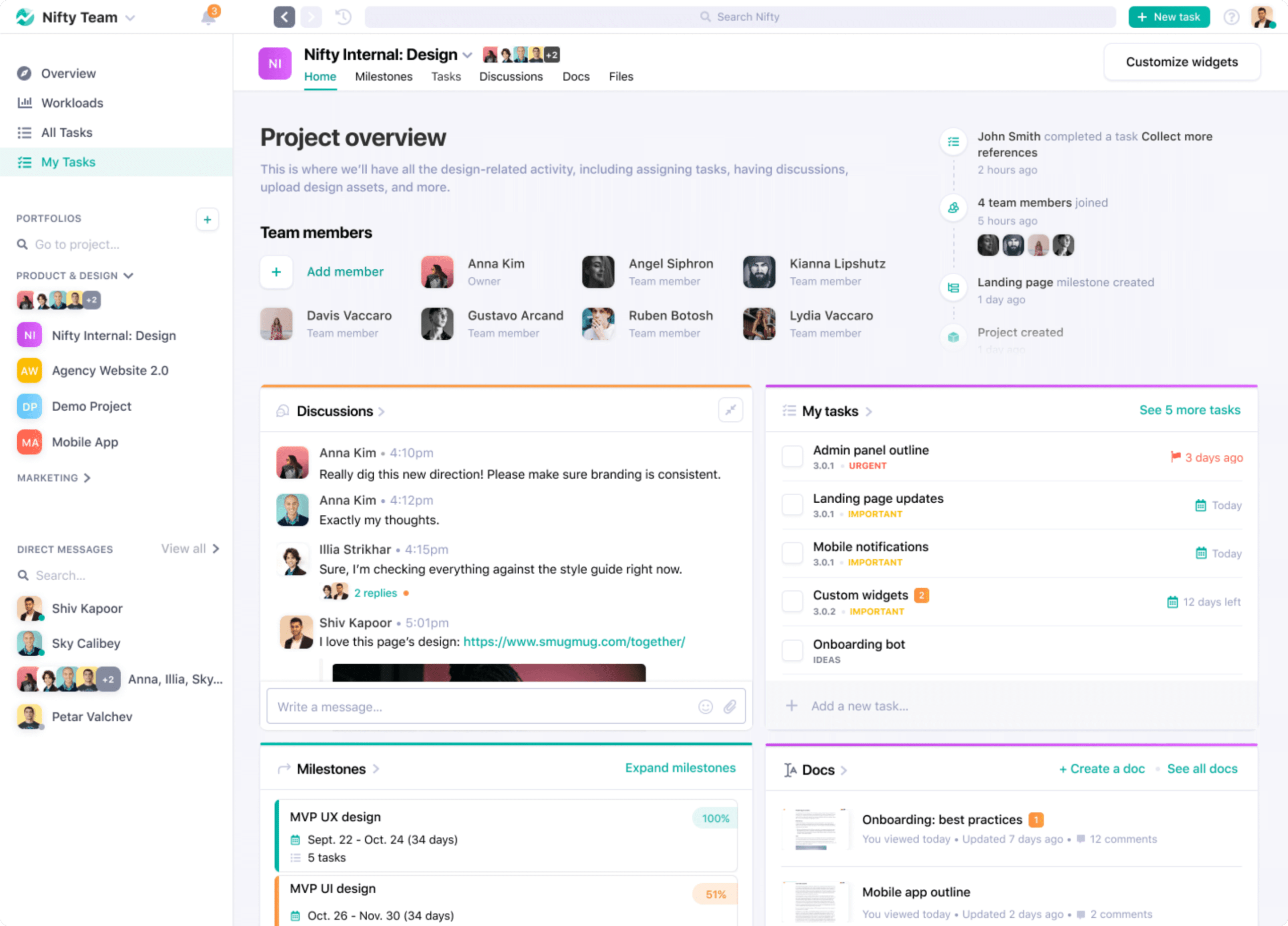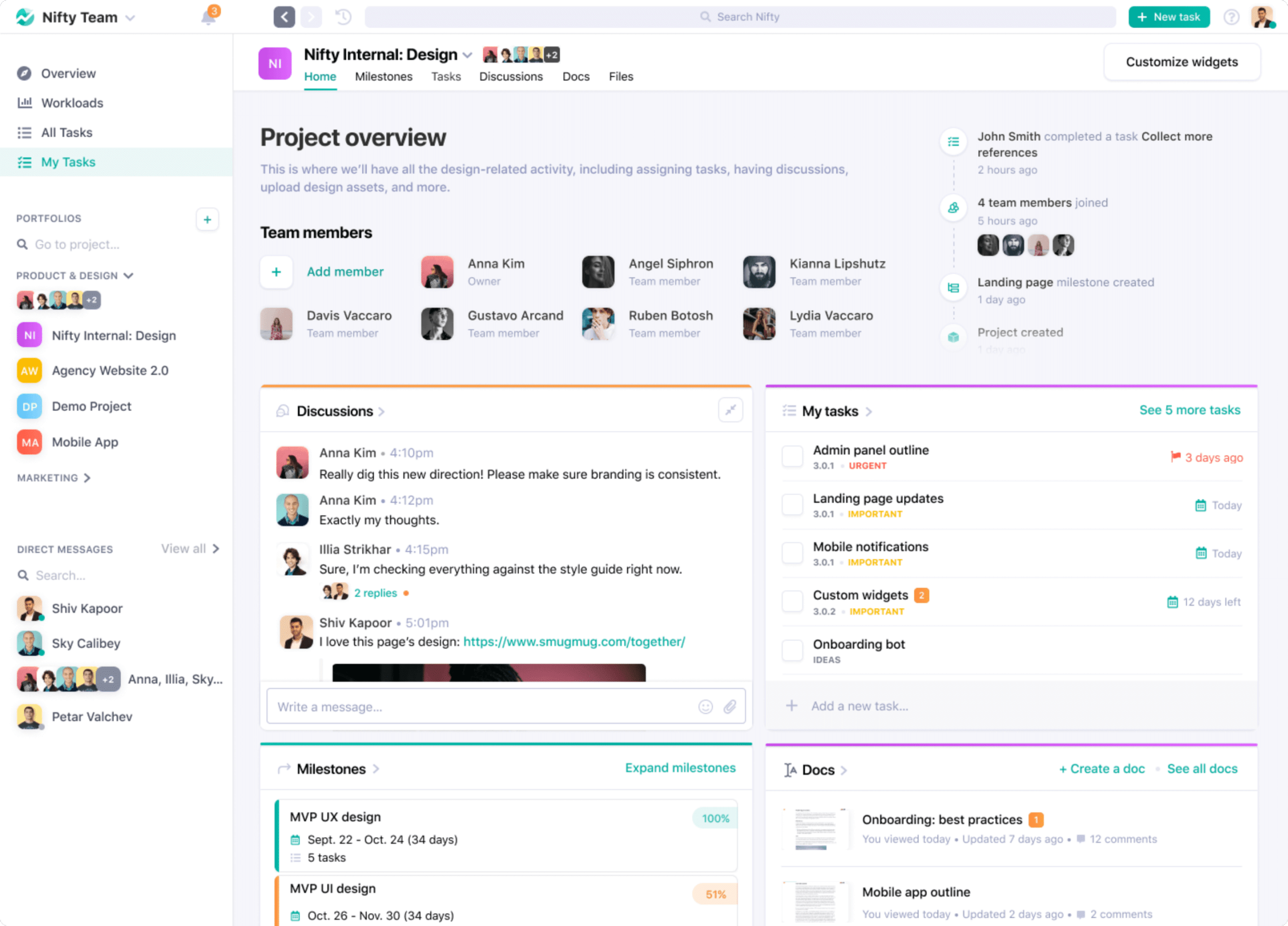 Founded in 2017 as a spin-off from an award-winning New York City app design and development agency Creative360, Nifty's vision of an all-in-one workflow experience was built with users in mind. Originally conceived for service teams to manage their client-facing projects, Nifty has become a favorite of product, marketing, and engineering teams as well.
The Nifty Experience
Serving as the middle ground for the aforementioned tools, Nifty combines a rich feature set with best-in-breed ease of use. The conclusion that Nifty is the easiest project management tool out there is shared by both the industry graders (such as Software Advice) and the actual end users (as shown on G2).
Nifty offers more depth than Monday when it comes to managing milestone and dependency based projects, and helps teams and managers scale those projects with considerable ease without feeling overwhelmed. While not as feature-laden as ClickUp, Nifty's experience focuses on the key functionalities that automate and simplify workflows while leaving the complexities of convoluted implementation at the door.
One major departure that Nifty offers is an optional Chat tool. This integrated direct messaging experience allows teams to cite tasks, hold sidebars, and even start Zoom calls all within the same workspace that they rely on to execute projects. This unique blend of communication and action sets Nifty apart from other workflow solutions that rely on outside messaging tools, thus severing the communication and action phases of a daily workflow.
👉 Does Nifty offer a free trial? Yes, Nifty offers a 14-day free trial on every plan. Get started now 🎉
Final thoughts on Monday vs ClickUp & Nifty
Ultimately, selecting the right solution for your team falls into which workflow experience fits your technical requirements while meeting the basic usability needs that is required to win team buy-in. That being said, what a software can do and what it can do for you is generally not determined by the nth feature, rather the degree of buy-in that solution wins amongst your team. In that way, you might find that investing in ease of use is a surefire way to maximize your team's talents without asking them to clear unnecessary hurdles during the software adoption phase of your implementation.