Looking for a cost-effective alternative to overcome ClickUp pricing? While ClickUp is a great all-in-one productivity platform, it falls short on speed, mobile app capabilities, and most importantly, it's expensive!
In this in-depth guide, we will deep-dive into the ClickUp pricing plan and compare it with Nifty's pricing model to help you make an informed decision. Let's dive in!
Nifty Pricing vs ClickUp Pricing: Explained
First, you need to note that both ClickUp and Nifty offer 5 pricing tiers. The plan you go for will ultimately depend on your specific needs, budget, and team size.
Here's a breakup of ClickUp's pricing plans with respect to basic features and usage: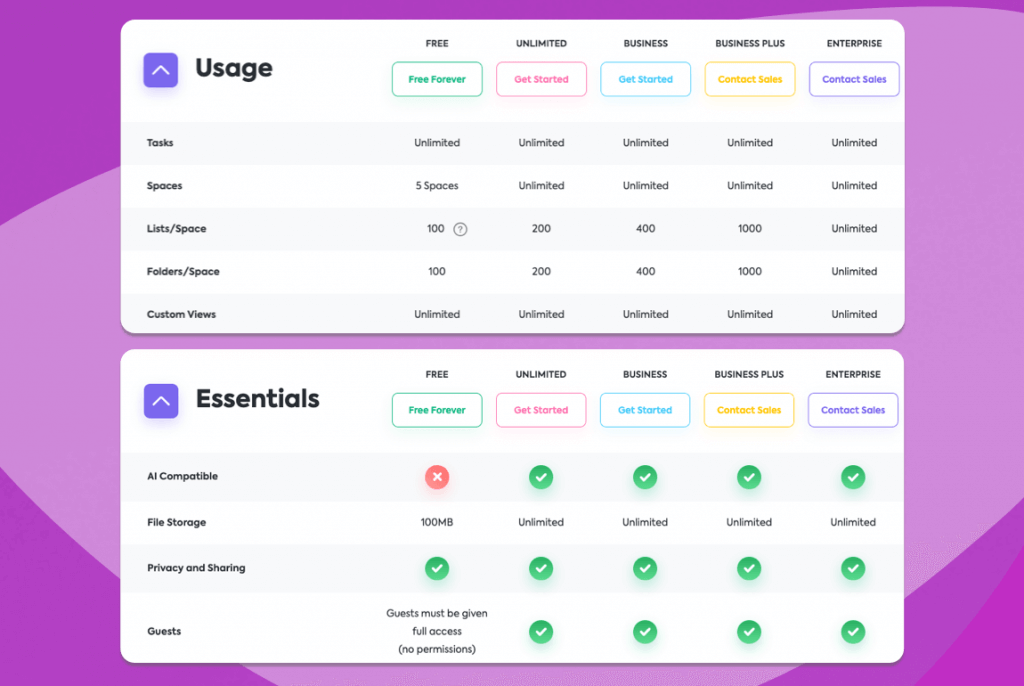 In contrast, here's how Nifty compares with respect to the "Core" features: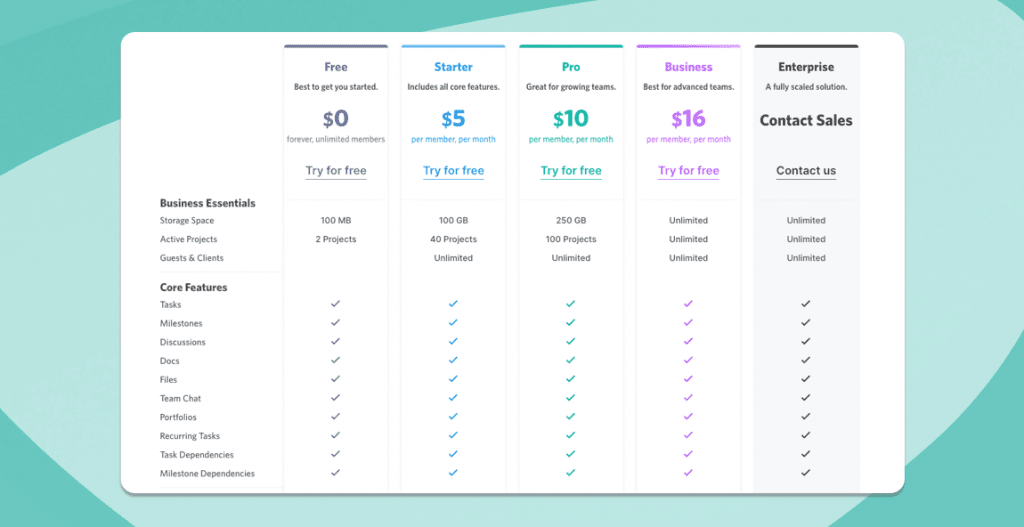 In the following section, we will look at each plan in greater detail. Let's jump right in:
Free Tier
In this section, we have compared the free plans of both the tools
1. ClickUp's "Free Forever" Plan

The ClickUp Free Forever plan has a surprising number of features that make it ideal for freelancers and small-business owners, such as:
Unlimited users and tasks
List, Board, and Calendar views
Custom statuses and super-rich editing
In-app video recording
24×7 support
In the Free plan, you can:
Access up to only five spaces to develop a project management flow in each space and share it with team members as a separate page. The limited space availability is a hiccup for larger enterprises
Access only 100 custom field uses
Use Gantt charts, Subtasks in Multiple Lists, and portfolios but with a free limit of 100 uses
Almost all project management systems offer fewer capabilities and provide restricted user access; giving ClickUp an upper hand.
2. Nifty's "Free" Plan

Nifty's Free plan's key characteristics include:
Free forever!
100 MB storage
2 active projects
Nifty's Free plan offers a constellation of useful features, such as:
Discussions
Files
Team Chat
Portfolios
Recurring Tasks
Task Dependencies
Milestone Dependencies
For instance, Nifty's Discussion feature enables real-time collaboration amongst project members to share ideas, collect feedback, and take meaningful decisions:
If you are just starting out and want basic features at your disposal, consider Nifty's Free plan and get familiarized with the tool. The platform offers a 14-day free trial. If you get stuck, you can leverage Nifty's self-serve help center.
Starter Tier
In this segment, we have compared the lowest-paid plan offered by ClickUp and Nifty
1. ClickUp's "Unlimited" Plan
You can share projects with people outside your organization using the guest access feature of the Unlimited plan. Additionally, there is an infinite read-only option that enables you, for instance, to share the project page with a freelancer or contractor.
The Unlimited plan might be appropriate for small business owners that want to upgrade from the Free plan to get the benefits of additional storage.
Migrate your data from ClickUp in under a minute.
Try for free
2. Nifty's "Starter" Plan

Nifty's Starter plan is scalable enough to help you get started:
100 GB storage space
40 active projects
Unlimited guests and clients
Time tracking & reporting
Custom fields
Custom guest visibility
This plan costs about $49/month plan for 10 users. This makes it cost a little less than $5 per member, whereas ClickUp's Unlimited plan costs $5 per user per month, making Nifty a cheaper alternative.
Business Tier
In this category, we have compared the mid-range plans offered by both tools, ClickUp & Nifty:
1. ClickUp's "Business" Plan

ClickUp's Business plan offers more security features like:
Two-factor authentication for the entire Workspace, including Google SSO (which is not available in the Unlimited plan)
10,000 automations + multiple actions and conditions
Unlimited activity views (as opposed to the Unlimited plan's seven-day limit)
Unlimited uses of the timeline view and workload view (instead of the Unlimited plan's 100 uses each)
2. Nifty's "Pro" Plan

Nifty's Pro plan is a simple yet powerful model offering:
250 GB space
100 projects
Unlimited guests and clients
Everything in Starter, plus:
Cross-Project Overviews
Google SSO
Priority Support
Nifty's Pro plan is great for growing teams.
Top Tier
In this section, we have compared the highest plan (before enterprise) offered by both the tools:
1. ClickUp's "Business Plus" Plan
Security and delegation are given top priority in the ClickUp Business Plus plan. This pricing plan includes time sheets and other team management tools, making it perfect for mid-sized enterprises with various office locations.
Other useful features of ClickUp's Business Plus include:
Up to 100,000 automation
Access to timesheets
Ability to build private dashboard views, define default views for members and secure the view from editing
No restrictions on exports of a table view, list view, or form view
Access to viewing history
Teams with a sophisticated IT department can make the best use of this plan. It is also an excellent choice for established start-ups and mid-sized organizations, as it starts at $19 per month per user.
2. Nifty's "Business" Plan

Nifty's Business plan offers one-click access to a host of powerful features such as:
Unlimited storage
Unlimited projects
Unlimited guests and clients
Everything in Pro, plus:
Workloads
Microsoft SSO and Open API
Priority support
Custom roles & permissions
What makes Nifty's Business plan a standout model is that it empowers users with an infinite number of open projects, customers, and visitors. Additionally, you receive limitless storage. You can access more sophisticated Business plan features, such as personalized roles and permissions, Microsoft SSO, and an open application programming interface.
Enterprise Tier
In this section, we have compared the enterprise plans offered by both tools:
1. ClickUp's "Enterprise" Plan

Think of ClickUp's Enterprise plan as everything unlimited. In addition, you get access to 250,000 automation/month and multiple actions
and conditions.
In this plan, the SSO is not just restricted to Google. Plus, for organizations that need HIPAA compliance for additional security, the Enterprise package includes this functionality.
2. Nifty's "Unlimited" Plan

Nifty's Enterprise solution is a fully featured solution, ideal for the most advanced teams. It offers unique features such as:
Unlimited users, active projects, and guests
Custom SAML
Personalized onboarding & training
Dedicated Success Manager
Nifty's Pricing Plan vs. ClickUp Pricing Plan (Calculated Yearly)
Here, we have laid out both the platform's pricing details along with the latest set of features they provide:
Nifty Pricing Plans + Features
ClickUp Pricing Plans + Features
1. Free – $0
Best to get you started


100 MB storage
2 Active Projects

Core Features:

Tasks
Milestones
Discussions
Docs
Files
Team
Chat
Portfolios
Recurring Tasks
Task Dependencies
Milestone Dependencies
Two-Factor Authentication
Self-Serve Help Center

1. Free Forever – $0

100 MB Storage
Unlimited Tasks
Unlimited Free Plan Members
Two-Factor Authentication
Collaborative Docs
Whiteboards
Everything View
Real-Time Chat
Kanban Boards
Sprint Management
Native Time Tracking
Calendar View
In-App Video Recording
24/7 Support
2. Starter – $5/member/month


100 GB storage
40 Active Projects
Unlimited Guests & Clients

Includes all Free features and advanced Features such as:


Time Tracking & Reporting
Custom Fields
Budget Tracking

2. Unlimited – $5/member/month

Features include everything in Free Forever and:


Unlimited Storage
Unlimited Integrations
Unlimited Dashboards
Guests with Permissions
Unlimited Custom Fields
Column Calculations
Form View
Resource Management
Agile Reporting

3. Pro – $10/member/month


250 GB storage
100 Active Projects
Unlimited Guests & Clients

Includes all Starter features and:


Workflow Automation
File Proofing
Cross-Project Overviews
Google SSO

3. Business – $12/member/month

Features include everything in Unlimited and:


Google SSO
Unlimited Teams
Custom Exporting
Advanced Public Sharing
Advanced Automation
Advanced Dashboard Features
Advanced Time Tracking
Granular Time Estimates
Workload Management
Goal Folders

4. Business – $16/member/month


Unlimited storage
Unlimited active projects
Unlimited guests & clients

Includes all Pro features and:


Team Workloads
Custom Roles & Permissions
Microsoft SSO
Open API
Priority Support

4. Business Plus – $19/member/month
Features include everything in Business and:


Team Sharing
Subtasks in Multiple Lists
Conditional logic for forms
Custom Role Creation
Custom Permissions
Custom Capacity in Workload
Increased Automation & API
Admin Training Webinar
Priority Support

5. Unlimited – Contact the team for a fully-scaled solution


Unlimited storage
Unlimited active projects
Unlimited guests & clients

Include all Business features and:


Native Forms
Dedicated Success Manager

5. Enterprise – Contact sales agent

Features include everything in Business Plus and:


White Labeling
Advanced Permissions
Enterprise API
Default Personal Views
Single Sign-On (SSO)
Live Onboarding Training
Dedicated Success Manager
Access to Managed Services

Nifty's all plans have a free 14-day trial available
No credit card is needed. No per-user fees
You can upgrade, downgrade, or cancel at anytime
Connect with the team to know more about trial plans
Key takeaways:
Nifty's pricing plans are more affordable, and the feature set for each plan is more advanced as compared to ClickUp
ClickUp does offer a free plan; however, you can only create up to five spaces
Details about ClickUp's trial period are not clearly mentioned on the site, whereas Nifty offers a 14-day trial plan for all pricing models
What's the Verdict?
Both ClickUp and Nifty are popular options that offer comprehensive features and functionalities.
On the one hand, ClickUp is known for its robust project management capabilities, including task management, collaboration features, and integrations. The platform offers multiple pricing plans, including:
A Free Forever plan
An Unlimited plan at $5 per user per month
The business plan at $12 per user per month
Business Plus at $19 per user per month
An Enterprise plan with custom pricing
The pricing is competitive in the market, considering the extensive features ClickUp provides.
On the other hand, Nifty stands out as a compelling alternative due to its relatively affordable pricing. For instance, the Pro and Business plans for Nifty are priced at $10 and $16 per member per month, whereas for ClickUp, the Business and Business Plus plans are priced at $12 and $19 per member per month.
Moreover, Nifty offers:
Integrated tools, user-friendly interface, and advanced functionalities at a lower price
A centralized workspace that combines project management, communication, and collaboration tools all in one place
Features like task management, team chat, time tracking, document management, and more
Robust integration, which can streamline workflows and enhance productivity by reducing the need for switching between multiple platforms
A streamlined design and thoughtful organization of features lead to a seamless user experience and a reduced learning curve for new users
The verdict: Nifty offers better value for money than ClickUp. Its affordable pricing plans offer a more streamlined set of features for collaboration and project management, making it a more suitable option for you.
In the end, remember that when evaluating which project management tool to invest in, consider your individual team's requirements and priorities. To know more about how Nifty stacks up as a project management tool, get in touch with a Nifty specialist.