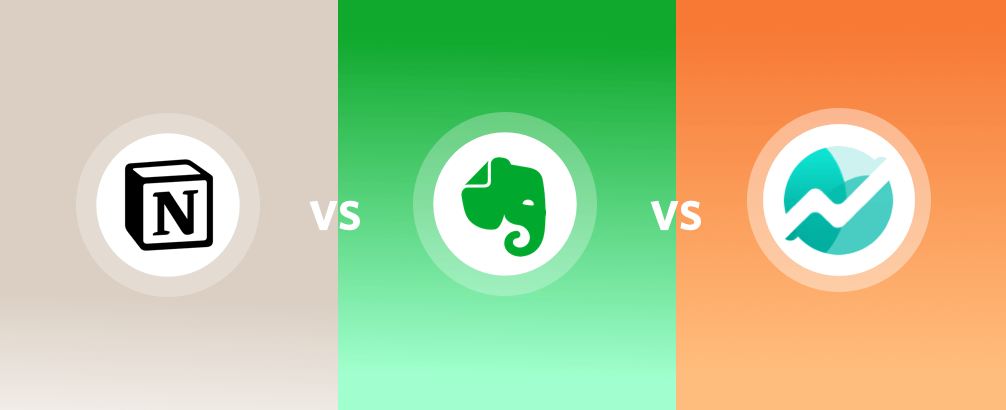 (Trust us, you won't need to read any other Notion vs. Evernote comparison blog, after reading this one!)
When you're on the hunt for a project management tool, decision paralysis can take over. Not only are there more tool options than ever before, but marketers have also become more clever with messaging.
Scouring through countless blog posts, user testimonials, and professional reviews can leave you feeling more conflicted than when you first started.
When every tool sounds like the right one, how can you be sure you're picking the best choice?
In other words, choosing a project management tool for your business isn't always straightforward. There are features to sort through, testing to start, and a vision you need to align with.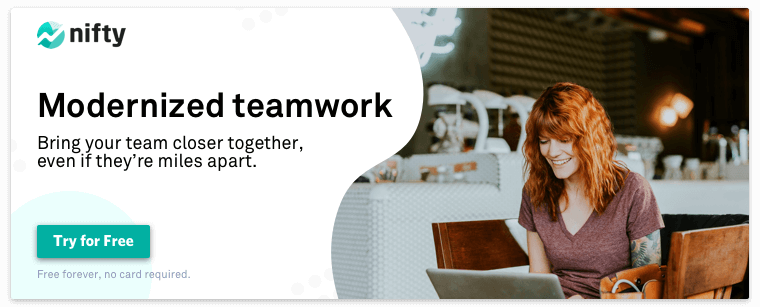 And honestly, you can't truly be sure if a tool is right for your business until you take it for a spin.
But how to decide Notion vs. Evernote, which is better for your business?
Whether you're looking to switch from your current project management tool or you're new to the game, we're here to cut out some of the research for you.
In today's article, we'll clear the air on two of the best project management tools on the market. We'll also slip in a bonus tool we think you'll love even more.
Here's what we're covering today:
What's Notion?
Who can use Notion?
What are the benefits of using Notion?
How does Notion work?
Notion's pricing and packages
What's Evernote?
Who can use Evernote?
What are the benefits of using Evernote?
How does Evernote work?
Evernote's pricing and packages
Is there a better alternative to Notion and Evernote?
Why Nifty is better
So, which one, Notion, Evernote, or Nifty?
Ready to get started? Let's begin!
What's Notion?
When Notion first came out in 2012, its founders had no idea what would happen just three years later.
After learning that they had built their project management app on a sub-optimal tech stack, founders Ivan Zhao and Simon Last faced a brutal choice. Either fire their team and start over, or run out of money and shut down.
Forced to start from scratch, Ivan and Simon moved from San Francisco to Kyoto, Japan, to save money and focus on reviving their tool.
Luckily, they did.
The move to Japan was just the motivation Ivan needed to crank out a new design that would eventually become Notion 1.0.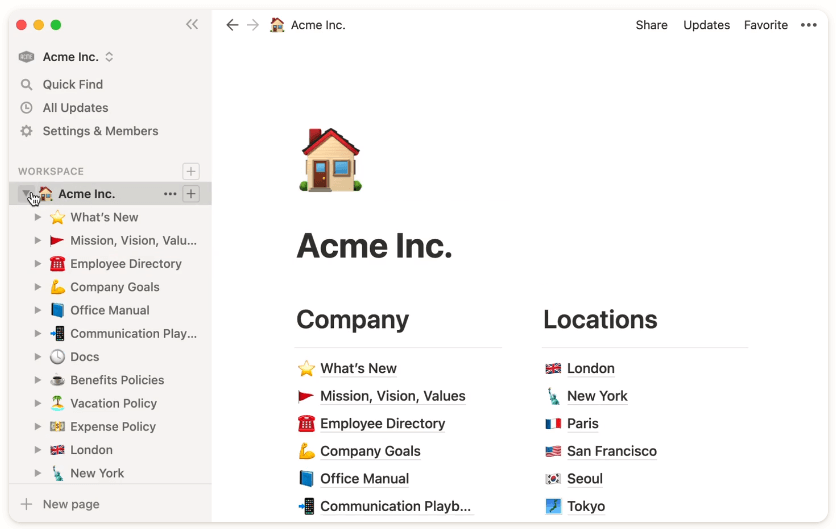 Notion's mission was the same in 2013 as it is now: give non-techies the ability to make their own tools without writing code.
Today, Notion's mission has come to manifest. It has become an all-in-one, fully customizable workspace teams can use as a wiki hub.
Who can use Notion? Solopreneurs to midsize businesses and even enterprises can use Notion.
Some of the most common industries and use cases Notion serves include:
Design
Engineering
Product
Managers
Nonprofits
Education
Remote work
Startups
We do have a word of caution, though. While Notion can support virtually any kind of team, it's important to know that you'll need to set aside time to build out your workspace. Notion offers no-code templates and tutorials to ease the process, but there's still a bit of a learning curve and it lacks in project management capabilities.
How does Notion work?
Notion feels sort of like a mix between Todoist, Evernote, Trello, and Google Docs.
You can write, plan, collaborate, and organize all of your workflows into a wiki using Notion.
The founders of Notion think of their platform as a Lego structure — it provides the building blocks so you can create your own layouts and toolkits.
Some people think of Notion as an "internal wiki," an evolving knowledge base that allows teams and solopreneurs to plan their goals, work, and projects in one spot.
Essentially, you can create highly-customized databases and project management workflows that support your entire business.
Notion also works with blocks that can be whatever you need them to be — images, text, bullet points, checklists, codes, etc.
In other words, you can make Notion as simple or as robust as you need it to be. From planning a project timeline to assigning tasks and creating a design repository, there's a lot of flexibility.
What are the benefits of using Notion?
Notion is highly-customizable and serves teams of all shapes and sizes. What we like most about Notion is its ability to shapeshift into anything you need it to be.
Here are some benefits of using Notion:
Financial management
Take the stress out of financial management with Notion's financial management features.
Notion provides several great features for managing business finances, including invoice management, templates, budget planning, and finance tracking.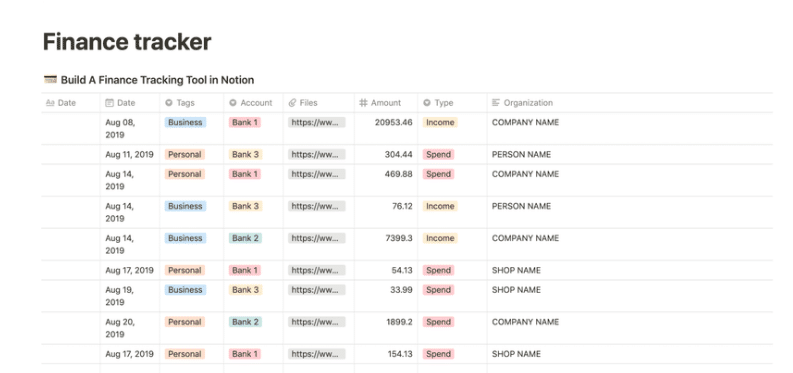 Data management
Notion aims to consolidate the use of dozens of tools into a single, minimal workspace. Many of the tools we rely on today can be integrated into Notion. For instance, if you're working on data transformation and interpretation using different tools, you can facilitate this process in one easy location.
Custom workflows
Instead of being forced to work with set processes and specific tools, Notion's flexibility lets teams create their own workflows and toolkits.
From designating assignees to automating repetitive tasks, custom workflows can make any business process more productive.
Assign tasks
Loathe hosting back-to-back status meetings? Hate going back and forth with employees on Slack? With Notion, you can assign tasks and check progress without ever contacting an employee or stakeholder.
Robust pages
Notion's "pages" may look like simple word docs, but they're so much more than that. You can customize pages to include files, checklists, embeds, or dividers. Its drag-and-drop feature lets you easily move blocks or use them to create columns.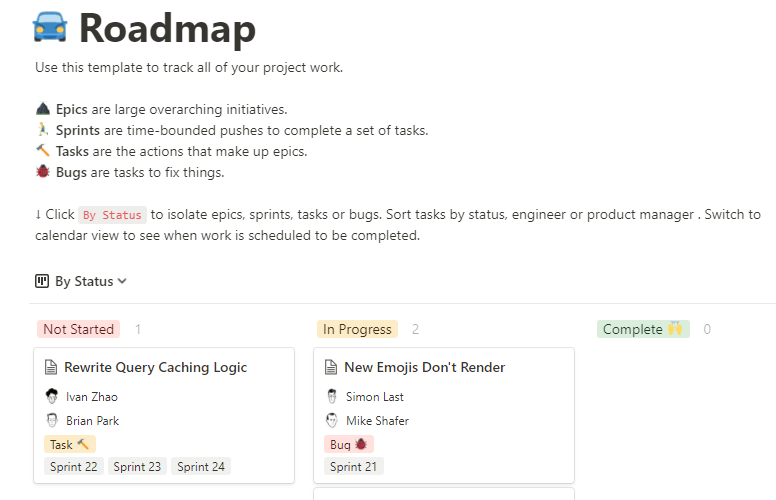 Admin and security
A pressing issue SaaS companies face today is finding ways to make their platforms more secure.
With Notion's admin and security features, you own your own data, which means you can:
Download all of your pages, files, and images as CSV, HTML, or Markdown
Set permissions for different groups and teams
Create separate admin and member permissions
Set granular permissions to restrict invitees from sharing your pages with others
Additional noteworthy features
Notion is accessible on all web, desktop, and mobile devices. All plans include 50+ starter templates, 40+ block content types, databases with rich property types, and access to Notion API to build custom integrations.
Notion also features wikis, docs, and notes and offers multiple views, including calendar, table, gallery, list, Kanban, and timeline.
Notion's pricing and packages
Notion offers a Free Forever plan for individuals and paid plan options for teams. Its paid plans start at $4 per user per month and scale up to $8 per user per month. If you need an enterprise plan, contact its sales department for a custom quote.
Notion vs. Evernote; Which one to choose?
Well, you have already read about Notion, it's features, benefits and use cases. Now it's time to focus on our second contender; Evernote.
What's Evernote?
In the early 2000s, Evernote pioneered the digital note-taking and personal productivity industry.
Evernote first started as a concept in 2002, when entrepreneur Stepan Pachikov became enamored with the idea of finding a way to amplify human memory. Stepan's ambitions led him to look for ways to create a "backup brain" where he could store and organize information.
After six years of brainstorming and working, Stepan turned his idea into a fully functioning app.
After merging with Phil Libin's Ribbon, Evernote released an invitation-only beta version at the start of 2008.
The new note-taking and organization app quickly took off — and by the end of 2008, Evernote had over 500,000 users.
In the following years, Evernote continued to flourish.
But in 2014, Evernote's new version releases, updates, and features came with a slew of bugs and slowdowns.
In an effort to reduce bugs that were plaguing every new release, the company laid off 18% of its staff and replaced its CEO.
This overhaul led to cleaner versions and fewer bugs, which eventually led to Evernote v10.
Today, Evernote is a robust note-taking app and organizer for individuals and teams.
Its interface looks similar to Notion, but we'd argue that Evernote feels more intuitive.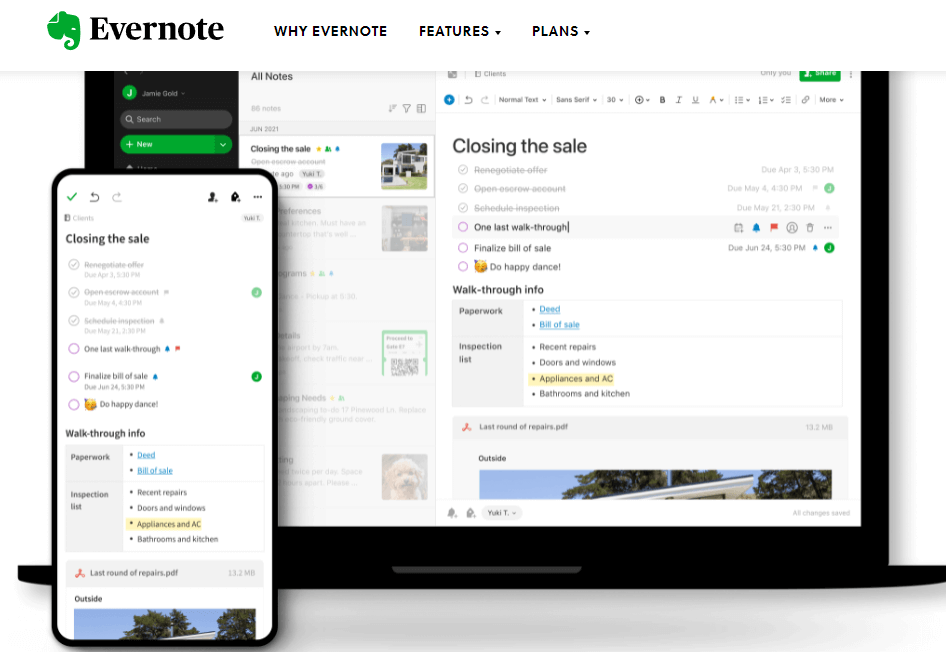 With increasingly more competitors showing up in the market, we can expect to see major Evernote changes in 2022.
Who can use Evernote?
Evernote is best suited for personal use, solopreneurs, and small teams, but anyone can use it depending on their needs.
Some of the most common use cases for Evernote include:
Meeting management
Task management
Brainstorming ideas
Tracking, storing, and organizing notes
Project management
Daily planning
Goal planning
Event planning
Vacation planning
We do have one warning, though. While Evernote can help you brainstorm or take notes on just about anything, it's not as complete as other project management solutions.
If you need to keep your thoughts organized, plan checklists, and store information, Evernote can help. But if you're looking to create in-depth workflows and processes, Evernote might not be quite what you need.
How does Evernote work?
Evernote is a note-taking app on steroids. You can organize notes using searchable tags, but the best way to stay organized is through its virtual notebooks.
Each virtual notebook has a collection of related notes. For instance, you might have a notebook for design and a different notebook for event planning. Or, you might have a notebook for tracking meeting notes and another for keeping up with daily tasks.
As a user, you can have up to 100,000 individual notes and up to 250 notebooks.
You can also format your notes in different ways. For instance, you can change them to a chart, to-do list, bulleted list, or numbered list. You can also add information from integrated apps directly into your notes, as well as voice notes and images.
What are the benefits of using Evernote?
Evernote is a complete note-taking tool for personal and business use. What we appreciate most about Evernote is its ability to catalog large amounts of data and locate it when needed.
Here are some benefits of using Evernote:
Advanced search tool
Evernote has a powerful search tool you can use to locate your notes quickly and easily — no matter how many notes and notebooks you have. With smart search, you can keep all of your project materials in one place and find them in a matter of clicks.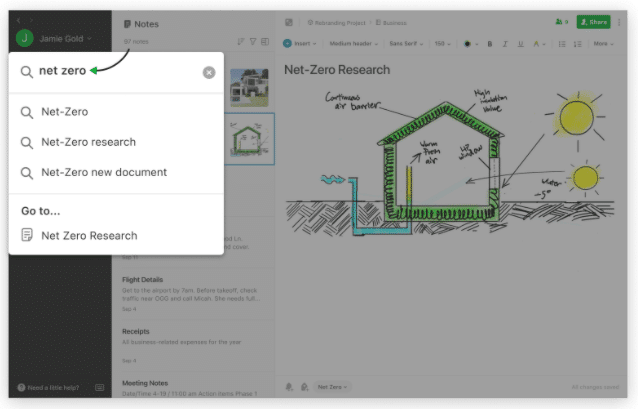 Capture anything
Are you always running out of ways to turn your ideas into action? With Evernote, you can turn any passing thought or brainstorming session into an action plan with sketches, audio files, images, and documents.
Web Clipper
Do you constantly spot things on the web you'd like to save for later use? Skip the blurry screenshot tools and use Evernote's Web Clipper instead. With the Web Clipper feature, you can save and annotate web pages, PDFs, images, and more.
Take your notes anywhere
Whether you're on the go, at home, or at work, you can sync your notes to all of your devices and refer to them at any time — even when you're not online.
Enhance your note-taking skills
If improving your notes and brainstorming sessions is a priority for you, you'll have plenty of options with Evernote. From capturing meeting details to adding context with tables and colors, you can turn boring notes into creative nuggets of wisdom.
Document scanning
Ditch the old-school scanners and go paperless with Evernote's document scanning feature. Keep all of your important docs at your disposal whenever you need them.
Bring notes and to-dos together
Turn insight into action with Evernote's task management features. Create checklists directly in your notes and keep your day on track by syncing your calendar.
Additional noteworthy features
A couple noteworthy features Evernote has are its functional web application and its character recognition abilities.
While most note-taking apps lack a fully functional web application, Evernote Web offers complete features from any major browser. It also integrates into some windows email clients, like Mailbird and Outlook.
With Evernote's character recognition abilities, you can find notes by searching for keywords — even if the words appear in business cards, docs, photos, hand-written notes, or whiteboard scans.
Evernote's pricing and packages
Evernote offers users four plan options to get started: a free plan, a personal plan, a professional plan, and a team plan. Its monthly rates start at $7.99 per user per month and range up to $14.99 per user per month.
Notion vs. Evernote: is there any alternative?
If you've gotten this far, you're probably wondering if there are better alternatives to Notion and Evernote.
What if the features we listed today aren't quite what you need? What if some of the features are great, but you still feel like the apps are missing something?
You're in luck because we have an even better option than Notion and Evernote.
In fact, we'd venture to say that we've got the best project management tool on the planet. In case you haven't heard of it, it's called Nifty.
Let's take a look at a few reasons Nifty is the best choice of all.
Notion vs. Evernote vs. Nifty: Why Nifty is better
We don't mean to brag … but did you know Nifty was awarded the number one project management app by G2 in 2020?
You read that right.
With our complete Work Operating System, you can manage your team, work, and projects from start to finish without the need for endless tools.
Here's what you can do with Nifty
Nifty is a new-wave project management tool that aims to reduce project development cycles and improve team productivity. Its milestone-driven progress keeps teams motivated and on track, so all deliverables and goals remain on schedule.
You can manage tasks in Nifty both through list view or Kanban and share files and documents with ease. It also has a built-in calendar feature you can sync with Google.
The greatest part about Nifty is its powerful team collaboration ability. Teams have access to individual discussion threads on each project which decreases information silos and enhances project-specific communication.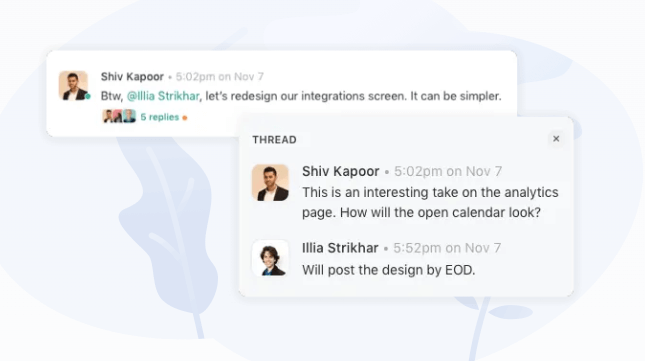 Another note-worthy Nifty feature is the many native integrations, which encourages cross-departmental collaboration like no other tool does.
Bottom line?
With Nifty, you can stick to managing projects, not tools. With our all-in-one workspace, you can keep people, projects, and functions aligned across your entire organization.
Wrap up
When you're on the hunt for a project management tool, everything feels confusing.
How can you be sure you're picking the best tool for your business when every option sounds like the right one?
To give you a leg up, we revealed everything you need to know about two of the best tools on the market: Notion and Evernote.
We also added a surprise tool we believe you'll find the most effective for your business: Nifty.
Nifty fills in numerous gaps ‌other tools don't. From project portfolio options to Gantt charts and advanced reporting, Nifty offers a complete Work Operating System that can revolutionize your workflows.
Ready to see how Nifty can transform your project management workflows? Try our Free Forever plan or sign up for a demo to test-drive our features.
Looking for more actionable advice for your business? Then you'll love our blog. Head on over for more juicy business tips like these.