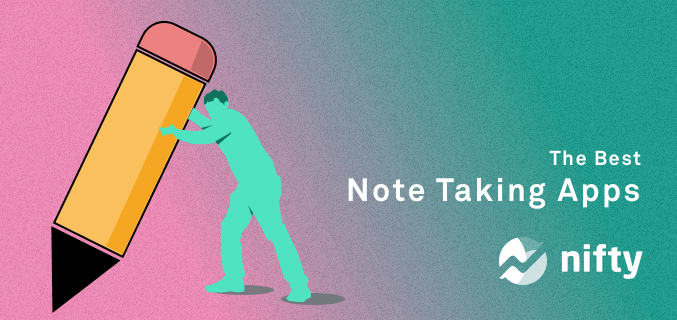 Whether you're attending a lecture for coursework or a meeting to understand client requirements, one thing is common – you're left to your means to process and retain large volumes of information. And unless you're someone who can boast eidetic memory, using the best note taking apps can be a life-saving skill in classrooms and boardrooms alike.
With a flood of note taking apps invading the markets, choosing one that serves your purpose can be challenging. To make light work of such a task, we've rounded up the ten best note taking apps for you.
What is a Note Taking App?
A note taking app is an application that allows users to capture information in the form of digital files, multimedia content, and live recordings. Users can use them for writing, sketching, recording, paraphrasing, labeling, annotating, outlining, and other techniques for note taking. Basically, everything you'd do using pen and paper.
Apart from digitizing notes, note taking apps may also offer cloud-based storage and organization with auto-backup capabilities. Similarly, some of the best note taking apps may possess unique features such as real-time note-sharing and collaboration, color coding of information, and converting content formats, to name a few.
10 Best Note Taking Apps: An Overview
Best Note Taking Apps

Best For

Free Trial Availability

Nifty

End-to-end document management

When team size does not matter

Free + 14-day free trial for paid plans

Google Keep

Basic note taking and to-do lists

Those using Google Suite

Free

Microsoft OneNote

Powerful note taking for free

Organizations working in the Microsoft environment

Free

Bear

Apple users

Visually pleasing note taking

Yes, 7-day free trial of Bear Pro

ClickUp Docs

Centralizing project documents

Advanced users

No

Evernote

Complex note taking

Big spenders with the budget to spare

Yes, a free trial of the paid version is available for 14 days

Notability

Visual note taking

Apple users (with Apple pencil)

No

Simplenote

Bare bones note taking

Cash-strapped companies and startups

Free

Hive Notes

Hive users

Teams or departments that conduct frequent meetings

Yes, a free trial of the paid version is available for 14 days

ProofHub Notes

ProofHub users

Hybrid or remote teams

Yes, a free trial of the paid version is available for 14 days
10 Best Note Taking Apps to Increase Productivity
As promised, here are some of the best note taking apps to supercharge productivity:
1. Nifty: The Best All-Round Note Taking App
With a few exceptions, most of the note taking apps that we'll be discussing are standalone applications. That is, note taking is all they do and are capable of.
However, Nifty is nothing like them. It is a component of the Nifty suite, the ultimate project management OS. As such, you get a bang for your buck with access to cutting-edge tools and technology that take project management to a whole other plane!
Pricing
Free: $0 (up to 100MB)

Starter: $5 per month (billed annually)

Pro: $10 per month (billed annually)

Business: $16 per month (billed annually)
Available for
iOS, macOS, Android, Windows, web interface, and Chrome (extension).
✨ Ready to try Nifty? Get started for free.
Overview
Nifty Docs features a clean and intuitive text editor that is similar to Google Docs. Such familiarity makes it easier for almost everyone to use Nifty Docs (Psst, you can also create Google Documents, Spreadsheets, and Presentations after integrating it!).
The markup allows you to format and style text as per your liking. You get the whole range of features from the usual Bold, Italics, and Underline to Strikethrough and Hyperlinking.
Nifty Docs allows you to add an assortment of rich media, like images and GIFs, to your notes. You can also add tables or embed links to import other content formats.
You have three ways to jot down pointers: bulleted lists, ordered lists, or checklists. In the case of the latter, you can even link it to any ongoing task in your project.
Speaking of projects, if you are creating Nifty Docs within a project, then you have the option to share the document with other project members by default.
While working with a team, you can add comments, tag other users, and work together in real time.
To make collaboration more seamless, you can even share the Docs as a public link, and anyone with the said link can view the document. However, for them to make edits or view them in real-time, they need to have a Nifty account.
With such a power-packed performance, Nifty Docs is not only the best note taking app but a great tool for creating beautiful docs, wikis, and more!
Pros
Nifty Docs is part of a powerful all-in-one productivity tool.

Rich editing and formatting features.

Compatible with a variety of rich content formats.

Supports collaborative working through public link sharing, tagging, commenting, etc.

Offers a free forever plan up to 100MB.

Available across all devices and platforms.
Cons
Since Nifty is packed with features, the learning curve can be a bit steep.

Exporting is only available in PDF format (for now).
✨ Make the smart choice. Use Nifty for note taking!
2. Google Keep: The Best Note Taking App for Basic Requirements
Jot down and share your ideas faster with Google Keeps. It is one of the best free note taking apps for devices of all shapes, sizes, and make. Such accessibility makes it the go-to note taking app for basic requirements.
Pricing
Free for every Google account. However, Google Keep data occupies space within the default 15GB storage offered by Google Drive. You'll have to upgrade your Google Drive plan for more storage.
Available for
Android, iOS, and web interface.
Overview
Intuitive and clutter-free interface.

Syncs across multiple devices.

Built-in drawing tool.

Supports voice notes, images, and speech-to-text.

Interactive to-do checklists.

Set reminders for scheduled tasks.
Pros
Integrates with other Google apps and services.

Minimalistic and easy-to-use interface.

Labels are useful in sorting and organizing notes.

Can extract text from images.

Syncs easily with Google Calendar and Reminders.
Cons
Lacks advanced organizational capabilities.

Web Clipper extension only saves the URL and not the webpage or its content.

Rich text formatting or markdown is difficult.

Only Google One users get direct customer support.
3. Microsoft OneNote: The Best Free Note Taking App
OneNote is a lot more than Microsoft's reply to Google Keep or Evernote. It is the best free note taking app that combines traditional note taking with visual sketchbook layouts. Plus, it is an excellent way to integrate note taking with your organizational tech stack if you work in the Microsoft ecosystem.
Pricing
Free for Outlook users. However, you get only 5GB of OneDrive storage. You will have to pay for additional space or for Microsoft 365 access.
Available for
Windows, iOS, macOS, Android, and web interface.
Overview
Notebook structure that divides into Sections, Pages, and Subpages.

One-click content or webpage saves with OneNote Web Clipper.

Supports a wide variety of mixed media content.

Edit embedded and imported files and media.

Share and collaborate in real time.

Digital Ink allows users to draw images and diagrams.

Math and Sticker feature (for paid versions).
Pros
Consistent with the Microsoft Office app interface, which makes it easier to use.

Highly efficient Web Clipper that eliminates ads and unimportant page elements.

Offers a ton of features, even for the free version.

Supports various third-party integrations.
Cons
Locating Notebooks can be frustrating as the homepage only shows recently used ones.

Jumping between Notebooks is slow.

The mobile app lacks some of the features of the desktop app or web interface.
More than 78,000 users use Nifty every day to manage their work.
Know why
4. Bear: The Best Note Taking App for iPad
If you're looking for the best note taking apps for iPad and iPhone, then Bear Notes is a noteworthy option. The note-taking app focuses on blending beauty and clean aesthetics with form and functionality. With the company dropping Bear 2 in July 2023, one can naturally expect the latest and the best in this note taking app.
Pricing
Free: $0 (no sync with iCloud, only local access)

Bear Pro: $2.99 per month or $29.99 per year
Available for
iOS, iPadOS, macOS, and watchOS.
Overview
Arrange notes into subfolders using hashtags.

Rich markdown for quick text styling and formatting.

Offers Right-to-left (RTL) language support and custom fonts.

OCR searches for text in images and PDFs (for Bear Pro).

Privacy features like password protection or using Face/Touch ID (for Bear Pro).

Visualize notes, outline, and expand/collapse sections.
Pros
Compatible with the entire Apple ecosystem, including Apple Watch.

Supports cross-linking of notes.

Allows in-line insertion of images, GIFs, tables, bullets, etc.

Has a good number of options for exporting/importing notes.
Cons
Available only for Apple users.

Lacks a number of features like audio recording, collaboration, etc.

iCloud storage is available only in the paid version.

Lacks integration with useful third-party apps.
5. ClickUp Docs: The Best Note Taking App With an AI Summarizer
ClickUp Docs is a part of the ClickUp productivity suite. It serves as a centralized hub for all documents and makes it accessible using a public link. While Docs is more suited for document creation, editing, and management, ClickUp also has a dedicated NotePad feature for note taking.
Free Forever: $0 (up to 100MB)

Unlimited: $7 per user per month (billed yearly)

Business: $12 per user per month (billed yearly)

Enterprise: Custom Pricing
Available for
Android, watchOS, iOS, macOS, Linux, and web interface.
Overview
ClickUp AI to generate content and summaries.

Can integrate with and modify workflows.

Powerful access controls and permissions.

Focus mode to eliminate distractions.

Availability of Docs templates.

Rich formatting using /Slash commands.
Pros
Fully customizable and user-friendly interface.

Native features for time-tracking and screen recording.

Keeps a log of version histories.

Real-time cross-device syncing.
Cons
The mobile app is still a work in progress.

Has a steep learning curve.
Yes, we know ClickUp is expensive. Hence Nifty is free.
6. Evernote: The Classic Note Taking App
Evernote is one of the best-known note taking apps. Its pioneering work and long-standing popularity have inspired most other note taking apps! However, its latest price-gouging tactics haven't been sitting well – even with the app's loyal advocates.
Pricing
Free: $0 (up to 60MB monthly for two devices)

Personal: $10.83 per month (billed annually)

Professional: $14.17 per month (billed annually)
Available for
iOS, macOS, iPadOS, Windows, Android, and web interface.
Overview
Holistic note taking, organizing, and storage app.

Powerful Web Clipper to save articles, web pages, and screens.

Due dates and reminders for tasks in to-do lists.

Reliable document scanning capabilities.

Integrates with Google Drive, Slack, and Microsoft Teams.

Customizable templates to kickstart note taking.
Pros
Advanced search tool that can dig deep inside text, files, and documents.

Make notes beautiful with unique color schemes, layouts, and typefaces.

Compatible with a variety of data entry methods (typing, recording, images, scanned documents, etc.)

Supports different styles, techniques, and complexities of note taking.
Cons
The free version is extremely restrictive, and the paid versions are exorbitantly priced.

Does not allow local or offline saving of notes.

Each uploaded file is limited to 25MB, and you can only upload to 60MB per month in the free plan.

Lacks real-time collaboration.
7. Notability: The Best Visual Note Taking App
Notability is the best note taking app for all visual thinkers. Think of it as a sketchbook to bring your ideas to artistic masterpieces. That's not to say that you cannot take notes by typing. However, since it is developed to be the best note taking app for iPad, it offers wider support for free-hand note taking than typing.
Pricing
Starter: $0 (limited note edits and no iCloud sync)

Plus: $14.99 per year (subject to change from region to region)
Available for
iOS, iPadOS, and macOS.
Overview
Supports a wide selection of tools for note taking (typing, audio, OCR, etc.)

Multi-note side-by-side viewing.

Easy PDF import, annotation, and export.

Creative templates featured in Notability Gallery.

Handwriting Recognition and Math Conversion using MyScript (available in Plus).

Powerful and intuitive organization of notes.

Flexible customization (colors, fonts, and templates) for aesthetic note taking.
Pros
Supports multiple content formats and pen styles.

Effortless handwriting experience due to native integration with Apple Pencil.

Offers high-fidelity conversion of handwriting or mathematic equations into text (for the paid version).

High customization that can be saved as presets.
Cons
Limitations in text alignment and formatting.

The free plan lacks essential features.

No transparency in pricing.
8. Simplenote: The Best No-Frills, Open-Source Note Taking App
Automattic did with Simplenote what they did for WordPress – made it simple, intuitive, and open-source. In other words, develop a simplistic and accessible solution to overcome a challenge. Such qualities make Simplenote one of the best free note taking apps.
Pricing
Free: $0

Sustainer: $19.99 per month or $199.99 per year (optional)
Available for
iOS, iPadOS, macOS, Android, Windows, Linux, and web interface.
Overview
Minimalistic interface with zero distractions.

Drag-and-drop functionality for note history and revisions.

Available for all major devices and platforms.

Automatic and real-time sync.

Basic markdown available using code.

Customizable tags.

Supports collaboration.
Pros
The free version offers access to all features and functions. The Sustainer plan is purely aimed at supporting the developers (could be a con if you are expecting exclusive features in lieu of payments).

Allows real-time sync across devices and platforms automatically.

Simple version controlling and change reviews.
Cons
It is a text-only application, and you cannot add images, videos, or audio or attach files or documents.

Does not allow the organization of notes into folders, subfolders, notebooks, sections, etc.

Lacks rich text-formatting tools to make notes visually pleasing.
9. Hive Notes: For Note-Taking During Meetings
From the makers of Hive, a work-from-anywhere platform, comes Hive Notes. Hive Notes started off as a platform for orchestrating teamwork and storing project-related content. However, it later diversified as a note taking app for meetings.
Pricing
Solo: $0 (up to 2 members)
Teams: $12 per user per month (billed annually)
Enterprise: Custom Pricing
Available for
Android, iOS, macOS, iPadOS, and web interface.
Overview
Notebook style layout that allows the addition of multiple entries in one note.
Integrates with Google or Outlook calendar.
Links to a meeting and is shared automatically with the participants.
Meeting attendees can comment on, update, add, and take notes in real time.
Allows creation and modification of custom note templates.
Pros
Accessible before, during, and after meetings, making the meeting more meaningful and talking points more actionable.
Native integration with Zoom, which means that meeting attendees don't have to switch between windows or open a separate app
Comes bundled as a component of the Hive project management platform that offers 1000+ integrations.
Cons
The mobile app is clunky and needs improvements.
Lacks advanced search capabilities.
Changes are hard to track.
10. ProofHub Notes: The Best Collaborative Note Taking App
ProofHub is a project management and team collaboration platform, and ProofHub Notes makes it easier for teams to take shareable, project-related notes. ProofHub Notes is a centralized repository for all documents within a project that you can work on collaboratively as a team.
Pricing
Essential: $45 per month (billed annually)
Ultimate Control: $89 per month (billed annually)
Available for
Windows, iOS, macOS, iPadOS, and Android.
Overview
Notebook-style layout to organize multiple notes for the same project.
Color-code notes for sorting and quicker identification.
Built-in word count and character count tool and spell checker.
Share notes with stakeholders or keep them private.
Track changes to notes.
Pros
The interface is similar to commonly used document processors.
Notes are downloadable in PDF format.
Flat-rate pricing with no user capping.
Cons
Overwhelming number of notifications that can be distracting.
Limited options for third-party integration with functional apps.
How to Choose the Best Note Taking App for Yourself?
You've seen ten of the best note taking apps, along with their pricing, key features, advantages, and limitations. The options are laid out in front of you, and even then, choosing just one can seem overwhelming. To make this task easier, here are a few factors worth considering to make the smarter choice:
Use case: Do you need the note taking app to take down key points from a lecture? Or to sum up a business meeting? Or to draw a prototype of a product? Your choice of note taking app should conform to the specific use case and the corresponding note taking style.
Budget: Your preferred note taking app may offer a breadth of top-notch features, but it will all be in vain if you cannot afford it in the first place. You'll ideally want something that fits your budget, whether it is a flat rate fee, a tiered plan, or a pay-as-you-use model.
Features: Categorize your requirements into three categories – must-haves, nice-to-haves, and can skip. Then, based on the options available, find the one that can check most of the boxes for the features listed in the must-have category. In this way, you can strike a fine balance between features and budget.
Platform: You may have noticed how certain note taking apps are available only for specific channels. Such restrictions can pose accessibility issues, especially when you're using the note taking app as a team. Find one that is universally available or is at least available as a web interface.
User Interface: Once you're left with a select few options, download the note taking apps to try them first-hand. Doing so will paint a clearer picture of how much value you can extract from it. We've listed out the note taking apps that offer a trial version so that you can test-drive them before you commit.
Conclusion
That's a wrap on our pick of the ten best note taking apps out there. As you can see, each of these note taking apps brings something special to the table in its own way.
For instance, Nifty Docs is an all-you-can-need document manager, while Simplenote minimizes extra components and add-ons; ClickUp is accessible from different platforms and devices, while Bear focuses on Apple users – the list goes on. For this reason, we've included a quick guide on how to choose the best note taking app for yourself.
Hopefully, you've gained some insights that will help you make an informed decision on how to choose the best note taking app for your (or your business's) specific requirements!
Already made up your mind about using Nifty? Take the next step; Sign up here. 👈
FAQs
What are the best apps to take notes?

Some of the best note taking apps include:

Nifty Docs
Google Keep
Microsoft OneNote
Bear
ClickUp Docs
Evernote
Notability
Simplenote
Hive
ProofHub
Is Evernote still the best note taking app?

While Evernote is surely one of the best note taking apps, it has had its fair share of criticisms. For starters, it has consistently failed to address issues and concerns raised by power users, which is rather disappointing.

Plus, some erosion of its think tank has stunted its ability to grow and innovate. The limited functionalities of the free app are also a major deterrent in acquiring long-term and new users.
Which is the best note taking app for iPad?

Some of the best note taking apps for iPad are:

Nifty Docs

Bear

ClickUp Docs

Evernote

Notability
Which is the best note taking app for Android devices?

Some of the best note taking apps for Android devices are:

Nifty Docs
Google Keep
Microsoft OneNote
ClickUp Docs
Evernote
Simplenote
Hive
ProofHub