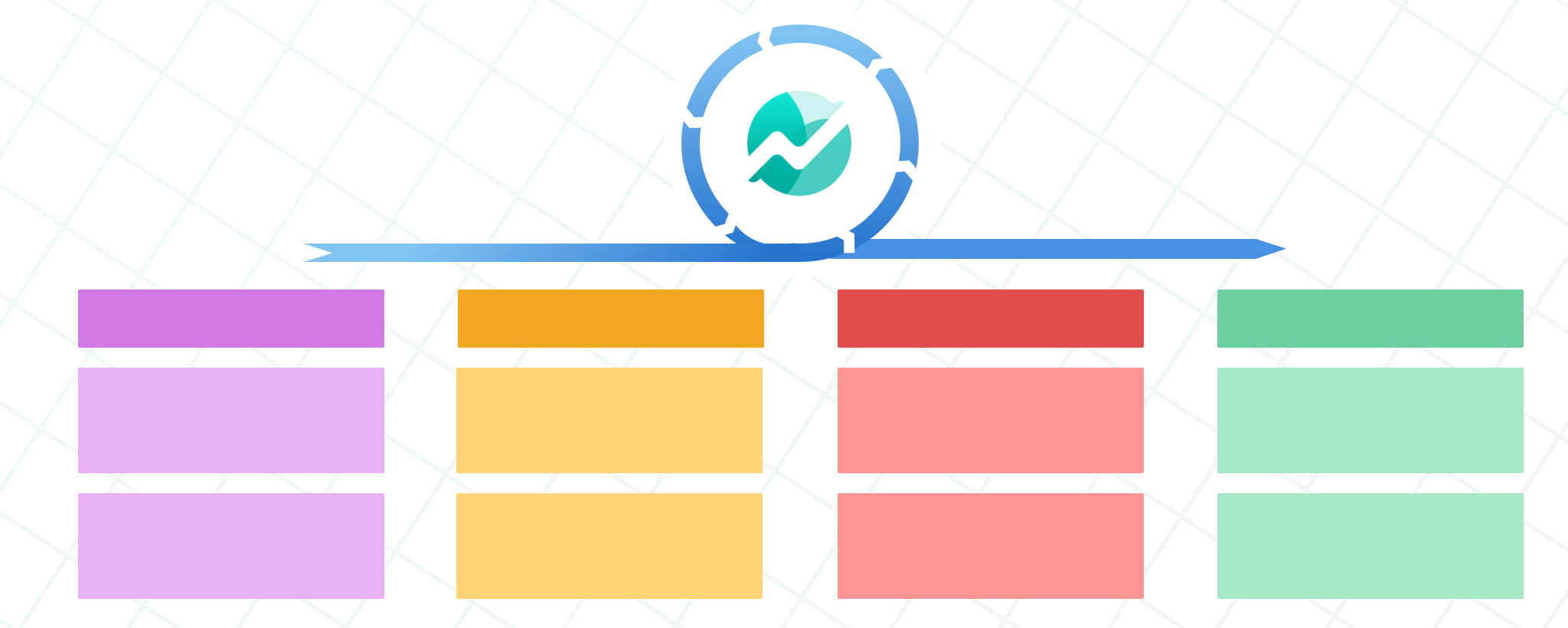 Scrum boards are an important aspect for managing technical projects and every responsible technical project manager cares about the process a project takes on. Using a framework that gives you a better image of where you are standing and how far are you from where you should be can help your business grow remarkably. This framework is called a scrum board. This post will answer all your scrum board-related questions and will suggest the best scrum board available for your business. 
What is Scrum?
Before talking about a scrum board, you should learn about scrum if you don't already know about it. 
Scrum is a framework for facilitating teamwork. It is a combination of meetings, tools, and roles that work together to help teams structure and manage their work. Scrum encourages teams to learn via experiences, organize themselves while working on an issue, and reflect on their victories and losses. It keeps all the team members on the same page which is great for handling the project. Scrum can be applied to any type of teamwork and that is why it is so popular as well as essential in every project.
Scrum is a project management system based on the agile methodology sometimes referred to as an agile project management framework. Scrum project management divides a project into small development cycles called sprints. Each sprint lasts approximately 2 to 4 weeks, during which time the scrum team works on various elements of the project in order to accomplish a sprint goal.
What is a Scrum Board?
A scrum board is the public face of your process, displaying the state of your sprint and dividing your work into stages. Scrum is an iterative approach for breaking down large issues into manageable bits and facilitating performance analysis. It promotes open communication, teamwork, and problem-solving.
The scrum board is a physical representation of your scrum process, a visual indicator of the current sprint's status, and a motivator to do more before the sprint reaches a deadline. In other words, a scrum board tracks your project sprints and helps you to manage your project and tasks.
There are three columns on a scrum board: 'to do,' 'in progress/doing,' and 'done.' Visualizing your task in this way is quite helpful for planning: It demonstrates how far you've progressed and how far you still have to go. It also assists you in determining what has to be done in the next stage. The scrum board can take the form of a physical object — such as a whiteboard covered with ink or sticky notes — or it can take the form of a digital platform.
Online Scrum Board vs. Physical Scrum Board
Scrum teams frequently have to choose between using an online scrum board or a physical Scrum board. Both solutions have advantages and disadvantages, and there is no one-size-fits-all solution, so let's take a look at the pros and cons of each. You can then decide which one works best for your business.
A Physical Scrum Board
A physical scrum board is a whiteboard or a wall full of sticky notes. Here are its advantages and disadvantages:
Physical Scrum Board Advantages
It's effective for local and small teams.

If your entire team works on the same floor or room, it's helpful to have your whiteboard in a location where it's easy to see.

It can serve as a visual reminder to you and your team members and you all can always see it on your way to a coffee break, for instance.

Maintaining the board in the center of your office can assist your team in staying more focused on their objectives.

The area around your board can be used as a spot for quick meetings and conversations.

After each sprint, you can rearrange your workboard or reorder your process for the following sprint. 
Physical Scrum Board Disadvantages
Sticky notes and handwritten directions might be disorganized and confusing.

When the team is dispersed across multiple rooms, floors, offices, or continents, it doesn't operate as it should.

It's more difficult to update, and there's less room for more detail.

You can't access the previous information. You may later need some information related to a sprint but you have already put the sticky note in the trash bin or have erased it from the whiteboard.
An Online Scrum Board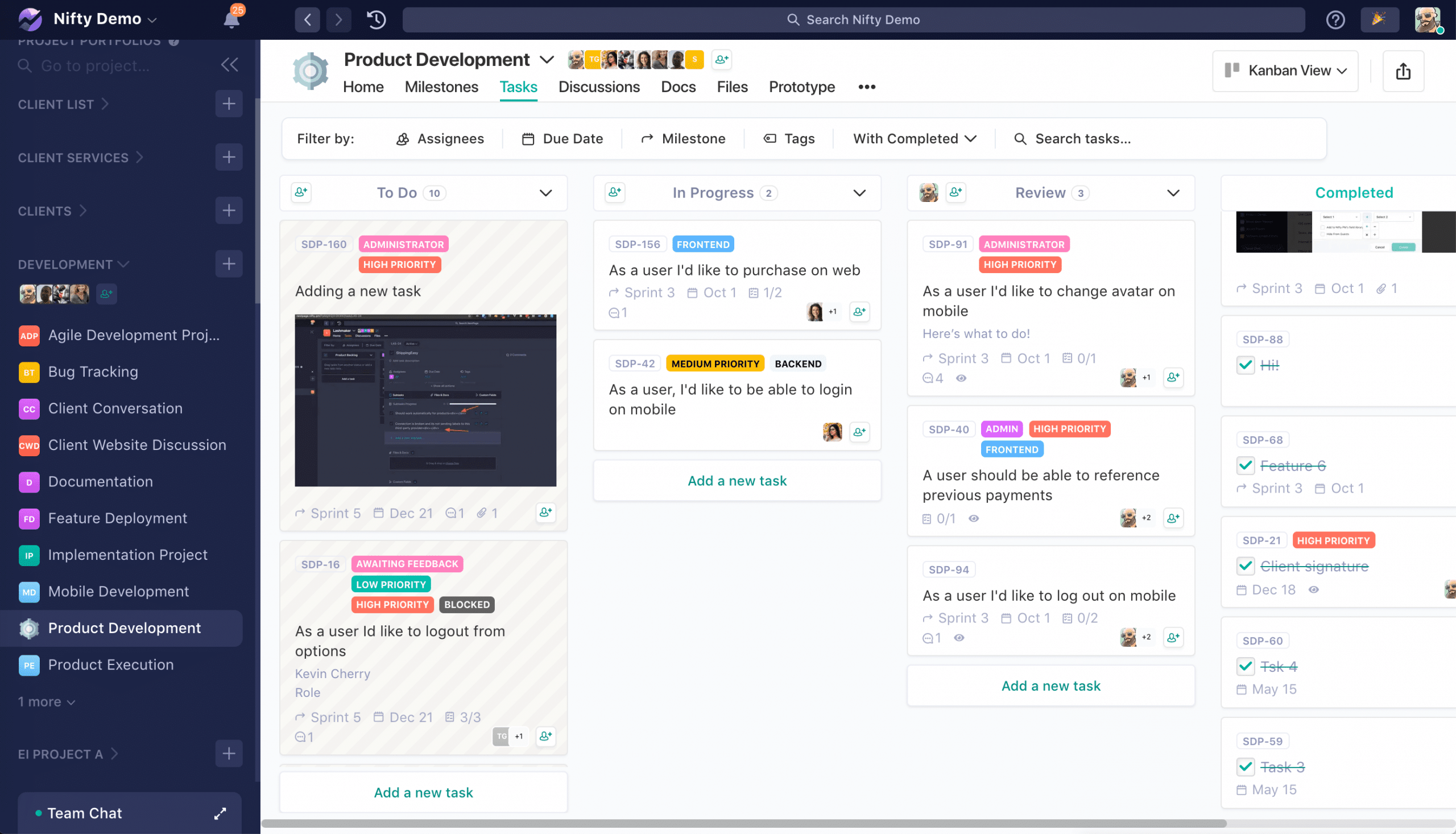 While a physical scrum board can give you the option of adding your own style and even adding fun, an online scrum board can be a more efficient choice for your business. Here are its advantages and disadvantages:
Online Scrum Board Advantages
An online scrum board is ideal for remote teams.

It is a great alternative for a physical scrum board when you're working with a team from another country or on a different floor or building. So, in the cases that you can't have any face-to-face meetings or it's hard to have, an online scrum board is perfect to use.

It's easier to stay up to date on an online scrum board if you're working from home or at a conference.

You'll be kept up to date on any changes.

You won't have to keep checking the board for changes, and the team won't have to manually ping you every time your work is tested. Moreover, managers can also save a lot of time because there will be no further status updates or task progress emails sent.

Your long-term projects will be easy to plan because it's easy to see and work with data across sprints.

Automatic reports are generated using online scrum boards. 

You may acquire both velocity data for your scrum master and project dashboards for your management with an online scrum board.

At the touch of a button, online scrum boards can be shared with team members, supervisors, and team leaders. They can log in from anywhere in the world and access information and reports.

You can always have an access to all the information related to the previous sprints even if they have been completed. 
Online Scrum Board Disadvantages
You'll have to devote time to adapting your workforce to the new program. You can solve this issue by choosing an easy-to-use online scrum board.

One-time purchase or a monthly fee is required for software. However, since the cost of sticky notes and whiteboard markers can quickly build up, you might end up breaking even or even saving money.
Why Use an Online Scrum Board?
An online scrum board can definitely make a contribution to practically any team except very small, local teams. As businesses become more global, cross-border collaborations get critical to business growth. Teams no longer meet on the same room, floor, or building.
Everyone requires recent updates to perform well on their tasks. Project managers and scrum masters, for instance, require dashboards in order to have visibility into what is happening and how the work is proceeding. They can use reports to track the progress of a sprint and identify what they need to do and what policies should be adopted to boost the project.
An online scrum board can also generate certain reports that your scrum master can track. You can also generate reports that your product owner can comprehend. When your sprints are online, you can easily track them whenever and everywhere you want. Taken as a whole, investing in an online scrum board has great results for you and can improve your project management and the business in general.
What Does a Scrum Board Look Like?
As we mentioned earlier, the scrum board should have three spaces or columns where you can specify the works that you have done, are doing, and want to do. If your team is working on their first scrum project, or if you're attempting to run your own personal sprint, these columns can help you see how successful your work becomes or what steps should be done after fulfilling one goal. 
So, now you should decide whether you prefer a clean and organized workspace or a messy one. Certainly, people are more focused on their work if there is no mess. It helps them work more effectively and efficiently. 
How to Use a Scrum Board?
The functions and tasks of each scrum team differ from others regarding their objectives, projects, expertise, etc. The good news is that the scrum board can be customized based on your needs. So, you can break down your project into various tasks and assign each task to the right team member who is an expert in doing that. 
A scrum board can be customized when teams follow a specific workflow for each task. It's easier to spot issues and delays if you write down each stage of the operation and create columns or sections. It helps you predict the next stages that should be added if you want to reach a particular goal. 
Since scrum boards are neat and visual, they can help you and your team members work better and stay away from boredom. Thanks to the growth of technology, we are getting more and more tools that can entertain us while working by providing us with some cool features, images, designs, functions, etc. 
Scrum Board Concepts
Now let's learn some concepts related to scrum board if you are interested to know more about how it functions. 
1. Scrum Artifacts
A scrum artifact is a collection of data used by a scrum team to define the product or service being developed, as well as the steps necessary to build it and the actions made during development. A scrum artifact like this can reveal information about a sprint's performance. Scrum artifacts are important to scrum teams because they enable essential scrum qualities like transparency, inspection, and adaption.
There are three main scrum artifacts:
Product backlog:

A product backlog is a list of new features, additions, bug fixes, tasks, or work needs that must be addressed in order to accomplish the business goals you've specified.

Sprint backlog:

The sprint backlog is a list that comprises all of the tasks that the scrum team must do throughout each sprint. 

Product increment:

The most significant scrum artifact is the product increment. During each scrum sprint, the team strives to achieve this aim.
2. Definition of Done
Scrum defines the Definition of Done as the acceptance criteria that are similar to all user stories. It's critical for scrum teams to have a clear understanding of what "done" implies. They work in sprints and require a method for determining when a user story is complete. It's pointless to end a sprint with a user story that fulfills all of the acceptance criteria but hasn't been code reviewed, tested, or deployed. This is clearly not the end of the story. 
Scrum teams tackle this problem by defining "done" very precisely. The task determines how "done" is defined. Some teams work around this by having various definitions of "done"; one for bug fixes, another for features, yet another for technical tasks, etc.
3. Scrum Retrospectives
The Sprint Retrospective's goal is to figure out how to improve quality and efficiency. The scrum team evaluates how the previous sprint went in terms of people, processes, tools, and their Definition of Done. The elements that are inspected often differ depending on the work domain. The scrum team reviews what went well throughout the sprint, as well as any issues that arose and how they were resolved or are still causing problems.
To improve its efficacy, the scrum team determines the most beneficial adjustments. They may potentially be submitted to the Sprint Backlog for consideration. Here are some of the things that are discussed during the sprint retrospective:
What was successful in the sprint?

What could be better?

What will we improve in the upcoming sprint?
4. Burndown Charts
Agile project managers use a burndown chart to keep track of how much work is remaining on a project and how much time you have left to finish the project. This makes it simple to see if things are progressing as planned and whether you'll be able to meet your deadline and achieve your goal.
In the agile scrum process, there are primarily two types of burndown charts:
Sprint burndown:

a sprint burndown chart is used to keep track of how much work is left in a sprint.

Product burndown:

a product burndown chart is used to keep track of how much work is left on a project.
5. Sprint Plans
Sprint planning is a scrum event that starts the sprint. The goal of sprint planning is to figure out what can be accomplished in a given sprint and how it will be done. The scrum team as a whole collaborates on sprint planning.
A sprint plan addresses these topics:
Why is this sprint valuable?

What can be done in this Sprint?

How will the chosen work get done?
6. Daily Scrums
The Daily Scrum is used to review progress toward the sprint goal and, if necessary, change the Sprint Backlog, adjusting the forthcoming planned work. The scrum team participates in a 15-minute daily scrum. It is held at the same time and place every working day of the sprint to eliminate complexity.
Daily scrums boost communication, identify roadblocks, encourage speedy decision-making, and, as a result, reduce the need for additional meetings.
Best Scrum Board for Your Scrum Team
Now that you know the importance of using a scrum board, you should make up your mind and choose the best scrum board for your business. If you prefer to stick to the physical scrum board since your business is small and your team is in the same place, you can go on working with a physical one. But if you want to choose an online scrum board, then you have many options to choose from. 
Nifty is a project management tool with so many features that make it the best scrum board for you. Here are some of its features:
It is possible to assign, track, and manage tasks.

Automated

collaborative processes

can be generated with a high level of customization.

You are free to use whatever color scheme you want.

Third-party apps such as Hubspot, Salesforce, and others can be integrated.

Keeps track of the time you spend on different projects and tasks.

Exports and imports views of the map and calendar data for sharing with clients.

Excel sheets can be added to projects.

You can message team members privately, so you don't have to leave the platform to communicate with them. Emojis can also be used to respond to messages in conversations.

Each task has its own unique ID, allowing you to keep track of them all.

Each time you open it to see what's new and what's going on, it shows a motivational quote from a famous person while you are waiting for the page to reload. 

It is easy to use.
Conclusion
Scrum boards are a great way to organize and manage a project because they are so simple to use. If your team is tiny and in one room, choose a physical scrum board which means a whiteboard or a wall with sticky notes will suffice. However, an online scrum board is the only true option for large projects, larger teams, firms with remote workers, or just project managers who like to keep things digital. Automatic updates, dashboards, and accessibility from anywhere at any time, help teams collaborate more effectively.
So, start using a scrum board and feel the changes in the way you manage and the way your business scales up. Wish you the best of luck!
👉 Want to read more about boards? Check out our best idea board softwares article.