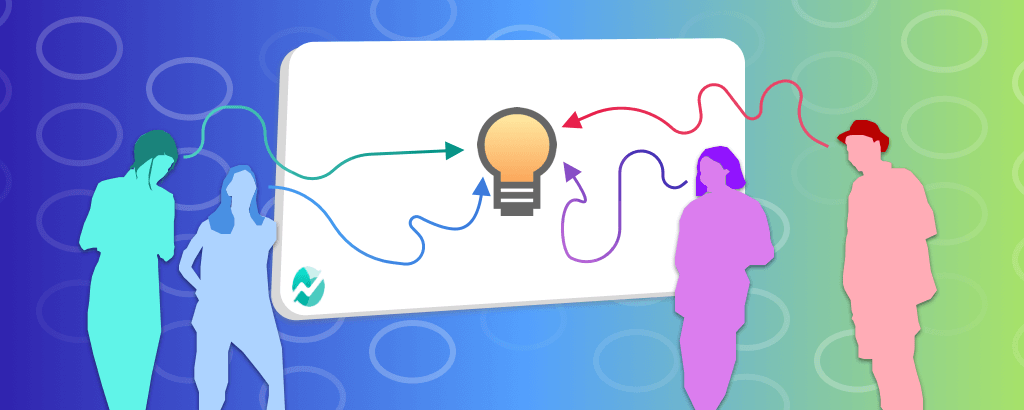 How can one use idea board software properly? It is wrong to believe that great ideas appear out of nowhere. Great ideas are the outcome of an intentional and ongoing effort to generate ideas and make meaningful connections. As a result, creativity is not a magical ability. Rather, it's a skill that you develop through time by feeding it and enriching it in different situations. But where do you put all those thoughts that rush into your head when you are thinking about a subject to turn it into something creative?
There are many different types of idea boards that you and your team may use to organize your ideas. Here in this post, you can read about idea boards and any information you should know about each of them.
What is an Idea Board?
An idea board is a place where your team's ideas can be collected. During a meeting, members of your team offer ideas, pictures, and concepts, which are recorded for all to view. There are two kinds of idea boards: traditional idea boards which are either on paper or a whiteboard and digital idea boards that are actually AI tools and software. 
The amazing thing about digital idea boards is that they go beyond traditional idea boards in terms of functionality. Using digital idea boards, you could record voice notes or attach links, which you couldn't do on a real idea board. You can also link material across several projects and establish boards inside boards. Using idea boards has become more enjoyable and simple thanks to templates, frameworks, and integrations.
What are the Benefits of Using an Idea Board?
New ideas should be released and expressed or else they are highly likely to be forgotten forever. This is dangerous to the growth of your business especially if you can never think of them in the future. So, instead of storing them in your head, write them down on idea boards on a piece of paper or a whiteboard. Your team may share ideas, concepts, experiences, pictures, or transient thoughts during a meeting or brainstorming session.
When new ideas pop up during these sessions, you should collect them in a systematic way that makes sense to everyone. Accordingly, we suggest that you use thought maps, flow charts, mood boards, spider diagrams, or any other visualization tool to keep track of your ideas. We are lucky enough to be living in the 21st century, the era of advanced technology that has provided us with useful AI tools and software like digital idea boards. In fact, using digital idea boards can take your brainstorming sessions to the next level. 
Taken as a whole, these are the main benefits of using idea boards:
Creating better ideas 

Making your dreams and intentions clear

Improving creativity

Providing motivation

Enhancing productivity

Providing focus

Choosing the best idea out of tens 

Boosting chances of success
What Are the Characteristics of Good Idea Boards?
When choosing the best idea board for your business, you should look for some characteristics that make them worth working with. Here are some of the characteristics that you should look for:
1. Time Tracking
There are differing opinions on whether deadlines or time limits inhibit or stimulate creativity. The reason is that there are different personality types that see deadlines differently. So, your employees might react differently to set due dates and deadlines. Some people can manage the deadlines using the Pomodoro Technique or other strategies while some others just freak out.
In most cases, setting a deadline for coming up with the next big idea may place additional strain on your team because they won't be able to fully engage with the challenge or come up with fresh ideas if they don't have time to do so. However, keeping note of how much time you spend on each idea is beneficial. Brainstorming sessions should be broken up into brief creative bursts of no more than an hour. 
2. Collaboration
Good creative work is nearly always a team effort. You'll need the right tools to assist your team work together on a project or an idea board. One that keeps track of people's performance and allows for tags, comments, etc. Team members must be able to discuss ideas and speak their minds.
It doesn't really matter how many team members are involved in your business. If there is no collaboration between the team members, you cannot get your business going. Therefore, you should use tools that encourage collaboration and communication among your team members. 
3. Synchronization
Because your idea board will be updated on a regular basis, the ability to sync is an important feature to look for in digital idea boards. If the team is kept up to date in real-time, they can work from the same office or remotely from anywhere in the world without facing the challenges of remote working.
4. Idea Sharing
The sharing feature allows you to share the digital idea board with others in the department or even email it to a list of coworkers. The advantage of this sharing feature is that other people are welcome to join in, contribute, review, and provide criticism. There are platforms that allow you to share information with clients and external partners via idea boards. So keep in mind to pick them when you are choosing among digital idea boards.
5. Cloud 
Cloud computing has such a competitive advantage these days since it is so convenient, reliable, and cost-effective, which is why some idea boards are now hosted on platforms. You wouldn't have to be concerned about losing files or flash drives. Storing your documents, photos, and audio for your idea board not only makes it easier for you and your collaborators to keep track of everything in one place, but it also allows you to access them from any device.
6. Design
Design is an integral part of any software. A good idea board design allows you to drag and drop items, group and link them, attach photographs, write down thoughts. You don't want your team members to be annoyed by a poor user experience, complexity, or slow-loading, malfunctioning software.
What is the Best Idea Board software to Better Organize Your Ideas?
Now you know the meaning of idea boards and their benefits, it is high time you learned about the best idea boards to better organize your ideas. Here are the best idea boards for you:
1. Nifty (Your all in one idea board)
Nifty is first and foremost a cloud-based task management tool. However, there are many features on the tool that you can use for the success of your business, whether it is remote, on-site, or hybrid. One of these features is that you can share your ideas in the idea board designated in the "Discussions" tab.
Features
Idea board

In-app messaging

Task management

Facilitated collaboration for remote, on-site, and hybrid teams

Easy integration with third-party applications such as Hubspot, Salesforce, etc.

Process personalization

Changeable color schemes

Map and calendar view

Easy data sharing
2. Miro (The idea board you can embed into Nifty) 
Miro is an online brainstorming tool that makes it to be one of the digital idea boards. It is a great place for collaboration between team members who want to run their business with creative ideas. The only disadvantage of this tool is that there is no news feed designated within the tool. However, it can be used on the web, mobile, and Surface Hub.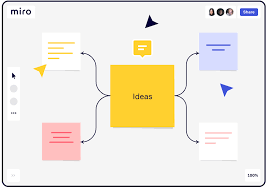 Features 
Attention management

Mind-mapping

Kanban

Outliner

Integrations

Timer 

Cloud-based
3. ConceptBoard
Conceptboard is one of those idea boards that are designed only for the web. Those who are active in startup, enterprise, and agency management can make use of this tool to brainstorm their ideas. It is a tool that makes collaboration among team members easy and can give you the advantage of organizing a workflow that shows the progress status of your performance.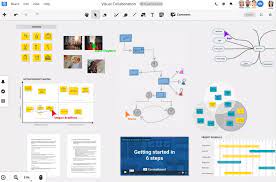 Features
Whiteboarding

Brainstorming ideas

Video conferencing

Cloud-based 
4. Ideanote 
Ideanote is one of the idea boards that cannot integrate other apps though it is a great tool for teams that are working together. Any type of business team can use this tool for keeping track of the ideas that rush into their heads. One good thing about Ideanote is that it can be used both on the web and on mobile (iOS, Android).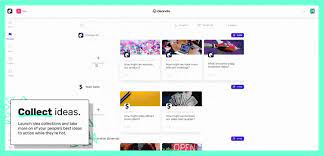 Features
100+ idea-collection templates

Kanban

Brainstorming

Custom rating

Real-time analytics

Gamification: missions

Cloud-based

5. Creately 
Creately is another idea board that you can use for keeping your business ideas. Use Creately diagrams to think and collaborate visually on everything from sketching out concepts to analyzing processes to brainstorming plans. Creately is designed for businesses, marketing teams, engineering teams, and all those who have creative ideas for their business. One thing you should know about Creatively is that there is no mobile version of the tool and you can only use it on desktop.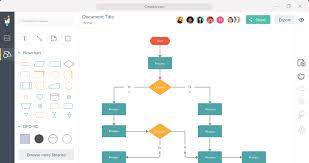 Features
1000+ templates

Mind-mapping

Storyboarding

Business and technical diagramming

Drawing flowcharts and charts

Wireframing

Integrations with other apps
6. IdeaDrop
Idea Drop is another tool option that you can use for your business. Using this tool, you can share your ideas with your team members and grow your business more creatively. It can be used both on the web and on mobile.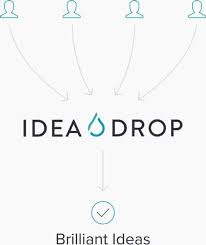 Features
Newsfeed

Kanban

Integrations

idea-cloaking

Intelligent duplicate check to avoid plagiarism

Gamification
7. Sampleboard (Idea board for college students) 
Sampleboard is another idea board that is great for reviewing ideas among team members. If you are a freelancer, this digital idea board can be a great choice for you. However, other businesses and agencies can use this idea board as well. The disadvantage of Sampleboard is that there is no progress status to track, which means you can not organize a workflow for your tasks. Plus, you can only use it on a desktop, either Windows or Mac.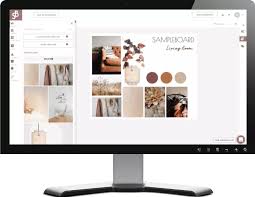 Features
Web clipper

Integrations

50.000+ extensive library

Image editing tool

Cloud-based 
8. XMind
XMind is a cool cloud-based mind-mapping tool that you can use as an efficient idea board. It is one of the best manager tools to work better with the team. Apart from managers, team members can use this tool to collaborate and share their ideas with their team members. It can be used both on desktop and mobile. 
Features
Progress tracking

Mind-mapping

Cloud-based

Diagraming

Outlining

Organization charts

Logic charts

Zen mode
9. Thortspace
Thortspace is a digital idea board that can be used both by businesses and individuals like freelancers or students. You can review your ideas and keep them all in one place so that you can get back to them any time that you need them. One thing you should be aware of is that there is no possibility to have a workflow on Thortspace which means you cannot track the progress of your project. Thortspace is available both on web and mobile devices.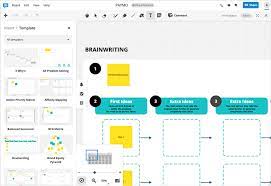 Features
3D mind-mapping

Cloud-based

Crowd-thinking 
10. Retrium
Retrium is another cloud-based idea board that you can use for your agile work environment. It is especially great for scrum teams to have their scrum boards. In addition to keeping your ideas and reviewing them later, you can also organize a workflow for your project. Remember that Retrium is only available on the web.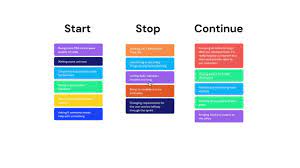 Features
Kanban

Action plans

Team radars

Cloud-based
Final Thoughts on the Best Idea Board Software
Businesses need creativity to grow successfully. The path you need to pave as a business owner or a freelancer is full of challenges that need your best ideas to be solved. In our daily lives, we come up with different ideas while doing irrelevant things. If we don't save these ideas somewhere safe, it is possible that we will never think of them later. As a result, it is important to choose an idea board that saves our marvelous ideas from being forgotten. 
In addition, your team's expertise and technical skills will improve as a result of the ideation process. As a result, there will be more excitement for work and you will have a strong, committed staff. The purposeful and continual pursuit of ideation is the source of your creative breakthrough. Choose at least one of the above-mentioned idea boards and get your staff on board. Start putting the pieces together. Wish you the best of luck!