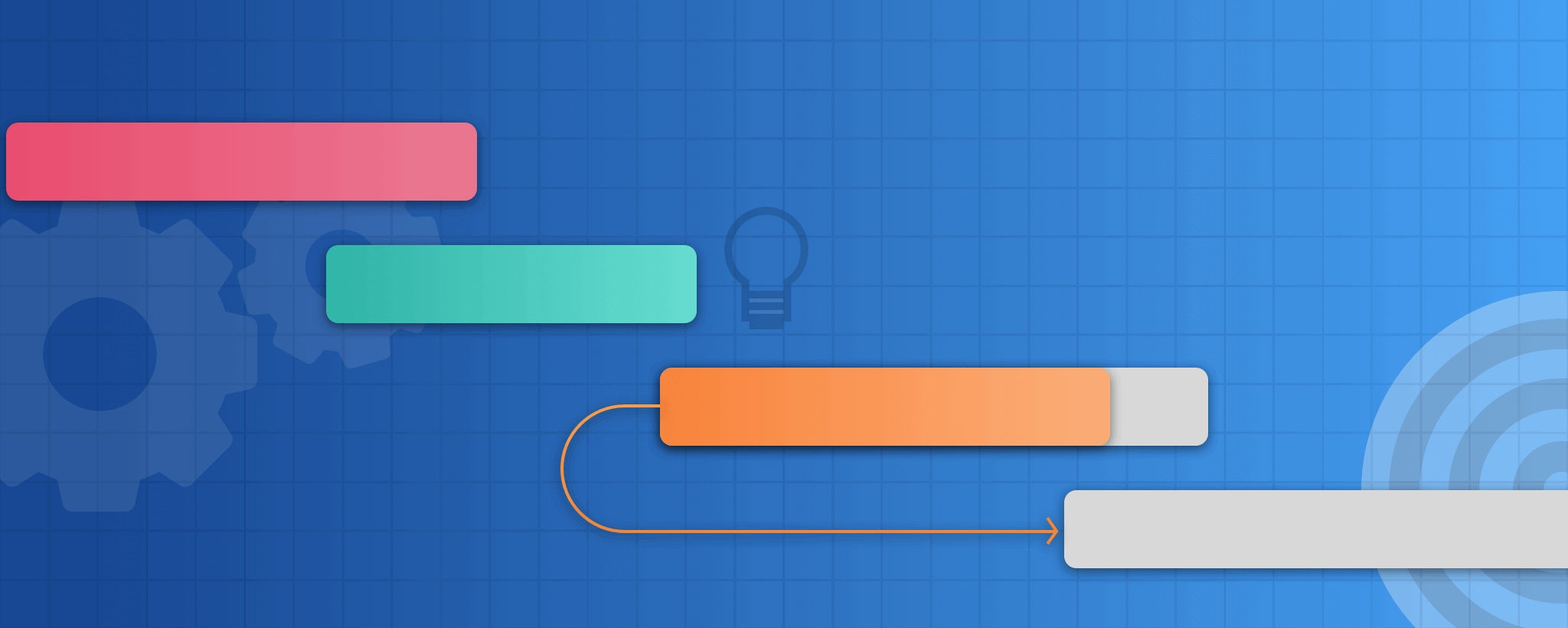 Are you looking to create a strategic roadmap to align your team and stakeholders with business objectives?
A strategic roadmap visualizes the actions required to enable a business to accomplish its long-term objectives.
It connects the dots for your employees by demonstrating how their daily activities align with the company's mission.
What Is the Purpose of a Strategic Roadmap?
A well-designed strategic roadmap functions similarly to a navigator for your company. It tells you where you are and how to get somewhere quickly, but also it can shorten the trip by reducing the time spent by team members attempting to figure out things on the fly.
It will take time to write a business plan, but it will be well worth your time. A strategic roadmap will provide helpful information to outside investors and clearly portray your company's operating strategy. 
It will serve as your plan for accomplishing your overall business objectives. A typical entrepreneur has a great business idea but needs to gain experience in many aspects of running a company.
Good strategic roadmaps are detailed, well-thought-out papers that enable entrepreneurs to make informed company decisions.
Whatever purpose your business plan serves, you need to ensure it's detailed and includes facts to back up your assertions.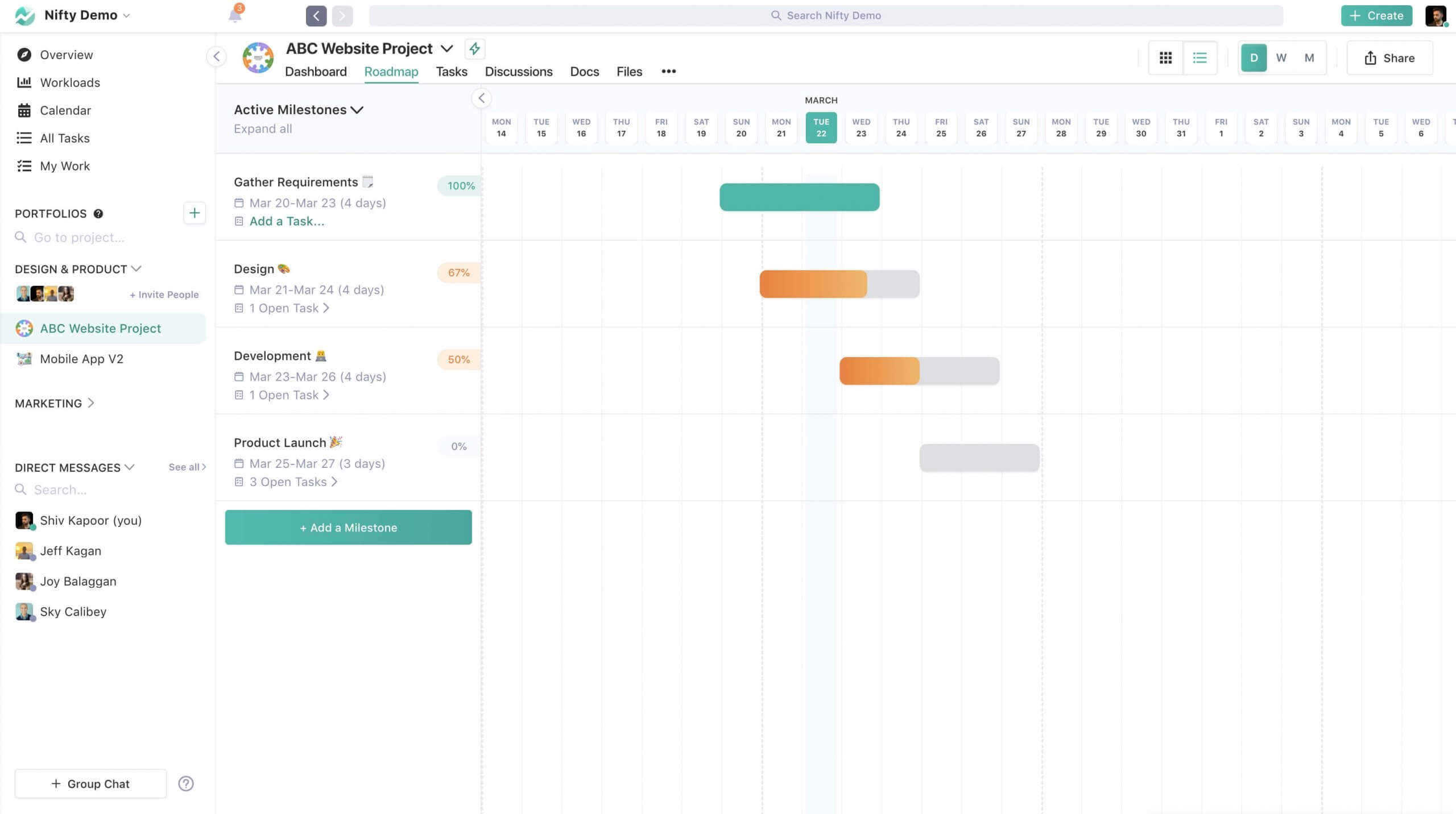 👉 Try Nifty for free to create beautiful strategic roadmaps for your business.
Creating a Strategic Roadmap: A Step-by-Step Guide
Before you begin creating your roadmap, you need to be clear about the vision you have for your company.
After you've defined your vision, you'll need to develop your roadmap to outline the steps you'll take along the way. 
These are the objectives that will help you achieve your vision. Each goal should include all the steps necessary to accomplish each journey task.
To make your life easier, here are some of the most critical steps you have to take:
Step 1: Set Your Vision and Provide General Information
At the top of the page, make a clear statement about your vision. This is the crucial guiding principle that everyone should be reminded of regularly.
As we mentioned earlier, a strategic roadmap is unique to your organization, so the strategy and structure of tasks will differ significantly. However, several fundamental questions will ensure you are on the right track regardless of the format. 
Include the firm name, the name(s) of the owner(s), and the company address (

Be aware that if you have a Registered Agent, their address should be used for legal and tax correspondence. Choosing the right

agent for legal correspondence

can help you avoid such issues), and the phone number.

Description of the company: Give a brief description of your company explaining the sector, and if your company has a history, provide a brief explanation of past achievements. Also, include your primary short and long-term goals and objectives and the strategy and methods that will help you accomplish them. You should briefly explain your business structure (

forming an LLC

, partnership, corporation, etc.)

Describe your product/service thoroughly enough for someone with a basic understanding of the technology or industry to evaluate its viability. 
Having set all these parameters to help you clearly understand what you are trying to achieve as a company enables you to take the following steps to create a solid roadmap for your business.
Step 2: Set Your Values and Objectives
Setting your fundamental values and principal aims or key goals comes next on the list. When you've decided on all of these factors, you'll be able to determine the types of products and services you'll need to offer, the market you should target, and your competition.
Ask the following questions to elaborate on your values:
When and why did your business start?

What exactly is the nature of the product or service you offer?

What are your main objectives and goals?

Where do you envision your company at the end of the year, three years, and five years from now?
 What is the relationship between the values you have and the vision of your business? What changes do you need to make if they need to be aligned to ensure that the same principles guide everyone?
This is a lot of theory and hard work on paper, but it is critical for your company's long-term success.
👉 Try Nifty for free and create strategic roadmaps in minutes.
Step 3: SWOT Analysis
A SWOT analysis is a technique for examining and understanding your entire brand positioning. Strengths, Weaknesses, Opportunities, and Threats are the explanation for each acronym letter.
So, your strengths are top on the list. It would help if you determined the benefits of your product or service. What are they, exactly? What's the best way to build an entire marketing campaign around them?
Finding your Weaknesses is your next task. How can you make your product better? By exploring your business, you can enhance your product or service, making it more complete and eliminating any opportunity for error.
Think of anything that helps you move forward and stay in your target market in terms of opportunities.
From offering your target market a unique customer experience to developing a feature that will outperform your competition, the sky's the limit when it comes to opportunities.
Finally, there are the Threats where you'll need to consider marketing trends, socio-economic characteristics, and your target market.
Your SWOT analysis can help you reveal those crucial elements and develop a clear, concrete plan to help you succeed. 
Furthermore, if you are strict and perceptive while examining your strengths and weaknesses, your SWOT analysis will assist you in determining your USP.
Step 4: The Competitor Analysis
Analyzing the activities of your competitors may be equally beneficial to your business. It can save you a lot of time and work in the future, as many businesses use similar marketing strategies.
Your competitor's analysis can provide you with statistics to back up your assumptions and help you discover your unique selling point much more quickly. It can even help you improve your product in unexpected ways or develop it far beyond your wildest dreams.
Following your competitor's lead can also help you find new ways to promote your product's characteristics, focusing your attention on features that your target audience appreciates.
A leader in the industry may follow some social media marketing strategies that can help you promote certain features of your product or service more effectively. For e.g., it could be something like getting more Instagram followers or landing more reviews.
Or, you can learn how to do email marketing in a way that can transform potential customers into superfans for your brand.
For example, if you have a product-based business and want to search and connect with manufacturing companies, you can observe what your competitor is doing. How does your competitor reach out to these companies? How do they acquire their leads? What all tools do they use? Do they buy the manufacturers' email list and info or reach them naturally?
Whichever the case, always pay attention to what the competition is doing. When undertaking something as serious as competitor analysis, always be thorough and expect the unexpected.
Step 5: Market Analysis – Buyer Personas
Your potential consumers are the ones who can help you figure out most of the obstacles you may have as an entrepreneur.
To better understand your audience, you need to address some questions:
Who do you see as a potential client? 

What are their ages? 

What are their passions? 

Does it matter what amount of education they have? 

What do they do for a living, and how much time do they have during the day?
The questions above can sculpt a basic profile for users interested in your product or service. These questions focus primarily on demographics and interests.
Moving on to the next questions, which are more product and marketing oriented: 
What would they buy, and when would they buy it, most importantly? 

How about a 

customer loyalty program

? 

How will you market your product, and how will it benefit you? 

Are emails the most appealing way to communicate to them? 

Will social media prove to be more effective in the long run?

Why would customers choose your product over your competition? 

Would an online store like WooCommerce be beneficial?
To address those questions, create a survey or a questionnaire and share it on social media or your email list to acquire valuable insights and adjust your business plan accordingly.
Having a clear buyer persona can increase your success enormously because you have a representation of your ideal customer. Knowing their pain points and what they are trying to achieve can put you in a position to create the optimal product or service for them.
Step 6: Create a Content Calendar for Your Strategic Roadmap
The ideal calendar is well-planned and includes evergreen content ideas that are timely and relevant, just as everything else in a strategic roadmap.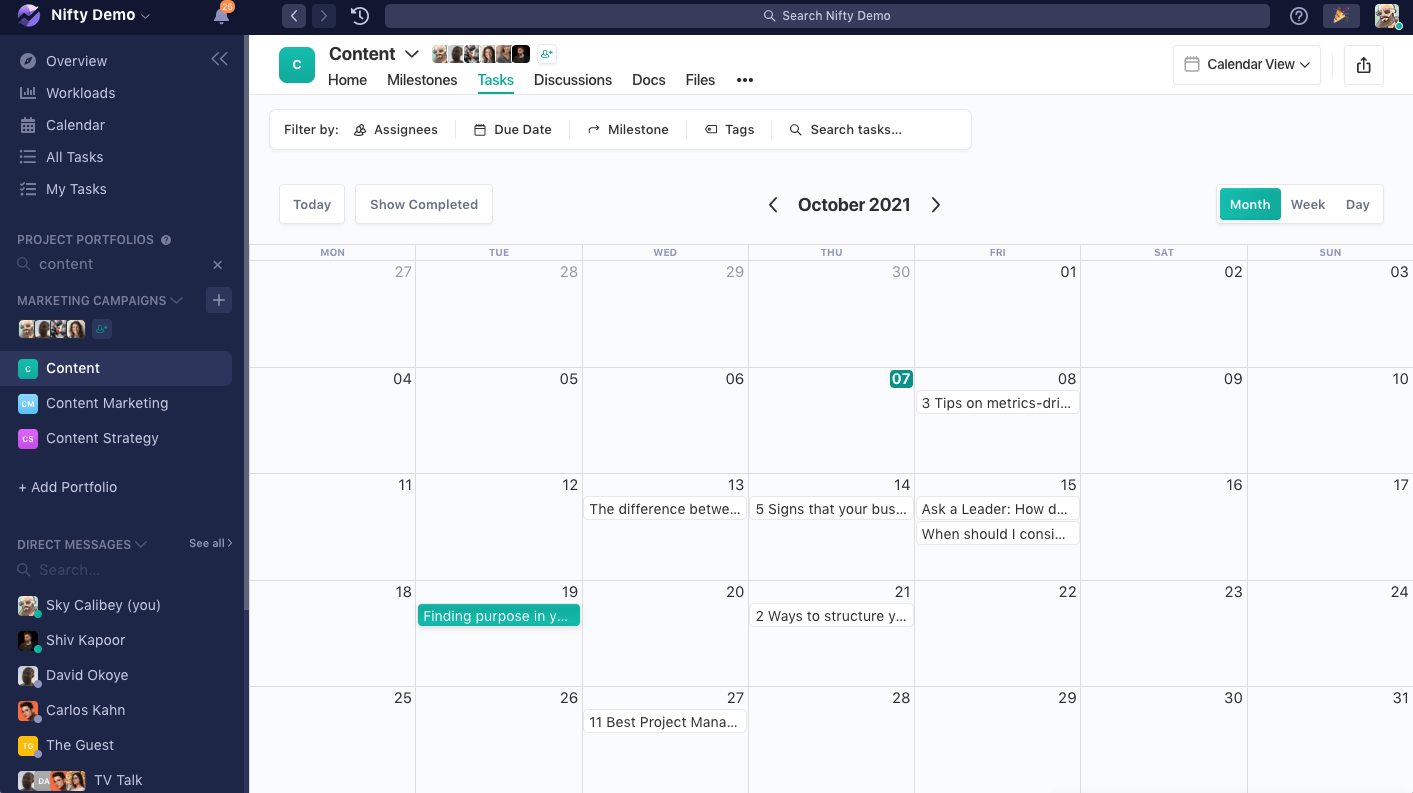 Begin by conducting keyword research and coming up with ideas to fit those keywords. Use a tool like Google Search Console and accumulate as many relevant keywords as possible. 
Remember that if your content doesn't follow some basic SEO guidelines, it will not help you succeed, thus this step is extremely vital. 
Now that you've completed your keyword research, break down your content ideas into little, actionable pieces to add to your content calendar. That way, you'll discover keywords that perform best in your niche, collect all of the data you'll need, and produce more extensive pieces of content for your schedule.
Focus on producing various content material, such as social media posts, blog posts, and infographics, which you can then distribute via your social media channels and email marketing.
You don't have to go large on the first try to impress people if you want to make a calendar that works. Sharing short, easily consumable content teasers keeps your audience engaged, and it's ideal for getting real-time feedback to improve your following content pieces.
Step 7: Set Milestones in your Strategic Roadmap
Place little flags on your roadmap to show where critical goal-related milestones will occur. 
For team members working on projects, milestones are vital, especially for longer-term projects where it's easy to become overwhelmed. They provide an opportunity for leaders to track progress and honor the efforts of their teams. They might also invigorate the team to keep going.
👉 Looking to create a visual roadmap? Try Nifty. It's free to try. Get started 🎉
The strategic roadmap is a journey that will never end. The paths you construct in your strategy map may need to pivot as the business parameters change and markets evolve.
Make strategic mapping a continuous procedure of the way you run your organization. The roadmap can help you locate the quickest distance between your current location and your desired destination. Using data-driven strategies can also assist you in identifying the least dangerous path.
Finally, having a concise business plan might be one of your most effective communication tools. It's the one tool that can continuously remind everyone of your vision and keep everyone on track.
The Takeaway – How to Get Started Building a Strategic Roadmap
A strategic roadmap is a blueprint that can help you overcome every obstacle in your business journey. Having every little detail on paper can drastically improve your company's success, but you need to follow specific steps to do that efficiently.
Start with your basic information and move your way up to find your values as a company. Construct a SWOT analysis combined with a market analysis. These are crucial steps that can make or break your business.
Last, but not least, craft a well-thought-out content plan and ways to distribute your content effectively. Finish strong by setting milestones that create a unified culture around the business and are the core for the longevity of your business.
Until the next one, keep planning. 
👉 Looking to create a visual roadmap? Try Nifty. It's free to try. Get started 🎉