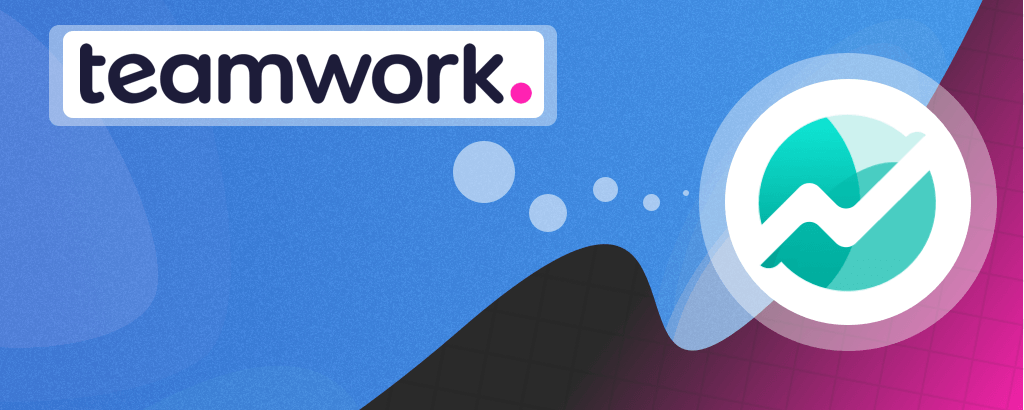 Teamwork is a project management software that has its own disadvantages and limitations which make its users look for Teamwork alternatives. As a project manager, you should find the best project management tool that meets all the needs of your team. Here in this post, we will see why it is necessary to use a project management tool. Then, we will take a brief look at the disadvantages of Teamwork and finally introduce the top 15 Teamwork alternatives. 
Why Use a Project Management Software?
Collaboration and communication are essential for a successful business. Project management software is becoming a must, whether you have an in-house team or team members all over the world.
Regardless of their size, businesses of any kind struggle with many projects, plans, and tasks that should be done by relevant team members before the end of the deadlines. Having a solution in place can assist them in keeping everything organized while planning and executing projects in a precise, predictable, and lucrative manner.
Project management software has many advantages for your business. It is now used for project planning, time management, resource allocation, change management, etc. Project management software is one of the most essential tools for helping businesses become more competitive and set themselves apart from the competition.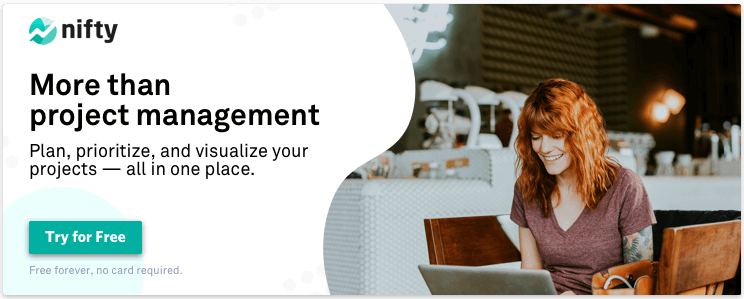 What is Teamwork?
Teamwork is project management, chat, and help desk software suite that enables real-time communication. Since 2007, it has aided businesses in becoming more organized, efficient, and intelligent. However, it has many flaws and disadvantages as well that we will talk about now.
What Are the Disadvantages of Teamwork?
Before introducing the top 15 Teamwork alternatives, let's get to know some of the disadvantages of Teamwork that you may already have noticed. These disadvantages are based on the users' reviews:
There are no chat options within the team.

Sometimes you should struggle to get reports out of the system.

No tools for marking up PDFs or images.

Lack of any feature to create a calendar of business days and holidays to aid in the creation of timelines.

Confusing features to define dates and deadlines for each activity which can negatively influence productivity.

Weak visualizations for charts and graphs.

No value stream mapping to determine and prioritize the work.

Lack of step-by-step documentation with the ability to export and print.

Doesn't work in offline mode.

A bit expensive for small organizations.

It is difficult to copy task templates from other projects.

The calendar display might be updated so that someone who is solely interested in calendars may get more out of the system.

Kanban automation could be enhanced to provide more functionality.

They must enhance their customer service and response time, particularly for emails. Users of the free version are potential consumers, so they should pay greater attention to them and reply to their questions quickly.
What Are the Top 15 Teamwork Alternatives?
If you are not satisfied with Teamwork for any reason, here are the top 15 Teamwork alternatives. Read the features and compare their pricing in order to make the best decision for your project management needs.
1. Nifty (Your Ideal Teamwork Alternative)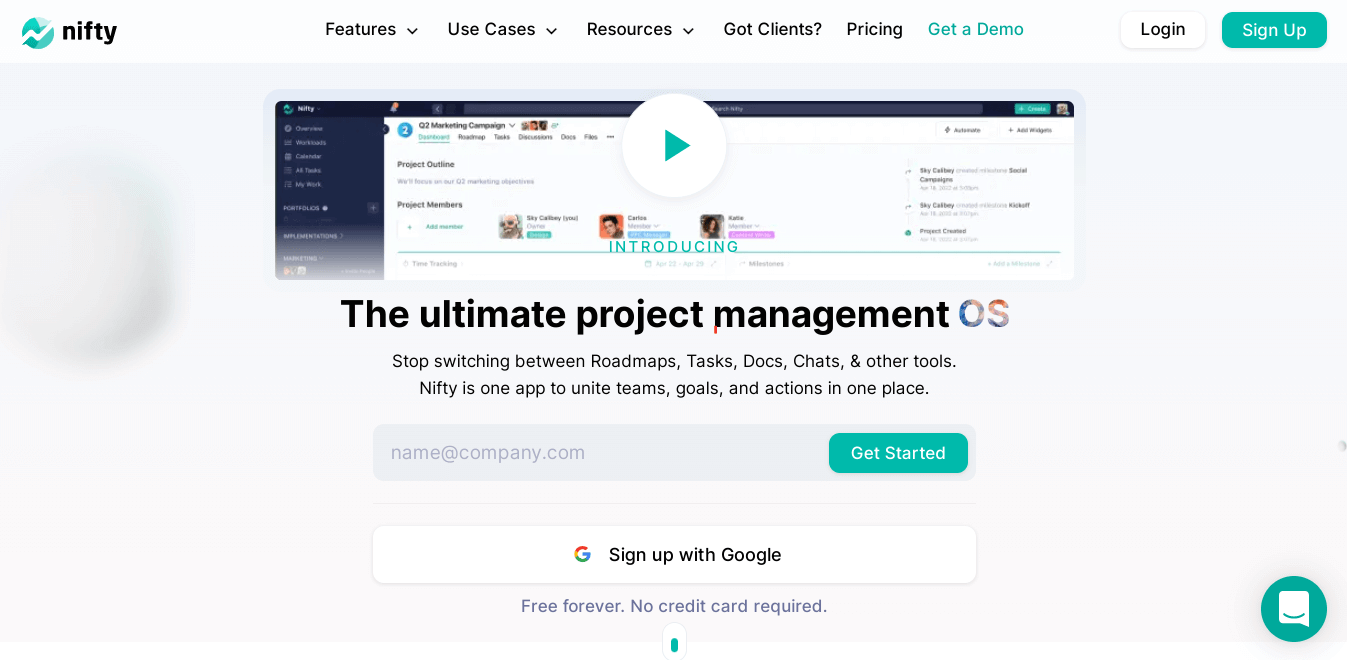 Nifty is a cloud-based project management solution that can be a great Teamwork alternative because it lacks the disadvantages of Teamwork while also offering a variety of additional features. Nifty features everything you could possibly need for maximum efficiency, from task management, project time management, and time tracking to personal and group conversations. With this Teamwork alternative, you'll be able to create and manage your agile workflow lifecycle. You'll also never miss a project deadline and every task will be done in time.
Google Docs, Zoom, and many other apps can all be integrated within Nifty. Nifty's main feature is that you can quickly and easily import your projects, team, tasks, and files from Asana, Basecamp, ClickUp, JIRA, Trello, or Wrike into it.
Pricing
Nifty has a large free forever plan that includes an infinite number of users, tasks, and visitors.

The basic plan, which costs $5/user/month and includes custom fields and time monitoring, is the next rung up.

The Pro Plan, which starts at $10/user/month, contains everything in the beginning plan plus automation and cross-project overviews.

You may have a really limitless subscription with Custom Roles, Permissions, Team Workloads, Microsoft SSO, and more for $16/user/month.
✨ Get the best Teamwork alternative for your work.
Try Nifty now – thank us later!
2. Slack
Slack is a team collaboration platform and a Teamwork alternative that allows coworkers to interact and exchange information even when they are in different locations. Communication takes place in one place via Slack and different channels can be created for various topics so that there would be no disorganized chats. There can also be private channels in which you can share confidential information with your team members. Moreover, you can share images, PDFs, and spreadsheets.
Last but not least, you can integrate Slack with as many third-party apps as you want. Slack comes out as a fantastic team messaging platform if communication is your primary focus.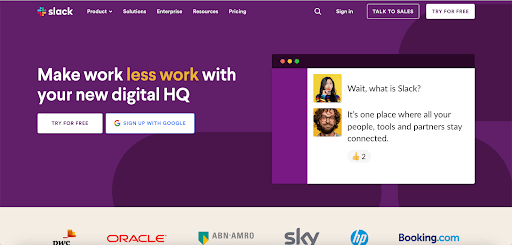 Pricing
Slack is available for free. The paid plan is at $0 to $15/user/month.
3. ClickUp
ClickUp is a cloud-based project management and collaboration platform for businesses of all sizes and sectors. Communication and collaboration features, task assignments and statuses, alarms, and a task toolbar are all included. ClickUp is a good Teamwork alternative for collaborating on large and little tasks if you have a small team. The free version is amazing and contains all of the features you require. If you're a larger firm, you can upgrade for more features.

Pricing
ClickUp pricing starts from $9/user/month.
4. Monday.com
Monday.com is a visual collaboration platform that lets you plan, organize, and track tasks and projects. It is a flexible tool, it allows you to quickly and easily customize your workflow or procedure. Calendar view, Chart view, Files view, Kanban view, Map view, and Timeline view are among the six views available. You can also keep conversations, files, briefs, and checklists in one place.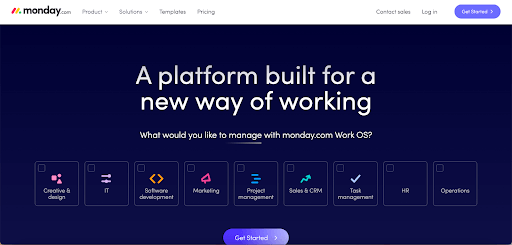 Pricing
Monday.com offers a free plan. In addition, if you want to use more features depending on your needs, you can use the paid plans that range from $8 to $16/user/month.
5. Smartsheet (Enterprise Teamwork Alternative) 
Smartsheet is a robust work platform and Teamwork alternative with a wide range of tools, including projects, grids, calendars, dashboards, forms, etc. You can use Smartsheet to organize work, communicate, automate workflows, and roll out new processes. You can expand its features by integrating it with a variety of third-party apps.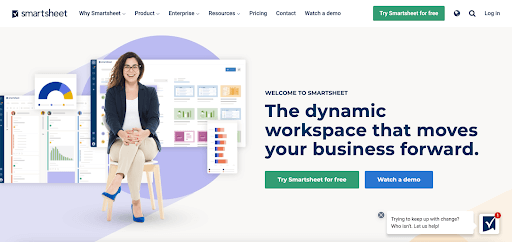 Pricing
In addition to the free plan, the Pro plan starts at $7/user/month and the Business plan starts at $25/user/month. If you want to use the Enterprise plan, you should contact Smartsheet to know the pricing. 
6. Wrike
Wrike can be a good choice if you're seeking an online project management tool that gives you complete visibility and control over your work. This Teamwork alternative provides simplified planning, faster workflow, improved visibility, and collaboration. You can create dashboards that only show you the information you want to view, and use Gantt charts that are interactive for better resource usage.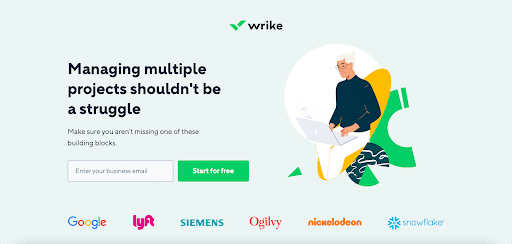 Pricing
You can use the free plan, the Professional plan at $9.80/user/month, or the Business plan at $24.80/user/month. You can also use the Enterprise plan that is optimized for your business. To know about the pricing of the Enterprise plan, you should contact Wrike.
7. Basecamp
Basecamp is a popular project management application and Teamwork alternative. It's jam-packed with advanced features. Project templates, Gantt charts, time tracking, priority setting, and more are all on the list. As a result, many large corporations, small firms, and freelancers can use it as a Teamwork alternative to manage projects and team members.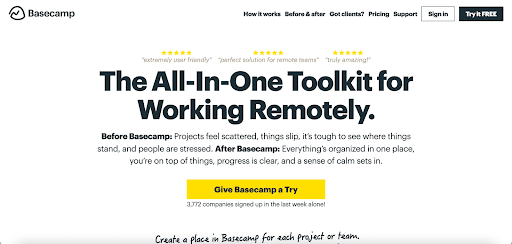 Pricing
The cost of using Basecamp is $99/month and there is a 30-day free trial. 
8. Clarizen
Clarizen is another Teamwork alternative that makes work easier and more productive. It offers custom corporate solutions that help you manage your whole work lifecycle, from strategy to planning to execution.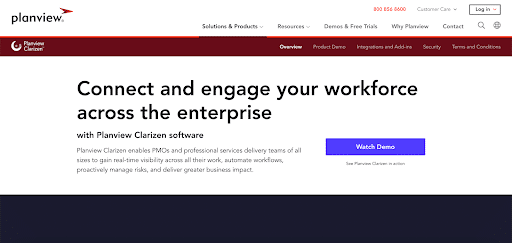 Pricing 
To know about the costs, contact Clarizen.
9. Bonsai
Bonsai boosts your acceptance rate by establishing a seamless customer or client experiencewhich is great if you are a freelancer. As it features layouts, branding, and packages, Bonsai is a great Teamwork alternative. It will make you appear more professional and is suitable for any type of business. Bonsai offers time tracking, task management, invoices, forms, automation, and more to help you run your business more efficiently.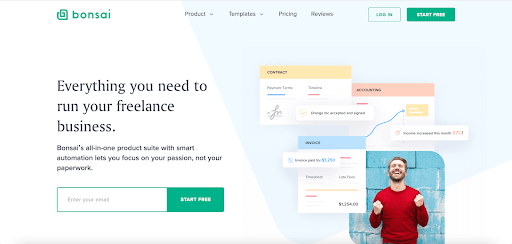 Pricing
You can use the Workflow plan at $19/mo or the Workflow Plus plan at $29/mo.
10. Asana
Asana is a popular task management tool for product teams with a well-developed milestone function that encourages users to think in phases. With this Teamwork alternative, you can stay on top of everything and never miss a deadline.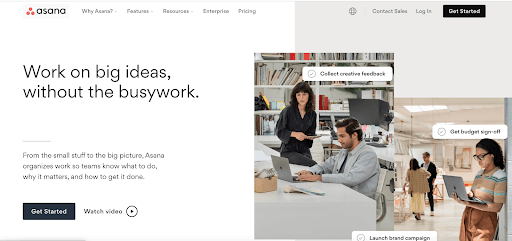 Pricing
There is a free Basic plan in addition to the Premium plan which is $12.99/user/month and the Business plan which is $25.99/user/month.
11. Taskworld
With Taskworld, you can keep track of tasks, communicate ideas, measure performance, and work more efficiently. Both large and small groups benefit from this Teamwork alternative. Everything is taken care of, including project management, time tracking, team chat, file management, and performance reporting. You can create tasks, assign them to team members, add attachments, and establish due dates for them. In addition, by using tags and colored labels, you can organize your work.
Pricing 
Taskworld costs start from $10.99/user/month.
12. Celoxis
Celoxis is another Teamwork alternative that provides a low-cost project management solution. Powerful reports, dashboards, customizable charts, Gantt charts, and project templates are just a few of the features available. Using Celoxis, you can visually track project progress to get the most out of your investment. In addition, you can easily reallocate resources to keep workloads at optimal levels. Plus, its features allow you to create and share dashboards to help you make better decisions faster.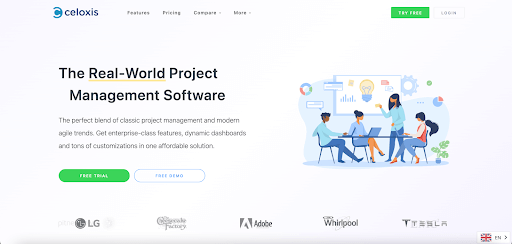 Pricing
Celoxis offers plans that start at $25/user/month.
13. Workzone
Workzone is a flexible Teamwork alternative that many businesses may feel comfortable working with. Using Workzone, you can see if projects are on track or not, which ones are behind schedule, and acquire critical project information in a blink of an eye. You can view a comprehensive overview of all teams, clients, and campaigns. It is also possible to have personal to-do lists and email reminders. In case of any probable issues, the customer service is there to help you within seconds.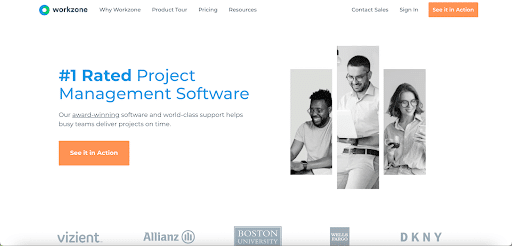 Pricing 
There are three plans at Workzone to choose from based on your needs. The Team plan costs $24/user/month, the Professional plan costs $34/user/month, and the Enterprise plan costs $43/user/month.
14. ProWorkflow
Another Teamwork alternative is ProWorkflow, a project management software. Assigning personnel, tracking time, and rescheduling projects is easy with ProWorkflow. It also interacts with all of the accounting, file storage, and automation software you'll need to save time and optimize your workflow. Tasks, time, messages, files, quotes, and other information are displayed on the project dashboard. Message notification alerts, threaded discussions, and email message replies are all available. Communication, workflow, resource allocation, and milestone tracking are all made easier.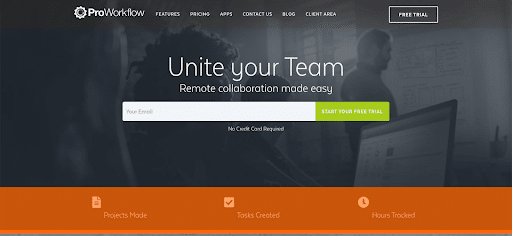 Pricing
The Professional plan is available at $20/user/month and the Advanced plan is available at $30/user/month. 
15. Projecturf
Projecturf is a project management software that may assist you in organizing project teams, managing tasks, and gaining vital business insights. Trusted by companies such as Spotify, Upwork, eBay, and American Eagle Outfitters, this Teamwork alternative can be the tool that can meet your project management needs. Planning, organizing, leading, and controlling are all much easier with Projecturf. You can assign tasks, provide comments, and send messages to keep everyone informed. It has a built-in time and budget tracker. Moreover, additional safety elements and a hands-on customer experience are included.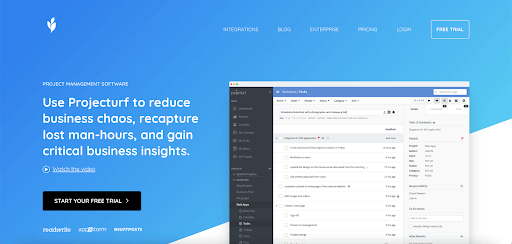 Pricing
There are three plans at Projecturf with free trials. The Basic plan costs $50/month, the Standard plan costs $15/user/month, and the Advanced plan costs $30/user/month.
Conclusion
No matter why you want to stop using Teamwork for managing your projects, the top 15 Teamwork alternatives introduced in this post can be better options for your business. Try to make a comparison between them to see which one suits your business best. Wish you the best of luck!