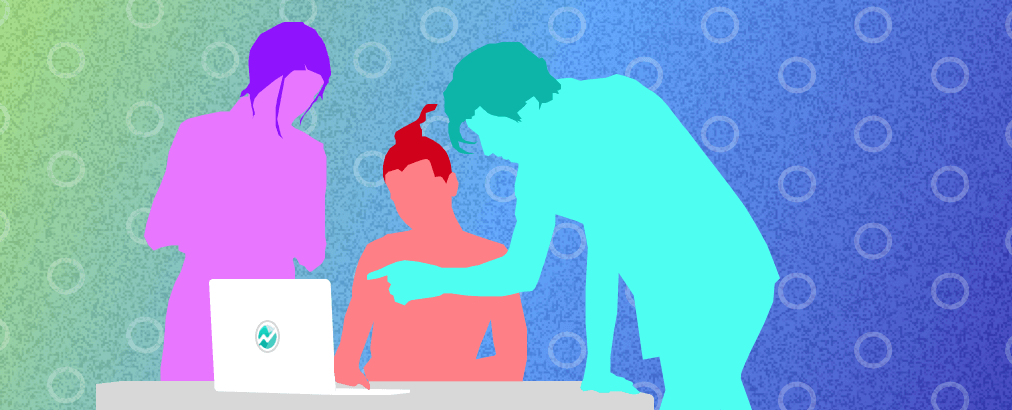 Looking for the best agency tools to increase productivity and grow your business?
Working at an agency requires a multi-faceted approach with an equal focus on your team and client success.
Regardless of the size and niche of your agency, efficient agency tools can significantly boost your team's productivity and help you stay on top of your client workloads.
In this post, we will go through a list of 50+ best agency tools and discuss why your agency needs them to grow faster.
What are the best agency tools? 
An agency can be comprised of various departments such as marketing, sales, finance, project management, etc.
The agency tools you should use for each department can be tailored to specific use cases. Therefore, we will rank the best agency tools by specific categories. 
Project Management Agency Tools
Whatever the size of your agency, agencies need efficient project management strategies to manage projects successfully.
Otherwise it can become challenging to keep track of who is working on what and when things need to be completed.
Because agency work is so deadline-driven, it's critical to manage your projects, tasks, and time with tools that help you stay organized and be a good manager.
Here are the best agency tools to help you grow your business faster.
The Best All-in-One Agency Management Tool.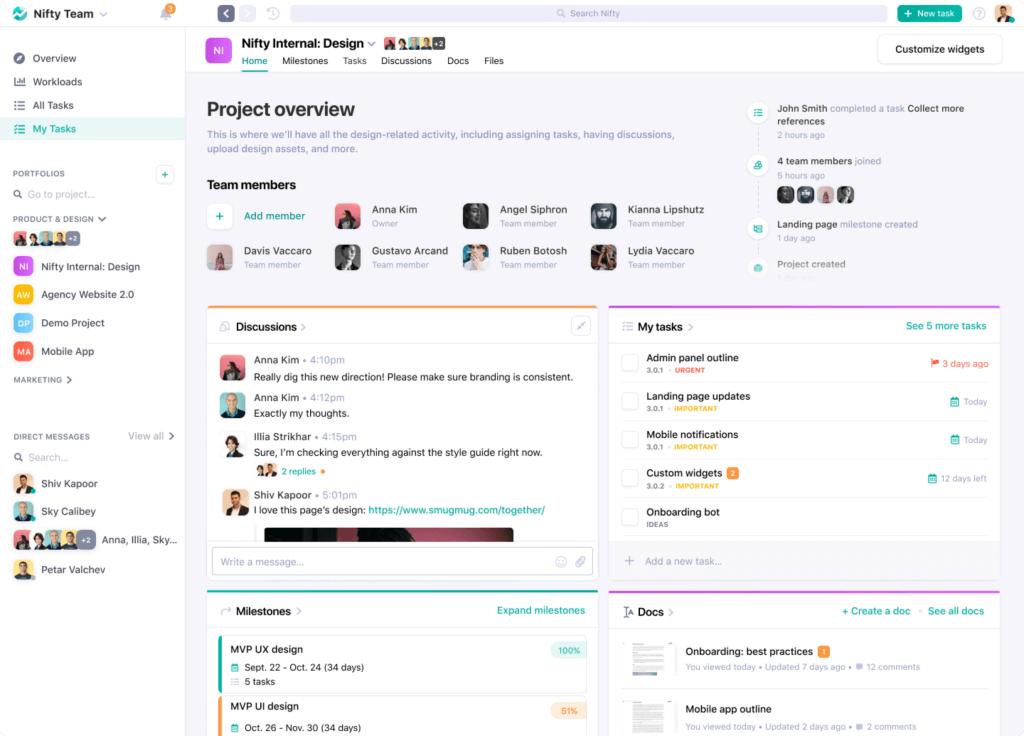 Nifty is an award-winning project and task management tool for your agency that comes with everything you need to run a successful business. It is a complete collaboration hub from which you can manage your teams, projects, tasks, and clients — all in one place. 
It provides a powerful set of collaboration features to plan, prioritize, and track projects and teamwork. With chats, tasks, goals, docs, and one-click video meetings for your team and clients.
Nifty lets your agency focus on managing business, not tools. 
How does Nifty benefit agencies?
As a solution started from an agency's personal pain points, Nifty was built to solve the workflow fragmentations that arise from using multiple tools.
Here are just a few ways Nifty helps agencies turn their projects into success.
1. Run profitable projects
More than any other type of industry, agency projects simply must be profitable from the get-go. Nifty's end-to-end project management saves time and energy normally wasted in searching through different tools or diving through email chains, thus laying the groundwork for profitable projects.
2. Automated reporting
Nifty Milestones serve as actionable roadmaps for both agency members and project stakeholders to reference for ongoing project status. These Milestones will update automatically as Tasks within them are completed, meaning your status reporting is up to date at all times and not just for the client meeting. 
3. Consolidate communications
Communications and approvals amongst project members and clients can take place in Project Discussions, while members of your agency can chat with one another using Direct Messages. As a single platform that merges communication with action, ideas or scope adjustments can quickly be converted from conversations to tasks without needing to transport requests or documents across systems.
Other features include: 
Direct, Group, & Project Messaging
Custom Data Fields & Labels
Time Tracking & Reporting
Visual Timeline View
Built-in Docs & Custom Embeds
Real-Time Collaboration
Pricing
Nifty offers a free forever plan, with paid plans starting at just $5/user.
Note: If you're looking to migrate from another project management tool to Nifty, you're in luck. Nifty lets you import all your projects, members, and data with the click of a button from other agency project management tools like Asana, ClickUp, Basecamp, Jira, Trello, Wrike, and even CSV.
 Get started with Nifty for free. 
2. Monday.com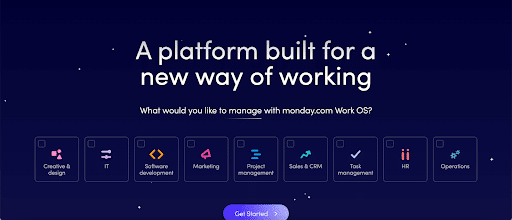 Monday.com is a user-friendly project management software that combines a visually appealing UI with essential project visualization tools. There are project templates from which you can create your own boards. There are several display possibilities, including a map view and a calendar view.
There are also some disadvantages according to the users' review. For instance, the lack of recurring activities frustrates most users, and navigating the mobile app is difficult.
There is no free plan at Monday.com. Paid plans begin at $39/month for five users.
3. ClickUp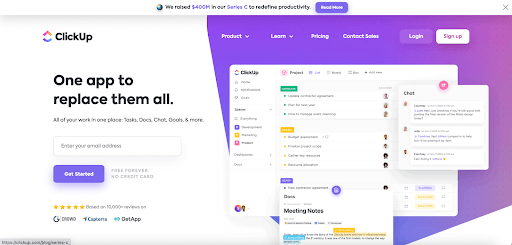 ClickUp is a cloud-based project management app. It is distinguished by its extensive feature set, which includes docs, goals, and an inbox. ClickUp's modularity is one of its strongest features. It has Click Apps, which are add-ons that allow for a lot of customization.
The free plan includes 100 MB of storage as well as an unlimited number of projects and members. Paid plan costs from $5/user/month to $19/user/month and offers unlimited storage, integrations, and other features.
If you still need more information to make the right decision about a proper project management tool for your agency, take a look at Monday vs ClickUp.
4. Trello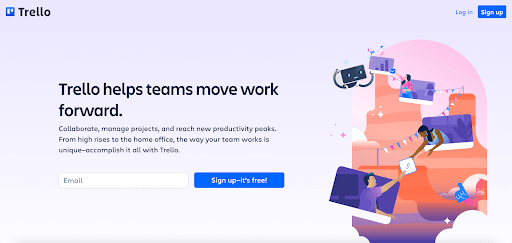 Our last project management tool recommendation is Trello. Trello is a project management solution with built-in collaborative features for working with groups. It creates tasks and keeps track of them using boards, lists, and cards. Within the cards, users can collaborate, share files, and post comments. There is a lack of reporting and time-tracking functionality, however, which makes it suitable only for individuals or small teams who manage a small number of tasks at once.
The most basic plan is completely free to use. Paid plans, on the other hand, include automation, integrations, priority support, etc., starting from $5/user/month to $17.50/user/month.
Accounting and Invoicing Tools for Agencies
Keeping track of invoices, expenses, and other details can be time-consuming and even uncomfortable. Accounting and invoicing software automates a variety of company operations, allowing you to concentrate on growing your organization. The finest accounting software platforms are cloud-based, allow for payment processing, and interface with other agency tools, such as customer relationship management software. Here are some of the best accounting software for your agency. 
5. ProofHub
ProofHub is an all-in-one project management and team collaboration software that facilitates efficient ways to manage projects, teams, files, and more under one roof.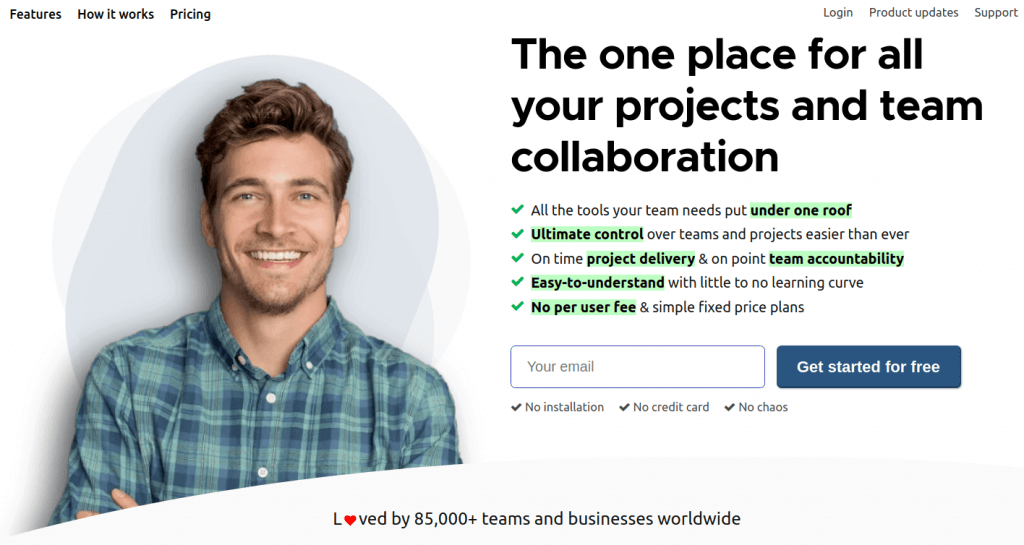 It brings clarity in project planning with its visual project timelines and robust Gantt charts. The Kanban boards and custom workflows provide you with a bird's eye view of your team's work across different stages.
ProofHub's multiple project views allow different teams and agencies to work in a way that is best suited to their work processes.
Being an efficient team collaboration tool, it keeps teams connected regardless of where they are working from. You can communicate in real-time through the in-built chat application or brainstorm ideas using the discussions boards. The online Proofing tool simplifies the review and approval process of teams. It also has time tracking and powerful reporting capabilities to help teams keep track of their time and productivity.
ProofHub has a flat fee policy (no-per user price) and the pricing plans start at $45/month (billed annually).
6. Xero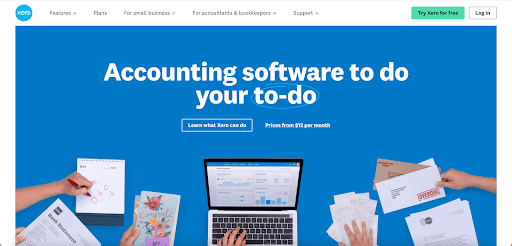 Xero is an online accounting tool for small and developing businesses. It doesn't require any accounting knowledge, and it is simple to set up and operate. It is cloud-based, and there are apps for Android and iPhone. Xero is ideal for small business accounting because of its two-step verification, which keeps your data safe, and its many plans, which cater to various business demands.
Xero offers three plans to its users. Early plan at $12/month, Growing plan at $34/month, Established plan at $65/month. You can choose from these plans based on your needs. 
Editorial Note: Check this blog for in-depth Xero Tutorials.
Best Website Building and Analytics – Agency Tools
As we are living in a digital era, it is important that you build a website for your agency. If your business is online, building a website is one of the very initial steps you should take. Here are the best website-building and analytics tools that we recommend you use:
7. GoDaddy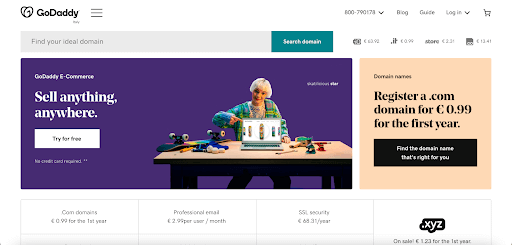 GoDaddy is best known for bespoke domain names and web hosting, but it also offers website builder software. Despite the fact that GoDaddy is most known for selling domains, the pricing rates do not include a domain; you must purchase one separately. 
Considering the pricing, the rates differ from $10/month to $25/month depending on the plan that you choose.
8. Systeme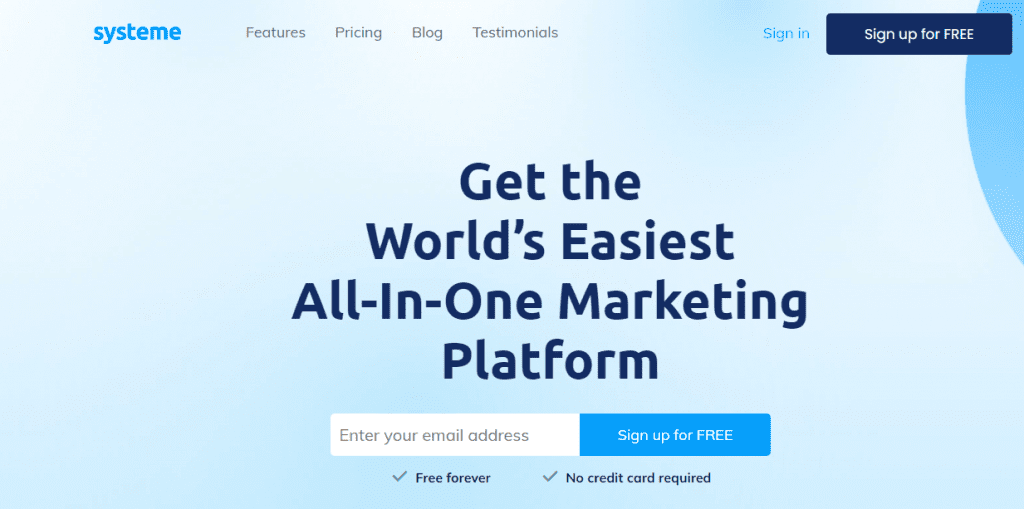 Systeme.io makes it easy to grow your online business. From building your website to building an online empire, systeme.io makes it all possible. It helps automate your marketing, create online courses, manage your affiliates, build websites, send marketing emails, and create sales funnels.
With Systeme.io, you do not need other tools to grow your online business, as it includes your company's essentials. The pricing is fair and affordable. There is even a free option, and the other packages cost started from 27$ per month to 97$, which is unlimited service.
9. Ultahost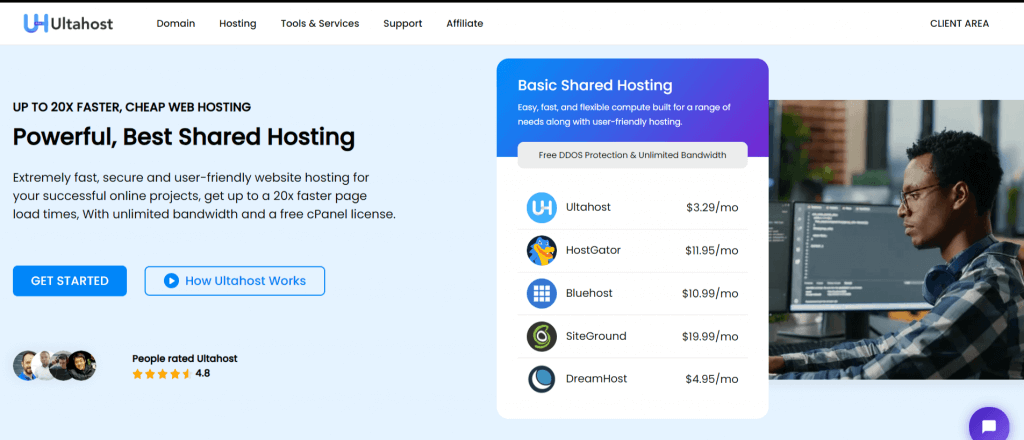 Ultahost is a comprehensive web hosting services site that offers a wide range of hosting options to cater to different needs. Whether you're looking for WordPress hosting, VPS for gaming, or shared hosting, Ultahost has you covered.
With their VPS hosting, you can enjoy the benefits of dedicated resources and increased control over your server environment. Their WordPress hosting is designed specifically for WordPress websites, providing optimized performance and enhanced security.
If you're just starting out or have a small-scale custom WordPress website, their shared hosting plans offer affordability and convenience without compromising on reliability. Ultahost's reliable infrastructure, competitive pricing, and exceptional customer support make them a trusted choice for individuals and businesses seeking reliable web hosting solutions.
10. Spectra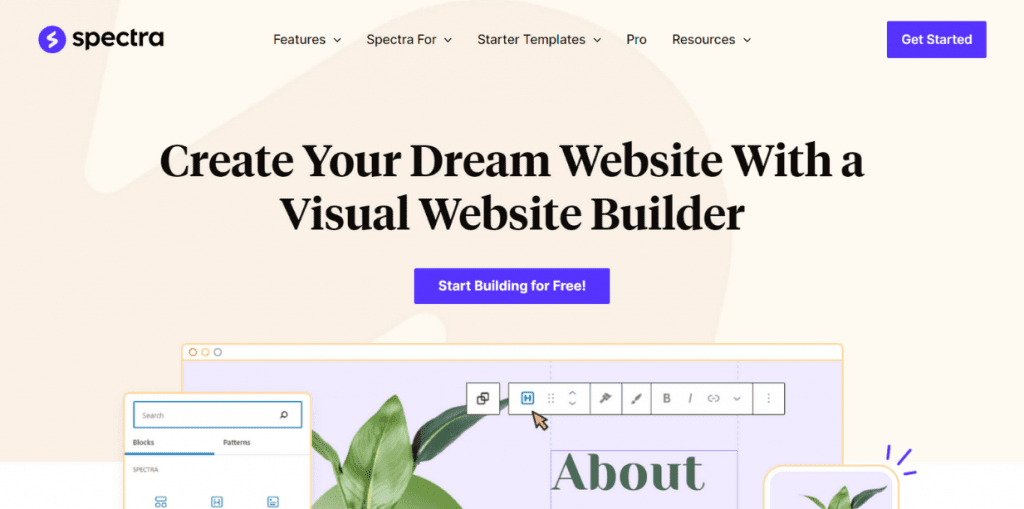 Spectra is a drag-and-drop page builder that integrates seamlessly into the WordPress block editor. It provides a range of powerful tools to help you customize your website without having to touch a single line of code.
Spectra comes with fast, high-performance templates you can install in seconds and customize as you see fit. It also supports unlimited typography and colors, flexbox containers, and has a series of unique blocks and presets that can help you create an amazing website in no time!
Spectra is currently free, with a premium version, Spectra Pro is on the way.
11. Shopify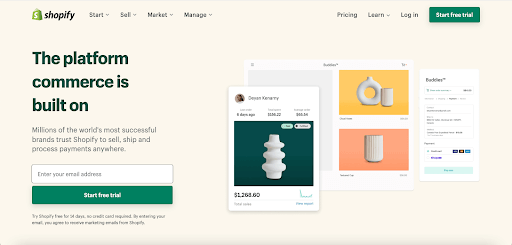 Shopify provides a simple and user-friendly approach to getting an e-commerce digital shop, and it assists business owners with their e-commerce tools along the process. Shopify's platform, like most other commerce-oriented builders, is centered on your product and sales information. For most agency owners who are active in e-commerce, Shopify is a good place to start.
You can set up your agency's website on Shopify yourself or hire a Shopify developer to make a tailored eCommerce store. The Shopify pricing starts from $29/month to $299/month.
12. Cloudways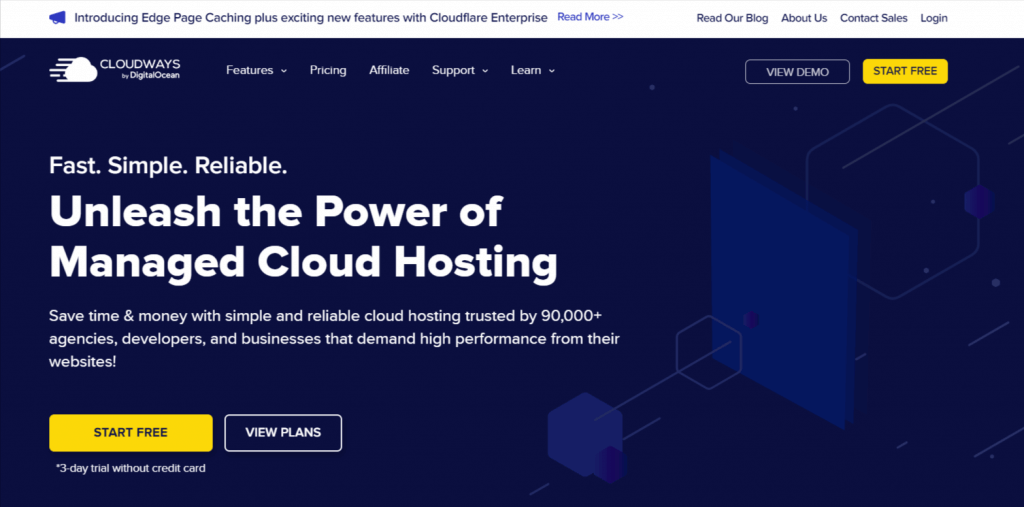 Cloudways is a renowned managed cloud hosting solution designed for PHP-based applications like Magento, WordPress, and Laravel, among others. It helps businesses to fully focus on growing their business while handling their server management all by itself, from setup to continuous maintenance.
Its USP lies in offering multiple cloud infrastructures, support for numerous PHP applications, and flexible SSL options, catering to both paid and free solutions. Offering various IaaS providers, including DigitalOcean, AWS & GCE, and a range of application versions, Cloudways empowers developers and agencies with a variety of workflows.
And the numbers back its services, as Cloudways enjoys positive feedback on G2 with scores of 9.2 for Ease of Use, 9.3 for Quality of Support, and 9.3 for Ease of Setup.
All in all, Cloudways delivers exceptional user experiences & stands out as an affordable managed web hosting provider, with plans starting at just $11 USD per month.
13. WebWave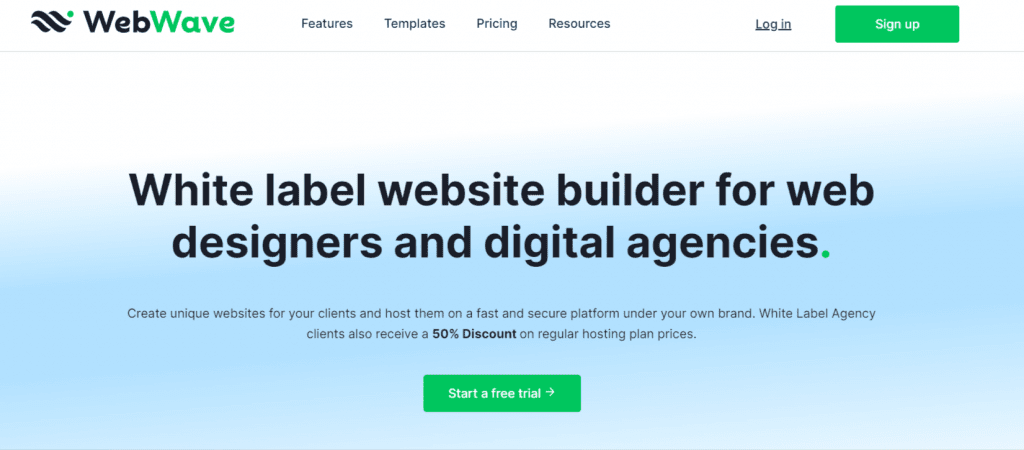 WebWave is a white label website builder for agencies and freelancers. With WebWave, you can create websites for your clients and host them quickly and securely under your own brand.
Our website builder allows you to earn from website hosting and more. You can add your commission and let WebWave bill your customers directly or invoice under your own brand.
You can become a WebWave expert and get more clients, as well as create your own website templates and earn more! The possibilities are many. Check it out!
14. Google Analytics
Google Analytics allows you to track your Flash, video, and social networking sites and applications, as well as to measure your advertising ROI. Google Analytics is a web analytics tool that offers basic analytical tools and statistics for search engine optimization (SEO) and marketing.
SEO with GA4 is particularly useful for marketers and advertisers as it helps them get granule details about the performance of their campaigns.
Anyone with a Google account can use the service, which is part of the Google Marketing Platform and is free.
15. Hostinger
As your business grows, so will your number of monthly site visitors. Hostinger is a dependable web host that will scale with your site.
They offer an easy-to-use website builder, and every plan comes with a free domain. With Hostinger, you're guaranteed fast loading times at an affordable price. They offer free weekly backups and plans start at $1.99 per month.
SEO Analysis Tools; SEO agency tools
SEO refers to the process of optimizing your website in order to boost its exposure when consumers use search engines to look for items or services linked to your business. The higher your pages' exposure in search results, the more likely you are to attract attention and attract new and existing clients to your company. Here are the SEO Analysis Tools you can use to optimize your website according to SEO standards.
16. Ahrefs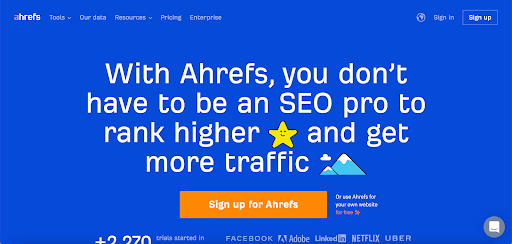 Ahrefs is a Big Data-powered SEO and marketing toolkit. Backlink analysis, competitor analysis, keyword research, and other topics are covered. This product has a lot of power, which means you'll get a lot of fantastic outcomes.
The pricing of Ahrefs starts from $99/month for one user to $999/month for five users. Adding users to each plan costs an additional $30/month. If you want to start economically, you can get the Lite plan at $99/month and ask your content team to use it in turns and not together.
Meeting Scheduling Tools
Setting meetings with your agency members or your clients may be a challenge if you use email accounts. Your inbox may get disorganized, and you find it difficult to find the information you want within seconds, especially if your agency is large. Therefore, using a meeting scheduling tool can be very helpful. 
17. Calendly

Calendly is a meeting scheduling tool for professionally and efficiently organizing meetings, freeing you from the burden of back-and-forth emails so you can get back to business. Calendly integrates with your calendar to check availability and connect you with your most valuable contacts, prospects, and clients.
In addition to a free plan, Calendly offers plans for small to large agencies starting from $8/seat/month to $16/seat/month.
Email Marketing and CRM Tools
As your agency grows, it is critical to remember and control who you have spoken with and what was discussed, etc., which can be difficult to do personally as there may be hundreds to thousands of clients with different data. Here, CRM and email marketing software come to your rescue. You will need to invest in email marketing for your sales which requires you to be quick at sending well-designed messages. Basically, a customer relationship management system (CRM) can help you a great deal.
18. GetProspect
GetProspect is an email search extension. It's a great tool for building a customized email list to grow your business. In comparison to similar products, the GetProspect email finder extension offers exceptional features that make finding emails fast, accurate, and comfortable.
One of the main advantages of GetProspect is that it is easy to use. To find an email address, you just need the name of the person you want to contact or the domain name that is used for emails by the company, organization, or website to which the person belongs.
The intuitive interface and simple steps allow you to install and use this tool without the need for special technical skills to search email addresses. Simply install the GetProspect extension on your Chrome browser and start finding business email addresses in just a few clicks.
Another feature of GetProspect is the possibility of exporting the collected emails to various formats (CSV, XLSX, and Google Sheets). It makes it easy and simple to import this data into your current email tools or CRM systems, which ensures a seamless process of working with the collected contacts.
A free account allows you to search up to 50 emails per month, while paid plans start at $34 per month for 1000 emails per month.
19. NotifyVisitors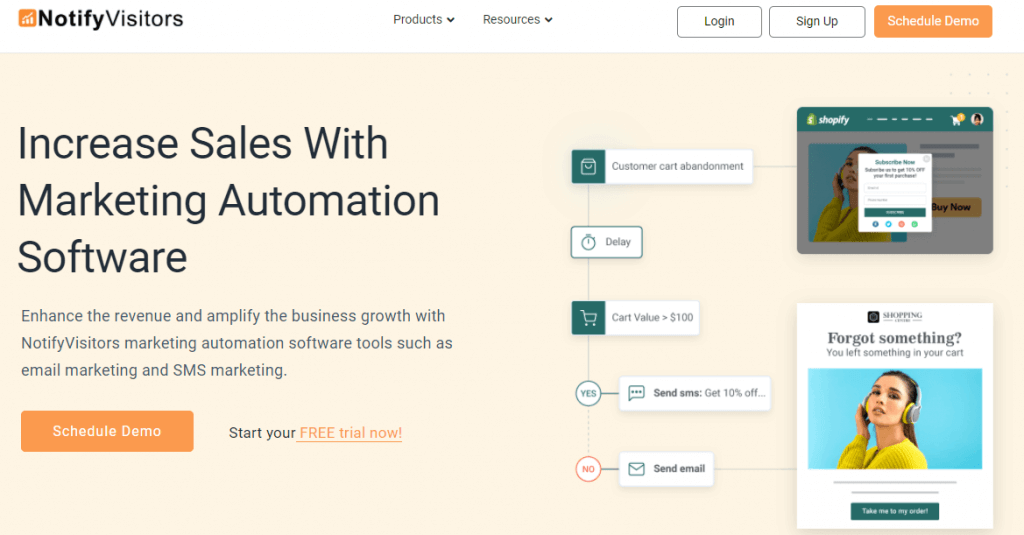 NotifyVisitors is a great email marketing tool that helps businesses maximize their marketing efforts. It offers custom email campaigns, which can be tailored to the specific needs of a company, by providing detailed insights into customer preferences in order to determine email context, content, and frequency. 
Additionally, NotifyVisitors provides automated segmentation capabilities along with effective targeting options that make email campaigns even more successful. With this email marketing tool, businesses can ensure they reach the right customers at the right time each and every time.
Moreover, it offers a feature rich free plan. Paid plan starts from $49/per month.
20. Salesflare

Salesflare is designed to be a user-friendly CRM tool. Centralize customer data, create a clear perspective of your sales funnel, know what to do and when to do it, seamlessly connect with your team, keep track of all the customer data you can imagine, etc.
The Growth plan at Salesflare costs $29/user/month, the Pro plan costs $49/user/month, and the Enterprise plan costs $99/user/month.
21. Snov.io

With Snov.io, you can find and verify email addresses of potential prospects, create and program complex email campaigns that you may personalize even while sending them in bulk, track their performance, all in one place under the roof of a free CRM. The latter allows you to create sales pipelines up to 100 stages, organize your prospects throughout the sales process, and share this information with your teammates.
Tracking your email campaigns will allow you to see any bottlenecks and improve your email marketing strategy further.
On top of that, you can easily manage all your customers with the help of Snov.io CRM with full transparency to your team to ensure all your business processes and departments are well aligned.
Pricing: 
Snov.io provides a forever free plan with limited features. Paid plans start at $30 per month.
22. EasySendy
EasySendy is an all-in-one email marketing solution that allows you to carry all your various marketing channels together and accelerate traffic, a higher conversion rate, and better ROI for online geeks, marketers, small businesses, and startups. In addition, you can easily design email templates for your campaigns.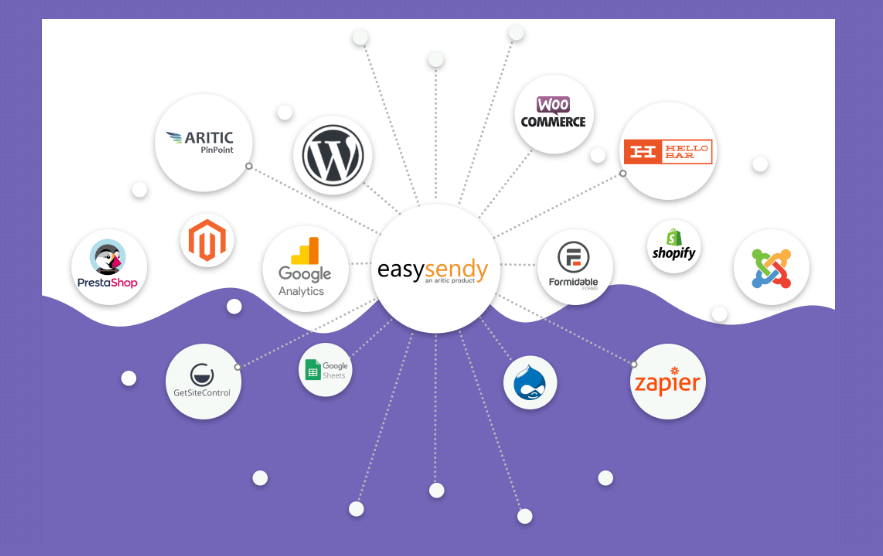 Features:
It will permit you to send personalized content and messages to fascinate audience behaviors.
You can easily see your subscribers' activities using Easysendy pro features and tools. It will help you drive promotional email marketing campaigns, which will boost your customer's conversation.
It enables your subscribers by using web popup forms. Make your message more user-friendly by alerting them, which will help to engage your audience more frequently.
23. Mailmodo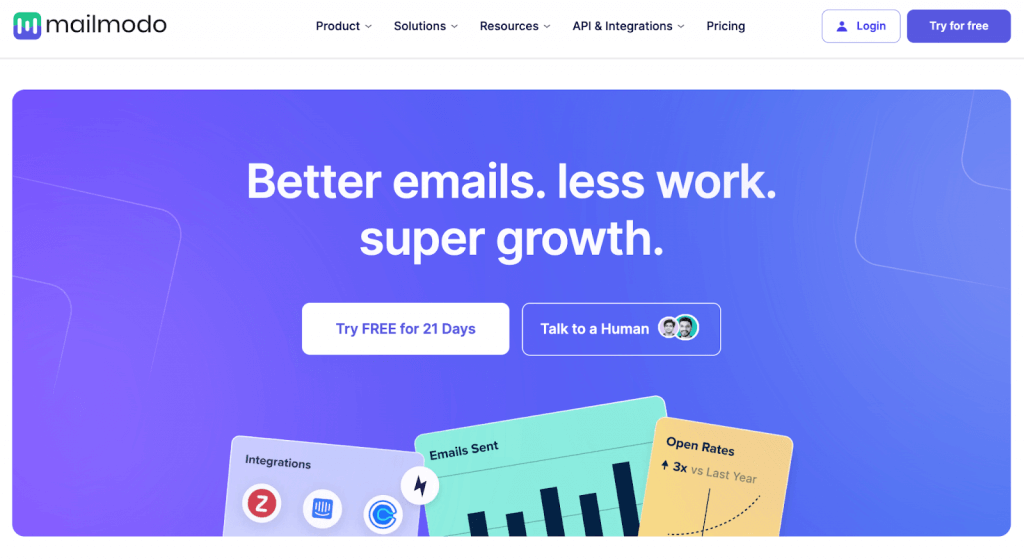 Mailmodo is an all-in-one email marketing software that alters the way marketers engage with their audience. You don't need to be a coding whiz because their drag-and-drop interface makes it super easy to design eye-catching and interactive emails. But here's what really sets Mailmodo apart: AMP emails. You can embed interactive elements like meeting bookings, shopping cart recovery, and surveys right in your emails.
Thanks to their user-friendly visual journey builder, you can even set up automated email sequences triggered by user events. With features like Click Map, Smart Template Suggestions, and Campaign Recommendations, Mailmodo helps your brand scale and build an email marketing channel that really works. 
They don't offer a free plan, but they provide a 21-day free trial. Paid plans include Silver ($99) for 40,000 contacts with a monthly limit of 75,000 sends, Gold ($249) for 100,000 contacts with a monthly limit of 250,000 sends, and Platinum ($599) for 300,000 contacts with a monthly limit of 1 million sends.
24. EmailOctopus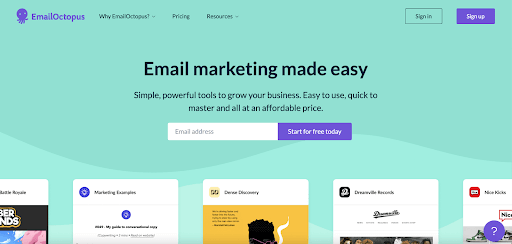 EmailOctopus is an easy-to-use and low-cost email marketing solution that includes all of the essential tools for building a following and sending compelling campaigns. With customizable sign-up forms and landing pages, you can convert website visitors into subscribers. While the drag-and-drop email editor and template library make it simple to generate attractive emails.
The Starter plan is free to use and the Pro plan costs $24/month.
25. Mailshake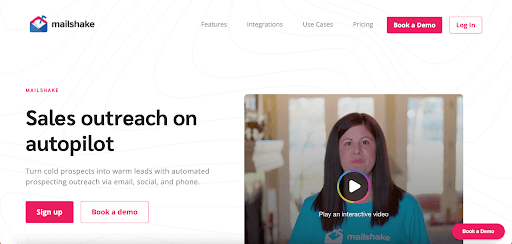 For your outbound communications, Mailshake provides sophisticated analytics, automation, and upgrades. Mailshake is an excellent tool for anyone who wants to send effective emails because it has email tracking, one-click templates, and scheduled sending.
Email Outreach plan costs $44/user/month and Sales Engagement plan at $75/user/month.
26. QuickEmailVerification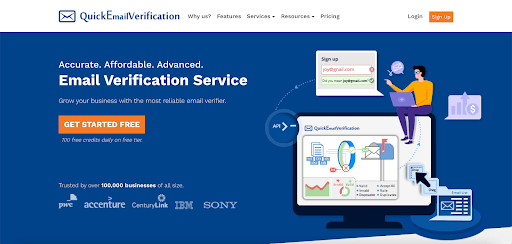 Without actually sending an email, QuickEmailVerification checks email addresses. It checks for a variety of email validations, ranging from RFC syntax checks to deep-level SMTP testing of user inbox existence checks. QuickEmailVerification helps to eliminate incorrect and unsafe-to-send addresses, resulting in dramatically improved email deliverability and a near-zero rate of hard bounces.
The pricing system at QuickEmailVerification works either monthly or pay as you go. Therefore, it is better if you check their website to know about the amount you should pay for using this tool.
27. Selzy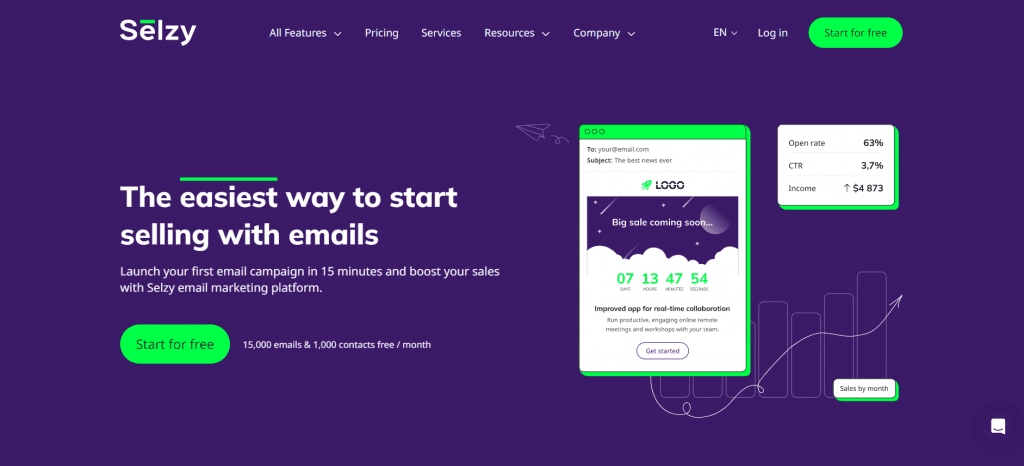 Selzy is a simple and easy-to-use email marketing service and more. With Selzy, you can create email campaigns in a matter of minutes, import existing contacts and collect new ones, automate tasks to save time, and improve, test, and track marketing campaigns.
Selzy has a free plan of up to 15,000 emails and 1,000 contacts per month. Paid-for plans start at $7 per month.
Agency Sales Tools
You may think that sales should be done by experts and cannot be automated. You may be right, but there are tools that can facilitate your sales processes and unload the burden of too many responsibilities from your sales team. 
28. Better Proposals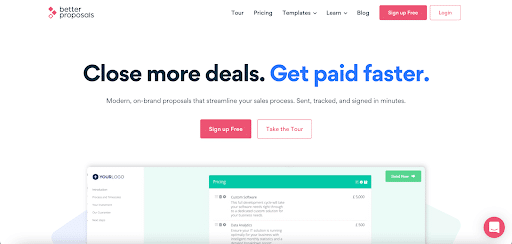 Better Proposals is a powerful proposal writing program that is easy to use. Within minutes, you can build high-converting, visually stunning proposals using this application.
The Starter plan costs $19/user/month, the Premium plan costs $29/user/month, and the Enterprise plan costs $49/user/month.
Creative Agency Tools: Visual content tools
The content that you provide on your website plays an important role in converting your generated leads. Here are the tools that you can use to create visual content for your website or email marketing strategy.
29. Appy Pie Design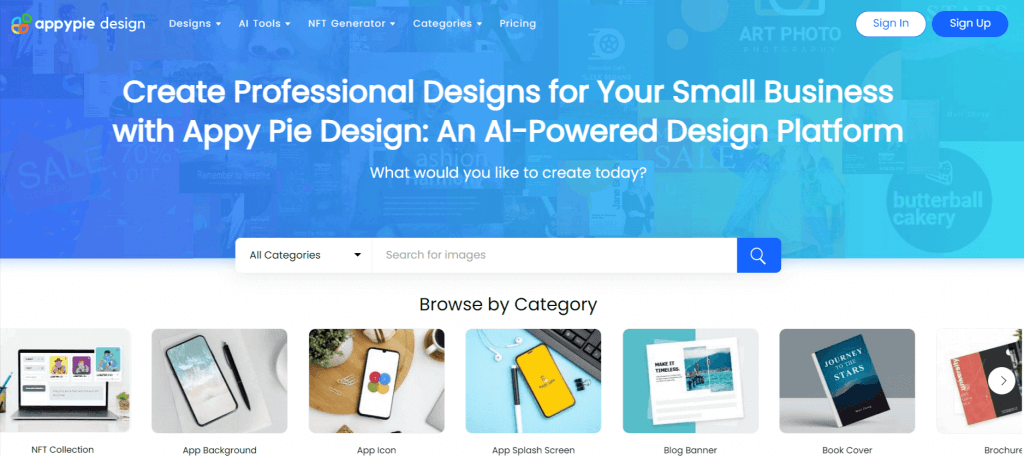 Appy Pie Design is a powerful and user-friendly graphic design tool that helps businesses and individuals create stunning designs with ease. Its specialties include a vast library of pre-built templates, an intuitive drag-and-drop interface, and an extensive library of high-quality graphics and images.
One of the most significant advantages of Appy Pie Design is its simplicity. It's incredibly easy to use, even for those without any prior design experience. Its extensive library of templates makes it easy to create graphics for a wide range of purposes, including social media, marketing, and branding.
In addition to templates, Appy Pie Design also provides access to millions of high-quality stock images and graphics, making it easy to create professional-looking designs quickly. Whether you're a small business owner or a freelancer, Appy Pie Design is an excellent tool for creating stunning designs without breaking the bank or spending hours learning complex design software.
Here are five key features of Appy Pie Design
Intuitive drag-and-drop interface

A vast library of templates

Millions of stock images and graphics

Custom branding options

Collaboration and sharing
30. Canva


Canva offers a drag-and-drop approach and gives you access to over a million pictures, graphics, and fonts. Non-designers, as well as pros, can use it. Furthermore, the tools can be used to design and create visuals for both web and print media.
You can use Canva for free with limited features or use the Pro plan at $109.99/year for up to 5 users. 
31. Wepik
Wepik is an online platform for creating visuals and graphics. It offers a powerful and easy-to-use text to image generator, enabling users to create stunning visuals and graphics in minutes.

The generator also supports a wide range of fonts, effects, and customizations for images. Wepik offers both a free and Pro plan with additional features.
32. Piktochart
Piktochart is a web-based infographic program that lets users create infographics and visuals using themed templates, even if they don't have much experience in graphic design.
In addition to the free plan, the Pro plan offers you more features at $14/member/month.
33. Xtensio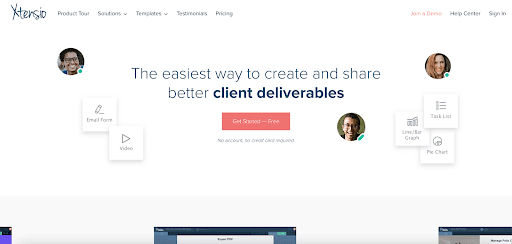 Xtensio makes it simple to produce engaging content and presentations that can be shared in real-time. When running an agency, presentations are essential since they help to communicate messages more effectively. It will enable you and your team to create marketing content such as pitches, proposals, landing sites, business development, reports, etc.
In addition to the free plan, the paid plans range from $8/month to $150/month. 
34. Snappa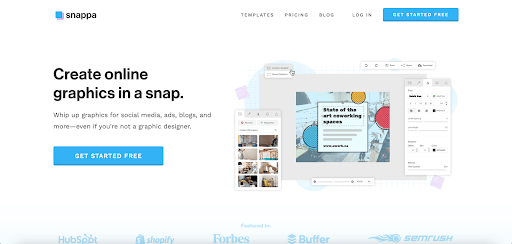 Snappa makes creating any form of web image exceedingly simple. You may make and share images for social media, blogs, advertisements, ebook covers, and infographics.
The Starter plan is free to use, while the Pro plan costs $10/month, and the team plan costs $20/month. 
35. Ceros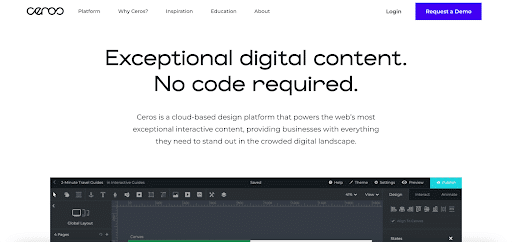 Without writing a single line of code, Ceros allows you to create spectacular interactive content that delights your audience. Create outstanding web experiences for both your agency and your clients with this tool's unlimited possibilities.
To know about the pricing, contact Ceros. 
36. Venngage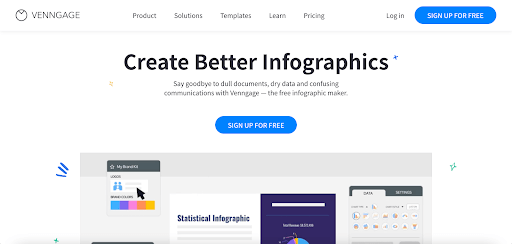 Venngage is a web-based graphic design tool that helps agencies interact visually with their customers. Thousands of design templates, including infographics, presentations, banners, brochures, reports, and more, are available in their library. The Brand Kit is one of their standout features, allowing you to quickly and easily add your logos, brand color palettes, and fonts to any design.
Used either for free or paid, Venngage costs from $16/user/month to $499/month for the paid plans.
Content Creation Tools
Content creation tools are essential for agencies as they help you streamline and scale up the content production process by generating high-quality, engaging, and optimized content quickly and efficiently. 
With the help of these tools, agencies can save significant time and resources by automating repetitive tasks and enabling bulk content creation. Overall, these tools empower agencies to meet client demands, improve productivity, and achieve better results in their content marketing efforts.
37. Content At Scale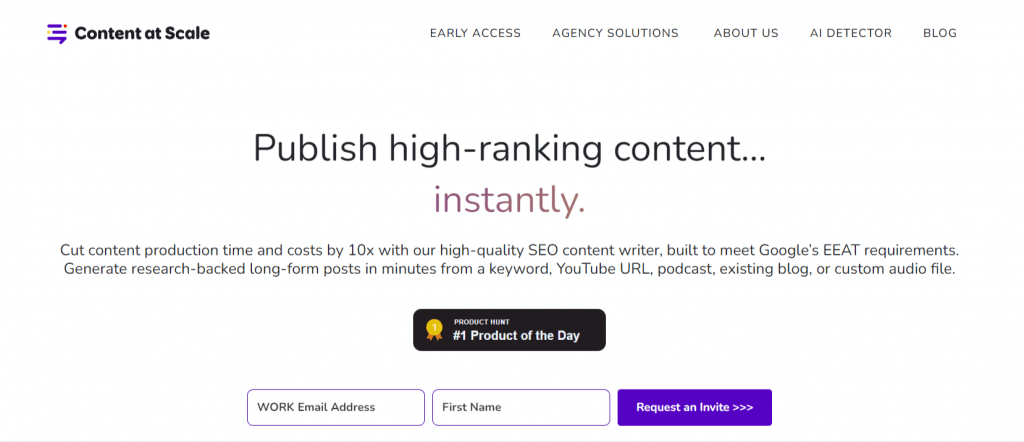 Content at Scale is a leading AI-based writing service that specializes in creating well-crafted and engaging blog posts. The advanced AI content writer is capable of generating original and high-quality articles above and beyond 2,500 words in just five minutes. 
The AI writer goes beyond a mere writing assistant; it acts as a human-level, long-form content creator that caters to any industry.
By embracing the AIO (Artificial Intelligence Optimization) model and placing the writer in control of the technology, Content at Scale allows agencies and marketers to save significant amounts of time and money. 
With this service, your business can generate and edit up to ten extensive articles in a single day. This efficiency translates into an exceptional return on investment (ROI) of 10-25x for any business.
Pricing:
Per post: The cost per post ranges from $15 to $31, depending on the complexity and length of the content.

Paid trial: A paid trial is available at $24.99, providing you with an opportunity to experience the service firsthand.

Subscription plans: subscriptions start at $250, offering flexibility and affordability for long-term content generation.
Agency Tools for Social Media Automation
When your agency is up and running, you can think of using social media for attracting more prospects to your agency. The success of social media marketing strategy lies in constant postings and maintaining a relationship with your target audience to build brand awareness. As creating useful and interesting content for social media may take time, it is better to not waste time on other tasks such as posting the content at a specific time during the day. Here are the social media automation tools that you can use. 
38. SocialBu
If you are tired of juggling multiple social media accounts, then SocialBu is the ultimate solution to simplify your social media management.
With SocialBu, you can effortlessly schedule, publish, and analyze all your social media posts across Facebook, Instagram, LinkedIn, Twitter, Mastodon, and Google My Business, saving you valuable time and effort.
It helps you say goodbye to manually posting on each platform and hello to streamlined efficiency. But that's not all – SocialBu's powerful automation, like auto-responding to messages and comments, makes social media management a breeze.
With plans starting at just $19, it's a small investment for the significant benefits it provides.
39. Social Champ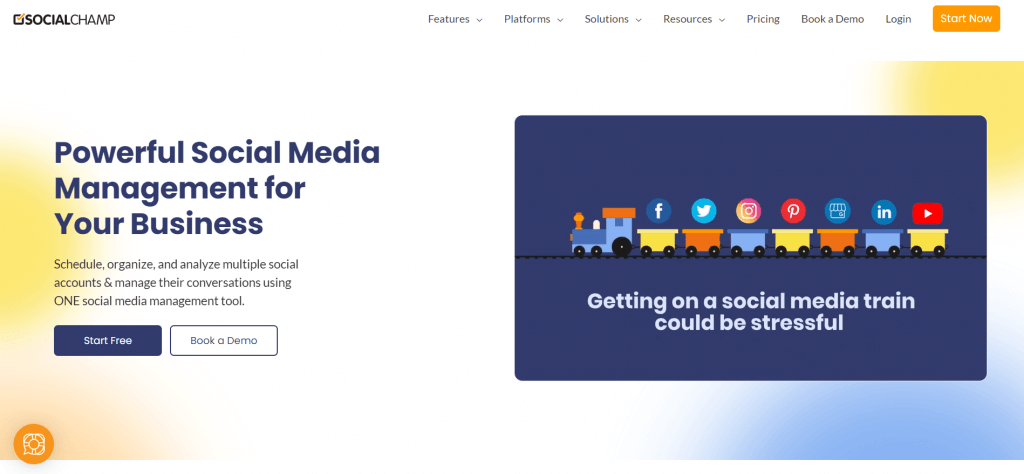 For social media enthusiasts who are always on the go and catering to large businesses, Social Champ has a lot to offer. With a vibrant UI and a clean dashboard, It is a well-rounded social media management tool that supports eight social media platforms: Facebook, Twitter, LinkedIn, Google Business Profile, Instagram, TikTok, YouTube, and Pinterest.
Social Champ offers various versatile features, which include Monitoring Analytics, Social Media Calendar, Bulk uploads, and more. The social media calendar is visually appealing. You can streamline your content workflow and share it with your team or clients in a single go. Moreover, Social Champ allows in-app editing integration with Canva, Wave.video, and Vista Create.
The best part, the tool offers an exclusive FREE plan with unlimited scheduling options. The premium plans are Champion, Business, and Agency, starting from $29/month.
40. SocialBee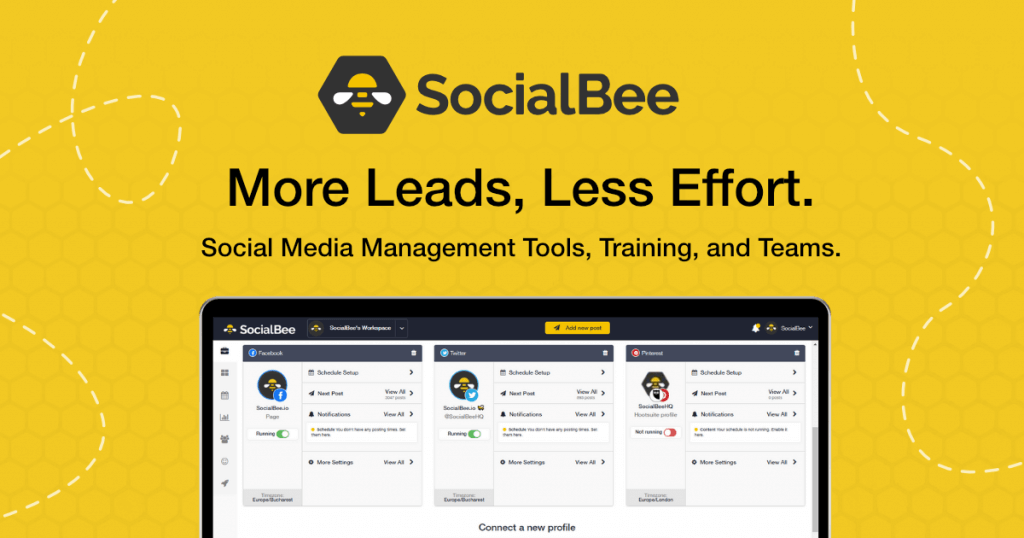 SocialBee is a social media management tool that allows you to easily schedule your posts in a calendar-like view and customize them for each social media platform (Facebook, Twitter, LinkedIn, Instagram, Pinterest, Google My Business, and TikTok).
With SocialBee, you can also design beautiful designs for your social media accounts by using the Canva integration inside the post editor.
When it comes to efficient content management tools, SocialBee is the best one if you are looking to step up your social media game. Handle all your social media management needs from one place with ease—at an affordable price.
The pricing starts at $19 per month (a 14-day trial included). All of the plans can be paid monthly or yearly for extra savings. This gives you unlimited scheduling & editing options, with the main benefit of saving at least 8 hours per week. SocialBee also has a 30-day money-back guarantee.
41. Salesflow

There's no denying that LinkedIn is the king of B2B lead generation, but that can make this social media platform highly competitive. But with Salesflow, you can level the playing field. Not only can this tool skyrocket your outbound sales, but it can do it by automating some of the most tedious marketing tasks like building your network, personalization, and sending follow-ups.
This Lemlist alternative uses the power of analytics to consistently refine your LinkedIn campaigns and organize them into a customized inbox. And you can get all of these features and more for $99/month. Or, you could get a customized plan if you request a demo.
42. Sproutsocial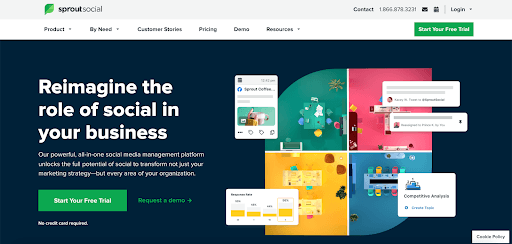 All of your social postings can be scheduled, planned, and tracked in all social media channels by using Sproutsocial. The reporting feature is visually appealing, simple to use, and quite useful for determining which postings perform best.
There are also some excellent curation tools available to assist you in finding relevant information to repost. Tools like SproutSocial are great for leveling up your social media game.
The plans cost from $89/user/month to $249/user/month.
Read also: Top SproutSocial alternatives
43. Buffer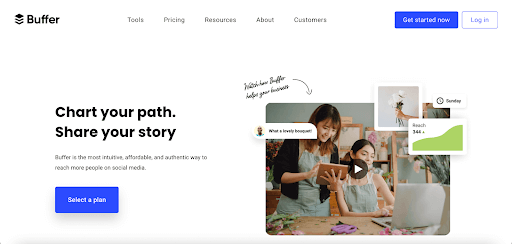 If you are searching for a free tool to get started with, Buffer is the way to go. This tool makes it simple to schedule and plan social media content. Keep in mind that you have to pay for Buffer if you want to report features. The free version is rather limited.
However, there are some reasonably priced paid subscriptions available from $5/channel/month to $100/channel/month.
Read also: Top Buffer alternatives
44. Agorapulse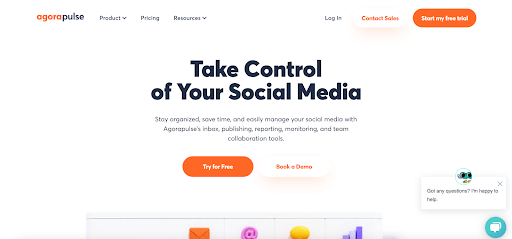 With one of the easiest and most economical social media management tools for agencies, Agorapulse lets you harness your social media content and interaction. Across all of your social media networks, you can schedule, publish, collaborate, etc.
There are no free plans at Agorapulse, but you can use the three paid plans of Pro, Premium, and Enterprise after a free trial. 
45. Hootsuite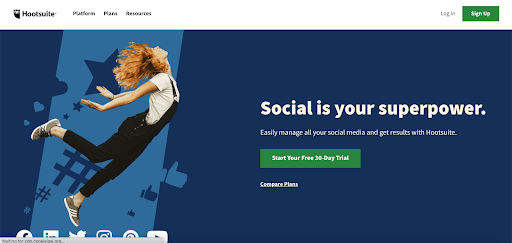 Hootsuite has long been a fan favorite since it allows you to have numerous feeds displayed on your dashboard at the same time. Their scheduling feature is fantastic, and the interface is very user-friendly. Hootsuite is suitable for individuals who need to manage multiple accounts simultaneously on a budget, but it depends on your budget, needs, and personal preferences.
The paid plans are $39/month, $109/month, and $669/month, each with a 30-day free trial.
46. Brandly 360
Brandly 360 is a comprehensive competitor monitor and price analyzer that helps companies identify, track and analyze their competitors' sales and pricing strategies, as well as the competitive landscape.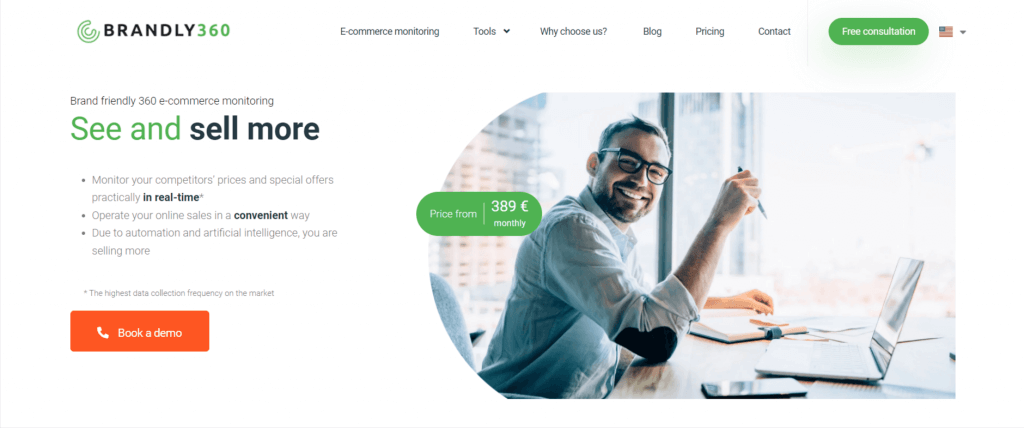 It provides users with insights on competitor pricing and promotional efforts, pricing trends, and pricing optimization, as well as allows users to track their own products across multiple channels.
With its help, you will be able to make well-informed decisions about pricing and promotions in order to maintain a competitive edge.
Other Important Tools
47. Prepostseo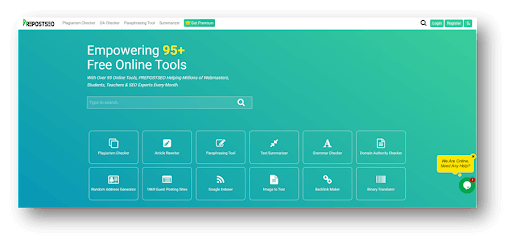 Prepostseo is a web-based platform that provides a multitude of useful online tools. Some of them include content optimization tools, including a paraphrasing tool, plagiarism checker, grammar checker, summarizer, text editor, etc.
It is a freemium platform meaning that the entirety of its toolkit is available for free but with some limitations. With Prepostseo, a company can provide its employees with a web solution for improving and optimizing content efficiently and effectively. This improves overall productivity, which is always preferable.
There are no usage limits on Prepostseo; however, many features of its tools are paywalled. For as little as $10/month to as high as $350/year, a company can avail of the premium features of this online platform.
48. Pumble
If you want to take your internal communication to the next level, it's not enough to rely on email or WhatsApp. You need a dedicated team chat app where you can easily sync up your team and remain in control of all the communication within your agency, Pumble is your go-to app.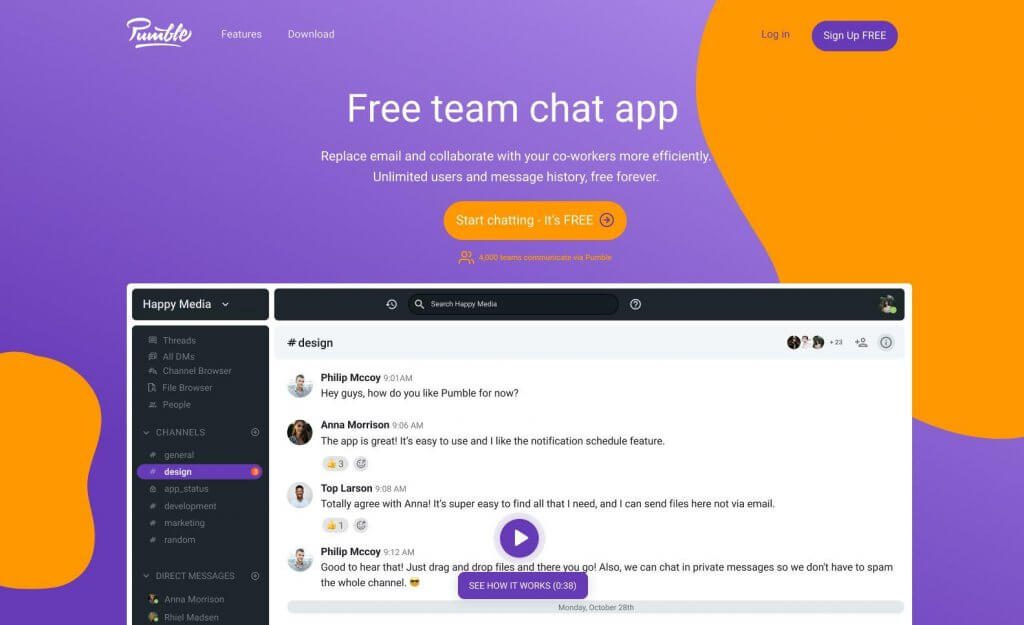 Pumble is an intuitive and free team chat app in which you can easily communicate and collaborate with your team in real-time. It allows you to send direct messages, start group conversations, and organize your communication in public and private channels. The app's free version boasts tons of useful features, such as unlimited message history, file sharing, threaded conversations, emoji reactions, and much more.
Pumble is dedicated to keeping its core functionalities free forever. However, for more useful features, you can upgrade to the PRO plan at a mere $1.99/user/month, or contact their sales team to host the app on a private server.
49. HeySpace
HeySpace is a two-in-one tool for project management and communication, which gives you everything you need to collaborate on projects, regardless of the size of your team. Within each workspace, you can create an unlimited number of spaces and each space has its board to plan the team's workflow, assign tasks, set due dates, and monitor the progress in real-time. Apart from the task management feature, it also gives you an integrated chat platform.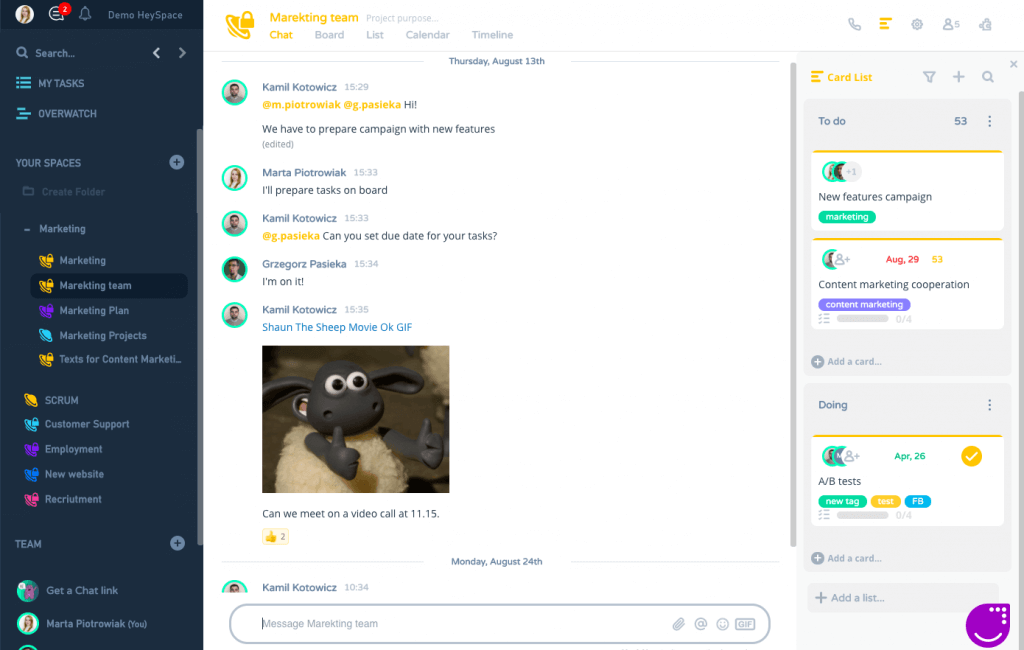 HeySpace offers a free and premium plan. The free version is up to 5 users, offers 10GB file storage (5MB per file) and unlimited chats and history. The premium plan is available for $5 per user in workspace per month (paid monthly) or $45 per user in workspace paid annually.
HeySpace gives you an opportunity to check all premium features thanks to a 14-days trial.
50. DashClicks' Project Management Software
"Projects," a project management software by DashClicks, is crafted for agencies so that they can efficiently manage their teams, projects, and more. It doubles up as a fantastic marketing tool that helps in providing business solutions to an agency's clients.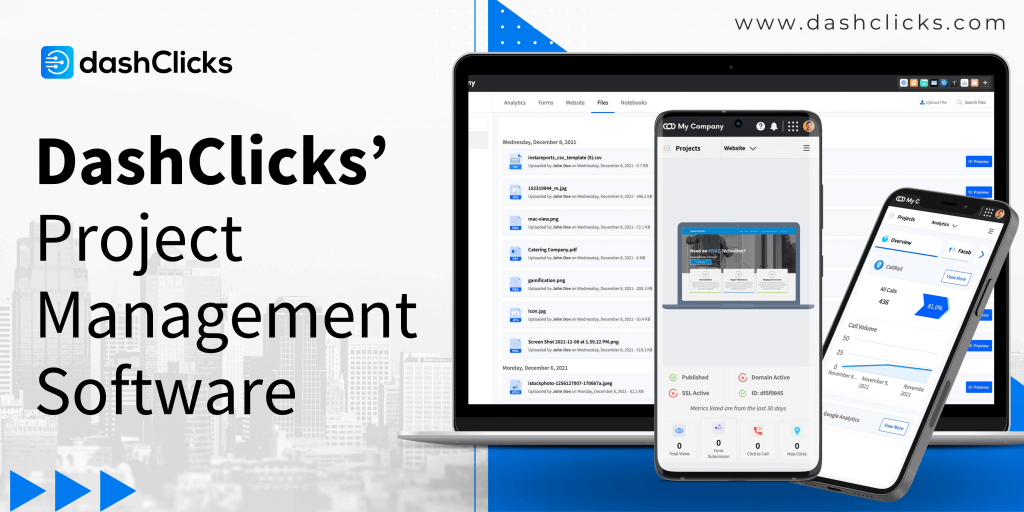 You can manage unlimited projects within the Projects app, a significant feature that makes it one of the best solutions for client project management.
Features:
Automate the creation of a new project.
Automate the creation and sending of onboarding documents to your clients.
Marketing agency owners can easily manage multiple projects for each one of their clients within a single application.
Manage and track analytics for each client that has a sub-account attached to your main account. You can integrate, access, and utilize these analytics effectively for Google Analytics.
Use the app to store and share files and create customized notebooks.
Pricing:
You can create a forever free account that includes unlimited projects. Paid plans start from $97 USD per month. This is called the Pro plan. Other plans are priced at $297 and $597 per month, called Plus and Premium respectively. The "Plus" plan is the most popular one among all the plans.
51. Tailor Brands
If you want to grow your business and you need an automated partner to help get you on the right track, Tailor Brands is whom you are looking for.
Branding is a large part of growing a business and that is what this company does best.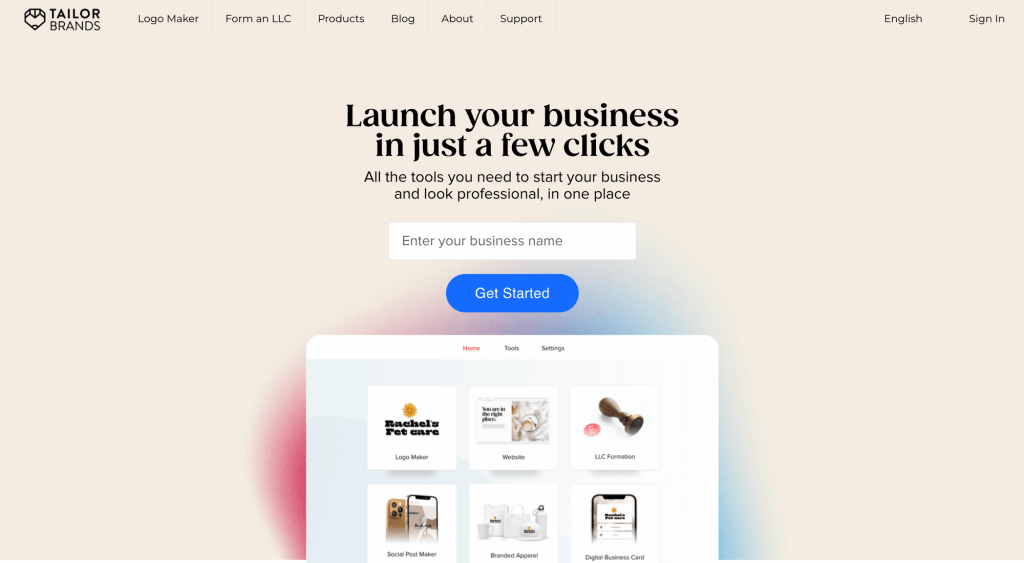 Utilize their logo maker tool to quickly design a professional and attractive symbol for your agency. Check out their website builder to create a fresh homepage for your business. They work with everything from brand design to back-office solutions so you can take your agency from good to great.
52. BrandCrowd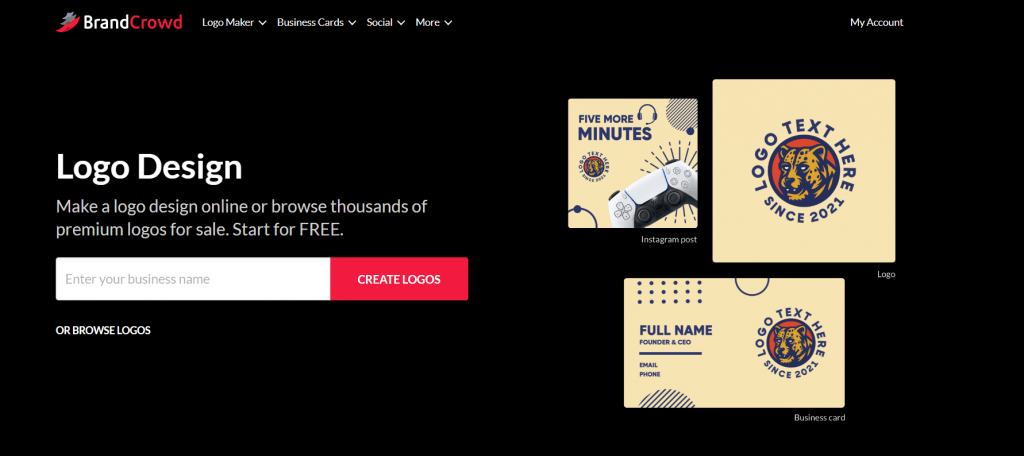 BrandCrowd is a creative branding platform for self-assisted designs. This means you can create your own images using pre-made templates. Customize your own logos, business cards, email signatures, invoices, invitations, menus, flyers, and more. Choose one from several varied colors, icons, font, size, and layout options. Add further decorations and embellishments.
BrandCrowd offers cheap pricing either monthly or annually with the cheapest starting at 9 dollars a month. Take your business to the next level by improving its images, wordings, font styles, branding, and marketing.
53. VistaCreate
With VistaCreate themes, you can find a wide range of social media themes and designs that can help you promote your agency's social media accounts on Facebook, LinkedIn, Instagram, etc. A collection of ready-to-use design formats that are perfectly suited for social media platforms of all kinds. Furthermore, they offer cross-platform design editing functionality (you can create the design on the app and continue to edit it on the desktop, or vice versa).

There is a free plan with 75K+ design templates and a pro plan at $10/month with 70M+ photos, videos, and vectors.
54. SpinupWP
SpinupWP is a modern cloud-based server control panel. It spins up your own extremely fast WordPress server, and it does so in just minutes.

No software installation necessary. Just give SpinupWP access and you can manage your server remotely. It's like a remote control for your server.
Here's a rundown of what this awesome server control panel offers:
The ability to work with almost any cloud-hosting provider., such as DigitalOcean, Linode, Vultr, Amazon Web Services, and more.
Extensive caching options, such as full-page solutions to align with Nginx performance requirements, and Redis.
A bunch of thoughtful security options, such as site sandboxing, error logging by default, and a wealth of hardening provisions to help keep you safe (on top of what your host will already provide).
Developer-focused features, such as a 'push-to-deploy' feature for Git-based development. This lets you work on your site through a Git repository, then use it to trigger an update to your live site.
55. Freshbooks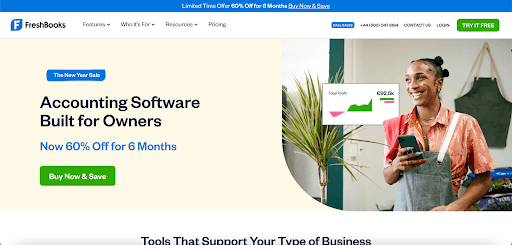 Freshbooks is a cloud-based accounting and billing software which means you can access your data on iPhone, Android, and iPad. This accounting and the invoicing tool is best for small businesses growth because it is simple to use for business owners with little or no accounting knowledge, has a lot of features and functions, has a reasonable price, and can be used anywhere and at any time as it is cloud-based.
There are four plans available at Freshbooks with different pricing. The Lite plan costs $4.50/month for a freelancer with five billable clients. The Plus plan is suitable for small enterprises with 50 billable clients and costs $7.50/month. The Premium plan costs $15/month for large enterprises. You can also contact Freshbooks for a customized plan that suits your agency.
56. Colorcinch
Colorcinch is a simple and user-friendly design tool that lets anyone craft professional-looking graphics in a breeze. You can add filters & effects to your images, play around with icons & overlays, and fine-tune photo details to suit your creative needs. If you need to crop, resize, change backgrounds of your images, create profile pictures – you can do it with just a few clicks.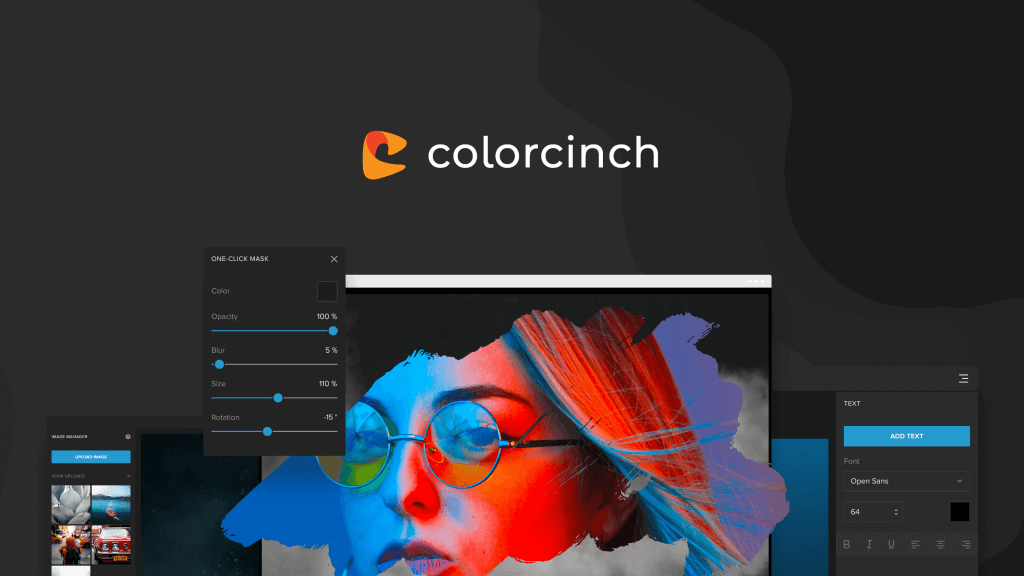 Colorcinch is free, and you can always upgrade to its premium plan and unlock all its amazing features at $4.99/month (billed annually at $59.88).
57. Pitch
Pitch is a project presentation collaboration software that allows hybrid, dispersed, and remote teams to create stunning presentation decks together in just minutes. Pitch gives you everything you need to create compelling, persuasive presentations from the ground up, including visually rich and intuitively designed templates, and allows for live asynchronous integration with programs like notion for much better planning and team execution.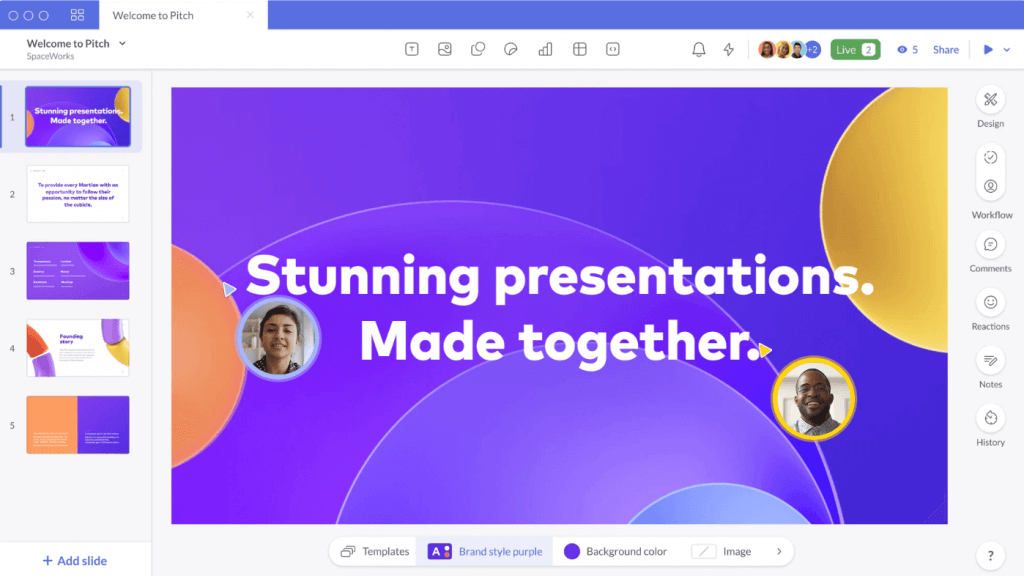 Pricing starts at 0 EUR/month for the starter plan and moves up to 8 EUR/month for the pro. Pitch also offers custom pricing for Enterprise-level clients.
58. Paperform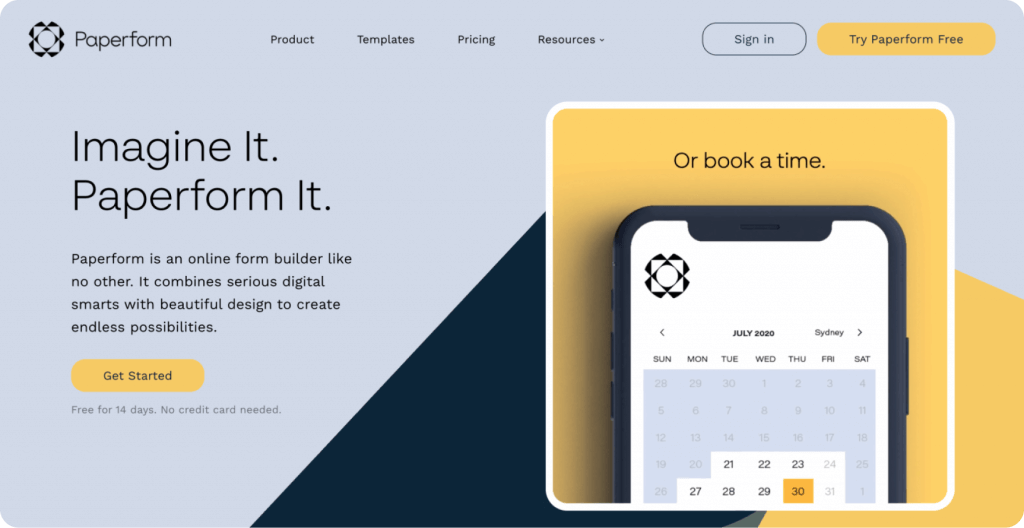 Paperform may have started as a form builder, but it's developed into more than that. With a digital suite of tools, you can create forms, surveys, quizzes, websites, payment pages, schedule bookings, automate the onboarding process, and more, all from an intuitive doc-style editor.
The beauty of Paperform from an agency standpoint is it comes with a ton of automation power. Let's say you've made a new customer registration form. You could connect it with Hubspot to automatically update customer profiles with each submission and integrate with Slack to notify the appropriate team member each time someone completes your form.
Features: 
Turn insights into actions with their

custom built-in data analytics. Utilize its powerful data management and automated workflows to improve performance. 

With over 26 question fields, an in-app editor, and a free-text interface, you can create solutions tailored to your unique brand.

With over 3,000 integrations, Paperform can connect you to thousands of popular apps and services, bringing all your work under one roof.

With Paperform payments, you can quickly sell your products, services, and subscriptions to customers worldwide.
59. Billdu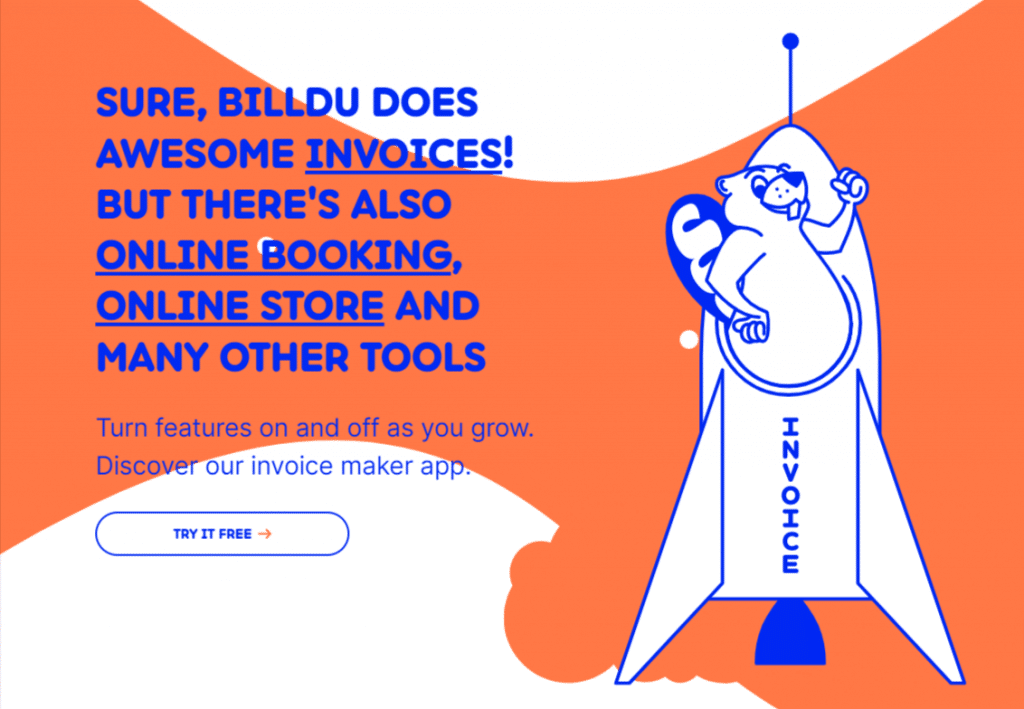 Billdu is an online invoicing software for small businesses. It allows you to create professional invoices, estimates, and other documents whenever and wherever. Optimize your cash flow with easy invoicing, manage customer relationships, accept payments, send invoices, and so much more. Billdu has everything you need to run and scale your business smoothly.
Billdu works on all your devices – PC (browser) and mobile app(Android & iOS). Great reviews of the app (4.8 out of 5 on the App Store, 4.7 out of 5 on Trustpilot) confirm that Billdu is one of the best invoicing solutions on the market.
Try Billdu for 30 days for free with no credit card required and then upgrade to one of the 3 packages. Enjoy the extensive possibilities you get with the Lite plan for $3.99, the Standard plan for $8.99, or Premium for $16.99.
60. Fyle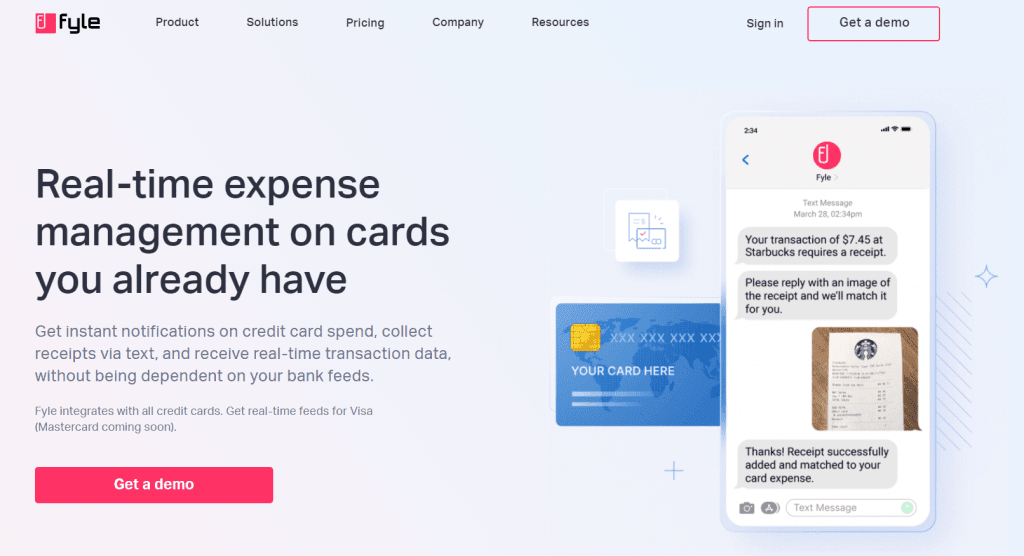 Fyle is a powerful expense management platform that simplifies expense tracking and management. It also enables you to manage your credit card expenses in real time by giving you access to direct data feeds. This means you can gain access to the powerful suite of features of an expense management tool without switching your cards. 
The software also comes packed with a range of unique features, including seamless expense tracking, automated compliance, easy approval workflows, and integrations with popular accounting software like Sage Intacct, NetSuite, QuickBooks, and Xero. With Fyle, you can streamline your expense management process and focus on growing your business. 
Fyle starts at $6.99 per active user/month paid annually for the standard plan and $11.99 per active user/month paid annually for the more popular business plan.
61. Beaconstac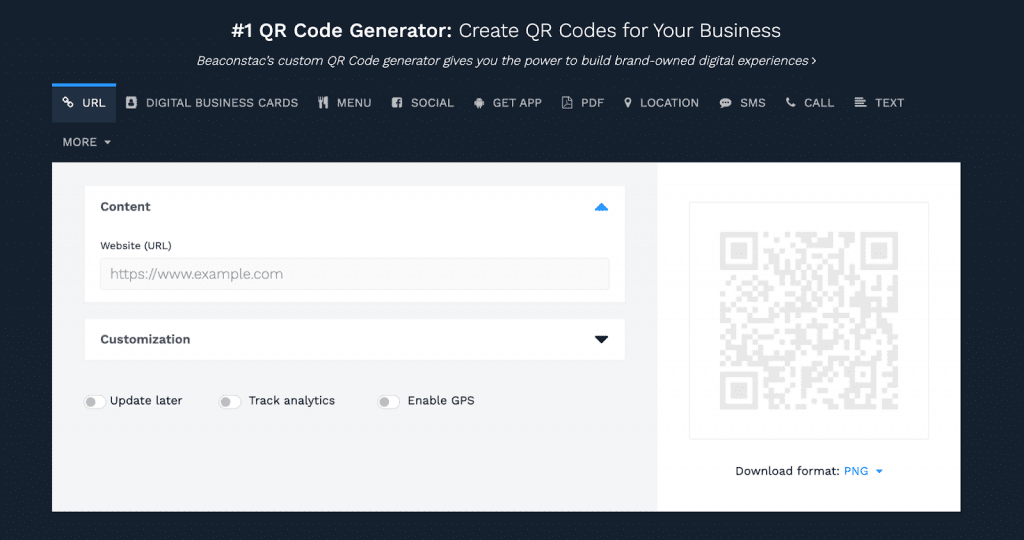 Beaconstac is a QR code generator solution that lets you create QR codes for various purposes. Be it for your brochure or flyer, a billboard advertisement, or your digital marketing needs, this QR code solution has got you covered.
With an intuitive dashboard and several customization capabilities, you can create QR codes that don't look like any other QR code. You can customize it by adding colors, a logo, and more.
Since the solution is SOC Type 2 and GDPR compliant, there's no fear of unauthorized access or data leaks, making it perfect for even enterprises.
The solution comes with over 4000+ integrations, so you can take a QR code generator to the next level and leverage it for multiple applications.
62. FlexClip

FlexClip is an online video creation tool that allows businesses to create professional-quality videos without requiring video editing skills or software. With its intuitive interface and drag-and-drop functionality, FlexClip lets users combine video clips, music, and text to create engaging video content for social media, marketing campaigns, and more.
One of the features that make this platform stand out is its AI-powered text-to-speech function, which allows users to add high-quality voiceovers to their videos without needing any recording equipment. With this feature, users can simply enter the text they want to be spoken, and the platform will generate a natural-sounding voiceover in a matter of seconds. This is especially useful for those who may not have access to high-quality recording equipment or may not feel comfortable speaking in front of a microphone.
FlexClip has a freemium model, where users can access most of its tools with some limitations for free. They can use up to 1GB of storage and export videos in 480p resolution in the free version, whereas the premium version offers unbranded videos, 1080p resolution, and up to 10GB of storage.
63. Arc

Arc is an AI-powered remote developer marketplace. It connects employers with pre-vetted global talent. With their newly released AI recruiter, HireAI, recruiters can get instant candidate matches without searching, identify top applicants with no manual screening, and hire 4x faster with vetted candidates. 
 Arc's vetting process involves:
Screening candidates' profiles, resumes, and employment history

Assessing their communication skills through video interviews

Evaluating their technical skills with tech interviews and pair programming sessions

Hosting internal final candidate reviews
Free job posting for unvetted developers OR 15%-20% first-year base salary. Additional multi-hire package discounts upon request.
Conclusion on best agency tools
To get more work done using less time spent, your agency has to set automation for cumbersome tasks by using productive agency tools. Choose from the best 50+ agency tools mentioned above and facilitate the daily tasks of your team to a large extent. Wish you the best of luck!