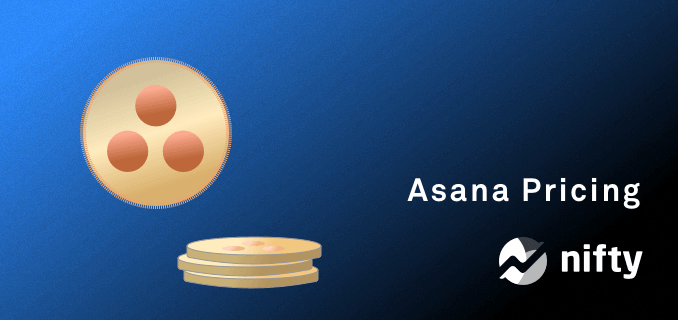 Asana is one of the most popular work management tools that allows you to organize tasks and collaborate more efficiently. If you are looking to invest in this task management tool, you should know that there are four Asana pricing plans available at your disposal.
In this guide, we will answer one of the most commonly asked questions: "How much does Asana cost, and what are its various pricing models?" In short, there are four Asana pricing plans you can choose from and align with your personalized needs.
Asana Pricing: An Overview
Let's begin by gaining a high-level overview of the four Asana pricing plans you can choose from. Asana has one of the best free pricing plans in addition to three other paid pricing plans with advanced features:
The Basic plan is great for individuals/teams that are just getting started with project management:
The Premium plan is ideal for confidence-requiring teams that want to create robust project plans:
The Business plan is best suited for teams that need to manage work across initiatives:
So, What Are People Saying About the Asana Pricing Plans?
Here's what people are saying about Asana's pricing plans on Twitter. Some users find Asana's pricing models to be too expensive. More specifically, the tool's pricing increases as the number of users grows:
@asana deseptive not mentioning anything about 2 seat minimum until after signup! Put it on your pricing page ffs 🤷‍♂️ #asana

— MJbon (@sconnybonbon) May 27, 2020
Additionally, users have complained about how Asana's pricing information has not been communicated upfront:
Asana's Free Plan is only a trial for 30 days. THAT they tell you after you complete the whole registration process. Shady scamming slimeballs. #task @todoist @trello #timemanagement #excel @mondaydotcom

— ERICX2020 (@ERICX2020) September 1, 2023
That said, some users appreciate the platform's free trial and want to continue using the free web version:
Hey @asana, is it possible to use a free web version after the trial has ended? I can use the app but have a pop up screen on the web version I can't get rid off.

— Anna Skvortsova (@AnnaSkvortsov) August 10, 2023
On the other hand, on G2, here's how users have rated the tool in terms of its pricing:
Similarly, some users mention this:
Needless to say, Asana's pricing plans have garnered mixed reviews over the years. Let's now deep-dive to understand what each plan entails.
Asana Pricing Plans vs Nifty Pricing Plans: At a Glance
It's time to take a look at the four Asana pricing plans in greater detail, starting with:
A. Asana's Basic Plan: $0 (Free Forever)
Asana: Free for up to 15 people and is ideal for freelancers/individuals
The top features of this plan center around the ability to manage tasks and personal to-dos and include:
Unlimited tasks, projects, messages, and activity log
Unlimited file storage (100MB per file)
List, Board, and Calendar views
Assignee and due dates
Project Overview and Project Brief
iOS and Android mobile apps
Time tracking with integrations
100+ free integrations with your preferred apps
Nifty: $0 – Free Forever for Unlimited Members
Its top features include:
Storage space (100 MB)
Active projects (2)
Core features:

Tasks
Milestones
Discussions
Docs
Files
Team Chat
Portfolios
Recurring Tasks
Task Dependencies
Milestone Dependencies

Account and security: Two-factor authentication
Support: Self-service help center
The verdict: Nifty offers a free plan for unlimited users as opposed to Asana's restriction of 15 members. Moreover, Nifty's free plan comes power-packed with core tools that every small team can benefit from, whether they're managing big or small projects!
Get Docs, Milestones, Time-tracking, and more in one place for free!
Use Nifty
Plus, Asana's free plan is fairly basic and doesn't offer a lot of useful project management functionalities in comparison to Nifty, which offers advanced functionalities such as Portfolios, Milestones, dependencies, etc., even in its free plan.
B. Asana's Premium Plan: $10.99/User/Month (Billed Annually)
Asana: In addition to the Basic plan, Asana's Premium pricing plan offers advanced features such as:
Timeline
Unlimited Dashboards
Reporting across unlimited projects
Task Templates
Advanced search
Workflow Builder
Custom fields
Unlimited free guests
Forms
Rules
Start dates and times
Admin Console
Private teams and projects
What's important to note is that Asana's Premium pricing plan is good for smaller and medium-sized teams that demand a user-friendly app, want better reporting and workflows, and want to keep tabs on everyday tasks.
The biggest difference between the free and Premium plans is that you can:
Access the Workflow Builder to automate key processes, such as driving collaboration between teams
Get individualized customer support as well as community support
Nifty's Starter Pricing Plan: $39/Month, Billed Annually
Nifty's Starter pricing plan includes all the free core features along with additional benefits such as:
Team Members: 10 
Storage Space: 100 GB
Active Projects: 40
Guests & Clients: Unlimited
Advanced Features:

Time Tracking & Reporting
Custom Fields
Budget Tracking
For an additional $20 a month, you can access features such as:
File Proofing
Cross-Project Overviews
Team Workloads
The verdict: The biggest USP of Nifty's Starter plan in comparison to Asana's Premium plan is that you can track 40 projects and get 100 GB of storage. Plus, project managers can easily elevate their project productivity by accessing advanced functionalities such as budget-tracking and time-tracking capabilities.
Get all Asana features at 1/4th the price. Give Nifty a try!
C. Asana's Business Plan: $24.99/User/Month (Billed Annually)
Asana: Asana's Business plan, as the name suggests, is great for large-scale enterprises. It includes all the key features in the Premium plan plus:
Custom rules builder
Advanced Reporting
Time tracking
Portfolios
Goals
Workload
Approvals
Proofing
Lock custom fields
Forms branching & customization
Advanced integrations with Salesforce, Adobe Creative Cloud, Tableau, Power BI
For organizations that want to drive better resource management, Asana's Business pricing plan levels up thanks to its value add-ons such as Portfolio, Workloads, and Goals.
What's more, users can engage in limitless customizations and build custom actions as well as triggers such as flagging unfinished tasks, transferring jobs, and more.
Nifty's Pro Plan: $79/Month, Billed Annually (less than $8/user for 10 users)
Nifty's intermediate plan – The Pro Plan – offers everything available in the Premium plan and additional functionalities:
Team Members: 20
Storage Space: 500 GB
Active Projects: Unlimited
Guests & Clients: Unlimited
Free of cost: Workflow Automation, File Proofing, and Cross-Project Overviews
Team Workloads at $20 a month
Account and security: Two-factor authentication and Google SSO
The verdict: Nifty's Pro plan is a great addition for growing teams who demand more user-friendly and advanced project management features but don't want a full-scale plan.
Migrate from Asana to Nifty in under 10 Minutes.
Get started
It acts as the perfect middle ground between the Free and Unlimited pricing plan options. Its hybrid drag-and-drop Swimlane view deserves a special mention, as you can see milestones and tasks with effortless ease.
Bonus: Nifty Also Offers Two Additional Plans –
A. Business plan at $124/month, billed annually:
This plan allows usage for 50 Members and offers an impressive storage space of 1 TB. In addition to all the Pro features, you get:
Custom Roles & Permissions
Microsoft SSO
Open API
Priority Support
Nifty's Business pricing plan is for project managers managing large teams who want granular control over their teams and projects.
B. Unlimited plan at $399/month, billed annually:
This plan is great for large-scale enterprises that demand everything unlimited – be it team members, projects, storage space, or guests! Plus, enterprises can get:
All the core features
All the advanced features AND native forms
A dedicated success manager, in addition to priority support and a self-service help center
Along the same vein, Asana also offers an Enterprise plan, the details of which are available by contacting the sales team. The fact that Asana has not made its Enterprise pricing public does not work in its favor, laying the foundation for a less transparent approach to connecting with users.
D. Asana Nonprofit Plan: 50% Off on Pricing
Asana: It offers 50% off for eligible nonprofit organizations on their Premium or Business annual plan. The platform offers useful NGO-friendly features such as:
Using custom, ready-made templates for diverse use cases
Managing and streamlining grant lifecycles from start to finish
Implementing complex fundraising events as well as multi-channel fundraising campaigns from the click of a button
Maintaining stakeholder relations, including reporting to donors, corporate sponsors, etc., and building stronger relationships
Connecting distributed offices and coordinating affiliate networks to facilitate communication and build transparency
Nifty's Non-profit Plan: 50% Off on Pricing
Nifty, too provides a 50% discount on its Nifty Pro and Nifty Business plans and is eligible for students, educational organizations, and non-profits. All you need to do is fill out a form and wait for the team to get back to you within 24 hours.
Some of the most useful features Nifty provides include: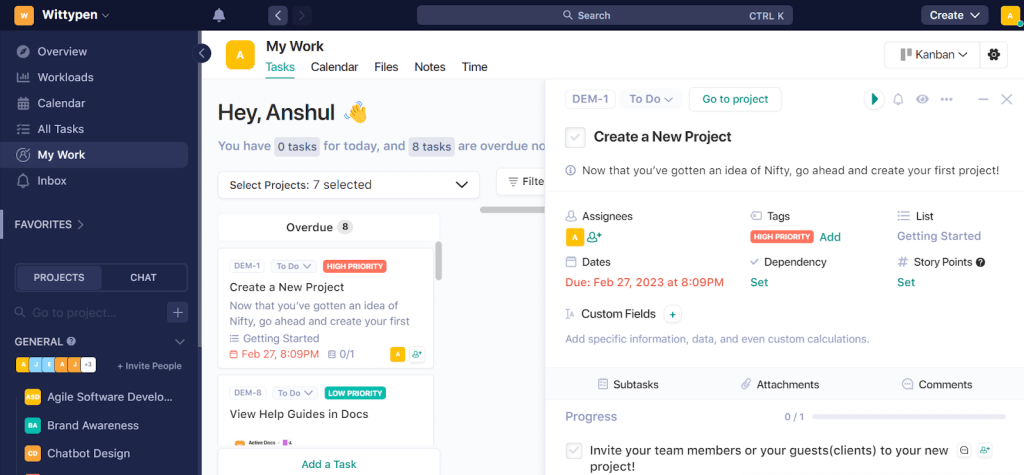 A comprehensive overview of your projects, tasks, and assignments 
Ability to share documents easily using the platform's signature Doc tool or its two-way Google Docs
Time tracking and reporting feature to balance workloads and boost productivity
The verdict: Both Nifty and Asana offer 50% off on their paid plans for NGOs, educational institutions, and students.
Asana Vs. Nifty: Which One is Better for You?
Here's a quick roundup of the key features that Asana and Nifty bring to the table so that you can make an informed choice. We have covered the five most critical features that can aid in your project management journey:
Key Features
Asana
Nifty
1. Task and workflow management
Offers a workflow builder to help create custom workflows and automate tasks
Allows you to organize, prioritize, and manage tasks in diverse views such as Kanban, Swimlane, List, etc.

Enables you to use the Roadmaps feature (Gantt chart) to automate the milestone progress based on task completion
2. Project tracking
Helps use multiple Project views such as Kanban board, timeline, calendar, Gantt chart, etc. to visualize the work
Empowers you to organize and structure teams using the Project Portfolios feature and categorize projects based on account ownership, client delivery, operations, etc.
3. Collaboration
Does not offer features for driving effective collaboration
Offers the Discussions feature to enable real-time collaboration using live chat, comments, etc. – making it perfect for global teams

Allows you to consolidate docs and files into an organized collaboration hub
4. Reporting
Allows you to access Reporting Dashboards so that you can visualize project data in multiple ways 
Helps you to get a bird's eye view of the projects and workloads with the Overview functionality
5. Time and resource tracking
Helps you to track your team's workload and balance it effectively
Helps you to track costs, improve productivity, and balance the team workload
6. Forms
Allows you to standardize work requests and capture all the data easily
Empowers you to collect real-time project data so that you can drive informed and actionable decisions
The learning: Clearly, both tools offer a host of super-useful features that can make or break your project management game. However, Nifty offers a more comprehensive feature set. So, make sure to choose a platform that can adapt to your specific needs (and not the other way around – as is often the case).
Accelerate Your Project Management with an ROI-driven Tool
There you go. The most important takeaway is that Asana's pricing has changed many times since its inception. And users do not appreciate how the platform is scaling its pricing with every passing year.
While Asana is a popular project management tool, it doesn't make sense for you to pay more for a tool when you have cheaper and better alternatives available. But don't take our word for it.
Look up Nifty's competitive pricing plans and try its free trial to see how the tool can fit into your project management needs without breaking the bank.
Book a demo right away!
FAQs:
How much is Asana per month?

Asana offers a free plan that is available for up to 15 users. Its Premium plan costs US$10.99 per user per month (billed annually), whereas its Business plan costs US$24.99 per user per month (billed annually). For the Enterprise plan, you need to connect with the sales team.
Does Asana cost money?

Asana offers a Basic plan that is free forever. This plan provides numerous features that are good for individuals just starting out with project management. All other plans have varied pricing depending on the advanced features within each plan.
Is Asana free for individual users?

Yes, Asana offers a forever free plan for individual users.
Is a free version of Asana enough?

No, Asana's free plan does not include all the tool's great features. It may be good enough for smaller teams on a shoestring budget who want to get basic productivity out of Asana. If you have a team of less than 15 users, you can opt for the free version.
Is Asana cheaper than Jira?

Yes, Asana's paid plans are cheaper than Jira's. Jira's Standard plan costs $21 per agent per month, whereas Asana's Premium plan costs $13.49, billed monthly for up to 15 users.