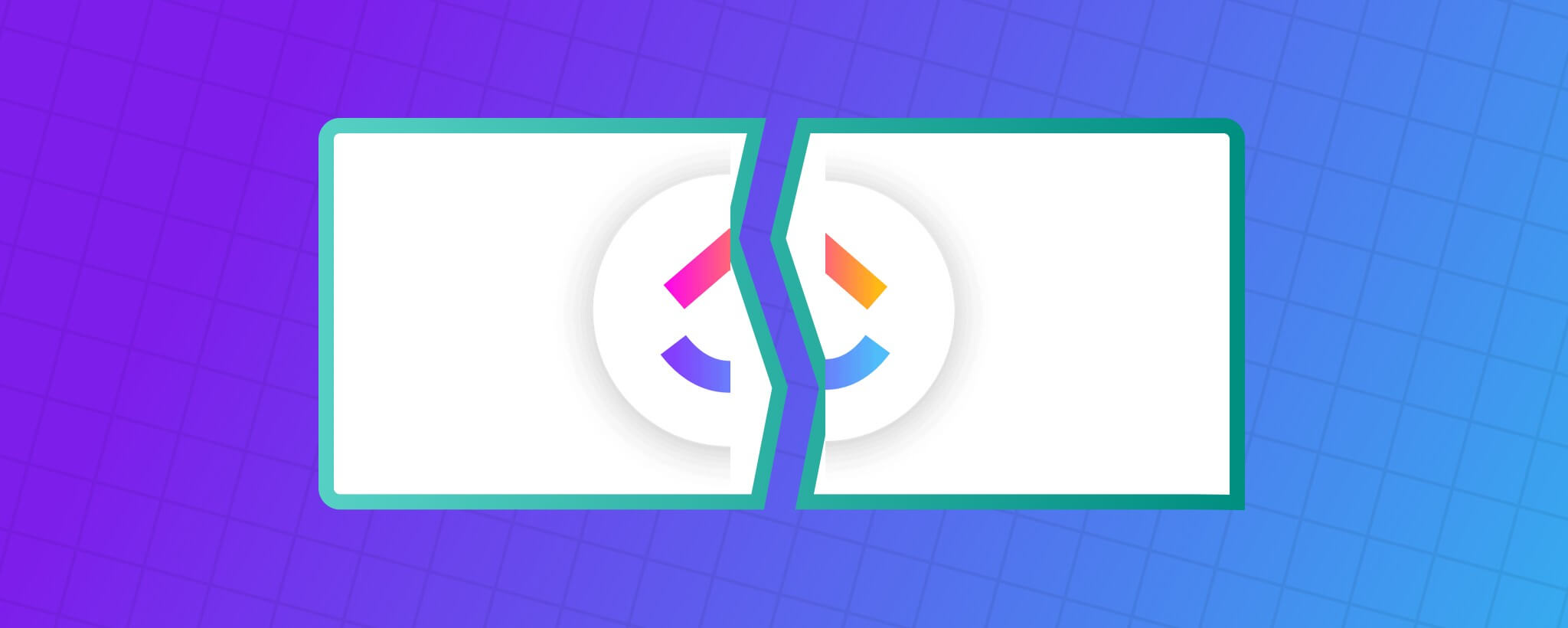 Today we will be talking about ClickUp alternatives and ClickUp templates alternatives for people who are looking for a different ClickUp project management solution that would better fit their needs.
Sign Up here to get access to ClickUp Templates only more refined and easier to use 🚀
ClickUp is a popular project management software used by team all over the world.  While ClickUp is an excellent choice for teams trying to consolidate their workflows tools they tend to fall short of what many customers expect and can also take a significant amount of time for ones team to learn how to use ClickUp properly due to ClickUps poor templates setup.   Why not review the best ClickUp alternatives before you commit?
The importance of project management
There is no doubt that project management is an important thing. After all, could you imagine your work if all the projects would be made without a plan? If instead of a careful task dividing, figuring out what should be done first, what's the end goal, you would simply gather a few people, say what's the idea and just do it?
That is a recipe for chaos that will make you want to reconsider coming up with an idea in the first place, and might result in an unhappy higher management. And that's the last thing you want on your plate, next to a failed design.
Project management allows you to establish responsibilities, tasks, find the best supporting processes and reach a project goal without spending above budget. At the same time it's a much underappreciated work that doesn't get enough recognition. Thankfully nowadays, as a project manager you get a chance to lessen your workload a bit — by using apps.
What are you looking for?
If you decided to use a project management application you don't want to just go to the first one you find and settle there. Allow yourself for some testing, before you make your final decision. If you're not experienced with using project management apps, then there are a couple of things you want to take into consideration.
1. Simple design
If you're anything like me you don't want to clutter your already overloaded brain with more things. You want an application that is simple to use and easy on the eyes. Something that won't make you stressed on the login screen and won't make your head dizzy from all the options.
According to the study, employees spend around one-third of their time at work being unproductive. We don't want to add even more time to their "unproductive" hours with an overly complicated tool that will require multiple tutorials or even a dedicated training. And even though it's been proved that during the pandemic the productivity went up over 13% it doesn't mean that you can spend more time figuring out the management tool. There are more important tasks at hand that should be completed.
2. Ease of communication
When you want to manage your project effectively you should know the basis — communication. Without the ability to quickly contact your coworkers you risk backing up your project or getting a different result altogether. That's why you need to have a tool that can assist you with effective communication, preferably integrated directly in your other project management apps. That way you can always reference the task if you need to.
3. Collaboration
When you're creating a project, you're not doing it alone. You're in a team. And if you don't have a tool to effectively communicate with the coworkers, your project can quickly go downhill. This is especially important during current times, where most people work remotely as a new normal.
What you need is a tool that will allow you to quickly get in touch with people, easily share designs and help you bring the project together, without making you feel overwhelmed.
Why not ClickUp?
In one of the ClickUp reviews it stated that this app "is one to rule them all" and the ClickUp itself goes with a similar slogan. While it might sound like a dream to have a project management app that can do everything you could possibly need, it can be quite a downside.
ClickUp is too chaotic. All the features are within one app, which means you have Docs, Project management, HR, Sales, Finances and so on. Now, I'm not saying you shouldn't have those options, but when everything can be accessed through one login, without some sort of separation it can be quite overwhelming.
From the first time you log in you are literally bombarded with video tutorials, popup screens and long list of options, that doesn't make you feel productive. It makes you feel confused, lost and discouraged. You might think that maybe it's only the initial impression, however many have been complaining that after going through the tutorial section, the app is still too complex, and it takes far too much to get to relevant information. And speaking of relevant information, when creating a project you want to have a clear mind. I found it quite hard to achieve where in every "example" ClickUp used adjectives like "awesome" or "amazing". It's definitely cute but not needed.
If you're looking for something more straightforward and simple, you definitely should read more, as we are giving you some of the best ClickUp alternatives on the market.
Nifty (Contains ClickUp Templates)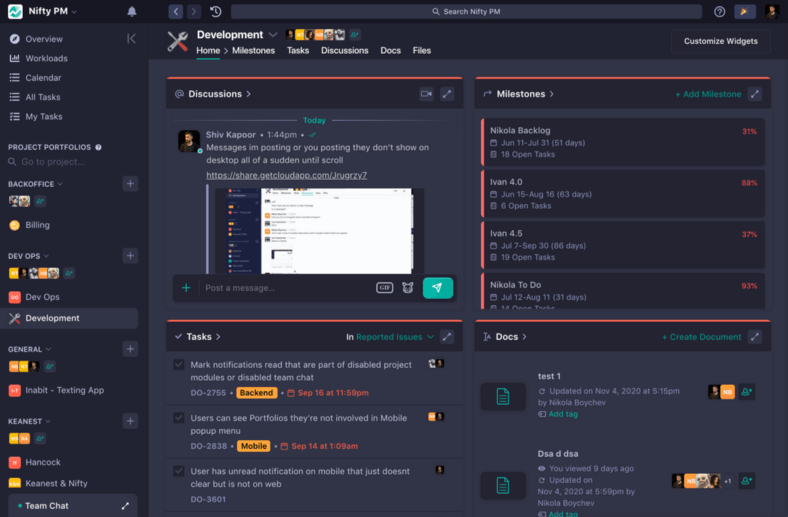 If you want an application that grows with you and is overall a simple, minimalistic and easy-to-use tool for project management — Nifty is a thing for you. Setting up takes only a few clicks where you get to choose the mode and you also get to set up a dedicated chat, so your communication needs are fulfilled.
Many people confirmed that one of the greatest features of Nifty is their massive integration library and the small learning curve, which makes this app fully usable from the start. No disturbing pop-up tutorials or an array of intense colors that make you feel overwhelmed before you even start.
Their UI is clean and has all the necessary elements and project charts for you to clearly see the options without getting confused. Furthermore they have equally usable mobile apps and take feedback from their customers very seriously.
When it comes to the price, Nifty has a free forever plan that provides you with 2 active projects, 100MB of storage and access to all of Nifty's templates. The next tier is a starter pack for $39 with an impressive storage space, up to 10 team members, and quite a lot of options to match your needs. There is of course a trail and before you even log in, you can request a demo to make sure this is what you are looking for.
Get 15% Discount off any plan for life using code: NIFTYTIME15
2. ProofHub (No ClickUp Templates)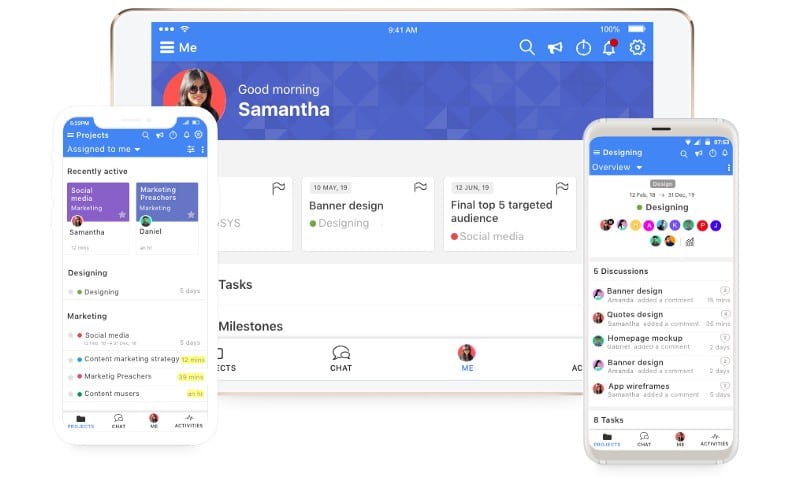 ProofHub is an all-in-one project management and team collaboration software loved by more than 85,000 businesses around the world. It is one of the top ClickUp alternatives as it provides you with every essential work and team management feature in one place without breaking the bank.
It's a one-stop shop for all of your projects, tasks, teams, and client communication. ProofHub can be used by any team, big or little, from any industry to any department, remote or in-house, and cross-functional.
Working with many tools entails high expenses, a waste of everyone's time to learn each new tool, scattered data, distracted users, extra effort, and the lack of a single location to track work and performance. ProofHub consolidates several tools and provides managers, teams, and clients with everything they need to plan, collaborate, organize, and measure progress in one place.
Instead of using a chat/messaging tool, a task management tool, a Gantt chart tool, a proofing tool, a file management tool, a time tracking tool, a note-taking tool, a reporting tool, and so on separately, teams can simply use ProofHub to access all of these features in one spot.
The best thing about ProofHub is its No per user fee policy. You can work with as many people as you want without having to pay extra costs. ProofHub's Ultimate Control plan starts at $89/month (billed annually)
3. Asana (No ClickUp Templates)
There wouldn't be a project management article if we didn't mention Asana. Established in 2012 is globally recognized as a project management tool for larger businesses. However it is quite popular in startups as well.
Asana design is sleek but it also has some cute, funky elements — like flying unicorns or some monsters peeking at you during certain actions. It's still very minimalistic and tasteful, which means that your dashboard is not overly cluttered, but it invites you to celebrate your achievements. It's also quite a scalable one, where you can manage your whole company projects as well as your personal to-do tasks.
Their pricing is a little bit different, as they have a flat rate of $10,99 per user, per month. They do also have a free plan that has a lot of options, including unlimited free storage, up to 15 team members, integrations, time tracking and mobile apps. All the basics you need to start working!
4. Basecamp (No ClickUp Templates)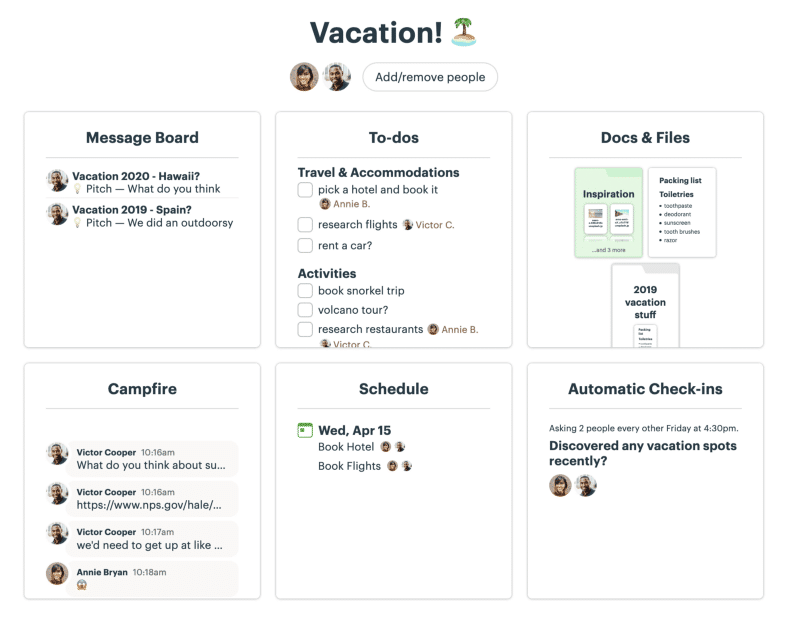 If you're looking for a minimalistic, simple approach to project management Basecamp is a great ClickUp alternative for you. Their dashboard works in tiles and it's very transparent to use. They managed to keep the all-in-one application approach but made it elegant and not at all confusing.
You can search pretty much any element of your project and it will give you all the relevant results as well as sort it via types of tasks — to-do's, schedules, documents and group chats are separated, making it very easy to see right away what you still need to finish, and what was already marked as done. Furthermore you have other options for dedicated employees. Different features for project managers, owners, viewers and other coworkers — it means that you can easily enable some options and you'll avoid the possibility of someone clicking something they shouldn't.
Basecamp pricing is a bit different from the rest of the project management apps you read about here. They have a flat rate instead of the usual, user-per-month plans. Although a bit pricey, because you pay $99 per month, it does have an option for a 30-day free trial as well as Basecamp: Personal, where you can use their app for free. Of course, there are limitations, but it's a great way to check the app, and see how you like it.
5. Jira (No ClickUp Templates)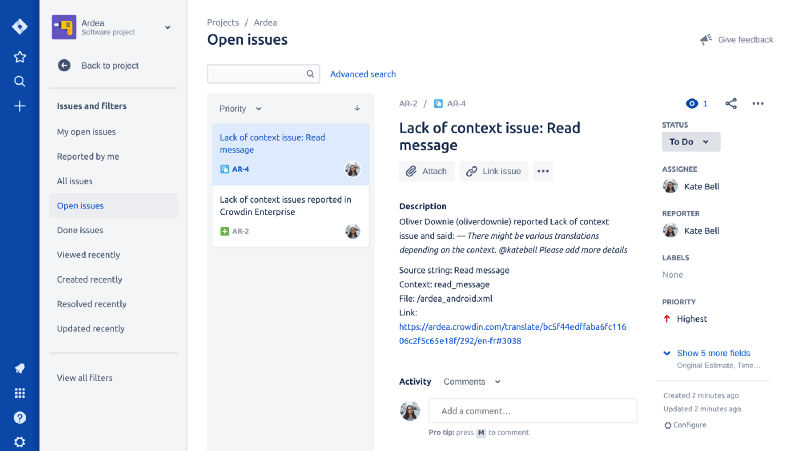 Jira is one of those project management apps that work especially well for smaller businesses. Their UI is easy to use, intuitive and error-free. You simply drag and drop tasks. You can set up different actions, ETA's, manage the employees and even check their activity all without clicking through one of the pages. Although it can be a bit confusing at first, as all the options are displayed in front, it doesn't take much more than a day to get used to it.
Jira has a massive integration library, which means that you can truly make it your own. Combine that with a sleek design and non-invasive popup screens and you've got a management tool that is scalable and works well in technical as well as creative teams.
You should definitely keep this app in mind no matter if you're running a startup or a big corporation. However it's worth checking it out as it can bet a bit chaotic, the more employees and projects you create.
You can get Jira for free for up to 10 users or take advantage of their attractive pricing starting from $7/user/month. Included in the price is a massive storage, support and a bunch of features that will definitely come in handy.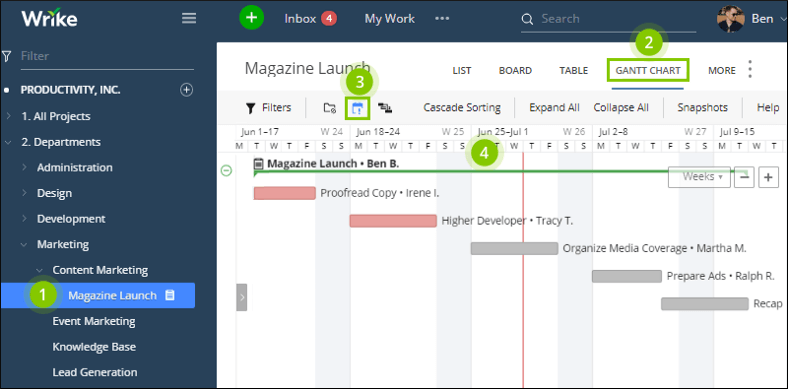 If you're looking for flexibility it's worth checking out Wrike. Many compliment their ability to view the same data differently, and the option to adjust the dashboard exactly to your preferences. You can easily collaborate with other members by tagging, scheduling and sending messages. Additional perk is that Wrike is heavily community-based. So if you have an idea what can be changed, improved or added, other users can vote on that, and that ultimately can be added to the application. Neat!
Wrike is a bit more complicated to learn, as it does require you to go through some of their tutorials. However it still isn't overwhelming, and with a little patience you can easily navigate even the most advanced functions in the system.
Wrike has a couple of pricing plans, starting with a free option, where you get a maximum of 5 users and some of their basic features to get you started. Their next pricing plan is for $9.80 per user per month and is up to 15 users. To be honest, their more interesting features start with the next plan which can be a bit more pricey, but you can always start a free trial to see which one really suits you best.
Wrapping up
As we mentioned before, project management apps are necessary if you want to lead your team to victory. They are an essential tool for your company and the only trick is to pick the right one. Hopefully this list of really nice apps that are a good alternative, especially for people who are looking for something fresh and different will come in handy.
There are tons of other project management apps that we didn't mention. Let us know which app you are using and what is the number one thing you are looking for, for your project management needs.