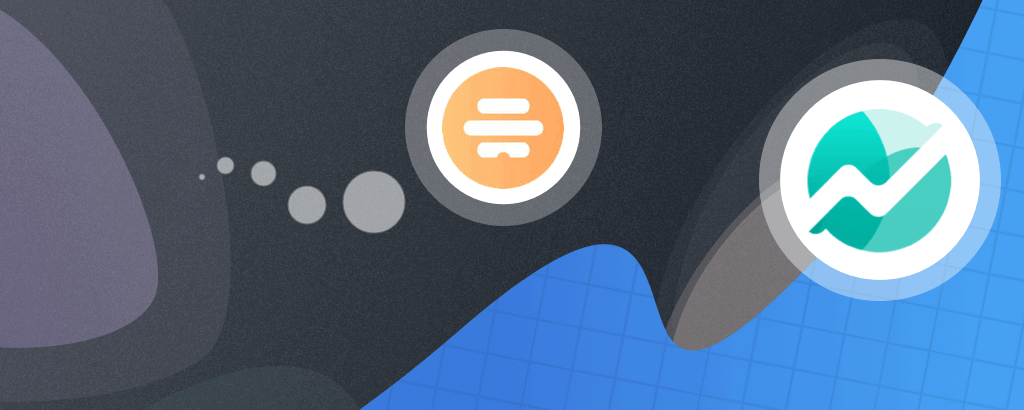 Looking for Hive alternatives, well, you are at the right place.
We all know that Hive is an excellent platform for those looking for easy-to-use and robust project management software. Whether it's hybrid workflows, task tracking, or anything in between, Hive has the features and functionality that users need to get their work done efficiently.
However, there are other options available for those who might be looking for something different. In this article, we will look at some of the top Hive alternatives to help you find the right software for your needs.
Let's get right into it.
What Are The Top Hive Alternatives?
The following are some of the most popular Hive alternatives to consider.
1. Nifty:
Best Overall Hive Alternative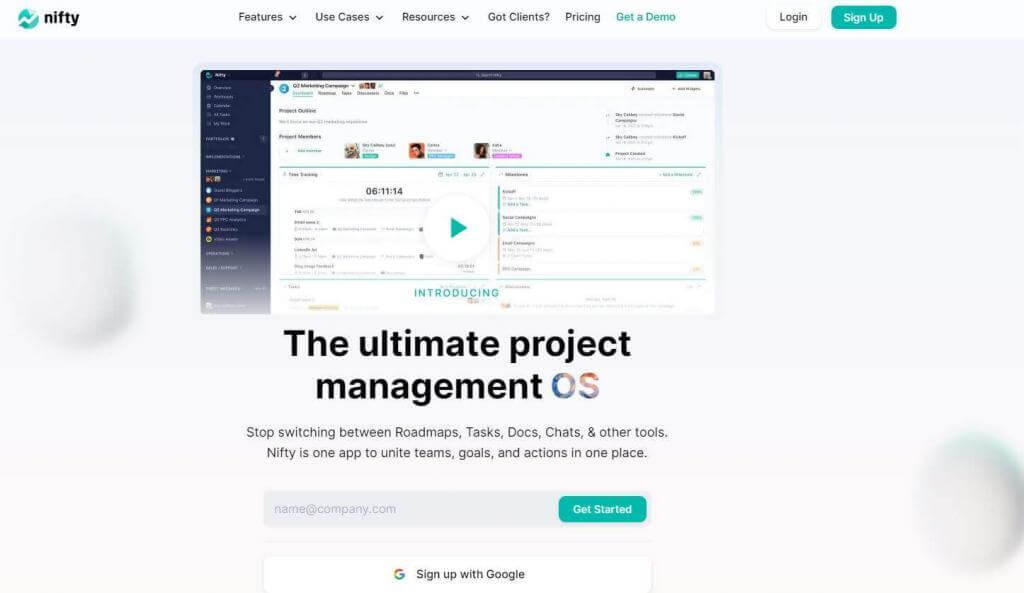 Nifty, one of the best Hive alternatives, helps you stop switching between different tools and get your work done in one place. It's an all-in-one platform that gives you everything you need to manage your projects from start to finish, including task management, team collaboration, file sharing, and more.
With one app that brings together all of your work, you can finally say goodbye to the days of scattered files and missed deadlines – Nifty is the one-stop shop for all your project management needs.
Also, from bugs and issues to adding features and requests, you can easily track everything in one place with Nifty's centralized issue tracker. This way, you can focus on getting work done instead of worrying about where things are or who is working on what.
Key Features:
The discussions module ensures everyone is on the same page by giving team members a place to have open conversations about the project.
With Milestones, you can break down your project into manageable chunks and track progress along the way.
The tasks module allows you to assign work, set deadlines, and track progress so that nothing falls through the cracks.
The docs and files module keeps all your project files in one place to quickly find what you're looking for.
The time tracking module allows you to see how much time is spent on each task to optimize your workflow.
The reporting module gives you insights into your project's progress with customizable reports.
Project home is the central hub for your project, where you can see an overview of what's going on.
Project portfolios give you a bird's eye view of all your projects so you can easily see what's happening across them.
Pricing
Nifty offers these plans:
Free: Free
Starter: $5/user per month
Pro: $10/user per month
Business: $16/user per month
All of these plans are billed annually. Compare all plans and features on Nifty's Pricing Page.
👉 Want to play with Nifty? Try Nifty for free
2. Monday.com.
Best For Team Collaboration.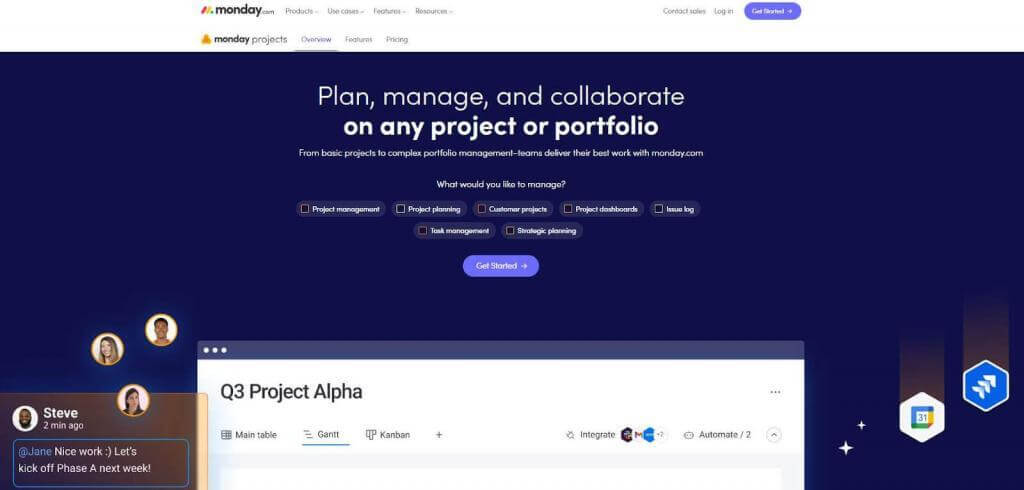 Monday.com helps with team collaboration on any project by allowing users to communicate and work together in one place. Its simple and intuitive interface makes it easy for team members to use the software.
By connecting the various moving parts of a project into one visual platform, Monday.com makes it easy for users to see the big picture and get work done efficiently.
As a team leader or project manager, you can centralize your project's information in one place and get a clear overview of what's happening. This way, you can easily track progress, identify areas that need improvement, and make decisions to help your project succeed.
No more communication silos or missed deadlines – with Monday.com, your team will be able to work together like never before.
Key Features:
Streamline projects to deliver your best work while collaborating effectively with all stakeholders. You can also monitor your performance to ensure you're on the right track.
Reach your goals faster and more efficiently with Monday.com's project management software.
Use templates to create repeatable processes that can be used across multiple projects.
Read also: Monday Alternatives
Pricing:
Monday.com offers these plans:
Individual: $0
Basic: $9
Standard: $12
Pro projects: $20
Enterprise: Contact sales for more information
3. Trello.
Best For Its Kanban Board View.

Trello is a simple, visual way to manage anything with anyone. Using drag-and-drop cards and Kanban boards makes it easy to manage your projects from start to finish.
With Trello, you can easily create, edit, and delete cards representing your tasks. You can assign them to team members, set deadlines, and add attachments. Plus, with the power of kanban boards, you can visualize your workflows and see what's being worked on at a glance.
Whether making the most of productivity peaks or dealing with unexpected roadblocks, Trello's flexibility means that your team can always stay on track.
You can also add more features as a company scales to make Trello an even more powerful tool for managing projects.
Key Features:
The boards are just the beginning –  with powerups, you can add more features to your workflows, including calendars, maps, and custom fields.
Your cards can contain every data point you need –  with attachments, checklists, and comments, you can keep all the details of your task in one place.
No-code automation –  with Butler for Trello, you can automate repetitive tasks so your team can focus on more important work.
Pricing:
Trello offers these pricing plans:
Free: $0
Standard: $5
Premium: $10
Enterprise: $17.50
4. Teamwork Projects.
Best For Client Management.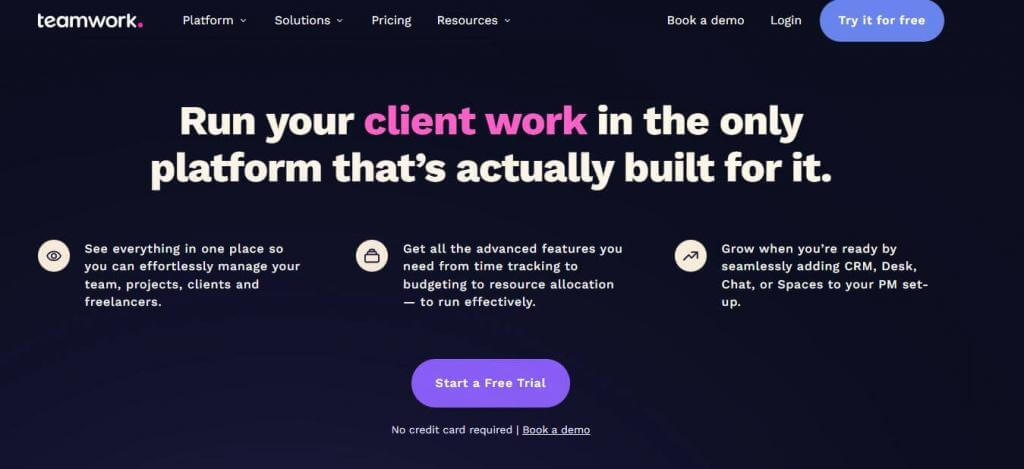 Teamwork Projects is a good Hive Alternative that was built with client work in mind. This means that every aspect of the software is geared toward helping you deliver great work to your clients, on time and within budget.
There's also a client portal that allows clients to see the progress of their projects and access any documents or files they need. With a team chat feature, you can easily communicate with your team members and clients in real time.
There are additional add-ons like chat, CRM, spaces, and more – features that you can add when it's time to scale.
Key Features:
Portfolio management allows for the easy drag-and-drop organization of projects into groups so you can see the big picture at a glance.
Resource management lets you see who is available for what tasks and at what period. This ensures that projects are always staffed with the right people.
With automation, you can set up rules to trigger specific actions, such as sending an email notification or creating a task when certain conditions are met.
The app center provides a one-stop shop for all the integrations available for Teamwork Projects.
Time tracking ensures that you can see how much time is being spent on each task, so you can ensure that projects are completed on time and within budget.
Pricing:
Teamwork Projects offers these plans:
Free Forever: $0
Delivery: $9.99
Grow: $17.99
Scale: Get a custom quote
The prices on the first three plans are per user per month.
5. Basecamp.
Best For Simplistic Project Management.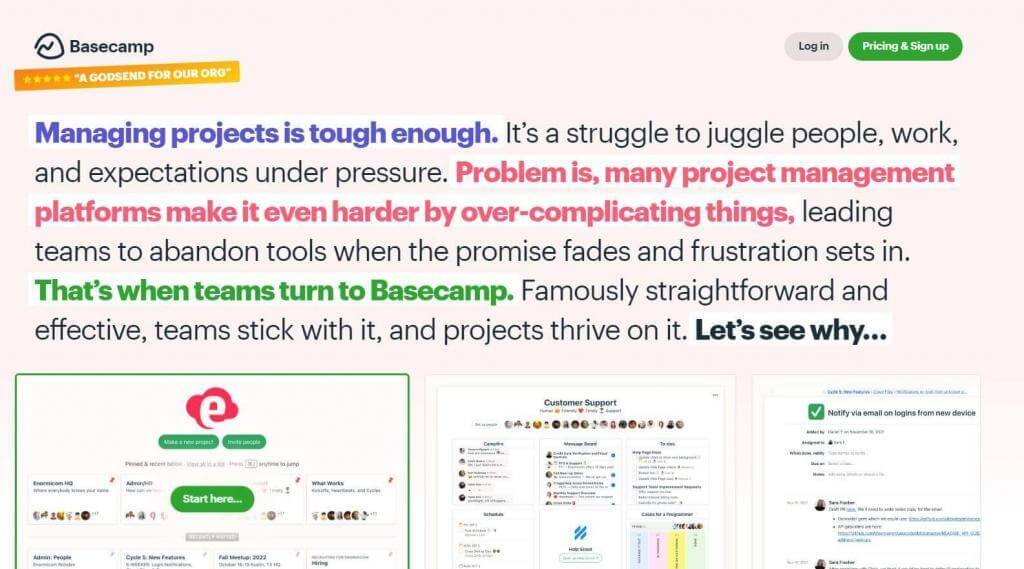 Basecamp removes over complications that can get in the way of getting work done. The features are carefully selected to ensure they're all useful, and there's no clutter or bloat.
This means you can focus on your work without any unnecessary features.
If you've ever abandoned software in the past because of its complexity, give Basecamp a try. You might be surprised at how much you can get done with its simple yet effective interface.
Read also: Basecamp alternative
Used by hundreds of thousands of teams from small businesses to Fortune 500 companies, Basecamp is the simplest, most effective way to get everyone on the same page and keep projects on track.
No matter what role you play in a project, Basecamp gives you the tools you need to move it forward.
Key Features:
Customize your post types to suit your team's workflow
Embed images or files into your message to provide context or additional information
Applaud messages and comments you like to show your appreciation
Share elements with everyone or select individuals to keep conversations focused
Pricing
Basecamp costs $11 per user per month.
6. Workzone.
Best For Customer Support.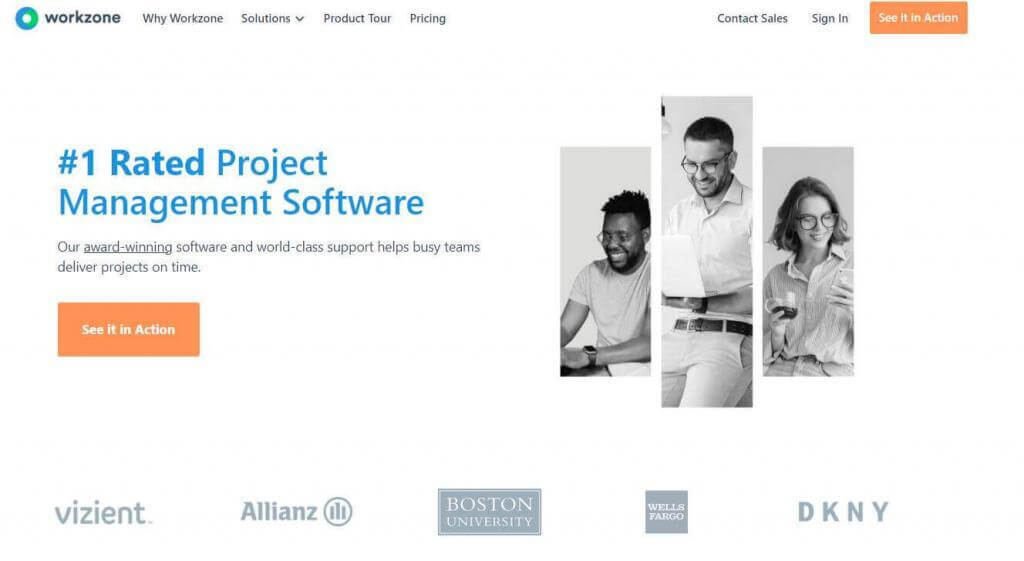 In addition to its project management software, Workzone offers word class support that is available as needed.
Employing a team of industry experts, Workzone's support team is available to work with you on a one-to-one basis to ensure you get the most out of the software.
Also, despite this advanced level of support, they never put out any upsells that try to get you to buy additional features you don't need.
With an outstanding balance between ease of use and features, Workzone is an excellent choice for teams looking for project management software that's simple to use yet still has all the features they need to get the job done.
Workzone has everything you need to get work done, from cloud collaboration to secure client portals.
There are also personal to-do lists so individual team members can keep track of their tasks and project-specific to-do lists for everyone to see.
Key Features:
Gantt Chart viewer gives you a clear overview of your project's progress
Status alerts let you know as soon as something changes so you can take action quickly
Project templates help you get started on new projects quickly and efficiently
Task dependencies let you see which tasks are dependent on others so that you can plan accordingly
Project request forms make it easy to collect all the information you need from clients
Workload reports give you a clear picture of who is doing what, so you can redistribute tasks as needed
Pricing
This Hive alternative, Workzone offers these plans:
Team: $24/user per month
Professional: $34 /user per month
Enterprise: $43/user per month
7. ClickUp.
Best For Customizations.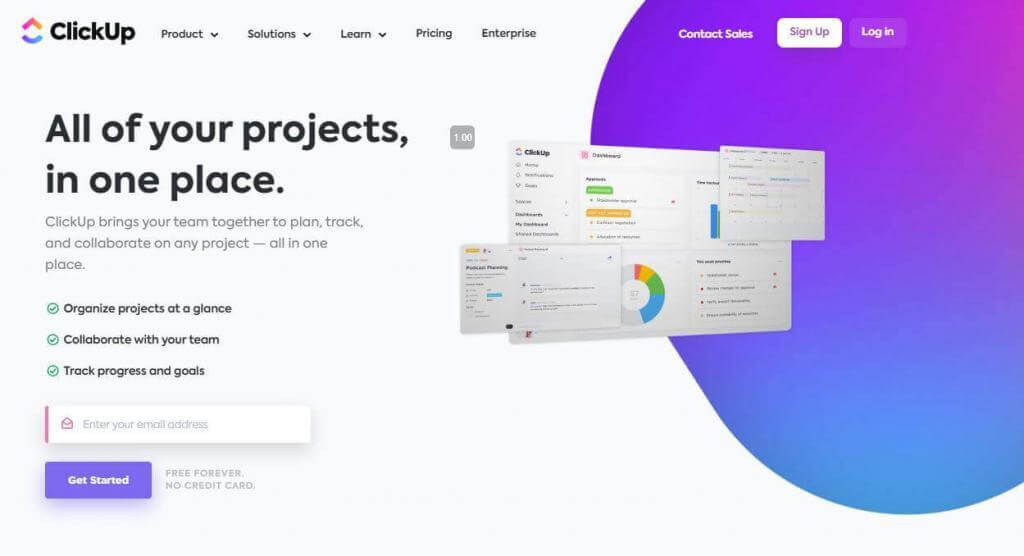 ClickUp is the one platform that eliminates the need for multiplex solutions.
With its all-in-one design, ClickUp offers features that include task management, team chat, and document collaboration, as well as an array of integrations with popular tools like Google Docs and Dropbox, making it one of the best Hive alternatives in the market.
This means you can manage your entire workflow from one central location, saving you a lot of time and effort.
ClickUp is also highly customizable, so you can tailor it to suit your needs. With total alignment, every team member will be on the same page and working towards the same goal.
Read also: Monday vs Clickup 
Tracking is also one of the main benefits of using ClickUp. You can see who is working on what and how much progress has been made on each task.
This level of transparency is essential for keeping projects on track and ensuring everyone is pulling their weight on the team.
Key Features:
Tackle work from any angle with various views that show you what matters most
Customize ClickUp for any need with its flexible platform that doesn't require any coding
Collaborate on anything with your team using ClickUp's many features for communication and task management
Stay on track with real-time reporting that gives you an up-to-date picture of your project's progress.
Pricing:
ClickUp offers a free forever plan. For those that want more advanced features, these are the paid plans available:
Unlimited: $5 per member per month
Business: $12 per member per month
Business Plus: $19 per member per month
Enterprise: contact sales for a custom quote
8. Wrike.
Best For Improving Team Workflows.

This Hive alternative removes barriers between team members and allows them to work together more effectively.
Customer-led stories are at the heart of Wrike's design, so you can be sure that your team's workflow is always aligned with your company's goals.
If you want to ensure that hidden complexities do not derail your projects, Wrike is worth considering.
With easily configurable dashboards, you can get a clear overview of your project's progress and identify any potential issues early on.
Then, with custom item types, you can track anything important to your project, whether it's risks, ideas, or deliverables.
Various automation features make it easy to keep your project running smoothly.
Key Features:
Customize tools for any team to ensure that everyone can work together effectively
Enable better collaboration with features that facilitate communication and task management
Gain 360° visibility into your project with configurable dashboards that give you an overview of progress
Trust in scalable software that will grow with your business
Utilize custom request forms to collect all the information you need from clients
Automate your approval process to save time and effort
Share progress with clients and stakeholders using dashboards
Pricing:
Wrike offers these plans:
Free: $0
Professional: $9.80
Business: $24.80
The above plans are billed on a per-user per-month basis.
There are also the Enterprise and Pinnacle plans. You'll have to contact sales for more information on these plans.
9. Airtable: Not so ideal Hive alternative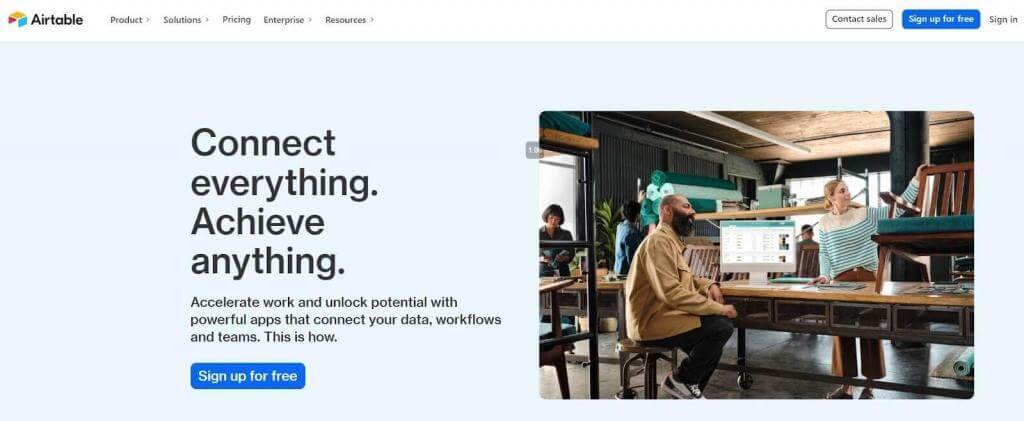 Airtable connects your team's work with the rest of your company's data.
We included Airtable in this list of Hive alternatives because it allows you to quickly see how your projects fit into the bigger picture. By using a familiar spreadsheet interface, Airtable makes it easy for users to get started with its platform.
But don't be fooled by its simplicity – Airtable is a powerful tool that can be customized to suit your needs.
With Airtable's many features, you can track anything important to your project.
With no-code apps that can be deployed in minutes, you can get your team up and running quickly and easily.
The ability to sync data with other apps means you can always have the most up-to-date information at your fingertips.
Key Features:
Interface with work in a new way to get a better understanding of how your projects fit into the bigger picture
Accelerate work with automation that save you time and effort
Get more from your existing tools by integrating them with Airtable to create a custom solution for your team
Build communication lines with every stakeholder by creating apps that everyone can use
Customize for any workflow to ensure that your team is constantly working efficiently
Pricing:
Airtable offers these plans:
Free: $0
Plus: $10 per seat /month, billed annually
Pro: $20 per seat /month, billed annually
Enterprise: Contact sales for a custom quote
What is project management software?
Project management software helps you plan, track, and collaborate on your projects. There are many different types of project management software, each with its unique features and benefits.
The right project management software for your team will depend on your specific needs. However, all project management software share standard features, such as creating tasks, setting deadlines, assigning resources, and tracking progress.
You can also streamline your team's workflow and improve communication and collaboration with the right project management software. This will ultimately lead to better results for your projects.
How does project management work?
Whether you want to become a project manager or choose a project management tool that works for your daily business operations, it's essential to understand how project management functions.
Project management is the process of planning, executing, and monitoring a project. This process includes setting objectives, defining tasks, assigning resources, and tracking progress.
For businesses, project management is a way to ensure that projects are completed on time, within budget, and to the required standard. Using project management best practices, businesses can improve their chances of success and deliver better results.
There is also the concept of project management software for individuals. Here, the software manages your personal projects, tasks, and resources. This can be a great way to increase your productivity and keep track of your progress both in your personal and professional life.
What are the benefits of project management?
There are many benefits of project management, both for individuals and teams. Project management can help you with all of the following.
Save time by streamlining your team's workflow
One of the biggest killers of productivity is a disorganized workflow. Having a project management system in place can ensure that everyone on your team knows what needs to be done and by when. This can save your team a lot of time and frustration.
Improve communication and collaboration among team members
Another significant benefit of project management is improving communication and cooperation among team members. With a project management system, team members can easily see what other members are working on and easily collaborate on tasks. This can lead to better results for your team as a whole.
While there is a difference between risks and issues in project management, communication is crucial to managing both.  Good communication among team members can help identify risks early on and prevent them from becoming issues. It can also help resolve problems quickly and efficiently.
Types of Companies that can profit from using Hive alternatives
Let's have a look at some of the types of companies that can profit from using any of the Hive alternatives above:
Startups: Startups are often short on time and resources. Having a project management system in place can help them make the most of their limited resources and get their product to market quickly.
Small businesses: Small businesses can also benefit from using project management software. It can help them keep track of tasks and deadlines and improve employee communication. For example, a company that provides school lockers can use project management software to plan and track the production of locker components. This can help the company meet customer demand and avoid production delays
Large companies: Large companies can also benefit from using project management software. It can help them keep track of tasks and deadlines and improve employee communication. A company that provides home automation and electronics might use project management software to ensure that each order is on schedule and that tasks are completed correctly.
Conclusion
The above list of Hive alternatives can help you choose the right project management tool for your business. While the features and pricing of each tool vary, they all offer a way to save time and improve communication among team members.
Which project management tool is right for your business?
Ultimately, it depends on your needs. If you're looking for a simple way to keep track of tasks and deadlines, a solution that offers a set of Kanban boards might be all you need. If you need a more comprehensive solution, consider a more advanced tool to help you manage your projects.
No matter your needs, there's a project management tool that's just right for you. Doing your research to find it will help you be on your way to increased productivity and better business results.