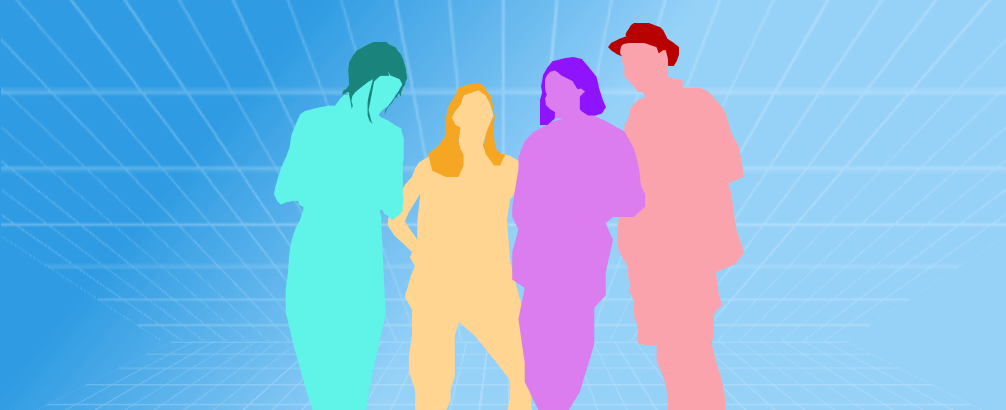 Getting new employees is expensive and takes up a lot of time and resources. Hiring a new employee costs on average $4000, according to Glassdoor.
Additionally, the U.S. is currently suffering from the Great Resignation, an unprecedented amount of workers leaving their jobs.
For that reason, it is important to try and retain as many of your current employees as possible.
You will probably also face the challenge of hiring new talents. It is not easy, and you need all the help you can get.
Luckily, there is one tool that can help you with both objectives: the Employee Net Promoter Score. It will not only enhance your relationship with your employees but also help you acquire new ones.
This blog introduces you to the employee satisfaction metric called eNPS. You will learn how it helps you with employee retention and acquisition. The blog will give actionable tips on how to use eNPS and list a few tools that can help you with it.
Let's Start with Definitions
Before we dive into the topic itself, let's define the terms we are talking about.
Employee Net Promoter Score

Employee Acquisition

Employee Retention

The Great Resignation
Employee Net Promoter Score
Net Promoter Score (NPS) is one of the most used customer satisfaction metrics in the world.
Employee Net Promoter Score (eNPS) is an adaptation of the tool for employee satisfaction.
How does it work in practice?
You present your employee with the question How likely are you to recommend this company as a workplace?
The employee can answer on a scale from 0 to 10. Based on their answers, the employees are divided into three groups:
Promoters (score 9 or 10)

Passives (score 7 or 8)

Detractors (score 0-6)
Promoters are employees who would happily recommend your company as a workplace. They are satisfied and loyal, and willing to shout it from the rooftops.
Passives are mostly happy, but there is room for improvement in their employee experience.
Detractors are unhappy employees who might walk out on you if you do not react.
Later in this article, we will learn what kind of role each type of employee has in your employee management efforts.
The final score is calculated by subtracting the percentage of Detractors from the percentage of Promoters. This leaves you with a number between -100 and 100.
What is a good score, then?
Anything over 0 means that you have more satisfied employees than dissatisfied ones. The closer you get to the full 100, the better.
It's important to pair the rating with an open question, in which the respondents can tell more about why they chose a particular score.
Employee Acquisition
Employee acquisition is the process of finding and hiring new employees.
It includes steps like
reviewing resumes and cover letters

interviewing candidates

making a job offer

employer branding and marketing
There are many factors that play into successful employee acquisition. The employer must be attractive: offer good pay, enough benefits, have great values, showcase excellent culture, and be flexible.
Employee Retention
Employee retention is crucial for your business. Skilled employees are good for your company's productivity and performance.
If you have good employees, it should be your priority to try to keep them in your company. Hiring new employees is expensive, and it takes time and training to get them on the same page as their experienced colleagues.
Some important aspects of employee retention are
reward and recognition

perks and benefits

good work-life balance

great atmosphere

employee engagement

new challenges

training and upskilling

trust and communication
The Great Resignation
The Great Resignation refers to a phenomenon that has been going on for a couple of years now. Many employees are quitting their jobs in hopes to find something better.
In July 2022, up to 40% of the workforce in the U.S. is thinking about quitting their jobs.
Reasons that people are fed up with their current jobs include:
Insufficient salary

Lack of flexibility

Not enough perks

Being overworked

Lack of professional development

Dissatisfaction with company culture

Not being fulfilled by the work

Being bored with the job

Distrust for the management

Uncertainty about one's future in the company

Not enough recognition

Bad work-life balance
The list goes on.
The only way to figure out what is making your employees leave is to ask them. Sure, exit interviews shed some light on the reasons, but that is already too late. You have already lost the employee at that point.
Be proactive and organize talks and feedback sessions with your employees even if they show no signs of considering a resignation.
There are some things that you don't have control over, such as your employee's personal aspirations or stressful situations outside of work.
However, if you can change something, you should do it.
Of course, while the Great Resignation means a loss for many companies, the employees always go somewhere. You should be on the winning end by offering potential employees better work opportunities than their current employers do.
A lot could be said about how to improve your employee retention and acquisition, but let's concentrate on today's topic: employee net promoter score.
Benefits of eNPS in Employee Acquisition and Retention
How can the Employee Net Promoter Score help you in the face of Great Resignation? How does it aid your employee acquisition and retention efforts?
Let's see some of the effects.
Enhance Communication
Collecting feedback from your employees is part of a successful communication strategy.
There must be mutual trust between you and your employees. If you get to evaluate their performance, they should have a chance to evaluate your performance.
When you get regular feedback, you can react to it in a timely manner. This creates trust and signals that you truly care about your employees
Especially in the case of remote work, feedback surveys are an essential part of communication. They help you keep track of your employees' well-being and opinions.
Notice when Someone Is About to Leave
As discussed before, the eNPS categorizes your employees into three groups: Detractors, Passives, and Promoters.
When someone is classified as Detractor, it's an indicator that they might be looking for a new job.
Pay attention to Passives, too. Ask them what would make them happier in the company to retain them.
Reveal Pain Points
You are not aware of everything that happens in the organization. Feedback surveys help you stay on top of the situation and learn what is going on.
It enables you to take action if you hear about discrimination, stressed-out employees, or lack of support in the environment.
Even if you organize face-to-face meetings with your employees, they might not feel comfortable about saying all that is in their minds.
Think about this: a Trainee feels that one of the executives is not treating her fairly. However, this particular executive is the one that she has to discuss her performance with. Is the Trainee going to speak her mind to this person? Probably not.
She could write about her thoughts in a feedback form, which is read by HR.
Track Performance and Spot Trends
Employee Net Promoter Score is easy to track and it helps you to benchmark your performance. 
As you might remember, the results are reported with one simple number from -100 to 100. When the number changes, you have an opportunity to analyze why.
Was the number of responses significantly different from previous surveys, which might affect the score?

Did you undergo any organizational changes?

Did you experience any changes in management or other key roles?

Have there been any incidents that may have affected employee satisfaction?
On top of sudden changes, you get to track the long-term development of employee satisfaction.
It's easy to make visual representations of your data when using eNPS. Draw line charts or see the three categories easily in a pie chart.
Showcase Company Culture
Let's move on to the employee acquisition part.
The eNPS in all its simplicity is a good indicator of whether your company is a good place to work at. 
You should make use of it in talent acquisition. Showcase your good score in job ads and other materials.
Your Promoters can have a great role in acquiring new talents. Promoters are satisfied and loyal employees who want to help the company succeed.
When you know who your Promoters are, it's easy to contact them and ask them to help with employee acquisition.
The simplest way they can participate is by leaving employee testimonials.
In an employee testimonial, your happy employee tells about their experience and why they recommend your company as a workplace. It can be in text, video, or audio form.
Tips on eNPS Best Practices
Now that you know the benefits of the Employee Net Promoter Score, let's see some of the best practices for using it.
Conduct Regular eNPS Surveys
If you want to track your development and spot trends, you must conduct surveys regularly.
What is a good interval, then?
The bare minimum is once a year. However, a lot can happen in a year. I encourage you to make eNPS a monthly or at least a quarterly practice.
Communicate the Importance
One of the biggest challenges is to motivate your employees to answer the survey.
Be sure to explain to your team why it is important to answer the survey so that they know it's not just a waste of time.
You could even reserve a moment in your day for everyone to fill in the form.
Don't Push It
Even though the survey is your priority, don't be too adamant about it.
Of course, you should remind everyone to take time to answer your survey, but don't stalk who has or has not done it.
If you are sending private emails to people inquiring why they haven't answered yet, you have come too far.
However, if someone is continuously skipping the survey, maybe you should organize a meeting with them to find out how they are doing.
Don't Shame Anyone
This should be obvious to anyone in any situation. 
Anyway, let me be very clear: if someone is feeling bad and gives you a low score, you are only making the situation worse if you shame or guilt them about the response.
When you get a low score, you need to be empathetic and receive criticism gracefully.
Relate to the respondent's situation. They are not doing that well at work. After all, your ultimate goal is not to merely have a good score. 
Your ultimate goal is to retain your employees and keep them happy and productive.
Allow Anonymous Feedback, Too
While transparency and honesty from both sides is desirable, sometimes it is best to allow people to give anonymous feedback.
In case of sensitive topics like discrimination, harassment, or bullying, anonymity might be needed for the victim to speak about it.
Once a serious issue like this is brought to your attention and you start investigating, the victims might come to speak to you personally.
Find the balance between recognizable and anonymous feedback.
Deepen Your Understanding
If you want to gain a deeper understanding of what makes your employees stay or leave, you need to ask more than basic questions.
Your main concern might be whether your employee is about to leave within the upcoming months. You are concentrating on the Detractors and trying to keep them in the house.
However, even the happiest and most satisfied employees need special attention. You don't want to lose them.
To get more than skin-deep, ask questions like:
How do you see your future in the firm?

Does the work provide enough challenges?

Do you see good opportunities for career development in this company?
There is no need to ask these questions every month from your happy employees, but at least a yearly or quarterly review is a good practice.
Tools for Measuring eNPS
Did you already get fatigued while reading about all those things to remember?
Coming up with the questions, sending the survey regularly, formulating reports… 
You don't have to do all that by hand. There are plenty of tools that help you automate the process. Usually, the only manual part of the process is creating an email list of your employees.
Here are some of the best eNPS tools that make your life so much easier.
1. Trustmary
Trustmary is a feedback and testimonial tool. With Trustmary, you can automatically send eNPS surveys and collect employee testimonials from your Promoters.
The tool includes a template for eNPS, but you can also modify the feedback form as much as you want in the drag-and-drop survey builder. Personalize the layout to fit your brand.
You can derive many different types of reports from your surveys and see the results visually laid out for inspection.
Once you have collected employee testimonials in text or video form, you can use widgets to showcase them on your website.
Best features:
Automation options

Integration options

Testimonial widgets

Separate customer NPS and employee NPS sections

Available on desktop and mobile
Pricing:
$299/month for unlimited surveys and widgets
2. Delighted
Delighted is a customer experience management platform that lets you measure NPS. It also includes a survey builder that allows extensive customization options.
The specialty of the platform is that it captures the answers already when filling in the form, instead of after submitting it.
Best features:
Easy to use

Integrations, including Slack

Multiple distribution channels

Affordable for beginners
Pricing:
Free version for one template and max. 1000 sent surveys per month
3. Questback
Questback provides solutions for customer experience, employee experience, and market research.
The EX solution includes surveys, distribution options, online training, and your own contact person in the company. The more advanced plans unlock more features, like smart integrations, multi-language surveys, SSO, and hidden identity.
Best features:
Unlimited surveys and answers

Personal support

Online training and onboarding

Smart notifications
Pricing:
Free trial, request pricing
4. Align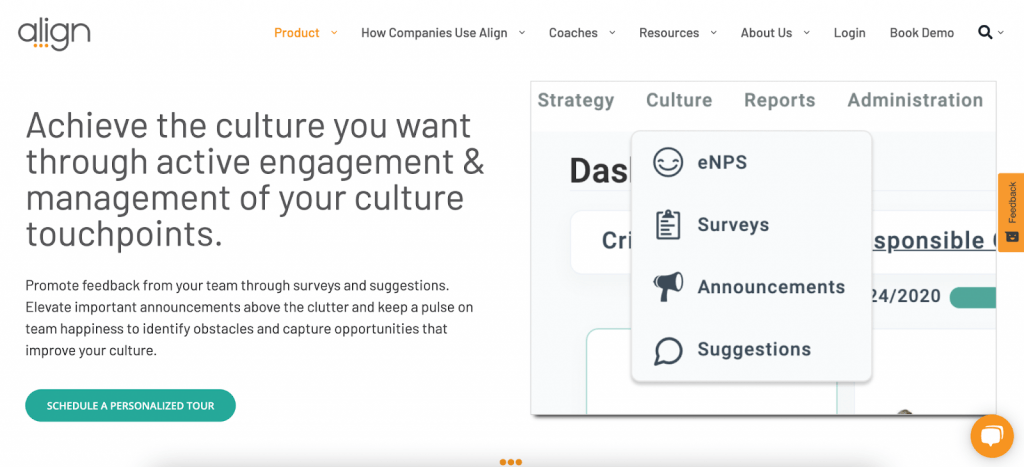 Align helps you with employee engagement and management. Their eNPS tool includes regular automatic surveys, reporting, and anonymous feedback.
The tool offers centralized data about your team's performance and happiness. You can personalize your dashboard according to your unique needs and preferences.
For better results, you can try using this eNPS survey template
Best features:
Anonymous feedback from your team

Personalized dashboard

Share data with your team
Pricing:
Price determined by users/month, starting from $2000 annual investment
5. BambooHR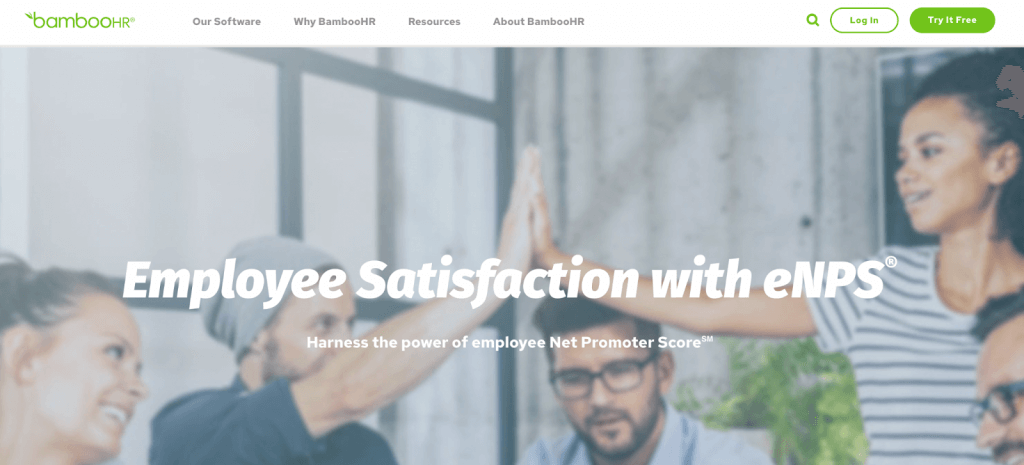 BambooHR is an all-in-one HR software. Their eNPS solution combines eNPS and open-ended questions.
BambooHR counts on anonymous feedback and uncovers deeper insights by using keyword tagging. The reporting takes into account many different themes, like what your employees are most happy with and most dissatisfied with.
Best features:
Anonymous feedback

Keyword tagging

Detailed reporting
Pricing:
Final Words
Employee Net Promoter Score can help you retain your employees and attract new talents.
There are many steps that you need to take to effectively utilize eNPS. 
You must motivate your employees to answer the surveys. 

There needs to be mutual understanding and trust so that the feedback is honest.

Make sure employees have time to answer questions.

Do not push them or shame them for their opinions.
The most accurate and effective results are reached when the response rate is close to 100%.
However, eNPS is not a magic tool. Nothing is solved by merely conducting surveys. You need to act on the results that you get with the surveys.
Remember that reaching a certain score is not the key, although a high score is an indicator of a good workplace.
Your priority is to find out how your employees are doing, and fix possible issues.
Only when that is happening, you can start advertising your company as a good place to work at. It will also motivate your employees to promote you as an employer.