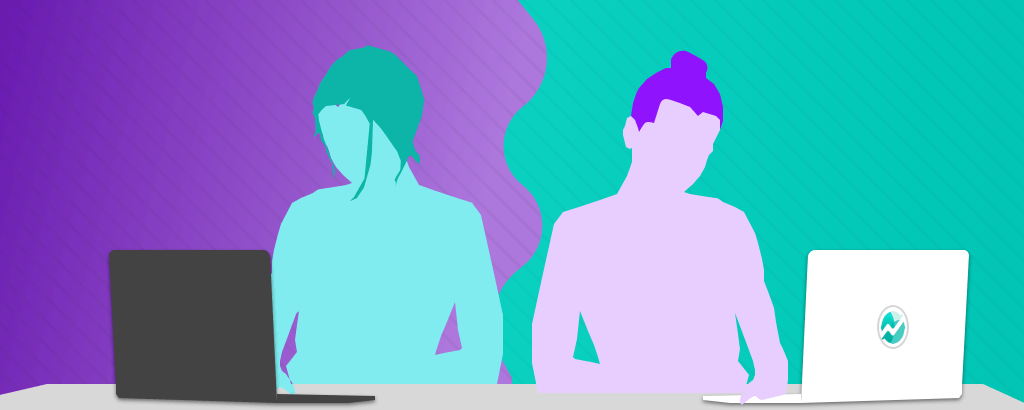 The roles and responsibilities of the program manager vs project manager are so tightly knit that it's easy to confuse them.
Irrespective of your experience in the industry, you may have used them interchangeably.
Well, nobody would truly blame you even if you did. Because the roles and responsibilities of a program manager and a project manager are so similar that it is easy to confuse the two as one. However, in reality, they are two distinct positions.
For this reason, we are conducting a detailed project manager vs program manager comparison, right from their roles and responsibilities to their respective certifications and professional growth avenues.
So, without any further ado, let's dive right in!
What is a project manager?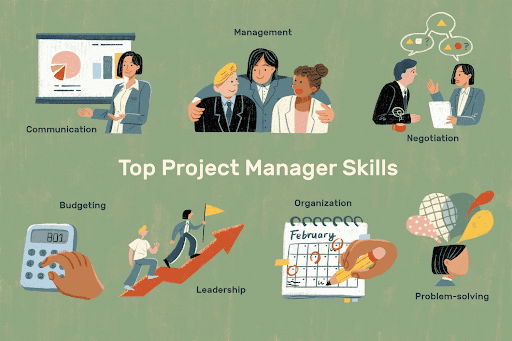 A project manager is the owner of an individual project or a task. They play a supervisory role in ensuring that the teams involved in a project stay focused, organized, and well-equipped to achieve their respective goals. They may focus on streamlining communication, allocating and optimizing resources, project monitoring, managing workloads, tracking constraints, and more to enable such success.
What is a program manager?
A program is a collection of dependent projects. As such, you can say that program managers are a superset of project managers.
Program managers are responsible for formulating broader program strategies and objectives while also assessing their impact on the business. They also identify the day-to-day projects that could have links to a larger program. Since program outcomes are closely coupled with business success. Program manager goals are closely aligned with organizational goals.
Program Manager vs Project Manager: A head-to-head comparison
From the above definitions, it is clear that project managers function at the micro level while program managers operate on a higher plane. With this in mind, let's dive deeper into the project manager vs program manager comparison.
Program vs Project
Let's start by differentiating between a project and a program.
A project is a series of tasks that need to be completed in a set order to achieve a specific goal. A program is a collection of projects that may execute simultaneously or as a chain to fulfill a larger organizational requirement.
Program manager vs Project manager: Primary goals
Since project managers are only concerned about their projects, their focus lies on the deliverables and milestones associated with the project at hand. They help teams traverse through the project lifecycle by setting the scope, managing the timeline, and allocating resources. Eventually, their goal is to ensure that the product quality, cost, and time-to-market are satisfactory to all key stakeholders.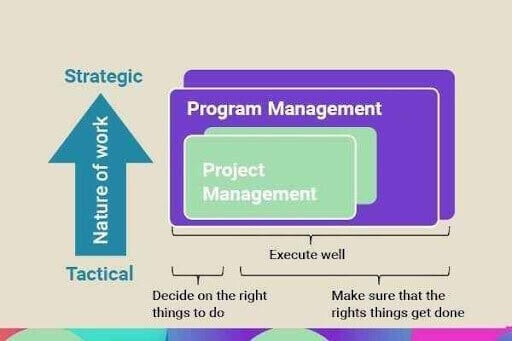 On the other hand, program managers deploy a more strategic approach to ensure that all programs contribute meaningfully to the company's mission and vision. Rather than obsessing about the deliverables and budget, program managers look at how various programs add value to the company. The program manager essentially connects the dots between stakeholder requirements, multiple projects and their outcomes, and the larger business goals.
Program manager vs Project manager: Roles and responsibilities
Both program and project managers play a supervisory and managerial role in ensuring project success. As such, they share some common roles and responsibilities, such as coordinating between teams, setting up communication channels, involving stakeholders, allocating resources, etc.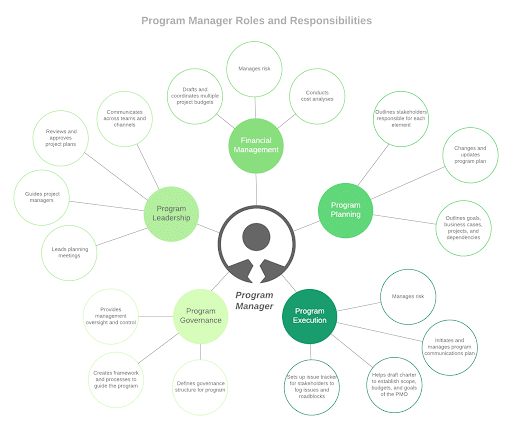 However, a project manager must do it in greater detail while the program manager oversees such particulars across multiple projects.
Accordingly, the program manager will bear the following responsibilities:
Project strategy creation and implementation
Risk assessment and planning
Quality control
Performance analysis and reporting
Change management
Defining success metrics
At the same time, project managers fit into the roles below:
Assigning tasks
Tracking project progress
Managing project constraints
Assembling project teams
Coordinating amongst teams
Organizing projects
Program manager vs Project manager: Skills and Qualifications
Being in an upper-management position, program managers are expected to possess a more holistic and well-rounded skill set that combines some aspects of project management with a dose of workflow and resource management as well as business operations.
Typically, most of the skills required are disseminated under formal program management courses and certifications. Irrespective of whether one undergoes such courses, program managers will be expected to know the basics of project planning, organization, scheduling, strategy, reporting, budgeting, etc.
Additionally, they must possess strong leadership and decision-making skills, which will come in handy in their profile. Some organizations also prescribe a minimum number of years (typically five) as the requisite experience to qualify for the role.
As for project managers, the required skills, qualifications, and experience are relatively forgiving. They are primarily responsible for their project. As such, they must have a comprehensive understanding of project management, which includes project organization, planning, and scheduling – skills that are also in demand for program managers. However, they would be more hands-on with project management methodologies like Agile, Scrum, and Waterfall, to name a few.
Further, project managers work at the grassroots level, which means that their environment would be far more dynamic and fast-paced compared to program managers' work culture. As such, they should also be able to meet tight deadlines, motivate teams, and handle stress.
Program manager vs Project manager: Salary
While the skills may overlap to some degree, the difference between the program manager and the project manager truly stands out regarding the pay. Here is a tabulated view of the average annual salaries as sourced from different third-party websites in January 2023 for project manager vs program manager based in the US:
| | | | | | |
| --- | --- | --- | --- | --- | --- |
| | Glassdoor | Indeed | Payscale | Talent.com | Salary.com |
| Project Manager | $90,916 | $83,965 | $89,785 | $95,920 | $136,901 |
| Program Manager | $98,342 | $70,512 | $88,741 | $93,080 | $143,850 |
Program manager vs Project manager: Tools and technology
Project managers may use tools like Gantt Charts, Work Breakdown Structure, Kanban boards, online dashboards, project baselines, communication plans, timesheets, etc., to manage a project effectively. Such strategies can be enforced through project management platforms like Nifty, monday.com, ClickUp, and more.
Along the same lines, program managers may also require the same tools and technologies to manage programs. However, depending on the business requirements, they would also have to update their tech stack to incorporate industry-specific digital elements like content management systems, eCommerce ecosystems, customer relationship management, etc.
Program manager vs Project manager: Certifications
Project managers can acquire any of the following certifications to kickstart their professional journey:
Project Management Professional (PMP): Administered by the Project Management Institute (PMI), PMP is one of the best project management certifications and is quite popular amongst project managers.
Certified Associate in Project Management (CAPM): The CAPM is also administered by the PMI and is aimed at project management aspirants who wish to land entry-level jobs.
Google Project Management: Professional Certificate: This course administered by Google is available on Coursera. It helps professionals prepare for an entry-level project management job in six months or less.
Scrum Master Certification: Obtaining a Scrum master certification attracts the lucrative title of a Certified Scrum Master (CSM) or a Professional Scrum Master (PSM I). However, there are also other Scrum master certification courses available.
Projects in Controlled Environments (PRINCE2): This certification program is available in two levels – Foundation and Practitioner. It sees greater demand in the UK, EU countries, and Australia. Axelos administer it.
While there is a buffet of options available for project management certification, program management only has the following well-known certifications available:
Program Management Professional (PgMP): The PgMP is designed to expand on program management principles to train experienced program managers. The PMI administers it.
Managing Successful Programmes (MSP) Certification: Administered by Axelos, this certification grooms the program management skills of professionals. It is available as Foundation or Practitioner course.
Program manager vs Project manager: Job growth
Both project management and program management are up-and-coming fields that promise attractive professional growth.
According to the PMI, project management job openings are expected to touch a staggering 22 million by 2027. After landing an entry-level project management job, you can graduate as a Project Manager, Senior Project Manager, Director of Project Management, Vice President of Operations, and Chief Operating Officer.
As for program managers, the career progression cuts through different roles like Senior Program Manager, Business Change Manager, Portfolio Manager, Program Manager Consultant, Product Manager, Project Director, and Director.
Program manager vs Project manager: Miscellaneous differences
By this point, you might have a solid understanding of the project manager vs program manager differences. However, here are a few more based on miscellaneous parameters:
Day-to-Day Tasks: Project managers focus on daily project management activities like timeline tracking or coordination. Program managers conduct periodic reviews of the program as a whole.
Seniority: Program managers are far more experienced than project managers. Since they monitor the ongoing projects at a higher level, they have greater seniority than project managers.
Approach: Program managers possess a strategic mindset, while project managers follow an operative approach.
Duration: Since programs continue for longer durations and are more complex than projects, program manager profiles work for longer durations. On the other hand, project managers work for shorter periods.
Program manager vs Project manager: An overview of differences
Since we have covered the project manager vs program manager differences in great detail, here is its tabulated version for a quick overview:
| | | |
| --- | --- | --- |
| | Project Manager | Program Manager |
| Definition | Project Managers are responsible for an individual project, which is a series of tasks that need to be completed in a designated order | Program Managers are responsible for programs, which are a collection of dependent projects serving an organizational goal |
| Primary Goals | To ensure that the project deliverables are up to the mark | To ensure that the ongoing projects/programs contribute meaningfully to organizational growth |
| Main Focus | Work coordination and successful project delivery | Program strategy and identifying related projects |
| Key Responsibilities | Assign tasks, coordinate work, organize projects, and monitor progress | Formulate and enforce strategies, facilitate collaboration, and define success metrics |
| Success Metrics | The success of individual projects based on product quality, customer satisfaction, budget compliance, and timeline | The success of the program strategy as a whole by measuring its impact on business objectives, ROI, etc. |
| Tools and Technologies | Project management tools and methodologies like Gantt Chart, timesheets, WBS, Kanban boards, dashboards, etc. | Project management tools and methodologies, along with industry or business-specific tools and tech |
| Certifications | PMP, CAPM, Google Project Management: Professional Certificate, Scrum Master Certification, and PRINCE2, to name a few | PgMP and MSP certification |
| Association With Business | Short-term | Long-term |
Valuable Skills for Both a Program Manager and Product Manager
Being organized and ensuring that no work falls through the cracks.
Program managers and product managers must be transparent with fellow team members about deadlines and project expectations.
Having stable and repeatable workflow processes that can be refined, automated, and implemented is crucial for both program managers and product managers.
Being nice and treating team members with respect is something that applies to every and all team members without any exceptions!
Project manager vs Program manager: Which one does your team need?
It is clear that project managers and program managers serve two separate functions. Project managers help execute projects, manage team workloads, and handle communications. On the other hand, program managers support high-level coordination to execute multiple projects simultaneously.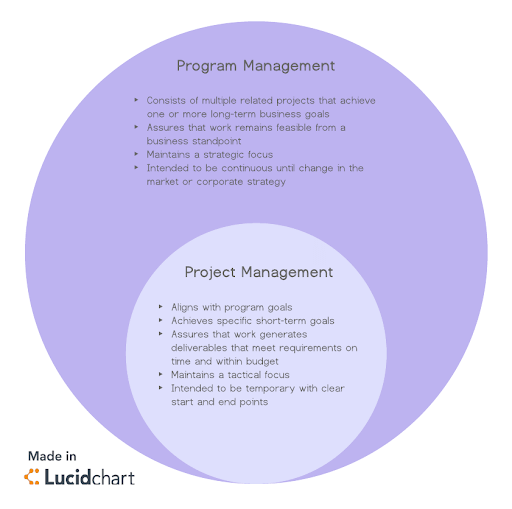 However, making a choice between the two can get tricky. To make an informed decision in this regard, consider the areas that need improvement. If your team cannot handle the tasks at hand and is struggling to meet deadlines, you might need to engage a project manager. Alternatively, if you notice that you are unable to achieve organizational goals or struggle with performance issues, then a program manager would be more suited for the job.
In some cases, you might notice that you face issues with a blend of both issues, which indicates that you would need a program manager and a project manager on your team. Once your dream team is ready, it is all about equipping them with the right project management tool to guarantee success.
FAQs
What is the salary of project managers and program managers?
The average annual salaries, as sourced from different third-party websites in January 2023, for project manager vs program manager based in the US ranges from $90,916 to $143,850
What industries use project managers and program managers?
While project managers and program managers are often associated with the IT sector, almost all industries, from healthcare to manufacturing to advertising, leverage the skills and expertise of project and program managers.
Is a program manager a project manager?
Yes. In fact, program managers are essentially project managers who acquired sufficient experience and exposure to become capable of handling multiple projects at once. Also, considering that the base skills and competencies are nearly the same, program managers can be project managers or vice versa after gaining adequate experience.