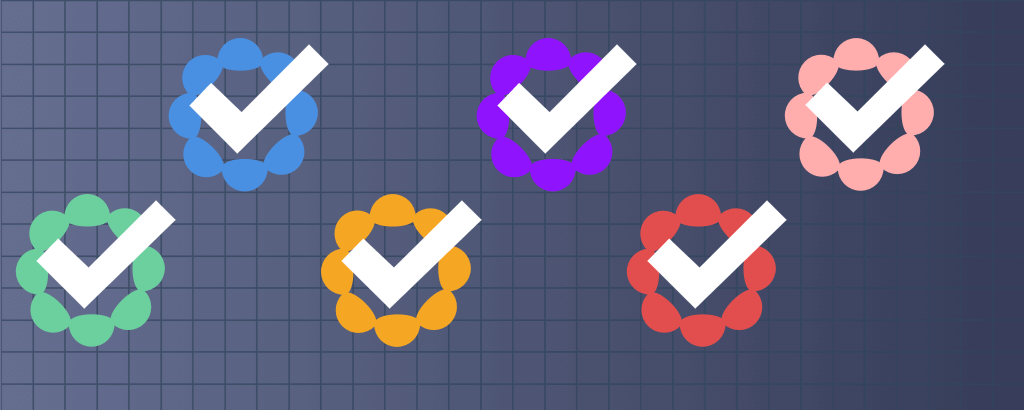 Nowadays, getting ahead in your job and career often requires having the proper certifications. This is especially true for project managers, who must ensure that projects are completed on time, within budget, and to the required standards.
While becoming a project manager requires some natural ability and experience, having the proper certifications can make a big difference in your career. It can open up new opportunities, help you earn a higher salary, and give you the skills and knowledge you need to be successful.
With so many different project manager certifications available, it can take time to know which one is right for you. To help you out, in this article, we've put together a list of the best project manager certifications to make you job-ready.
Let's dive deep into this topic.
What is a project manager, and what do they do?
Before we get into the different certifications available, let's first take a moment to understand project management and what these professionals do.
A project manager is responsible for planning, executing, and monitoring a project from start to finish. They work with a team to ensure the project is completed on time, within budget, and to the required standard.
Project managers must communicate effectively with all stakeholders, including clients, sponsors, and team members. They need to manage expectations, handle conflict, and make decisions that are in the project's best interests.
Traditional project management used a much more clearly defined structure. However, with the advent of agile project management, the focus has shifted to more flexible and iterative approaches.
Agile project management is a project management methodology that focuses on delivering value to the customer through short, iterative cycles. This approach is well suited to complex or uncertain projects, allowing for more flexibility and adaptation.
Why get a project manager certification?
There are many reasons you might want to get a project manager certification, some of which are as follows.
1. Demonstrates that you are capable and knowledgeable in project management
One of the best ways to show that you are familiar with and capable of project management is to get a certification. This will demonstrate to potential employers that you have the skills and knowledge necessary to succeed.
2. Gives you an edge over other job applicants who don't have a certification
If you are applying for a job that requires project management experience, having a certificate will give you a significant advantage over other applicants who do not have one.
Knowing how to use the right project management software based on its features, costs, and needs is essential to being a successful project manager.
3. It helps you land a higher-paying job
In the changing landscape of digital work environments, becoming a certified project manager can lead to potential increases in earnings, as evidenced by reported average salaries of approximately $76,229, with top-end figures reaching close to $115,000 according to data from Payscale.com. Moreover, this certification can open doors to a vast global job market.
Online platforms specializing in remote job opportunities have gained prominence in this context. These platforms aggregate a range of remote project management positions suitable for certified professionals.
These curated roles originate from well-regarded companies across the globe, offering individuals with certification a centralized resource for exploring the diverse world of remote project management opportunities.
4. It helps you get promoted quicker
If you are already working in a project management role, getting certified can help you get promoted more quickly. This is because it demonstrates to your employer that you are dedicated to your career and have the skills and knowledge necessary to be successful in a higher-level role.
5. Encourages continued learning
Getting a project management certification is a process that takes time. To maintain your certificate, you must stay current on best practices and complete continuing education units (CEUs). This encourages you to continue learning and growing in your career, which can only benefit you in the long run.
6. Provides a network of other professionals
Most project management certifications come with membership in a professional organization. This gives you access to a network of other project managers who can offer support and advice. This is an invaluable resource, especially if you are new to the field.
In addition, with various project management tools created for specific industries, you'll be able to become an industry expert on such devices as well as use them appropriately. Whether dealing with freelancers or healthcare professionals, your professional network will grow in leaps and bounds due to such authority (and if you decide to employ this as such).
7. It gives you access to exclusive resources
As a member of a professional organization, you will have access to exclusive resources that can help you in your career. These may include online forums, mentorship programs, job boards, and discounts on conferences and events.
8. This can lead to other opportunities
Getting certified as a project manager can open the door to other opportunities, such as consulting or teaching. In addition, many certification organizations offer leadership development programs to help you take your career to the next level.
Speaking of other opportunities, you'll also be able to transfer the knowledge you've acquired in project management to other aspects of your professional and personal life. After all, project management is not just about work; it's a way of thinking that can be applied to anything from planning a party to renovating your home.
For example, suppose you're creating an email marketing list for your business. In that case, you can use project management principles to develop a clear strategy, set achievable goals, and create a timeline for execution. The skills you learn as a project manager will serve you well in all areas of your life.
Another example would be if you wanted to plan a trip for your family. You could use project management skills to create a budget, develop a travel itinerary, and book flights and accommodations. The project management mindset is versatile and can be applied to any area of your life.
The best certifications to get for project managers
Now, look at some of the best PM certifications for project managers.
1. PRINCE2 Practitioner.
Anyone in charge of projects should look into taking the PRINCE2 Practitioner Certification. This certification is valued in several settings, from formal project management functions to less formal ones.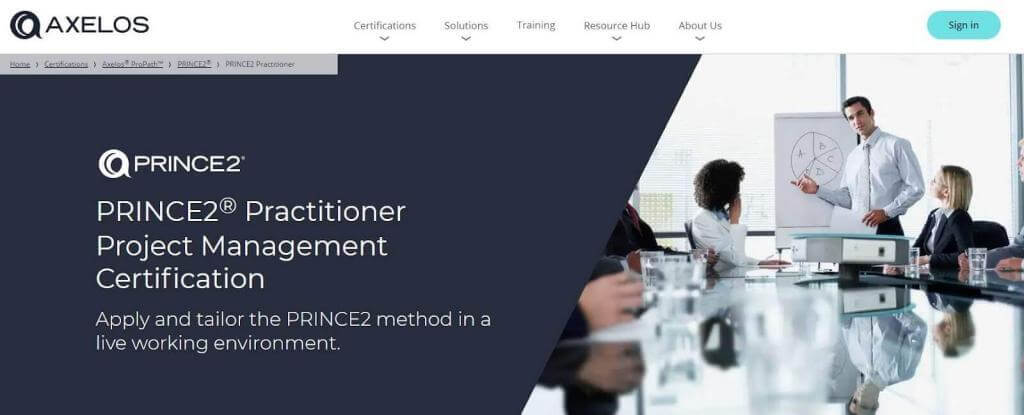 The PRINCE2 Practitioner certification is for project managers, those who want to become one, and anybody who manages projects. It's also essential to other key personnel who work on projects' design, development, and delivery, so anyone from team managers, project assurance personnel and business analysts might want to look into this certification.
This Practitioner Certification is designed to determine that you have the necessary skill and understanding to apply and adapt the approach in various project settings.
Being able to supplement real-life experiments with the PRINCE2 principles, themes, and processes is essential to becoming a Practitioner. It will also give you a better understanding of how PRINCE2 can be used to control non-standard projects.
The course usually happens over one and a half days of in-class training, so an exam happens at the end. You might also decide to self-study and just take the exam.
The PRINCE2 Practitioner certification is valid for three years. After this period, you can retake the exam to renew your credential.
2. PMI Professional in Business Analysis (PMI-PBA).
The PMI-PBA credential is one of the most popular business analysis certifications offered by the Project Management Institute (PMI).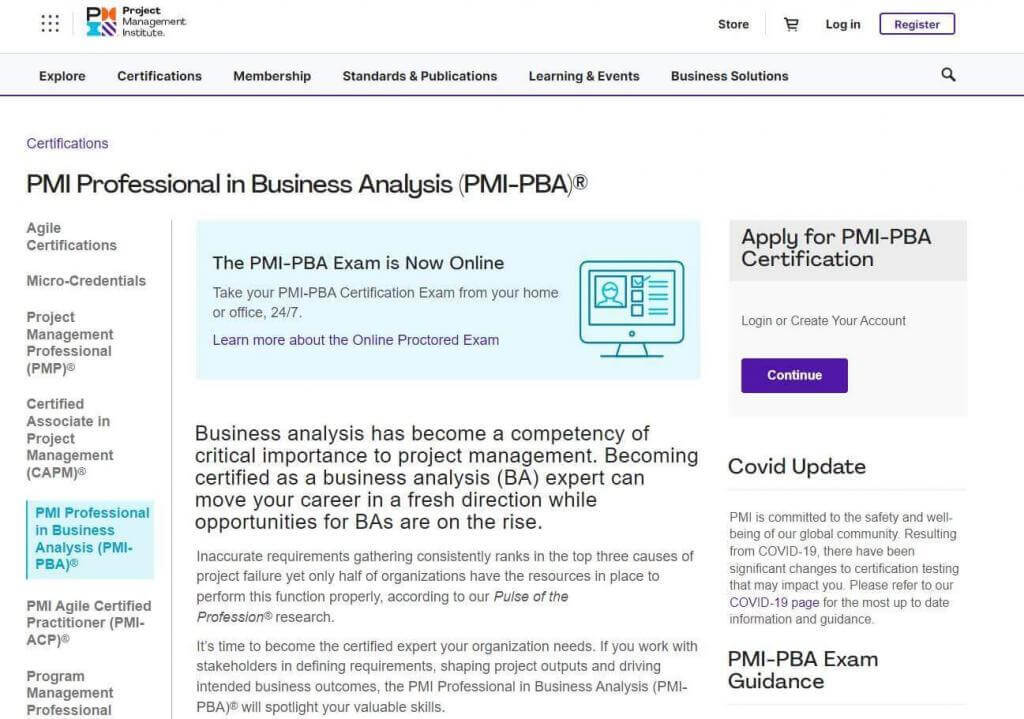 Business analysis has developed into a vital skill for project management. Becoming certified as a business analysis (BA) professional can help you advance your career and acquire more job prospects. This is especially so as the demand for people with these skills increases.
Business analysis is critical for those who understand that having initial requirements set out wrongly can set up a project to fail. The PMI-PBA can be your stepping stone into a career in business analysis or further your current role.
The PMI-PBA® certification is ideally the best pm certification for project teams, product development managers, and program or project managers who do business analysis in their job.
3. Certified Project Manager (IAPM).
The IAPM Certified Project Manager is a course for individuals with a minimal understanding of project management. The Certified Project Managers' Guide (IAPM) is the foundation for knowledge skills, allowing candidates to plan, arrange, and professionally execute projects.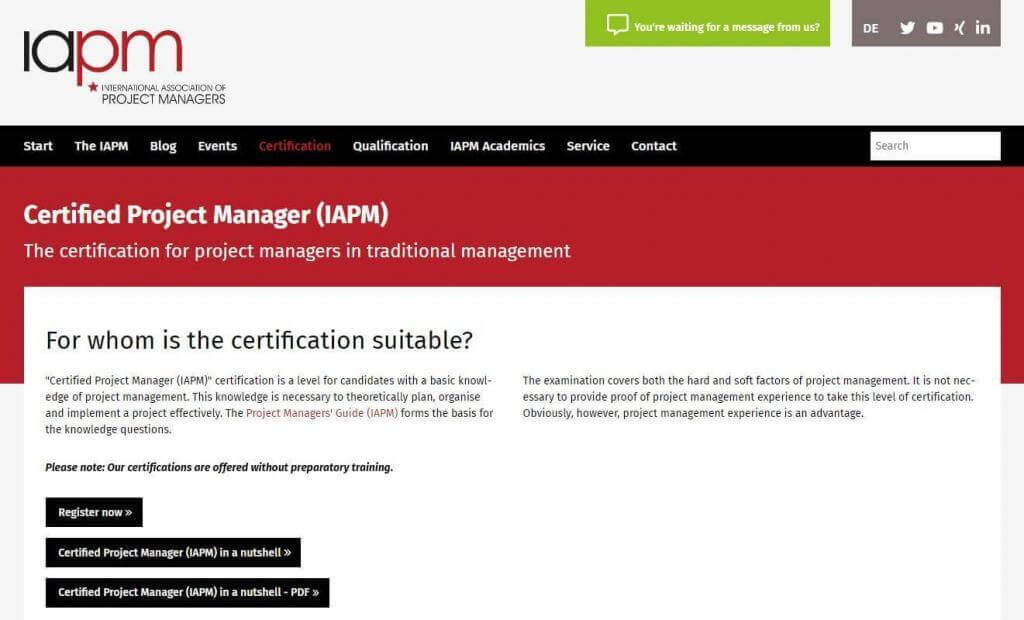 While having project management experience is an advantage, taking the IAPM-certified project manager exam is unnecessary.
With recommended literature that can be used to prepare for the exam, the IAPM also offers an online pre-course that can help familiarize individuals with the basics of project management.
There's also a self-test that allows you to confirm your knowledge level before starting the course. Then, you can take the certification once you know your base knowledge is where it needs to be.
Some relevant topics for this certification include project files, project environment, project charter, communication, project check, and more.
4. eCornell Project Management Certificate Program.
Want to get the hands-on tools to drive successful project outcomes and earn your project management certificate from a top-ranked school? Then, the ecornell Project Management Certificate Program is for you.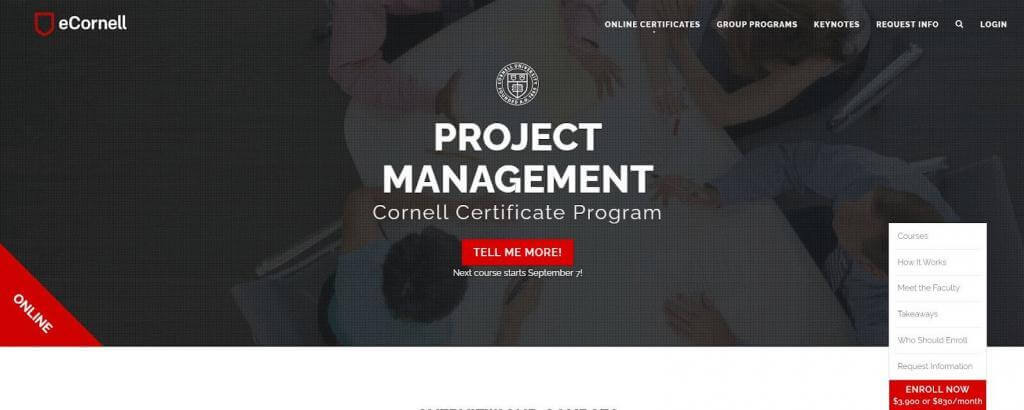 You will learn to ensure that projects are scoped effectively, understand how to build and motivate project teams, create detailed schedules, manage risks and issues, and deliver successful projects on time and within budget.
The Agile and earned value management (EVM) methodologies are covered in this program, so you can learn how to use them in your projects.
There's also an optional 5-week PMP study group to help you prepare for the Project Management Professional (PMP) exam.
With experienced instructors and a curriculum designed by Cornell faculty, this program will give you the skills and confidence to lead successful projects.
5. Certified Associate in Project Management (CAPM).
Regardless of your career status, the CAPM® is a credential that will validate your project management skills and help you take the next step in your career.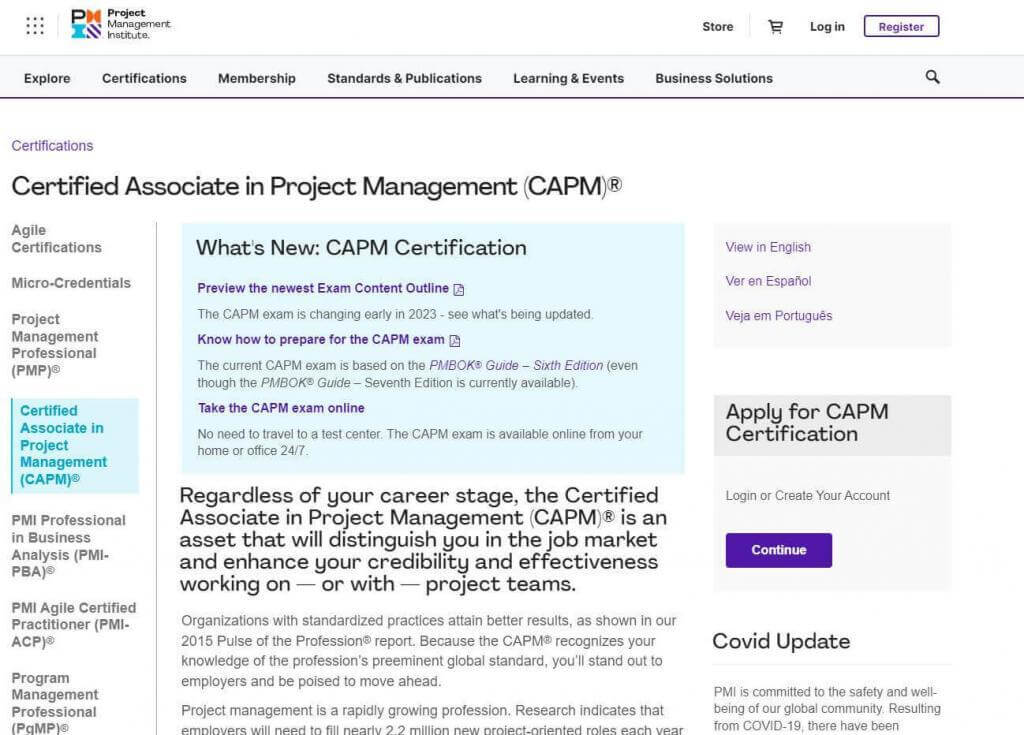 The Certified Associate in Project Management (CAPM) is ideally the best pm certification for individuals who want to manage more significant tasks and acquire greater responsibility while developing project management abilities to contribute to team success.
The CAPM credential is globally recognized and demonstrates that you have the necessary skills and experience to take on project management roles.
6. PMI Project Management Professional (PMP).
The Project Management Professional (PMP) credential is one of the most popular and globally recognized project management certifications.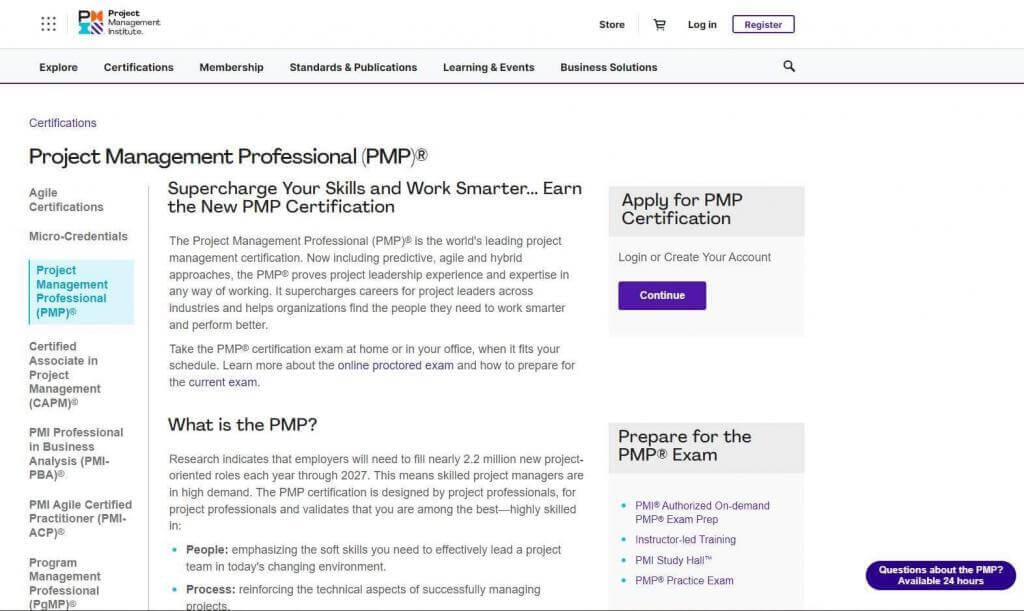 A PMP certification demonstrates that you have the experience, education, and skills necessary to lead and direct projects.
The PMP credential is a valuable resource for all project leaders across industries, as it provides a standard way to measure an individual's project management knowledge.
Project professionals have designed the PMP certification so that credential holders can show they can direct and lead successful projects.
There are some prerequisites you need to satisfy before you can take the PMP exam, including:
A degree of at least four years
36 months of project-leading experience
35 hours of recorded project management
7. Google Project Management: Professional Certificate

In addition to other credible project management certificates mentioned above, the Google project management course (offered by Coursera) deserves a worthy mention.
This project manager certification course is a 100% self-paced online course that ideally takes around six months to complete.
This is a beginner-level course and is often referred to as a project coordinator certification course rather than a PM course because a significant section of the course talks about project coordination, its importance, and ways to improve it.
This project coordinator certification course will act as a first step for people looking to make their way into project manager roles.
How to study for and pass any project management certification exam
Some tips can help make the process easier and more successful when you are studying for your project management certification exam.
1. Understand the requirements and make a study plan
The first step is understanding the requirements for the certification you are interested in. Make sure you are familiar with the eligibility requirements, as well as the format and content of the exam.
Once you know what is required, you can make a study plan that fits your schedule and learning style. Break down the material into manageable chunks and allocate time for each section.
If you can, try to find a study buddy or join a study group so you can motivate each other and stay on track.
2. Look for recommended books and courses
Many different project management certification study resources are available online and in bookstores. Start by looking for recommended books and courses from reputable sources.
The Project Management Institute (PMI) website is an excellent place to start, as they offer a range of study aids for their certifications.
For other certifications, you can search online for study guides, practice exams, and tips from people who have already taken the exam.
3. Create a mock exam to test your knowledge
One of the best ways to prepare for an exam is to create a mock version. This will help you get used to the exam format and identify areas where you need more study.
You can create a mock exam by finding old questions from past exams or by making up your own questions based on the material you are studying.
Once you have created your mock exam, time yourself and take it under exam conditions. Then grade it and review the questions you got wrong.
4. Take practice exams and track your progress
In addition to taking mock exams, it is also helpful to take practice exams from reputable sources. This will give you a better idea of what to expect on the real exam and help you identify areas where you need more study.
As you take practice exams, keep track of your progress to see how much you are improving. This will help motivate you and keep you on track.
5. Join a study group or forum for support
A study group or forum can help when preparing for an exam, as you can get support and motivation from other people going through the same process.
The best way to find study groups is to look for forums online or even search for local groups in your area.
6. Use flashcards to memorize critical terms
One of the best ways to memorize important information is to use flashcards. This simple but effective method can help you memorize key terms, formulas, and other important information.
You can create your own flashcards or use one of the many online flashcard services.
7. Understand the question types and how to answer them
Most exams will have multiple-choice, essay, and case study questions. Understanding the different question types and how to answer them is essential.
Multiple-choice questions are relatively easy to answer, but you must read the question carefully and choose the best answer.
Essay questions will require you to write a response based on your understanding of the material. Planning your answer before you start writing and focusing on relevant information is essential.
Case study questions will usually be more difficult, requiring you to apply your knowledge to a real-world situation. Make sure you understand the scenario before you start answering the question.
8. Get plenty of rest and exercise before the exam
Sometimes allowing your mind to take a break can help with your studies. Make sure you get plenty of rest and exercise, as this will help you stay focused and energized.
From playing Unscrambled Words games that can stimulate your brain but still allow you to take a break from studies to going outside for fresh air, do whatever helps you relax and recharge.
Tips for staying current in the field of project management
Finally, once you have obtained your certification, it is essential to stay current in project management. Here are some tips that can help you do so.
1. Subscribe to the right email lists to receive project management site updates
One of the best ways to stay current in the project management field is to subscribe to the right email lists. This way, you will receive updates from project management sites regularly.
2. Attend webinars and conferences
Another great way to stay current in the project management field is to attend webinars and conferences. Doing so allows you to learn about new developments in the field and network with other professionals.
There are many different webinars and conferences that you can attend, so be sure to find the ones that are most relevant to your interests.
3. Join a professional organization
Joining a professional organization is a great way to stay current in the project management field. Here, you will have access to resources and networking opportunities that can help you stay up-to-date on the latest news and developments.
Some of the most popular professional organizations for project managers include the Project Management Institute (PMI) and the Association for Project Management (APM).
4. Get involved in local events
Another great way to stay current in the project management field is to get involved in local events. This is a great way to network with other professionals and learn about new developments in the field.
From attending meetups to project management conferences, there are many different events that you can get involved in.
5. Volunteer for projects
Volunteering for projects is a great way to stay current in the project management field. Here, you will be able to work on real-world projects and gain valuable experience.
Some projects that you might want to consider volunteering for include local community projects, charity projects, and even corporate projects.
6. Mentor other professionals
Another great way to stay current in the project management field is to mentor other professionals. This is a great way to share your knowledge and experience with others while staying up-to-date on the latest news and developments.
Finding a mentee can be as simple as reaching out to your network of professionals and asking if anyone is interested in getting better at project management.
7. Pursue advanced education or certification
Finally, one of the best ways that forces you to stay current in the project management field is to pursue advanced education or certification. In doing so, you must stay up-to-date on the latest news and developments to maintain your credential.
Some examples of advanced education and certification that you might want to consider include a master's degree in project management or Six Sigma certification.
Conclusion
Project manager certifications can give your career a significant boost. Not only do they make you more job-ready, but they can also help you earn a higher salary. If you want to become a certified project manager, many options are available.
Doing your research and knowing what to expect from each certification exam is the best way to ensure success. With the right preparation, you can earn your project management certification and take your career to the next level.