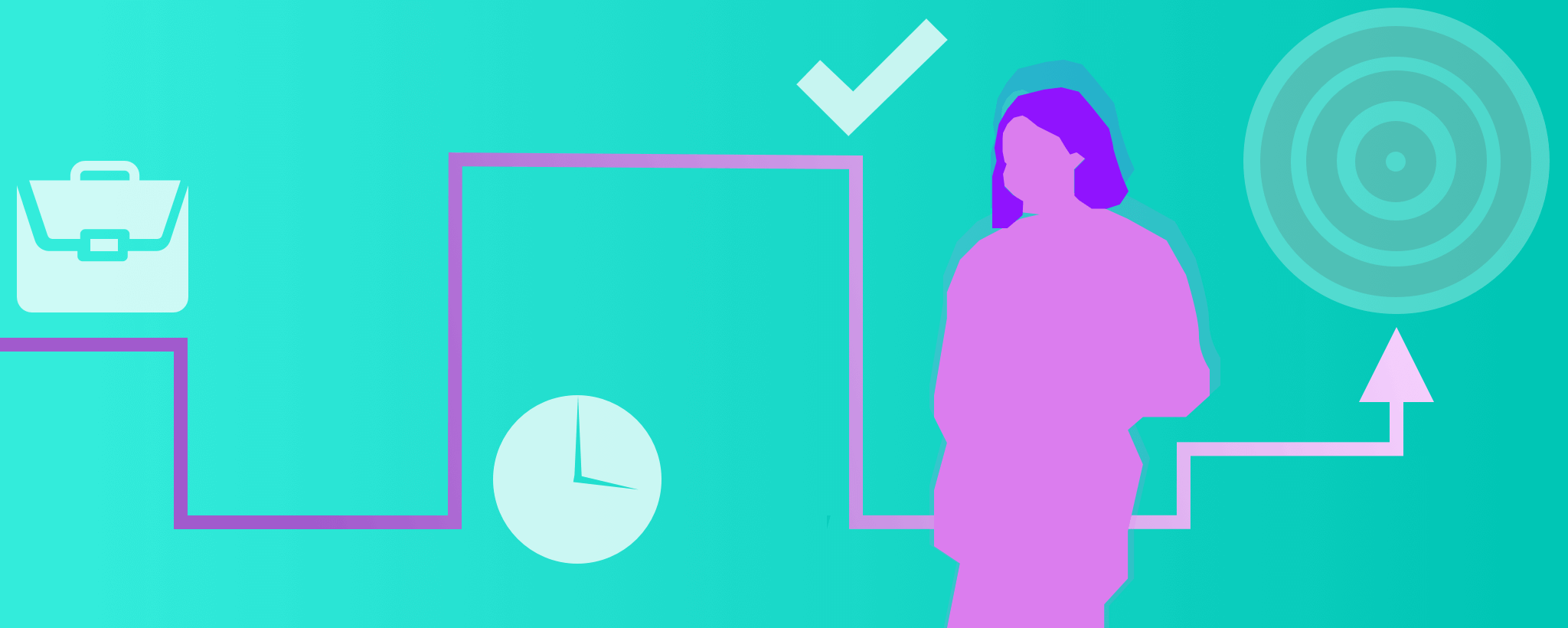 According to a study conducted by PricewaterhouseCoopers, 97% of organizations believe that knowledge of project management is crucial to organizational success.
There's no doubt that organizations looking for project managers prefer to recruit people who have the skillset and expertise to handle complex project management scenarios, and who can effectively organize teams of people to accomplish specific goals or projects for the company.
If this is a role that interests you, then you'll need to acquire (or hone) a variety of skills and gain some experience as a project manager who oversees every aspect of a project from initial planning through completion. 
The good news is that there are many paths to becoming a project manager (PM). Read the rest of this article to discover how you can start moving toward your dream of becoming a successful and effective project manager, starting right now.  
What is a Project Manager?
Simply put, project management refers to the process of managing a project and all its different components from start to finish.
Every project, regardless of industry, can be broken down into roughly the same phases or processes, and these are: 
Initiation

Planning

Executing

Monitoring and Controlling

Closing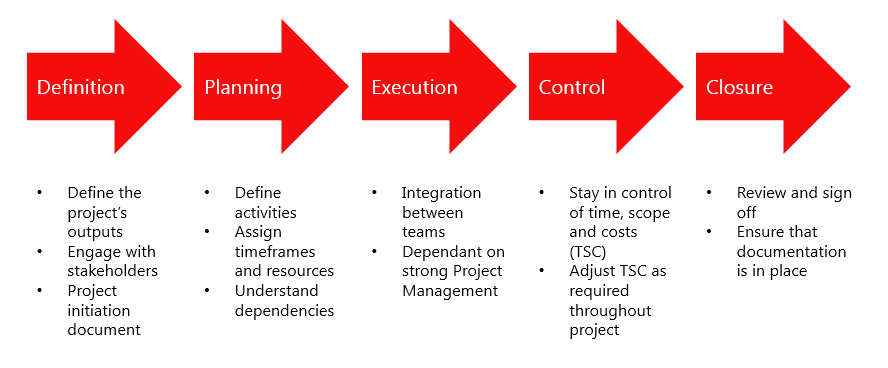 Project managers have an essential and indispensable role to play in each one of these stages. But don't be fooled into thinking this 5-step process is simple – far from it. 
Project management is one of the most complex fields of work out there. 
As a project manager, you'll be responsible for leading the entire project through initiation, planning, execution, control, and ultimately completion.
You will have to work with a team, be sociable, and be a great team player. Furthermore, you will need to have the skill to adapt to different people, environments, cultures, and situations – which means you'll have to be extremely flexible. 
To be a great project manager, you'll also have to be a team leader, co-worker, and supervisor – all at the same time. 
You'll be expected to be all of this and more in order to ensure effective team communication since you will be in charge of building and controlling the team.
Suffice it to say that this is one of the most challenging careers you can choose as no day will be the same as the next, and you will often be faced with problems that require ALL your project management skills to solve.
Basic Responsibilities of a Project Manager
Now that you know what a PM is, let's take a quick look at some of the basic responsibilities that will fall to you as a project manager. 
Some of your duties will include things like: 
Taking part in the creation process

Developing ideas and transforming them into actionable project plans

Creating specific strategies, processes, and tasks to be completed

Preparing communication methods

Finding solutions to recurring issues

Monitoring the progress from start to finish

Ensuring your team is fulfilling their duties and actually getting things done

Training and coaching team members to perform to the best of their abilities easily using coaching software

Submitting the completed project to managers and/or clients

Ensuring that projects remain within

budget constraints
As you can see, project managers have a variety of responsibilities, however, their primary focus is always to plan, execute, and oversee the project. 
Examples of Project Managers in Various Fields
Many different industries employ project managers to oversee projects. There are several types of PMs, including: 
Marketing project managers

Health care project managers

Construction site project managers

Architectural project managers

IT project managers

Engineering project managers 

PMO manager

Systems project manager
…and many others.
What Education is Beneficial for a Project Manager? 
In this section, we're going to assess what education you need to become an effective and successful PM. 
1. Professional Certifications
One of the quickest ways to realize your dream of being a project manager is to go out and earn yourself a project management certification. 
This is often a requirement for some PM positions, and it can undoubtedly help you stand out among applicants. 
With the right project management certification, you'll be able to show future employers that you have the insights, professional expertise, and practical knowledge to meet any project demands.
This certification will not only help you unlock new opportunities, but it can also give you the confidence to take on a career change at 30.
There are many project manager certification programs designed for all experience levels, which means that there is always an optimal next step to accelerate and enhance your career. 
There are different types of certifications you can get, including: 
CAPM:

The Certified Associate in Project Management 

PMP:

The Project Management Professional certifications 

Google Project Management:

Professional Certification
Each certification has different requirements. For example, the PMP certification requires individuals to have 4,500 hours for anyone with a bachelor's degree or higher and 7,500 hours of practical experience for those with an associate's degree in business or another field.
The image below shows the PMP certification requirements, organized by years of experience.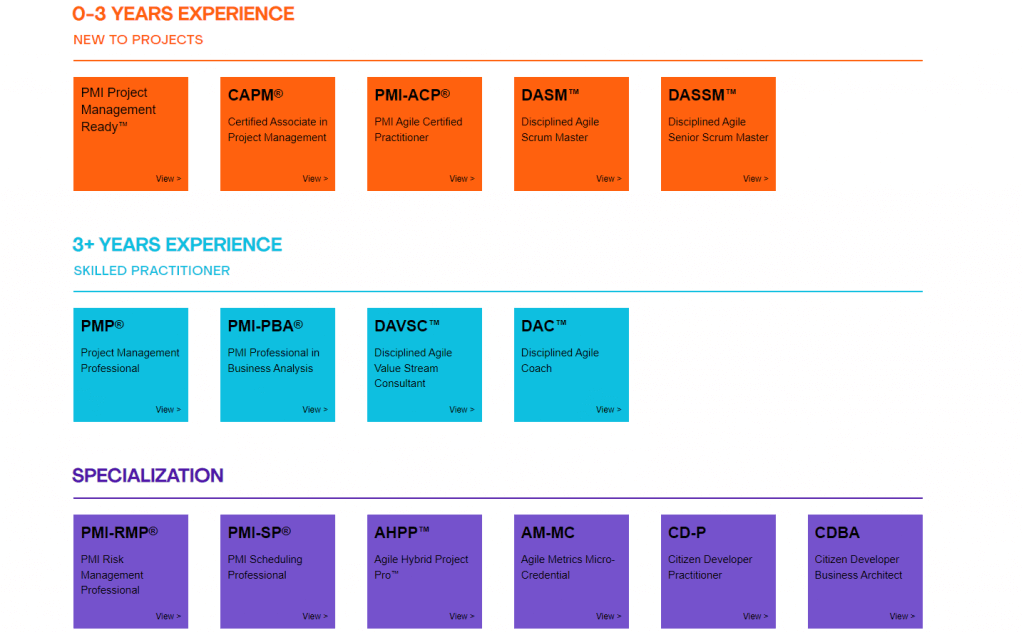 The PMP Certification, in particular, is the most important industry-recognized project management certification and is recognized as the gold standard across the world. With this global PMP certification, you can work in virtually any industry, in any location, and with any methodology.
2. Free Online Courses
Project management certifications are one way to showcase your knowledge and credibility as a project manager. But, they aren't the only (or best) way. 
If you're not keen on getting a certification like the ones mentioned above, you can opt for this approach instead. 
You can take free online PM courses to get the skills you require to advance your career. You'll be able to learn all the project management fundamentals right up to advanced concepts – all from the comfort of your home or office, and in your own time. 
Here are some free project management courses to consider: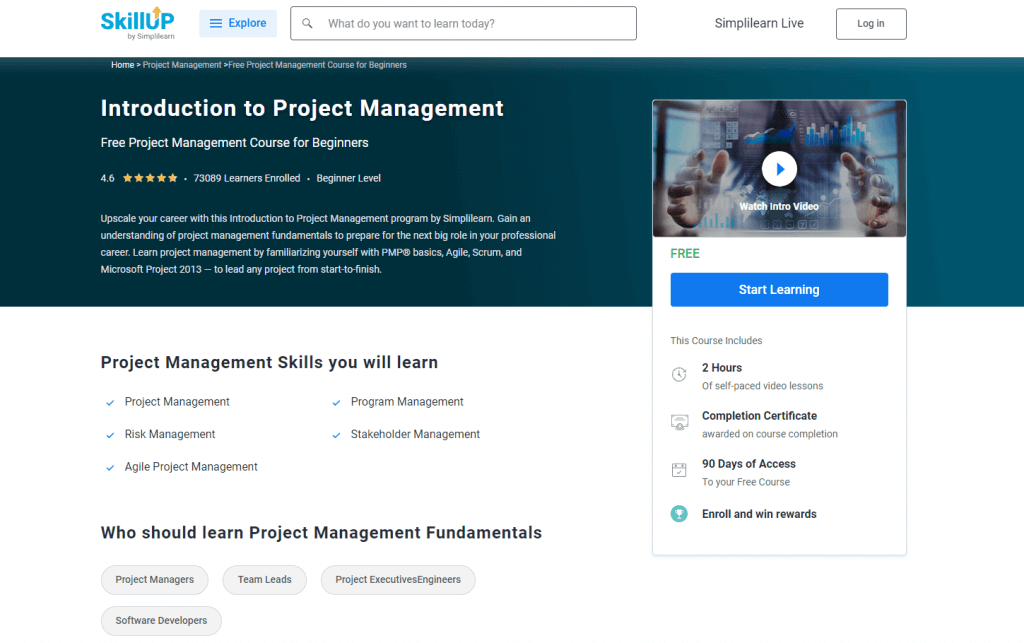 3. Higher Education
By now, I hope you're starting to see that being a project management professional is about more than just qualifications and degrees. 
While there are many certifications you can take, it's important to note that having a degree is not required. 
Having said that, earning a bachelor's degree can do wonders for your career as a PM. 
Most individuals who wish to become project managers start by earning a bachelor's degree, and there are several areas of study you can choose as the focus for your undergraduate degree. 
The most popular is business management, and related majors include marketing and project management. 
What Skills Are Required to be a Project Manager? 
Project managers often have a number of both hard and soft skills depending on the particular industry they are working in. 
Here are some of the skills that most successful project managers share:
Decision-making skills

Financial management skills

Team-building skills

Time management/delegation skills

Critical thinking skills

Conflict resolution skills

Quality management skills

Negotiating skills
…and many others. 
It's clear to see that there are a lot of skills that you'll need to become successful as a project manager. 
However, there are three main foundational skills that you need to showcase when you're starting out (often in your resume and during the interview), and these are: 
Communication Skills
Communication is among the largest responsibilities you'll have as a PM because you must communicate with different individuals who are involved with the project, whether as team members or stakeholders. 
You'll need to show that you have great communication skills that will enable you to meet goals while keeping project owners informed of the status of the work.
Organization Skills
As a project manager, there are several aspects you must oversee for most projects, and this calls for attention to detail and high levels of organization to ensure that the project is completed on schedule and within budget.
Leadership Skills
PMs often have to lead individuals they have never worked closely with before. You'll need strong leadership skills to help those people feel comfortable with you in your role as the overseer of the project, and you may also have to motivate members of your team to complete their tasks properly and on time.
These are just a few of the soft skills that successful project managers often have, but with these three foundational skills, you'll be well on your way to becoming an effective project manager regardless of your level of experience.
What Workplace Experience is Required to be a Project Manager
As previously mentioned, being a project manager is about more than just degrees and qualifications. While there are lots of certifications you can take if you want to, having a degree is not required. As we have mentioned above, financial management is essential for project managers, and they can get financial certifications with the best ROI to become more experienced in finance.

There are lots of other steps to becoming a project manager that you can take, but having experience is crucial to every career path. 
You'll have to develop your hands-on project management experience to become a project manager without a degree. But don't worry, the entire process is easier than most would think. 
In fact, you've probably already been developing project management experience and project management skills without even realizing it. 
For instance, most work involves different types of projects which have lots of moving parts, such as: 
Research and Planning

Cross-Team Coordination

Budgeting and Financial Reporting

Building websites

and other digital platforms

Managing resources and employees
…and so on. 
If you've ever been in a situation where you've had to manage and oversee any such project to ensure that everything stays on track, then you've acted in the capacity of a project manager. 
To begin improving your project management skills and gaining the necessary work experience, consider the key project management knowledge areas so you can determine where you must focus your attention. 
The 10 Key Project Management "Knowledge Areas" are:  
Scope management

Integration management

Cost management

Quality management

Risk management

Procurement management

Resource management

Communications management

Stakeholder management
Gaining on-the-job experience is an essential part of landing a position as a PM, and you can start to put your plan into action by focusing on one key knowledge area at a time, and prioritizing those areas where you need to grow the most. 
To amass the experience you need even faster, you can volunteer for projects whenever you can. Take on additional responsibilities – even those outside of your comfort area so you can fast-track your growth. 
With that said, you'll also need to have extensive familiarity with different types of digital platforms as a project manager. 
What Tools Do Project Managers Need to Master? 
Well, there are many different tools you need to familiarize yourself with so you can effectively handle any type of project thrown at you. 
These include: 
…among many others. 
But, these individual tools are mere toys compared to some of the complex project management platforms that are available these days. 
Today, project managers can use project management software with client portal that comes with comprehensive features, including task allocation, progress tracking, resource management, and integrated communication tools.
Whether you're an experienced project manager or a novice, you should be using reliable project management tracking software to help you find ways to increase efficiency, improve processes, and develop the right kind of experience you need by putting everything you've learned into practice. 
From basic tools to complete solutions, there are tons of tools to choose from. Simply note the features that you require and then select the best project management software to meet your needs so you don't have to keep switching from one app to another. 
Here are some of the features you'll find in comprehensive project management tools: 
Organize teams

Schedule priorities

Assign tasks quickly and accurately

Keep track of work times

Manage clients

Collaborate easily

Improve team productivity

Oversee projects

Integrate with other tools

Increase reliability

Speed up project development

Maintain full control of resources and finances

Monitor team activity

Track project development

Keep all of your files in one safe database

Share documents

Access all data from anywhere

Manage budgets, expenses, and invoices

Prevent and eliminate risks

Create timesheet and budget reports

Detect bottlenecks and fix issues or errors
Whether you're a "traditional" project manager or an "accidental" project manager, once you have a working knowledge of project management tools and proper resource allocation, you'll have the power to automate your work, assign tasks to groups of teams, easily view projects in Gantt charts, and oversee all of your project resources with full clarity from a single place.
7 Steps to Becoming a Successful Project Manager
Now that you know why project management is so important and you understand what a project manager actually does – including the skills, knowledge, and experience required – you might be wondering how you can become a project manager yourself.
Again, there's no set path to being a project manager. 
Some take the traditional route of getting certified while others become accidental PMs when they find themselves in a position where they have to manage projects at work as part of their daily work. For example, social media marketers managing a campaign or product managers coordinating a new launch. 
This is good news for anyone wanting to become a project manager as it means that there are lots of ways to get on that project management career ladder.
Regardless of the route you want to take, here's a quick summary of the steps to becoming a PM: 
Step #1: Understand What Skills You Already Have
Have you ever planned, scheduled, led, budgeted, or documented a project's progress? If so, you've done some important elements of project management, which means you may already have the experience necessary to apply for project manager positions.  
So, your first step is to take the time to audit your skills to see where you stand.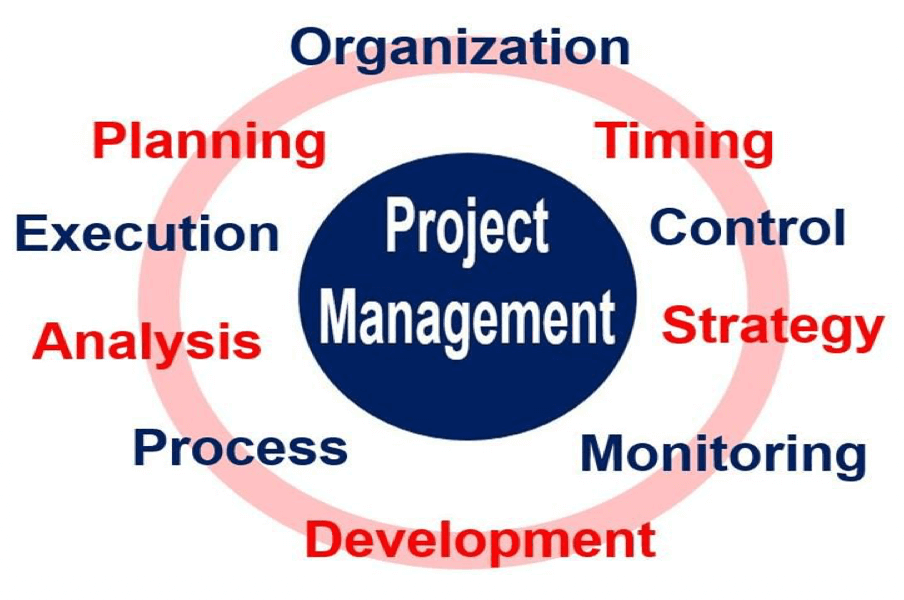 Step #2: Choose a Specialization
A project manager can work for a variety of companies and in several different industries. Determining which field you want to work in can help you to decide the next steps you will need to take to become a project manager, so let this be your next step. 
Step #3: Develop Project Management Skills
You need to sharpen the technical and human skills that are necessary for successful project management.
Some of the skills commonly requested in PM job descriptions include:
Risk management

Budgeting

Organization
And, of course, there are the basics: Communication, Leadership, and Organization skills. 
Step #4: Build Project Management Experience
Try to build up project management experience by looking for opportunities in your current work. Whether you work in a hospital, tech company, retail store, or restaurant, odds are there are several things that need to be planned, executed, or improved. Join in these efforts whenever you can to help you develop project management experience.
Step #5: Consider a Project Management Credential
Overcome uncertainty, build confidence and create opportunities with PMI certifications to show employers that you have the professional expertise and practical knowledge to meet increasingly complex management demands. 
Step #6: Look for Entry-Level Positions
You can gradually work your way up the ladder as part of a team, but that isn't the only way to become a project manager. 
A lot of project managers get their start by finding entry-level organizational positions to build key skills. 
Here are some titles to search for:  
Project coordinator

Associate project manager

Operations coordinator

Junior project manager

Administrative associate

Operations associate
Conclusion 
There are several paths to becoming a project manager. Whether you are beginning from scratch or if you have a few years of experience and want to solidify your skills, you must make sure that all your basics are covered.
You can become a project manager by building skills and experience, earning a certification, or working your way up on a team. Use the information in this article to guide you in making the right choice for you.
This article is a guest contribution by our friend Ron Stefanski from OneHourProfessor.com