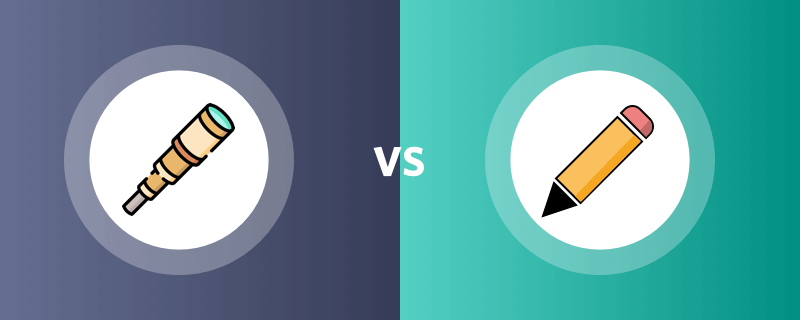 SoW is the abbreviation for scope of work, but it can also signify statement of work. But are these two ways to state and define the same thing? No, the scope of work vs statement of work is two different things.
Both are valuable management tools that ensure your next work project is organized efficiently.
So, what's the difference between the scope of work vs. statement of work, and how can these two documents contribute to achieving project goals?
Read along to find out!
Scope of work: What is it?
The Scope of Work document is a management tool that functions as a guide to help internal team members understand what is included in a project and what is not. It considers a project from all sides, much like a 360° angle view.
It also will discuss the specific needs of a project and indicate how those needs can be addressed and met. The Scope of Work typically outlines what kinds of work will be executed during a project and timelines for the work, milestones, deliverables, budget, and reports. In other words, your Scope of Work will have lots of details for those working on the project.
If the project your company is working on does not necessitate a statement of work, the scope of work may be sufficient to manage a project.
How does a scope of work help?
Scopes of Work are fundamental to successful projects because they ensure that all project management principles are followed.
It's also the perfect tool to outline what stakeholders and team members determine are the necessities of the project that a company is working on, as well as identify risks to be aware of that could impede the success of a project and its timely completion.
Creating the scope of work allows team members to prevent task delivery conflicts and effectively program deliverables with deadlines that can be achieved. In the long term, this can save time and reduce, if not eliminate, the risk or issues of increased project expenses along the way.
How to write an effective scope of work
For a scope of work to be effective, it needs to articulate project goals, business considerations, and relevant details for all stakeholders in your project. When elaborating on a scope of work, be as specific as possible.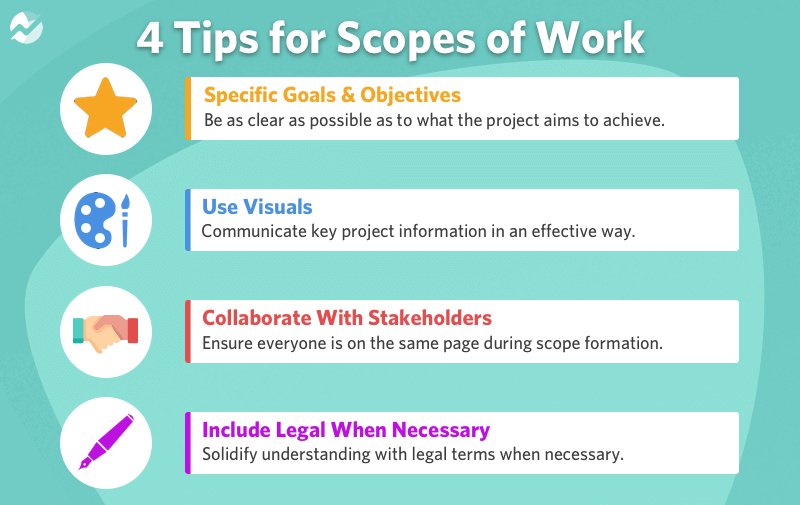 Document language should be clear and precise, so there can be no misunderstandings about the objectives. Include tasks, milestones, deliverables, and as many details as possible to prevent confusion and missed objectives.
When drafting your scope of work, include all stakeholders in the project. This can prevent future incomprehension and encourage everyone to be enthusiastic.
The use of graphics and visuals can aid clarity when breaking down work objectives. It makes information much easier to process and is an excellent method for anticipating bottlenecks that could prevent completing a project on time.
The scope of work should define the project's timeline and detail all the principal work phases within a project and will define the professional goals that need to be achieved in terms of time.
It will be fundamental for everyone who is involved in the project.
In accordance with your timeline, milestones need to be identified. This will help divide your project into more manageable sections. By establishing milestones and putting them on paper, monitoring the project's progress will be much easier, and you'll be able to judge if everyone involved is on schedule.
Together with a timeline and milestones, deliverables should be specified in a scope of work. Deliverables that refer to products or services promised also need to be included and should coincide with your timeline and what milestones they are a part of.
A final consideration when creating a scope of work should refer to reports. Progress or status reports to clients, stakeholders, or management, as well as contractors or vendors, are an essential part of overall monitoring.
Project members may also be called upon to provide financial reports at regular intervals, such as the completion of milestones, to monitor that the project remains on budget. The call for these reports with details of what they should include and when needs to be specified in the SoW. Reports are a crucial means of communication regarding project performance and will keep all involved parties updated.
If your project is geared to a specific industry and includes technical jargon, you may also want to have a glossary defining terms, abbreviations, or acronyms to improve clarity for all involved.
No model scope of work exists that will meet the needs of different projects. Each business, industry, and the project will look different. If your company wants to include in-depth information, you may want the company attorney or legal department to assist you in drafting your scope of work. 
Statement of work: what is it?
A statement of work is a kind of working document that enables separate parties to collaborate on a project to align and share goals. It will integrate perfectly with a scope of work document. Statements of Work are typically stipulated at the beginning of projects and might include project goals, tasks, schedules, expenses, and well-defined detailing.
Statements of work are often used when external parties are involved in a project and can be the basis of a contract between your business and a contractor or client. When collaborating, especially with external third parties, having a Statement of Work in place can protect all parties from misinterpretations resulting in legal disputes and eventual payment schedules and invoices. Government agencies will often include a statement of work when requesting an estimated work cost.
Statements of work can, however, also be used internally within an organization if two entirely separate departments need to work together.
A statement of work will be given to the project director or manager, to any contractors, external consultants, or collaborators, and to any parties that have a role in a project contract.
When is a statement of work useful?
Well-conceived statements of work describe a project and define how it will proceed. It is especially useful when collaborating with external parties to your company because it details expectations, and this will contribute to preventing misunderstandings and to preventing disputes among the parties.
Upon the completion of a project, the success of that completion will refer back to the initial statement of work. Management will verify and evaluate if the completed project meets what was defined in the SoW. Successful project completion can also impact a business because it may translate into penalties or bonuses depending on the type of contract stipulated or even if the company receives full payment for work done.
How to write an effective statement of work
A scope of work, if already produced, can function as the basis of a statement of work. This will aid in defining conditions and accountability for partners that are external to the company and improve communication and cooperation between all teams involved in a project.
Statements of work must be clear and precise to prevent confusion and disputes that can cost time and money, as well as mine the success of your project. Tasks with details need to be specific.
When elaborating the SoW, write clearly in short sentences or paragraphs. This will aid in maintaining clarity and reduce the risk of misinterpretation. If you use technical jargon or abbreviations, include a glossary that stakeholders can consult.
When beginning to draft a statement of work, start by explaining the project's purpose and objectives, so everyone knows why this project is important. Define the project's primary goal and how the project proposes to achieve the goal. This will prevent any misinterpretation of the project's goal, and the final objective will act as a guide during the project.
Once the purpose and the goals are defined, establish the various phases of the project. If you just list the tasks involved, it may appear as a laundry list. And a list of tasks is more difficult to keep track of. By defining project phases, the overall pressure on team players will be reduced because they will concentrate on completing one phase at a time.
With the elaboration of project phases, determine and include milestones. When detailing milestones include project stakeholders in discussions to ensure milestones are "doable." Also, establish project boundaries clearly. Boundaries should be quantifiable so confusion and misinterpretations can be avoided.
When writing a statement of work that will be included in a request for a cost estimate or function as a contract, make sure the company attorney or legal department reviews it before you all sign on the dotted line.
A statement of work can include legal clauses and requirements, but your statement of work needs to be a management tool to complete a project successfully.
The document form of a statement of work
Most Statements of Work contain roughly a dozen sections, although they can contain more or fewer. Each section will be dedicated to a specific facet of the project and will define which stakeholders are involved in a particular part. The document form will vary from industry to industry, so legal counsel will advise on any necessary specifics to include in an SoW.
What specifics should a statement of work contain?
A statement of work must contain all the necessary information to function as a well-designed road map for your project's successful completion.
Basics should be included, such as:
An introduction to your project
An introduction serves to identify the project and whoever is involved for anyone reading.
The purpose of your project
It's important to define the purpose and importance of the project and the general objectives it will achieve.
The scope of work should fully detail how the company plans to achieve the project objectives described in the purpose section.
Define where the project will be realized. Can it be done remotely, or will it be an onsite project?
This section will provide more detail than the section dedicated to the scope of work. It will outline what all stakeholders and collaborators need to do to complete the project successfully.
Project milestones that have been identified should be included in this separate section. In this manner, the project is easily divided into sections so that all meet goals quickly.
Include a section that lists all deliverables and the date that each is due. This will avoid misunderstandings about what is expected from all parties involved.
The project schedule needs to list the amount of time allotted for each task with a specified beginning and end, the deliverables with deadlines, and billable hours.
Project standards and testing
If your project is specific to an industry that has legal and safety standards, this is the section where these should be identified and explained. If testing is involved, this section should specify this as well as who is involved, what equipment is used, and where testing fits into the project timeline.
A definition of project success
This SoW section will define what all stakeholders consider project success, and all stakeholders should agree upon this definition in the project in preliminary discussions.
Requirements may include using specific equipment, security clearances, certifications, and other things necessary to complete the project successfully.
This section should be drafted with the aid of both the company finance department and the company attorney or legal department. This section will detail the costs of the project and the payment schedule, which may be connected to the completion of milestones or the consignment of deliverables. In order to properly set up financial processes, it is essential to understand invoice payment terms.
More considerations
Other sections may be included to specify relevant information not found in other sections. It may concern security, use or restriction of hardware and software, and any post-project necessities.
Security
Project security can be an important consideration and merit a separate section in a statement of work document. This is particularly pertinent if any part of the project includes record management and the storage of sensitive data that is subject to privacy protection or remotely managed physical security at project sites.
Security is critical to a company's and often to a project's success. Cyber-attacks or humans as the weak link in a security chain can pose a risk to the successful completion of any project for various reasons, including weak passwords or the use of unverified applications that could lead to exposed DVR security systems. These breaches will delay your project and compromise your company's overall security.
Inform and monitor
Once you have created your statement of work, it has been successfully reviewed by legal counsel, and all parties have signed, you need to educate your teams on the project information and details. At regular intervals, check the project progress and stay updated as the project progresses. This will allow efficacious monitoring of whether the project is meeting goals and if goal achievement is on time.
The benefits of using a scope of work or statement of work
The primary benefit of using either a scope of work or statement of work is defining project goals and creating a roadmap to achieve these goals. These documents will also aid with the accountability of all involved in the project.
What differentiates a scope of work from a statement of work
A few things will distinguish a scope of work from a statement of work. These include:
Document purposes
A Statement defines the project structure of an entire project from start to finish, including obligations, budget, and expectations. A scope of work is more oriented to tasks and how to achieve them.
Document function
A statement of work designs a project and provides the structure managers can use to develop an adequate operational infrastructure. The scope of work defines each person's role in a project and relevant evaluation criteria.
Document length
Statements of Work are generally longer, with numerous individual sections that create the structure for an entire project. Scopes of work will be shorter and are usually included in the larger overall statement of work as a specific section of the lengthier document.
Document use
A scope of work is one section found in a statement of work and has a specific purpose with the overall statement of work. Scopes of work will assist in defining roles and responsibilities as well as guiding the workflow.
A statement of work is more accurately defined as the overall blueprint of a project and defines the project purpose along with objectives, timetables, location, milestones, deliverables, etc., as well as legal and contractual elements such as payment schedules.
Both documents are exceptional management tools to assist companies in defining projects, communicating effectively with stakeholders, and successfully completing projects efficiently.
Use the statement of work or scope of work for effective project management
Having a statement of work or a scope of work will be essential for holding your team and any stakeholders accountable for their work and performance.
To prevent scope creep, follow your scope of work document as closely as you can. By doing this, you can be sure that your project will be completed on schedule and to your standards.
Nifty is an excellent tool that can help you effectively manage your project by allowing you the ability to add the statement of work or a scope of work above each project or tasks.
Sign up now to see it in action (free for 14-days, no credit-card needed)