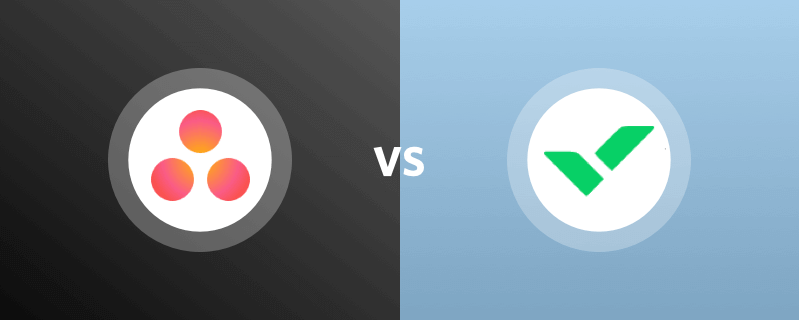 If you're remotely a part of the project management world, you must've come across celebrity-status project management tools: Wrike and Asana. At first glance, both Wrike vs. Asana may seem similar, but a deeper dive will help understand the subtle-yet-important differences between both tools.
For many project managers, comparing Wrike vs. Asana is the same as comparing iPhone vs. Android phones–the choice is near-impossible! Not anymore. In this comprehensive guide, we will deep-dive into both features, strengths, and limitations and help you understand which is the right for your needs. Let's get to it right away!
Wrike vs. Asana: An overview
When conducting an in-depth Wrike vs. Asana review, it is essential to remember that both these tools are suitable for specific use cases and end goals.
What is Wrike?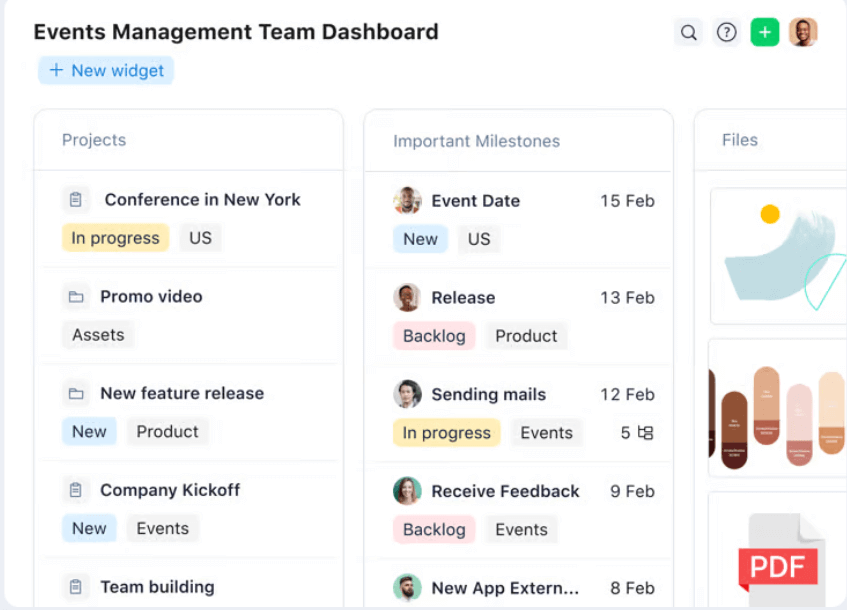 Founded in 2006, Wrike is an enterprise project management software that comes power-packed with a host of features such as customizable dashboards, custom workflows, fields, and reports, collaborative cross-tagging, seamless integrations, Gantt charts, and more. Wrike is an ideal solution for:
Mid-sized organizations that wish to drive greater teamwork and routinely run multiple projects at a time
Larger teams who want a hyper-customized tool with the ability to personalize everything, such as tasks, reporting dashboards, and so on
Teams who move with agility and demand greater flexibility
Today, over 20,000+ companies use Wrike in over 140 countries across a variety of sectors such as healthcare, education, financial services, technology, and more.
Rating: Wrike has a G2 rating of 4.2 stars out of 5 (3239 reviews).
What is Asana?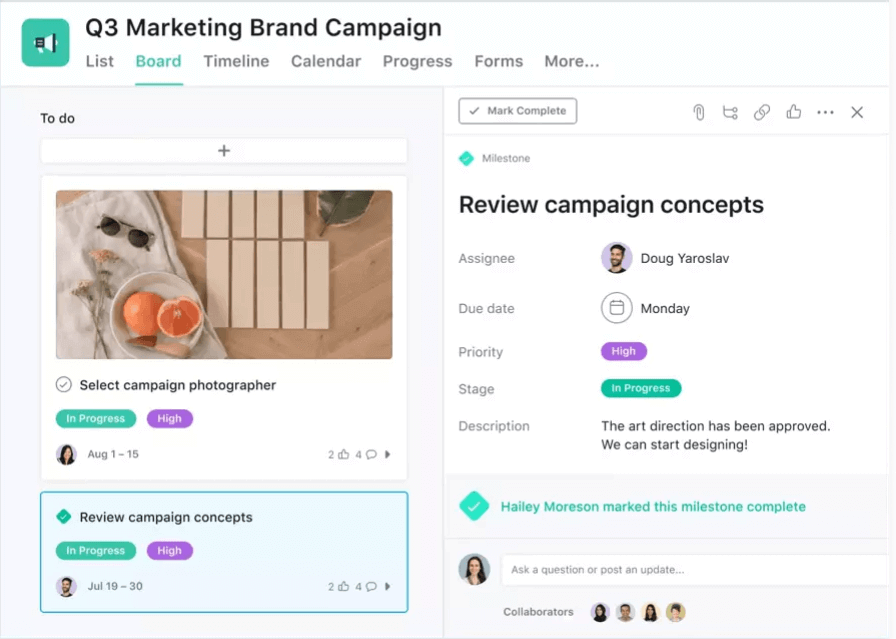 Within the list of Wrike alternatives, Asana is a top contender, which was envisioned in 2008. Asana enables project managers to keep tabs on the project, tracking and planning effectively. If you are looking to manage projects, teams, and tasks at scale. Asana is best for:
Smaller-sized businesses that wish to coordinate complex projects across teams and drive greater productivity
Orchestrating daily tasks to strategic initiatives
Organizing and planning using features such as calendars, lists, boards, Gantt charts, etc.
Defining tasks as subtasks with different owners
Project managers and team members who wish to manage their own projects with ease
Rating: Asana has a G2 rating of 4.3 stars out of 5 (9150 reviews).
Wrike vs. Asana: An in-depth comparison
1. Wrike vs. Asana: Key features
Let's start by understanding the key features of Wrike and Asana.
Wrike key features:
Dashboard: The dashboard has been designed with a minimalist and modern look and feel. The tool allows users to customize it and share it with different team members. The left pane provides access to all the projects and teams. The middle pane helps create tasks and subtasks in the right spaces. On clicking these spaces, you will be able to see the details on the right pane.
Reporting: Wrike offers 360° visibility across the organization, empowering project managers to get real-time updates and drive insights-led decisions. They also leverage this information to prevent potential risks and assess project progress. From gaining big-picture visibility to keeping the executives informed, Wrike's project reporting software achieves it all.
Daily tasks and time-tracking: You can easily manage, create, or assign one-time or recurring tasks to the team members. Plus, you can understand how much time users are spending on each task.
Marketing insights: The paid plans allow users to integrate data from marketing and ad campaigns while accessing performance metrics of assets.
Two-way sync with Jira and GitHub: Wrike automatically syncs all the important data between Jira and GitHub without interruptions.
AI-based prediction of project risk: Wrike leverages artificial intelligence (AI) to create alerts if a project is at risk of failing on the stipulated deadline.
Asana key features:
Workflow builder: This is a new feature added by Asana that empowers project managers to build more efficient workflows using a visual tool. From connecting teams to organizing work, this feature can assist managers in achieving everything from a centralized place.
Timeline: The Timeline is extremely beneficial in understanding how the tasks and deadlines connect so that project managers can identify issues early and fix dependency conflicts before the project begins.
Reporting: The tool offers real-time insights into the team's work progress so that project managers can proactively take the required action. The dashboard provides real-time project progress and ensures everyone is in the know at all times.
Visualization: Asana is a highly-visualized tool that provides a comprehensive set of views so that project managers can visualize their workflow any way they want. This includes Kanban boards, List, Timeline, and Calendar views.
The Verdict: Both Asana and Wrike are well-established project management tools offering many advantages to the users. Both have great free plans. Wrike's time-tracking feature gets a thumbs-up, as Asana doesn't have one. That said, Asana shines as a tool if you want better day-to-day management of tasks.
2. Asana vs. Wrike: Kanban boards & Gantt charts
Wrike

Asana

Easy-to-create and interactive Gantt chart view
Provides a drag-and-drop Kanban board, which is extremely easy to use
Offers different views such as board, list, and file to aid varied working styles

Offers different project views that can be customized according to the users
Users can leverage Kanban-style cards, view projects and deadlines in a calendar format, and more
Users can also switch between different views and add greater flexibility to the work process
The Verdict: Wrike's interactive and easy-to-use Gantt chart and its aesthetically-pleasing Kanban boards make it stand out from Asana. Plus, Wrike allows you to see how much time the subtasks will take in the overview, and users can set dependencies within the task.
3. Wrike vs. Asana: Team sizes
Wrike

Asana

Ideal for teams that tackle multi-faceted and complex tasks routinely

The free version is perfect for smaller teams as users can:

Assign tasks to team members
Add deadlines
Create subtasks to break down projects into smaller pieces
Comment on tasks to ask questions and/or provide updates

The paid plan is useful for larger teams as users can:

Create custom fields and track specific project data
Set up dependencies between tasks
Keep track of the projects and ensure everyone is working towards the same goal
The Verdict: If you have less than 15 users in your time, Asana's free plan is a great choice as it is cost-effective and offers many useful features such as file sharing, project management, task management, etc.
Wrike, on the other hand, is perfect for teams of any size or scale. That said, to use the tool optimally, users will need to customize Wrike for specific segments and make the most of their paid plan.
4. Wrike vs. Asana: Integration with Other Apps
Wrike

Asana

Offers great integration capabilities such as Salesforce (CRM), Wrike for Gmail (email integration), Google Sheets (export/import), Tableau (Business Intelligence), etc.

Supports 100+ free integrations (such as with Zapier, Slack, etc.) for time tracking, communication, and productivity
Offers the ability to set up due dates and receive automatic messages in Slack when a section of a project gets completed
Allows users to easily import projects from project management tools such as Basecamp, Trello, etc.
The Verdict: Some of the most popular integrations that both Asana and Wrike provide include Jira, Salesforce, Zoom, Google Drive, Microsoft Teams, Slack, Github, etc. However, Wrike provides in-built time tracking functionality, whereas Asana easily integrates with Harvest and Everhour.
The biggest difference between the two tools for integration is that Asana integrates with a lot of SMB-focused tools (its primary target audience), whereas Wrike is focused on more enterprise-grade integrations.
5. Wrike Pricing vs. Asana Pricing: Where Do They Stand?
Wrike 

Asana

Free:

$0/user/month

Ideal for:

Teams that are just getting started

Core Benefit:

Centralized task management

Basic:

$0 (free forever)

Ideal for:

Individuals/teams that are just getting started with project management

Core Benefit:

Easily manage tasks and to-dos

Team:

$9.80/

user/ month

Ideal for:

Growing teams

Core Benefit:

Effective team management

Premium:

$10.99/user/month

Ideal for:

Teams that need to create project plans with confidence

Core Benefit:

Timeline View (Gantt charts)

Business:

$24.80/

user/ month

Ideal for:

All teams across an organization

Core Benefit:

Customized platform for any team/use case

Business:

$24.99/user/month

Ideal for:

Teams and enterprises that want to manage work across initiatives

Core Benefit:

Custom roles that allow you to standardize and customize processes

Enterprise:

Price available on request

Ideal for:

Large teams

Core Benefit:

Enterprise-grade security and scalability

Enterprise:

Available on request

Ideal for:

Maximizing efficiency and managing work with increased scalability and security

Core Benefit:

Advanced security and admin control
The Verdict: The per-user pricing for both Asana and Wrike are similar. However, there's a greater lack of transparency in pricing for the top-tier plans for Wrike. Even for the free plan, Asana offers collaboration for up to 15 members, whereas, in the case of Wrike, unlimited users can use the platform for free.
Plus, in terms of storage space, Asana offers 100 MB storage, whereas Wrike offers 2 GB storage per account. The winner for us: When it comes to comparing the pricing of Wrike vs. Asana, Wrike is a better choice.
Pros and Cons of Asana and Wrike
A. Asana Pros and Cons
Asana is one of the biggest competitors to Wrike and comes with its own set of pros and cons.
Pros of Asana:
Easy to use: Asana's user interface is thoughtfully designed, simple to use, and highly intuitive.
Extensive integration: Asana easily integrates with a host of project management tools such as Google Drive, Slack, and Microsoft Teams. This can significantly reduce the extent of incoming emails.
Improved collaboration: Asana offers the best of both worlds: task management and collaboration. The tool can help invite others to the digital workspace, alert team members when changes are made to tasks in real time, demonstrate personal tasks to others, and enable team members to comment on tasks.
Enhanced task management: Asana is the perfect tool for organized and improved project management. It offers an overview of all the tasks, enables users to prioritize key tasks with ease, and empowers project managers to assign tasks with real-time information at hand.
Cons of Asana:
Absence of time-tracking: The biggest drawback of Asana is the absence of time-tracking functionality.
Steep learning curve: While the tool is easy to use, it does need a little bit of experience to use it. If you are a completely new user and have not used any kind of project management tool in the past, using Asana can be a bit challenging.
A plethora of features: While having options in project management is great, Asana offers way too many features for task management. This can leave the user overwhelmed, and the output can suffer.
Limited assignment: The tool allows only one user to be assigned to a task at a time, thereby reducing the quality of collaboration among team members. There's no way in which multiple people can work on the same task–unless you create multiple tasks in the first place, which can lead to a lot of confusion.
B. Wrike Pros and Cons
Let's now move on to the pros and cons of Wrike.
Pros of Wrike:
User-friendly dashboard: Wrike is a collaboration, work management, and project management tool that offers a user-friendly dashboard that is super easy to set up. Team members can use this tool to manage ongoing tasks and one-time projects.
Extensive integration choices: Wrike Integration enables project managers to integrate with a host of cloud and on-premises tools.
Plenty of tracking options: The tool offers plenty of tracking options such as Kanban, Gantt, To-do lists, and more.
Increased customization: This tool offers customized packages for product development, marketing, creative, and other teams.
Cons of Wrike:
Advanced features only available in the paid plans: One of the biggest disadvantages of using Wrike is that users get access to advanced features such as the Gantt chart, in-app timer for time tracking, etc., only in the paid plans.
Steep pricing: Wrike's pricing may not sit well with smaller and mid-sized teams as cheaper options are available.
Unresponsive app: The platform's mobile app is not user-friendly as opposed to its competitors.
Wrike vs. Asana vs Nifty: The right choice
In the age-old battle of Wrike vs. Asana, it all comes down to your specific needs, end goals, and use cases. Wrike is great for people who want a mix of collaboration and project management functionalities along with great customization features. If you have an experienced project management team with a good budget, Wrike is for you.
Asana, on the other hand, is a highly collaborative tool for driving productivity and efficiency among teams. Its task management capabilities remain unrivaled. If you still can't put a finger on which tool to choose, we've got a third Wrike alternative you can consider: Nifty.
There are three aspects in which Nifty emerges as a better option over Asana and Wrike:
Easy user interface: Nifty's user interface is intuitive, powerful, and super easy to use. There's no learning curve involved. Users with no project management experience can easily set up projects within minutes without breaking a sweat.
Robust time tracking functionality: If you are tired of juggling multiple time tracking tools, Nifty is for you. You can easily get all your time reports connected with your real-time projects with the time tracking feature. You can also:
View a team member's logged hours that are broken down by projects and tasks with custom date ranges.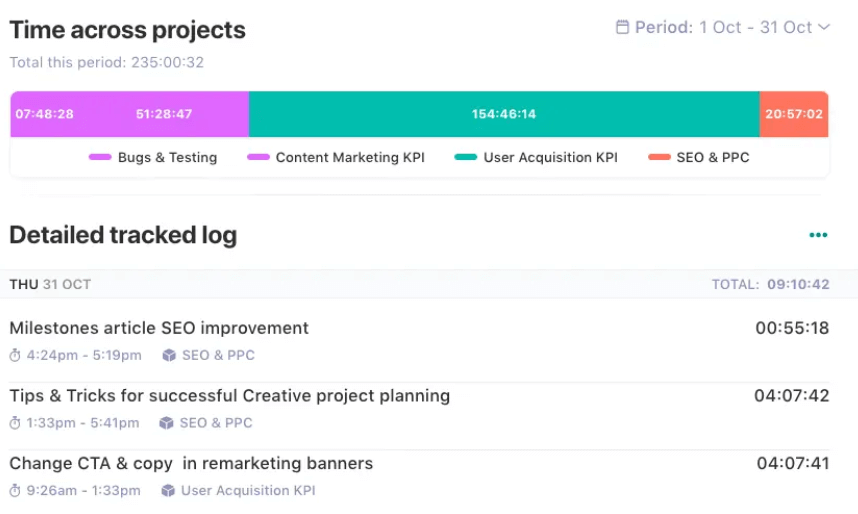 View detailed project and task insights, allowing you to allocate team member time and balance workloads using real data
Print timesheets, export them as a .CSV, or download them as PDF files
Understand how much time is spent on tasks
Better visualization with Milestones (Gantt chart):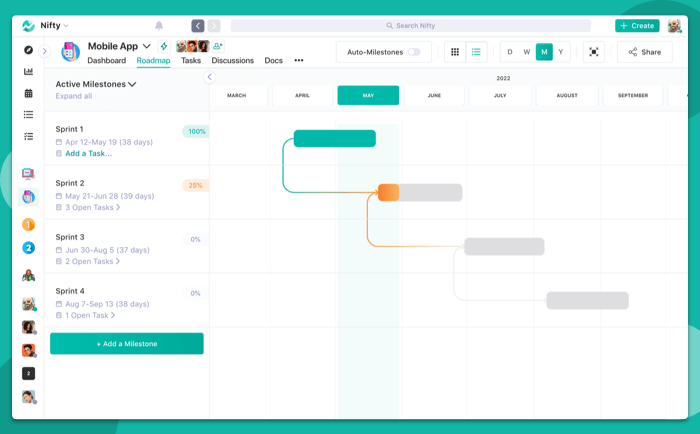 If you want to easily visualize the milestones of your project and improve team alignment behind key sprints, Nifty provides Gantt charts for your convenience. If everyone is on the same page and has good project clarity, they'll be able to move with greater efficiency. The milestones feature allows project managers to:
Automate and track the project progress
Add context to the project's tasks and offer clarity to the current progress
Use the Swimlane View to intersect milestones with task lists and exercise greater control over milestones and tasks
In terms of pricing, Nifty offers a 14-day free trial with no credit card needed. This free trial is applicable across our Free, Starter ($39), Pro ($79), Business ($124), and Unlimited ($399) plans. The forever free plan provides access to unlimited members and offers a host of core features to get your project started on a productive note. Try the free version and reach your KPIs like a pro!
Get a free trial today, and see for yourself how Nifty is better than Wrike and Asana.