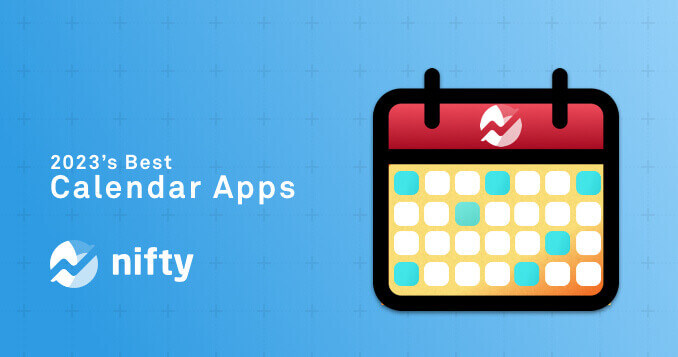 In today's digital era, time management has emerged as an art form. Gone are the days of paper planners and sticky notes. Today, we need something way more powerful, versatile, and accessible to stay on top of our work commitments. This is where calendar apps come to the rescue!
In this blog post, we'll explore the 12 best calendar apps that can revolutionize the way you plan, schedule, and organize your work. From intuitive interfaces to smart features and seamless integrations, these shared calendar apps offer a delightful user experience while keeping you on track and in control.
Say goodbye to missed appointments, forgotten deadlines, and disorganized chaos. It's time to regain control of your time and make 2023 your most productive year yet. Let's dive in.
What is a Calendar App?
A calendar app is essentially a software application that helps you to organize and manage your schedules, appointments, and events. Think of it as a digital representation of a traditional calendar, allowing you to view and manage your time-based activities within seconds.
Why use a Calendar App?
A calendar app is an extremely helpful tool that helps you stay organized, stay on schedule, and save time. You can also:
Keep track of important dates: A calendar app can help you keep track of important dates like birthdays, anniversaries, meetings, appointments, and deadlines.
Better time management: An online calendar app allows you to plan your day or week by setting reminders and scheduling tasks, which can help you manage your time more efficiently.
Collaboration: If you are part of a team or organization, a calendar app can help you collaborate, share calendars, and schedule meetings or events.
Accessibility: With a calendar app, you can access your schedule from anywhere using your smartphone, tablet, or laptop, which allows you to stay on top of your schedule even on the go.
Customization: Most calendar apps allow you to customize your schedule with different colors and labels and sync events from other apps, making it easy to differentiate between personal and professional appointments.
12 Best Calendar Apps of 2023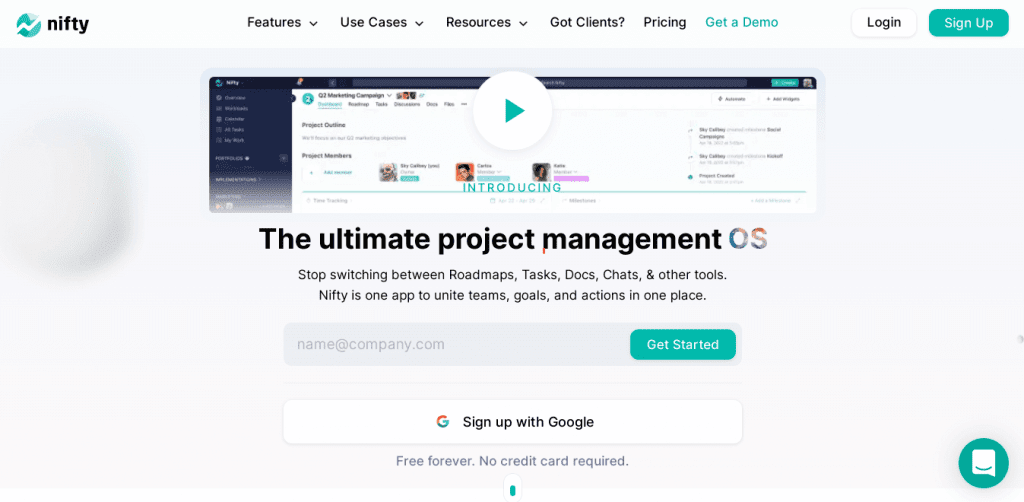 Nifty is a project management tool that includes a calendar feature, making it a versatile tool for you if you want to manage both projects and schedules. It offers two calendar views for you – Team and My Calendar views:
Team Calendar view: Think of it as the master view for due dates and team task volume. You can use the Month / Week / Day selector to filter the calendar content: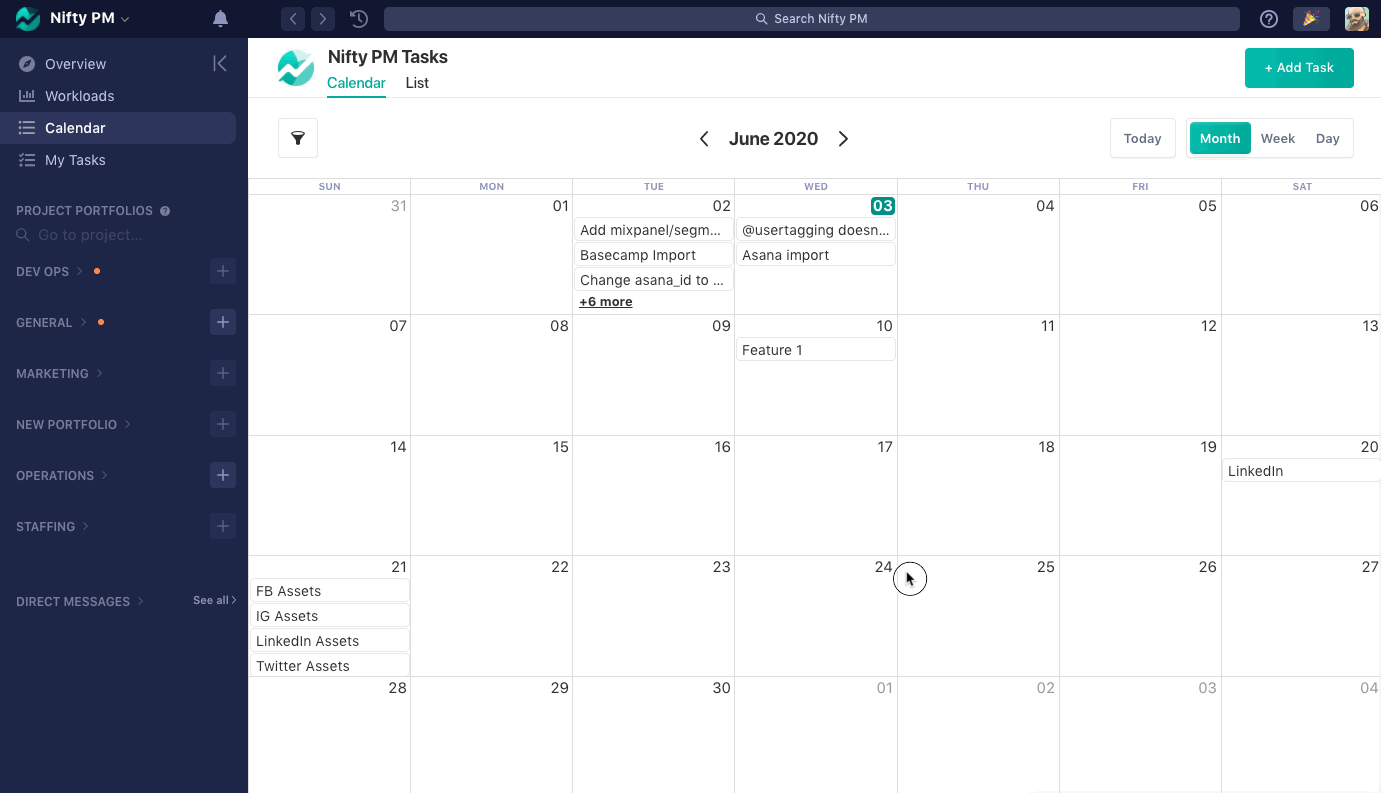 The "Today" button enables you to view the tasks of the day. You can also easily create Tasks with its drag-and-drop functionality and glance through all the tasks for the day.
The biggest advantage of using Nifty is the My Calendar feature, which empowers you to create your own personalized calendar and sync it to Outlook or Google Calendar:

This two-way syncing allows you to easily keep track of your tasks, timelines, and other calendar events, from within Nifty as well as Outlook and Google Calendar.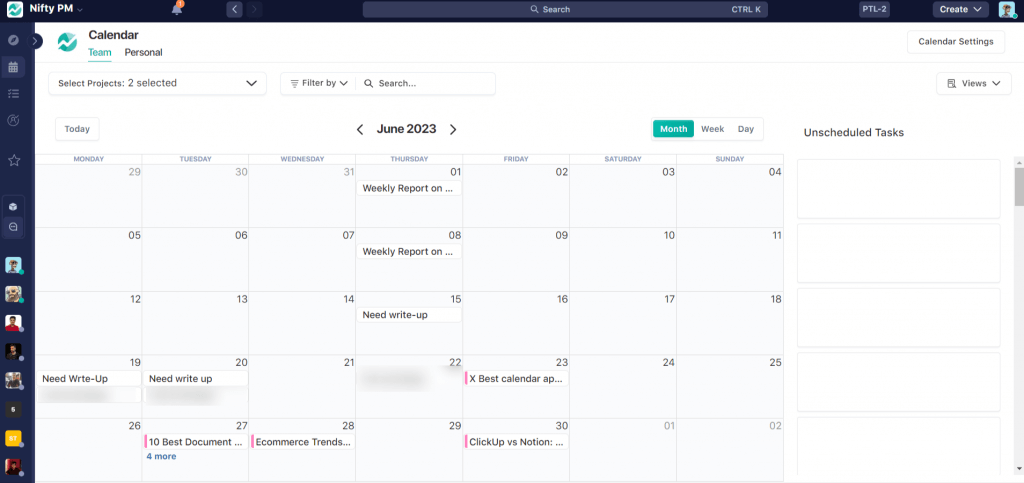 With this powerful integration, you can:
Create and assign Tasks in Nifty to have them automatically appear in your Google Calendar or Outlook Calendar of the assigned user.

Create Events in your Google or Outlook Calendar(s) and have them appear in your Nifty Calendar.

Keep track of changes to task names, descriptions, start dates, and due dates.
In addition to the features mentioned above, here are its other top features:
Nifty's project calendar provides you with an overview of all the important deadlines and milestones related to specific projects.
The calendar updates in real-time, providing you with up-to-date information about the schedule and projects.
The tool seamlessly integrates with other tools like Google Suite, Microsoft Office, Slack, and many more making it easier to coordinate and schedule events from a single platform.
Nifty automatically adapts to the time zones of events and participants, ensuring that everyone has the correct time and date for meetings or appointments, regardless of their location.
It allows you to customize the calendar's appearance, including color-coding events, setting the time zone, and managing working hours.
Pricing:
Free plan offers a generous free forever plan with unlimited users and tasks.
Starter plan starts at just $5/user.
Pro plan begins at $10/user.
Business plan comes at $16/user.
✨ Ready to try Nifty? Get started with Nifty for free.
2. Google Calendar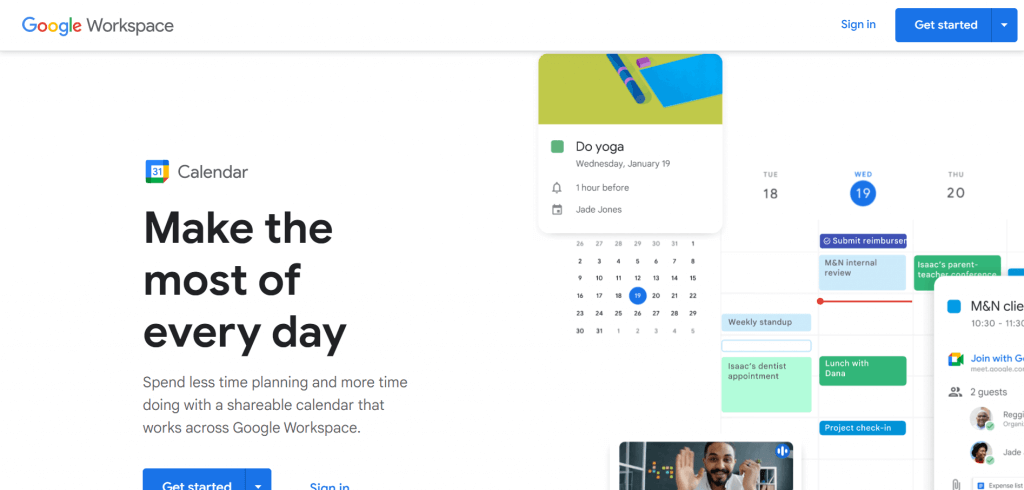 Google Calendar is an online time-management tool developed by Google that allows you to organize your schedule and appointments. This easy-to-use platform is useful for scheduling, tracking, and managing events and meetings. Plus, you can:
Create and customize multiple calendars for personal, work, and other activities.

Access event reminders and notifications via email or mobile notifications and never miss important meetings or appointments.

Share calendars with others and stay up-to-date about the team's schedule and availability.

Integrate it with other Google services such as Gmail, Google Meet, and Google Tasks, making it easier to manage schedules and events on one platform.

Set up recurring events for daily, weekly, monthly, or yearly meetings.
Pricing: Free
3. Microsoft Outlook Calendar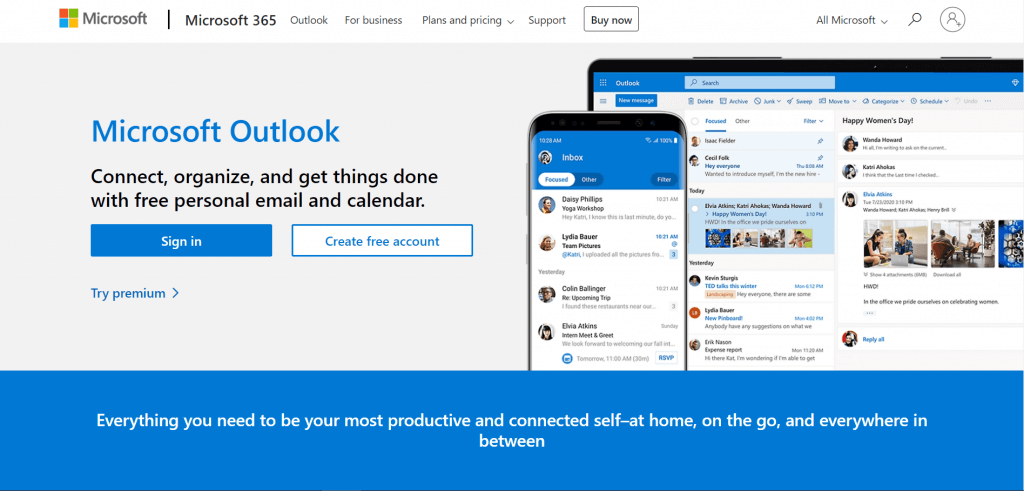 Microsoft Outlook is a widely used email client that comes with a built-in calendar known as Outlook Calendar. The Outlook Calendar allows you to manage your schedules, appointments, and meetings in a seamless and convenient way. Here's a look at its top features:
You can schedule appointments and meetings by specifying the date, time, duration, and location. Outlook can automatically check the availability of attendees and propose suitable meeting times.
You can send meeting invitations to participants directly from the calendar. Attendees receive an email with all the details and can accept, decline, or propose a new time for the meeting.
Outlook Calendar also supports sharing calendars with other users, enabling easy collaboration and coordination. You can grant specific permissions, such as view-only, edit, or delegate access to others.
You can overlay multiple calendars to get a consolidated view of your schedule. This feature is helpful when managing multiple calendars, such as personal and work calendars, simultaneously.
Outlook's Scheduling Assistant helps you find suitable meeting times based on the availability of participants. It displays their schedules and allows you to select a time slot that works for everyone.
Another benefit of Outlook Calendar is that it is available as a mobile app for iOS and Android devices, providing you access to the calendar on the go. You can create, edit, and manage events from your smartphone or tablet.
Pricing: Free
4. Apple Calendar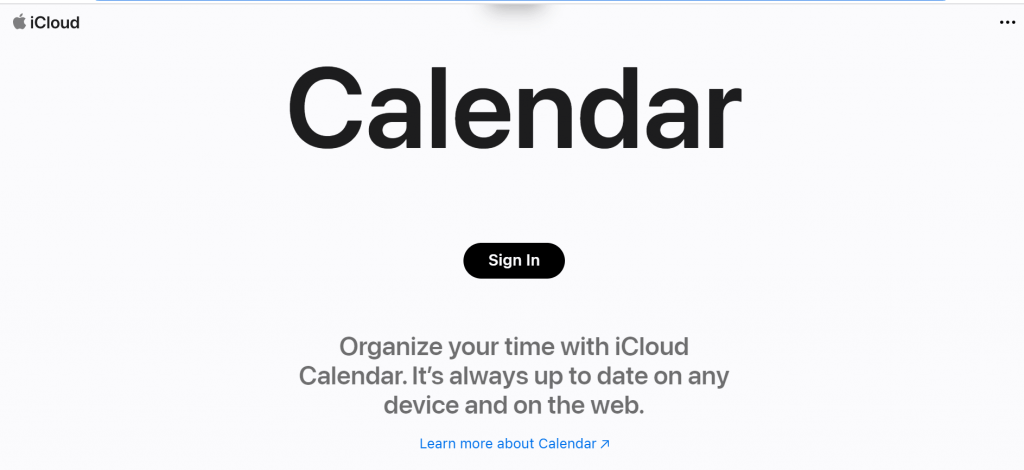 Apple Calendar is a digital calendar application that comes pre-installed on all macOS and iOS devices. It can help you schedule appointments, organize tasks, and manage events.
Apple Calendar offers various calendar views, such as Day, Week, Month, and Year, to help you visualize the schedule and tasks in different ways. This makes it easier to plan and manage time effectively.
Creating events is simple with Apple Calendar. You just need to double-click on the desired date and time on the calendar and fill in the event details, such as the title, location, and notes. You can also set recurring events and receive reminders.
Apple Calendar integrates with iCloud, which means that you can sync the calendar across all Apple devices. It also supports other services, such as Google Calendar and Microsoft Exchange, so you can view and manage multiple calendars in one place.
You can create events quickly and easily using natural language input. For example, you can enter "Meeting with John at 2 pm on Monday," and Apple Calendar will automatically create the event on the correct date and time.
Pricing: Free
5. Fantastical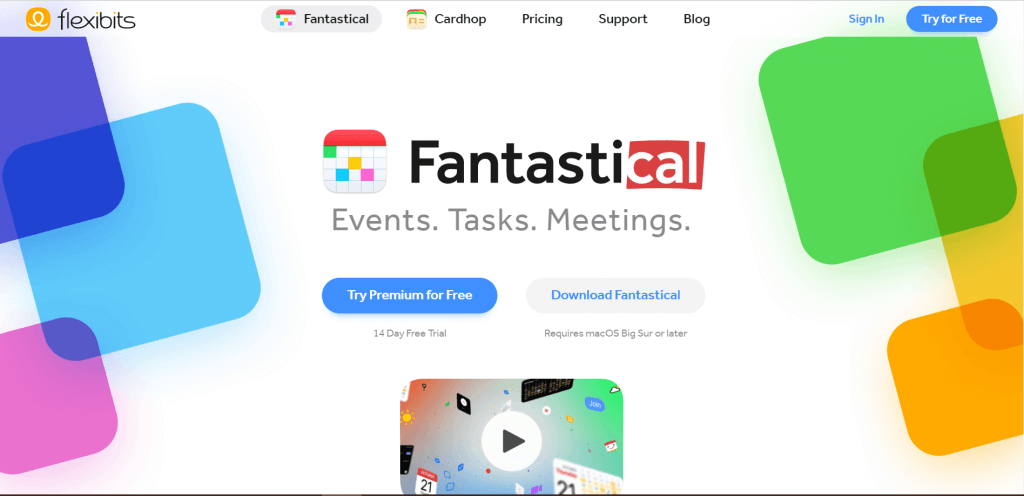 Fantastical is a calendar app that is designed for macOS, iPadOS, and iOS devices. It is a feature-rich app that can be linked with various other calendar apps and services to provide a unified view of events, reminders, and tasks.
It offers a range of features and functionalities that make it highly useful for managing and organizing your schedule:
One of Fantastical's standout features is its natural language input capability. You can simply type or speak your event details using everyday language, and Fantastical will automatically parse and create the event accordingly.
It incorporates smart scheduling features that help you find the best available time slots for meetings and appointments. It takes into account your existing commitments, availability, and preferences to suggest suitable meeting times.

Fantastical seamlessly integrates with your existing calendar accounts, such as iCloud, Google Calendar, Microsoft Exchange, and more. It can pull data from multiple sources into a single unified view, allowing you to manage all your calendars in one place.
The platform includes several other useful features:

Support for attachments and notes
Map integration for event locations
Travel time estimation
Weather forecasts
Pricing:
Free
$4.75 per month for individuals
$7.50 per month for families
6. Any.do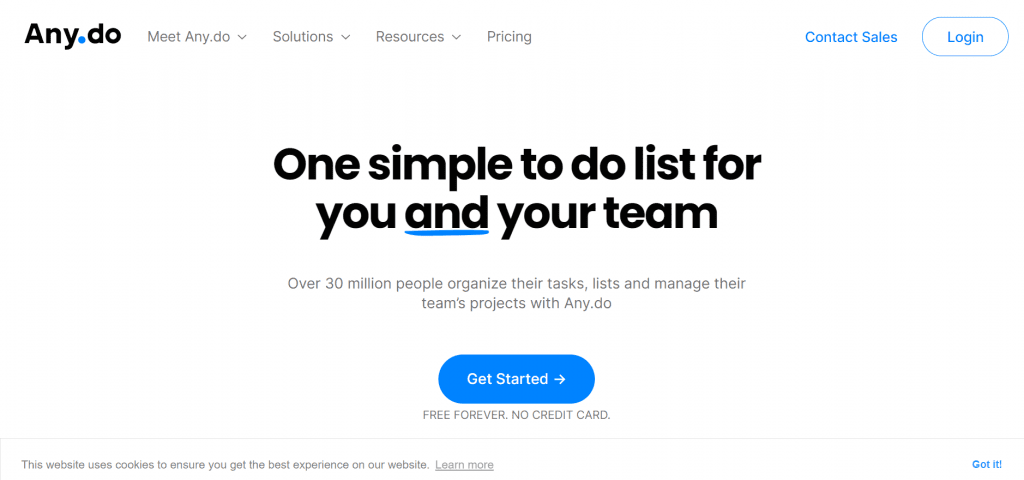 Any.do is not primarily a calendar app; it is primarily a task management and to-do list app. However, it does include some calendar features that can be useful for managing your schedule and tasks.
Any.do offers an agenda view that combines your calendar events and tasks in a single view. This gives you a comprehensive overview of your day's schedule, allowing you to better plan and allocate your time.
You can assign due dates to tasks, and they will automatically appear in your calendar view, helping you see your tasks alongside your scheduled events.
The app provides smart suggestions when you create events or tasks, making it quicker to set up and organize your schedule. It can autofill details based on your previous entries or suggest relevant information based on the context.
Pricing:
Personal: Free
Premium: $3 per month billed annually
Teams: $5 per month billed annually
7. Zoho Calendar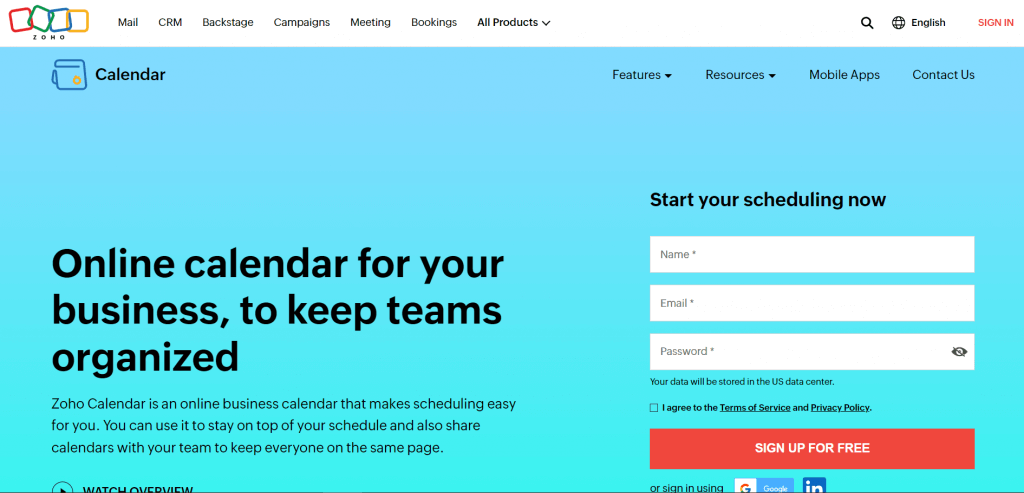 Zoho Calendar is a versatile, user-friendly application that offers a range of useful features to improve productivity and streamline scheduling:
You can easily schedule appointments, meetings, and events in Zoho Calendar. It provides various options to set event details like title, location, duration, and description. Recurring events can be set up with specific patterns (daily, weekly, monthly, etc.), and you can invite participants by sending them event invitations.
You can create tasks and to-do lists in Zoho Calendar and assign due dates to each one. The application also provides reminders for tasks, ensuring that you stay on top of your workload.
Zoho Calendar offers various customization options, such as the ability to choose from a range of different calendar views, including daily, weekly, monthly, and yearly. You can also customize the colors and themes of the calendars to suit your preferences.
The tool smoothly integrates with other Zoho apps, such as Zoho Mail and Zoho CRM, as well as popular third-party services like Google Calendar and Outlook. This enables you to sync events across platforms and have all your calendars in one place.
Pricing: Free
8. Timepage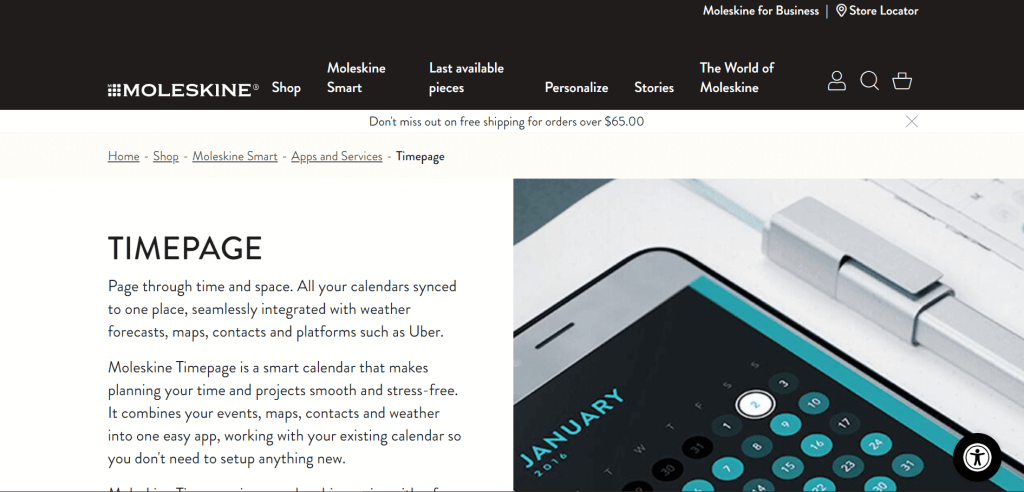 Timepage is available for both mobile devices and desktop platforms, providing a consistent experience across all your devices. Whether you need a simple day planner or a robust scheduling tool, Timepage offers the features and flexibility to help you make the most of your time and stay organized.
With its user-friendly interface and powerful features, Timepage offers a comprehensive solution for all your calendar and scheduling needs:
The tool offers various calendar views, including day, week, month, and year views, allowing you to choose the most suitable perspective for your needs.
Creating and managing events is simple and efficient with the app. You can quickly add events, set reminders, and customize event details such as title, location, start and end times, and recurrence options.
Timepage's smart scheduling assistant takes the hassle out of finding the best meeting times. It analyzes participants' availability and suggests optimal meeting slots, reducing back-and-forth communication and saving time for everyone involved.
With Timepage, you can seamlessly integrate task management into your calendar workflow. You can create to-do lists, set deadlines, assign tasks to specific events, and track your progress.
Pricing: Contact the team
9. ClickUp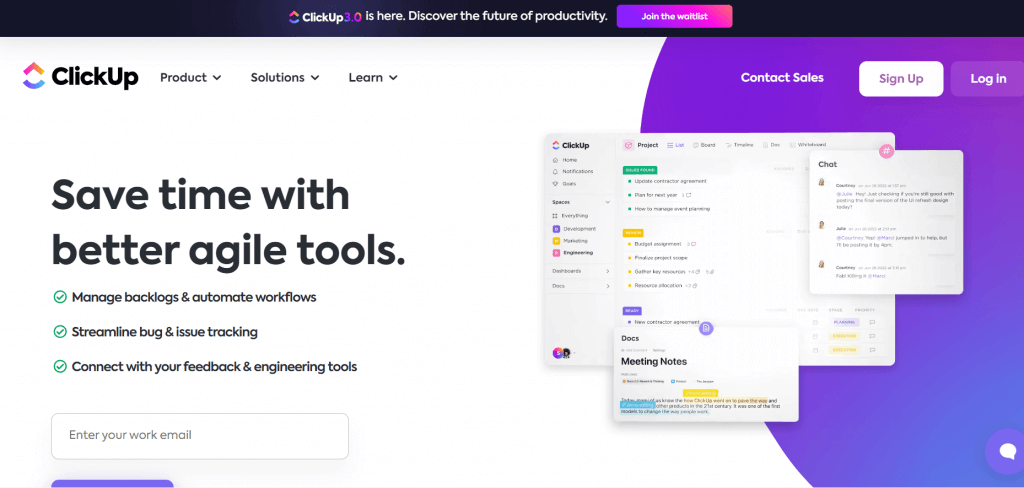 ClickUp's calendar feature is a powerful tool if you want to manage your tasks, projects, and events in one place. Its various calendar views, drag-and-drop interface, recurring task scheduling, and time-tracking integration make it a top choice for users who need a comprehensive project management and scheduling tool.
ClickUp offers four different viewing options in its calendar tab. You can view tasks and events in day, week, month, and list views, giving you the flexibility to choose the view that works best for you.
With ClickUp's intuitive drag-and-drop interface, you can quickly schedule tasks and events on your calendar.
ClickUp makes it easy to schedule recurring tasks and events. You can set up daily, weekly, monthly, or yearly recurrences directly from the calendar view and customize the recurrence pattern to your liking.
Pricing: Contact the team
10. DigiCal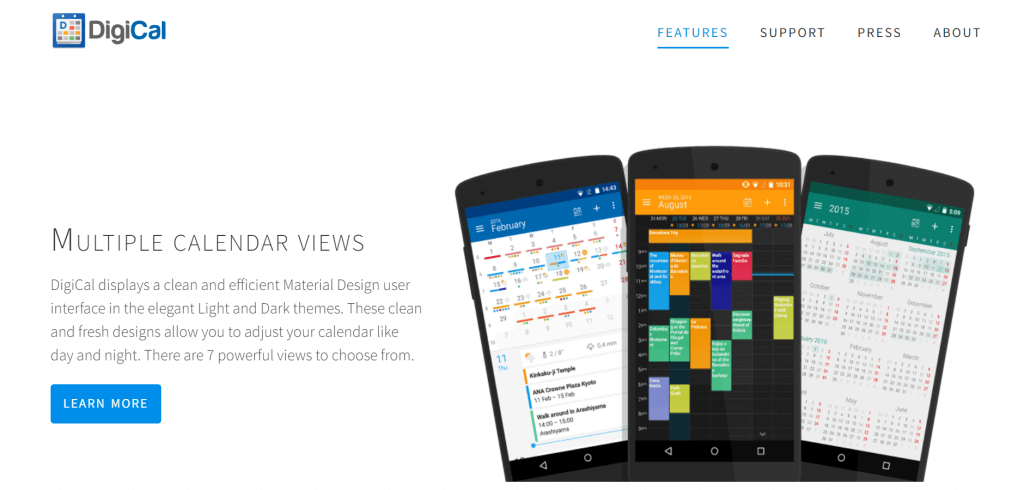 DigiCal is a calendar app that offers you an all-in-one solution to manage your life tasks in a more organized way. Available for Android, iOS, and desktop systems, DigiCal has a user-friendly interface that makes it easy to view multiple calendars, customize, schedule, and stay up-to-date with important events and meetings.
DigiCal supports synchronization with various accounts, including Google Calendar, Outlook, and Exchange. It allows you to import all of your events, tasks, and reminders from multiple calendars and access them from one place.
The platform offers multiple customization options, allowing you to tailor the look and feel of your calendar. You can choose from over 7 calendar views and 6 widget views.
You can combine tasks and events into one seamless view and keep track of all your commitments in one place. It also comes with integrated features such as location-based reminders, built-in weather reports, and smart suggestions for event titles.
Pricing: Contact the team
11. 24me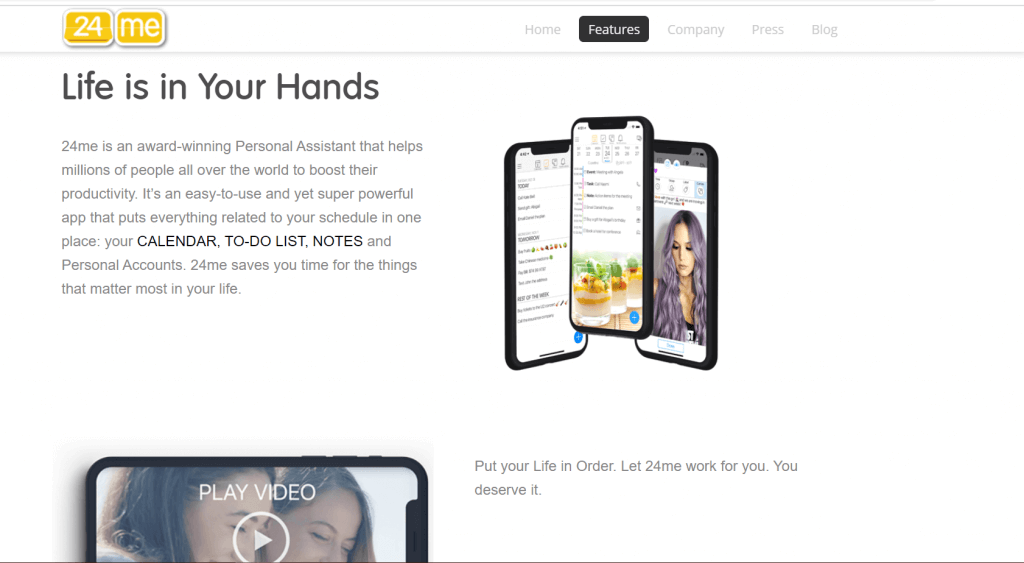 24me is an award-winning calendar and task management application that is designed to bring all your personal and work schedules into one place. It is an intuitive app with a sleek interface that makes it easier for you to keep track of your daily tasks, appointments, and events.
24me allows you to bring all your schedules in one place. The app can integrate with your existing calendars, including Gmail, iCloud, and Outlook. It automatically syncs with these calendars to display all your appointments, events, and reminders in one central location.
The tool is equipped with smart notifications that remind you of upcoming events, tasks, and bills. The app also sends you notifications via SMS, email, and push notifications, ensuring you never miss important deadlines.
With 24me, you can create to-do lists, set reminders, and prioritize tasks.
Another unique feature of 24me is its ability to automatically pay your bills. The app integrates with popular bill providers, including Comcast, AT&T, and Verizon, to fetch your invoices and process payments.
Pricing: Contact the team
12. Vantage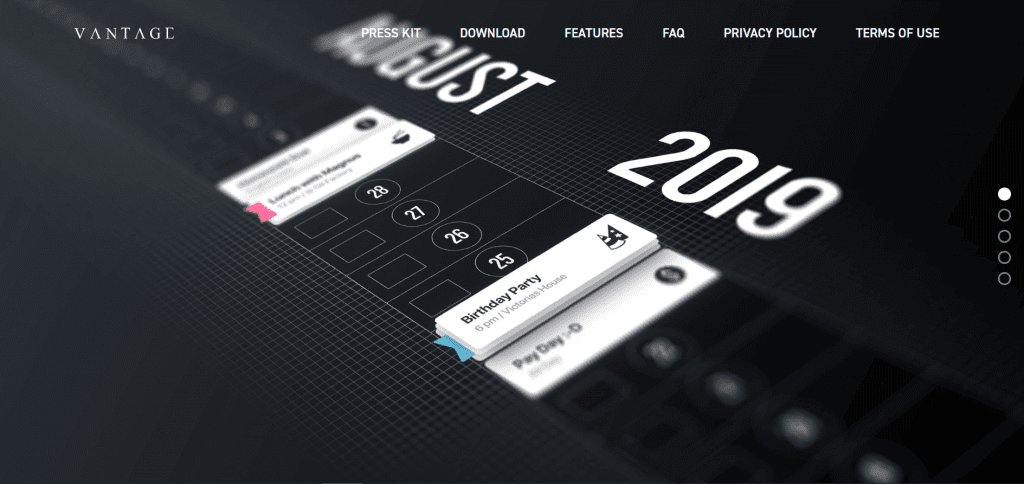 Vantage is a mobile calendar app that helps you stay organized and manage your schedule. With its user-friendly interface and colorful design, Vantage is a versatile calendar app that makes it easy to see your agenda at a glance and stay on top of your appointments, events, and tasks.
Vantage allows you to choose from various views such as Day, Week, Month, and Custom Views. With Custom Views, you can create your own view and choose the data you want to see.
The tool does away with the cluttered screens and confusing menus that plague many calendar apps. Instead, it offers an intuitive navigation system that allows you to swipe, tap, and pinch your way through your schedule.
Vantage allows you to add events and tasks using natural language input. This means you can type in something like "Meet Sarah for Lunch on Friday at 12 pm," and Vantage will create the event for you automatically.
Pricing: Contact the team
What features should I look for in a Calendar App?
When selecting a calendar app, remember to consider your specific needs and prioritize the features that align with your workflow and scheduling requirements.
That said, here are some key features to look for:
User-Friendly Interface: The calendar app should have an intuitive and easy-to-use interface that allows you to navigate and manage your schedule effortlessly, as Nifty's Team Calendar view demonstrates below:
Cross-Platform Syncing: Look for a calendar app that can sync seamlessly across multiple devices and platforms (think: smartphones, tablets, and computers). This ensures that your schedule remains consistent and accessible wherever you go.
Multiple Calendar Support: It's beneficial to have the ability to create and manage multiple calendars, such as personal, work, or family calendars. Using this feature, you can keep different aspects of your life organized and separate if needed.
Event Reminders and Notifications: The app should offer customizable reminders and notifications for your scheduled events. This way, you will be able to stay on top of your commitments and ensure you don't miss important appointments.
Integration with Other Apps: Consider whether the calendar app integrates with other apps and services you commonly use (read: email clients, task management tools, or note-taking applications).
Sharing and Collaboration: If you frequently collaborate with others or need to share your calendar with family, colleagues, or friends, look for a calendar app that supports easy sharing options.
Recurring Events: The ability to set up recurring events, such as weekly meetings or monthly reminders, can be extremely useful for saving time and avoiding repetitive data entry.
Customization and Personalization: Consider whether the app allows you to customize the appearance of your calendar, such as:

Choosing different views (day, week, month), as Nifty shows below: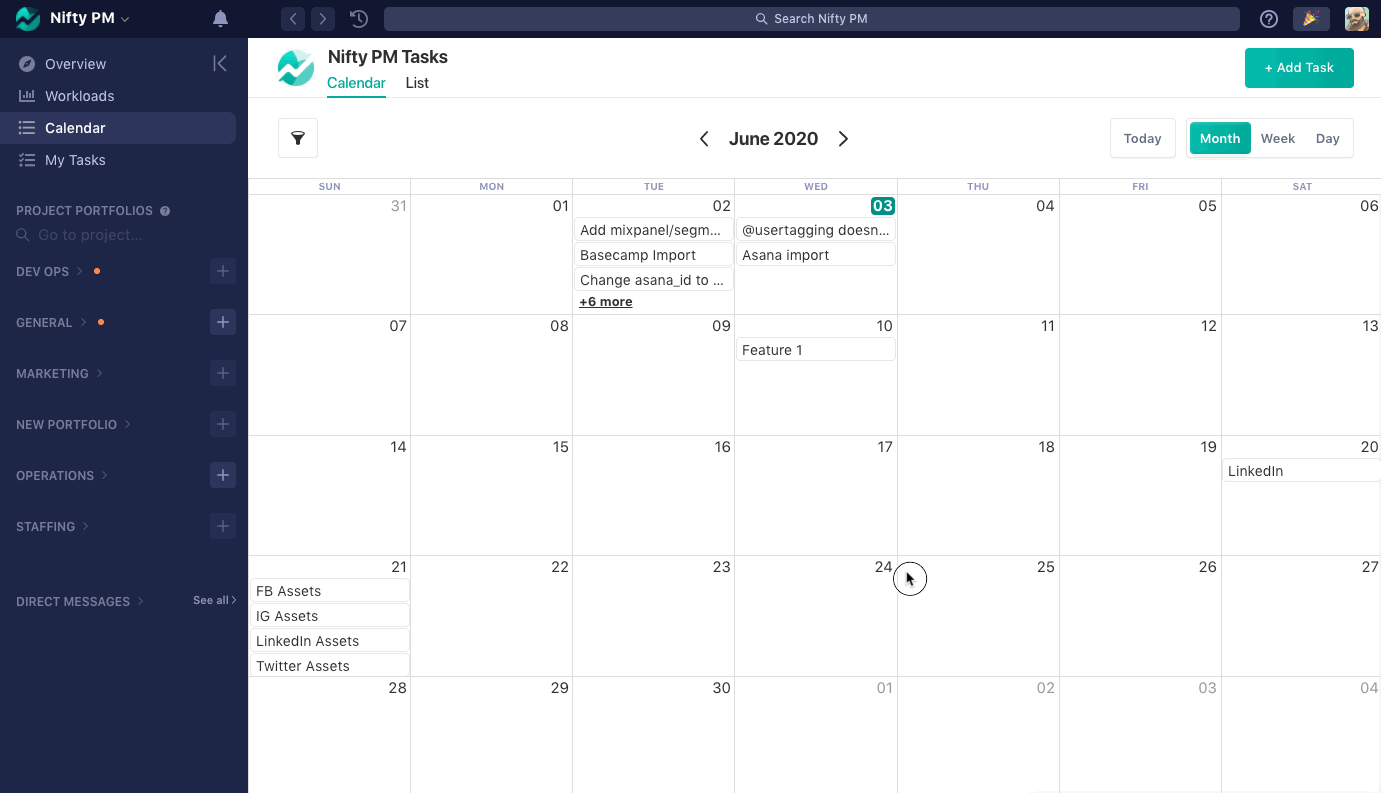 Color coding events
Adding personalized backgrounds
This can enhance the visual appeal and tailor the app to your preferences.
Availability and Scheduling: Some calendar apps offer features that allow you to check the availability of other participants when scheduling meetings or events. This can help you find the best time that works for everyone involved.
Offline Access: If you often find yourself in areas with limited or no internet connectivity, having an offline mode or the ability to access your calendar without an internet connection can be crucial.
Choose Nifty, One of the Best Free Calendar Apps for 2023
There are hundreds of online calendar apps you can choose from. And one great calendar app option is Nifty. Here's why:
Nifty offers an intuitive and user-friendly interface. You can navigate the tool easily, thanks to a visually appealing and clutter-free design.
The tool supports integration with various popular calendar services such as Google Calendar, Outlook, and Apple Calendar. This means you can sync all your existing calendars seamlessly within Nifty, ensuring you have all your events in one place.
The platform allows you to create shared calendars, invite team members or collaborators, and manage events together. You can also assign tasks, set deadlines, and communicate directly within the app.
Nifty offers smart scheduling features that help you find the best time slots for meetings or appointments. With features like availability checking and automated time zone conversion, scheduling becomes effortless and efficient, saving you time and reducing conflicts.
Nifty provides customizable reminders and notifications to ensure you never miss an important event or deadline. You can even set reminders for specific events or recurring tasks and receive notifications via email, mobile push notifications, or desktop alerts.
Nifty offers additional features such as task management, file attachments, time tracking, and reporting, providing a comprehensive solution for your productivity needs. These features enhance the functionality of the app and make it a versatile tool for managing your schedule and tasks.
Trust Nifty's calendar app to be your ultimate productivity companion. Sign Up for Nifty for free.