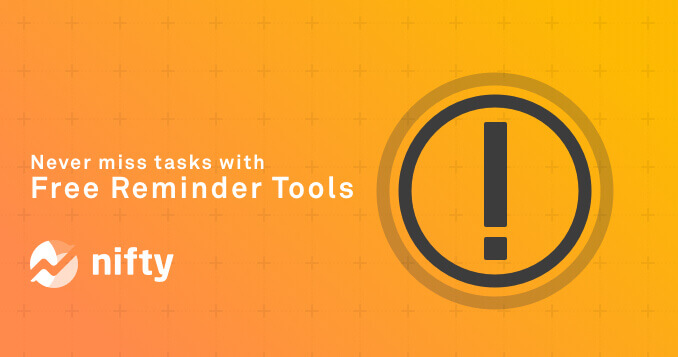 Reminders! The glue that stops our day from unraveling. These lifelines keep us on track. These digital post-it notes prevent tasks from slipping through the cracks.
The biggest challenge, however, is selecting from a vast ocean of tools available. In this guide, we will look at the 10 best reminder apps that are worthy of any must-buy list!
What Are Reminder Apps?
At its core, reminder apps are tools that help you remember and manage tasks, events, and important dates. You can leverage these and other reminder apps to boost productivity and keep yourself organized.
10 Best Free Reminder Apps to Keep You Accountable!
1. Nifty: Best Free Reminder App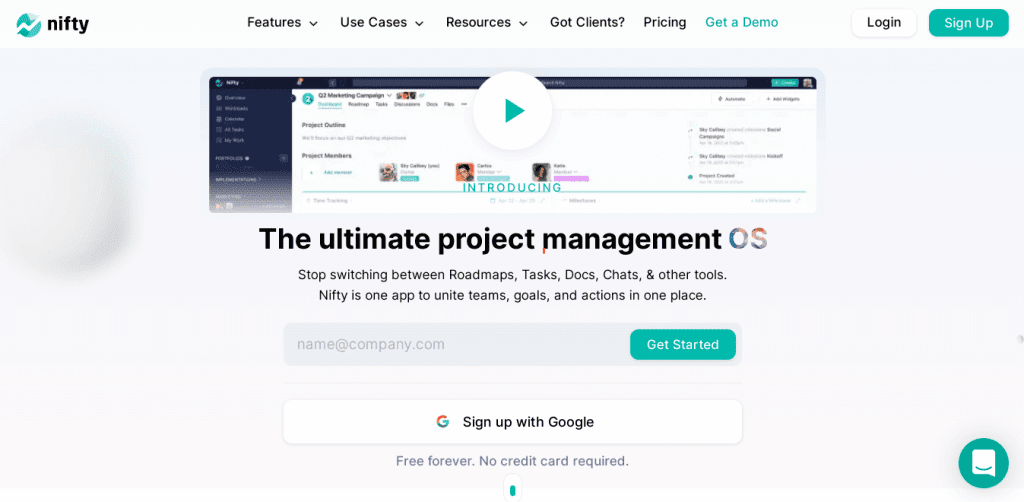 Nifty is an all-in-one task management tool that is great for setting contextual reminders. The platform offers three important features all rolled into one: reminders, tasks, and due date alerts.
One of Nifty's standout features is its intuitive Reminder system. This feature allows you to set custom reminders, assign members, and add custom information. The biggest advantage is that once you create a Reminder, you'll automatically be alerted by email, via in-app, or through a push notification: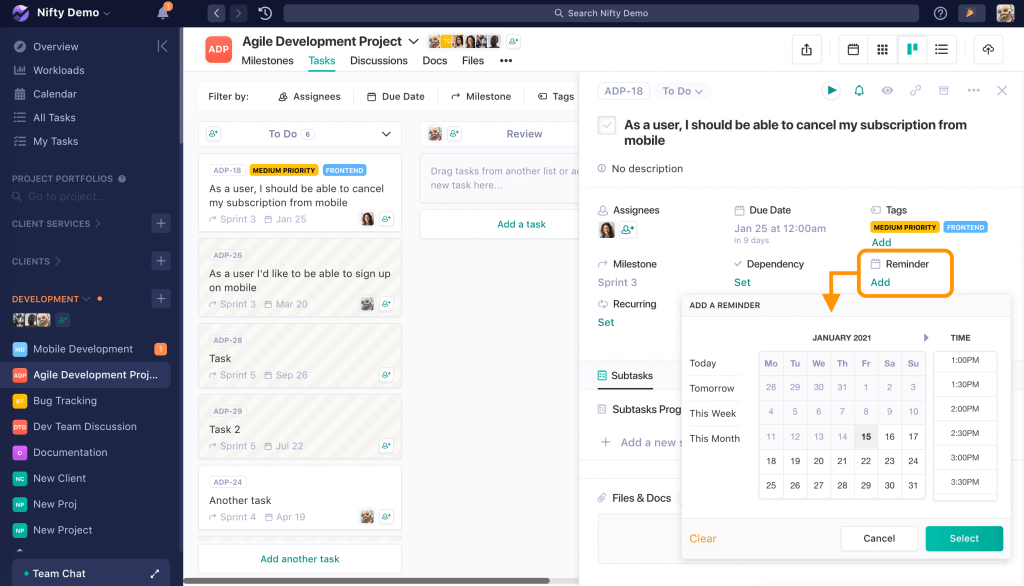 Plus, notice you can even set recurring reminders for your tasks as highlighted below: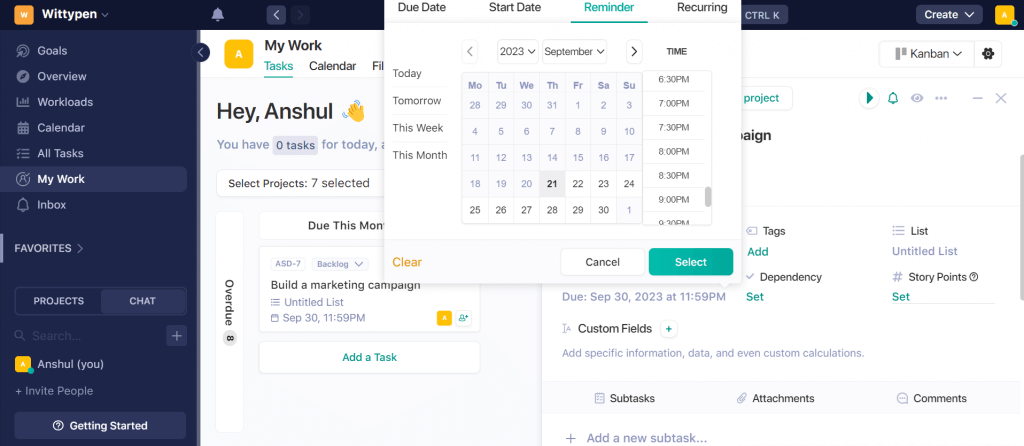 And if you want to integrate your reminders with popular calendar applications like Outlook or Google Calendar, your daily reminder app, Nifty, makes it possible. Whether it's a daily stand-up meeting or a time-sensitive project deadline, Nifty keeps you informed and on schedule.
Nifty also offers a custom Task Reminder feature for work that is overdue. You can get reminders before and after the due date arrives: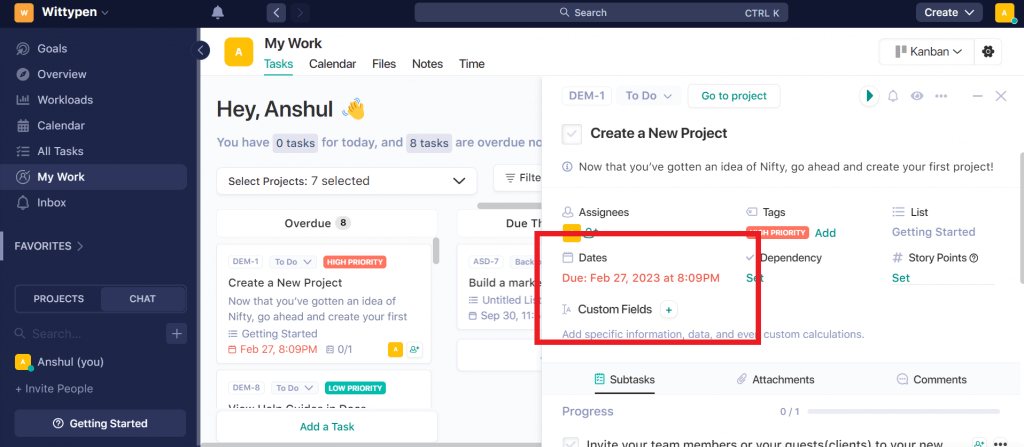 All you need to do is head over to the Notifications section and customize your preferences for your task notifications: 
What you need to know is that the tasks can be organized into projects, and projects into folder-like Portfolios for ultimate organization. This lets you categorize and prioritize your to-do list like child's play. Moreover, Nifty's powerful task feature also helps you to set the due date alerts–be it daily, weekly, or monthly: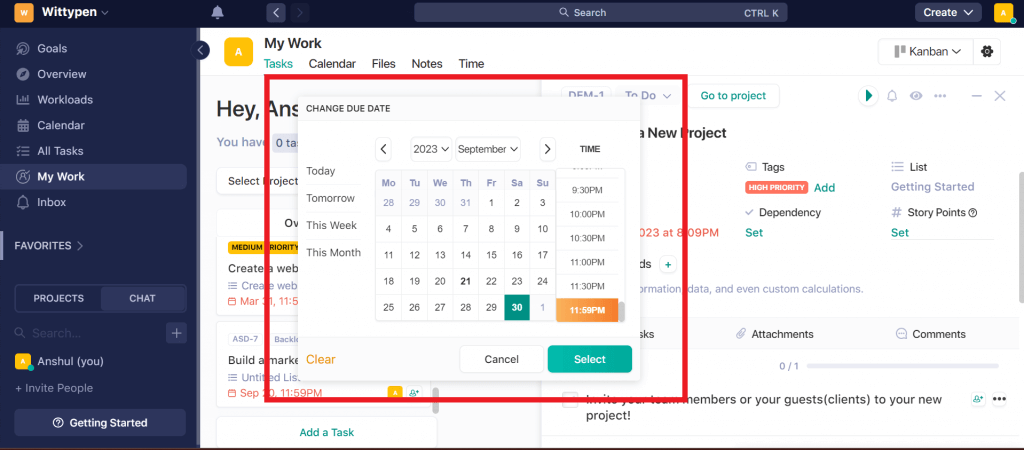 With customizable task fields, you can include important details, such as descriptions, attachments, labels, dependencies, subtasks, and their due dates. This ensures you have all the information you need at your fingertips.
Other Key Nifty Features:
Project Roadmaps helps you create visual project roadmaps to visualize project timelines and milestones
Task Dependencies ensure that the tasks are completed in the correct order, ultimately helping to optimize the project flow
Kanban Boards allow for a simplified visual representation of tasks and workflows so that your tasks are managed effectively
Time Tracking helps you to keep track of time that is spent on tasks and projects
File Sharing is the best way to share and collaborate on files within tasks and projects easily
Dedicated Team Workspaces can be created for different teams and keep your projects organized as well as team members focused
Resource Allocation is a smart way to gauge resource availability and workload and ensure a more balanced work distribution
Nifty Pricing:
Free forever plan: $0 (with unlimited users and tasks)
Starter plan starts at $5/user
Pro plan begins at $10/user
Business plan comes at $16/user
Nifty G2 rating: 4.7/5 (427 reviews)
Nifty Capterra rating: 4.7/5 (403 reviews)
Ready to try Nifty? Get started for free today and never miss a thing again! ✨
2. nTask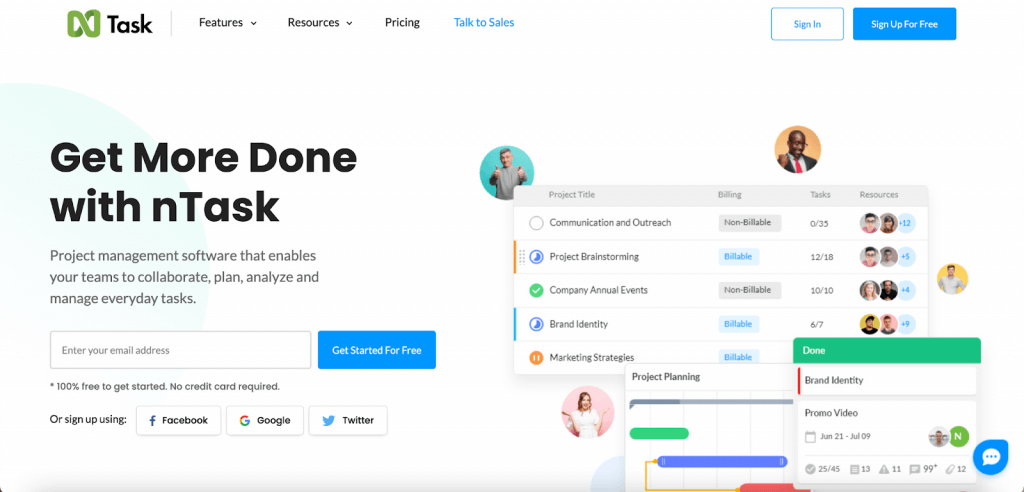 Prioritizing tasks was never this easy! You can leverage an army of features such as reminders, due dates, task lists, notifications, and more! What's more, it has a built-in calendar that makes it extremely easy to track the team's progress on a specific project!
Key features:
Offers cross-platform functionality and increased collaboration for web, Android, and iOS devices
Provides to-do reminders across devices, making it impossible to miss
Allows you to organize personal tasks
Tasks list (and their status) can be viewed on planned as well as actual due dates
Offers useful project and meeting management tools in a centralized place
Offers seamless integration with tools such as Google Calendar, Zapier, Outlook, Slack, etc.
Pros of using nTask:
Great for keeping track of tasks and completing them promptly
Easy to share documents
Seamlessly integrates with Slack
Cons of using nTask:
Auto-renewal of subscriptions is a big disadvantage
Inability to edit meetings once they are posted
Difficult to use in general
nTask pricing:
Premium: $3 per month, billed annually
Business: $8 per month, billed annually
Enterprise: Custom pricing
3. Remember the Milk: Your Handy Reminder App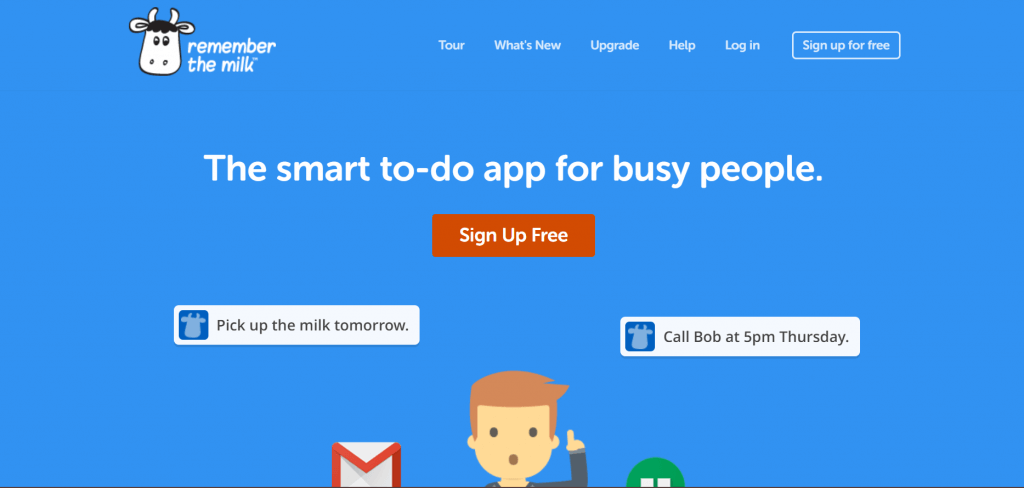 One of the most popular free reminder apps on this list, Remember The Milk, is known for its minimalism. You can track tasks and supercharge your productivity without worrying about the to-do lists.
Setting reminders is extremely easy as you can categorize tasks into sub-tasks and manage them more efficiently. You can also share tasks and lists with others while adding tags to your tasks for simplified searching.
Key features:
Syncs your account with numerous devices
Sends notifications via email, text, Twitter, etc.
Available on Android, iOS, Mac, and Linux
Offers multiple browser extensions and add-ons
Pros of using Remember the Milk:
Easy to use and get started
Ability to work offline
The free features available are great!
Offers easy integration with Google
Ability to quickly generate new tasks and track progress
Cons of using Remember the Milk:
The paid version may feel too simplified as a to-do list, and the cost may not feel justified
The mobile app is slightly slow and can lag
Yes, Remember my milk is a good app, but Nifty is better!
Know why
Remember the Milk pricing:
Free version available
Pro: $39.99 per year
4. Microsoft To Do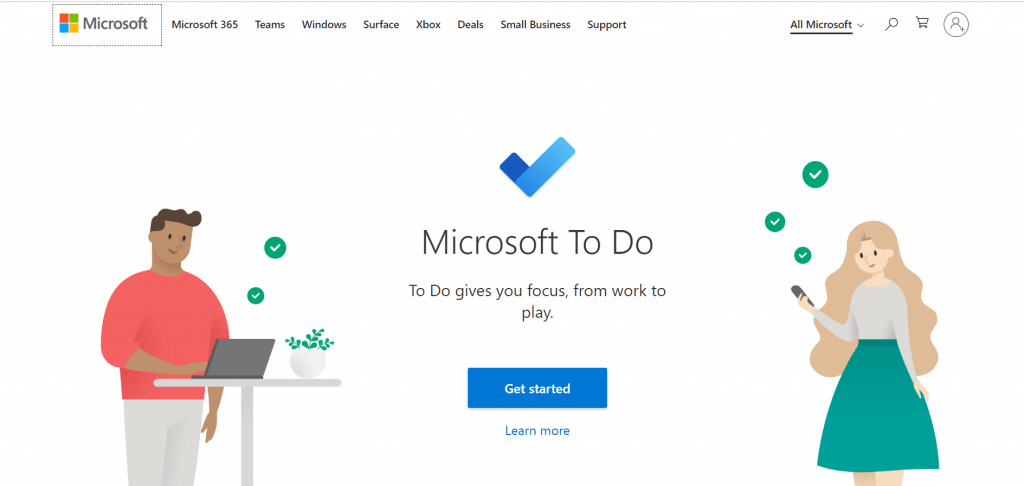 An easy-to-use dashboard is just what you need to manage personal and professional tasks, and Microsoft To-Do is just the app for you! You can get a granular overview of the daily tasks or deep-dive into lists as needed!
Key features:
Offers the ability to set due dates and reminders for every task
Allows you to 'star' the most critical tasks, ensuring instant visibility
Offers "steps" or subtasks that segment larger tasks and allow you to add notes to each subtask at the click of a button
Provides the ability to create assignees, due dates, task dependencies, etc., on a mass level
Task prioritization helps prioritize important tasks on the to-do list
Recurring tasks help eliminate added work and save time
Pros of using Microsoft To Do:
Simplified task management using lists and groups
Daily View provides details on what's next and what's coming up
In-app reminders when a deadline approaches or for repeating deadlines (be it for weekly or monthly tasks)
Cons of using Microsoft To Do:
Overdue assignments/tasks need to be managed better
Poor integration capabilities
Microsoft To Do pricing: Available for free and seamlessly syncs across iPhone, Android, Windows, and the web.
5. ProofHub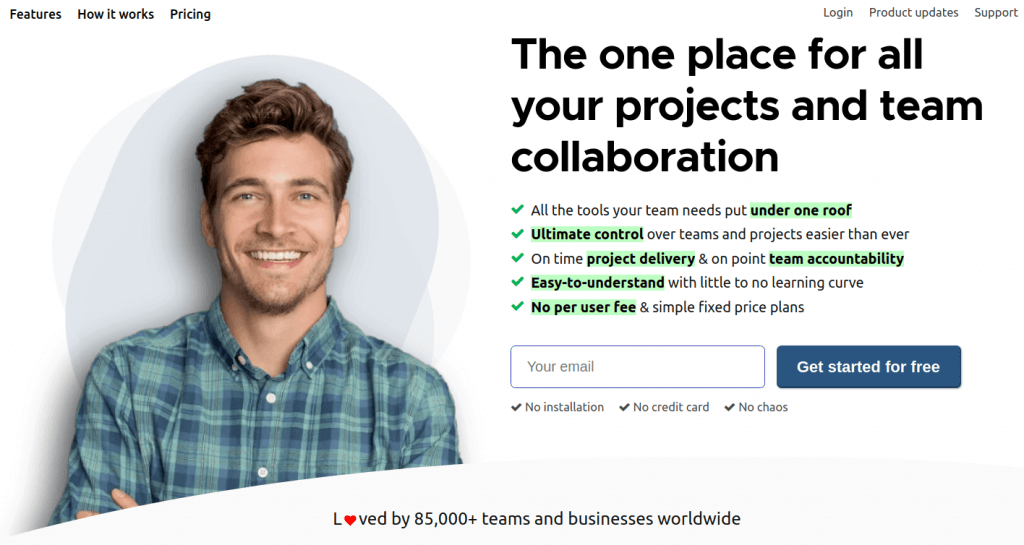 A two-in-one task reminder app and project management app, ProofHub is a great option for larger teams and businesses. Its laser focus on collaboration helps teams to engage in time tracking for chats as well as announcements.
Key features:
It can be used by unlimited users on both plans
Great collaboration features help schedule and implement projects such as chat, file transfers, discussions, and announcements
Excellent app for multinational remote working teams
Works on iOS or Android devices
Available in 11 languages (English, Spanish, Portuguese, German, French, Polish, Italian, Dutch, Turkish, Chinese(Taiwan), and Russian)
Pros of using ProofHub:
Cost efficient
Low learning curve
Easy to set up and start using within minutes
Keeps record of tasks and helps monitor it
Allows API access for integration with third-party apps
Chat feature helps keep the team connected
Available for both iOS and Android
Cons of using ProofHub:
Lack of options for background template
The mobile version is not as good as the desktop version
Customer support can be better
ProofHub pricing:
Ultimate Control: $89/month, billed annually
Essential: $45/month, billed annually
Try Nifty, the leading Proofhub alternative!
6. Desktop Reminder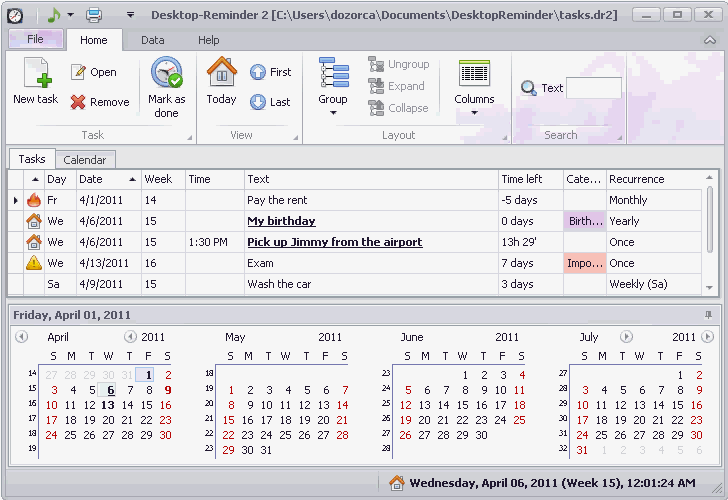 If you are looking for a free reminder app for your Windows PC, look no further than the Desktop Reminder app. Powered with a host of useful features and exceptional performance, this app should be your go-to app for daily tasks, deadlines, bills, and so on.
Perhaps the most convenient feature of this app is that you don't need to log in to your computer. The app will directly send emails and text reminders about pending tasks and schedules!
Key features:
Offers a 12-month calendar showcasing past and future tasks
Provides the ability to set reminders for repeated tasks
Enables you to set alarms for a specific time
Pros of using Desktop Reminder:
Efficient reminder for desktops
Easy to use, low system requirements, lightning-fast speed!
Ability to set a daily reminder for tasks
Cons of using Desktop Reminder:
Installation can be a little tricky
Customer support can be better
Desktop Reminder pricing: Available for free!
7. Google Keep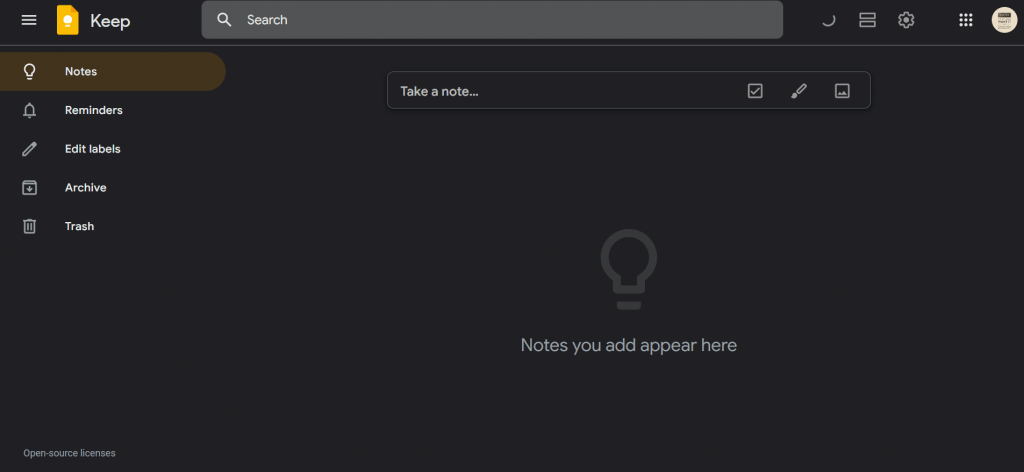 Google Keep is a versatile reminders app that can also help you with note-taking. If you have a Gmail account, as most people do, you can use Google Keep for free! You can create reminders, lists, and to-dos easily. Since it is available with your Gmail account, it easily integrates with your Google Calendar.
Key features:
Ability to edit tasks and lists on the go
Ability to create shorter on-the-go notes and edit them later as needed
Offers the capability to filter, organize, and track down notes based on color as well as category
The ability to add audio files and images as tasks and reminders is a great advantage
Works seamlessly across devices (think: smartphone, tablet, computer, etc.)
Ability to share lists for easy collaboration and real-time syncing
Pros of using Google Keep:
Simple and intuitive user interface
Live tiles and check box style checklists are easy to use
The collaboration feature allows multiple people to work on projects
Allows you to add images, drawings, labels, links, and reminders to notes
Cons of using Google Keep:
Does not offer a desktop app
Offers limited integration with other apps
Inability to format text and customize it like making the text bold, underlining it, italicizing it, etc.
Google Keep pricing: Available for free if you have a Google account.
8. TickTick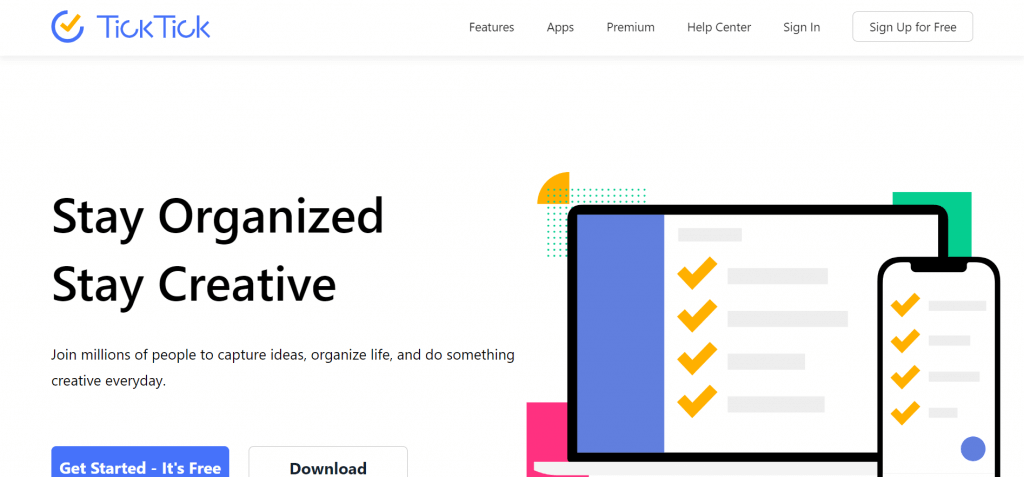 TickTick offers robust work scheduling features so that you can manage tasks, files, deadlines, and more from a centralized place. The best part? The app creates reminders automatically so that no tasks are forgotten, and you can stay ahead of the schedule without missing a beat.
Key features:
The Communication feature drives collaboration within the team
Ability to organize processes and tasks to a date in the past or the future!
Ability to set reminders for deadlines on the fly
The Annoying Alert feature is a must-use functionality; enable it to get constant reminders for critical tasks
Ability to add multiple reminders as well as location-based reminders for a task
Pomodoro timer is another killer feature that notifies users when it's time to take a break!
Pros of using TickTick:
Simple and robust personal task management tool
It can be used as a personal 'To Do List' framework
Quick Input feature
Custom list
Multi-view, including Calendar and Kanban view
Multi-platform, including web, desktop, and mobile
Easy-to-share specific list
Allows for notifications and reminders of tasks
Tasks to be one-time or recurring
Cons of using TickTick:
Mobile apps can be laggy
Task reminders appear as notifications, no option for email reminders
All tasks that are due on the same day/time show up as one notification (instead of showing up as separate notifications)
TickTick pricing: Custom pricing, contact the sales team
9. Notepin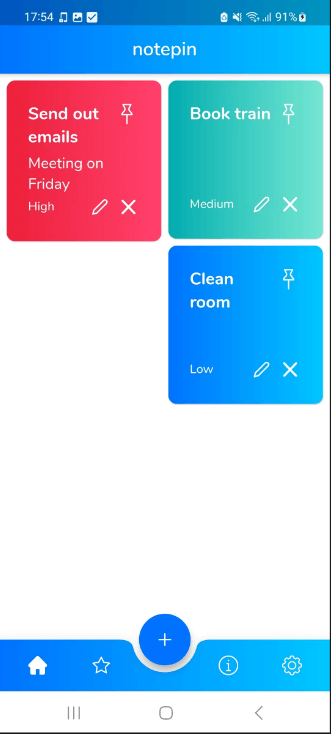 Phone-addicts! Here's one of the best free reminder apps for Android that you can use – Say hello to Notepin. If getting helpful reminders is on your priority list, Notepin is the best reminder app to download.
Key features:
Pin short-form notes to the notification bar
Add title and description to the note
Assign priority levels to the notes: High, Medium, and Low
Pin and unpin notes with a single click
Pros of using Notepin:
Simple to set up
Works straight out-of-the-box
Minimal, clean, and distraction-free UI
Cons of using Notepin: NA
Notepin pricing: Free and Premium versions available on iOS and Android
10. Trello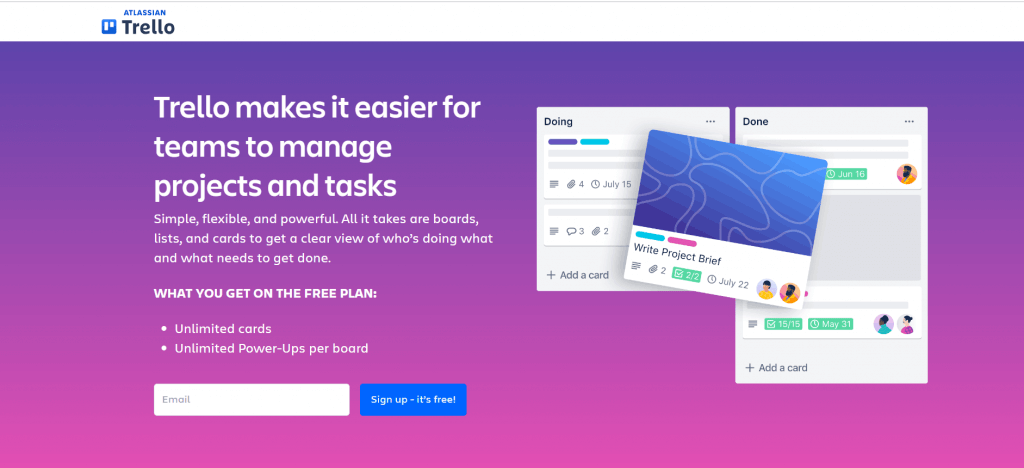 Unknown to many, Trello offers custom due date reminders so that you'll never miss a deadline!
Key features:
Due date helps track deadlines by allowing you to set a time and date for the task at hand
Add dates in multiple formats, such as via the card menu or the quick edit menu
Color-coded due dates can make task-tracking easier
Ability to 'watch' or 'join' a card and get reminders
Pros of using Trello:
Makes it easy to organize tiny tasks and assign tasks on the go
Offers a drag-and-drop intuitive system
Offers multi-board workspaces, which adds flexibility
Facilitates project organization, visualization, and rationalization
Cons of using Trello:
Tasks are limited to a project and are not editable
Limitations of task hierarchy, reporting and privacy settings, attachment size, and integrations
Difficult to add or find attachments
Trello pricing:
Free: $0
Standard: $5 per user per month, billed annually
Premium: $10 per user per month, billed annually
Enterprise: $17.5 per user per month, billed annually
Why Use Reminder Apps at All?
You can create a long list of to-do's, but without reminders, completing every item on the list can become tricky. The 'forgetting curve' claims that within one hour, people would have forgotten about 50% of the information.
Reminder apps can clear the brain fog you often notice when the day becomes chaotic. You can multitask easily, without errors, and with greater confidence.
Stay Productive, Stay Nimble with Nifty
Sure, there are many free reminder apps out there that offer great functionalities. However, the one thing that makes Nifty different is its seamless integration of task management, collaboration, and reminders all into a single, cohesive platform.
While many free reminder apps focus solely on sending you notifications at specific times, Nifty takes one step further by allowing you to tie those reminders directly to tasks and projects. This integration is what truly sets Nifty apart.
In the end, remember that Nifty is not just another reminder app; it is a complete solution for individuals and teams who want to stay organized, meet deadlines, and work seamlessly.
Go for the free trial and see for yourself.
FAQs
Is there a free reminder app?

Yes, there are many free reminder apps you can use, such as Nifty, Remember the Milk, Microsoft To Do, Google Keep, and more.
Is there an app for daily reminders?

Yes! There are many apps that offer daily reminders. For instance, with Nifty, the right reminder app you can choose the day and time of the task for which you need a reminder.
Is there a free reminder app for iPhones?

Apple Reminders is one of the best free reminder apps for iOS you can use to track all your tasks and manage your day. What's more, you can sync the app to your iCloud so that all your reminders across Apple's devices get synced.
Is there an app that reminds you to do things?

There are plenty of apps out there that can remind you of important tasks, activities, and more, such as Nifty. You can also create custom reminders depending on your specific needs.