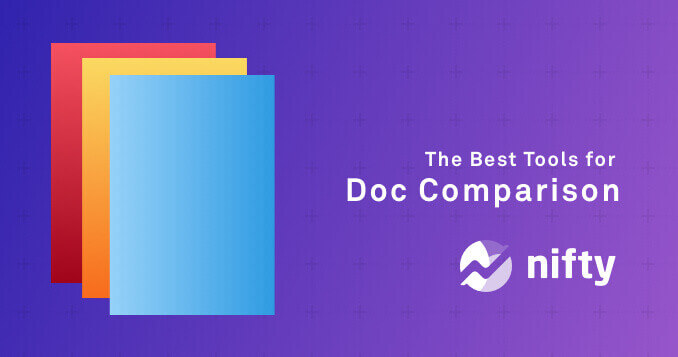 Imagine a standard project where many different team members collaborate on the same project. Everyone enters new changes, which creates countless versions of the same project file. They may even be working on different files to merge them. Without a document comparison tool, this project would take so much time, and errors would be imminent due to the complexity of the task.
Now, many people use Microsoft Word's "compare" feature, but many great alternatives exist. Here are the top ten such alternatives that we find best.
How do you choose the best document comparison tools?
When choosing the best document comparison tools, you have to set some ground principles based on which you'll evaluate the tool's usefulness in your own case. For instance, you want to ask:
How often do you use it?
What's your budget?
Do you belong to a specific industry?
Do you have any interface preferences?
Is it a remote-friendly tool?
For instance, even a trial version would do if you need these comparison tools just once. If you use it for something non-specialist, every now and then, a free version or a simpler tool with a free version will be more than fine.
Price differences between tools can be incredible. This is especially the case if you need to buy an enterprise license. So, make sure to shop around and do some comparisons (no pun intended) of your own.
Next, some tools are preferred in some industries. Legal teams may prefer some, but your work may sometimes require a 3-way comparison. This is why you need to review reviews, use trial versions, and ensure the tool has what you need.
Lastly, you shouldn't underestimate the importance of User Interface (UI). After all, you'll spend hours and hours staring at the screen, so make sure that you like what you see and that the layout is either intuitive or customizable. You don't want to spend hours learning to use a tool just so that you can then start using it properly. 
10 Best document comparison tools
We evaluated almost all available document comparison tools and came up with this list of the 10 best tools:

Nifty is an all-in-one project management software that offers built-in document management functionality. Nifty Docs is a complete document management solution that allows you to collaborate on project docs and files without jumping to another tool. 
Nifty Docs are built on top of Google Docs open source code, so you get all the google doc features combined with the power of project management software.
This combination allows you to centralize document collaboration in one place and avoid tool gaps and distractions during the process.
The tool also allows you to get feedback, comments, and reviews in one place. 

The first thing you'll notice when you go to DiffChecker's homepage is the incredible simplicity of its UI. As soon as you click on the link to the site, you'll be presented with a simplistic interface with two boxes:
The left one for the original text
The right one for the changed text
All you have to do is click the green button which says "Find Difference" at the bottom of the page. After this, you get your results in a matter of seconds.
The key thing about the simplicity of this process is that it will make your onboarding process so much easier. You don't have to worry too much about training new employees to use these tools since this process won't consume too much time or energy.
At the top of the page, you can choose different file types. Marked in different colors (just next to the Diffchecker logo) so that you can't miss them, are cards marked as:
By default, the platform is set to text.
Regarding the additional features, you can download and install a diff checker for the desktop or check out the Bibcitation tool. This free online tool generates citations, reference lists, and bibliographies.
The platform has three packages:
Standard: Free
Pro + Dekstop App: $15 per month
Enterprise: $40
You also get a 40% discount if you pay yearly instead of monthly. While premium versions are worth it, even the standard (free) version will do the job in most scenarios.

Draftable is an amazing document comparison software that gives you an accurate comparison in a simple interface. Right from the homepage, you're presented with two versions of this software:
The basic Draftable Online document comparison tool is completely free. You don't have to sign up, and you can easily use it for one-off instances where you need to quickly compare some public documents. The two biggest downsides are that you are limited to a 10 MB file size, and the file can be 300 pages long.
Draftable desktop app for Windows costs $129 per year, providing users unlimited comparisons. One of the best things is that, unlike other desktop apps, it works amazingly without internet connections. This app can be used even for some of the most sensitive, government-related data.
Free forever. No credit card needed.
Try Nifty
Draftable Pro costs $199 per year. This advanced version of the platform is still in its early stages; it's easy to integrate with Outlook and Word (which may facilitate your workflow) and supports scanned documents with OCR.
The key thing to remember is that both of these platforms have a free 5-day trial that you can use to test them out. The thing is that, unlike other platforms, you won't have to give the platform your credit card information to access it. Also, there are no features that are locked behind a paywall. During the trial, you get to see all this platform can do (which was always supposed to be the point of a free trial).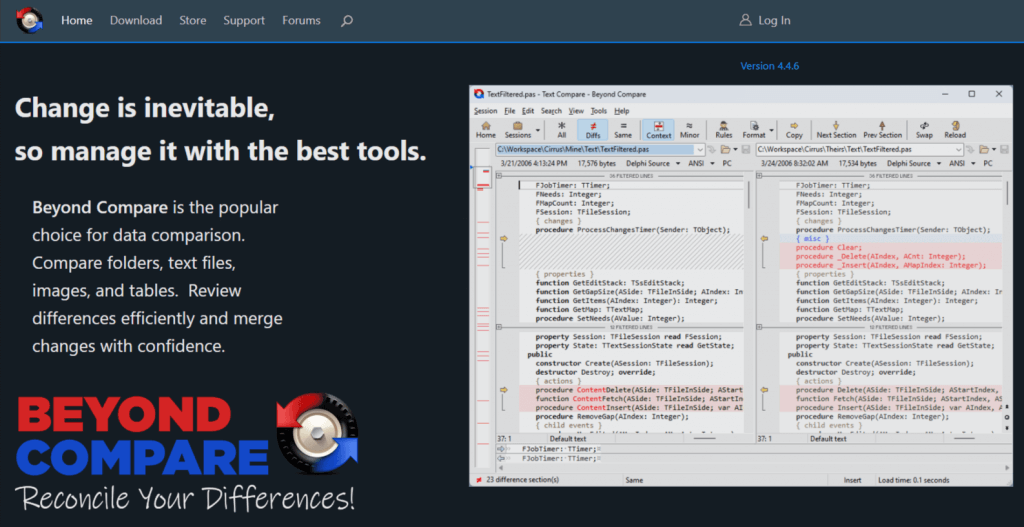 If there were ever a tool whose user interface you could describe as "retro," it would definitely be Beyond Compare. While the tool has all the modern features and a convenient interface, the aesthetics are those of Windows 95/98, which strongly draws some older users to this platform.
The tool allows you to compare files, merge two versions into a single output, and synchronize your local data with a single click.
The platform runs on Windows, macOS, and Linux.
Beyond Compare has two packages:
Standard edition: $35 per user
Pro edition: $70 per user
It is, however, worth mentioning that you get a discount for the number of users. Another unique thing about Beyond Compare is that you can buy an older version if you choose to. For instance, when buying the platform for 1-4 users, you'll pay $35 per user, but if you buy for 10-49 users, the cost comes down to $24.50 per user, which is a considerable saving.
Also, you don't have to buy per user when choosing an Enterprise or One Site package. Both of these, however, are pretty expensive and will cost you anywhere from $5,250 to $42,000. Here, there's no discount for the number of users; the cost is fixed. Now, depending on your needs, this may be cost-effective or not. Moreover, you always have the option to upgrade your license.

Workshare Compare is a tool numerous legal teams use for its incredible reliability and security features. Aside from just color-coding changes, which other tools do, you also get to see the category of these changes. For instance, you have:
Boilerplate changes
Suggested changes
Numbering changes
Matching changes
This way, you can filter out what you're doing simultaneously and avoid getting confused by being presented with all the tasks simultaneously.
In the legal field, making an unintentional mistake can be very problematic. With Workshare Compare, no changes or comments will occur on the original documents. The tool was designed to work best with Office Suite, giving incredible results when used for Word, Paint, and Excel files. You can even use this tool to overcome some of your presentation difficulties.
The team behind the platform also provides other products, most of which are easy to integrate with this tool. This is especially the case for a platform like iManage Work. This means you can use Workshare Compare without ever leaving the iManage platform.
This allows you to be faster, more accurate, and deliver the results to clients much quicker/simpler. It gives you a chance to move forward more confidently and ensures you control who can amend the files.
For a law firm to not have access to a comparison tool would be like if a digital marketing company had no access to Google Analytics. The difference with Workshare Compare is that it's built with law firms in mind.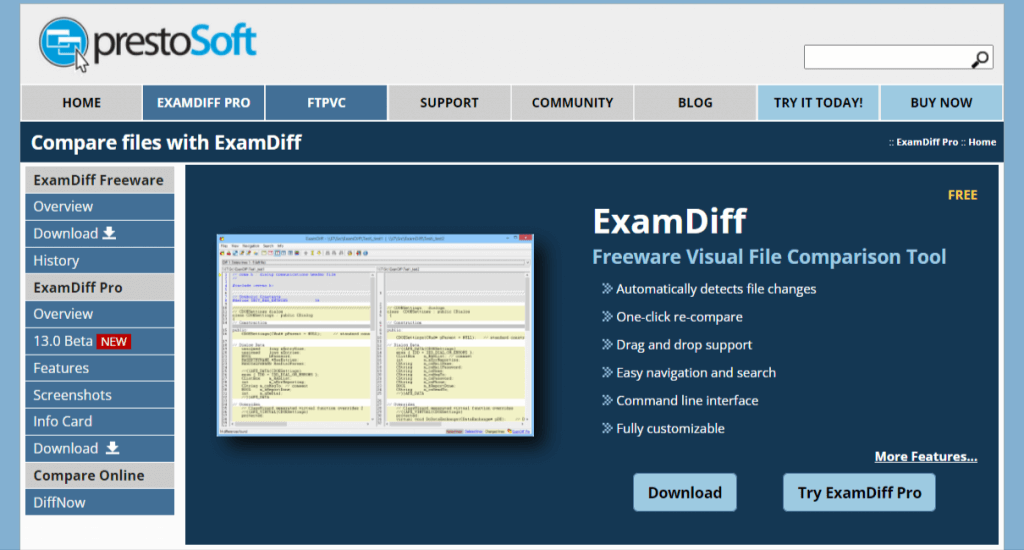 One thing setting ExamDiff apart from its numerous competitors is the fact that it's a freeware visual file comparison tool. The tool is capable of making one-click re-comparisons and has a drag and drop support. These massive quality-of-life features don't get nearly as much attention/praise as they deserve.
The ability to automatically detect file changes will make your comparison efforts fail-proof. Since the platform is so easy to use, you'll have no trouble using how to navigate the interface. This interface is fully customizable, meaning you can mold the platform to fit your needs better.
While ExamDiff is freeware, ExamDiff Pro is a commercial software version. If you go for the Standard version, it costs $34.99 per user (per number of seats). The version cost goes as follows:
Standard edition: $34.99; you pay $19.99 to upgrade a seat.
Master edition: $49.99; you pay $29.99 to upgrade a seat.
Even the freeware feature gives you so much value. You get access to tools needed for easy editing of the first and second files, a simple and accurate "Search" feature, and the tool remembers the user-specified number of most recent searches. While this last feature may not seem game-changing, it can make a difference.
Do you know you can get feedback, comments, and reviews on your doc. in one place? See it now.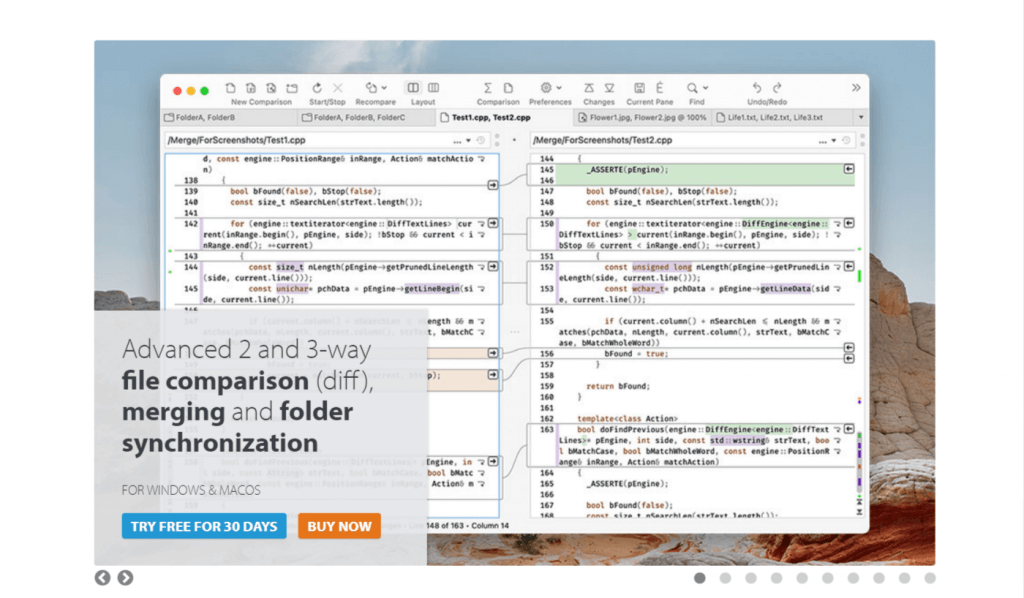 While many platforms give you an incredible 2-way file comparison, AraxisMerge can give you as much as 3-way file comparison, merging, and folder synchronization. You would be surprised how often the need for a 3-way file comparison comes up.
Regarding the advanced features, image and binary comparison (on a pixel and byte level) are unparalleled.
Now, while most of these platforms have support for Windows and macOS, AraxisMerge allows you to use both versions with a single license.
One of the strongest features of AraxisMerge is its portable reports that you can generate as HTML, XML, or UNIX. Storing these indefinitely and sharing them with colleagues and more are fairly simple.
Now, there's the issue of pricing:
Merge Standard Edition License: €129
Merge Professional Edition License: €269
There are, however, two more things to keep in mind. First, when buying a professional license, the cost is for one seat, and you get a quantity discount (per seat) when buying more than five, 20, or 100 seats.
Also, renewing or upgrading seats will give you slightly different pricing. Most importantly, there's an 85% educational discount, which means that educational institutions (and students) may get this software at a bargain price.
When comparing the content of two folders containing ASCII files, you need a tool that's capable of telling the differences; otherwise, you would never get through it. The platform is incredibly simple; you have to:
Start Windiff.exe
Open the file menu and click Compare files
Select the first file and open it
Select the second file and open it
You get the information with the differences displayed
Comparing folders is not more complex, either. Now, in 2023, you don't have to stick to the Windiff since there are so many Windiff alternatives that you can use. You can even use some tools we've already listed (like Beyond Compare or Diff Checker).
You don't have to download Windiff individually since you already have it in the MS Windows NT 4.0 Resource Kit Support Tools package. For those who want to feel like specialists, you can run Windiff.exe from the command line. All you have to do is enter Windiff.
If you're going to use it, it's quite helpful if you learn a thing or two about the command lines. For instance:
-D to compare one directory only and ignore subdirectories
-O to force it to stay in the outline mode
-S saveopts
Memorizing these commands is a lot simpler than it seems.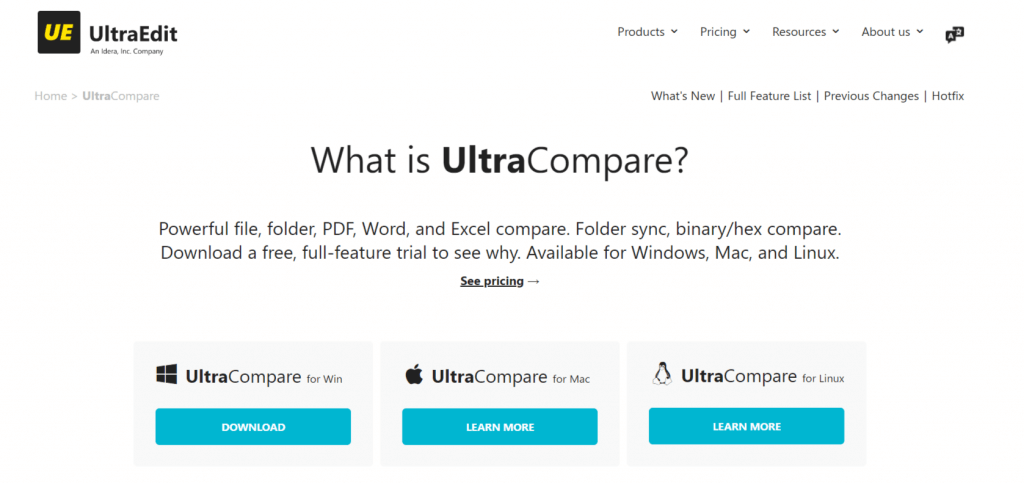 Like other entries on this list, UltraCompare can compare files and folders, merge files, compare remote files, and even sync files.
For that matter, UltraCompare (and the entire UltraEdit) come with Windows, Mac, and Linux support. This is especially important because your personal license allows you to use a combination of three machines simultaneously, and it's possible that your phone, laptop, and desktop don't run on the same OS.
Many of these tools underestimate the importance of great graphics; however, this UI will be something you'll spend hours gazing at. Therefore, the fact that UltraCompare is 4k Ultra HD compatible and looks great on a Retina display makes a significant difference.
The specialization of UltraCompare is large files (we're talking about sizes that would make other platforms malfunction).
As far as the cost goes:
UltraEdit: $79.95 per year
UltraEdit All Access: $99.95 per year
However, you don't have to pay for these tools in a SaaS format. Instead, you may want to pay a perpetual UltraEdit for just $149.95 one-time purchase or UltraEdit All Access for $249.95. Keep in mind that maintenance is included in the package.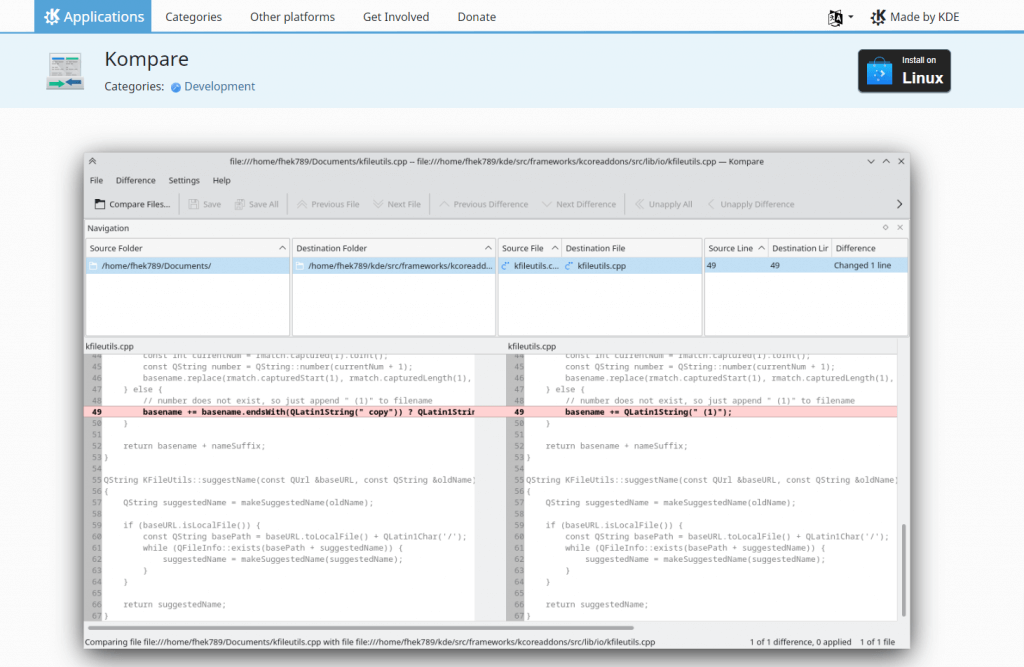 If you need a comparison platform for Linux, don't look any further than Kompare. This tool is incredibly simple, has a decent, customizable display, and constantly gets new updates. There are new releases on this platform almost monthly. This tool may sound unknown because you probably know it by its previous name – Kdiff.
When comparing patch files, you want a graphical view in context, unified, and diff formats. This is incredibly simple to achieve in Kompare. This is why corresponding lines are always placed so close to each other (regardless of the position of your scroll bar).
More importantly, you get an interactive application of differences and full network transparency.
Navigating between different files is simple; you can switch source and destination with a single command. This gives your workflow so much customizability.
Most importantly, depending on what you need it for, you can view different statistics in a simple and transparent format. This will give you a far better idea of your situation. However, we must point out that Kompare doesn't calculate the differences. This is simply a graphical interface for the diff command line utility.
Wrap up
Collaborating on major projects would be near impossible without the right document comparison tools. This is especially true in industries like law and fields where document evolves dozens of times before reaching their final version. With the above-listed ten items on your side, you shouldn't have a problem finding the right software for you.
Get feedback, comments, and reviews in one place. Try Nifty
FAQ:
What is a document comparison platform?

A comparison tool platform is a software that allows you to compare several files. This is important in fields like law, where every sentence must be accurate. It's also vital for scenarios where multiple people update versions of the same file.
How do document comparison platforms work?

The process starts with you uploading two source documents that you want to be compared. Then, there's the process called text extraction (if it's textual files we're talking about) and conversion into a format suitable for comparison. Then, you have steps like pre-processing, alignment, comparison analysis, and change visualization.
Are comparison tool platforms free to use?

While some platforms are free to use in their basic form, pro or enterprise versions are always premium. On some platforms, you must pay extra for desktop access, while others may charge you per seat. Most importantly, almost all of these platforms have a free trial version.