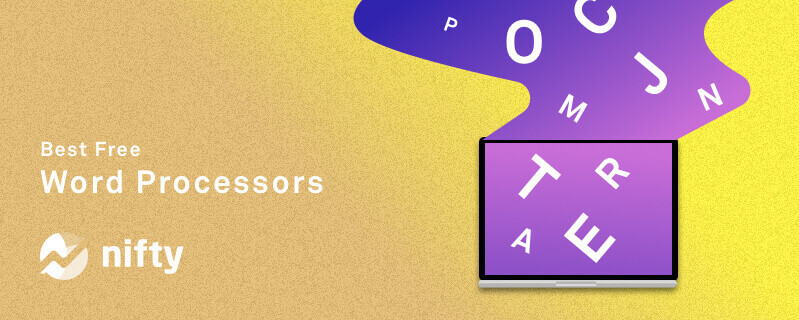 As technology advances, word processing software has become an essential tool for anyone who needs to create and edit written documents.
With myriad options available, from the ubiquitous Microsoft Word to the less well-known free alternatives, it can be difficult to know which word processing software best fits your needs.
In this blog, we will explore the ten best free word processing software options available. Throughout this insightful guide, we will delve into the key features and unique advantages offered by each best free word processor software.
We will also address the primary question that might be circling your mind: "Can free word processing software truly compete with their premium counterparts?" Spoiler alert: You might be surprised by the answer. Let's jump in.
What is Word processing software?
Word processing software is an application that allows you to create, edit, and format textual documents. You can also type, format, and manipulate text, making it easier to create professional-looking text documents such as letters, reports, essays, and resumes.
Some of the most popular word processing software examples include Nifty, Microsoft Word, Google Docs, and Notion.
Why do you need Word processing software?
Generally speaking, you need free word processors if your work requires you to edit and format textual content routinely.
Here are some reasons why you might need free Word processing programs, a.k.a. Word processing software:
To create and edit new documents with ease, You can also type, delete, and modify text as needed.
To use formatting tools and make your documents visually appealing: You can change fonts, adjust text size, apply styles, create headings, add bullet points or numbering, and more.
To engage in spell-check and grammar correction: Word processing software typically includes built-in spelling and grammar-checking tools to help you identify and correct errors, ensuring that your documents are error-free and professional.
To facilitate collaboration and enable multiple users to work on the same document simultaneously: Together, you can track changes, add comments, and merge edits from different contributors. Additionally, you can easily share documents with others via email, cloud storage, or file-sharing platforms.
To leverage templates and pre-designed layouts: You can use these templates for resumes, business letters, reports, newsletters, and more, saving you time and effort in creating documents from scratch.
To allow for integration with other software: You can integrate word processors with other software applications (think: spreadsheet software or presentation tools) to enable seamless transfer of data and content between different programs. The end result? Improved productivity and efficiency.
What should you look for in Word processing software?
When choosing a word processing software, consider the following factors:
Factor #1: Feature set
A robust word processing software should offer various basic and advanced features such as:
basic text editing
spell-checking
grammar-checking
formatting options for font styles, sizes, and colors
paragraph alignment
page layout customization
ability to insert images, tables, and graphs
mail merge
Factor #2: User-friendly interface
The software should have an intuitive and user-friendly interface that makes it easy to navigate and use the various tools and features. For example, look at Nifty's 'Search' functionality, which allows you to search by document or file name or filter by a specific user.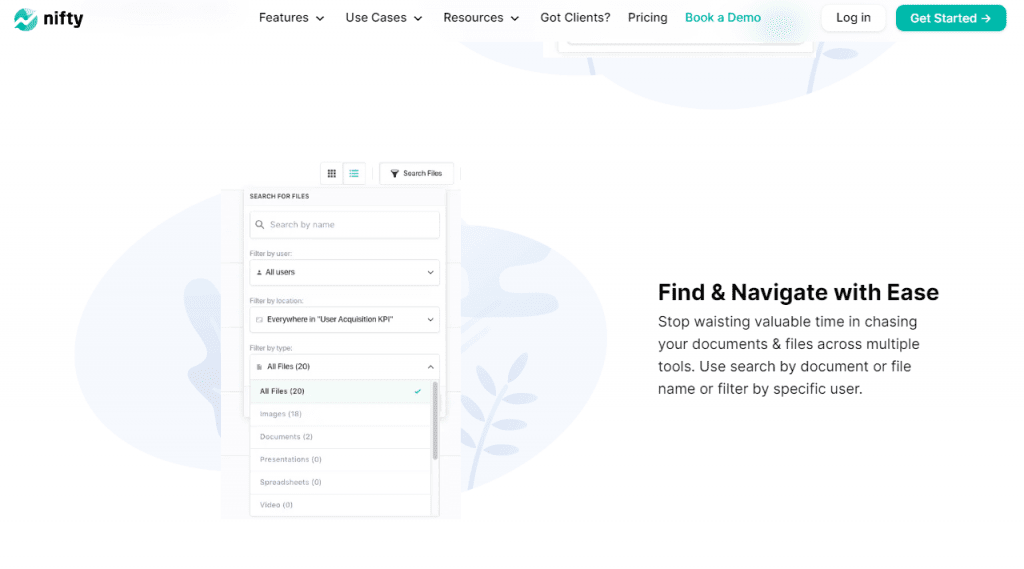 For instance, Nifty's "File Proofing" feature allows you to streamline your creative feedback process. This feature automatically creates subtasks based on the comments left on the content: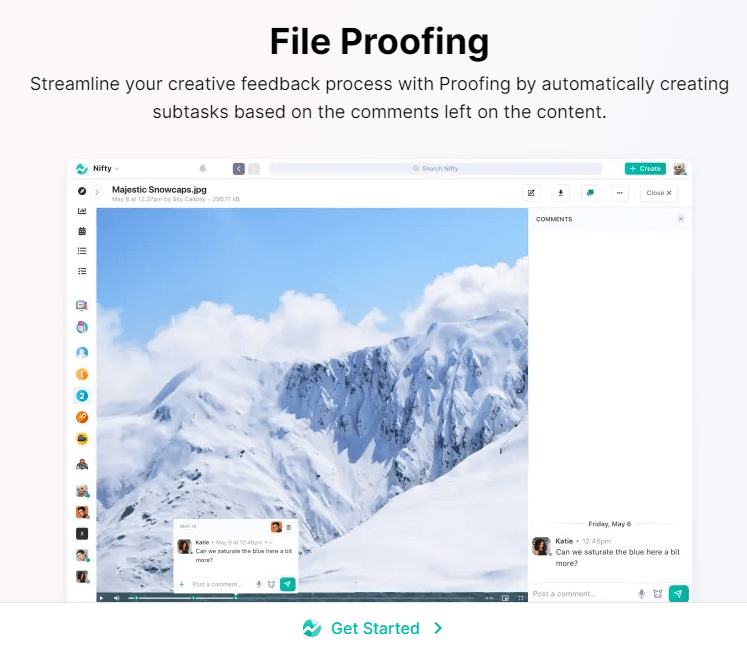 Remember that a clean and organized layout enhances productivity and reduces the learning curve.
Factor #3: Compatibility
Ensure that the free Word processing software is compatible with your operating system. It should also support popular file formats like .docx and .pdf for seamless sharing and compatibility with other applications. 
For instance, Nifty allows you to create collaborative documents with team members and store them with your projects. You can choose between a Nifty Doc or a Google Doc, Spreadsheet, or Presentation which syncs with all your documents in Google Drive: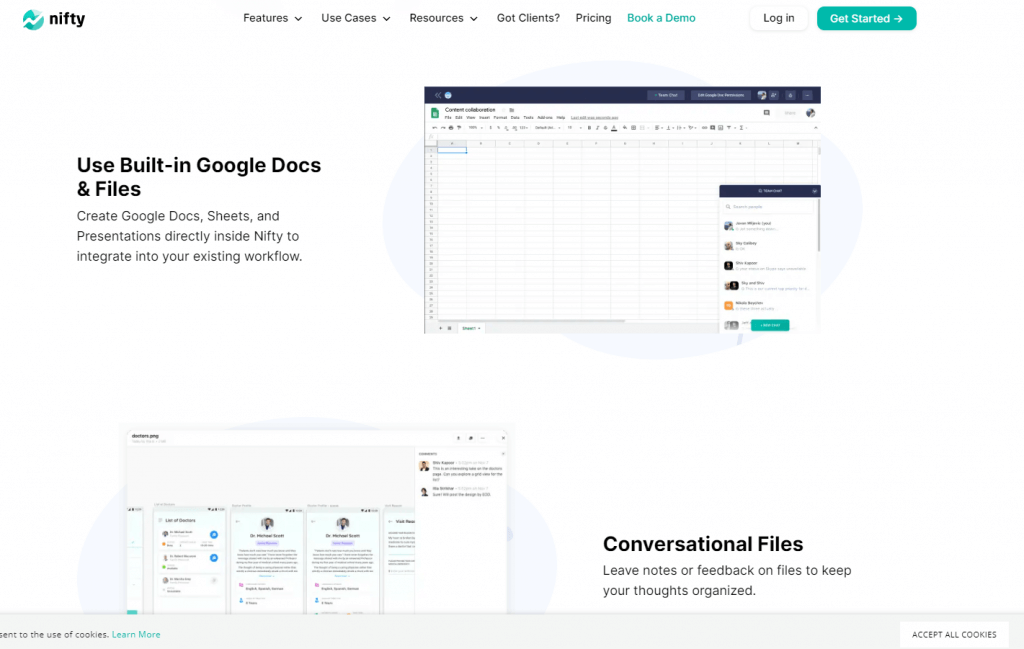 Factor #4: Collaboration capabilities
If you require collaboration features, check if the software supports real-time collaboration, track changes, and comment features to facilitate efficient teamwork, as Nifty demonstrates below: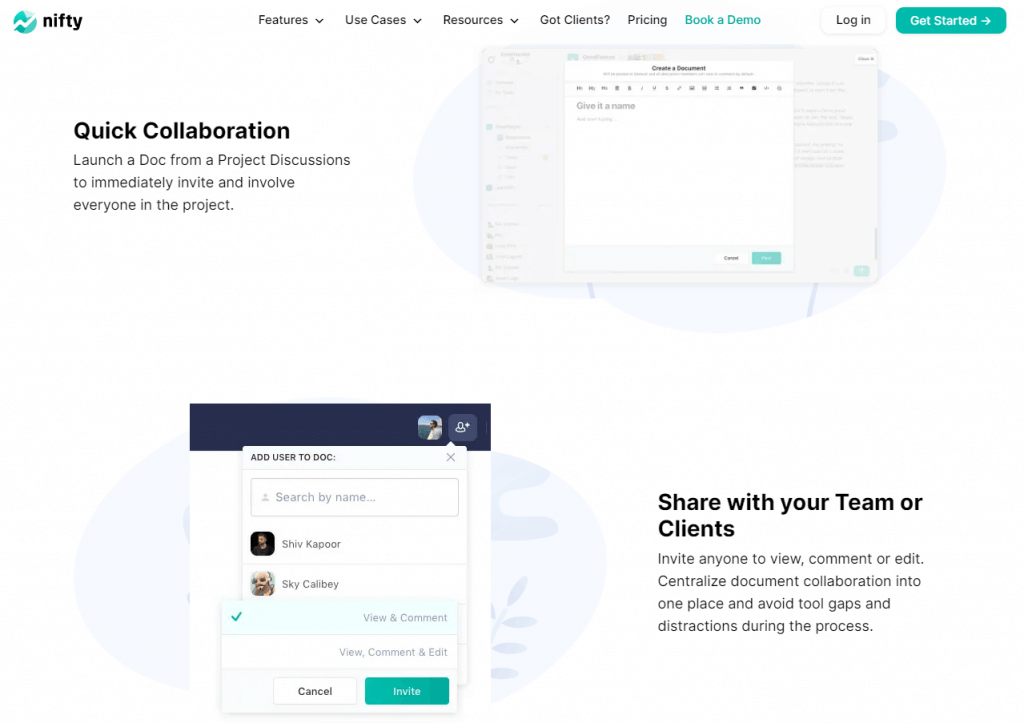 Factor #5: Cloud integration and mobile accessibility
Cloud integration allows you to save and access your documents from anywhere, and mobile accessibility enables you to work on your documents using smartphones or tablets. So, if you want unparalleled flexibility and convenience, account for the software's integration and mobile capabilities.
Factor #6: Cost and licensing
The cost of the software and the licensing options available is another critical factor to consider. Note that some best word processing software is available for free, while others may require a subscription or one-time purchase. So, evaluate the pricing model that suits your budget and needs.
Factor #7: Support and updates
Finally, ensure that the software provides adequate customer support and regular updates to address any issues or security vulnerabilities that may arise, and you are good to go.
Top 10 best Word processing software
Here are our top 10 recommendations for the best word processing software. The list contains a mix of free and paid word processing software:
1. Nifty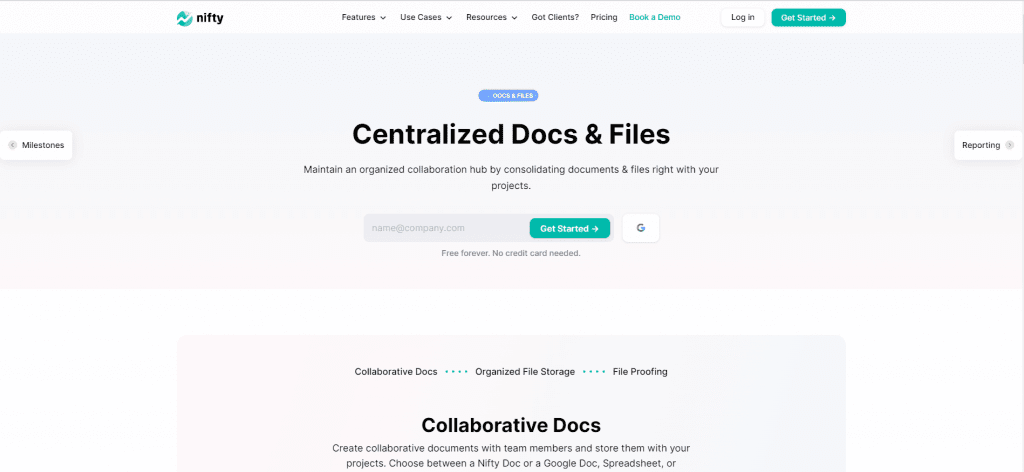 At its core, Nifty is a cloud-based team collaboration platform that offers a suite of features to enhance productivity. Among these features is Nifty's Docs, a built-in word processing software that allows you to seamlessly create, edit, collaborate, and manage documents within the Nifty platform.
It offers a healthy mix of advanced and basic functionalities, which pave the way for a powerful word processing environment:
Top features of Nifty Docs:
Here are the five key features of Nifty Docs:
1. Rich Text Editing
Feature-rich editor that enables you to:

Create and format documents with ease
Leverage formatting options like font styles, sizes, colors, headings, bullet points, and numbered lists
Use features such as text alignment, indentation, highlighting, and hyperlinking
Format documents
2. Document Templates
A range of pre-designed templates (project proposals, meeting agendas, reports, etc.) to help you kickstart the document creation process
You can select a relevant template, customize it, and save time by not starting from scratch.
3. Collaboration and Real-time Editing
Facilitates collaboration among team members as they can:

Work on the same document simultaneously
Edit in real-time and get updates for the modifications happening live
4. Comments and Discussions
With this feature, you can:
Highlight specific sections or elements
Add comments
Tag team members to provide feedback or ask questions
5. Version History and Tracking
Maintains a version history of documents, enabling you to:
Track changes
Compare different versions
Revert to previous iterations if necessary
View the evolution of a document over time and ensure that you have access to the most up-to-date version
6. Document Organization and Search
Robust organizational capabilities to keep documents well-structured and easily accessible
You can:

Categorize documents into folders, assign tags, and apply filters 
Quickly locate specific documents based on keywords, titles, or other criteria
5 advantages of using Nifty as a word processing software:
It allows multiple users to create, edit, and collaborate on documents in real-time.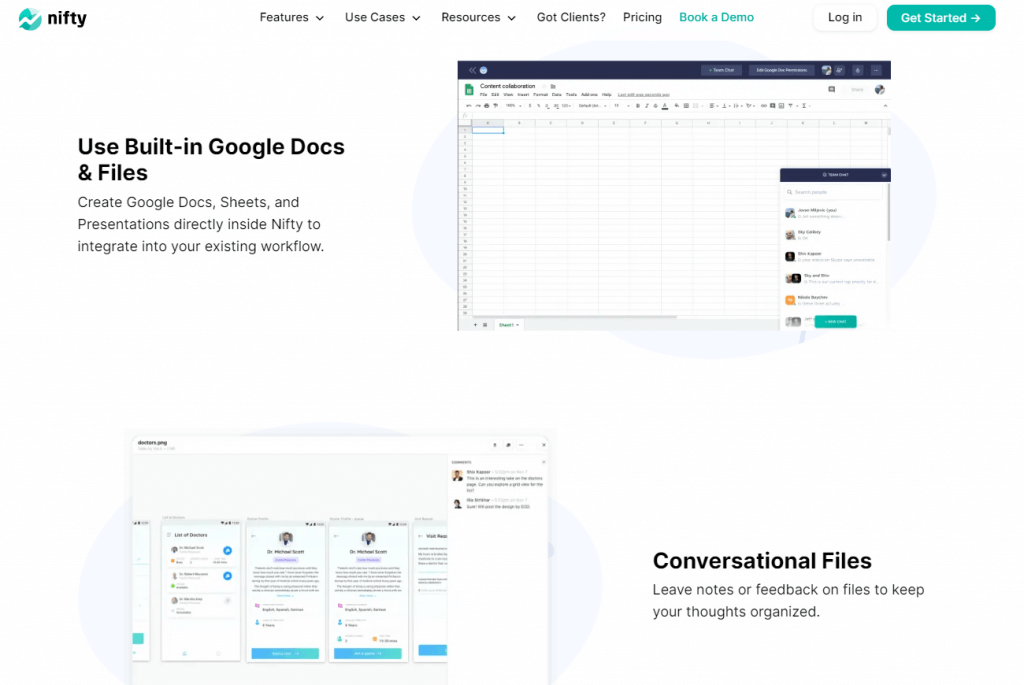 It supports basic text formatting such as bold, italic, underline, headings, and bullet points.
It provides a wide range of advanced formatting features like tables, charts, images, and comments.
It provides multiple integration options. One of the unique aspects of Nifty's Docs is that it supports integration with popular file formats like Google Docs and Microsoft Office. This integration lets you transfer documents between Nifty and other word processing software. In specific, you can:

Create and manage tasks directly from the document within the project management dashboard
Update deadlines
Assign tasks to team members
Track the progress of the project
Work on documents irrespective of the software and then integrate them into Nifty Docs, making it more flexible to work with

It offers wide-ranging use-cases, for instance:

Managers can use Nifty Docs to create project proposals, budget reports, and any other documentation related to their business.
Designers and Marketers can use Nifty Docs to create content strategies, ad copies, marketing plans, and more.
Teams can use Nifty Docs to prepare employee onboarding handbooks, playbooks, and policy manuals.
All in all, Nifty Docs are useful for individuals and teams looking for a cost-effective and efficient word processing alternative.
2. Google Docs: Create & manage Word documents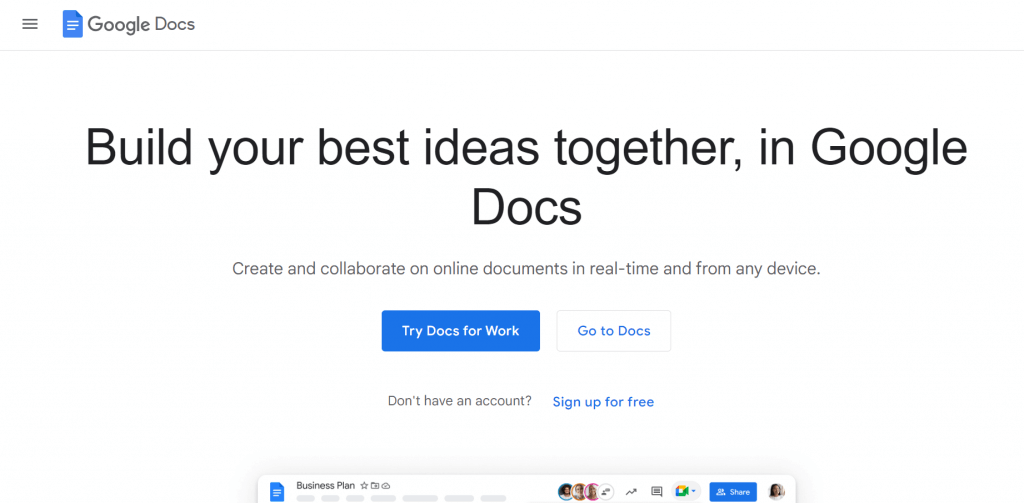 Google Docs is essentially a web-based word processing software developed by Google. It offers a user-friendly and feature-rich word processing experience with robust collaboration tools, cloud storage, and AI-powered features.
Top features of Google Docs:
One of the standout features of Google Docs is its real-time collaboration capabilities. Multiple users can:

Work on the same document simultaneously
Collaborate and edit together
See changes in real-time
Leave comments
Suggest edits

It is entirely cloud-based, which means all documents are stored on Google Drive, Google's cloud storage platform. As a result, you can access documents from any device with an internet connection.
It automatically saves your work as you type, eliminating the need to save your documents manually. 
It makes it simple to share your documents with others. You can:

Easily invite others to view or edit your documents
Have granular control over permissions
Set who can view, comment on or edit your documents

You can view the revision history, see who made specific edits, and revert to previous versions if needed. 
You can customize the appearance of your documents by adjusting font styles, sizes, and colors and applying various formatting elements such as headings, bullet points, and numbered lists. It also supports features like tables, images, hyperlinks, and footnotes.
You can access add-ons and templates that provide integrations with third-party tools and offer pre-designed layouts for documents like resumes, letters, reports, and more.
Google Docs incorporates artificial intelligence (AI) to provide smart editing and productivity features. For example, it offers suggested corrections for spelling and grammar errors, provides synonyms and definitions for selected words, and can even suggest relevant content based on your writing.
3. Microsoft Word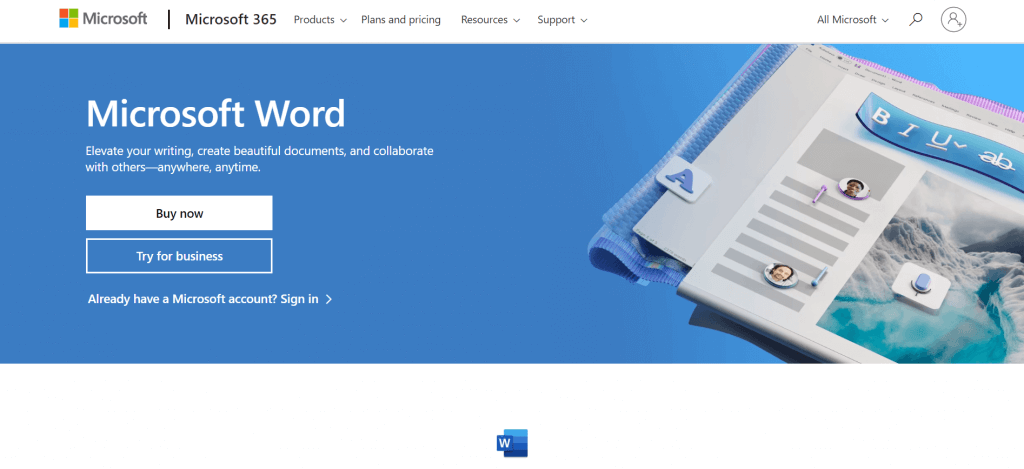 First released in 1983, Microsoft Word is a fairly popular word processing software used globally to create professional documents. It is a part of the Microsoft Office suite and offers a wide range of features that help you format, edit and create documents with ease.
Top features of Microsoft Word:
It offers a variety of commonly used templates (read: resumes, flyers, letters, and envelopes) to create professional-looking documents.
The Collaboration feature allows you to collaborate on documents in real-time, share files, edit Word documents, and provide feedback.
It offers an extensive collection of formatting tools so that you can customize the appearance of documents and change the text's font, size, color, and style. 
It has built-in research tools that allow you to search for online information without leaving the application. These tools include a thesaurus, dictionary, and encyclopedia.
Microsoft Word allows you to create and format tables quickly and easily. You can also add, delete, and move rows and columns and adjust the table size to fit your needs.
With Microsoft Word, you can create form letters or emails and merge them with a database of recipients' contact information.
4. Grammarly: Free word processor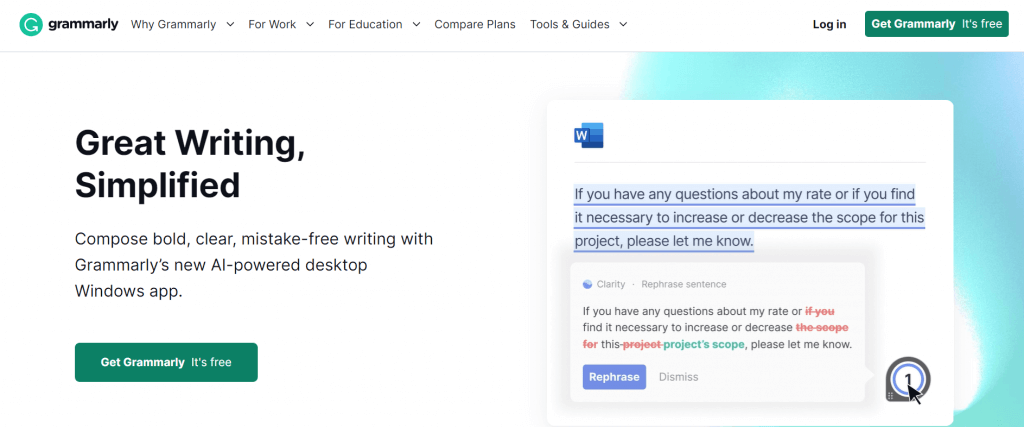 Grammarly is a word processing software developed for you to write confidently. It detects and corrects your writing's grammar, spelling, and punctuation errors. It offers a range of features to improve your quality and clarity of written communication.
Top features of Grammarly:
Grammarly checks your writing for:

Common grammar and spelling mistakes, such as incorrect verb tense, subject-verb agreement, and misspelled words.
Proper punctuation, including commas, periods, and semicolons.
Plagiarism by comparing your writing to its database of over 16 billion web pages and academic papers helps you avoid accidental or intentional plagiarism.

This free word processor also provides suggestions to improve your writing style, such as:

Avoiding passive voice
Reducing wordiness
Using more effective sentence structures

It suggests synonyms replace overused words or phrases, making your writing more engaging and diverse.
It detects the tone of your writing and provides suggestions to adjust it, helping you write for the intended audience.
5. ClickUp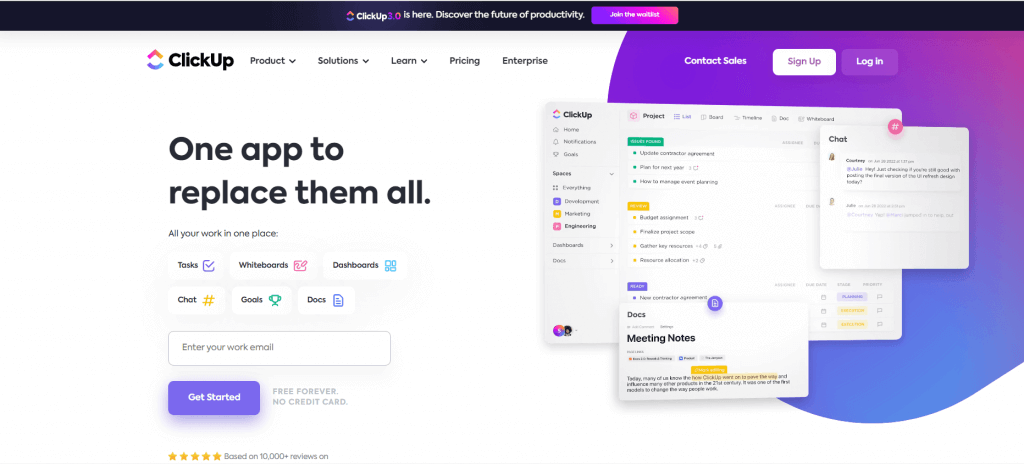 ClickUp is primarily known as an agile project management and productivity platform rather than a dedicated word processing software. Word processing is more of a secondary feature. However, it does offer several features that can be useful for basic word processing tasks.
Top features for ClickUp:
It provides a rich text editor that allows you to create documents easily. You can apply various text formatting options such as bold, italic, underline, bullet points, numbered lists, headings, and more.
ClickUp enables seamless document sharing and collaboration within teams. You can invite team members to work on documents together, make real-time edits, leave comments, and track changes.
ClickUp's checklist feature allows you to create lists within documents. You can use these checklists to create to-do lists, task lists, or any other form of organized content within your documents.
The tool automatically saves different versions of your documents, enabling you to access previous versions and revert changes if needed. 
It provides notifications and reminders to update you on document changes, deadlines, and important updates. You can set up reminders to alert you or your team members about upcoming deadlines or changes in shared documents.
ClickUp offers a variety of document templates that can help you get started quickly. These templates include meeting agendas, project plans, reports, and more. 
See for yourself, why people migrate from ClickUp.
6. WPS office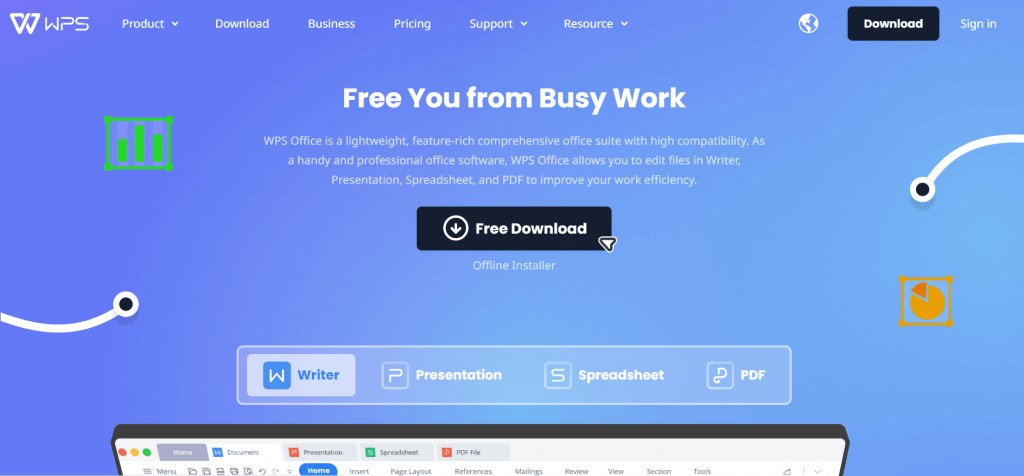 WPS Office is a popular office software suite that offers a free alternative to Microsoft Office. It provides a complete set of tools for creating, editing, and managing documents. WPS Office is available for Windows, macOS, Linux, Android, and iOS platforms.
Top features of WPS Office:
WPS Office's word processor, called Writer, offers a user-friendly interface and a wide range of features to create and format documents. It supports various document formats, including .doc, .docx, .txt, and more.
Its interface resembles Microsoft Word, making it easy for users to transition from other word processing software. The toolbar and menu options are similar, allowing for a smooth user experience.
It provides comprehensive text editing tools for formatting documents. You can apply various formatting options such as font styles, sizes, colors, alignments, indents, bullet points, numbered lists, and more.
WPS Office is compatible with Microsoft Office formats, including .doc, .docx, .xls, .xlsx, .ppt, .pptx, and more. You can work seamlessly with documents created in Microsoft Office and share files without compatibility issues.
It integrates with popular cloud storage services like Google Drive, Dropbox, and OneDrive. You can access and save documents directly to your cloud storage, ensuring easy backup and synchronization across devices.
7. Notion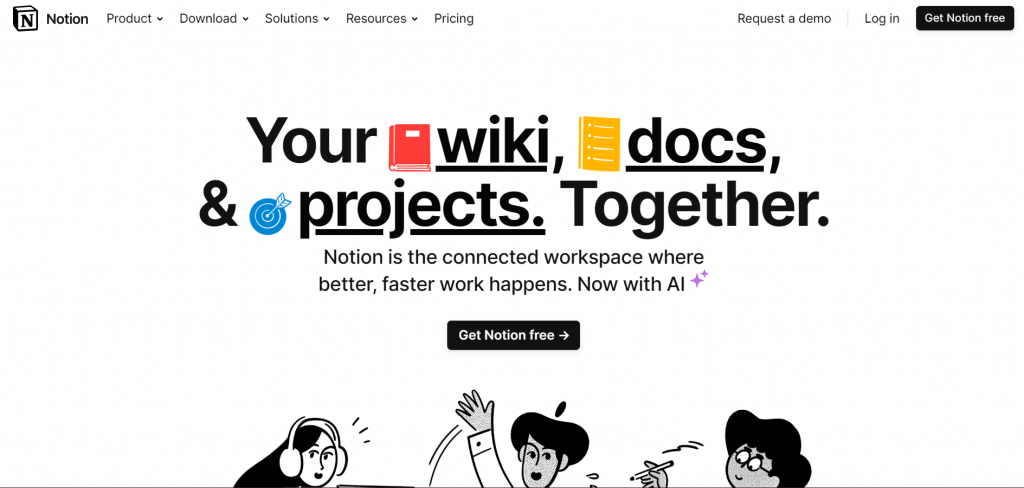 Notion is one of the best free word processors that you can use to create a range of things, from simple to-do lists to comprehensive databases. One of its primary capabilities is word processing. 
Top features of Notion:
Notion provides various formatting options to make your documents look professional and easy to read. You can:

Add bold, italics, underline, strikethrough, highlight, and code formatting to add emphasis to your text
Change the font face, size, and color to customize your documents' appearance

The platform allows you to embed various media types inside your documents, such as images, videos, audio files, etc. You can even embed tweets or Google Maps. This feature enhances your documents' visual appeal and makes them more interactive.
It offers several built-in templates for different purposes. These templates include resumes, meeting notes, to-do lists, articles, and more.
8. Evernote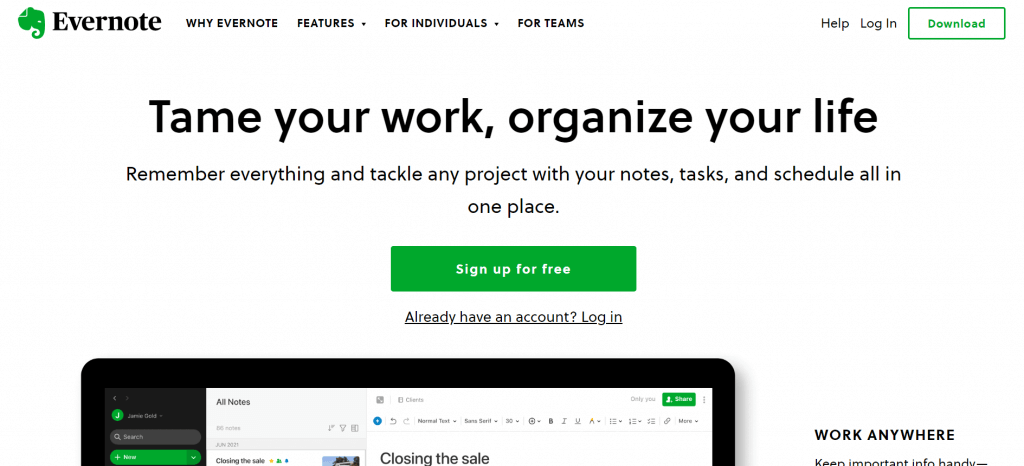 Evernote is not primarily a word processing software; it is a note-taking application that provides several features to enhance text formatting, presentation, and organization within your notes and documents.
Top features of Evernote:
Evernote allows you to format text by changing the font, size, style, and color of the text.
You can create bullet lists using Evernote, making it easy to organize ideas and keep track of tasks or to-do lists.
The tool helps you to create tables to organize and structure data.
You can add hyperlinks to your Evernote notes and make it easy to reference external websites, documents, or other notes in your content.
Evernote supports various types of attachments, including PDFs, images, and audio, among others.
Check out Evernote alternatives ✨
9. ProWritingAid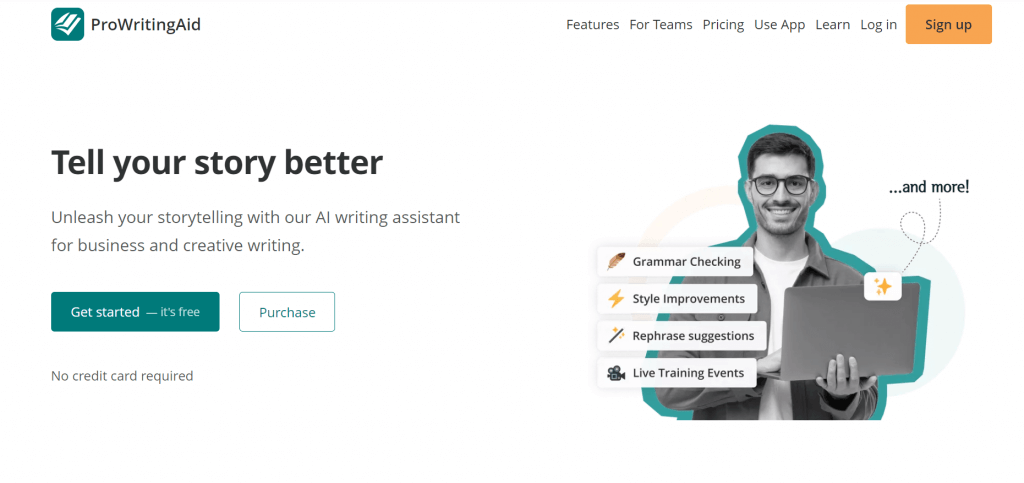 ProWritingAid is a comprehensive writing assistant that offers a wide range of features to help writers refine their work. It can seamlessly integrate into popular word processors like Microsoft Word, Google Docs, and Scrivener.
It is designed to help you improve your writing style, grammar, and overall clarity. You can leverage helpful features to enhance your writing process and produce polished, error-free content.
Top features of ProWritingAid:
ProWritingAid provides comprehensive grammar and spelling-checking capabilities. It can identify common mistakes, such as misspellings, subject-verb agreement errors, incorrect punctuation, and more.
This tool analyzes your writing style and provides suggestions for improving readability, sentence structure, etc. It helps you eliminate redundant words, vague phrases, and excessive use of passive voice.
ProWritingAid offers style suggestions based on various writing genres, such as academic, business, creative, and technical writing. 
The software:

Includes a built-in thesaurus to help you find synonyms and alternative words to diversify your vocabulary. The Word Explorer feature provides detailed information about words, including definitions, examples, and related terms.
Evaluate your content's readability and provide readability scores, such as the Flesch Reading Ease score and the Gunning Fog index.

It generates detailed reports that provide an overview of your writing strengths and weaknesses. These reports include statistics on sentence length, readability, grammar issues, style improvements, and more, helping you identify areas for improvement.
10. Scrivener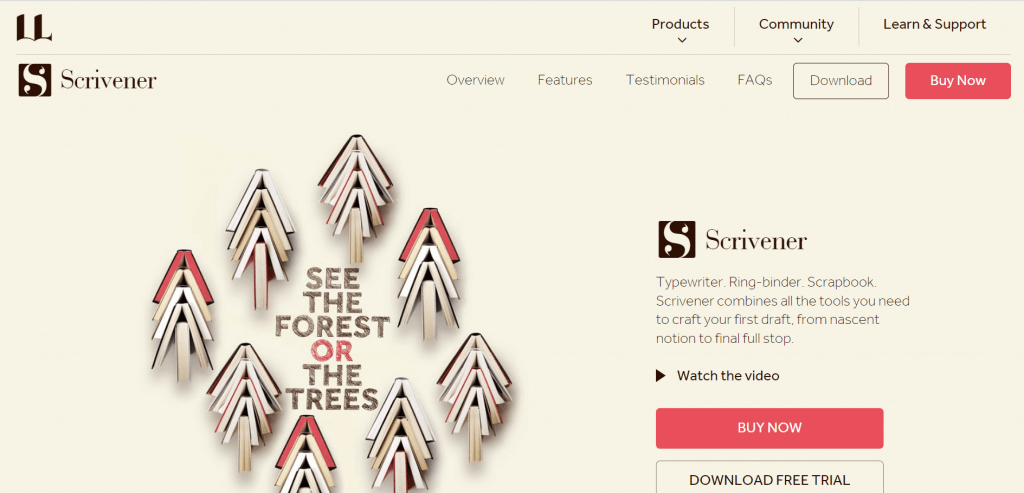 Scrivener is a word processing software useful for writers, authors, and researchers as it helps them manage their writing projects–from organizing and researching to writing effectively.
Top features of Scrivener:
It offers a binder that allows you to organize the writing project into various sections and folders.
It provides a corkboard that displays virtual index cards to represent each section, enabling you to rearrange them easily.
It offers various templates such as fiction, non-fiction, research, and scriptwriting to guide you through the writing process.
Research tools that allow you to store notes, images, and web pages relevant to the project within the software.
Multiple editor views enable you to switch between drafting, outlining, and editing modes.
Export and Compile features that help produce a final manuscript in different formats such as PDF, ePub, and Word.
Nifty: The best free Word processing software for 2023
There are hundreds of free word processing software options that offer diverse ranging choices. However, when looking for an exceptional word processing experience that combines powerful features, a user-friendly interface, and seamless collaboration, Nifty emerges as the top word processing software choice for 2023.
Its intuitive design and access to extensive tools lay the foundation for a smooth and efficient writing environment.
In short, Nifty helps you achieve your writing goals effortlessly, with endless possibilities. Give it a try. Sign up for free. 🪂